If everybody is thinking alike, then somebody isn't thinking.
Join Date: Jul 2012
Location: London, UK
Posts: 7,046
Points: 6,879
Re: Official Indy DVD Thread
---
ROH Honor vs Evil Review
Jay Briscoe vs. QT Marshall: **1/4
Decent opener for what it was. I wasn't too impressed with Marshall, he didn't really seem to bring too much to the table. Jay was good as always.
Jay Lethal vs. Tadarius Thomas: ** 3/4
Pretty good, was going a long like it was going to be a damn good match until Thomas started really fucking up. Messing up a simple back bump for Lethal and also taking the wrong bump for Lethal's finisher which made it look awkward. Lethal however to his credit kept it together and kept the match from completely falling apart.
Nate Webb vs. Mark Briscoe: *
This was just garbage. I'm sick and tired of Mark's kung fu gimmick and Nate Webb really added nothing whatsoever. He was pretty horrific, terrible character work. This match dragged on and on forever and I just wanted it to end. Can't say anything redeeming about this match.
ACH vs. Roderick Strong: ***1/2
Very good match but not as good as others have said in my opinion. Slightly overrated. This ACH is definitely impressive though, seemed very comfortable out there and can definitely work. Very exciting offense too. Roddy was his usual awesome self, naturally this made for a very good match.
Pepper Parks vs. Charlie Haas: *1/2
This was crap. Your typical Charlie Haas garbage match. It started to pick up a little towards the end and then they did another stupid finish with Charlie Haas and the beer. Just atrocious and it needs to end now. Hated this.
BJ Whitmer vs. Kyle O'Reilly: ***1/2
Probably the surprise match of the night, this was a very good match. I'm not a huge fan of O'Reilly but he did well here and probably benefited from Whitmer's experience. Everything here seemed to have purpose and was worked very well. Enjoyed this a lot.
6-Man Elimination Tag Team Match:
Davey Richards, Adam Cole, and Michael Elgin vs. S.C.U.M. (Steve Corino, Jimmy Jacobs, and Kevin Steen): ** 3/4
This started off well enough and intriguing but this match suffered from the same problems as that 80 min match of last year. Too much stop and starting, brawling which led to nowhere in the long run and this just dragged on for far too long and over stayed its welcome. A 40 fucking minute match for crying out loud. Just too long for a house show especially if its laid out like this. It should have been cut by at least 15 mins. If this was half the length without the bullshit then it could have been a really good match. Disappointing main event. Another ROH Main event/match that was just too much.
Two very good matches saved this from being a shit show but ROH's house shows lately have not been doing it for me. Have not been of great quality to say the least. This didn't even have 1 really stand out match like the hunt for gold or defy or deny II.
ROH 11th Anniversary Show Review
Six Man Mayhem:
QT Marshall vs. Adam Page vs. Silas Young vs. Mike Sydal vs. ACH vs. Tadarius Thomas: **3/4
Very fun opener, I felt this match did its job of introducing new talent and showing what they got on the PPV stage. This turned into a bit of an X Division like spotfest but it's to be expected with these multi man type deals. This had some really amazing spots and sequences. But again time and lack of substance means it can't get any higher of a rating. ACH going over was the right decision, man has a bright future.
Caprice Coleman and Cedric Alexander vs. S.C.U.M.: **1/2
Decent tag match, both teams have fluid chemistry with each other. I feel as though Corino and Jacobs have really improved on their tag team wrestling lately and it shows. C & C were solid I thought, maybe a little underrated here but I feel as though they didn't show enough aggression for a supposed grudge match. Finish was really weird and awkward. I have no idea what Corino was doing or what he had in his hands but it hurt the finish of the match.
No Holds Barred Match:
Charlie Haas vs. BJ Whitmer: ***
Good match. Probably the best you'll see of Haas these days in these type of brawls. Had great intensity and felt like a grudge match. BJ really got over well here as a tough son of a bitch. Good storytelling around the injury angle and the neck. Good use of weapons as well. The finish I did not like at all and was weak. I don't understand why they could have not have Whitmer just pin Haas here. Stopping 5 seconds after Haas kicks out of the exploder on to the ladder was weak and the execution was poor. Did not sit well with me. Still a good match.
The American Wolves vs. The Forever Hooligans: ***1/2
Very good match as expected. Both teams have great chemistry with each other. Not a Richards fan at all but I have to admit he looked very motivated for this match. This had a blistering pace which helped this match a lot. Very exciting action, great double team moves. This felt like towards the end that it was starting to go off the map into the realm of American Wolves type matches which becomes a complete spot fest with no psychology whatsoever and basically ignoring tags or who the legal man is. Thankfully this match did not over stay its welcome and it only really broke down on the final stretch so my issues with it weren't massive. Very good match.
2 Out of 3 Falls Match:
Michael Elgin vs. Roderick Strong: ***1/2
A slightly disappointing but none the less another very good match between these two. Very hard hitting overall, I really liked the story behind this match with Elgin using his explosiveness and power to catch Roddy off guard early on in the match. Taking control of the match showing that without Truth interfering he was going to dominate. That first fall was a real shocker and was executed beautifully. Such an explosive backfist which caught Roddy off guard and then the powerbombs for the first fall. Roddy then came back into his own with the strikes and working of the back of Elgin using his experience. Pretty back and forth until Roddy's work paid off for the second fall. The third fall was a very good little home run with both hitting their best shots. I'm disappointed that the third fall ended quite quickly and I felt like the match could have benefitted from a few more mins. But very good nonetheless.
ROH World Television Championship Match:
Adam Cole(c) vs. Matt Taven: ***1/4+
This was a good match here. Cole is such a great worker, he is one of those people who I feel could get a good match out of anybody. I hadn't seen Taven before this match but I was really impressed by his work. His style seemed compliment Cole a lot here and he looked very comfortable and controlled out there. Very polished. Some of his offense was very impressive. He also has a great look and with Truth Martini by his side he could really end up doing well for ROH. Him going over even though I knew the outcome before was still a huge shocker. I liked the booking here as it still made Cole look strong, only lost because of Truth's interference. I'm very interested to see how Taven does as the new TV champion.
ROH World Tag Team Championship Match:
The Briscoe Brothers(c) vs. reDRagon: ****
Definitely the most surprising match of the night in terms of quality. I am not a fan of either team due to one of their members respectfully (O'Reilly and Mark Briscoe) but this was a great match. I really enjoyed the story of this thing with reDRagon creating their opening from Jay injuring his leg and them going after it. O'Reilly actually showing psychology in a match (thanks to fish most likely) was refreshing to see. Jay sold well throughout and the story was a case of every time Jay would tag to Mark they would get the ball rolling again and build momentum but Jay's injury was really the downfall and cost them the match. Again, good selling from Jay. Great double teams from both men. Some crazy spots in this match. Mark is a crazy bastard
as much as I dislike him for his lack of selling and that stupid kung fu crap he bumped like crazy for Fish and O'Reilly and made them look fantastic. The finish was AWESOME. Loved loved the finish, I marked out for that. That really put the exclamation point on the match. reDRagon as champions is definitely something fresh for the tag scene and feels different. Again not a huge fan of the team itself but I feel as though the booking has interesting implications.
ROH World Championship Match:
Kevin Steen(c) vs. Jay Lethal: ***3/4
Very good main event here. A weird one really because I felt like it never really hit that next level of being a great match which is a little disappointing. But I can't deny that this was very good overall. I liked the story overall here with Lethal and Steen wanting to beat the fuck out of each other. Very aggressive throughout, especially Lethal who sold his aggression and anger well. The inclusion of SCUM in the match was very well done and didn't take too much away. Nigel's involvement was also another nice little touch. The finish was great, I really enjoyed Steen using Generico's finisher to beat Lethal. Overall very good. This match also had interesting character development with Steen who told Jacobs to get the hell out of the match which continues on the post match.
Ending of the show
Man for months I have had no reason to turn into the TV show because of how dull and boring its been and how there has been a lack of a storyline to grip me. Now that's changed. This show ending was interesting to say the least. What I find most interesting is Steen who is seemingly conflicted with what is happening. Had the look of a man who did not envision SCUM becoming what it has. Some people have criticized it because of the members and other reasons. I can see why, but this is the first thing that has actually gotten me interested in where they take the company from here since Steen returned. And that can only be a good thing for this viewer. I'm not completely sold on SCUM becoming a huge ass stable or the members involved but it definitely had enough in the ending for me to actually want to try the TV show again. This was a positive ending I felt.
*** Because of the lack of quality in the house shows I didn't really have much to look forward to with the Anniversary show but I gotta admit this was a great show from ROH. Really delivered I felt, it seems as though ROH have finally gotten their PPV shows at least back on track since Final Battle and they even convinced me to try the TV show again. Really enjoyable from start to finish***
---
**** <3 ****
Liberty thrives when government is small, I want a government so small you can barely see it.
---
Last edited by L-DOPA; 03-07-2013 at

06:47 PM

.
Re: Official Indy DVD Thread
---
ROH Honor vs Evil

Kevin Steen, Jimmy Jacobs & Steve Corino vs Adam Cole, Davey Richards & Michael Elgin - ***3/4

Gotta admit, I really enjoyed it, although it had a few ups and downs. Elgin's Bucklebomb/Spinning Powerbomb combo is put over huge with the two straight eliminations, so there was good booking there. But I have mixed feelings about the booking of Cole here. He looked great early on up until the injury, and despite the lack of a crowd reaction is put over huge when he comes back out to finish off the match...but then by being eliminated before the end of the match, it kinda kills his momentum. This should have been his moment, he should have been the one to go at it with Steen at the end, but alas they went a different route. Still, S.C.U.M. look like a very effective unit in 6-man action, and they've very cleverly played the whole 'Steen never sees his partners cheating' card. Not MOTYC level like others have said, but a very enjoyable contest nonetheless.
Re: Official Indy DVD Thread
---
Quote:
Is it safe to say that Joe Gacy ruins everything? He's never done anything to entertain me. Closest he came to doing so was when he was interfering in the Switchblade Conspiracy's matches a few years back with the bandanna over his face and the chainsaw. And even then, the excitement died once I found out it was him. I honestly have no idea why he gets booked. From what I've seen, the crowd doesn`t really care for him. Must be one of DJ's boys.
Quote:
Masada vs Christina Von Eerie is freaking awesome apart from the finish.
Yeah the finish was terrible. What really annoyed me so much about it was that Bulldozer and Gacy didn't leave quickly. Masada and Christina were waiting for them to finish their shit before they could get up and get a cheer from the crowd. Also it looked like Gacy really hurt Von Eerie when he hit her with a power bomb.
Making James Ellsworth GET MY BAGS
Join Date: Jun 2006
Location: Melbourne, Australia
Posts: 4,185
Points: 243
Re: Official Indy DVD Thread
---
Chikara - The Cibernetico Rises

1. Mr Touchdown vs Soldier Ant
**1/2

2. Fire Ant vs The Shard
***

3. Dasher Hatfield vs Icarus
**1/2

4. The Heart Throbs vs 1-2-3 Kid & Marty Jannetty
**

5. The Spectral Envoy, 3.0, Eddie Kingston, Tim Donst & Gran Akuma vs The Bravado Brothers, The Briscoe Brothers, The Young Bucks, Jimmy Jacobs & Kevin Steen
****
Re: Official Indy DVD Thread
---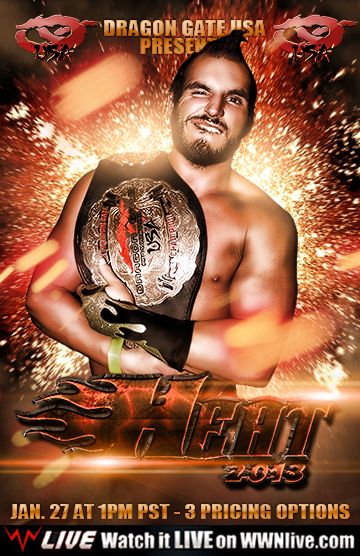 DGUSA Heat:
Swann/Cannon- ***
Davis/Younger- **1/2
Taylor/EITA- ***1/2
Gargano/Kendrick- ***
Samuray/Saito- **
Callihan/Susumu- ***1/4
Fox&Tozowa/Young Bucks- ****1/2 (awesome match)
Thoughts: Samuray Del Sol's match was dissapointing, but the main-event was awesome. Gotta love the Young bucks. It's great for DGUSA to have them
---
[SIGPIC]http://fat.gfycat.com/NastyInconsequentialJoey.gif[SIGPIC]

Curent Favorites: Daniel Bryan, Dean Ambrose, Seth Rollins, Corey Graves, Randy Orton, Bobby Roode, Austin Aries, Bully Ray, Samoa Joe

All time favorites: Triple H, Shawn Michaels, Edge, Mick Foley, Chris Benoit, Sting,Ric Flair
Re: Official Indy DVD Thread
---
---
Re: Official Indy DVD Thread
---
PWG finally arrived
---
Re: Official Indy DVD Thread
---
Quote:
PWG finally arrived
How long did it take in total? It's been almost a month for me.
---
Re: Official Indy DVD Thread
---
9 days for the second lot they sent & 8 weeks since the first lot that never arrived was sent.
---
Posting Rules

You may not post new threads

You may not post replies

You may not post attachments

You may not edit your posts

---

HTML code is Off

---