Moron
Join Date: Mar 2009
Posts: 3,514
Points: 0
Re: Official Indy DVD Thread
---
Thank you im actually going to check those out right now and yea I hope people add some more.
Moron
Join Date: Apr 2008
Posts: 4,257
Points: 0
Re: Official Indy DVD Thread
---
Check my ROH good shit archive.
Moron
Join Date: Mar 2009
Posts: 3,514
Points: 0
Re: Official Indy DVD Thread
---
I just checked out over 6 hours of super Dragon matches because he is my favorite wrestler and I also watched a bunch of other classic matches like the Joe/Punk series and Kobashi/Joe. Here is a short review of the matches and my ratings.
1. Samoa Joe vs CM Punk 1
This was their first classic and its one of the best 60 minute matches out there. They would go on to have an even better match a few months later. As the commentators said, it looked like CM Punk was trying to get Joe to punch himself out and than beat him. That however did not work because Joe never lost any energy.
The first 20 minutes of the match is spent with both men messing around with a fan and than they have a huge brawl on the outside. Joe almost kills Punk on the outside with some sick moves like using his kick to the face while his opponent is by the guardrail not once but 3 times. Punk tries a hurricanrana on the outside but Joe grabs him and smashes him in the guardrail. also he does a sick dive to the outside aswell.
When they get back to the ring Punk tries to make a comeback and thats how the rest of the match is bassically. Both men hit some strong stiff moves on each other and we get some nice counters and near falls. The crowd is hot the whole match.
Towards the end Punk hits the Pepsi Plunge but is not able to make the pin. I personally never really liked the Pepsi plunge that much. I mean the move looks cool when he pulls it of but it takes him ages to actually put the opponent in the position and pull it of.
in the last few seconds Punk hits a ddt but is not able to get the victory. The match ends as a draw and Joe retains the title. the fans chant five more minutes but dont get it.
Here is one thing I did not like about this match and that was how the match ended. I dont mean the draw ending but its just that after a hard battle I was expecting some big move at the end of the match to lead into the draw and not a crappy DDT.
Anyways still a classic match and there are some people out there that consider this match 5 stars. I wouldnt go that far but its still a classic match up.
my match rating: ****1/2
Samoa Joe vs CM Punk 2
This is the first ROH match I ever saw and its actually my favorite match ever, of any organization. This match just had so much going into it. A perfect story and they knew they had to deliver because the fans were expecting another classic like their first match. The fans though got something even better. Fuck that they got something way better.
This match starts of way differently than the first match. Punk now knows he that Samoa Joe will not punch himself out so he has to try something different. Joe had a match agains Homocide alitle earlier I gues and he hurt Joe's arm. So what does Punk do he attacks the arm.
For the first 20 minutes we see some nice near falls and reversals plus its not boring at all. They actually move at a really fast pace. The crowd here is even more amazing than in their first match. Punk here pulls out some moves that we have not see him do in a few years, showing how he will do anything to become the champion and how badly he wants it.
After the first 20 minutes they move to the outside again and both men hit dives on each other plus we see kind of a repeat of the brawl they had on the outside in their first match. Man im never going to get sick of that move where Joe counters the hurricanrana and slamms Cm Punk into the guardrail really hard.
They get back to the ring and we see some more really close near falls and some awesome reversals. Both men hit pretty much all of the moves that they have only they use extra force trying to put each other down.
There is no botches in this match as far as I could see and again I have to mention how hot the crowd is. Towards the end of this classic match CM Punk tries to hit the Pepsi Plunge again but Joe counters and hits his finisher. An amazing Muscle buster of the middle rope. Joe goes over to make the pin and the referee is about to do the count but ding ding ding the bell rings and we just saw another draw.
The fans again chant for 5 more minutes but we dont get it. We have to wait untill their third match which is another classic. During this match even Mick foley came out to watch them and said that it was one of the greatest matches he has ever seen.
This match was also given 5 stars by the Wrestling observer or whatever its called I believe, which made it the first match to get a 5 star rating from them since 1997 when Undertaker fought HBK in a classic Hell in a Cell match.
Now this match had a much better ending than the first match and even if you dont think that its the best match ever like I do you probably agree that its one of the best matches of all time.
I could praise this match for 20 pages but it really just has to be seen because its just amazing. This is as 5 star as a 5 star match can get.
my match rating: *****
These two matches between Joe/Punk have to be some of the best matches ever and its just such a shame that because they happened in the indys more people will not get to see them and will never know that these two classic's even happened.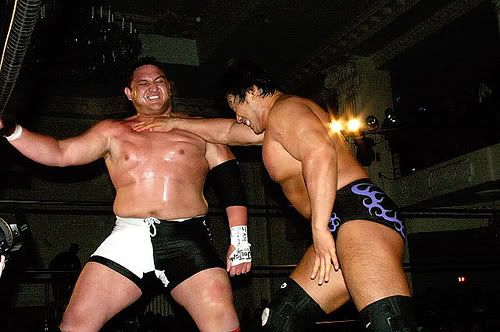 Samoa Joe vs Kobashi
I personally have no idea what the story for this match was because I wasnt watching ROH during this and all I know is that the match is not for the title. Alot of people have said that this was a 5 star match and I was really intrested in checking it out. So here it is.
The match is not 60 minutes like Joe/Punk but that doesnt mean it isnt one amazing match. The bell rings for the match to begin and right away the crowd is chanting "this is awesome". This kind of reminded me of the crowd during Joe/Angle 1. I gues this was a big dream match for the ROH fans because they were going crazy and were on their feet the whole match. I felt that the crowd added alot to this match.
The match starts of as a giant brawl and in the first few minutes they take it to the outside. Joe hits that huge running kick in the face of Kobashi while he is by the guardrail. He hits the kick so hard that the guardrail actually breaks. Soon after Kobashi hits a huge chop that sends Joe over the guardrail. Wow these guys are really stiff with each other.
They get back to the match and Kobashi hits his chops harder and harder as the match goes on. Samoa Joe does the same thing with his chops and kicks. You can really tell how hard these guys were hitting each other just by looking at their faces. The chest of Samoa Joe and Kobashi are so red, and after the match when both men do an interview you can see clearly the bruises on Samoa Joe's face and chest and on Kobashis's. I think both men had a hard time even doing the interview because they were so fucked up.
This is one of the most brutal non gimmick matches you will ever see. We see Kobashi hit 3 sick back suplexes and Joe lands right on his head all 3 times. This leads into a 2 count. Samoa Joe hits his signature moves like the powerbomb,STF,crossface combo and even hits his finisher, The Muscle buster. Kobashi somehow kicks out and the crowd is getting an erection.
Towards the end of the match Samoa Joe starts hitting Kobashi really hard untill Kobashi starts throwing his own super chops and punches in there. Kobashi hits some sick backfists to Joe's head and you can clearly see them all landing on his face with huge amount of force. This is what gave Joe the bruises on his face. Soon after Kobashi hits a huge clothesline on Joe and gets the win in this brutal classic match up.
Can anyone tell me if this was a shoot match? Im really intrested in knowing why they went so hard on each other. Anyways the good points of this match are that the crowd is fucking amazing and that they hit each other really stiff and it made the match look so much more brutal. Also this was a dream match so you got that feeling watching it.
Now here is the bad point of this match. In the 20 plus minutes of the match only about 10 actual wrestling moves were done. Powerbomb, stf, crossface, muscle buster, back suplex, clothesline, suplex, sto, kick against the barricade. The rest of this match was just the two of them beating the hell out of each other with chops and punches and kicks. I dont know I gues after watching the classic Joe/Punk series I was expecting some more tehnical wrestling from these two men. I felt like I could bring in some stupid kids that do backyard wrestling and tell them to beat the hell out of each other and just throw in a couple of wrestling moves if they feel like it.
Anyways I had to rewatch the match again to realize that this is just how the match was supposed to be done. It was never ment as a tehnical wrestling classic. It was done as a brutal brawl and both men's bodies showed that after the match. Not alot of wrestlers would ever want to try something this brutal so props to both men. I respect everything they did in this match and they did it all just for the fans. A classic match from both men.
This match made me think about how badly I would love to see Super Dragon vs Kobashi. I mean just imagine how stiff these guys would be against each other. We would have another classic on our hands.
Anyways the match ends and the crowd chants thank you and cheers and is yelling that was awesome, and just shows huge respect to both men. Both men shake hands and walk out of the arena in a classic moment.
Not 5 stars in my opinion because its not really my type of match and I just didnt think it was on the level of Joe/Punk 2. Still a classic match that everyone should check out.
my match rating: ****1/2
I will review the other matches that you guys told me about later today. Wow ROH really has some classic matches. I cant wait to review all these other classics that have happened in ROH/PWG and other indy companies.
Super Dragon vs Taro (mask vs mask)
I am a huge Super Dragon match and this is one of my favorite matches he has ever had. After nearly a five year battle the feud culminated in a Mask vs. Mask match at Revolution Pro Wrestling's fourth anniversary show on November 11, 2003. The match was seen as many to be one of the greatest in SoCal history, in the match Super Dragon, sporting an old-school mask he had worn previously, put TARO to rest after a violent series of lariats. After the match TARO unmasked, announced his retirement and embraced Super Dragon in the high point of Revolution Pro.
Both men make their way to the ring and the crowd is super hot for both of them. This is an awesome fun crowd I really have to say that. The whole match is really fast paced and its total nonstop action. the match is about 30 minutes long and we see alot of near falls and reversals. We also see alot of high flying action and both men pull out pretty much every move that they know.
Some of the moves in the match were an awesome dive by Taro but dragon cathes him and throws him over his back into a bunch of chairs the fans were sitting on. Taro soon tries another dive but only this time he makes it.
At one point in the match Super Dragon tries to do the Psycho driver of the top rope but Taro reverses it into a hurricanrana which gets him a 2 and a half count. Very cool looking move that the crowd pops for. He also counter a normal Psycho driver into a hurricanrana for another near fall.
Super Dragon hits his UFO move in the back of the head of Taro. I love that move. Taro tries the curb stomp but Dragon gets right back up, beats the shit out of Taro and hits his own sick curb stomp not once but twice.
The crowd is going crazy and they are on Taro's side. Super Dragon really made for a great heel even though he never talked. I love how he would always fuck with the fans. Taro was great aswell and the fans always loved him.
After alot of near falls and high flying moves Super Dragon hits the Psycho driver. The referee counts 1...2...than right before 3 Dragon lifts Taro's head up. He puts him on the top rope and hits the tope rope Psycho Driver also known as the avalanche driver. The referee counts again but somehow Taro kicks out of it. Super Dragon cant believe it and neither can I seriously. nobody can believe that Taro kicked out. This really put Taro over as a tough guy but also made Dragon an even bigger badass because he beats the shit out of him in the final minutes.
Super Dragon hits one of his sick clotheslines and than lifts him up again, than he hits another sick clothesline that makes Taro do a full rotation. Taro's arm falls down all 3 times when the referee checks meaning he got the fuck knocked out of him. Super Dragon wins this classic match. I think this is Dragons best non gimmick match. Its just a classic.
Taro takes of his mask, praises Super Dragon, The fans chant for both men and Taro announces that he is retired now. This was his last match. An awesome ending to an awesome match. A true classic that I will never forget and I could watch this match every day of the week and never get bored.
my match rating: ****1/2
---
Last edited by V1 Dante; 08-19-2009 at

08:40 PM

.
Re: Official Indy DVD Thread
---
Quote:
Originally Posted by V1 Dante
I just checked out over 6 hours of super Dragon matches
Of course this had to take at least 12 days to achieve... right?
superdupersonic will verbally murder you if not.
---
Quote:
smarks like to suckle from the diseased milk of Ric Flair's sagging tits
Ain't no thing like me, 'cept me
Join Date: Nov 2004
Location: The Velvet Room
Favourite(s): Styles, Shirai, Okada, Cesaro, Nakamura, Scurll
Posts: 8,230
Points: 69
Re: Official Indy DVD Thread
---
ROH Validation

Eddie Kingston vs. Ricky Reyes *¾

The Super Smash Brothers vs. Erick Stevens and Brent Albright *¾

Sonjay Dutt vs. Chris Hero
Damn Hero seriously was over during this doubleshot. ***

Jimmy Rave and Claudio Castagnoli vs. Necro Butcher and Delirious **¼

Rhett Titus and Kenny King vs. Alex Payne and Grizzly Redwood **

Colt Cabana vs. Joey Ryan
Fun yet disgusting match. **½

ROH World Tag Team Title Match
The American Wolves vs. Kevin Steen and Bryan Danielson
Great tag team match. I actually feel that I would of gone slightly higher had the crowd been better, they seemed pretty dead at times which was annoying considering the match was great. ****

ROH World Title Match
Jerry Lynn vs. Jay Briscoe ***-***¼

Not the worst show ever but definitely the worst since Eliminating The Competition.
---
Trying to Impress Vince McMahon
Join Date: Jan 2008
Location: Toronto.
Posts: 6,187
Points: 0
Re: Official Indy DVD Thread
---
V1 Dante, you can't forget Do Fixer vs. Blood Generation from Supercard of Honor. This still remains my favorite ROH match of all time.
---
Last edited by Wrestlinfan35; 08-20-2009 at

11:44 AM

.
Re: Official Indy DVD Thread
---
V1 Dante, I'd like to throw out some love for the Bryan Danielson/Nigel McGuinness matches, which haven't been mentioned thus far. Their encounter at Unified and at the Driven PPV were phenomenal. Oh, and Nigel vs Aries from the first Rising Above PPV was great too.
Re: Official Indy DVD Thread
---
Joe/Homicide series
Briscoes/Second City Saints series

There's so many, it's hard to name half of them.
Ain't no thing like me, 'cept me
Join Date: Nov 2004
Location: The Velvet Room
Favourite(s): Styles, Shirai, Okada, Cesaro, Nakamura, Scurll
Posts: 8,230
Points: 69
Re: Official Indy DVD Thread
---
http://www.youtube.com/watch?v=GTPkDMOZEik
8/19/09 Video Wire
It looks like Kenny King may be in line for a push now with this Lynn stinger storyline (or was it legit?).
Really enjoyed Rave's promo, makes me look forward to the Dog Collar Match
---
Moron
Join Date: Mar 2009
Posts: 3,514
Points: 0
Re: Official Indy DVD Thread
---
Ok guys I will check all of those matches out, thank you for your help.
---
Last edited by V1 Dante; 08-19-2009 at

01:24 PM

.
Posting Rules

You may not post new threads

You may not post replies

You may not post attachments

You may not edit your posts

---

HTML code is Off

---