Regularly Beating Up James Ellsworth
Join Date: May 2009
Location: Halifax, NS
Posts: 3,280
Points: 49
Re: Official Indy DVD Thread
---
Quote:
But this was the third show in a row, and when they did that for the tv tapings the shows all tended to be a little flatter then normal, like Boiling Point or Eliminating The Competition.
Yeah, but to me at least it seemed like the crowd was okay for the whole show, except the tag title match for whatever reason.
---
Quote:
This is the other wrestling section. It's still fake to us.
Making James Ellsworth GET MY BAGS
Join Date: Jun 2006
Location: Melbourne, Australia
Posts: 4,185
Points: 243
Re: Official Indy DVD Thread
---
Re: Official Indy DVD Thread
---
Quote:
Whats some good ROH shows i should pick up, i dont care what year it is, recent or older.
Supercard of Honor, Better Than Our Best, Man Up!
---
You know you remember this.
Re: Official Indy DVD Thread
---
Looks like ROH will be starting more of a Women's division.
Quote:
Daizee Haze With Words On Her Future

Delirious has been my buddy and focus for quite some time and he finally won the war with Austin Aries when he beat him in their cage match. We attained our goal and Delirious came out victorious, but the aftermath that ensued would tell a different story as Rhett Titus and Kenny King left the man I stood beside out of action indefinitely.

The actions of King and Titus have left me in a state of transition. I'm not one to stop fighting for what I believe in. I do not believe in the thought processes or actions of The All Night Express, but I cannot fight that battle by myself and have been advised to move on. As hard as it's going to be to put those good times and triumphs that I shared with Delirious behind me, it's going to be just as hard to move forward letting my problems with Titus and King go. So I must accept the things I cannot change, yet tackle the things I can: my own battles as a female in Pro Wrestling.

Professional wrestling has always been male dominated- and it always will be. It's pretty much a 98/2 ratio of male to female and that slight 2% consists only of the very elite female fighters of the sport: myself and Sara Del Rey. We have conquered the women's wrestling scene in ROH and around the world. I imagine Sara feels the same way as I do. We are the best on the planet and want the best competition- but not one-on-one against each other for once.

Sara and I have wrestled all over the world going back and forth trading wins and losses. We've been opponents, we've been allies, and no matter what the situation we've dominated and destroyed any attempt to challenge our skills. We've been there and done that. So, now I am calling out to the ROH officials, demanding new challenges. I know Sara must feel the same.

I am a fighter, a warrior. I spend every waking hour training and preparing myself for my next test. I am not a model or have dreams to be anything more. I have wrestled all over the world for almost 9 years and have never taken time off. I'm an athlete and pro wrestling is in my blood. I need a confrontation that will push me to my limits, and while Del Rey has been one to do that, I demand someone new to challenge my craft. Bring me a fight. Bring me any woman wrestler that has the talent to stand up to the dominance of the Women of Honor and I will show them what being a true wrestler is about. I will aggressively destroy any female wrestler who enters ROH once the bell sounds. I want to show that I am the best and prove that any woman who enters Ring of Honor will not be taken lightly. ROH is a level of wrestling above any other. My goal in ROH right now is to wrestle the best women's athletes in the sport today.

So search high and low, but don't come back empty handed. Bring me a battle to overcome so I can continue to prove I am the best. I will fight with pure sportsmanship and honor to show the world that only the strongest and most determined can survive in the most Elite Pro Wrestling Company in the World- Ring of Honor.

Del Rey and I will probably never see eye to eye, but I guarantee that she agrees with me on this.

Fighting for Opportunities,

D.Haze
It'll be great if we can see Kong taking more bookings and girls like Melissa working in ROH.
Re: Official Indy DVD Thread
---
As long as they bring in good woman wrestlers I'm all for it. I'm sure there is plenty of talent out there and a good women's match can add a lot to a card.
Wheelman for James Ellsworth
Join Date: Aug 2009
Posts: 840
Points: 0
Re: Official Indy DVD Thread
---
Quote:
Now that Finkelstein's pics are up, I might as well make one for the heck of it. I doubt they will use it though, and even if they would I'd have to remake it anyway in high resolution (I can only access lower res photos without ROH or Fink).

I'll try and get something done after I'm finished with the Acid comp.
Looking forward to seeing it. I really hope they use yours again, it's too historic a show to have a shitty cover.
Making James Ellsworth GET MY BAGS
Join Date: Jun 2006
Location: Melbourne, Australia
Posts: 4,185
Points: 243
Re: Official Indy DVD Thread
---
CZW - Tournament of Death 9

1. Havoc's Happyland Death Match
JC Bailey vs Danny Havoc
**1/2

2. Weapons Of Mass Destruction
Nick Gage vs Abdullah Kobayashi
**1/2
The spikes in Kobayashi's head were sick...The footage taking them out was as well.

3. Thumbtack Kickpads & Pains Of Glass
Scotty Vortekz vs Dysfunction
**1/4

4. Fans Bring The Weapons
Devon Moore vs MASADA
**

5. Fans Bring The Weapons
Sami Callihan & Joe Gacy vs DJ Hyde & Greg Excellent
***

6. 3 out of 5 Log Cabin Lighttubes
JC Bailey vs Abdullah Kobayashi
**3/4

7. Boards Of Death
MASADA vs Scotty Vortekz
***

8. Tai Pei Death Match
Brain Damage vs Drake Younger
**1/2

9. Tables, Ladders & Lighttubes
JC Bailey vs Scotty Vortekz
**1/2


Re: Official Indy DVD Thread
---
Seven came this morning. ~!
---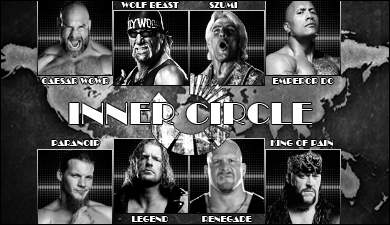 Ain't no thing like me, 'cept me
Join Date: Nov 2004
Location: The Velvet Room
Favourite(s): Styles, Shirai, Okada, Cesaro, Nakamura, Scurll
Posts: 8,230
Points: 69
Re: Official Indy DVD Thread
---
Quote:
Looks like ROH will be starting more of a Women's division.
If this means more Del Rey actually wrestling, more Kong, Melissa being brought in...then I'll be happy.
---
Posting Rules

You may not post new threads

You may not post replies

You may not post attachments

You may not edit your posts

---

HTML code is Off

---