If everybody is thinking alike, then somebody isn't thinking.
Join Date: Jul 2012
Location: London, UK
Posts: 7,046
Points: 6,879
Leo Kruger = A modern day Skinner?
---
Now some of you or maybe most of you maybe thinking: what the hell is this guy on about?
Well I watched this weeks NXT and I finally got to see Leo Kruger in the ring and as a character and the very first thing he reminded me of was of the early 90's WWF gimmick wrestler called Skinner. For those who don't know who Skinner was, he was a mid carder for the WWF in the early 90's. What reminded him of Skinner? Kruger's look and his gimmick.
* Kruger is portrayed as a hunter from South Africa. Skinner also was portrayed as a hunter...though from the much less exotic location of the florida everglades. The commentary putting over his character reminded me a lot of how they portrayed the Skinner character with the background in hunting and how he would use that mentality when coming to the ring.
* Skinner would often come to the ring dressed with long scruffy hair with a manly beard and would often have an alligator claw round his neck which he would sometimes use as a weapon to win matches. Kruger also has a scruffy-ish look with his hair and beard, though not as much as Skinner's. He also wears round his neck what appears to be little claws which is to show off his hunter gimmick. Whether he has ever used them as a weapon I do not know, but if he has then the comparisons become that much stronger.
Take a look at these photos. I'm in no way shape or form calling Kruger a Skinner clone and the differences in their look are apparent but you can definitely see the similarities in their characters just judging by their look. Not to mention if you actually look up Skinner's work, you can definitely see a similarity: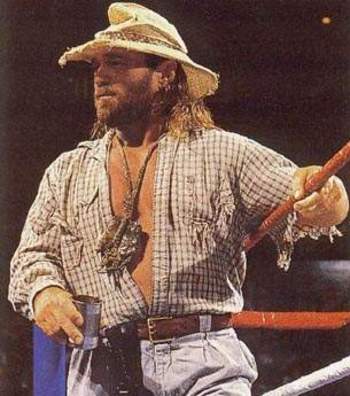 compared to:
Tell me what you guys think, is this too much of a stretch? Or can you guys see where I'm coming from in terms of the influence? Again I am not saying Kruger is ripping off Skinner but the influence is definitely there behind his gimmick in my opinion.
---
**** <3 ****
Liberty thrives when government is small, I want a government so small you can barely see it.
---
Last edited by L-DOPA; 01-20-2013 at

03:11 PM

.
Re: Leo Kruger = A modern day Skinner?
---
There is one Skinner and he is the real Skinner. Any generic long-haired man with a beard can be a Skinner clone, but can never be the real Skinner. You could've just mentioned Roman Reigns in a straw hat or even Bray Wyatt to be like Skinner. Why Leo?
Re: Leo Kruger = A modern day Skinner?
---
I've said it since FCW days...he reminds me of "Kraven the hunter" from Marvel.
I said that BEFORE he got this hunter gimmick in NXT.
---
The REAL First Lady of NXT
Join Date: Jun 2006
Location: A state of perpetual snarkiness.
Posts: 5,351
Points: 12
Re: Leo Kruger = A modern day Skinner?
---
Quote:
I've said it since FCW days...he reminds me of "Kraven the hunter" from Marvel.
I said that BEFORE he got this hunter gimmick in NXT.
You are correct.
---
Moron
Join Date: Jul 2009
Posts: 6,658
Points: 0
Re: Leo Kruger = A modern day Skinner?
---
Lets hope not OP. Skinner didn't go very far in the company while it was under the name WWF then. I think Kruger has potential, but not main event potential. He needs a character that isn't in to "Big Game" hunting. That has nothing to do with wrestling. However, his creepy, stalking, dark character isn't that bad at all. He needs a much more modern, but yet classic mysterious, and dark character. One that talks about fate, legends, and death more than anything else. Kruger could say that he comes to his opponents first in their dreams, and then in the ring.

He needs a debut vignette that tells his life story. Raised by a bunch of South African Gypsies his life was much different than most alive today. The vignettes would show rituals, and traditions that most aren't used to seeing. Pit fighting with Kruger shown winning them all. However, he says that one man defeated him, and never shook his hand out of a show for respect. Kruger says that this man is currently in the WWE, and is the reason he is coming to the WWE. At the same time he can sound like this dark, soulless man, Kruger can easily jump in to a character in which he is a well spoken man, with an Ivy League education. Almost like this Jekyll/Hyde persona.

I would have him read various poems mainly by Edgar Allen Poe. Give him this classy, refined, but yet dark character. Kruger's vengeance is set on Justin Gabriel, and fellow South African. Kruger says that he knows he has been in Justin's dreams, and turning them into nightmares. Leo says that every night Gabriel sleeps with a bible at his side praying that such a demon like himself show up tapping at his door. Kruger sets himself up with a feud with former South African competitor, Justin Gabriel. Kruger needs a character with a mix of Jake The Snake, Goldust, and Mankind.
Re: Leo Kruger = A modern day Skinner?
---
I suppose I can see your comparison, but Leo Kruger is much better than Skinner. No disrespect to Skinner, but Kruger has the ability to go far in the WWE/NXT
Re: Leo Kruger = A modern day Skinner?
---
Skinner was a great gimmick, played to perfection by Steve Keirn (as mentioned earlier in this thread is the FCW/NXT president). He would spit tobacco juice into guys faces and then lose matches. He was pretty much a jobber.

I see the similarities with Leo Kruger, I think they're trying to fit some of Mankind in there also but I ain't convinced. He's a bit too clean cut for my liking, but I suppose they're hesitant to 'dirty' him up after seeing The Wyatt Family.
Heel Turn on James Ellsworth
Join Date: May 2010
Location: Seville, Andalusia, Spain
Posts: 2,639
Points: 890
Re: Leo Kruger = A modern day Skinner?
---
I love Kruger. His look, his expressions, his "background". Also you know the only alternative is being a cocky guy in trunk.
Re: Leo Kruger = A modern day Skinner?
---
I like Kruger, my favourite in NXT, along with Wyatt and Dallas.

His Game Hunter gimmick isn't a main event gimmick but it's a good way to get him started.

His Lion Skin Toga, King of Africa gimmick was the best to me though. He should have been called up last year.
Posting Rules

You may not post new threads

You may not post replies

You may not post attachments

You may not edit your posts

---

HTML code is Off

---