Wheelman for James Ellsworth
Join Date: Oct 2008
Location: Manchester, England
Posts: 669
Points: 7,418
Re: Big NXT Names Coming to RAW Soon
---
Quote:
This is old news, they been searching blindly for an idea to get the guys into the main roster for fucking months, Foley would have done it if Ambrose hadnt pushed it to far, would have been an easy high profile in... but we'll see what creative can come up with now...
How did Ambrose take it too far?
Re: Big NXT Names Coming to RAW Soon
---
Quote:
Originally Posted by
xxQueenOfXtremexx
View Post
How did Ambrose take it too far?
He tweeted something about Foley's children and Mick started bitching about it and allegedly pulled the plug on the whole angle.
---
Quote:
x78 is a one note gimmick don't engage him.
Re: Big NXT Names Coming to RAW Soon
---
In other words :

When WWE feels like they have something for them to debut, they'll debut.

Well no fucking kidding.
Heel Turn on James Ellsworth
Join Date: Sep 2011
Location: Seth Rogan's refrigerator
Posts: 2,809
Points: 3,232
Re: Big NXT Names Coming to RAW Soon
---
gewdddd gewddddd
---
Top 5:

1) AJ Styles
2) Braun Strowman
3) Kevin Owens
4) Roman Reigns
5) Samoa Joe

WWE are definitely making the right move with Ambrose. He does have enough talent to get over on his own but he's only going to get better so why not wait & pull the trigger on something big?
---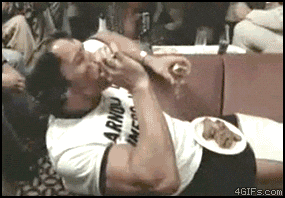 WF Dictionary:
Burial
bur·i·al
Noun
#1 - A wrestler I like losing to a wrestler I don't like.
#2 - A wrestler I like being insulted in promos by a wrestler I don't like
Learning to break kayfabe
Join Date: Nov 2012
Location: New York
Posts: 112
Points: 0
Re: Big NXT Names Coming to RAW Soon
---
Can you even say that Dean Ambrose will be brought up? He isn't really on NXT right now, he hasn't been on it since it was FCW. Right now he is just in the limbo while WWE waits for the right time so it doesn't flop like Tensai or Brodus Clay.
Re: Big NXT Names Coming to RAW Soon
---
Call them all up.

Dean Ambrose = This guy can jump straight into a big storyline if they do it right.
Seth Rollins (Just call him Tyler Black)= He reminds me of a CM Punk in 2006.
The Ascention = We need a fresh new tag team and these are it.
Bray Wyatt = We need something like this on TV.
Big E Langston = The whole gimmick is good.
Derrick Bateman = As the USA gimmick.
---
I mark for
PRO WRESTLING
Hit the kitchen up, and water whip. SKRRT
Join Date: Aug 2010
Location: Toronto, Ontario, Canada.
Posts: 4,030
Points: 0
Re: Big NXT Names Coming to RAW Soon
---
Well Ambrose does dark matches with the Raw brand already right? They know his abilities and his potential, so they're definitely playing it smart by being patient. Yeah I used to be a hardcore mark for him, but I've calmed down and I'm more patient for a debut. He shouldn't get thrown into a main event feud right away with someone or something stupid. They need to do it smart, HHH should be in charge of how Ambrose is used imo, cause Vince is senile. So, he isn't on NXT, but he's with the Raw brand on tour and shit so I mean it's not like he's not doing anything, he's very much in view of all the right people and the important people.

Rollins is the next Jeff Hardy, without the drugs(hopefully). He definitely will get over easily with the crowd, he is not terrible on the mic, he obviously needs some work on it, but he's not at a John Morrison or Jeff Hardy level, and he's good in the ring, so he's definitely a great asset for the future as well.

It'd be awesome seeing Rollins and Ambrose have a feud like a few years down the line, once they're established, that like incorporates some indy rivalry they've had since they were younger, and how one keeps trying to be better than the other, etc.

edit: And when they say soon, I really hope it means like, RR at the latest or something, not another 4 months.
---
Re: Big NXT Names Coming to RAW Soon
---
As others have said, I'll believe it when I see it. I hope to be pleasantly surprised though.
---
Re: Big NXT Names Coming to RAW Soon
---
Quote:
Did someone compare Seth Rollins/Tyler Black to a jagoff like John Morrison? Smh.
I also don't get it, way different. He looks more badass while morrison was more flashy.
Seth Rollins > morrison
---
number one fan
Posting Rules

You may not post new threads

You may not post replies

You may not post attachments

You may not edit your posts

---

HTML code is Off

---