Your favourite cover(s)?
---
Out there on YouTube, there are A LOT of different covers, so which is(are) the one(s) you like the most?

It can be any kind of cover btw.

In my case, def. this:


---


Special thanks to King Gimp for the sig.

MARKING FOR:
Daniel Bryan | Bad News Barrett | Dean Ambrose | Damien Sandow | Sami Zayn | Kevin Owens | Pentagon, Jr. | Austin Aries | Kota Ibushi | Kenny Omega | William Regal | Bayley | Renee Young | YOSHIHIKO - The greatest dummy wrestler of all the times | Anything DDT tbh, especially the Ironman Heavymetalweight Championship matches
We smile in ignorance and learn in pain
Join Date: Jul 2008
Location: Glasgow, UK
Posts: 4,325
Points: 7,339
Re: Your favourite cover(s)?
---
---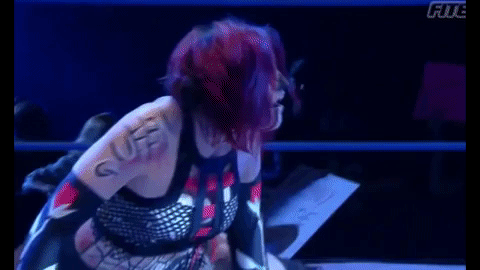 Heel Turn on James Ellsworth
Join Date: Aug 2004
Location: Toronto, Ontario, Canada
Posts: 2,205
Points: 165
Re: Your favourite cover(s)?
---
Too many to list, my top 5 is probably something like this


5. Slayer - Born To Be Wild
4. Marilyn Manson - Sweet Dreams (Are Made of This)
3. Trivium - Iron Maiden
2. Killswitch Engage - Holy Diver
1. Metallica - Die, Die My Darling

Re: Your favourite cover(s)?
---
Behemoth - I am not Jesus (Ramones Cover) ~ Look how Nergal makes that "I am not Jesus" chant so sinister. Even the Ramones probably never imagined the death metal potential in that song.



Gamma Ray - Its a Sin (Pet Shop Boys Cover) ~ Always liked this song by Pet Shop Boys. Good to see a metal band covering it decently. And of course, Kai Hansen's guitar solos are top of the class.


---
THE DESTRUCTION OF TRIPURA - THE THREE CITIES OF MAYA
"--The Year became his bow; Kaala Raathri the Death-Night which is Rudra's shadow, became the indestructible bowstring of that bow. Vishnu, Agni and Soma became the arrow. The universe is said to consist of Agni and Soma. The universe is similarly said to consist of Vishnu. Vishnu is, again, the Soul of the holy Bhava (Rudra) of immeasurable energy. And due to this the touch of that bow-string became unbearable to the Asuras. Sankara cast on that arrow his own irresistible fire of anger, that which was born of wrath of Bhrigu and Angirasa. Thus he is called Nila Rohita (Blue-Red). And that terrible deity, Rudra, robed in skins, looking like 10,000 Suns, and shrouded by the fire of superabundant energy, blazed up with splendour--".
Learning to break kayfabe
Join Date: Jun 2013
Posts: 27
Points: 9
Re: Your favourite cover(s)?
---
Metallica easily wins this.

Metallica - Am I Evil? (Blitzkrieg Cover)
Metallica - Die, Die, Die My Darling (Misfits Cover)
Metallica - Stone Cold Crazy (Queen Cover)
Metallica - So What? (Anti Nowhere League Cover)
Metallica - Turn the Page (Bob Seger Cover)
Re: Your favourite cover(s)?
---
---

Trying to Impress Vince McMahon
Join Date: Dec 2011
Location: the town of Lincoln, Nebraska
Posts: 6,246
Points: 1,016
Re: Your favourite cover(s)?
---
Some of my faves....

Ryan Adams- Wonderwall
Johnny Cash- Hurt
Hendrix- All Along the Watchtower
Smashing Pumpkins- Never Let Me Down
Avett Brothers- Forever and Ever Amen
Darius Rucker- Wagon Wheel (don't hate it is catchy as fuck)
Hold Steady- Atlantic City
Gaslight Anthem- Refugee
Rage- Street Fightin Man
311- Love Song
Staind- Comfortably Numb
Wallflowers- Heroes
Ataris- Boys of Summer
Josh James- Green Grass
Deer Tick- Any Nirvana song they perform
Pearl Jam- Rockin in the Free World
Placebo- Running Up that Hill
Stone Sour- Wicked Game
---
"I am the devil himself, and all of you, stupid, mindless people fell for it". ~
All-time
Randy Savage|Mick Foley|Sting|Bret Hart|MDM DiBiase|Steamboat|Flair|Punk|Eddie|Jericho|Kurt Angle|Austin|Rock|Pillman|Owen|Terry Funk|Warrior|Taker|Perfect|Rude|Liger|Edge|Vader|Muta|Jake Roberts|Piper|Von Erichs|British Bulldogs|Heenan|Ventura
Current
Bryan|Owens|Brock|Cesaro|Wyatt|Mark Henry|Dolph|Zayn|Ambrose|Rollins|Goldust|Sandow|The Prime Time Players|Jay Briscoe|Heyman|Steph|Maria Kanellis
Re: Your favourite cover(s)?
---
Marilyn Manson - Personal Jesus ; Tainted Love ; Sweet Dreams
Elton John - Lucy In The Sky With Diamonds
Rob Zombie - We're An American Band
Ozzy Osbourne - Woman
Metallica - Whiskey In The Jar
iwrestledabearonce - Uprising
UB40 - Baby, I Love Your Way
Regularly Beating Up James Ellsworth
Join Date: Jul 2012
Location: England
Posts: 3,498
Points: 1,836
Re: Your favourite cover(s)?
---
---
SUPLEX CITY BITCH
Posting Rules

You may not post new threads

You may not post replies

You may not post attachments

You may not edit your posts

---

HTML code is Off

---