Re: R&B Music Discussion Thread
---
Throwback Thursday
Quote:
Chris shits on Jason DeRulo. Both talent-wise and in the quality of music
Yeah, this should'nt even be a discussion. Chris obviously has the better voice, and as far as albums go, Derulo's are boring. Talk Dirty is the first song of his that I've listened to more than a few times.
---
Re: R&B Music Discussion Thread
---
I may have heard that song once in my entire life.

Throwback it is.




Re: R&B Music Discussion Thread
---
REALLY enjoyed the last three videos posted. Thanks guys. I'm posting a throwback for the 90s kids:


Re: R&B Music Discussion Thread
---
So there is going to Lifetime movie on Aaliyah and this is the actress chosen to play Ms. Haughton: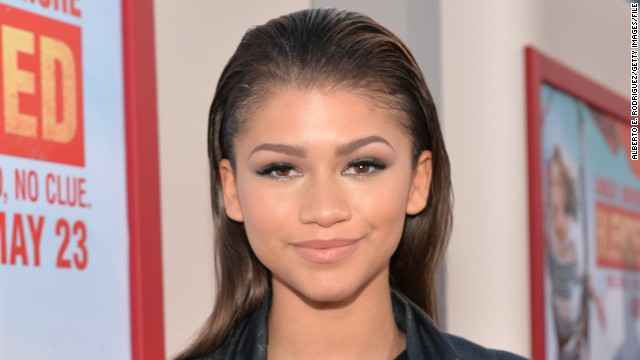 Her name is Zendaya and she is a Disney star is all I know about her. I will reserve judgment until I see her performance because I admit I was a bit skeptical of Lil Mama's casting as Left Eye and she ended up doing a very good job. Zendaya can potentially capture the essence of who Aaliyah was and embodied through her performance more than an identical appearance. I have read that there is some controversy with critics saying Zendaya does not look like Aaliyah and that "she is too light/white" to be Aaliyah.
Re: R&B Music Discussion Thread
---
They probably could have picked someone that resembled her more, but Hollywood has missed the boat numerous times in situations like this so it's not surprising. I'm more concerned about the accurate depiction of Aaliyah in the movie.
Distant Relative of Former Def Jam Intern/President, Kevin Liles (1991 to 2004)
Join Date: Jan 2011
Location: Lijiang, China, Overwatch
Posts: 12,040
Points: 14,260
Re: R&B Music Discussion Thread
---
Aaliyah's Family Doesn't Want The Biopic To Be Made
Since Lifetime announced they would be making a biopic honoring the life of Hip-Hop and R&B's fallen angel, Aaliyah, fans and spectators alike have expressed mixed feelings about the production. One of the biggest controversies surrounding the project arose yesterday when Disney Channel's Zendaya was chosen to play the talented singer, dancer and actress in the film, Aaliyah: Princess of R&B. Now, according to a TMZ report, Aaliyah's family seems to be against the entire idea of a made-for-TV biopic about her life.
Apparently, Barry Hankerson, Aaliyah's uncle and former manager, is livid not one person from Lifetime discussed the making of the film with anyone in their family. A potential boycott is on the rise. Hankerson also said the family plans to hire a lawyer and do everything in their power to cease the release of the project, as well as, any use of Aaliyah's music.
It seems their vision for a detailed look at Aaliyah's life is better suited for a bigger screen. The report says the family is not against a "theatrical film" but think a TV movie is out of the question for someone with such a recognized legacy.
Lifetime is expected to begin filming Aaliyah: Princess of R&B this summer and release it this fall. The film will be heavily based on Christopher John Farley's best seller, Aaliyah: More Than A Woman.
http://www.xxlmag.com/news/2014/06/a...ic-to-be-made/
愚かな詩人.
Join Date: Jun 2014
Location: Reaching next level of life without fumblin.
Posts: 2,589
Points: 4,786
Re: R&B Music Discussion Thread
---
Can't wait for Breezy's X album to be released, especially since it's going to be a double disc album. Ever since listening to both 20/20 Albums by Justin Timberlake I have since then been appreciating the quality+quantity combo.

I don't know about 'Love More (featuring Nicki Minaj.)' but 'Fine China' and 'Don't Think They Know (Featuring Aaliyah.)' are two fantastic tracks. Loyal, production wise (but perhaps not lyrically), is also great.
---

We're going down, down, down, if that's the only way
To make this cruel, cruel world hear what we've got to say
Put the right letters together and make a better day.
♫.
Re: R&B Music Discussion Thread
---
was listening to the radio this morning and girl was tripping hard at Usher's new drop. "i don't mind"
said she's lost all love for Usher for this one.
you already know it's gonna be a summer tune thou.

---
KARLA LOPEZ, THE HOTTEST MODEL/ACTRESS ALIVE. Sheamus, Swagger, Wade, Dixie, Cesaro, Sami, DB, RKO, Drew, Del Rio, Cody, Punk, AJ LEE, Athena, Jasmin Areebi, Becky
/
(
SIG CRED: Abrown/A$AP/Sol Katti
)
CHAMPviaDQ
= Great GFX.
Does anyone listen to August Alsina?
---

Axel, Fandango, Rusev
Re: R&B Music Discussion Thread
---
Quote:
Does anyone listen to August Alsina?
I will now after hearing him a bit tonight at the BET Awards. He sounded good live. August out-sang Chris Brown and Trey Songz who performed with him. I will look more into his material for sure. I heard it is dope.
Usher's live vocals were terrible but it's been a while since he's been good tbh.
Headliner, you see the 90s R&B groups perform throwback hits? I laughed my ass off when Color Me Badd hit the stage. Silk was good.
My damn DVR cut off before the show ended so I did not see Beyonce & Jay Z's performance from their tour. Chris Brown can still dance his ass off but I wonder if he can still sing live. The lip syncing was understandable in his dance performance but he was mostly doing it in the slow performance with August and Trey later too.
Yolanda Adams brought everyone to church with her Lionel Richie (the Lifetime Honoree this year) tribute. My favorite of the night actually. Spiritually moving, soul sanging.
Posting Rules

You may not post new threads

You may not post replies

You may not post attachments

You may not edit your posts

---

HTML code is Off

---