Re: Cartoon Network Mafia - Game Thread
---
Quote:
What was my contradiction? I don't think I contradicted myself.


Why? I can see the third Power Puff Girl being a fake claim but at the same time I think he could be telling the truth. I think he is the Vengeful Townie though of course I could be wrong since I can't read him. More players need to give their input regarding him.
people find a contradiction in you wanting mafia lynched on day one, noting how rare of an occurrence it is, when you wouldn't claim day one. players feel like claiming and lynching goes hand in hand and in the scenario you stated one doesn't happen w/o the other.
in short the precedent you set in this game contrasts with your wish. the discussion is fruitless as it rehashes day one, but doesn't touch on anything new. it forces you to explain the contradiction, which is a transition into WIFOM.
we're left with a circular discussion, which is fancy illusion of sitting on our hands. we get nothing out of your explanation, we're not lynching you b/c of said contradiction and we don't learn anything new out of it. most of night two has been extravagant fluff.
Re: Cartoon Network Mafia - Game Thread
---
Quote:
I've already explained this but, bubbles was the innocent one and blossom was the virgin and he claimed vengeful townie. When I brought up that fact he didn't seem to know what I was on about. Then there was the thing with the "stereotype" not being in the flavour when it was in the other 2. Basically his powerpuff girl pm doesn't match up with the other 2. That or it is another case of jigsaw botching reading his role pm.

Also he has given 0 flavour as to why he would be a vengeful townie, he just said he likes to beat up people, which sounds more like a vig than a vengeful townie
Aww, you're such a patient guy, Chr1st0.
I remember you saying that but didn't quite follow. Okay, I can kind of see him being scum now. Plus vengeful townie is something I can see scum fakeclaiming as a scare tactic.
---
Re: Cartoon Network Mafia - Game Thread
---
i obviously like the wonder bra, it comes with a greeting. i look it says HELLO BOYS. it starts a conversation with me, now the conversation starter in it's self isn't the best, but it shows initiative.
Re: Cartoon Network Mafia - Game Thread
---
Okay, where do we go from here, Impulse?
---
Re: Cartoon Network Mafia - Game Thread
---
i actually could have summed all this crap i posted simply. you know how we always say if you let certain wagons live then they become a distraction. mafia keeps them around b/c town won't be able to move past the wagon. what happened here is that we got past the wagon and at night multiple players rehashed it.

rehashing isn't a sin, but we made progress and regress. our focus shifted and it makes you wonder what the mafia is trying to hide. they keep pushing this in our face and it makes you wonder. that last sentence inspired push up bra and it makes you wonder bra theory.
Re: Cartoon Network Mafia - Game Thread
---
Quote:
Okay, where do we go from here, Impulse?
saw and mdp their situations have to be clarified, which is what we were getting at until this happened.
also annoyed push up bra became a punchline. people don't look at the contents of the glass they just stare at the cup or are scared away by the cup size. i did it again.
Re: Cartoon Network Mafia - Game Thread
---
It sounds like you can tell I'm town. I think you might be scum. You never put this much effort into a game when you're town. Funny how you're scum play is more town friendly than your town play.

I think a majority of the players just don't like the idea that I didn't claim. Like some of them might even be able to see I'm town yet they still want me to claim. One guy sounded jealous because he said if it was him than he would have been strung up on day 1. It's really the male ego that has made my play a distraction but whatever, I'll claim after night. Although I guess if I were in their shoes I'd be annoyed that the person didn't claim.
---
Tag Teaming With James Ellsworth
Join Date: Jul 2011
Location: The REAL St James Park
Posts: 1,356
Points: 8,864
Re: Cartoon Network Mafia - Game Thread
---
Night incoming. PMs to follow
---
Blue Is Still The Colour
Re: Cartoon Network Mafia - Game Thread
---
---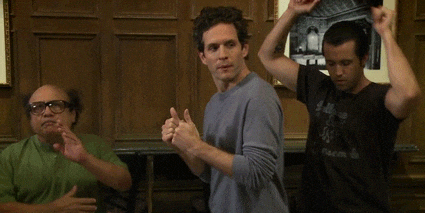 Re: Cartoon Network Mafia - Game Thread
---
Quote:
Originally Posted by
MillionDollarProns
View Post
Garbage. You didn't when you were double voter (in fact when you played double voter you waited till end game, and snuck your claim in), ChainsawCharlie didn't in hunger games, I didn't because that's not how it goes and you know better. The fact you know that, and yet are acting like it's common sense is incongruent and incongruency is SCUMgruency.

Also whoever kills Top Cat or even suggests killing Top Cat is awful, Top Cat is the best cartoon character to ever exist ever.

It's Chr1st0 and Shep, if both these guys flip town I'm changing my username to CYNDI LAUPER.
im sorry what
what game was i the double voter in. or better yet when was the last time i made it to endgame
---
Posting Rules

You may not post new threads

You may not post replies

You may not post attachments

You may not edit your posts

---

HTML code is Off

---