Re: The Wire Mafia Gameplay - Thread Night One
---
thoughts on the game so far Rising?
Re: The Wire Mafia Gameplay - Thread Night One
---
yeah the first part of some peoples roles are taken from wikipedia to give you an idea of the character. Better description then I would have gave anyway.

My internet at home is still gone, should be fixed in the next day or two hopefully. so mad at that.

Night posted shortly. next time quote the role instead of just saying "I'll use it on x" ;D
Re: The Wire Mafia Gameplay - Thread Night One
---
Quote:
thoughts on the game so far Rising?
well I have not much to say as i haven't followed game closely and i bit busy with my studies which makes reading so many pages bit impossible task ....
---
So who's gonna prepare my next signature?
Re: The Wire Mafia Gameplay - Thread Night One
---
step your memory up
Re: The Wire Mafia Gameplay - Thread Night One
---
evo should explain to me how declaring i'm not the PGO benefits anyone? if anything it encourages someone to shoot me, which is okay by me, but i don't want innocents killed over your insitent effort to discredit me.

why would i lie about being a gun owner?
Re: The Wire Mafia Gameplay - Thread Night One
---
Is there anyone on the rep list? It's getting hard for me to follow this game, I'm considering replacing out.
---

PRESS TRIANGLE TO GO FAST
THE MILLION DOLLAR PRONS: Runner-Up for Best WoW Poster and Best Rant of 2012! WINNER OF RANTSAMANIA V!
"Stay Together" by Noah Cyrus out NOW!


Hunter of Invisible Game
Join Date: Jul 2006
Location: highway jammed with broken heroes on a last chance power drive
Posts: 37,904
Points: 15,751
Re: The Wire Mafia Gameplay - Thread Night One
---
So STUFF is soft claiming to be a junky, probably Bubbles or his one fuck up buddy.
---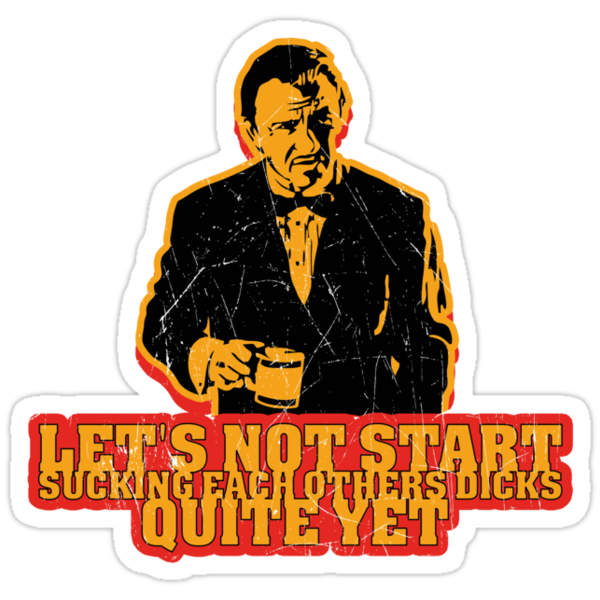 Re: The Wire Mafia Gameplay - Thread Night One
---
dont be a quitter mdp.
---
Re: The Wire Mafia Gameplay - Thread Night One
---
Night One
"You know what the trouble is, Brucey? We used to make shit in this country, build shit. Now we just put our hand in the next guy's pocket."
-Frank Sobatka
Death of a Salesman Stevedore
by James Whiting
Local dockworker and union leader, Frank Sobatka, tragically and heroically died last night in a successful attempt to save others in what some are calling "a selfless act of courage."

Although the investigation continues on the specifics of the act it is now known that without the acts of the brave Sobatka, a death toll could have been as high as three to four.

"He was a good man, a passionate man. He only wanted the best for his family and all us boys working the docks. This is a damn shame." says friend and colleague, Nat Coxon.

Funeral arrangements are being held this week as many of the men of the docks will come to pay their respects to their fallen friend, an outspoken man regarding the rising difficulty of life as a longshoremen.
Spoiler for Hohenheim of Light:
Outed
by IMPULP
A young man by the name of Duquan Weems aka Dukie is shaken up after nearly being beaten to death by a local group of misfits allegedly involved in the drug trade. He is alright but unfortunately everyone had a front row show to his beating and his identity has gone widespread all over Baltimore as "that lil bitch who got his ass beat". It will be quite hard to recover from this!

"pussy ass bitch probably had it coming." says witness, Fuzzy Dunlop.
Cage-Taylor Phitz IS
:
Quote:


Welcome to The Wire Mafia. You are Dukie, Street aligned. You have a truly tragic story. As a middle schooler living with drug addicted parents you have your life cut out for you. Despite your intelligence and large amounts of potential you eventually fall victim to temptation and become a drug addict at the end of the show.

Since you start out as a shy kid are the Note Passer. Each night PM me a sentence or two and I will anonymously post it in the Night Post.

Win Condition: You win when all threats to Street Aligned players and the Law Enforcement are eliminated.
He has this to say: "This is Dukie and I'm the note passer."

Day 2 Begins
40 are alive, 21 for a majority. LOL
I'm looking for a replacement for GA too, he asked to be taken out. I guess I'll wait till more people die.
Re: The Wire Mafia Gameplay - Thread Night One
---
HoL
---
Posting Rules

You may not post new threads

You may not post replies

You may not post attachments

You may not edit your posts

---

HTML code is Off

---