Re: TNA BOUND FOR GLORY 2013
---
Build been shit but I'm still looking forward to the show. Main Event, Ultimate X, Angle/Roode and Magnus/Sting could and hopefully will be great
---
THE BOSS!!
Lets go to the old mill anyway, get some cider!
Join Date: Mar 2007
Location: Stuck On This Prison Planet
Posts: 13,284
Points: 4,112
Re: TNA BOUND FOR GLORY 2013
---
My picks

AJ over Bully
Hardy wins the ux
Angle over Roode
Magnus over Sting
Gail over odb
Bad influence win the gauntlet
Bad influence over Gunstorm
---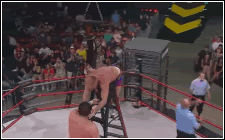 Do I really have to say anything?

Sig: Kingcrash
Moron
Join Date: May 2013
Posts: 1,005
Points: 0
Re: TNA BOUND FOR GLORY 2013
---
Only way to make this show good is if ethan cartman III debuts.
Wheelman for James Ellsworth
Join Date: May 2007
Posts: 527
Points: 21
Re: TNA BOUND FOR GLORY 2013
---
The fact that they have had the best part of 12+ weeks to book and promote this card, its pretty lacklustre. The AJ/Bully build has been strange, they are competing in the main event for the title and have had only a handful of altercations to build this match. Roode Vs Angle got thrown in at the last minute on Impact. The Ultimate X match is going to be a solid spotfest but it's there to get people on the card who they haven't pushed in a proper feud. Another lazy attempt by TNA to be fair
Re: TNA BOUND FOR GLORY 2013
---
BFG could bring a lot of change in terms of current storyline direction. I think this year Bound For Glory is more of a Reboot for TNA then anything else. That's why the build for BFG has been so poor because of Eric Bischoff wanting to change what Prichard had but just didn't have enough time to build what he wanted so we got this lackluster card along with the releases and no insurance of who's going to be with the company for creative. I do think that this show could be great match wise, I'm looking forward to 4 matches. Those being the Main Event, Ultimate X, Sting/Magnus and Roode/Angle
I'm looking forward to Main Event, Ultimate X and Roode/Angle because the 3 could all be awesome especially the Ultimate X match. I'm looking forward to Sting/Magnus because of the meaning of the match. Magnus winning is a pretty big statement which pretty much says "Magnus is a Main Event guy" he beat Sting One on One. I rather Magnus not turn heel but I could see it happening.
As for the other 2 matches, I couldn't really care about the Knockouts match but I do hope that Bad Influence win the preshow match and go on to beat Storm & Gunner for the Tag Titles
Anyway I'm looking forward to BFG even with the poor build I still thing it could be an awesome show!
---
THE BOSS!!
Asking JAMES ELLSWORTH for Wrestling Advice
Join Date: Mar 2013
Location: Scotland
Posts: 362
Points: 231
Re: TNA BOUND FOR GLORY 2013
---
Can't wait for this!
Learning to break kayfabe
Join Date: Oct 2013
Posts: 54
Points: 0
Re: TNA BOUND FOR GLORY 2013
---
PUMPED BFG
Re: TNA BOUND FOR GLORY 2013
---
This will be the 8th BFG and I can honestly say that this is by far the least interesting. It just feels like they threw random crap together.
Re: TNA BOUND FOR GLORY 2013
---
I was not digging the card.but the last couple weeks gave me hope.the main event the x and of course angle match should deliver.i will be there all weekend.i will be arriving in san diego on friday
Re: TNA BOUND FOR GLORY 2013
---
My body is SOOOOOOOOOOOOOOO ready for this. Haven't looked forward to a TNA ppv in like...forever.
Dixie THY GOAT will probably steal the show.
---
KARLA LOPEZ, THE HOTTEST MODEL/ACTRESS ALIVE. Sheamus, Swagger, Wade, Dixie, Cesaro, Sami, DB, RKO, Drew, Del Rio, Cody, Punk, AJ LEE, Athena, Jasmin Areebi, Becky
/
(
SIG CRED: Abrown/A$AP/Sol Katti
)
CHAMPviaDQ
= Great GFX.
Posting Rules

You may not post new threads

You may not post replies

You may not post attachments

You may not edit your posts

---

HTML code is Off

---