Who do you think should be the top 5 faces and heels?
---
Simple question. I do watch TNA for some guys currently, because I'm not so much into the storylines they produce. I really wanna know who do you guys think should be the top 5 Faces and heels, for me:

Top 5 Faces:
1. Samoa Joe (He was the main reason I started watching TNA in 2005/6, I really wanna see him rise again, I dont think his current place is healthy)
2. Magnus (This guy has a lot of potential future champion, draw and crowd favorite you name it, I think its time to push him)
3. Matt Morgan (I think hes badass, has the look, talks well, intense in ring performer, he has the tools to succeed big time)
4. Kurt Angle (Getting old very but Imprtant for TNA)
5. AJ/Hardy (Obviously the big money makers of TNA if they played them well) they can be as tags, they might work great together.

Top 5 heels:
1. Booby Roode (No comment, just amazing)
2. Austin Aries (Has the Full package)
3. Bully Ray (Getting old, but hes great at what he does)
4. Crimson (I dont like him a lot, but if they give him a dark character I think he can pull it of and be something, he doesnt suck he just needs something and someone to work with, see Abyss)
5. Daniels/Kaz (They're great together best tags from since 2012 till now)
Lets go to the old mill anyway, get some cider!
Join Date: Mar 2007
Location: Stuck On This Prison Planet
Posts: 13,277
Points: 4,091
Re: Who do you think should be the top 5 faces and heels?
---
Faces

Magnus
Hardy
Angle
Storm
Sabin

Heels

Bully
Aries
Roode
Bradley
Morgan

Tweener

Joe
AJ
---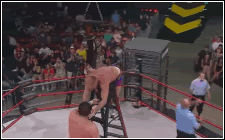 Do I really have to say anything?

Sig: Kingcrash
Re: Who do you think should be the top 5 faces and heels?
---
Faces:
Hogan
Brooke Hogan
Dixie Carter
Shark Boy
Suicide

Heels:
Doc
Garret Bischoff
mike knoxx
briscoe
Dvon

Then Id blow my brains out
---
No One...
Re: Who do you think should be the top 5 faces and heels?
---
Faces
1) Magnus - push this guy to the moon.
2) Jefferson
3) Storm
4) Samoa Joe
5) Sabin

Heels
1) Bully ray - find me someone better than him?
2) Bobby Roode
3) Austin Aries
4) Bad Influence
5) Matt Morgan.
---
Won't remove till:
[] AJ Styles wins the Heavyweight Title
[] Aces & Eights storyline finishes
[X] Kenny King Loses the X Division Title
(Slammiversary 2013)
[] Jay Bradley Wins Any Title
[X] Option C is used
(Destination X 2013)
[] Double J is Inducted into the TNA HOF
[X] Rockstar Spud appears on another Impact
(Destination X 2013)
[X] RVD Signs or is took of the roster page
(6/16/13 - Signed with WWE)
[] Pay-per View from the UK
[X] Crimson Returns
(6/13/13 episode of Impact)
[] Mickie James loses the Knockouts Title
[] Magnus main events a PPV
[X] Devon loses TV Title
(Slammiversary 2013)
[X] They Do Something with the Knockout Tag Titles
(Impact 6/20/13 - given to Brooke Hogan By EY and ODB)
Re: Who do you think should be the top 5 faces and heels?
---
Faces:
1-Magnus
2-Kenny King
3-Chris Sabin
4-Kurt Angle
5-Austin Aries

Heels
1-Bully Ray
2-Jeff Hardy
3-Devon
4-Sting
5-Bobby Roode
---
Banner by why2cj
New Checklist as of 12/18/2015
The Dollhouse regain the TNA Knockouts Championship, preferably Taryn Terrell OR Jade( )
Bayley vs Asuka for the NXT Womens Championship ( )
Asuka wins the NXT Womens Title ( )
Charlotte v Becky Lynch for the Divas Title @ WM 32( )
More NXT Callups to the Main Roster, especially Divas ( )
The Authority is out of Power for Good ( )
A 16 Seed BEATS a 1 Seed ( )
An Asian Diva wins the WWE Divas Title ( )
New GMs for RAW & Smackdown! ( )
The Tennessee Lady Vols Women's Basketball team finally loses an NCAA Tournament game at Home ( )
Re: Who do you think should be the top 5 faces and heels?
---
Faces:
Styles (it's simple - he is tna original, best in the world)
Hardy (he is jeff freakin hardy what else you need?)
Angle (and he is kurt freakin angle)
Joe (people love him, he's tna original and one of the best workers there are)
Aries (everywhere tna goes, people are chanting "austin aries", this guy must be facr)


Heels:
Bully Ray (you dont need explanation if you watch impact)
Daneils\BI
Morgan (big bad asskicker)
Joey Ryan (i want tna to put ryan in a storyline versus knockouts, would be fun)
Anderson (his current gimmick is awesome)

it's hard to name only 5, tna roster is great
i think when Roodes faceturn happen, it's going to be big thing
magnus has a potential to be a top dog
abyss\park can be both top face or heel
also gunner, kenny king and sabin has chances to become big stars
and Storms heelturn can work
Wheelman for James Ellsworth
Join Date: Mar 2010
Posts: 559
Points: 15
Re: Who do you think should be the top 5 faces and heels?
---
Depends if you base it on own preference/money makers/crowd reactions. Personally I would like to see these:

Faces

1) AJ
2) Storm
3) Magnus
4) Angle
5) Aries

Heels

1) Hardy
2) Bully
3) Morgan
4) Roode
5) Joe

I wouldn't have "Cena" babyfaces. I would have them with their own character. Could throw up some really good fresh feuds/matches like, AJ/Hardy - Aries/Morgan - Aries/Joe - Storm/Bully - Angle/Roode
Re: Who do you think should be the top 5 faces and heels?
---
FACES

1. AJ Styles (Can be the new megastar with the new character)
2. Jeff Hardy (Always awesome)
3. Austin Aires (make him FACE - Double A is to awesome)
4. MEM (Angle, Sting, Joe, Magnus)
5. Sabin/Suicide X-divison stars

HEELS

1. Bully Ray
2. Bobby Roode
3. Morgan (Join Aces and Eights for more credibility)
4. Kaz/Daniels
5. Ken Anderson


It's hard to pick because their are few "Top dogs".

But the 4 top stars is: Bully Ray, AJ Styles, Jeff Hardy and Austin Aires - they are the names to build on.
---
Asking JAMES ELLSWORTH for Wrestling Advice
Join Date: May 2013
Location: London, UK
Posts: 284
Points: 0
Re: Who do you think should be the top 5 faces and heels?
---
Faces:
1) Jeff Hardy - the guy is extremely popular and has the ability to put on good matches.
2) Magnus - this guy shows great potential, plus he's young.
3) James Storm - the guy is a solid worker, he's a TNA original, and can get the crowd excited. Just as long as TNA doesn't keep dropping the ball with him, he could be a good roguish face.
4) Chris Sabin - again, he's a TNA original and got skills.
5) Kurt Angle - the veteran who can still go, and probably has a few more years over Sting.

Heels:
1) Bully Ray - i shouldn't have to explain this one.
2) Bobby Roode - he's a great worker and has excelled at being a dominating heel.
3) Austin Aries - even though he's not that tall, Austin is pretty much the overall package. Asides from Hardy, he's one of the most popular on the roster. Because of his popularity I would occasionally have him as a face, but predominantly he would be a heel because he is fantastic at it.
4) Doc - he's actually surprised me, he's a lot better than I thought he would be. He could make a really good bruiser type character, and I'd much rather see him in that role compared to Matt Morgan or Rob Terry.
5) Bad Influence - just like with Bully Ray, I shouldn't have to explain it.

Other Top Names:
Samoa Joe - I'd have him as a tweener. He would make a good, dominating and powerful force for either side.
AJ Styles - I'd have him as the top guy, but keep him as he is now, the lone wolf. I understand why people put him as the top face, but to be honest, he's just really good as he is now and I wouldn't really like to see him return to the face he once was.
Re: Who do you think should be the top 5 faces and heels?
---
Faces
Jeff Hardy
Austin Aries
AJ Styles
Joe
Kurt Angle

Heels
Bobby Roode
Bully Ray
Matt Morgan
Kenny King
Magnus
---
Not removing until...
Started on April 28th 2013.

The Shield win a championship [x]
May 19th Extreme Rules.

Dolph Ziggler turns face [x]
June 16th Payback.

Daniel Bryan wins WWE title [x]
August 18th Summerslam.

Kassius Ohno debuts []
Yeah, this could be here for a while!


I'M A Y2J MARK
Posting Rules

You may not post new threads

You may not post replies

You may not post attachments

You may not edit your posts

---

HTML code is Off

---