TNA Wrestling Announces Major Changes To 2013 Pay-Per-View Strategy
---
Quote:
Originally Posted by impactwrestling.com
TNA IMPACT WRESTLING today announced a new worldwide Pay-Per-View programming initiative for 2013. The 52 annual episodes of IMPACT WRESTLING on SpikeTV
will lead to four, live epic Pay-Per-View events
commencing with "Genesis" on January 13th, "Lockdown" on March 10th, "Slammiversary" on June 9 and "Bound For Glory" on October 13th.
In addition,
seven Pay-Per-View specials
that will be branded as
"TNA Wrestling: One Night Only," series
will debut in April 2013 and continue throughout the year during the additional months.
The 3-hour taped Pay-Per-View specials will premiere on the first Friday of each month.
The first two "One Night Only" specials
will be "Joker's Wild Tag Team Tournament" and "X-travaganza" which will feature the X-Division.
"The Pay-Per-View industry has changed so much in the last decade," says TNA President Dixie Carter. "The traditional pay-per-view wrestling model needed to evolve and we believe this strategy will positively impact not only the Pay-Per-View events but the weekly television programming as well."
The company will continue to produce TNA Wrestling's "Unfinished Business", which are one-hour programs available on a Video on Demand (VOD) basis. The monthly titles continue to focus on the history of a rivalry or a specific past PPV event. These titles are available for two months at a time.
Link -
http://www.impactwrestling.com/news/...-View-Strategy
Quote:
Here an an update on the themes for the upcoming taped "One Night Only" events for TNA which will be airing on the first first Friday night of months TNA is not broadcasting live PPV's:
* TNA X-Travaganza, featuring the stars of the X-Division (airing in April, taping 1/13).
* TNA Joker's Wild Tag Team Special, featuring enemies teaming and a Battle Royal final (airing in May, taping 1/13)
* TNA Hardcore Justice 2 - ECW reunion style "hardcore" show featuring hardcore stipulation matches bringing in ECW talents.
* TNA "10 Reunion" - Stars from the early days of TNA battling inside a Six-Sided ring.
* TNA Knockouts Knockdown - One night Knockout tournament with the first round being all stipulation matches and the final four in a "test of their stamina" to see who the final victor is.
* TNA International Incident - One night tournament featuring talent from " United States, India, Mexico, Ireland, Canada, Germany, Japan & the UK" with the winner earning a TNA title shot.
TNA X-Division World Cup Tournament - four teams of X-Division wrestlers in a one night tournament featuring singles, tag, six man and eight man tag bouts.
* TNA World Cup of Wrestling - Four teams, each captained by a TNA wrestler featuring a Heavyweight wrestler, a tag team and an X-Division wrestler battling in singles, tag and stipulation bouts. The finale will be a "two ring, triple chance Battle Royal."
- There are currently no confirmed taping dates yet for the specials beyond January.
Link -
http://www.pwinsider.com/article/745...-more.html?p=1
Huge news!
---
Last edited by Clique; 01-11-2013 at

02:51 AM

.
Re: Only FOUR PPVs in 2013!
---
I don't get it, Theres 4 "epic ppv events" and 7 "ppv specials"?
Re: Only FOUR Big PPVs in 2013!
---
So basically it will be somewhat similar to what WWF did in the 90s when they had 4/5 big PPVs and smaller "In Your House" PPV specials.
---
Wheelman for James Ellsworth
Join Date: Aug 2012
Location: The Ultimate X structure
Posts: 596
Points: 0
Re: Only FOUR Big PPVs in 2013!
---
Fantastic news! The build will be superb for all of the PPVs.
---
Sig credit to: Praetorian Guard.
Favourite Five
1. AJ Styles.
2. Austin Aries.
3. Christopher Daniels.
4. Bobby Roode.
5. Bully Ray.
Heel Turn on James Ellsworth
Join Date: Oct 2012
Posts: 2,615
Points: 3
Re: Only FOUR Big PPVs in 2013!
---
Here comes Diesel_Power to say how this is a sign of TNA dying.
Very good news. It will be interesting to see what other "One Night Only" events they have planned.
Quote:
I don't get it, Theres 4 "epic ppv events" and 7 "ppv specials"?
From what I understand the 7 specials will be isolated from the events on Impact Wrestling. More gimmick based perhaps.
Re: Only FOUR live PPVs in 2013!
---
Interesting concept. It's worth a try, I suppose. I like the idea of having certain "themes" for these recorded PPVs. I wonder if they'll do an all-Knockouts PPV?

One minor quibble: The "One Night Only" name seems pretty lame, considering there will be several of these PPVs over the course of the year (so technically it's not just "one night only"), not to mention the fact that each PPV will be made available for several days during the course of a given month.
Wheelman for James Ellsworth
Join Date: Dec 2011
Posts: 579
Points: 0
Re: Only FOUR Big PPVs in 2013!
---
This is awesome news. Its a fresh start because 12 PPVs a year is just not viable for a company like TNA. This is a good opportunity to really make some money on PPVs by stretching them out over time.
So four normal events and seven gimmick events. This sounds awful even by their low standards. They only removed one event and switched seven to Friday and are giving them gimmicks.
---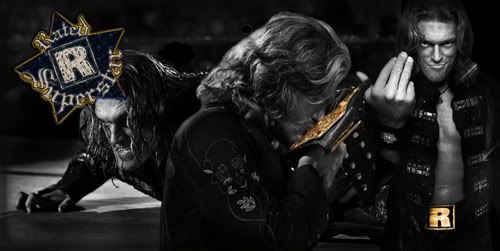 Tag Teaming With James Ellsworth
Join Date: Feb 2012
Posts: 1,153
Points: 653
Re: Only FOUR live PPVs in 2013!
---
I'm surprised they're cutting all the way back to 4. I thought the lowest they'd go was 6, so they'd have one every other month. I wonder what happens to the X-division champ gets a shot at the world title thing at Destination X. I thought that was pretty cool and that they'd bring it back this year. Maybe it'll be a Spike special or something.
Posting Rules

You may not post new threads

You may not post replies

You may not post attachments

You may not edit your posts

---

HTML code is Off

---