Moron
Join Date: Jul 2012
Posts: 475
Points: 0
Re: 1/3/13
---
Quote:
I did not see the exact post on PWI but the one on TNAInsider linked it's source and it led you to the PWI main page...multiple dirtsheets reported the same news and claimed PWI as the source and none of them linked to the direct post so it is possible the news is from the elite section at PWI.

TNAInsider never claimed the report as their own.
I am an Elite and it was never reported there either on the site or on a podcast.
These other sites that are popular here made up the story and falsely attributed it to PWInsider.
---
Last edited by Roncaglione; 12-16-2012 at

09:26 PM

.
Re: 1/3/13
---
If you pause the video promo between 0:09 and 0:10 you will see a face on the top left corner where the lightning is...dark eyes, nose and a mouth... almost looks like a mask on a face.... let me know your thoughts
Re: 1/3/13
---
CRYPTIC MESSAGES SO FAR:

A RECKONING IS AT HAND
THEIR ROAD TO HELL WILL BE PAVED
IN THEIR OWN BLOOD
VENGEANCE WILL HAVE A NAME
HE WILL DESCEND UPON THEM
LIKE A PLAGUE
THEY WILL FEAR HIM

These Promo's are cryptic BUT have a religious twist... STING (Steve Bordon) is religious. However the video looks very "Dark" and Red.... like the 'Abyss' this has been done in such a way to leave only 2 Options NEW LOOK (DARKER STING) OR ABYSS ... not crow sting... why?
1: "Descend" only STING ever descended from the rafters in WCW (High to low)
2: "Vengeance will have a name" in the bible - Luke 13:3 Jude 1:13 (read them) religious language
3: "Their road to hell will be paved" Matthew 7:13
Re: 1/3/13
---
Maybe it's Jeff Jarrett.
---
Re: 1/3/13
---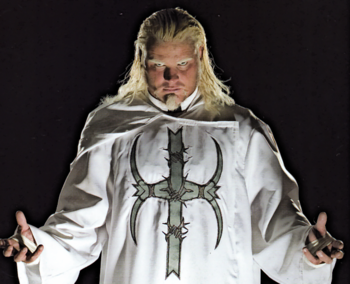 ---
"If you're not in first, you're in last."
Re: 1/3/13
---
gangrel
---
"I'll tell ya what.. if you're not Bozo the Clown, you're his twin brother."
-Jesse 'The Body' Ventura
Heel Turn on James Ellsworth
Join Date: Jan 2010
Location: The WWE Universe
Posts: 2,375
Points: 172
Re: 1/3/13
---
I hope it's not Sting.
Re: 1/3/13
---
I hope it isn't Sting or Abyss because it'd be too obvious then, I'm actually hoping its Jeff Jarrett or someone new..
---
I'm a Lady BTW!


xMy WWE/TNA favouritesx
xJeffHardyxFrankieKazarianxChristopherDanielsxAJStylesxBullyRayx
xDolphZigglerxCMPunkxDanielBryanxRandyOrtonxEvanBournex
xVelvetSkyxMickieJamesxTaelerHendrixGailKimxEveTorresxAJLeexNaomiKnightx
xWrestling Forums Biggest Zema Ion Fanx

Die Neon Czarina
Join Date: Apr 2006
Location: Life in the vivid dream.
Posts: 40,346
Points: 22,590
Re: 1/3/13
---
Jeff Jarrett, haha. That would be too much like Chris Jericho's return. Promotional videos are dark and the guy comes back with no sign of a dark gimmick at all.
---
You suck the blood of the afflicted.
Those lacking imagination take refuge in reality.
Posting Rules

You may not post new threads

You may not post replies

You may not post attachments

You may not edit your posts

---

HTML code is Off

---