View Poll Results

: ...

Magnus
35
58.33%
Joey Ryan
5
8.33%
KAZ
7
11.67%
Zema Ion
5
8.33%
Crimson
2
3.33%
Morgan
6
10.00%
Voters: 60. You may not vote on this poll
Re: Next Generation?
---
I'd go with Magnus & Ion. Magnus already has the look and just needs a little more time and push while Ion's talented but more hit or miss. Morgan at this point is never going to get it, Kaz is very good but he shouldn't be on this list, Crimson might improve with a lot of work and Joey Ryan is a one-note guy who's not very good and when people get tired of the gimmick will probably be out of a job.
---
Re: Next Generation?
---
Quote:
TNA Talent under 30 years old

Robbie E 29
Crimson 27
Magnus 25
Zema Ion 26
Garett Bischoff 28
Jessie Godderz 26
Jesse Sorensen 23
Wes Brisco 29
+1
Magnus
Crimson
Jessie Godderz
Jesse Sorensen
TAELER HENDRIX
---
Re: Next Generation?
---
It's funny because Morgan is the same age as Hardy.
---
Re: Next Generation?
---
I'm not doing this only by age, KAZ is on the list because he is yet to reach full potential.

It's more like "who will rise in the next generation"
---
The reason why we don't get fresh ideas and promotions rising in American Pro Wrestling is because the majority of the community is happy with the same old shit and will reject any chance of change. There is a risk in doing new things, 9 times out of 10, it leads to 50+ pages of bitching and moaning. While business gets turned into a dictatorship and more and more out of touch. Support the indies, support New Pro Wrestling.
Magnus is the only young guy Id actively try to steal if I had anything to do with Wwe talent... He has everything you need to be a major player in the industry
---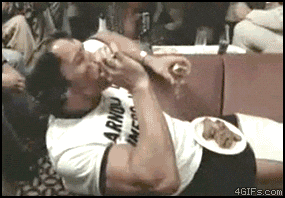 WF Dictionary:
Burial
bur·i·al
Noun
#1 - A wrestler I like losing to a wrestler I don't like.
#2 - A wrestler I like being insulted in promos by a wrestler I don't like
Re: Next Generation?
---
Ion. He just has it. To have worked with RVD so early in his TNA career and not look out of place speaks volumes. It's surprising his level considering his age.

My issue with Magnus is he seems to lose concentration/composure easily. He's talented, but I'm not completely sold on him as a big-time player.
---
Mayorga on BJ: Real men fight- maricons roll on ground and wrestle. Boxeo is número UNO! Tell BJ to box me- after I KO him, I will put him not in a body bag but in a condom so he can think that's where he shud have stayed

Mayorga on facing Vargas: I'm going to give Vargas the chance to cash his last paycheck. I would like to say publicly that Fatty Vargas has always feared me. I conceded to take this fight at 162 pounds because fatty couldn't lose any more weight. I will do Vargas a favor by retiring him in this fight so his family doesn't have to suffer every time he steps in the ring. I'm going to do his wife a favor and not let her cry anymore.
---
Last edited by Muerte al fascismo; 11-03-2012 at

09:56 AM

.
Heel Turn on James Ellsworth
Join Date: Jan 2010
Location: The WWE Universe
Posts: 2,375
Points: 172
Re: Next Generation?
---
One things for sure, its a helluva nucleus to build a company on.
Re: Next Generation?
---
I strongly believe Magnus, he really has the 'look'. But by gawd Zema has unlimited potential!
---
If everybody is thinking alike, then somebody isn't thinking.
Join Date: Jul 2012
Location: London, UK
Posts: 6,851
Points: 6,201
Re: Next Generation?
---
Morgan, then Magnus and then Ion.
---
**** <3 ****
Liberty thrives when government is small, I want a government so small you can barely see it.
Posting Rules

You may not post new threads

You may not post replies

You may not post attachments

You may not edit your posts

---

HTML code is Off

---