Wheelman for James Ellsworth
Join Date: Dec 2011
Posts: 665
Points: 10
Are TNA's division sacrifices worth it?
---
Tna have really built up its world champion division up really great with great champions and contenders, however great x division matches lack these days with a lot of their old talent gone suchas jay lehthal,alex shelley and aries as world champion etc, there arent many great tag teams with beer money coming up in singles wrestling and teams like 3d also coming up in singles wrestling and the tna knockouts havent been too good as of late and many of them have quit such as beatiful people,winter etc.

Do you guys actually prefer it this way or would you like it better if these 3 divisions were as good as its peak days and the world champion division wasnt as strong.what do you guys think?

for me i thinks its kinda hard to pick but i have really enjoyed tna the last year when roode become champion btw i think his been tna's best world champion in its history, and with good direction in the company, it looks like bully ray will be world chamion some time which i really would like to see, and i dont mind aries run right now.
Asking JAMES ELLSWORTH for Wrestling Advice
Join Date: Jun 2012
Location: England
Posts: 304
Points: 0
Re: Are TNA's division sacrifices worth it?
---
TNA has been great this past year, but the X-division a few more years ago, and now the only decent tag teams are Kaz and Daniels and Chavo and Hernandez, I also enjoy watching Angle and Styles but they're more suited to singles competition I think, If they manage to even out the roster a bit and add a couple more viable tag teams and some more lightweights, and bring back some knockouts if you watch them matches, as well as keeping the storylines interesting. This show would be ten times better.
---
Re: Are TNA's division sacrifices worth it?
---
I enjoy the current setup, because it seems to allow writers to focus on producing cohesive storylines for the people who are on TV regularly.

Back in the day was fun, but if I had one word to describe the show it would be "RUSHED". Everything was hurried as they tried to get as many people on each week (seemingly) and feuds were inconsistent or non-existent.

Currently, people show up on TV with a PURPOSE, and TNA is taking their time to build storylines / angles. It may be coming at the expense of a couple other divisions, but it makes for a much better overall show.
---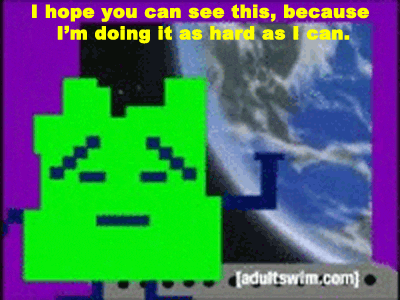 Re: Are TNA's division sacrifices worth it?
---
I don't see why it would have to be sacrificed though. I mean I know that the divisions lost a lot of their main stars, like the tag team division lost Beer Money and Team 3D (and MCMG is gone), and the X-Division lost Aries who was almost single-handedly carrying that division for the one year he was in it, but they could still do much better of the talent that they do have and have real feuds for those titles. It might be boring, but at least try to do something. Zema Ion's reign has been pretty forgettable because he has hardly had any real story leading to his matches. His match at No Surrender got zero build which is sad. The Knockouts division was getting pretty stale till Tara turned heel and they finally have an interesting story, but they need to use more talent to keep it interesting rather than just use the same 3-4 women every week. The tag team division has been good since the team of Styles and Angle joined it, so we'll see how it goes. The TV title scene didn't have any real story going on in it with Devon as champion, and we'll have to see what they do with the title after Championship Thursday. I do believe they can have some good things going on in the other divisions without cramming the show with too much going on. They've got the talent, but they prefer to keep them on the sidelines rather than use them (on TV at least).
Re: Are TNA's division sacrifices worth it?
---
The problem is TNA only has 2 hours of TV time in America, it's impossible to give enough time to each division in that time whilst keeping the show quality high. They tried to get everything on TV and the shows felt rushed and the quality was poor. I like what they are doing at the moment by building up feuds and matches slowly and properly. I'd love to see more tag teams and more x division action but the reality is they just can't do it.

IMO they should put Xplosion up on their website and treat it as an internet show which could feature the x division, tag division and knockouts who aren't able to make it onto TV every week. For example last month we could have had Dutt earn his X division title match and saw some interaction between him and Ion leading upto the match

There's no denying that they are suffering from the losses which has seriously left the roster in certain areas low on numbers but to be honest I'd rather have the quality of TV we are having now and accept those loses than have the larger roster, more rushed show which highlights every division
---
Re: Are TNA's division sacrifices worth it?
---
The show has been great without the missing divisions but it ties into my theory of them killing the X-division and Aries being the nail in the coffin. You don't see them on Tv anymore and is forgotten by the majority of us. If anything they should try to get xplosion on in the States in some form if they have no inclination of putting them on Impact.
Re: Are TNA's division sacrifices worth it?
---
The idea of the X division champ vacating the title for a heavyweight title shot at the yearly PPV as negotiated by Aries is excellent. I'm hoping they don;t forget about it as it helps to make the X-div more relevent, certainly building up to the yearly PPV (Ultimate x?)

But as said previously, the lack of TV time means that they can't fit it all in. I'm looking forward to the UK Boot Camp series and they can make more use of Xplosion with matches for the UK market but I think they find it difficult to get the extra air time in the US. They probably would have no difficulty staging the matches from house show material.
Posting Rules

You may not post new threads

You may not post replies

You may not post attachments

You may not edit your posts

---

HTML code is Off

---