Wheelman for James Ellsworth
Join Date: Sep 2011
Posts: 799
Points: 121
AJ Styles matches
---
Anyone want to recommend any matches from his career? Also, what matches from the TNA weekly ppvs would you suggest? I don't see any reviews for the weekly shows so I'm not really sure what's good and what's not.
From the weekly ppvs off the top of my head the 4 way for the first x division title is a really good match.

AJ & Daniels vs LAX ultimate x match is awesome. Same for the final resolution ultimate x between aj petey Williams and Chris sabin. Samoa Joe vs AJ from turning point 05 is like my second favourite tna match too, probably like it more than the unbreakable three way (which is still awesome). Also had my current TNA moty w/ Bobby Roode on the 5/24 impact.
---
Re: AJ Styles matches
---
with Kurt Angle are great. Tag Team or one on one, always great
---


If you can't accept the fact that I may like a particular wrestler you don't and aren't ready to have a proper discussion about different opinions: get a job, grow up and put me on your ignore list.

Stop linking, start repping

List of kids who talk shit on here, refuse the existence of other opinions, but don't have the brains to defend or justify their opinions with actual arguments other than "because everybody says so" or "it is because it is":
Bestiswaswillbe
Wheelman for James Ellsworth
Join Date: Aug 2012
Location: The Ultimate X structure
Posts: 596
Points: 0
Re: AJ Styles matches
---
I don't want to sound like a dick and say all of them but yeah, pretty much all of them... I strongly recommend you find a 'Best of AJ Styles: The Phenomenal One' on DVD on eBay or somewhere. Totally worth it.
Notable matches in my opinion are;
Styles vs Daniels vs Joe (Unbreakable 2005)
AJ Styles vs Abyss (Lockdown 2005)
Styles & Daniels v LAX in Ultimate X.
Styles vs Joe (Turning Point 05, I think)
And there's so many more I could name; the list would go on for too long.
---
Sig credit to: Praetorian Guard.
Favourite Five
1. AJ Styles.
2. Austin Aries.
3. Christopher Daniels.
4. Bobby Roode.
5. Bully Ray.
Re: AJ Styles matches
---
AJ v Joe v Daniels. AJ vs Kurt matches are almost always top notch. AJ vs Bully Ray last man standing is a good hardcore type rules match.

AJ/Kurt vs CD Kaz that happened recently (although you might have already seen it) and one of my personal favourite is Daniels vs AJ ironman match (dont rem the year or PPV)

Looking forward to AJ vs AA after BFG. That is going to be legen---wait for it--dary!! Legendary!
---
Last edited by zkorejo; 09-24-2012 at

03:16 PM

.
Re: AJ Styles matches
---
Thanks for these recommendations - just watched them on Youtube.

Fantastic stuff!
Re: AJ Styles matches
---
Funny enough, I was thinking about putting a list together of AJ Styles' best TNA matches. The ones that have been mentioned in this thread are great. I also recommend his match with Samoa Joe at Sacrifice 05 and Angle at Hard Justice 08.
---

Sex With Me So Amazing
R I H A N N A

Lets go to the old mill anyway, get some cider!
Join Date: Mar 2007
Location: Stuck On This Prison Planet
Posts: 13,287
Points: 4,121
Re: AJ Styles matches
---
Too many to list

Anything from 2005 or anything against

Joe and/or Daniels
abyss
Angle
Sabin
Doug Williams
Christian
Roode
Tagging with Daniels against AMW and LAX
Tagging with angle against Daniels and Kaz
Multimans with Lynn and Low Ki

Hell he even had a 4 star match with Xpac.
---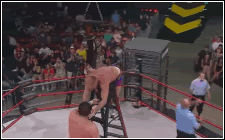 Do I really have to say anything?

Sig: Kingcrash
Re: AJ Styles matches
---
Styles/Joe/Daniels - Turning Point 2009

Styles/London - Night of Grudges (ROH)
---
Re: AJ Styles matches
---
I see it's already ben mentioned, but Styles vs. Abyss 2005 Lockdown match although isn't a better match than the Unbreakable match for example, but it was just really awesome. This match for me came off as Superman vs. Doomsday. Styles this high flyer taking on this evil monster inside a cage. Styles is jumping out of the crowd into ringside to attack Abyss! Flying through the cage door to open the match! Just amazing stuff!
Posting Rules

You may not post new threads

You may not post replies

You may not post attachments

You may not edit your posts

---

HTML code is Off

---