Re: Official TNA DVD Help/Discussion/Review Thread
---
Sacrifice 2012 is AWESOME anyway. Totally started a run of real solid ppvs all the way till hardcore justice.


Anyway I was gonna watch Aries/Roode series but got sidetracked since I really wanted to see Roode/Storm before tonight. Also checked out another thing I'd been meaning to catch again.


Lockdown 2012: Bobby Roode vs James Storm

Holy crap the crowd don't care about this. Seriously it's actually awful. Pre match Roode promo just has one guy chanting ECW over and over which is garbage. Video package reminds me how BOSS the build to this match was, really liked it.

Storm comes out to crickets, fuck off. Don't recall a worse hometown crowd. Match starts off really good too, Roode and Storm try their best to get the crowd involved but nothing more than 10 seconds of cheers/boos really occurs. Brawls cool, Roode's control segment is alright, drags for a bit once they're in the cage though. Probably doesnt help that hes constantly trash talking Storm to presumably try and get a reaction from the crowd but you can practically hear his echo it's that silent. Storm's comeback is decent enough, but again hindered by the crowd not really being into it. Really like the finishing stretch though, Roode plays Storm beautifully just as he's about to leave the cage, and then holy fuck those nearfalls. I remember watching those live and how they got me, really liked that. Finish is awesome too, plays up so well to the Last Call being the match ender it was built up to be for so long but also fits into Roode's lucky heel champ thing as well. Really smart way to finish this, just a shame they didn't give Storm the strap at like Slammiversary. With that crowd there too being inifitely times better than Lockdown that could've been a really good moment for Storm.

Oh and Tenay/Taz being as apathetic as the crowd also fucking sucked. REACT to things

***3/4


IMPACT Wrestling 5/24 : Bobby Roode vs AJ Styles.

Roode looks every bit the record holding champion in this. AJ comes in desperate to keep his record and get another reign with the belt but Roode seems one step ahead, reading so many of AJ's moves and not letting himself get distracted, which ultimately wins him the match. Every time AJ builds momentum he allows the paranoia to get the better of him and look out for Kaz and Daniels running interference, which Roode always capatalises on. His armwork rocks my socks and he always looks to keep it fresh. AJ sells incredibly well and the finish makes Roode look uber strong as he breaks the record. If this had no ad breaks and they'd put it a few weeks earlier at Sacrifice instead of Roode/RVD I have no doubt this would break ****1/2+. But it's still my TV MOTY for both companies and TNA MOTY heading into Aries/Roode.

****1/4
---
Die Neon Czarina
Join Date: Apr 2006
Location: Life in the vivid dream.
Posts: 40,355
Points: 22,617
Re: Official TNA DVD Help/Discussion/Review Thread
---
Yep. Heard the thing that hurt Lockdown the most was a dead crowd. Morons. Why buy tickets to a show only to sit on your hands and do nothing?
Roode/Styles is one I'm keeping up on. I was gonna do an Daniels/Kazarian vs Styles/Angle match series next. I need to find the No Surrender bout to complete it. Good stuff though. TNA really has hit on some BIG stuff this year. No doubt. They're really letting their characters shine finally. Having guys like Roode & Bully be top heels instead of people like Anderson and even Sting really gives the program more depth. Bully is far from young, but he's certainly in his PRIME right now. Roode is much of the same. That world title run really couldn't have put him over any better.
My turn to do some REVIEWS:
Impact 1/4/10 - TNA Knockouts Tag Team Championship
Taylor Wilde & Sarita(c) vs Awesome Kong & Hamada ~ **1/4


Xplosion 7/18/12 - Bound For Glory Series
Christopher Daniels vs Magnus ~ **1/2


Xplosion 8/1/12 - Bound For Glory Series
Bully Ray vs Christopher Daniels ~ ***
The knockouts match still holds up as FUN. Some nice lucha spots as well as KONG crushing the dainty champs. Got a touch sloppy in one segment at the end. Nothing major. This still blows away just about every other Knockouts Tag Team Championship match. Since most are treated as a joke.
Daniels/Magnus was wrestling heavy. Really loved how it felt like they were honestly competing in a real sport. The BFG series does add that caviat and I dig it. Wasn't until the end when Daniels finally utilized some SHADY tactics. Like I said, match was very heavy on the wrestling. Magnus shined. He really has grown so much. I'd enjoy a push. Nice little match here.
Bully/Daniels was a perfect example of both men's psychology carrying the match. Daniels out heel'ed Bully. Using Kazarian to cheap shot Bully every chance he got. Daniels getting under the skin of fans so much that they would actually CHEER for Bully. Bully has such a presence that he could go face right now and be way over. He's that good at every part of working a match. Bully makes his comeback, fans dig it. All of this strong stuff in about...6 minutes. How great is that? Oh and the match begins by Daniels hurling his trademark appletini in the face of Bully. SUPERB. HEELS~
Next up: Bully Ray vs Austin Aries from Sacrifice. That promo & video package was
(I'm telling you, I find it hard to root against Bully sometimes. Even in that package. He has that PRESENCE)
---
You suck the blood of the afflicted.
Those lacking imagination take refuge in reality.
Lets go to the old mill anyway, get some cider!
Join Date: Mar 2007
Location: Stuck On This Prison Planet
Posts: 13,291
Points: 4,133
Re: Official TNA DVD Help/Discussion/Review Thread
---
BFG 2012

RVD/Ion-**3/4
Joe/Magnus-***_***1/4
Storm/Roode-****
Snow/Ryan-**
3 way tag-***1/2-***3/4
Tara/Tess-*3/4
Aces vs Sting/Bully-**1/2
Aries/Hardy-****1/4

Awesome PPV with 2 excellent matches. Couple of booking hiccups but the wrestling was top notch.
---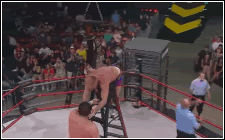 Do I really have to say anything?

Sig: Kingcrash
Re: Official TNA DVD Help/Discussion/Review Thread
---
BFG 12

Zema/RVD - **1/2
Magnus/Joe - **3/4
Street Fight - ****1/4-1/2
Ryan/Snow - *1/2 (ugh morgan)
Tag title 3 way - ***1/2
KO - *1/2
Sting/Bully vs Aces & 8's - **1/4
Jeff/Aries - ****

didnt agree w/ the first two title changes but can't really complain in terms of match quality. Need to rewatch Roode/Storm and maybe the main event. I was happy with the show as a whole though.
---
Re: Official TNA DVD Help/Discussion/Review Thread
---
yeah
zema/rvd - ***
zema finally won me over, pulled out some great moves, rvd didn't hold him down, shouldn't have won the title, but i guess they have a big name for the (non existent) x division
magnus/joe - **1/2
bit of a let down. the magdaddy wasn't at his best, seemed to just be going through the motions of nothingness really. joe looked pumped, magnus much less so. needed someone to GIVE HIM A FUCKIN CHAIR
storm/roode - ****1/2
motn, easily, and one of the best matches i've seen in ages. storm's bladejob was nasty as fuck, but got the point across. all the HATE. some cool spots, the tacks were a nice addition, everything went smoothly, KING MO THE ENFORCER was there just for the cross promotion really (even though i don't think they mentioned the promotion once). super kick to end it was a brutal one, roode sold everything like a champ.
ryan/snow - **
i didn't mind this. i really didn't. it was slow, it was boring, but it was above what i expected. snow was nowhere near as bad as i expected him to be, joey still growing into his role really. morgan can fuck off though.
3 way tag - ***1/2
took a while to get going. first 10 mins or so were awkward and snow, which is usually the case where they have 2 people in the ring in 3 way tags. when it kicked off it got really good, the spots were well done, executed well and there wasn't any sloppiness. hernandez/kaz spot was brutal as fuck. ending was a letdown. chavo is finished as a wrestler, the frog splash barely made the distance.
ko match - *
useless. same shit we've already seen 15x over between those two. boyfriend reveal pointless, might as well have been rob terry.
tag match - ***
kinda slow again, but to be expected. started off well, bully with the facepaint was a nice touch. it should've continued as a brawl though, when it got into the typical tag format (in a no dq match
) it really slowed down and got boring. should've kept up the brawl to get across how pissed off these guys were with aces & eights continually attacking them. ending of the match was weak, so were hogan's punches and the boot. reveal was nice, and it made sense, and kept the storyline going.
jeff/aries - ****
great match. expected it to bomb terribly but hardy held up his end. aries, as usual, was on form. some nice spots, crowd was cunty though. pretty much how i expected the ending to be, thought aries might nick it when he hit the brainbuster, but the right guy went over. overall a really good ppv, especially storm/roode.
---
Moron
Join Date: Nov 2009
Location: WHERE THE BUFFALO ROAM
Posts: 15,930
Points: 240
Re: Official TNA DVD Help/Discussion/Review Thread
---
Great review, SNRUB.
Quick ratings:
- Zema/BOB **3/4 (gonna re-watch)
- Joe/Magnus ***1/2 (Puro style match, loved this)
- Storm/Roode
****1/2
(incredible)
- Snow/Ryan ***1/4 (a lot of fun)
- 3-Way Tag ***3/4 (awesome match, don't like the outcome)
- Dog/Tara **3/4 (solid match; thank God it's not Morrison)
- Sting & Bully/AcesAnd8s **3/4 (batshit entertaining)
- Aries/Harvey
****1/4
(epic)
Quick thoughts:
http://www.wrestlingforum.com/12137373-post2267.html
Re: Official TNA DVD Help/Discussion/Review Thread
---
Quick ratings as well:

BVD vs. Ion - **1/2 (solid bout, the crowd made it better than it actually was; too short though)
Magnus vs. Joe - **3/4 (enjoyable)
It Factor vs. Cowboy - ****1/4 (awesome shit that was)
Ryan vs. Snow - ** (boring, but I liked the Morgan moment)
WTTCOTW vs. AJ/Angle vs. LAX 3.0 - ***3/4 (incredible after a too long slow beginning)
Tara vs. Tess - *1/2 (didn't like it; Godderz is a douche)
Sting/Bully vs. Aces & Eights - *** (entertainment rating, I had fun)
Aries vs. Nutshurt - ***1/2 (probably up to **** in a re-watch)
Die Neon Czarina
Join Date: Apr 2006
Location: Life in the vivid dream.
Posts: 40,355
Points: 22,617
Re: Official TNA DVD Help/Discussion/Review Thread
---
Did I watch the same friggin ppv as you guys?

Zema Ion vs Rob Van Dam ~ **

Samoa Joe vs Magnus ~ **1/2

Robert Roode vs James Storm ~ ***1/2

Joey Ryan vs Al Snow ~ *1/2

Christopher Daniels/Frankie Kazarian vs Kurt Angle/AJ Styles vs Chavo Guerrero Jr./Shawn Hernandez ~ *1/4

Tara vs Brooke Tessmacher ~ 1/2*

Sting/Bully Ray vs Ace's & 8's ~ 1/2*

Jeff Hardy vs Austin Aries ~ *1/4

I stayed up all night for a mediocre as hell show. Wonderful. Roode vs Storm was awesome tho. Legendary blade job by Storm. Not enough to save this steaming pile of shit.
---
You suck the blood of the afflicted.
Those lacking imagination take refuge in reality.
Regularly Beating Up James Ellsworth
Join Date: Aug 2011
Location: In The Game
Posts: 3,747
Points: 0
Re: Official TNA DVD Help/Discussion/Review Thread
---
I think my desire to see Kaz/Daniels cut a promo with Team Hell NO is one that will never be fulfilled.
Die Neon Czarina
Join Date: Apr 2006
Location: Life in the vivid dream.
Posts: 40,355
Points: 22,617
Re: Official TNA DVD Help/Discussion/Review Thread
---
Sacrifice 2012:

Bully Ray vs Austin Aries ~ ****1/2




Pure magic. This match is what I really love about Pro Wrestling. 100% story driven. Based all behind the depth of the characters and what they're about. I'm really a guy who prefers a match to be chalk full of story over a match filled with 10,001 moves or "pure wrestling" only. (I don't think that is such an obvious statement either. Some would prefer Bret Hart matches over this. I digress...) There is so much more substance. These guys didn't even empty out their arsenal, yet it was a complete match. That's talent. Bell rings and I swear to you, I had a smile on my face. It legit stayed there the entire match. How often does that happen? I'm serious. How often does a match, solely on build and video package alone, make you smile just in anticipation? I really can't remember. I think back at the first Chikara iPPV. Which is fitting since this match really reminded me why I loved Eddie Kingston vs Mike Quackenbush on that night. Very similar contests. Both matches were so wonderfully constructed that when you try and dissect it, you really start to notice there weren't a whole bunch of pointless phases. EVERYTHING mattered. You hear that Davey Richards? Or ROH in general. I'm gonna branch off into another point as to why I loved this match: Upon discussing the state of Indie wrestling atm, it's been said that all of the leaders are gone. Guys like Joe, Danielson, Nigel, & Punk to really lead and help some newer guys work matches like this. Aries was one of them too. And while he's VERY experienced, he worked vs a guy here in Bully who was able to elevate him to an even HIGHER level. That's phenomenal. I can use about 500 more adjectives to describe that, but phenomenal works. We need more of this all over the world of wrestling. Instead of often seen pointless bs by guys who can't do control phases or make them interesting. Anyways...time to lose all semblance of decorum and say that this match fuckin ruled. It really did. Even when Bully kicks Aries off the top rope it DESTROYS him. Aries got up with massive bruises and cuts on his back. Bully = LEGIT. I could have done without the Joseph Park interaction though. However, seeing him yell "THAT'S NOT FAIR" when Bully whipped out his chain was gold. DAT FACE (right Shep?)

My firm pick for TNA match of the year..so far. No doubt.
---
You suck the blood of the afflicted.
Those lacking imagination take refuge in reality.
Posting Rules

You may not post new threads

You may not post replies

You may not post attachments

You may not edit your posts

---

HTML code is Off

---