Re: Official TNA DVD Help/Discussion/Review Thread
---
Well they had the footage of Morgan talking about the matches and Jeff probably wanted his vs. Shannon's match on there. Also could have been they wanted to show Jeff winning everything up until his matches with Kurt. And Jeff had to have some say what went on there because otherwise there's no way that horrible tag match with Matt makes it or Matt at the end of the dvd talking about "we" in terms of him and Jeff teaming while everyone else is just talking about Jeff.
---
http://www.imagerotation.com/damon846/I1.png
Quote:
Originally Posted by Eddie Kingston
....It's like watching Lost and getting angry at the end. "Fuck I've been watching this show for six years and it turned out to be the bullshit thing I thought it would be!"
Re: Official TNA DVD Help/Discussion/Review Thread
---
Fuck. Matt speaks on this? Guess I'll skip those sections or gouge my eyes out.
---


CM Punk (9/11/2016): Is the swelling going down?


Re: Official TNA DVD Help/Discussion/Review Thread
---
Is this Jeff Hardy DVD like the Jeff Jarrett one? By that, I mean does it have a bit of speaking then a match then more speaking or for once have TNA just done the Documentary and then the matches on the end of the disc and on the other disc? I hated the Jarrett one because of matches that interrupted the documentary.
Making James Ellsworth GET MY BAGS
Join Date: Jun 2006
Location: Melbourne, Australia
Posts: 4,185
Points: 243
Re: Official TNA DVD Help/Discussion/Review Thread
---
NWA-TNA - Weekly PPV - 5/3/03

1. Jerry Lynn vs Super Crazy
***1/4

2. The Hot Shots vs The Disciples of the New Church
**1/2

3. Disgraceland vs Jorge Estrada
DUD

4. NWA-TNA X-Division Title
Kid Kash vs Amazing Red
***

5. AMW vs Mike Sanders & Glen Gilbertti
**

6. Clockwork Orange House of Fun
Raven vs Sandman
**3/4


NWA-TNA - Weekly PPV - 12/3/03

1. Damien & Halloween vs David Young & Jerry Lynn
**

2. NWA-TNA X-Division Title
Kid Kash vs Jonny Storm vs Amazing Red
**3/4

3. The Harris Brothers vs The Sandman & Steve Corino
SQUASH

4. Mike Sanders vs Hacksaw Jim Duggan
*1/4

5. NWA-TNA Tag Team Title Match
AMW vs Triple X
***1/4

- Lollipop has great tits. Probably one of TNAs better moments.

6. Raven vs AJ Styles
***1/4
---
Last edited by smitlick; 10-14-2011 at

09:36 AM

.
Re: Official TNA DVD Help/Discussion/Review Thread
---
In honor of BFG tomorrow, I thought it'd be cool to re-review not only my favorite Bound for Glory event, but my favorite TNA PPV period: Bound for Glory 2007.

For the sake of simplicity, I'll only be covering the matches.

MATCH 1 = THE LATIN AMERICAN XCHANGE VS. TRIPLE X: TAG TEAM CONTENDERS ULTIMATE X MATCH

Great way to kick off the show! It was a wild spot fest with all four men flying all over the place hitting their daredevil spots. If I had to pick a star o the match, I'd actually say it was Hernandez. A guy his size typically isn't built for something like this, but he did fantastic and really came off looking fantastic (what happened to him?). His amazing shows of power mixed in with great high flying antics that far exceed what people expect out of a guy his size really made him stand out. I'm not going to take anything away from the other guys too. Low Ki/Senshi looked great as always, and although I've never been huge fans of them, Skipper & Homicide looked great too. I remember watching this the first time and thinking if they'd actually be crazy enough to have Skipper repeat his tight rope cage walk into a hurricanrana act, only this time off of the Ultimate X's crosswires. Thank God they didn't try it, lol. It would have been AMAZING if they hit it, but Skipper doesn't have the best track record for hitting that spot (the cage walk was one of the few times he actually hit that move). It suffers from a lot of the problems that most Ultimate X Matches have these days (no storyline build) but this was long before the gimmick got overplayed and it was an exciting way to start the PPV.

Winners = LAX

MATCH 2 = ROBERT ROODE, KAZARIAN, ERIC YOUNG, ALEX SHELLEY, CHRIS SABIN, CHRIS HARRIS, JAMES STORM, JUNIOR FATU, LANCE HOYT, BG JAMES, KIP JAMES, PETEY WILLIAMS, SONJAY DUTT, JIMMY RAVE, SHARK BOY, & HAVOK: 16 MAN FIGHT FOR THE RIGHT BATTLE ROYAL

This infamous match gimmick had the dubious honor of being labeled the Worst Match of 2006 the year before. Why they would repeat it again is beyond me. The match on paper seems overly complicated, but I'll do my best to summarize. The match begins with all 15 men outside the ring and the match works as a "Reverse Battle Royal" where they have to climb over the top rope and inside the ring. This is the most heavily criticized portion of the match since the simple act of getting over the top rope suddenly becomes the hardest thing in the world to do for the workers involved, killing any believability the situation might have. And once again, that portion of the match was a cluster-you-know-what. The first 8 men to get inside the ring are then entered into the Fight for the Right Tournament to determine who gets a World Title shot. This is where the match picked up and got fun as we got to see The Motor City Machine Guns do there thing and shine, and we got some funny comedy antics from Eric Young. I also have to say that Robert Roode really did well in this match and carried through as the top heel of the bout. The third portion of the match came down to Roode Vs. EY in a one on one match, a continuation of the (neverending) feud they had throughout 2007.

Another minor criticism I will give this match is that the ultimate winner should have gotten something a bit more substantial. The 8 men left over were playing for seeding in the tourney brackets, but no ultimate advantage for winning the whole thing, so who cares? If they wanted ot make this match mean a tad more, they would have maybe shortened it to 7 finalists with the winner getting a first round bye. Or you know, just give the winner the title shot outright. Keep it simple stupid! It sounds like I'm really harping on this thing, and I'll be honest, I'm glad they stopped doing this tournament, but for what it was, it wasn't bad. It could have been a lot worse and it showcased some of the talents involved well.

Winner = Eric Young via Pinfall

MATCH 3 = TEAM PACMAN (C) VS. "THE PHENOMENAL" AJ STYLES & TOMKO: TAG TEAM CHAMPIONSHIP

This is a match that turned out way better than I thought it would. Now many bashed it, but I liked the idea of utilizing Pacman Jones. The problem was how they did it. Why use a guy that can't wrestle as a title holder? I probably would have gone the Tyson route and just used him as a Special Enforcer in the main event or something. Here, him not being able to wrestle was finally resolved by bringing in Consequences Creed as his substitute (with Pacman as the corner man), and he looked good here. His timing was a tad off at points, but for a young guy making his first major PPV appearance, he opened some eyes I thought. And since the show was in Georgia and they were going up against a wrestling outsider, AJ & Tomko became the babyface team by default. AJ looked amazing here, breaking out some rare moves like his amazing Shooting Star Press to the outside of the ring. For a mutt pairing of two singles guys, AJ & Tomko worked out rather well as a duo. Also, I have to acknowledge the comedy gold of Pacman distracting the referee by "Making it Rain" only for Earl Hebner to pick up the money instead of counting the pinfall. Overall, this match was actually a lot of fun.

Winners = New Tag Team Champions AJ Styles & Tomko via Pinfall

MATCH 4 = "BLACK MACHISMO" JAY LETHAL (C) VS. "THE FALLEN ANGEL" CHRISTOPHER DANIELS: X DIVISION CHAMPIONSHIP

This one is a bit of a forgotten gem actually. There wasn't a major storyline hype for it. The big X Title match was Angle Vs. Lethal the month before and they were just riding Lethal's high past that. Daniels was also in a bit of a weird place at this point as they had taken his character a little too, um, literal as he now thought he really was an angel & kept talking to God at random intervals. Um ok. But the match itself was a darn good showcase of X Division action. Both men brought they're A-Game and they were allowed to go out there and have a match that could have probably been a showstealer on a more lackluster card. At the end of the day, it was added flavor on an already awesome Ice Creme sundae. I would say this match is one of the reasons to have BFG07 in your DVD collection because it doesn't really show up that often anywhere else. And if you are a big fan of Lethal & Daniels, this is a great showing for them.

Winner = Jay Lethal via Pinfall

MATCH 5 = THE STEINER BROTHERS VS. TEAM 3D: TABLES MATCH

This match is so underrated its not even funny. First of all, I loved the feud that these two teams had, and I did mark out a bit for a Steiners' reunion. Sure Rick looked old, but they found ways to kind of hide that, and they managed to work well with Team 3D. What I liked about this match was the intensity shown between the two teams. It was a massive brawl that was entertaining & energetic. And some of the table spots they did were pretty creative, namely Scotty's Frankensteiner on Brother Ray through a Table and the Steiner's Double Team Bulldog through a table for the win. I remember when this show first took place, a friend called me up and said "Dude, Steiners & 3D stole the show!". While I didn't necessarily agree with that statement, I did felt like the match got short changed when I read the reviews the next day. It had a nostalgia factor to it, and it was entertaining. Alot of people like to focus on an accidental table break when Scott was laid out on a table, but I don't see how one minor flub like that (which wasn't the fault of the wrestlers at all) gets so much focus. They hit the big spots that really counted, and ended this great tag team rivalry quite nicely. Like Lethal/Daniels, I feel like this is a forgotten gem of this PPV, but one that really entertained me and I'm glad it was featured.

Winners = The Steiner Brothers

MATCH 6 = GAIL KIM, AWESOME KONG, ROXXI LAVEAUX, CHRISTY HEMME, TALIA MADISON, ANGEL WILLIAMS, ODB, SHELLEY MARTINEZ, TRACI BROOKS, & JACKIE MOORE: KNOCKOUT'S GAUNTLET TO CROWN THE FIRST EVER KNOCKOUTS CHAMPION

The birth of the KO Division, and again, its really fun to have a look back on this one. Maybe having this type of match on the same card as another 15 man battle royal was a bit much, but this was a good way to showcase the potential of the KO Division. The obvious stand out was Awesome Kong who tore through all the competition with relative ease before her elimination at the hands of three Knockouts. I remember seeing Kong the first time and thinking "Female Vader. That's what she needs to be" and she definitely had a good run in TNA (at least the first year or so anyway). I also felt like most of the girls did well, especially Gail Kim, Roxxi, & ODB, and Christy being bent in half by Kong was just plain sick. It is interesting to see how Velvet Sky (Talia Madison) has developed since then. She was terribly green here, but has greatly improved, especially in her presentation. The match came down to Gail Kim & Roxxi with a pinfall or submission determining the true champion and that exchange was nice too. Overall, this was a fun start to the KO Division with a big moment at the end as Gail took home the gold.

Winner = 1st Ever Knockouts Champion Gail Kim via Pinfall

MATCH 7 = "THE SAMOAN SUBMISSION MACHINE" SAMOA JOE VS. "THE INSTANT CLASSIC" CHRISTIAN CAGE W/MATT MORGAN AS GUEST ENFORCER

AWESOME FREAKIN' MATCH!!! For all the hype & love that the Joe/Angle matches got, I was also more of a fan of the chemistry shown by Joe & Christian. It was more naturally heel vs. face and I think Joe's non stop monster act going up against a back peddling coward like Christian made for a good dynamic. And athletically, you couldn't ask for anything better out of these two. I still think their best match is their main event World Title bout at Destination X earlier that year, but this match was a fantastic conclusion to a great series of PPV bouts. Morgan played a very small role, as he only prevented Christian's stooges AJ & Tomko from interfering at the end, but other than that, the story was allowed to be told entirely by Joe & Christian. This might be the best match on the card, although I love this show so much, I have a lot of favorites. I will say that if you want to go back and look at what Samoa Joe once was in TNA, check out matches like this and you'll see why he was such a big favorite among fans in the IWC.

Winner = Samoa Joe via Submission

MATCH 8 = "THE MONSTER" ABYSS VS. "THE WAR MACHINE" RHINO VS. BLACK REIGN VS. RAVEN: MONSTER'S BALL MATCH

This match felt like a main event bumper filler match. There was supposed to be more to this with Abyss feuding with Judas Messias (remember him?) but he got injured in Mexico and Raven was put in as a replacement. I also think they could have sparked this match a little bit by having Storm & harris involved to make it a six way. Harris & Storm had played big singles roles earlier in the year and were feuding with Rhino & Reign respectively, but those feuds suddenly got dropped. Why not take these three hardcore-esque feuds (Abyss/Raven, Reign/Harris, & Rhino/Storm) and just throw them all together in wild mayhem. Plus, they could have played off the history of Harris & Storm a little bit. Oh well. For what it was though, the match wasn't bad. It was a typical hardcore match and in this case was just designed to give Abyss the win since he had never won a Monster's Ball before. They did have a couple of nice stunts, and fun hardcore moments. For filler, it wasn't half bad.

Winner = Abyss via Pinfall

MATCH 9 = "OLYMPIC GOLD MEDALIST" KURT ANGLE (C) VS. "THE ICON" STING: WORLD HEAVYWEIGHT CHAMPIONSHIP

TNA billed this as a dream match and I thought they did a fantastic job of setting up Atlanta Georgia as the perfect setting for the match to take place since that was where Sting really made a name for himself and Angle won his Gold Medal. It was like both men were returning to their roots for a major main event match for the ages. The match itself was actually very good and definitely a worth main event for TNA's biggest PPV of the year. The reason I said that Joe/Christian MIGHT be the MOTN here is because, well, I really like this one! It was a superb main event and a great meshing of talents between two greats. Now as we would see in future outings, the pairing would get stale & dull, but this was their first real major match and it delivered big time. I would go as far to say that it was Sting's best performance in TNA. He looked like a young man out there for most of it (even taking an unblocked bat shot to the face...ouch) and really hung in there with Kurt. Kurt even seemed to want to up his game a bit and did a 450 splash that resulted in him landing on Sting's ribs knees first (OUCH again!). Some people bring the match down a peg or two because of Kevin Nash's interference, but I thought in this case it added to the bout as Sting fought through everything to win it. I would have preferred it stay clean, but for what it was, it worked. Great ending to a great night.

Winner = Sting via Pinfall

- So overall, BFG07 is definitely worth a look. People praise certain shows from 2005 and Turning Point 2009 has become a major hit with fans, but IMO, TNA has never put on a better show than this. It was fantastic. Plain & simple.

Now because I'm a nitpicky shrewd, I'm going to post the card with some minor changes that would have made TNA's best show even better:

- Sting Vs. Angle: World Title (same)
- Joe Vs. Christian w/Pacman Jones as Guest Enforcer
- Lethal Vs. Daniels: X Title (same)
- AJ/Tomko Vs. MCMG: Tag Titles
- Abyss Vs. Harris Vs. Storm Vs. Rhino Vs. Raven Vs. Reign: Monster's Ball
- Steiners Vs. Team 3D: Tables Match (same)
- LAX Vs. XXX: Ultimate X Match (same)
- Roode Vs. Kazarian: Grudge Match
- 10 KO Gauntlet to Crown 1st KO Champ

If the card had been presented with those minor changes, I think it would have been even better. But its an awesome show regardless.
---
Last edited by TripleG; 10-15-2011 at

11:06 AM

.
Making James Ellsworth GET MY BAGS
Join Date: Jun 2006
Location: Melbourne, Australia
Posts: 4,185
Points: 243
Re: Official TNA DVD Help/Discussion/Review Thread
---
NWA-TNA - Weekly PPV - 19/3/03

- The first 21 minutes of this program had absolutely no wrestling matches at all.

1. NWA-TNA Tag Team Title Match
The Disciples of the New Church vs Triple X
**1/2
Match was fine but damn that was a great redebut for Malice and it really put the New Church over again.
Sadly i feel that TNA will stuff this up.

2. Konnan & Juventud Guerrera vs Jerry Lynn & Jason Cross
**3/4

3. Glen Gilbertti & Mike Sanders vs Hacksaw Jim Duggan & Moondog Spot
DUD

4. NWA-TNA X-Division Title
Amazing Red vs Kid Kash vs Trinity
**1/2

5. Brian Lawler, David Flair & Erik Watts vs Dusty Rhodes, D'Lo Brown & Jeff Jarrett
**

6. Ladder Match
Raven vs AJ Styles
***1/4

NWA-TNA Weekly PPV - 9/4/03

Raven vs Kid Kash - ***
4 Way Elimination Tag - ***3/4

NWA-TNA - Weekly PPV - 18/6/03

- Sabin vs London ***1/4
- lol at New Jacks Promo
- AMW vs Triple X ***
- Styles/Waltman vs Jarrett/Sting **3/4
---
Last edited by smitlick; 10-16-2011 at

12:02 PM

.
Lets go to the old mill anyway, get some cider!
Join Date: Mar 2007
Location: Stuck On This Prison Planet
Posts: 13,287
Points: 4,121
Re: Official TNA DVD Help/Discussion/Review Thread
---
BFG 2011

Aries/Kendrick-***1/4
RVD/Lynn-***1/2
Joe/Crimson/Morgan-**
Ray/Anderson-***1/2
KO Match-1/2*
AJ/Daniels-**3/4
Sting/Hogan-***
Roode/Angle-***1/4

Overall it was a good PPV but again the booking of Roode/Angle's finish and AJ/Daniels as a whole brought it down a bit. Alot of good matches but nothing truly great and definitely the most forgettable BFG thus far.
---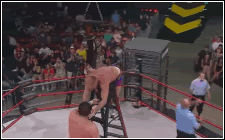 Do I really have to say anything?

Sig: Kingcrash
Re: Official TNA DVD Help/Discussion/Review Thread
---
I agree with Taroostyles. Pretty decent ppv, but this was the worst Bound For Glory they have given us. Every other Bound For Glory had at least one match that was a MOTYC, but this ppv didn't have any. It just had a lot of solid matches. It also had some poor booking, like in the main event.

Here is how I would put the BFG ppv's in order.

1. Bound For Glory 2007
2. Bound For Glory 2006
3. Bound For Glory 2009
4. Bound For Glory 2008
5. Bound For Glory 2010
6. Bound For Glory 2005
7. Bound For Glory 2011

Bound For Glory 2011 star ratings

1. Brian Kendrick vs Austin Aries - ***1/2
2. RVD vs Jerry Lynn (Full Metal Mayhem) - ***1/4
3. Samoa Joe vs Crimson vs Morgan - **
4. Bully Ray vs Mr. Anderson (street fight) - ***
5. Knockouts match - skipped it
6. AJ Styles vs Christopher Daniels (I quit match) - **3/4
7. Sting vs Hulk Hogan - * (aftermath was classic though)
8. Robert Roode vs Kurt Angle - ***1/4
Re: Official TNA DVD Help/Discussion/Review Thread
---
I still say 2010 was the worst BFG, but the ending to 11 was so bad, I'll say that one definitely had the worst main event. What a shitty way to end the show.
Re: Official TNA DVD Help/Discussion/Review Thread
---
Quote:
I still say 2010 was the worst BFG, but the ending to 11 was so bad, I'll say that one definitely had the worst main event. What a shitty way to end the show.
I thought BFG 2010 was a very solid show actually. RVD/Abyss monsters ball was a sick match that was just as good as RVD/Lynn and Anderson/Ray. Lethal lockdown and Lethal/Williams were both solid matches. MCMG/Generation Me was better then anything that BFG 11 gave us, and the main event was pretty awesome as well. I think that Angle/Anderson/Hardy is a pretty underrated match that set up a big angle for the next few months. Even though that ppv ended with a heel, it was something fresh and it really took the crowd by surprise. Same can not be said for Angle/Roode in my opinion.
Also, I thought Angle/Roode was a pretty great match actually. They used their submision finishers way too much, and the match should have ended with Roode winning, but the match was very good up until that point.
TNA does need to learn that they should end their biggest ppv of the year with a face winning to send the crowd home happy. There is a reason why Wrestlemania has almost always ended with a face on top.
Posting Rules

You may not post new threads

You may not post replies

You may not post attachments

You may not edit your posts

---

HTML code is Off

---