Moron
Join Date: Jul 2010
Posts: 117
Points: 0
Re: Official TNA DVD Help/Discussion/Review Thread
---
I'm gonna be reviewing Angle's matches going through the Top #10 Rankings so here we go!




Kurt Angle vs. Kazarian-Slammiversary 2010



***3/4

Match went for about 15 mins and they sure did fit alot into it! The fast pace never lets up which is probably due to Kazarian being an X-Division competitor. Kazarian may not have won but he sure as hell looked impressive and he really can hang with the heavyweights. I like how Angle kept getting caught out by Kazarian's speed but he was able to apapt in the end-up. The crowd were loug throughout but I still don't know why they were chanting "USA". Last time I checked, Anaheim is in America. Great opener to not only the PPV but also the journey through the Top 10 Rankings.

Next up for Angle: Desmond Wolfe.



Kurt Angle vs. Desmond Wolfe-iMPACT 24/06/10



***
The match lasted for about 8 minutes and they certainly did well for the short amount of time they had. It's still much better than having a usual iMPACT squash match. I found the match to be more like a bite-size version of their previous encounters except this time we had Chelsea who served as a distraction for Wolfe. As in all of the Wolfe/Angle matches, the targeting was crisp and the counters worked well. If we always had matches going at this length on iMPACT as opposed to a 4 minute main event, it would make for a much better show.

Next up for Angle: D'angelo Dinero.
Re: Official TNA DVD Help/Discussion/Review Thread
---
TNA Final Resolution 2009
Now before I start on the matches I have to say that the Shop TNA Christmas video made the Cross the Line 3 pack worth the money. It was hilarious.
TNA Tag Title Match:
The British Invasion (c) vs. The Motor City Machine Guns
Excellent opener and I was thrilled to see how much offense the Guns got in. Despite being the much smaller faces they got in just as much offense as The British Invasion. The Guns also controlled the tempo of the match so for guys like Magnus and Williams this match had a really fast pace.
I really wished the Guns had won the titles though. They really are such a great tag team and it would have been nice to see them get the gold at least once.Anyways fun stuff that saw the Guns come so close to getting the gold numerous times and seeing the The British Invasion steal the win.
***1/4

TNA Knockout Championship Match:
ODB (c) vs. Tara
Maybe it's because the last women's match I saw had Eve in it but I liked this one. There is no doubt that ODB's character was very stale but at least here we got to see a mean streak from her. She was much more serious here and it was pretty refreshing to see. I really liked where she set up a Bronco Buster, ran at Tara, stopped, and stomped her instead. Ending came out of nowhere but it kept the feud alive so I guess it made sense. Very solid.
**
Feast or Fired Match:
Jay Lethal vs. Consequences Creed vs. Robert Roode vs. James Storm vs. Sheik Abdul Bashir vs. Cody Deaner vs.Kiyoshi vs. Rob Terry vs. Kevin Nash vs. Eric Young vs. Samoa Joe vs. Homicide
For what's it worth this is one of the better "Something on a pole" matches that I've seen. Not much in the way of a wrestling classic but there were a good number of talented wrestlers brawling all over the place for a little under 10 minutes so there was some entertainment that came out of it. Not much in the way of spots and in all honesty this might have been best of as a spotfest. It wasn't terrible, which is all I could have asked for. At least they showed what was in each briefcase right after the match.
*3/4
Elimination Match:
Team 3D, Rhino, and Jessie Neal vs. Hernandez, Suicide, Matt Morgan, and D'Angelo Dinero
So because of a pre match stipulation Hernandez had to go the first 5 minutes on his own and if he was pinned his team would lose. Well it wasn't much of a surprise that Hernandez lasted the whole 5 minutes, but what was a surprise was that he scored a pin on Rhino 4 minutes in, giving his team an advantage. It made Hernandez look really good, especially since he was eliminated by DQ when he just destroyed Jessie Neal with a chair.
This match could have been a lot better if there wasn't so much stupid stuff that happened. Why would Jessie hit someone with a chair when his team was already a man down? And why would Hernandez get DQed for hitting someone that wasn't in the match anymore? There are a few other things that didn't make much sense at all but the action made up for some of it as it was a pretty entertaining match. All the young guys ended up looking really strong coming out of the match so I guess it accomplished its purpose.
**3/4
Last Man Standing Match:
Scott Steiner vs. Bobby Lashley
Neither guy could really do all that much in the ring. Steiner because he's old and Lashley because he kind of sucks. This wasn't too bad but I couldn't shake the feeling that they just had a wrestling match where the ref would count to 10 instead of 3. And it wasn't all that good of a wrestling match at that. Nothing terrible but lots of suplexes. I also never really got the impression that Steiner and Lashley hated each other. In fact their match they had at the previous PPV was done much better than this match. Very skippable.
*3/4

Hardcore Match
Mick Foley and Abyss vs. Stevie Richards and Raven
Solid enough match. I was a little surprised that Foley just seemed to vanish for a while and left Abyss on his own. They had been playing to the fact that Foley hadn't been there for Abyss so I guess it made sense but it really didn't do anything for the match. Well Foley eventually comes back with a cart filled with weapons and the ass kicking starts. Nothing all that brutal but the match was pretty fun. It did have one really good start where we saw Foley hit a Cactus elbow drop onto Richards through a table off the stage but other than that there weren't too many dangerous spots. I was shocked that Abyss worked a hardcore match and didn't blade.
I was kind of expecting a little more out of the ending as it ended with a Black Hole Slam which isn't all that devastating of a move and even less so in a hardcore match. It wasn't all that long but I felt it was a pretty good match.
**1/2
3 Degrees of Pain
Kurt Angle vs. Desmond Wolfe
So the first fall was a pinfalls only match, second was submission, and thrid was cage. The cage was up the whole time though but you couldn't use it as a weapon until the third fall. It might sound like a dumb idea but it actually allowed for some really good chain wrestling for the first 2 falls.
I like Angle but I really feel like Wolfe out shined him during the first 2 falls of mat wrestling, especially towards the end of the second fall. There were a lot of counters to submissions and you would see Wolfe land a bunch of really different and good looking holds while all Angle did was apply Ankle Lock after Ankle Lock. Wolfe sold the ankle really well to his credit after the first fall.
I would have liked to see Wolfe pick up the win but that doesn't seem to be something that TNA likes to do. In fact when Wolfe scored a pin on Angle I realized it was the first time in a very long time that I had seen Wolfe pin someone. I really liked this match. It was just a really good pure wrestling match for the first 2 falls and the second fall was very exciting to see. I still think the match they had at Turning Point better but not by all that much.
****
TNA World Title Match:
AJ Styles (c) vs. Christopher Daniels
A pretty simple match structure that saw them start out with a slow pace and showcased some very good mat wrestling. This was booked as a jealousy feud between them and you could really feel the animosity between Daniels and AJ. It was more about Daniels showing he was better than AJ so it made sense that he was more concerned with winning the match than hurting AJ.
There were also some really great spots here early on that they built the rest of the match around. AJ took a nasty spill and seemed to land right on his head. From there Daniels went after the back/neck and at one point he slammed Styles through a chair. Daniels took his fair share of bumps as well, the best being a straight up power bomb he took on the floor.
Great match here. I liked the deliberate pace that it had and I also liked that they didn't go crazy at the end. It wouldn't have made sense if they started throwing bombs one after another and not selling after such a well worked match where they sold everything. A fantastic main end to the show.
****
It might a little rough between the opener and the last two matches but overall I still felt it was a good show. It had it's flaws but I feel the last 2 matches more than made up for the lackluster mid card. And this is part of the Cross the Line Pack so you can't go wrong with these 2 main events along with the Wolfe/Angle and Styles/Daniels/Joe from Turning Point.
Re: Official TNA DVD Help/Discussion/Review Thread
---
Top Ten Matches in Victory Road History:

10) Kazarian vs. Volador Jr. vs. Sheik Daivari vs. Naruki Doi: World X Cup Finals Ultimate X Match (2008) = For the second time in TNA's history, the World X Cup was decided by an Ultimate X match with Kazarian representing the US, Volador representing Mexico, Doi representing Japan, & Daivari representing that mutlinational Team International. In this match, we had what might be the most amazing spot in Ultimate X history as Kazarian dropped a Legdrop off the top of the structure to knock Daivari off the X. It was an amazing sight. Shockingly, Team USA lost its first World X Cup as Volador took the win for Team Mexico.

9) Super X Cup X Division Gauntlet (2004) = At the very first Victory Road, which was coincidentally TNA's first 3 hour PPV ever, we opened up the show with a variety of X Division style talent from all over the World as they fought for the Super X Cup. We had talents that ranged from international veterans like La Parka, Psychosis, & Hector Garza, to Independent names like Jason Cross, Mikey Batts, & Mike Sydal (currently Evan Bourne in WWE), and top TNA X Division players like Chris Sabin, Alex Shelley, Kazarian, Michael Shane, Amazing Red, & Sonjay Dutt. This exciting 20 man gauntlet was perfectly indicative of the kind of action you would expect out of the X Division. Hector Garza defeated Kazarian last to win the match & the Super X Cup. A fine way to kick off TNA's very first 3 hour show.

8) Samoa Joe (c) vs. Booker T: TNA World Championship (2008) = What we got here was a big main event centered around newer champion Samoa Joe facing Houston hometown boy & veteran Booker T. Anybody who followed my comments during Booker's time in TNA will tell you I wasn't too high on his work, but I really liked this match. It wasn't so much a wrestling match as it was just a massive fight with both men beating the living daylights out of each other. The only major knock I have on this match as the finish...as there wasn't one at all. It started off really cool with Joe just tearing Booker to shreds and destroying anybody that jumped into save him. Following an altercation with Sting, Joe gets knocked out and Booker walks away with the title. The match was officially a no contest, but that wasn't made clear to the audience and it was confusing. However, it was an exciting match up and the chaos made it all the more fun. I just wish the ending had been, you know, an ending.

7) Chris Harris vs. Christian Cage (2007) = This one is a big of a forgotten gem, but I really liked that they tried to make a star out of Harris as he was somebody I was very high on. I don't know what the hell happened to him, but the "Braden Walker" we saw in the WWE was not the same guy that was impressing me years before. This match was great. I thought their styles complimented each other and Harris looked great in there with somebody the caliber of Christian. Unfortunately, what should have been a springboard for Harris was actually his extinguisher as Dustin Rhodes cost him the match, which would then lead into a Black Reign/Chris Harris feud that pretty much killed any chance Harris had of succeeding. But for what its worth, the guy had a lot of potential at one time, and some of his work in 2007 (including his matches with Storm) were indicators of that.

6) Kurt Angle & Samoa Joe vs. Team 3D: Match of Champions (2007) = All the TNA titles were on the line as World & X Champs Angle & Joe took on tag champs Team 3D. The idea of putting all the gold on the line in a tag match wasn't exactly a new idea (WWE had done it twice before), but it did give the match a big time feel to it. And although I was completely against Team 3D being in this match due to the fact that they had no chance of winning (I would have preferred AJ & Christian). But anyways, with the added stip that a win would give Angle or Joe both tag title belts, it was no surprise that they couldn't co-exist for long as all hell broke loose at the end. The returning Steiner Brothers were the deciding factor as they cost Team 3D the match and Samoa Joe overcame Kurt Angle's interference to win the Tag Titles. This would later set up Joe vs. Angle for all the gold at Hard Justice, but this match was cool in its own right.

5) Monty Brown vs. Raven vs. Abyss: Monster's Ball Match (2004) = The very first Monster's Ball truly fit the name as you had savages like Raven, Abyss, & The Alpha Male Monty Brown going all out in his hardcore spectacle. Extreme hardcore action hadn't really been seen in the Impact zone before this point, so for the first time, so the Orlando crowd were treated to a hardcore war. It didn't disappoint as for the first time in TNA history, Abyss got driven into the thumbtacks (keep in mind this was before that became a once a month thing with him). It was a very exciting and entertaining brawl between three entertaining personalities. This match was meant to springboard Monty Brown who, ironically, ended up being the only one of the three to never hold a World Title in TNA. Strange as he was pretty exciting and a fun personality. Oh well, he won the match, and history was made as the Monster's Ball soon became an annual tradition for TNA's biggest PPV, Bound for Glory.

4) Petey Williams (c) vs. AJ Styles: X Division Championship (2004) = The very first X Title match on PPV had a very big time atmosphere to it. It was obvious that the crowd was excited for this one and they treated it like it was a main event. It wasn't a long match, but it was about as good a 10 minute match as you'll ever seen with all kinds of action, and an amazing way for Petey to hit The Canadian Destroyer. It was a very good showing for both men, and a nice shocker win for Petey. And even in defeat, AJ Styles showed why he was the icon of the X Division.

3) Ultimate X Gauntlet Match (2007) = A unique twist on the Ultimate X Match, this match featured 10 X Division talents as they competed under gauntlet rules. Once all 10 men entered the ring, those who had not been eliminated would then compete in an Ultimate X Match that would determine Number One Contendership for the title. Given that there was a possibility of 10 men participating in the Ultimate X portion of the match, it was decided that the Elevation X Structure would be used as the X, which heightened some of the insanity seen in these kind of matches. Some of the spots were downright scary. The true star of the match was Kazarian who had a break out performance after a long period of stagnation on the lowcard. However, The Flux Capacitor, a flying cutter to take Daniels off the X, and a frightening showdown with Elix Skipper on top of the X made Kazarian the obvious standout. However, it was Christopher Daniels who won he match as he reunited with fellow Triple X members Elix Skipper & Low Ki (Senshi at this time). This is definitely one of the more unique Ultimate X Matches and it was very exciting to watch.

2) Team USA vs. Team Japan vs. Team Mexico vs. Team International: 12 Man Elimination Tag Team Match (2008) = Wow the X Division really shined at Victory Road huh? Ultimate X, World X Cup, Title matches, they are all over this thing! Anyways, this was the first of two World X Cup matches on the 2008 VR show and it opened up the show with a huge bang. It was non stop action from various different styles from the international talents involved. For USA, it was Curry Man (hi Daniels!) & The Motor City Machine Guns and they came out in full force and put on a show, as Alex Shelley ended up being the sole survivor and earned some crucial points for USA. However, if I had to pick a star of the match, it would be Masato Yoshino who was the final member of Team Japan. They fell down to one very early, but he put on a show out there, and his endurance to the end with Shelley was pretty awesome to watch. I should also note that this was the event was TNA PPV debut of two future X Division Champions Sheik Daivari (who we would know later as Sheik Abdul Bashir), and current X Champ Douglas Williams. Both men were in Team International, and Williams showed off in this match (while Daivari almost got killed later in the Ultimate X, lol). So yeah, this match was excellent, exciting, and very unique among the usual X Division spotfests.

1) AJ Styles, Christian Cage, & Rhino vs. Kurt Angle & Team 3D: Full Metal Mayhem (2008) = This match was just wild! It was a hardcore spectacle, which played into the hands of guys like Team 3D & Rhino. However, it was also a bit of a daredevil act as Christian Cage & AJ Styles got to show what they could do through the air. And then of course there is Kurt Angle who is generally good in any kind of match. It was basically a TLC Match with pinfalls, and damn was it fun to watch. I know everybody loved the 12 Man Elimination Match from the show, and that was what got all the praise, but I'm sorry, this was my favorite from this show, and by extension, all of Victory Road history. The major feud was between AJ & Angle going in, so ultimately it came down to them as the action grew more and more intense. Thanks to Frank Trigg's interference, Angle & Team 3D won, and so ended one hell of a match.

Now...Top 5 WORST Matches in Victory Road History

5) Trinity vs. Jacqueline (2004) = Long before the Knockouts Division was even in place, TNA had Trinity, who was basically TNA's iconic female performer. She is probably most known for her feud with Kid Kash which resulted in some pretty brutal male on female violence. However, by this point, the spark was pretty much gone as she was relegated to being the valet of the New York Connection. She issued an open challenger for any female wrestler to come and face her at Victory Road, which brought out Jacqueline! Surprisingly, this was a pretty quick match (the midget match this show had was longer) with Trinity scoring a cheap & easy win. With no Knockouts Title or division in existence by this point, this whole situation just seemed pointless, and ultimately, it didn't really go anywhere.

4) Monty Brown vs. Rhino (2006) = This was a match I thought I was going to enjoy. Rhino had generated a bit of a spark with his anti ECW Promos, and both guys are big rough powerhouses with similar finishers (remember THE POOOOOOOOOUNC-AH! Period!). And the match went ok, but then it ended abruptly with a double count out which was just lame. Eventually this was rectified as Samoa Joe was added to the mix and the three had a pretty damn good Falls Count Anywhere 3 Way at the next PPV. However, this match was just a misfire.

3) Senshi (c) vs. Kazarian: X Division Championship (2006) = Now this SHOULD have been good. Low Ki/Senshi is a very exciting performer and Kazarian was making his return to the company. You would think this was something really good. But no. The problem was the crowd. They didn't seem to care at all, and actually, they treated the match with chants of "Boring". I can't believe I just typed that as you would think that would be a hell of a match. Whatever the case though, the lackluster nature of this encounter is not indicative of the talent of the two men and they would go on to have much better work after this.

2) Jenna Morasca vs. Sharmll (2009) = I know people are going to ask me "Why in the hell isn't this number one" but bare with me. The match was awful. It was terrible. I can't believe TNA thought it was a good idea to both A) Put Jenna in the ring and B) Put her in there with somebody who isn't a general anyway. This match was just doomed to fail. It was obvious just watching the match that neither girl belonged in there and it was a quick & righteous bomb. The only thing that keeps me from giving it the number one spot is because, well, it was a filler match. Its hard to go bombastic & hardcore on a match that was a designated piss break anyway, even if it did suck royally. IMO, the Divas Tag match from Wrestlemania XXVI this year was every bit as bad as this, but nobody cared because it was a filler match, so who gives a shit, right? Anyways, Jenna won the match, and was gone almost immediately after...I can't possibly imagine why, lol.

1) America's Most Wanted vs. Triple X: Last Team Standing (2004) = This match always escapes the bashing it deserves, but it was TERRIBLE!!! Seriously, you hear XXX vs. AMW, you expect something great right? Their series is one of the defining feuds in TNA's early history. Their two cage matches alone are huge bouts that shaped TNA. Hell, their Six Sides of Steel at the very next PPV is my personal favorite match in TNA history! So what the hell happened here? Well...

First problem was the gimmick. It was under Texas Deathmatch rules, which was get a pinfall, and keep them down for ten. OK fine, but it had to be done for both members of the team. This made the match feel convoluted, over gimmicked, and rushed. Second major problem: Elix Skipper suffered a concussion early into the match. Hey its wrestling, shit happens. However, he had to go all the way to the end as Daniels was eliminated first. I think that would have been a spot for somebody in the match to call an audible and get him out of there first because he was clearly too messed up to continue the match competently. He was botching spots left & right, and he even kicked out of the final pinfall when he wasn't supposed to, giving the match a botched finish anyway. This match was a total mess and definitely the worst match in what was an otherwise AWESOME tag team feud. Part of the reason this gets number one first is in the expectations. I expect Jenna/Sharmell to be crap, but I expect this to be good. Its not good, so therefore, I am more pissed off over it. Oh well.

Will there be any matches this sunday for Victory Road 2010 that can make either one of these lists? Well for best, I think Pope vs. Angle, Beer Money vs. The Guns, Kendrick vs. Williams, & maybe even the main event of RVD vs. Hardy vs. Abyss vs. Anderson are the matches to look out for (especially the first two). As for worst, I wouldn't be surprised if Ric Flair looked like shit in there in his match with Lethal. Ray vs. Neal vs. Devon will be bad, but it'll be forgettable too.
Re: Official TNA DVD Help/Discussion/Review Thread
---
One underrated match that you excluded (I'd put probably around 10 or 9 personally) is LAX/Sonjay & Killings from VR06. Just a fun sprint of a tag that immediately solified LAX as a good looking unit after a staggering couple months. For a snowflake, I'd say ***1/4 or ***1/2.

I'm surprised that you excluded Raven/Larry from VR06 and Dutt/Lethal from VR08 on the worst. I do understand the disappointment factor for 3 and 1 though (1 being since Elix got knocked loopy during the match.)
---
Last edited by Merc_With_A_Mouth; 07-08-2010 at

07:30 PM

.
Moron
Join Date: Jul 2010
Posts: 117
Points: 0
Re: Official TNA DVD Help/Discussion/Review Thread
---


Rob Van Dam vs. Samoa Joe-iMPACT! 08/07/10



***1/2

Wow, This was great! I'd heard good things from the tapings but not this good. Joe seemed to bring out a determined side in RVD that hasn't necessarily been seen yet in his TNA Run. Both men worked at a fast pace with Joe obviously being the stiffer of the two. The match got enough time to be memorable, around the 12 minute mark I believe but It looked like these guys have a much better match in them, which is only a good thing.

The ECW guys didn't distract from the match and the ending reminded me of Angle/Taker from No Way Out 06 where both guys were left looking strong. Unlike Taker though, I think Joe will get full-on revenge. This is easily Joe's best match since coming back in April and it's probably the same story for Van Dam (I gave his match with A.J at Sacrifice the same rating.) Seriously enjoyable stuff!
---
Last edited by Ricky..; 07-09-2010 at

06:36 AM

.
Re: Official TNA DVD Help/Discussion/Review Thread
---
Quote:
Originally Posted by
Merc_With_A_Mouth
View Post
One underrated match that you excluded (I'd put probably around 10 or 9 personally) is LAX/Sonjay & Killings from VR06. Just a fun sprint of a tag that immediately solified LAX as a good looking unit after a staggering couple months. For a snowflake, I'd say ***1/4 or ***1/2.

I'm surprised that you excluded Raven/Larry from VR06 and Dutt/Lethal from VR08 on the worst. I do understand the disappointment factor for 3 and 1 though (1 being since Elix got knocked loopy during the match.)
I actually don't remember the LAX vs. Dutt/Truth match that well outside of Hernandez Border Tossing Dutt to hell. VR06 wasn't exactly one of my favorites, but maybe I should give that match another look.
Raven vs. Larry was alright for what it was. It was basically just a comedy match with Larry getting his head shaved. I didn't have a problem with it.
I also liked Lethal vs. Dutt. It was alright. It wasn't one of the worst for sure. Now if I do one on Hard Justice, I guarantee their disastrous Black Tie Brawl & Chain Match will be on there.
Lets go to the old mill anyway, get some cider!
Join Date: Mar 2007
Location: Stuck On This Prison Planet
Posts: 13,293
Points: 4,139
Re: Official TNA DVD Help/Discussion/Review Thread
---
Yeah I'll roll with ***1/2 for Joe/RVD as well, those 2 just really work together in the ring. The contrast of Joe's hard hitting pseudo MMA style mashed with RVD's high flying agile style really made for a great watch, I'm sure we'll see these guys face off on PPV in the near future and if they get 15-20 minutes it'll be worth the PPV price alone for me.
---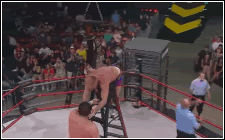 Do I really have to say anything?

Sig: Kingcrash
Re: Official TNA DVD Help/Discussion/Review Thread
---
I have a question for anyone who purchased (and watched) the TNA Cross the Line 3-pack vol. 3.

on the third disc, Against All Odds 2010, during the match between Matt Morgan and Hernandez, did anyone else's dvd skip? I've been watching the DVD, and the bonus features played fine, as dine the first 30 minutes of the event, but now it seems to have started skipping, and was wondering if it just my copy or knowing TNA, a defect.

Any help would be appreciated.
---
Favorite Matches of All Time

1. Triple-Threat Match for the World Heavyweight Championship: Triple H vs. Shawn Michaels vs. Chris Benoit - WrestleMania XX

2. Career Threatening Match: Shawn Michaels vs. Ric Flair - WrestleMania XXIV

3. WWE Championship: John Cena vs. CM Punk - Money in the Bank 2011

4. No Holds Barred Match: The Undertaker vs. Triple H - WrestleMania XXVII

5. WWF Championship: Hulk Hogan vs. The Ultimate Warrior - WrestleMania VI
Re: Official TNA DVD Help/Discussion/Review Thread
---
TNA Slammiversary 2010 quick review



-Kurt Angle defeated Kazarian -A

-Douglas Williams (c) defeated Brian Kendrick to retain

the TNA X Division Championship - B+

-Madison Rayne (c) defeated Roxxi to retain the TNA

Women's Knockout Championship -B

-Jesse Neal defeated Brother Ray -D

-Matt Morgan defeated Hernandez by disqualification-C

-Abyss defeated Desmond Wolfe (with Chelsea) in a

Monster's Ball match -A

-Jay Lethal defeated A.J. Styles (with Ric Flair)

Singles match -A

-Jeff Hardy and Mr. Anderson defeated Beer Money -B+

-Rob Van Dam (c) defeated Sting to retain the TNA World

Heavyweight Championship -C

Very Good card IMO. Sure there were some letdowns,and i

feel as a BIG ppv this could have done better. But 3

really great matches isnt bad, and it was just enough to

make me know TNA still has it. Was it perfect hell no.

Not even close. Yes bad descisions,but we got some good

quality wrestling for the most part. Roxxi gets props

for bleeding hardway too.

Id say its a download,but if you bought it then i would

say it was mostly worth it.
Re: Official TNA DVD Help/Discussion/Review Thread
---
Quote:
Originally Posted by
BGLWrestlingGod
View Post
I have a question for anyone who purchased (and watched) the TNA Cross the Line 3-pack vol. 3.

on the third disc, Against All Odds 2010, during the match between Matt Morgan and Hernandez, did anyone else's dvd skip? I've been watching the DVD, and the bonus features played fine, as dine the first 30 minutes of the event, but now it seems to have started skipping, and was wondering if it just my copy or knowing TNA, a defect.

Any help would be appreciated.
Mine did the same thing that other night. I was hoping that it was just my laptop acting up but it would be a pretty strange coincidence if we had the same exact problem on the same spot on the DVD. I've had my Cross the Line Pack for months so there really isn't much I can do.
Posting Rules

You may not post new threads

You may not post replies

You may not post attachments

You may not edit your posts

---

HTML code is Off

---