Moron
Join Date: Jul 2009
Posts: 790
Points: 0
Re: Official TNA DVD Help/Discussion/Review Thread
---
Quote:
Well I just bought Slammiversary 05, Sacrifice 05, Unbreakable 05, and Global Impact from Shoptna. I didn't plan on getting Global Impact, but they had it for $3.99! Hell I couldn't pass that up, never seen it before, and for $4 bucks, I won't complain. Really didn't want to spend that money, but I wanted to go ahead and pick up those DVDs before they become scarce again. Looking forward to viewing the shows as I haven't seen any of them in their entirety, I have seen alot of the matches, but i'm happy to be adding these to my collection.
Global iMPACT was actually pretty good from what I saw. Angle/Nagata is **** from me. It's great seeing TNA Talent in such a big arena though!
Also wondering what do you guys want to see on the Asylum set?
Lets go to the old mill anyway, get some cider!
Join Date: Mar 2007
Location: Stuck On This Prison Planet
Posts: 13,277
Points: 4,091
Re: Official TNA DVD Help/Discussion/Review Thread
---
Well there's alot from the Asylum days they haven't put on any DVD's so far, pretty much only the AJ volume 1 and History Of Year 1 DVD's have anything at all. Being realistic:

AJ vs Low Ki vs Lynn (Not the ladder match)
AJ vs Lynn
Truth vs Jarrett
AJ vs Red
AJ vs Jarrett
Lynn vs Super Crazy
Red/Lynn vs XXX vs Storm/Sabin vs Cross/Sharkboy
Lynn/Red vs XXX
XXX vs AMW (1st Cage)
AJ vs Raven
Teddy Hart vs Juvi
Sabin vs Juvi
Juvi/Abismo/Aguila/Garza vs Lynn/Dutt/Sabin/Skipper
AMW vs Naturals (Cage)

I'd buy that set in a heartbeat.
---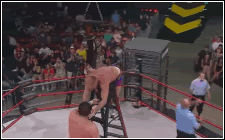 Do I really have to say anything?

Sig: Kingcrash
Re: Official TNA DVD Help/Discussion/Review Thread
---
XXX vs. Red & The SAT needs some showcasing even though only one of them is still in the company, so it won't get showcased.
Moron
Join Date: Jul 2009
Posts: 790
Points: 0
Re: Official TNA DVD Help/Discussion/Review Thread
---
I can easily see the DVD being just covered in matches with big names from the past who made one time appearances rather than quality matches as mentioned above. Then again, as long as I get a bit of X-Division and S.E.X, I'm happy. I think Taroostyles hit the nail on the head on what should be on it.
Re: Official TNA DVD Help/Discussion/Review Thread
---
Best of the Asylum Days. AHHH!!! Its about time this set was in the works. The X Division alone is worth checking out from the first year.
Making James Ellsworth GET MY BAGS
Join Date: Jun 2006
Location: Melbourne, Australia
Posts: 4,185
Points: 243
Re: Official TNA DVD Help/Discussion/Review Thread
---
TNA - Best of the Bloodiest Brawls - Scars & Stitches

1. Turning Point 2005
TNA World Title Match
Jeff Jarrett vs Rhino
***1/2

2. Lockdown 2006
Lethal Lockdown Match
Chris Harris, James Storm, Jeff Jarrett & Scott Steiner vs AJ Styles, Rhino, Ron Killings & Sting
***1/2-***3/4

3. Bound for Glory 2006
TNA Tag Title Steel Cage Match
AJ Styles & Christopher Daniels vs LAX
***3/4

4. TNA Impact - November 16, 2006
Barbed Wire Steel Cage Match
Christian Cage vs Rhino
***1/4-***1/2

5. Genesis 2006
Kurt Angle vs Samoa Joe
****-****1/4

6. Destination X 2007
Last Rites Match
Abyss vs Sting
***1/4

7. Sacrifice 2007
Texas Death Match
Chris Harris vs James Storm
****-****1/4

8. Slammiversary 2007
No DQ Match
Abyss vs Tomko
***1/2

9. Against All Odds 2008
Barbed Wire Massacre Match
Abyss vs Judas Mesias
***1/2-***3/4

Good DVD especially for so cheap..
Re: Official TNA DVD Help/Discussion/Review Thread
---
Love that TNA seem to be restoking the 05 PPVs can't wait to pick up unbreakable.
---
Re: Official TNA DVD Help/Discussion/Review Thread
---
TNA Genesis 2007

Shop Of Horrors
Abyss vs. Black Reign - *

Motor City Machine Guns vs. Team 3D - ***1/2

Knockout Title
Gail Kim vs. Roxxi Laveaux vs. ODB vs. Angel Williams - **

X-Division Title
Jay Lethal vs. Sonjay Dutt - ***

World Tag Team Titles
A.J. Styles & Tomko vs. The Steiner Brothers - **1/2

Samoa Joe vs. Robert Roode - ***1/4

Fight For The Right Tournament Finals – Ladder Match
Kaz vs. Christian Cage - ****

World Heavyweight Title – Pinfall Winner Receives Title
Kurt Angle & Kevin Nash vs. Sting & Booker T - **

Overall the ppv was all over the place, throwing out a horrible opener (and showing that Abyss has sucked for awhile now) and then going into a very good tag with the Guns & 3D. Joe/Roode would have been better if Traci didn't faint, and the main would have been better if not for the booking.
---
http://www.imagerotation.com/damon846/I1.png
Quote:
Originally Posted by Eddie Kingston
....It's like watching Lost and getting angry at the end. "Fuck I've been watching this show for six years and it turned out to be the bullshit thing I thought it would be!"
Re: Official TNA DVD Help/Discussion/Review Thread
---
Finished AAO 10' last night. Very disappointing show imo. Wolfe/Pope was MOTN, AJ/Joe was such a disappointment, Joe just isn't what he used to be. Nasty Boys/Team 3D, really? what a shit "match", Angle/Ken was ok, having Ken/Pope as the main event was stupid imo, but isn't too big of a deal, and that match sucked, and went wayyy to long, so boring. Other matches on the card were meh at best.

With that said though, im looking forward to getting my order of dvds, glad to hear Global Impact wasn't too bad, but like I said, for 3.99 im not going to complain.

I will also go ahead and say that AJ/Daniels from FR is my TNA MOTY so far.
---
Last edited by Jaysin; 06-06-2010 at

01:52 PM

.
Re: Official TNA DVD Help/Discussion/Review Thread
---
I will add that I just bought the cross the line pack that has VR, HJ, and NS 08 from Best Buy for $6.99! Can't beat it, so I had to go and buy the set. 3 DVDs for 8 bucks. I've been on a damn buying spree of TNA dvds for some reason. So now I have to watch HJ 08, NS 08, VR 08, plus the Global Impact, Slammy 05, Unbreakable 05, and Sacrifice 05 that im waiting to come in. Should keep me busy for awhile. I've done my part to support this company for a little while haha.
Posting Rules

You may not post new threads

You may not post replies

You may not post attachments

You may not edit your posts

---

HTML code is Off

---