Re: Official TNA DVD Help/Discussion/Review Thread
---
Victory Road 08 (opener, full metal mayhem) and Hard Justice 08 (AJ/Angle). both have some really good stuff on there. No Surrender 08 is decent at least (Dutt/Lethal, Joe/Christian/Angle).
Avoiding THE LIST!
Join Date: Mar 2010
Location: Saskatchewan
Posts: 8,093
Points: 9,526
Re: Official TNA DVD Help/Discussion/Review Thread
---
Only 7 more days till the latest TNA 3 pack gets released here in Canada. Can't wait to pick it up next Tuesday.
Re: Official TNA DVD Help/Discussion/Review Thread
---
I think it's a toss-up between the second and third Cross the Line 3 packs over which one is better. The first one is a pretty good set.

Victory Road '08 has the four-team triple elimination match, Gail Kim's last TNA PPV appearance, and Full Metal Mayhem (which is an enjoyable clusterfuck), but the main event was garbage.

Hard Justice '08 is a a very underrated PPV. Williams/Creed is a good opener, Beer Money/LAX was their best match, Christian/Rhino vs. Team 3D was as close to a pure ECW match as you'll get in 2008, Styles/Angle was their best PPV match, and probably their second or third best match (after Super Impact! and the January 4th show), and Booker/Joe was better than their first match, and had a cool ending (the match itself was ok, Angle/Styles should have been the main event).

No Surrender '08 is one of the "meh"-est shows ever. There's nothing to love or hate, everything is just kind of...there. The main event belonged on impact.


The second set is great. Turning Point '08 is probably the best TNA PPV of the year. The opener was very good, Beer Money/MCMG was a tag-team dream match, Booker/Christian was solid, Abyss/Angle was a great nodq match, Joe/Nash was shockingly good, and Styles/Sting was a pretty good main event.

Final Resolution is kind of a one-match show. The whole card is meh, but the main event is a great, entertaining tag team match, reuniting the stars of WCW (Sting, Nash, Steiner, Booker) on one team.

Genesis is a great grab-bag of matches. Shelly/Sabin was great, the tag title match was fun, Angle/Jarrett was MOTYC, and the main event was solid. But on such short notice, TNA should have tried to get someone more fitting for the main event than Billy Gunn.
---
Favorite Matches of All Time

1. Triple-Threat Match for the World Heavyweight Championship: Triple H vs. Shawn Michaels vs. Chris Benoit - WrestleMania XX

2. Career Threatening Match: Shawn Michaels vs. Ric Flair - WrestleMania XXIV

3. WWE Championship: John Cena vs. CM Punk - Money in the Bank 2011

4. No Holds Barred Match: The Undertaker vs. Triple H - WrestleMania XXVII

5. WWF Championship: Hulk Hogan vs. The Ultimate Warrior - WrestleMania VI
Moron
Join Date: Jul 2007
Posts: 1,630
Points: 0
Re: Official TNA DVD Help/Discussion/Review Thread
---
I thought that the main event of no Surrender was amazing for the time it got. Angle/Christian/Joe gave us an amazing match. It was probably Joe's best title defense. ***3/4 from me.
Re: Official TNA DVD Help/Discussion/Review Thread
---
Rob Van Dam vs. AJ Styles - Sacrifice '10 - ***1/2
I heard people call this a disappointment. I guess it could have been better but I still thought it was really good. The last few minutes weren't inspirational and the Lethal/Flair stuff didn't do much for me but for the most part the in-ring work was very good. Plus I never get tired of Flair talking so that didn't hurt at all. Satisfactory PPV main event.
---
Moron
Join Date: Apr 2008
Posts: 4,257
Points: 0
Re: Official TNA DVD Help/Discussion/Review Thread
---
Best of 2009 and Fandemonium - are they in widescreen format?
Avoiding THE LIST!
Join Date: Mar 2010
Location: Saskatchewan
Posts: 8,093
Points: 9,526
Re: Official TNA DVD Help/Discussion/Review Thread
---
I love the TNA 3 packs. 3 PPV events for $25, love it. And this newest 3-pack, 2 of the 3 cards are outstanding.
Lets go to the old mill anyway, get some cider!
Join Date: Mar 2007
Location: Stuck On This Prison Planet
Posts: 13,288
Points: 4,124
Re: Official TNA DVD Help/Discussion/Review Thread
---
In honor of Slammiversary here's my top 10 matches in Slammi history.


10. Rhino/Senshi vs LAX-2007-***1/2
9. Jay Lethal vs Chris Sabin-2007-***1/2
8. Samoa Joe vs Robert Roode vs Rhino vs Christian Cage vs Booker T-2008-KOTM-***1/2
7. Kurt Angle vs Samoa Joe vs AJ Styles vs Mick Foley vs Jeff Jarrett-2009-KOTM-***3/4
6. Abyss/Taylor Wilde vs Daffney/Raven-2009-Monsters Ball-***3/4
5. Kaz vs Petey Williams-2008-***3/4
4. Alex Shelley vs Chris Sabin vs Suicide vs Jay Lethal vs Creed-2009-KOTM-****
3. AJ Styles vs Kurt Angle-2008-****
2. Christopher Daniels/AJ Styles vs AMW-2006-****1/4
1. Kurt Angle vs AJ Styles vs Samoa Joe vs Christian Cage vs Chris Harris-2007-KOTM-****1/4
---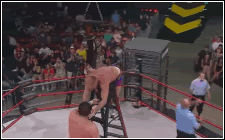 Do I really have to say anything?

Sig: Kingcrash
Moron
Join Date: Jul 2009
Posts: 790
Points: 0
Re: Official TNA DVD Help/Discussion/Review Thread
---
Just thought I'd write about some of my favourite Slammiversary matches year by year.
In 2005, the only things I really liked were Joe's debut match which was awesome just seeing him finally come to TNA, and of course Raven winning the King of the Mountain, ending his "2 Year Odyssey" as Tenay called it. It was a pretty good match in itself, I enjoyed the hell out of it, and at the time Jarrett not being in it surprised the hell out of me. There's also a tidy X-Division Title match but much better could've been done by Daniels, Sabin and Shane. I don't wanna get picky with this show on star ratings as I haven't seen it in yonks!
2006 is quite easily my favorite Slammiversary, I mean the show actually felt "big" at the time. I was only really watching TNA consistently for about 6/7 months at this time and I thought THIS was their Wrestlemania, I thought it was much better than Wrestlemania that year too. The show just seem like a culmination of everything from the last 6 months and I was satisfied with everything, even the ending because I knew since Jarrett got the title, he could continue his feud with Sting. Although I was pissed we didn't get a one on one Christian/Sting match down the line.
What I liked were....
-Team 3D vs. James Gang (Street Fight)-***1/2 (Who'd have thought these two would've been putting on such an enjoyable match in 2006!)
-Senshi vs. Alex Shelley vs. Sharkboy vs. Jay Lethal vs. Petey Williams vs. Sonjay Dutt (Elimination Match)-***1/2 (Not really talked about that match but this was fucking great, watch it!)
-Kevin Nash vs. Chris Sabin-*** (I found this even more surprising than the 3D/Outlaws match!)
-AJ Styles and Christopher Daniels vs. America's Most Wanted-**** (Everyone knew these two teams had a great match in them and they had it at this show, really cool seeing Staniels celebrating with the fans)
-Samoa Joe vs. Scott Steiner-*** (Another really surprising hit, Joe was his usual bad-ass self and Steiner was well...Steiner! I'd probably go higher on the rating with a re-watch too.)
-2006 King of the Mountain-***1/2 (This was where two storylines where tying in, Jarrett/Sting and Abyss/Christian but Killings was severely the odd one out here, enjoyable still! Sting's dive off the penalty box was great!)
2007 is a year I'm kinda indifferent about, there's alot of great and alot of crap, but I'd rather focus on the great. Oh yeah, this was the first Slammiversary on the road-coincidentally in the arena TNA held it's first shows in.
-Senshi and Rhino vs. LAX-***1/2 (Quite an odd pairing in Senshi and Rhino but it works to perfection!, Extremely fun match that fires up the crowd!)
-Jay Lethal vs. Chris Sabin-***1/2 (Really cool seeing Lethal win the title, too bad he couldn't have used his own gimmick to do it. Very good match nonetheless.
-Abyss vs. Tomko-*** (Another surprising match, just an all-out brawl, even using glass instead of tacks.)
-2007 King Of The Mountain-****1/2 (Fucking great altogether, Angle got a sweet victory even if it was tainted by Harris' spear onto the ladder. Insanely fun.)
I've only seen one match off 2008 but it was great so that's a plus
-AJ Styles vs. Kurt Angle-****(Love this one myself, but it was just a prelude to their great summer long rivalry, Great pace to this one I thought.)
2009 I've discussed in a review a good few pages back, I think the review's in my blog too. So check that out if you wanna read about the whole show. So I'll just post what I placed at the end of what I liked.
-X-Division King of the Mountain-****
Great X-Division match here, loads of innovative spots and moves you don't see everyday. The crowd were red hot the entire match too. I liked how they played up all 4 men going after Suicide, trying to take the masked man out of the match first, especially since they couldn't do it at Destination X, and when that didn't work out, the Guns teamed up on everybody else, with Sabin even taking one for the team, giving Shelley the pin. Great King of the Mountain match.
-Raven and Daffney vs. Abyss and Taylor Wilde-***1/2
Really enjoyable match here, loads of fun spots, it's a Monsters Ball so it's expected to be that way. The knockouts were the stars of this, especially Daffney, I would've never expected a woman to take a tack bump..not in a worldwide promotion like TNA anyway. Abyss and Raven were their usual selfs and Stevie was great as the manager. Very fun Hardcore match here.
-Matt Morgan vs. Sting-***
Quick match here but a very enjoyable one, infact it was probably Morgans best match upto that point. Morgan, with his cocky attitude thought he had Sting beat halfway through but The Icon used his veteran instict and started taking Morgan out through those big legs. A normal Death Drop wouldn't do for a win, so Sting had to go a step further and hit one from the second rope. Sting looked great for the little offence he had here, who'd have thought a 50-Year Old would be doing missle dropkicks.
-Team 3-D vs. Beer Money Inc.-***3/4
Now that how a tag-team match should be done. Both teams looked great and all the action was enjoyable. I was surprised especially by Brother Ray pulling out all the stops in this one. Don West was hilarious all throughout the match on commentary, showing his knowledge of tag-team wrestling by read a big book about it. The British Invasion are gold on commentray aswell. 3D were really over in this match but Beer Money deservedly got their titles, albeit not through a clean finish.
-Heavyweight King of the Mountain-****
Just as good as the opening KOTM, but they're both good in different ways. The first one was more about fast paced exciting action while this one was about strategy and storytelling. For the entire match it looked like Joe was on the side of the Originals only at the last second to turn his back and join Angle. Know we know why Angle said "we" will be celebrating tonight earlier in the show.
Moron
Join Date: Nov 2009
Location: WHERE THE BUFFALO ROAM
Posts: 15,930
Points: 240
Re: Official TNA DVD Help/Discussion/Review Thread
---
Kurt Angle vs Desmond Wolfe:

Turning Point ****3/4 (even better after some re-watches, this is a fucking clinic!)

Final Resolution ****3/4 (better than TP match, because it was very emotional and the concept was unique. The only flaws are that cage fall could be longer, and I think that Wolfe smashed the wrong Angle's arm/hand into the cage - he worked the entire match on Angle's left arm, but in third fall - he attacked right arm)

Two amazing bouts, Top 5 in 2009, that's for sure.
Posting Rules

You may not post new threads

You may not post replies

You may not post attachments

You may not edit your posts

---

HTML code is Off

---