Re: Official TNA DVD Help/Discussion/Review Thread
---
Widescreen is awesome news! But yeah, the Daniels thing is still mindboggling. Hopefully he can continue to be awesome in ROH.
Re: Official TNA DVD Help/Discussion/Review Thread
---
I have to pick up that three pack. I was a big fan of all three shows to be honest.

Anyways, here's Part 3 of my Top Tens through the years.

Year 5 = Post Slammy 06-Slammiversary 2007

TNA's fifth year was also met with signs of growth. They held their first PPV outside of the Impact Zone with Bound for Glory 2006, and TNA Impact also saw a move to a primetime slot on Thursday nights. Also, by the end of the year, ties to the NWA were completely severed as TNA became its own entity and created its own World & Tag Team championships. However, the biggest change of all was the addition for Kurt Angle who was easily one of the WWE's biggest stars prior to leaving (he went into Wrestlemania that same year as World Champion). The remainder of TNA's fifth year was largely centered on the rise of Kurt Angle, culminating with him becoming the first ever TNA World Champion.

1) Chris Harris vs. James Storm: Texas Death Match (Sacrifice 2007) = I have to give it to this match. Its amazing how often, tag team splitting storylines & matches don't go very well. Even matches that should have been great like Michaels vs. Jannetty were too much to write home about. Heck, watch the first PPV match between these two. But they more than made up for it with this excellent & violent match that opened people's eyes to the potential that both Harris & Storm had as singles stars.

2) Christian Cage (c) vs. Samoa Joe: NWA World Championship (Destination X 2007) = Joe's first title shot in TNA proved to be probably my favorite World Title match in company history. The chemistry these two had was unreal and they had one of the best overall series that TNA has ever produced. Awwesome & well wrestled match up.

3) Samoa Joe vs. Kurt Angle (Turning Point 2006) = Joe & Kurt would have many PPV matches during their rivalry in TNA, but this one was by far their best. Some people were disappointed by the Genesis match due to its length (which was really the only bad thing anybody could say about it) so this match remedied that problem and gave us a very exciting & very good match up.

4) Latin American Xchange (c) vs. AJ Styles & Christopher Daniels: NWA Tag Team Championship Ultimate X Match (No Surrender 2006) = The very first tag team Ultimate X gave us an excellent display of athleticism & hardcore brawling as all four men gave everything they had. This was an excellent tag team feud and this match captured everything that made it great.

5) Kurt Angle vs. Samoa Joe vs. AJ Styles vs. Christian Cage vs. Chris Harris: TNA World Championship King of the Mountain Match (Slammiversary 2007) = If you're looking for TNA's all time greatest KOTM match, look no further than right here. With AJ, Joe, Angle, Christian, & the wildcard in Chris Harris, you definitely have the best assorted talent in KOTM history and it all combined for one match that truly lived up to the name "Total Nonstop Action"

6) AJ Styles & Christopher Daniels (c) vs. Latin American Xchange: NWA Tag Team Championship Six Sides of Steel Match (Bound for Glory 2006) = The capstone to this tag team rivalry was fittingly violent & action packed. It wasn't quite as good as the UX match the month before, but still a strong showing and the best match from TNA's BFG06 PPV.

7) Senshi (c) vs. Chris Sabin: X Division Championship (Bound for Glory 2006) = This was actually somewhat of a sleeper hit for BFG06, but like I said about the Sabin/Petey TP04 match, this is one of the very best X Title matches to not include either AJ, Joe, Daniels, or Lynn. It was an amazing match that nearly stole the show.

8) AJ Styles vs. Christian Cage (Genesis 2006) = This PPV is often remembered for the very first Angle/Joe match, but this was my personal favorite on the card. AJ vs. Christian was somewhat of a dream match & I loved watching these two wrestle. Its amazing that this was their only singles match in TNA.

9) Kurt Angle, Samoa Joe, Sting, Jeff Jarrett, & Rhino vs. Christian Cage, AJ Styles, Abyss, Scott Steiner, & Tomko: Lethal Lockdown Match (Lockdown 2007) = This was another example of how awesome Lethal Lockdown can be as it combined some many great styles & elements to make the match exciting from start to finish. This was also the first time we saw Steiner do his Frankensteiner in TNA and AJ get tossed off the top of the cage. Crazy stuff.

10) Samoa Joe vs. Monty Brown vs. Rhino: Falls Count Anywhere (Hard Justice 2006) = An often overlooked match, I found great enjoyment while watching this wild & hardcore display from the heavyweights. It was a builder for Joe who was moving up the ranks, and just a damn fun match to watch.

Year 6 = Post Slammy 07-Slammiversary 2008

The biggest change to occur for TNA in year 6 was getting their Impact time slot expanded to two hours, and also doing some experimenting including their very first live broadcast on Thursday nights. The biggest story to come out of Year 6 was definitely the rise of Samoa Joe who finally got his big push and basically was pushed from BFG07 all the way to Lockdown 08 to finally take the championship away from Kurt Angle. There were also several dream matches to occur during this year, particularly with Kurt Angle as he had his first major PPV outings with Sting, AJ Styles, & Christian Cage, all of which were well received. We also saw the creation of TNA's Knockout Division, which added a new dimenstion to the show to add to what the Heavyweights, X Division, & Tag Teams already brought to the table.

1) Kurt Angle (c) vs. Sting: TNA World Championship (Bound for Glory 2007) = Giving the number one spot was tough as both BFG main events were superb in 2007 & were my top two choices. I decided to go with Angle vs. Sting because it was more of a dream match, had that big match atmosphere to it, and it was pretty downright amazing. It was definitely Sting's best performance since the days of his prime & both his & Angle's styles complimented each other better than I ever hoped. It was a true main event dream match & being more of a Sting fan than an Angle fan, I did enjoy watching Sting take the title here. Overall it was a fantastic ending to what I feel is TNA's greatest PPV ever.

2) Samoa Joe vs. Christian Cage (Bound for Glory 2007) = The other main event to BFG07 was yet another fantastic match between Samoa Joe & Christian Cage. I already put over their DX match from earlier that year, and I still think its their best, but this one is a superb runner up, and also had an awesome ending with Samoa Joe finally getting his big win over Christian. I thought having Morgan there as enforcer added alot as well because it eliminated the possibility for interference on Christian's behalf, which pretty much left him prey to Joe's wrath. Awesome match.

3) Kaz vs. Christian Cage: Ladder Match (Genesis 2007) = Prior to this, people who had followed TNA since the start would tell you that the 3 Way between AJ, Lynn, & Ki was the best Ladder match in company history. IMO, this match topped it as Kaz gave a star making performance in an incredible daredevil performance against Christian Cage, who is one of the modern day kings of the Ladder Match.

4) Kurt Angle (c) vs. Christian Cage vs. Rhino: TNA World Championship (Impact June 2007) = The longest match in TNA history was also one of the most exciting. In the days of the one hour episodes of Impact, it was pretty shocking to see one match take up the entire hour, but nobody really complained as it was complete & great action from start to finish. There were a lot of run ins, but in a way, that only made it more exciting because all three guys had so many rivals outside of this match that it felt like a nice way to tie all the storylines together. This was definitely Rhino's best showing, possibly ever, because he hung in there with Angle (Christian was actually out of the match for a long portion) and showed he could go a long time if needed. I know I said Daniels vs. Joe in 06 was my favorite Impact match, but I have to consider this one a close contender.

5) Latin American Xchange vs. Triple X: Ultimate X Match (Bound for Glory 2007) = Ultimate X has been a regular presence on these top tens, and why not? The matches are awesome and TNA does them so often and so well, that its hard to escape putting them on here. This bout between XXX & LAX was definitely a wild spotfest with all kinds of insane daredevil moves. Surprisingly, the star of the match was Hernandez who used his size and power to shine above the rest in this exciting UX bout.

6) Kurt Angle (c) vs. Samoa Joe: TNA World Championship Six Sides of Steel Match (Lockdown 2008) = Its arguably the biggest & most heavily hyped TNA World Title match ever, and the ending with Samoa Joe winning the title was nothing short of perfect. Now at the time, some people had trouble accepting the "MMA" aspect of the match, but I think overtime, fans have come to respect and even embrace it. It was a very good "wrestling" contest with great technical displays, and overall it was an epix main event, even if it was kind of hard to see it as a "Cage Match", at least in the traditional sense.

7) Kurt Angle (c) vs. Christian Cage: TNA World Championship (Against All Odds 2008) = Its no surprise that these two would work so well together as they are probably the two most well respected in ring workers that TNA has picked up from WWE. I would say that this match topped their bout from the month before (although that one is also great) and all around it was a great main event.

8) Kurt Angle (c) vs. Jay Lethal: X Division Championship (No Surrender 2007) = At the time, it was labeled the biggest upset in TNA history, and I'd still give it that distinction. Nobody thought Lethal was going to win clean, but he did, and in a very exciting contest no less. In the end, I have to say, I probably wouldn't mind seeing Angle work with the X Division guys more often as he seems to shine with them. Excellent contest with a great ending.

9) AJ Styles vs. Kurt Angle (Slammiversary 2008) = This was not their best match together, but still a very strong first showing in a highly anticipated match up. They would eventually top this in matches seen within the last year, and even a couple months after this one, but it was a great first step in the rivalry.

10) Gail Kim (c) vs. Awesome Kong: TNA Knockout Championship No Disqualifications Match (Final Resolution 2008) = I have to give this match some love as it might be the best Women's match I've ever seen out of a mainstream wrestling promotion. I've talked about how much I love David vs. Goliath matches, and this was captured perfectly right here. You won't see many women's matches on par with this, I promise you.
Re: Official TNA DVD Help/Discussion/Review Thread
---
Finally finished Lockdown 2010


Rob Van Dam vs. James Storm (Lethal Lockdown Advantage Match) ***
Very good opener. RVD had some good offense and the crowd was into it. I expected someone to interfere and cost Team Hogan the advantage, but it ended up being a clean win for the babyface. Nothing wrong with that.

Homicide vs. Brian Kendrick vs. Shelley vs. Chris Sabin (#1 Contender Match) **1/2
Tons of cool spots in only five minutes. Fun action, just way too short and Homicide as a #1 contender makes little sense, especially after all those squashes on impact.

Kevin Nash vs. Eric Young - *
Still wondering what Kevin Nash is doing in the ring on a PPV. He can't wrestle anymore and he doesn't put Eric over. That's a money-losing situation. Really bad.

Angelina Love & Tara vs. Velvet Sky & Madison Rayne (TNA Knockout & Tag Team Titles) *3/4
It's not like I don't lik Madison, not at all. She's a good wrestler, but since when has she any credebility? Has she ever won a singles match? I guess they ran out of ideas to build the Angelina/Tara feud, where Tara will be the heel apparentely. Oh well the KO just suck lately.

Kazarian vs. Homicide vs. Shannon Moore (X-Division title) ***
Williams stripped off the title because there was a volcano explosion? Are you kidding me? I wish Williams was there because they had a good program and this match was well done. Homicide did a good job, trying to play Williams' role. Very good action with a fast pace. I'm glad Kaz took the title, but hopefully Williams gets his 'rematch'.

Team 3D vs Scott Hall & Kevin Nash (St. Louis Street Fight – Fall Count Anywhere) **3/4
Without the amazing crowd response, this match would have been boring as hell. Now it was entertaining as hell. The Band got a good, short asskicking and hopefully they're all gone soon. Let's just hope.

Kurt Angle vs. Mr. Anderson - ****1/4-****1/2
These tho have had a very intense program with great promos and some solid matches. Tonight the entire story come to a conclusion in an epic match. Everything was involved to make this a MOTYC. Angle's moonsault on top of the cage looked even sicker on that special camera angle from above. I love how Angle refused to step out until Anderson was completely death. The ending told the entire story. Great post-match promo as well. Amazing match.

Abyss vs AJ Styles (TNA World Title) ***1/2
Like expected these two had some good chemistry. Nice back and forth with som cool spots and nearfalls. Too bad it was pretty short for a world title match and the finish was disappointing as well. Gotta admit AJ looked very good as a heel champ tonight.

Team Hogan (Abyss, RVD, Jeff Hardy and Jeff Jarrett) vs. Team Flair (Sting, Beer Money and Desmond Wolfe) (Lethal Lockdown) DUD (**3/4 without the booking)
What a clusterfuck. The beginning was a big mess. I hate the new Abyss character and I can barely see him in action. It's embarassing that no-one in TNA realises this character just sucks. Near the end there were a few cool spots, but then it all went wrong. Sting who had barely taken any punishement got smashed into the tacks by Abyss... Then Eric comes out and they tease a swerve. I was praying he'd chose Flair's side, but too bad he joined Hogan and Abyss took random pinfall over Wolfe.
Can someone tell what kind of purpose the entire Eric/Foley and Eric/JJ feud served? If this 'swerve' was the goal all along, then I feel betrayed. TNA you stole my time and the entire Hogan/Bischoff/Abyss/Flair thing is going NOWHERE. It just horrible booking and makes no sense AT ALL.


Overall: 7/10
The action was probably the best of the Hogan Era, but some of the booking made no sense at all. I refer to the X-division title situation, the KO match and the Lethal Lockdown. The lethal lockdown left a very bad taste in my mouth. Otherwise Angle/Anderson was incredible and Pope/AJ proved TNA has the best talent in the world. BUT also the worst booking.
---
Last edited by stinger-splash; 04-28-2010 at

04:57 PM

.
Re: Official TNA DVD Help/Discussion/Review Thread
---
Just rewatched the Angle-Mr Anderson match. Wow. Definitelly my favourite match of the year and my second favourite cage match in TNA behind XXX Vs AMW. I am not one to go on about in ring physcoligy and all that stuff because quite frankly I don't care too much about it. This match was just amazing, start to finish it was entertaining and I counted 3 or 4 goosebump moments in it.
Angles build up to the moonsault was spot on as was the moonsault itself though it looked like he fucked up his arm pretty bad on landing. When Angle went to walk out and Anderson gave him the double bird I marked hard, it was a great touch and then angle winning with the warrior medallion and kicking Anderson in the nuts as he walked out, masterpiece.
****3/4 - fuck the nay sayers lol
Lets go to the old mill anyway, get some cider!
Join Date: Mar 2007
Location: Stuck On This Prison Planet
Posts: 13,143
Points: 3,682
Re: Official TNA DVD Help/Discussion/Review Thread
---
Yeah I've watched it twice now and it's a fucking epic match, ****1/2-****3/4. I've seen some people go under **** for it which I just can't even fathom, even if you're not a fan of either guy you can't deny the drama in that match was something special.
---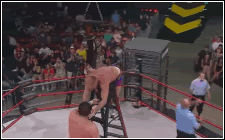 Do I really have to say anything?

Sig: Kingcrash
Moron
Join Date: Mar 2009
Posts: 3,514
Points: 0
Re: Official TNA DVD Help/Discussion/Review Thread
---
I give it **** stars personally. It was a hell of a match but I just dont see how people can call it one of the best matches ever. Seriously I could name atleast 10 matches better than this one.

1. AJ Styles vs Samoa Joe vs Christopher Daniels (Unbreakable) - *****
2. AJ Styles vs Samoa Joe (Turning Point 2005) - *****
3. XXX/AMW steel cage (Turning Point 2004) - *****
4. AJ Styles vs Christopher Daniels (AAO 2005) - ****3/4
5. AJ Styles vs Samoa Joe vs Daniels (Turnign Point 2009) - ****3/4
6. AJ Styles vs Petey Williams vs Chris Sabin (ultimate X match) - ****1/2
7. Chris Harris vs James Storm (Texas Death Match) - ****1/2
8. Samoa Joe vs Kurt Angle (Turning Point 2006) - ****1/2
9. AJ Styles vs Abyss (Lockdown 2005) - ****1/2
10.AJ Styles vs Kurt Angle LMS (Hard justice 2008) - ****1/2
Re: Official TNA DVD Help/Discussion/Review Thread
---
How is the second Knockouts DVD??
---
Last edited by musdy; 04-29-2010 at

01:56 PM

.
Moron
Join Date: Apr 2008
Posts: 4,257
Points: 0
Re: Official TNA DVD Help/Discussion/Review Thread
---
Widescreen means it's on my next amazon order w/ the WM26 blu ray.
Moron
Join Date: Nov 2009
Location: WHERE THE BUFFALO ROAM
Posts: 15,930
Points: 240
Re: Official TNA DVD Help/Discussion/Review Thread
---
Triple G's matches:

Chris Harris vs. James Storm ****1/2

Christian Cage (c) vs. Samoa Joe(Destination X 2007) ****1/2

Samoa Joe vs. Kurt Angle (Turning Point 2006) ****

Latin American Xchange (c) vs. AJ Styles & C. Daniels (Ult. X) ****3/4

KOTM 2007 ****1/2

AJ Styles & C. Daniels (c) vs. Latin American Xchange (BFG) ****1/4

Senshi (c) vs. Chris Sabin: X Division Championship (Bound for Glory 2006) ****

AJ Styles vs. Christian Cage (Genesis 2006) ****

Team Angle vs Team Cage ****

Samoa Joe vs. Monty Brown vs. Rhino: Falls Count Anywhere ****1/4



Kurt Angle (c) vs. Sting: TNA World Championship (Bound for Glory 2007) ****1/4

Samoa Joe vs. Christian Cage (Bound for Glory 2007) ****1/4

Kaz vs. Christian Cage: Ladder Match ****1/4

Kurt Angle (c) vs. Christian Cage vs. Rhino(Impact June 2007) ****

LAX vs XXX (Ultimate X) ****1/4

Kurt Angle (c) vs. Samoa Joe (Lockdown) ***1/2

Kurt Angle (c) vs. Christian Cage (AAO) ****1/2

Kurt Angle (c) vs. Jay Lethal: X Division Championship (No Surrender 2007) ****

AJ Styles vs. Kurt Angle (Slammiversary 2008) ****1/4

Gail Kim (c) vs. Awesome Kong (FR 2008) ****
Re: Official TNA DVD Help/Discussion/Review Thread
---
TNA Lockdown 2005

Sonny Siaki and Apolo vs. Lance Hoyt and Chris Candido - ** 1/2
Dustin Rhodes vs. Bobby Roode (Prince of Darkness match) - ** 3/4
Matt Bentley vs. Sonjay Dutt vs. Chris Sabin vs. Shocker (Xscape match) - *** 1/2
Jeff Hardy vs. Raven (Tables match) - *** 3/4
AMW (c) vs. Team Canada (Tag Title match) - ****
Christopher Daniels (c) vs. Elix Skipper (X-Division Title match) - *** 3/4
Jeff Jarrett, Monty Brown, Kip James vs. DDP, Sean Waltman and BG James (Lethal Lockdown - *** 1/2
AJ Styles vs. Abyss (Number 1 contenders match) - *****
Posting Rules

You may not post new threads

You may not post replies

You may not post attachments

You may not edit your posts

---

HTML code is Off

---