Learning to break kayfabe
Join Date: Jul 2007
Posts: 104
Points: 0
Re: Official TNA DVD Help/Discussion/Review Thread
---
Joe/Angle(Lockdown 08) ***3/4-****. Great match,but for me it signifies the beginning of Joe's decline, though kayfabe-wise it was his ascension.
Re: Official TNA DVD Help/Discussion/Review Thread
---
Quote:
Well, it's a cage matcth, right? So, you should use the fucking cage, no? And they (Joe) used it only ONCE! Only one fucking time! And yes, the match was technical masterpiece and followed the build-up story (Joe's MMA training) perfectly... But damn, they really needed to use that cage!

***1/2
In all fairness when you have a show with all cage matches you can't use the cage as a weapon a lot in every single match. I think I gave it ****, granted they could have had the same match without the cage but it was still great.
Anyways,
TNA Best of 2007
I'm trying to make a dent in my un watched DVD collection and this was one of them. I don't remember much about the matches and they looked pretty good so I figured I should give it a watch.
Elevation X Match:
AJ Styles vs. Rhino
We see some brawling outside the ring for 2 or 3 minutes before AJ hits some offense and manages to be the first one up. Since the purpose of the match was to throw your opponent off this should have been a huge advantage. He didn't use it though and allowed Rhino to climb up. Rhino slipped climbing up on his own though.
Since this was an insanely dangerous match there wasn't all that much they could on the tiny area that they had to work with. AJ was much more comfortable than Rhino. Lots of false falls that had the crowd gasping numerous times. I loved the spot where AJ hid under the main level of the X and Rhino had to use the crowd to find him. Not sure what his plan was but the crowd seemed to like it and I've never seen anything like it before.
After AJ is discovered they brawl up there some more and we see AJ try and use powder against Rhino, it backfires. He than gets Gored on top of the X, not the best looking one by any means but the fact that they did it up there was amazing. AJ soon takes the big fall after that.
Best Scaffold Match I've ever seen (this was basically a variation of one). They had so little room to work with it and still put on a highly entertaining match. It told a great story with Rhino being really pissed off and AJ playing the cocky and sometimes cowardly heel to perfection. The wrestling that they did wasn't all that good but the story that this match told makes up for that.
***
King of the Mountain Match:
Samoa Joe vs. Kurt Angle vs. Christian Cage vs. Chris Harris vs. AJ Styles
I know some people really hate multi-man ladder matches because there is virtually no psychology. While I'm not one of those guys I do have to take all ladder matches with a grain of alt when watching them. That being said I was really happy to see that this had the wrestlers behaving intelligently. There was, "I can win the match or I can do a spot. Let's do the spot!" I fell in love with this match when Samoa Joe threw the ladder out of the ring because he didn't have a pin yet.
Everyone had a roll and for the most part they stayed in character. Joe wanted to kill everyone, Angle was his intense win at all costs self, Cage played the cowardly heel, AJ was his hesitant ally, and Harris was the underdog.
It had more than enough big spots to keep me entertained for the full length of this match, it went a good 20 minutes and it never slowed down. This is how you should do a King of the Mountain Match. I've seen a bunch of them before and this one is easily my favorite.
The ending was the only part where I thought, "What was he thinking?" Angle and Cage were on the ladder with the belt and Harris speared Cage off, leaving Angle alone on the ladder with the belt. Granted TNA would use this to start a feud between Cage and Harris but what Harris did was really stupid. Took away from what otherwise was a classic match.
****
Winner Take All Match:
Kurt Angle vs. Samoa Joe
A slow start to the match but it all made sense as these guys had wrestled each other before and knew what they were getting into. Angle was noticeably distracted by Karen Angle being at ringside with her new boyfriend. Joe made matters worse by pulling Angle's tights down and exposing Angle's ass to everyone. Karen and the guy she was with were laughing at him.
We some more good back and forth stuff as the pace picked up. Kurt is embarrassed again when he get champagne thrown at him by Karen. More back and forth stuff and things just kept picking up. Great build to a really exciting climax where we see Angle counter a choke hold by biting Joe's hand. From there we see an Ankle Lock and some more great counters until the ref takes a bump, and Joe has the match won with Angle tapping in choke hold from Joe.
Karen than gets involved in the match by appearing to give a chair to Joe but she fakes him out and tosses it to Kurt who blasts Joe for the win.
Great stuff here. The match started off a little slow and just kept building and getting more and more exciting. I've seen a bunch of the Angle/Joe matches and they seem to have great chemistry together. This one was no exception. I still prefer their match they had at Lockdown 2008 but this isn't too far behind
***3/4
Texas Death Match:
James Storm vs. Chris Harris
This was really really violent. These guys clearly were supposed to hate each other, and you would have to be blind not to see that. Without going spot for spot all I can say is that they just beat the shit out of each other.
A lot of blood too. I don't know exactly what Storm did to get so much blood (the move that started the blood was a catapult that he took while laying under a table but I don't if that made him bleed or if he bladed) but the guy couldn't lay in one spot without a pool of blood forming.
They hated each other pure and simple and they wanted to hurt each other. That's all that this match needed to be great. The match even had a really fitting end as Harris hit Storm with a beer bottle in the face, the same spot that "blinded" Harris and really got the feud going.
An amazing effort from both guys. Maybe a little too violent and dangerous but I loved the match from start to finish. Not too long but a violent sprint from start to finish.
****
Ladder Match:
Christian Cage vs. Kaz
My personal favorite one on one ladder match since Benoit/Jericho. They did some amazing stuff in this match and it didn't suffer from too many, "why is he doing that?" moments. It also had one of my favorite spots that I've seen where Cage had one edge of the ladder on the apron and the other on the guard rail with Kaz laying on top. He climbs to the top rope and hits a frog splash, you can see the ladder bend a little bit but it's not like the spots WWE does where the ladder cleanly breaks in half. This ladder had no give.
Kaz was fighting to get his first big break as the winner of this match would get a title shot and I was really able to get behind him. While Kaz might not be known for ladder matches he really shined in this match and he looked like he was ready to be a top guy after this match. He took an insane bump where he went for a leg drop on top of a ladder. Cage was laying on the ladder but rolled out of the way and Kaz hit his legs on the ladder after jumping from the ladder.
Another thing that I really liked about this one was the lack of botches, or at least any that I remember. Everything was spot on for the most part and they even got the ending right where Kaz was falling while on the ladder but he put his foot out on the rope, caught himself and kicked the ladder back into place. It was a good looking spot and it made sense as well. He didn't try to do something insane with the ladder when there was a perfectly good ladder right next to him. What he did was smart and it was the quickest way to get the belt.
TNA has put on a lot of really bad ladder matches. They seem to give them away on TV all the time. Not the case with this one as it was one of the better ladder matches that I've seen in a really long time. Amazing stuff and deserving of a spot on this DVD
****1/4
Ultimate X Match:
Triple X vs. LAX
A very fun match with lots of cool looking spots. It was kind of cool to see someone bug like Hernandez in an Ultimate X match. It was also good to see that he was able to hold his own with the smaller guys. A lot of credit goes to Low-Ki and Skipper for throwing themselves around and making him look amazing.
This match did have some flaws though. At one point Hernandez was climbing across the X and just stopped a foot away from the X and didn't move. He went so fast across the X to that point and than just didn't move. After an awkwardly long time of him being there he was finally kicked off the ropes.
Besides this one point of complete foolishness the rest of the match worked pretty well and the spots in this match were pretty good looking. The great bumping from Triple X really helped. A great match but for the most part it was a spotfest, which is fine with me. There was enough of a story thrown in with someone like Hernandez seeing if he could get the X for his team to keep me from saying that this was a complete spotfest but just barely.
Overall a really fun match and it was a great opener for Bound for Glory.
***1/2
Kurt Angle vs. Sting
Despite having the worst block to a bat strike ever this was still a great match and it was good to see Sting turn back the clock for this match. Sort of the main event style that TNA seems to do a lot and I thought it was done really well here. Back and forth stuff to start off and things just keep building until the end, which was done really well.
After a hard fought match it looked Angle was going to get another BS win when Karen Angle came out (Sting had a restraining order against) and distracted everyone as she was arrested. During this time Kevin Nash interfered and hit Sting with a clothesline that allowed Angle to hit the Angle Slam for a nearfall. From this point on Sting just took everything that Angle and Nash could dish out and kept fighting.
We also saw a cringe worthy bat spot. Angle went to hit Sting with the bat but Sting "blocked it." The only problem being that it clearly hit Sting in the face and he didn't sell it. It was terrible looking and put a damper on the ending. I still can't take too much away from what was a great match for one both.
This match was great though and I was really happy to Sting fight back against all of Angle's cheating antics and pick up the win.
***3/4
Overall this is an incredible DVD. 7 matches all were great and there were some nice interviews and awards given out in between matches. Unless you've seen all the matches or have the shows on DVD you should pick this one up. You can get it for $4 new on Amazon, do yourself a favor and get it.
---
.
Re: Official TNA DVD Help/Discussion/Review Thread
---
Call me biased but I will never be able to get into that Kurt/Joe match again due to that abomination of a swerve that basically killed joes character (on top of stealing angles clothes in te build to the match)
Moron
Join Date: Nov 2009
Location: WHERE THE BUFFALO ROAM
Posts: 15,930
Points: 240
Re: Official TNA DVD Help/Discussion/Review Thread
---
Best of 2007:

Elevation X **3/4

KOTM ****1/2

Angle vs Joe ***3/4

Texas Death ****1/2

Kaz vs Christian ****1/4

LAX vs XXX ****

Sting vs Angle ****1/4
Re: Official TNA DVD Help/Discussion/Review Thread
---
Quote:
Originally Posted by
Merc_With_A_Mouth
View Post
Call me biased but I will never be able to get into that Kurt/Joe match again due to that abomination of a swerve that basically killed joes character (on top of stealing angles clothes in te build to the match)
The swerve was a little over the top but I try not to let an ending effect the rating I give it by that much and I try not to let the build up effect it all.
Quote:
Best of 2007:

Elevation X **3/4

KOTM ****1/2

Angle vs Joe ***3/4

Texas Death ****1/2

Kaz vs Christian ****1/4

LAX vs XXX ****

Sting vs Angle ****1/4
Pretty similar ratings. I could certainly see myself going higher on the KOTM match and Texas Death Matches.
---
.
Re: Official TNA DVD Help/Discussion/Review Thread
---
Angle-Anderson was easily the best match on the card. The match had tons of heat and drama morphed into it. The story in the match built off their hatred. Even though the blood became cliché quickly in this ppv - the blood was necessary in this particular match.The match did at times seem like they went over the apex of the match, but the anticipation and the back-and-forth sequences at the end were well done. It is just sad that we have to rely on Kurt Angle to give us a great match in this company knowing how poor his condition is. *** 1/2.
---
Last edited by Rescueme0909; 04-19-2010 at

01:20 AM

.
Lets go to the old mill anyway, get some cider!
Join Date: Mar 2007
Location: Stuck On This Prison Planet
Posts: 13,037
Points: 3,364
Re: Official TNA DVD Help/Discussion/Review Thread
---
TNA Lockdown 2010

RVD/Storm-***1/4
Xscape Match-**1/2
Nash/Young-**1/4
KO Tag-**1/4
X 3 Way-***1/2
3D/Outsiders-***1/4
Anderson/Angle-****1/2-****3/4
AJ/Pope-****
Lethal Lockdown-***1/2-***3/4

Overall: 9/10

This show had a little bit of everything.

Anderson/Angle was a classic and will most likely end as TNA's MOTY.
AJ and Pope had a strong world title match where they both looked awesome.
The X 3 way was a great display only slightly hampered by a dead crowd at parts.
Hell even the 3D/Outsiders match was great, they had the crowd eating out of the palms of their hands.

I'm hearing people complain about Pope losing and Flair/Hogan getting involved in the main event, even though both things made perfect sense. There is just no pleasing some people, oh well go watch this show ASAP. It was that good.
---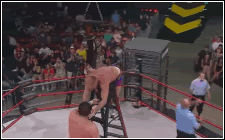 Do I really have to say anything?

Sig: Kingcrash
Re: Official TNA DVD Help/Discussion/Review Thread
---
Lockdown 2010

Storm/RVD: ***1/4
Escape:**1/2
Nash/EY:**
KO Match:**
X DIV Title:***1/2
3D/Band:**3/4
Angle/Anderson:****1/4-****1/2
AJ/Pope:***1/2-***3/4
Lethal Lockdown:***1/4

This PPV is worth watching for Angle/Anderson alone. Undercard matches ended up being a lot better than expected, and AJ/Pope was the second best match on the show. Agree with Taroo, about the endings to the last 2 matches. It wasn't the best way to close out the mathces, but it wasn't nearly as bad as people made it out to be. Best PPV of 2010 for TNA, and prob the best show since Turing Point and BFG from last year.
Re: Official TNA DVD Help/Discussion/Review Thread
---
AJ Styles vs. The "all that shit JB said" Pope - Lets just get one thing out there right off the bat. The build sucked,and no one who is mentally stable could possibly defend the build for this match. TNA's creative team did a poor job of convincing Pope to be a threat for the title, and part of that made the match suffer. The action in the match was about the routine stuff you expect from these two. For the majority of the match, they were in autopilot based off their talent level. AJ Styles performed a high spot off the peak of the cage - but due to Angle just did a better looking spot in the previous match and the fact that AJ Styles sold the impact minimal as possible - it did not have an awe-inspiring gasp that they were for expecting. Once AJ Styles no sold the high spot, the match felt apart faster than Mae Young's tits over the year. In addition to that, the booking to the finish was lazy and uncreative. ** ½
---
Last edited by Rescueme0909; 04-18-2010 at

11:56 PM

.
Moron
Join Date: Nov 2009
Location: WHERE THE BUFFALO ROAM
Posts: 15,930
Points: 240
Re: Official TNA DVD Help/Discussion/Review Thread
---
LOCKDOWN 2010:

RVD vs Storm **3/4

Xscape **1/2

Nash vs Young **

KO Match **

The Band vs Team 3D ***

Kaz vs Moore vs Homicide ***1/2

Angle vs Anderson ****3/4

The Pope vs AJ Styles ***1/2

Team Hogan vs Team Flair ***3/4

Overall: pretty good show, and I'm satisfied. Angle vs Anderson is MOTY so far, and all other matches were good / very good.
Posting Rules

You may not post new threads

You may not post replies

You may not post attachments

You may not edit your posts

---

HTML code is Off

---