Re: Your Most Hated Wrestler?
---
Probably no surprise here, but Matt Hardy.

Without a doubt. I cannot stand him, and the worse part is I used to be a Hardy mark and was a big fan of his...then his behavior and lack of change during the latter half of his WWE career made me turn against him and I now see him for the fraud he was. I just don't like him. He strikes me as the type of guy that if I knew him in real life I wouldn't be able to stand him either. He just seems so immature, fake, vindictive and superficial to me.

I want to like Triple H, I've heard great things about him as a person, but his booking has made me question and dislike him over the years.

I'm already prepared for the angry deluge of Triple H marks that will neg rep me for even daring to say such a thing. I got the most inane chatter last time from people with balls enough to neg rep but couldn't find the strength to figure out how to post in the thread.
---
Hogan
Flair
Miz
Jeff Hardy
Mexican JBL

Miz and Mexican JBL are purly based on in ring stuff. The others are for more personal reasons.
---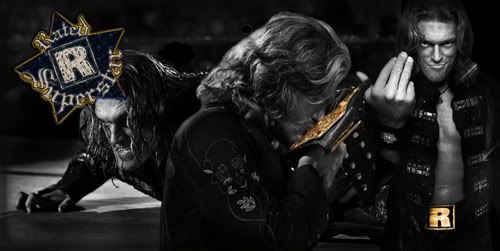 Re: Your Most Hated Wrestler?
---
Jeff Hardy, and it doesn't even come close.
---
Asking JAMES ELLSWORTH for Wrestling Advice
Join Date: Oct 2011
Location: Venus
Posts: 333
Points: 0
Re: Your Most Hated Wrestler?
---
hogan, cena, recently flair lost my respect as a legend,
---
Re: Your Most Hated Wrestler?
---
Tie between Hardcore Holly and Jeff Hardy.
Quote:
Never understood the hardy hate.
Seriously? Even ignoring the disaster at Victory Road, he's a guy who keeps screwing up yet keeps getting main event pushes over guys who deserve it more and who are more reliable. His mic skills are awful and his wrestling is OK. Yet he keeps getting second chances.
---
Thank you Edge.
Chris Jericho, The Shield, CM Punk, Fandango, Daniel Bryan, Primetime Players, Zack Ryder, Dolph Ziggler, The Miz, Alex Riley
Christian, Mark Henry, Damien Sandow, Randy Orton, Cody Rhodes, Kaitlyn, AJ
TNA: Mr. Anderson, Madison Rayne, Velvet Sky, Samoa Joe, Austin Aries, Kazarian & Daniels
---
Last edited by kobra860; 01-27-2013 at

12:54 AM

.
Go suck a dick, bitch.
Join Date: Jul 2006
Location: Hugh Jackman's pants
Favourite(s): Rowdy Roddy Piper
Posts: 10,203
Points: 5,066
Re: Your Most Hated Wrestler?
---
Quote:
Go on...

Must be a reason why, and I'm legit curious what it is. When you think of most hated, Hacksaw isn't a name that I'd think would get brought up.
I absolutely hate everything about him. His look, his fucking chant, his face, his annoying gimmick, his 'weapon of choice', just everything about him pisses me off. Fucking hate him so much.
---
Winning World titles, Custom Made Clothes
Join Date: Jun 2011
Location: Belleville, Indiana
Posts: 19,270
Points: 13,202
Re: Your Most Hated Wrestler?
---
Quote:
Originally Posted by
Oh Lymping Hero!
View Post
Konnan. I absolutely hated his look, mannerisms, talking, his awful wrestling, his retarded rolling clothesline. Everything.
Haha, I'm glad someone else hates this moron.
For me, it's a three way tie between Cena, Mysterio, and Batista.
---
Please someone hide the Easter candy from me, I have no self control :(
Join Date: Jan 2013
Location: a speeding death kaleidoscope made out of tits
Posts: 5,133
Points: 12,755
Re: Your Most Hated Wrestler?
---
Hulk Hogan. As a kid growing up in the 80's I was as big a Hogan mark as anyone else. After watching what he did in WCW, and now watching him continue to turn TNA into a bigger shitpile, I couldn't hate him more. He needs to just go away and never be seen again. But given how big he has always been, he will always have a chance to show up for some spotlight again on TV. I hate the selfish whore he has become, and will probably always be.

Same goes for Nash, Hall and Eric Bischoff. I don't care what they did in the past, since forming the NWO they have done nothing but bad for the wrestling business. I blame them and Hogan for keeping the WWE from having any legitimate competition. Bastards.

Sean W. can burn in hell. He put his hands on Joanie and she didn't deserve that. We probably would have seen her again in WWE if not for him.
Heel Turn on James Ellsworth
Join Date: Feb 2010
Location: Prince George, British Columbia
Posts: 2,572
Points: 51
Re: Your Most Hated Wrestler?
---
Bret Hart, an insufferable egomaniac and bitter revisionist of any wrestling history involving himself.
Tag Teaming With James Ellsworth
Join Date: Apr 2012
Posts: 1,010
Points: 0
Re: Your Most Hated Wrestler?
---
Shawn michaels before his first retirement.
Posting Rules

You may not post new threads

You may not post replies

You may not post attachments

You may not edit your posts

---

HTML code is Off

---