Re: Worst WWE Superstar to win the WWE title
---
Miz was pretty bad to be honest, he wasn't ready at the time
Re: Worst WWE Superstar to win the WWE title
---
Definitely RVD.
Playing Backstage Politics
Join Date: Jul 2011
Location: Far Away From Uncle Ole
Posts: 13,386
Points: 3,045
Re: Worst WWE Superstar to win the WWE title
---
Quote:
ding ding ding.

seriously, if ratings are the major factor here... Bret Hart and Shawn Michaels are the worst of all time. I don't hear anyone saying that.... oh thats right. because they are two of the best wrestlers of all time.
Nope.
If ratings mattered, they show that between 1995 and WM in 1998, on average, the highest rated RAW's were during the second reign of Shawn Michaels. RAW was averaging 3.31 with HBK as champ. Bret's reign in 1997 averaged 2.66 and his 1996 reign averaged 2.73.
In fact, the champion that produced the lowest rated average for RAW was Sid. His first reign averaged 2.1, his second reign averaged 2.24.
It ultimately means nothing, as the champion didn't always compete or appear on RAW. People can point out that the lowest rated RAW ever was during Sid's reign in 1996. Can't attribute that to Sid, as he didn't even compete on the show. Hard to blame 1 for the low ratings when they weren't even on the show.
---
Re: Worst WWE Superstar to win the WWE title
---
Quote:
Jeff Hardy. How he managed to get over, I will never know.
maybe it's the pseudo artist in me, but I've always liked Hardy.
worst wwe champion?
M I Z
---
Re: Worst WWE Superstar to win the WWE title
---
Now when you say worst WWE superstar, does that include actual wrestling skills? Because that wouldn't include Punk or Del Rio, maybe not even Jeff Hardy.

Punk did not make the title irrelevant, its the way he was booked. WWE continued to have Cena main event over everything, even his silly feud with Johnny Ace.

I'd say the Miz was the worst. But I'm biased because I dislike him. A lot.
---
Credit: ASAP
Making James Ellsworth GET MY BAGS
Join Date: May 2012
Location: The Great Lakes
Posts: 4,324
Points: 474
Re: Worst WWE Superstar to win the WWE title
---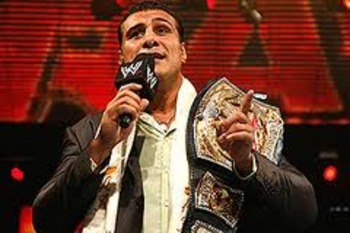 ---
Re: Worst WWE Superstar to win the WWE title
---
Miz, would of picked Jeff's but his reign was thankfully short.
---
Fan of Daniel Bryan,Seth Rollins,Kenny Omega,Dean Ambrose,Brock Lesnar,Antonio Cesaro,Randy Orton, Kazuchika Okada,Shinsuke Nakamura,Tetsuya Naito,and Minoru Suzuki
CREDIT TO "Tenacious.C. "
Winning World titles, Custom Made Clothes
Join Date: Jun 2011
Location: Belleville, Indiana
Posts: 19,274
Points: 13,214
Re: worst wwe superstar to win the WWE title
---
Quote:
I love when people like you try to bring ratings up, to determine what was bad.


You do know the rating system is based on a select 25,000 households and the number is determined by what those select households watch. You can participate in the Nielsen study for up to 5 years.

But, since you want to talk about ratings, as if they matter, talk about this. HBK won the title at WM 12 and for the first 7 weeks of his reign, WWE was winning the ratings, even drawing a 4.7 and 4.1. On top of that, ratings were higher for WWE at that time, than during the reign of the previous 2 champions, Diesel and Bret Hart, who both occasionally outdrew Nitro. Ratings began to drop when Hall & Nash jumped ship and the NWO angle started.

HBK's second title reign after Royal Rumble 1997 saw WWE draw slightly more than with the previous champion, Sid. His third reign after Survivor Series 1997, WWE had the highest ratings stretch they've had since HBK's first reign, often drawing over 3.0.

Comparing the ratings during HBK's reign to those of the Attitude Era, they weren't really low, it's just that the Attitude Era had high ratings (likely because a new set of households took part in the Nielsen study). Fact is, HBK's title reigns saw WWE gain more "viewers" than the previous champions before him.


Anyway, I say Alberto Del Rio. Just wasn't ready and seems to have had a forgotten run (a rather short run). WWE gave him too much too early and his career never benefited from it. He's just now starting to become slightly interesting.
Thank you for this great post. People's obsession with ratings to make their judgments is so ridiculous to begin with, but thank you for pointing out the situation with ratings and WCW. No one in the company at the time was going to out draw the fucking NWO in 1996.
---
Shooting the birds down from the trees
Join Date: Apr 2012
Location: Salma Hayek.
Posts: 4,507
Points: 26
Re: Worst WWE Superstar to win the WWE title
---
Jeff Hardy.

At least Miz can talk on the mic. To have a world champion that can't talk is fucking painful. Also he is a horrible worker. I get the feeling there is a common misconception that he is a good wrestler. Being able to perform good spots at the occasional ppv does not a good wrestler make.
---
I will never understand the undying Jeff Hardy hate. But I know this is the IWC and I'm surrounded by it. So know what, I'm not gonna bother.

I'm being totally serious with my answer

Bob Backlund
---
Quote:
IWC

Everyone's a cynic, no-one will enjoy wrestling, they're too busy
pointing out what "sucks".
Dream match:
Jeff Hardy
v.s
Christian
- Please happen again someday in the near future
Posting Rules

You may not post new threads

You may not post replies

You may not post attachments

You may not edit your posts

---

HTML code is Off

---