Re: Official Match/DVD/Show Discussion Thread - The Ragin' Climax
---
Saw that Brock/Taker HiaC dicussion. Rewatched it yesterday, while I was watching NM 2002 only for that fantastic tag match, and I have to say that I liked the HiaC match more than the last time I watched it. Not the best HiaC match of all time you can't compare it with the Bad Blood masterpiece, but it was an excellent and extremely brutal match. I'll give it ****1/2. I loved it because it really showed what a HiaC match should mean, and also the finnish was great.

Changing the subject, Dean Malenko vs Scotty 2 Hotty from Backlash it's still awesome, ***1/2
---
[SIGPIC]http://fat.gfycat.com/NastyInconsequentialJoey.gif[SIGPIC]

Curent Favorites: Daniel Bryan, Dean Ambrose, Seth Rollins, Corey Graves, Randy Orton, Bobby Roode, Austin Aries, Bully Ray, Samoa Joe

All time favorites: Triple H, Shawn Michaels, Edge, Mick Foley, Chris Benoit, Sting,Ric Flair
Re: Official Match/DVD/Show Discussion Thread - The Ragin' Climax
---
Quote:
Originally Posted by
The Rabid Wolverine
View Post
Cool thanks.

Never seen any matches in the Edge/Angle series, which match or matches were the best out of their PPV encounters?
I'd also suggest checking out the cage match they had on SD in 2002
---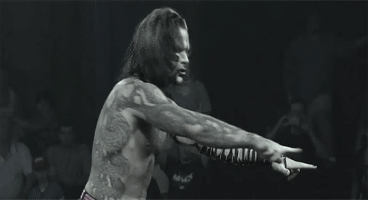 Die Neon Czarina
Join Date: Apr 2006
Location: Life in the vivid dream.
Posts: 40,207
Points: 22,133
Re: Official Match/DVD/Show Discussion Thread - The Ragin' Climax
---
Quote:
I'd recommend acquiring that January Raw anyway because it has a brilliant wee 7 minute Owen/Mankind match to kick things off that I love with all my heart. I mean I like it more than anyone else I know but most folk go ***-***3/4 with it.


I've just realised the fun in being here again, most of you weren't around last time I posted majorly and as such pimping of shit like that is all new and stuff to you and not "Oh jesus Craig's off on one again".


I'd say the Rock/Mankind match from Rock Bottom is their best match together by far (Not the funnest though because we live in a world where Mankind got salsa in his eyes).


Fuck it, coming SOON: A ramble on a bunch of random shit, one of those days.
I <3 Foley vs Owen from RAW too. We need to compare our gushing.
and best + funny = well...best for me. Mankind vs Rock empty arena match is the tops in their series. Terrific fun. The glorious side of what the "Attitude Era" produced.
(is it weird that I don't like to refer to the time frames as these specific eras?)
-----------
In other news, WCW Sin is a righteous show. The late 2000 turnaround flowing into 2001 is VERY apparent. Cal & I are the only ones who seemed to notice. Damn shame AOL/Time Warner merger happened b/c WCW was honestly a fun, good product again in its final days. Wished it had a chance to continue. I've always been a WCW fanboy tho.
MENG had a killer match on this PPV, btw. Someone please don't act surprised.
---
You suck the blood of the afflicted.
Those lacking imagination take refuge in reality.
Keep you lovin' brother happy
Join Date: Jan 2007
Location: A pavement in Glasgow with alcohol poisioning
Posts: 3,465
Points: 167
Re: Official Match/DVD/Show Discussion Thread - The Ragin' Climax
---
MENG.



We begin the aforementioned ramble with:

Triple H Vs Vince McMahon - Armageddon 1999
This is... fine. Parts are very fun but its your typical big attitude era brawl, only difference is Vince being all crazy and shit throwing salt and uppercutting testicles. Needed trimmed by at least 10 minutes though. The Stephanie turn is done damn well though.

Oddly little to say about this, Vince is fucking mental for being willing to jump out the way of a car, think he misses it by like a fucking inch. Overall fine, watchable fun but overlong and doesn't come near the GOAT Vince matches.

**3/4



John Cena vs. King Booker vs. Mick Foley vs. Bobby Lashley vs. Randy Orton - Vengeance 2007

You know... I genuinely forgot this match existed until an hour ago when I randomly saw a youtube suggestion. I mean I'm typing this paragraph before I watch the match and its 10 minutes long so I'm not expecting greatness (Or even goodness) but this must be a contender for oddest main event for the last 10 years, right?

BUBBY LASHLEY. I'm aware I watched BUBBY, I'm aware I watched every episode of WWE TV he was on. I genuinely couldn't even tell you what his finisher was right now, all I can distinctly remember is him tipping a car onto Finlay which was awesome because FInlay was involved and therefore I was all tingly and shit.

Anyway so Booker goes out for a massage from Sharmell whilst the 3 faces beat up Orton, Foley does the Cactus clothesline and pretty much destroys his knee (How can you destroy that which is already dead you may ask? Staking it with a cross is one option, colliding into a ring apron is the second).

BUBBY AND CENA FACE OFF, got a better crowd reaction that time Cena and Orton faced off in the Rumble but it was still pretty fucking bad, I really do wonder where Lashley would have gotten to in WWE if Kristal hadn't been fired, the eventual heel run would have been hillarious at least. OK FUCK IT, I was about to write that Bubby is rather dangerous looking in the ring style wise but he just hit a fucking beastly plancha, like the sort of thing HOF packages are made of so all is forgiven for the next 30 seconds. Has a decent spinebuster too.

I hate to say it because you know, favourite ever and all but jesus Foley looks rough in this match, don't know if its thanks to the knee injury from earlier or just general unfitness but he is fucking DONE like a minute into this. Also he did a horrific version of the ol' Foley stair bump, like jesus, he didn't roll over it he just goes straight into it and they don't budge, for a sec he looks like a Looney Tunes cartoon that's ran into a shelf (That makes sense to me..... fuck you).

According to JR Cena's best friend is his right hand, this'd be the point where Cal would make some obvious masturbation joke...........
I got nothing, fuck you; not even 10am yet as I write this. Swear to god JR has mentioned Orton's "handsome features" 5 times in like 8 minutes, was this common or did Pat Paterson take over Gorrila duties?

The match is.... good, surprisingly so, its a piece of quick fluff, everyone gets a moment to shine, the finish is a bit crap though, I can only assume they were running out of time a bit because this should have went 15 or so most likely, still surprisingly good for what it is.

***

Rambling may continue in a bit, or not... I just caved in and got another Netflix subscription and noticed that Beast Wars was on there so you can all go swivel (If they ever get Reboot on there then OH JESUSSSSSSSSSS)
---
Re: Official Match/DVD/Show Discussion Thread - The Ragin' Climax
---
Is there anything worth watching from SD this week?
---
Die Neon Czarina
Join Date: Apr 2006
Location: Life in the vivid dream.
Posts: 40,207
Points: 22,133
Re: Official Match/DVD/Show Discussion Thread - The Ragin' Climax
---
Random five man match from Vengeance is a bit on my "eh" pile. Largely b/c while I advocate chaos w/wrestling, it all depends on if I'm feeling it on that occasion. I don't really dislike that match to hate it or something, but it's a mess of the bleh variety. I don't remember much about it other than Foley bumping around & Lashley went through a table. What did Orton do in it? An RKO? Maybe stood around looking cocky? Booker T was involved? Seriously? See, stuff like that. I remember Cena was in it b/c well...he put Lashley through the table & won the match. Kind of hard to forget that.

Also, I thought Reboot was on Netflix? Perhaps that was only for Americans. I don't mean to get your hopes up.
---
You suck the blood of the afflicted.
Those lacking imagination take refuge in reality.
I'm actually watching Brock/HHH (ER) atm. Brock ' s selling is still Oscar worthy, but still unessesary. Should have been a squash by Brock.
Moving onto Del Rio/Ziggler (Payback) in a bit.
Sent from
Verticalsports.com Free App
Craziness. Insanity. Stupidity
Join Date: Aug 2003
Location: In my own little world
Posts: 21,968
Points: 5,496
Re: Official Match/DVD/Show Discussion Thread - The Ragin' Climax
---
Yey multiple mentions of MEEEEEEE on the last page. I R STILL DEPRESSED BUT SLIGHTLY LESS SO
.
That whole Vengeance 5 way is an odd match. Sometimes I forget it even EXISTS. Aside from Cena winning I remember bugger all. Foley was confusing around that time too, just like, randomly showing up and having matches including a main event WWE title shot? The fuck? Didn't he wrestle Carlito a few times too? I'm always happy to see Mick on TV but that whole "run" was unbelievably random and didn't exactly go anywhere
.
I think I shall continue with my No Mercy 03 Ramblings. Cena/Angle is up next
.
I Fear No Evil, Evil F***ing Fears Me
Join Date: Apr 2006
Location: Corona California
Posts: 13,502
Points: 24
Re: Official Match/DVD/Show Discussion Thread - The Ragin' Climax
---
So WCW Sin is quite the excellent show in my opinion.
The first 4 matches were
I can't even pick a favorite because I enjoyed all 4 so much.
---
[IMG]
" border="0" alt="" title="Angle" class="inlineimg" />fwi48C.gif[/IMG]
Ducks - Angels - Sacramento Kings - Buccaneers
Posting Rules

You may not post new threads

You may not post replies

You may not post attachments

You may not edit your posts

---

HTML code is Off

---