View Poll Results

: Have you ever smoked the "kush"?

Yep
303
54.50%
Nope
253
45.50%
Voters: 556. You may not vote on this poll
Re: Getting high
---
Quote:
OMG! I'm seriously considering on purchasing it after reading your post walls, I'd love to bun downstairs where I usually am and the rest of the family is always upstairs, so I could easily do it without anyone seeing me.

Where did you buy yours from? I'm gonna give Ebay and Kijiji a look, but I definitely won't spend more than $50.

Is there a difference between the cheaper and the expensive one you have, both are vaporizers and should do the job just as well right?
No, one is $500 and one is $50 for a reason :P
I started out with a $50 one and it works and for you that will be fine. I just bought the premier holy shit version because Rogan uses it and I saw it on his podcast and it looked way easier than what I was using. He doesn't fuck around with weed and neither do I. You can buy them off of ebay and places like that but make sure you buy all new mouth pieces and everything, don't just clean the ones it comes with if you go that route. But honestly, you're better off just buying a new one because then you know it hasn't been used and there is no wear and tear on it.
But yeah, a towel at the bottom of the door and an open window plus the vap = No more Rated R smoking outside.
Re: Getting high
---
Sounds neat I'll definitely be looking around this week for it, if some shops have it or not.

But you said it gives you a different high and saves your weed? How would that be possible when all your doing is blowing in the thing? So the air that comes out from it gets you higher or something?
---
John Cena is turning heel soon
Re: Getting high
---
Quote:
Is that where you cut the bottom half out of a bottle, tape a bag around the hole and push the bag inside, light it while slowly pulling the bag out which lights the entire bowl all at once? If so, then you have the right idea because that shit is awesome and not for amateurs. I've always been told it was called a parachute but I've heard that name for it among others as well.
That is exactly what it is. Always gives me some of my best highs, but it burns my throat every single time, always worth it though.
Also agree on Vaporizers, I don't have one myself because a couple of my friends have them but it is well worth the money.
What is everyone's favorite munchies while high? I personally love anything from McDonalds, especially Junior McChickens and Lucky Charms. The only thing I really hate is icecream.
---
Last edited by Invictus; 06-27-2011 at

04:35 AM

.
Re: Getting high
---
McDonalds is the shit high. There is a delivery service here in the city and I've used it multiple times while completely baked to the gills for food. The most I spent was $50 on food from McDonalds and that was just for me. Finished it all too. Pretty much everything tastes a hell of a lot better high. I remember one time I was by myself all day and got ridiculously, obnoxiously high. So I was sitting there in front of my tv baked out of my skull when a commercial for Wendy's and their Baconator came on. I was way, way too high to go out but once I saw that burger I essentially had a White Castle-like quest to get one. 3 Baconator's later I sat there, completely satisfied.

Fuck, now I want Wendy's.
---
Last edited by Walls; 06-27-2011 at

04:53 AM

.
Re: Getting high
---
Pretty funny shit, walls we should kick back like this.
---
John Cena is turning heel soon
Re: Getting high
---
That was fucking hilarious, I'm down. I've gotten so high before that I could barely move, but never so high that I forgot how to use a fucking phone.
I need more Charlie Sheen for this to work if I'm going to forget how to use the phone
Re: Getting high
---
It's funny how those two guys were referred to as losers by the narrator in the video just because they were druggies, TV and media is why people think weed smokers are lazy, stupid, etc.
---
John Cena is turning heel soon
Re: Getting high
---
I've only smoked out of a volcano vape once, and I was completely wrecked. It was only regs too...
---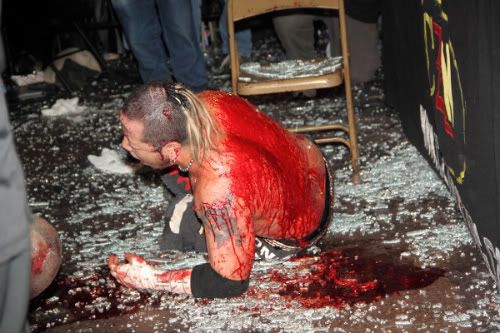 Jun Kasai > You
Re: Getting high
---
I love my Volcano. Sounds like pop corn when it's heating the weed up, it's amusing.
Re: Getting high
---
I hate when dealers start acting up and they tell you they'll meet you and don't pick up their phone, I got a new dealer and he gave my a quarter (7 grams) for 60.

Pretty solid, and my old dealer never hooked it up that nicely.
---
John Cena is turning heel soon
Posting Rules

You may not post new threads

You may not post replies

You may not post attachments

You may not edit your posts

---

HTML code is Off

---