Re: What was the last movie you watched?
---
Wrong Turn 4: Bloody Beginnings

Fucking random ass movie about an inbred family of mutant cannibals living in an abandoned mental institution, and a group of teenagers get lost and seek refuge in the building, and are picked off one by one. Nice elements of gore, some nice tits on the bitch at the start, but yeah, really random shit.
Re: What was the last movie you watched?
---
Space Jam

I was feeling quite nostalgic tonight. What a awesome cast for this movie. Bill Murray FTW
Also quite a few adult references that you wouldn't get as a kid but as a adult just put a smile on your face
---
WALLY WEST
Luke 6:28
Bless them that curse you, and pray for them which despitefully use you.

Romans 12:19
Dearly beloved, avenge not yourselves, but rather give place unto wrath: for it is written, Vengeance is mine; I will repay, saith the Lord
.
---
Last edited by KO Lariat; 12-01-2012 at

05:28 PM

.
Re: What was the last movie you watched?
---
Chinatown

Filmmaking doesn't get much better than this, a masterfully made movie. 9/10
---
Regularly Beating Up James Ellsworth
Join Date: Mar 2005
Location: Sinking Spring, PA
Posts: 3,488
Points: 0
Re: What was the last movie you watched?
---
Skyfall - Saw this at the theater a couple weeks back. Actually had no real interest to see it, but I just got done with work, it was payday and I didn't want to go home. Movie was fuckin' awesome. Can't really say a bad thing about it. Some great story telling, fun nods to the past, beautiful scenery and fantastic acting.
---
your life is your life
don't let it be clubbed into dank submission.
be on the watch.
there are ways out.
there is a light somewhere.
it may not be much light but
it beats the darkness.
be on the watch.
the gods will offer you chances.
know them.
take them.
you can't beat death but
you can beat death in life, sometimes.
and the more often you learn to do it,
the more light there will be.
your life is your life.
know it while you have it.
you are marvelous
the gods wait to delight
in you.
The Laughing Heart; Charles Bukowski
Re: What was the last movie you watched?
---
One Upon A Time In Anatolia (2012)
Very good film. The basic story consists of a group of characters (group of Police, a Prosecutor, a Doctor) searching for a body in Anatolia in Turkey. I've heard people say it might be the best film of the year, it wasn't that good, but it's a great story and requires a lot of thinking afterwards to fully grasp what happens. Nothing is handed to the viewer, we're expected to figure it out for ourselves. I was baffled by it at first by the ending, but then I remembered little things that happened throughout and you start to piece it together. It's very slow paced, but it's not boring and it's quite gripping. I had no idea what was going to happen which is a plus. It also looks great. I definitely still have tons of questions about it (anyone that's seen it will probably know what I mean), and I didn't really feel any emotion towards any of the characters, but it's amazingly acted and filmed and it's a hell of a lot deeper (the characters and the story) than it appears on the surface. I will say that it's not a film I would watch more than once again due to my enjoyment fading in and out in the last hour or so, but it's in the last hour that things get revealed that give the film it's depth. I'd say it's around a 7/10 for me right now.
Hunter of Invisible Game
Join Date: Jul 2006
Location: highway jammed with broken heroes on a last chance power drive
Posts: 37,904
Points: 15,751
Re: What was the last movie you watched?
---
Cop Land - 7/10

Cops & Rocky, and pretty much the whole cast of The Sopranos/every mob movie ever made... and Stallone putting in his best performance since the first Rocky. Solid flick, been ages since i've watched it.
---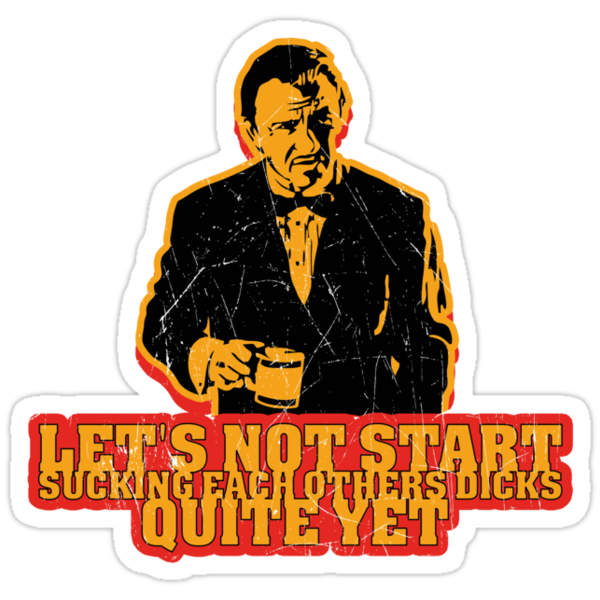 Re: What was the last movie you watched?
---
I love Copland. Stallone owns in that movie, a sentence I'll never type for any of his performances ever again.


The Green Butchers

Dark comedy about some butchers whose business goes crazy when they start selling human meat. First hour is perfect mixture of comedy and solid characterisation but then it gets a little silly when they start trying to resolve everything.

7/10
---
Re: What was the last movie you watched?
---
The Lion King

I love this movie and will never get tired of it.
Re: What was the last movie you watched?
---
star trek- 8/10 pretty good movie, i was always a star wars person so i had never seen star trek before but the movie was alritey
Re: What was the last movie you watched?
---
The JJ Abrams Star Trek? That's a great film.
Posting Rules

You may not post new threads

You may not post replies

You may not post attachments

You may not edit your posts

---

HTML code is Off

---