View Poll Results

: Which is your favorite comic book company?

DC
53
42.40%
Marvel
50
40.00%
Vertigo
2
1.60%
Dark Horse
6
4.80%
Image
9
7.20%
Zenescope
2
1.60%
Other: Please Specify
3
2.40%
Voters: 125. You may not vote on this poll
Re: Comics and Graphic Novels Vol. 2
---
Because of Anti Semitism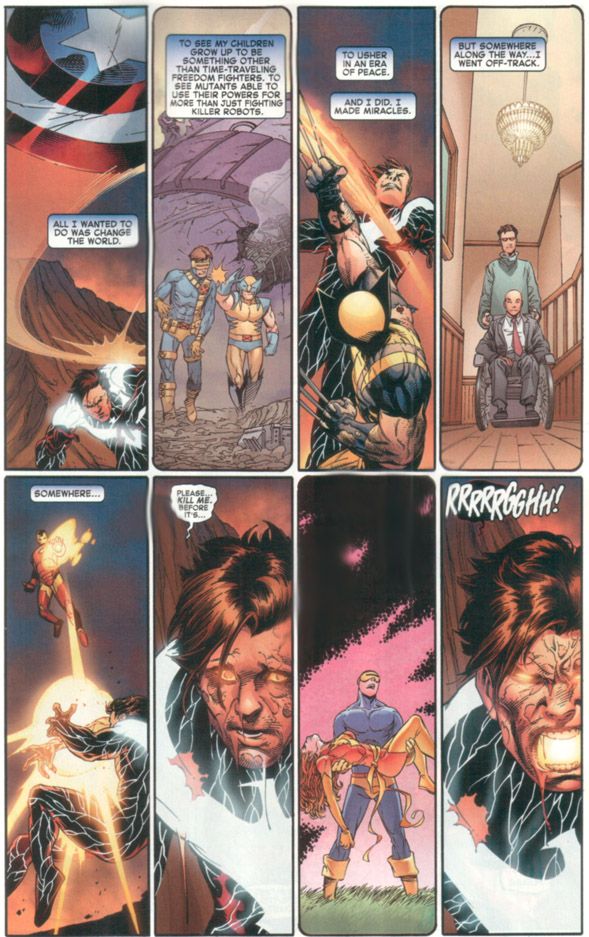 Thought this was rather good. Especially the second panel
"To see my children grow up to be something other than time travelling freedom fighters. To see mutants able to use their powers more than just fighting killer robots"
So fucking true. And all this crossover made me realise is simple, Wolverine must die.
Someone needs to torch Wolverine. Taking him out from every single book. The fact his character is so all over the place. How the fuck did the berserker killer end up as headmaster? the guy who killed his own children? And I wouldnt mind that if he wasnt so bloody inconsistent. The only book hes decent is Uncanny X force, and thats because there he isnt being jammed down our throats. Hes just a side character. One of the best parts of the Dark Angel Saga was seeing half of his get torched and then being taken out of the next few issues until his comeback in the end
Wolverine needs a reboot. And no more overexposure
---
Re: Comics and Graphic Novels Vol. 2
---
"No More Bendis"
Bossing Around Jobbers
Join Date: Dec 2010
Location: Bronx, NY
Posts: 9,867
Points: 442
Re: Comics and Graphic Novels Vol. 2
---
---
ACCOUNT CLOSED AS OF 3/26/2015
Re: Comics and Graphic Novels Vol. 2
---
How ironic, Bendis wrote so much crap lately, and he only wrote one of the best books this week

Sounds to me like Bendis just sucks at team books. Ultimate Spider-man and Dardevil by him are really good

Cyclops is now one of my favourite characters, truly a mutant messiah. Now Cyclops is Captain America and Captain America is Iron Man. That scene where Captain America mocked cyclops for his 'victory' is an exact reflection of what happened in Civil War Confession

Cant wait till Cable and Magneto break him out

Also is it me or does Wanda have the most ridiculous ill defined powerset ever?
---
Re: Comics and Graphic Novels Vol. 2
---
Wanda can be the most overpowered entity in the Marvel 616 if the writer wants her to be.
women sense my power and they seek the life essence
Join Date: May 2006
Location: Long Beach is the spot where I serve my cane
Posts: 11,657
Points: 0
Re: Comics and Graphic Novels Vol. 2
---
if the avx 12 writer had read new mutants 40 written by the master of the x-men chris claremont he would have known that cap and magneto are bros
---
Re: Comics and Graphic Novels Vol. 2
---
It was written by Aaron...
women sense my power and they seek the life essence
Join Date: May 2006
Location: Long Beach is the spot where I serve my cane
Posts: 11,657
Points: 0
Re: Comics and Graphic Novels Vol. 2
---
not a shocker
---
Re: Comics and Graphic Novels Vol. 2
---
if the writer had read anything Claremont wrote hed know that 'wishing' (what the fuck bro?) the phoenix away would destroy the universe

the phoenix is an integral part of the universe and life force. Like Galactus and etc. Its the cosmic force of birth and rebirth. also that iron fist crap related to the phoenix was retarded

then again, this is the same group of writers who though the phoenix could be split into five pieces using a gun
---
women sense my power and they seek the life essence
Join Date: May 2006
Location: Long Beach is the spot where I serve my cane
Posts: 11,657
Points: 0
Re: Comics and Graphic Novels Vol. 2
---
Wait WHAT
---
Posting Rules

You may not post new threads

You may not post replies

You may not post attachments

You may not edit your posts

---

HTML code is Off

---