View Poll Results

: Which is your favorite comic book company?

DC
53
42.40%
Marvel
50
40.00%
Vertigo
2
1.60%
Dark Horse
6
4.80%
Image
9
7.20%
Zenescope
2
1.60%
Other: Please Specify
3
2.40%
Voters: 125. You may not vote on this poll
Bossing Around Jobbers
Join Date: Dec 2010
Location: Bronx, NY
Posts: 9,867
Points: 448
Re: Comics and Graphic Novels Vol. 2
---
I respect Rucka's decision. If he or anyone else don't like the situation they're in then leaving to do their own thing is understandable.

Did Rucka quit because of money? The only thing I've read was a recent interview where said he quit DC because he was promised so many things and when they gave Wonder Woman Earth One to Morrison it was the last straw for him.
Dagger without a cloak
Join Date: Sep 2006
Location: Bury me with my guns on so when I reach the other side I can show him what it feels like to die
Posts: 17,396
Points: 31,973
Re: Comics and Graphic Novels Vol. 2
---
I love Rucka's Tara Chace novels. I hope he takes the time to write another one of those.
---
Hey all, haven't read anything mainstream for maybe 2 years (after darkest night) now but have read a few great series.

I read Exmachina about a month ago & thought it was fantastic.
Iredeemable was great but went on too long, really lost steam to the point I gave up.
100 bullets was awesome and I read that not long ago.
---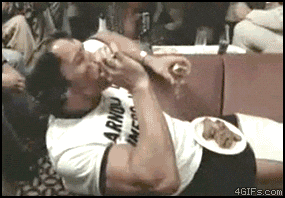 WF Dictionary:
Burial
bur·i·al
Noun
#1 - A wrestler I like losing to a wrestler I don't like.
#2 - A wrestler I like being insulted in promos by a wrestler I don't like
Re: Comics and Graphic Novels Vol. 2
---
Quote:
So they are wanting to put Punisher on a team? How does that even work?
every marvel character is on a team now
sometimes several
---
women sense my power and they seek the life essence
Join Date: May 2006
Location: Long Beach is the spot where I serve my cane
Posts: 11,657
Points: 0
Re: Comics and Graphic Novels Vol. 2
---
next time on x-men: punisher finds out hes really a mutant and has to join the x-men
---
Re: Comics and Graphic Novels Vol. 2
---
only to be kidnapped at the door by wolverine and captain america, so he can join the uncanny avengers
---
women sense my power and they seek the life essence
Join Date: May 2006
Location: Long Beach is the spot where I serve my cane
Posts: 11,657
Points: 0
Re: Comics and Graphic Novels Vol. 2
---
redead have you read legends of the dark knight 54 yet
---
Re: Comics and Graphic Novels Vol. 2
---
nope, turns out i ordered legends of the dark knight 94 by accident

dont ask why, stupid midtown
---
women sense my power and they seek the life essence
Join Date: May 2006
Location: Long Beach is the spot where I serve my cane
Posts: 11,657
Points: 0
Re: Comics and Graphic Novels Vol. 2
---
how was that one
---
Re: Comics and Graphic Novels Vol. 2
---
havent read it yet, but looks ok. its a standalone story about how each person thinks batman is like
---
Posting Rules

You may not post new threads

You may not post replies

You may not post attachments

You may not edit your posts

---

HTML code is Off

---