Re: General Movie Discussion Part II
---
I thought Ted was pretty meh. Had a few funny moments but the majority of it felt like a modern-day Family Guy episode.

Anyways, I watched Your Father's Murderer: A Letter To Zachary the other night and fuck, it's moving and quite emotionally exhausting. It features some cheesy melodramatic documentary effects but it didn't hinder my enjoyment much. I've never seen a documentary deliver a narrative in way this film did. Fuck whatever you are doing and watch this film.


Re: General Movie Discussion Part II
---
Quote:
Originally Posted by
StoneColdJedi™
View Post
Especially when you also realize that the the guy who played her brother was Robin Williams' son in World's Greatest Dad.
World's greatest dad was pretty damn good.
Has anyone seen Thank You for Smoking? It's awesome.
---
Hunter of Invisible Game
Join Date: Jul 2006
Location: highway jammed with broken heroes on a last chance power drive
Posts: 37,904
Points: 15,751
Re: General Movie Discussion Part II
---
Yeah, once a few years ago. I enjoyed it.
---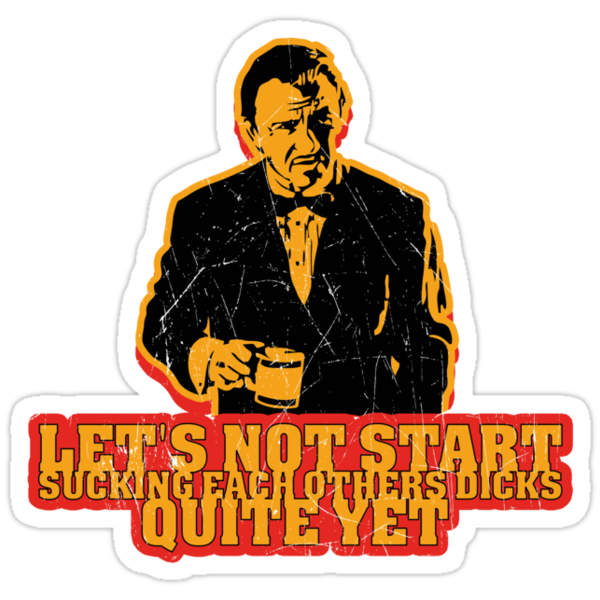 Regularly Beating Up James Ellsworth
Join Date: Aug 2011
Location: In The Game
Posts: 3,747
Points: 0
Re: General Movie Discussion Part II
---
Got End of Watch on the download
Re: General Movie Discussion Part II
---
Just watched both Mystic River and Cape Fear for the first time last night.

Mystic River has to be up there as one of my favourite ever movies. Excellent story telling and acting, and a great twist at the end. Robbins and Penn were fantastic, and it was a very emotional scene where Robbins is killed.

As for Cape Fear, another great film but it had me laughing out loud sometimes due to the way the film was put together and the cheesiness. Such as when the lawyer's family are sat around having dinner and he tells his family they are safe, he has hired a private investigator and he feels calm, the phone rings and he instantly jumps out of his chair with an over the top scream and is instantly on the phone. And that music that is played, everytime something bad happens couldn't help but make me laugh. That out of the way De Niro was fantastic and Max Kady is one of my all time favourite movie characters and villains.
Re: General Movie Discussion Part II
---
If you loved Mystic River, you will love Gone Baby Gone. One of my favorite movies ever, highly recommend it.
---
As long as there's a Triforce, there will be a Zelda;
as long as there's a prosperous kingdom, there will be an evil bent on destroying it;
and as long as there's an oppressive force threatening Hyrule, there will be a boy...
in a green tunic, silver shield, and magic blade to stand against it.
Re: General Movie Discussion Part II
---
Gone Baby Gone was pretty great.

By the way, I can go and see one film only this month because I'm broke, so to anyone that's seen both, Argo or Skyfall? I'm leaning towards Argo because Bond has never really done it for me but I do want to see what all the fuss is about with this new one.
There are players and then there are pieces
Join Date: Jan 2004
Location: Los Angeles is burning
Posts: 5,052
Points: 93
Re: General Movie Discussion Part II
---
Argo is a better all around film, they did an amazing job at telling a gripping story that keeps you invested and on the edge of your seat.

Skyfall is a fun action film and Javier Bardem plays a great villain, I think you'll really like it. If you had to choose, I would go with Argo since it sounds like you aren't as interested in Bond films but both are worth seeing.
---
Moron
Join Date: Apr 2011
Location: US
Posts: 10,995
Points: 0
Re: General Movie Discussion Part II
---
Argo
Regularly Beating Up James Ellsworth
Join Date: Aug 2011
Location: In The Game
Posts: 3,747
Points: 0
Re: General Movie Discussion Part II
---
So End of Watch was fantastic.

Its as funny as it is dark some great chemistry from Pena/Gyllenhaal. The real strength in this movie is its characters and how the real they come across . This is mostly due to the dialogue which is top notch to the point even a fumble doesn't seem out of place. The result takes a cookie cutter plot into something more , something awesome.

8.5/10
Posting Rules

You may not post new threads

You may not post replies

You may not post attachments

You may not edit your posts

---

HTML code is Off

---