Re: Rate & Mini-Summarize the Last Movie You Saw
---
Blade Trinity- It had Jessica Biel in it so it gets 10 from me.
But seriously it was a good time, I found the movie to be very entertaining. Ryan Reynolds carried that movie, he was simply awesome.
---
Gentlemen, if you lose today you will continue to be the best in the world but if you win today you will be eternal.
Hunter of Invisible Game
Join Date: Jul 2006
Location: highway jammed with broken heroes on a last chance power drive
Posts: 37,904
Points: 15,751
Re: Rate & Mini-Summarize the Last Movie You Saw
---
Ahh yes the movie that spawned the classic "cock juggling thunder ****" line.

Bless you Reynolds, bless you.
---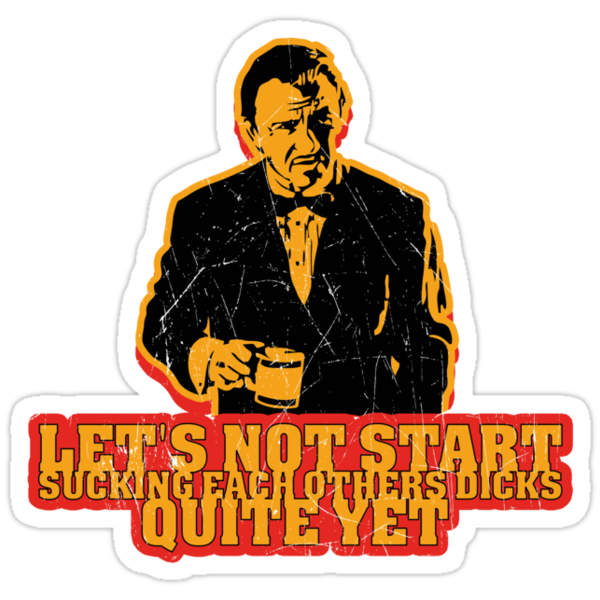 Re: Rate & Mini-Summarize the Last Movie You Saw
---
Old school

The story mitch played by Luke wilson comes home to find his girlfreind cheating on him , his friend frank played by Will Ferrel is about to get married and his other friend beanie is unhappy wityh his marriage. the movie really starts when they decide to start a fraternity which becomes so popular the dean played by Jeremy Piven tries to stop it.

The acting- everybody was pretty good in this, Will Ferrel was great and really had all the funny parts in the movie.

The Funny- it's got a few really really funny parts in the movie that had me laughing a lot.

Overall- a pretty good movie, can't really say anything bad. 9/10

Rocky balboa- i was really exicted to see it when it came out becuase i'm a huge fan of the series .

The story-Rocky after the death of his wife is pretty much enjoying being retired and making money off a restuaraunt he owns, that is until he sees ESPN do a feature pitting the greatest fighters of all time against each other, he gets pitted against the current Champ Mason"the line" Dixon, and Rocky wins the computer fight. So after seeing this Rocky wonders if he can go the distance in real life fight.

The acting- was solid, Stallone was really good along with all the others.

The boxing-was short and not as good as the other matches.

Overall- a really good movie, Rocky is pretty much like he was in the first one twith teaching people about life. it was pretty cool to see Rocky in the ring one last time. The only thing that wasn't great was the training and boxing match were both short. 9/10
---
Re: Rate & Mini-Summarize the Last Movie You Saw
---
Drillbit Taylor:

Just got back from it. Basically its about three high school freshmen that want protection from a bully so they hire a bodyguard who's Drillbit but he's not all he says he is.

Now being that it was produced by Judd Apatow I already knew id probably end up liking it and well I did. Its not really raunchy and vulgar like most of his films but for a PG-13 its filthy in its own right I guess. I really liked the kid characters, they really made this movie in my opinion.

Had its share of laughs and is better than anything really at the theater in ways of comedy right now so go see it!

8.0/10
---

[Mem:IYF]
[Follow Me on Twitter @xbskill]
Re: Rate & Mini-Summarize the Last Movie You Saw
---
Kontroll (2003)
Taking place in the dark underworld of the Hungarian subway system. This story follows Bulcsú who along with a whole system of people are the "Kontrollers" in charge of checking to see who has tickets.
Really weird at times, Kontroll is not always what it seems. The symbolism is very prevalent throughout and you really have to pay attention to get the most out of this movie. All the characters, including the passengers are very different and memorable. Overall Acting is good, with some very funny dialogs and scenes. Also the soundtrack, especially if you like electronic/techno? music is excellent. Really innovative and interesting movie done in a stylish thriller/comedy fashion with a bit of an art house feel to it. Good watch.
7.5/10
---
Re: Rate & Mini-Summarize the Last Movie You Saw
---
Animal house

the story- i'm pretty sure you all have see it

The acting- it was good

The funny- not as funny as people say.

Overall- it was good but not the best i've ever seen 8/10
---
---
Last edited by Prometheus; 03-22-2008 at

07:10 PM

.
In the Heat of the Moment
Join Date: Apr 2005
Location: The Land of Rocks
Posts: 33,787
Points: 8,739
Re: Rate & Mini-Summarize the Last Movie You Saw
---
Me, Myself, and Irene- a film about a man who suffers from a multiple personality disorder, he goes from a man named Charlie to a cooler guy named Hank. Starring Jim Carrey (The Truman Show) and Rene Zellwegger (Bee Movie). Its a pretty good comedy, one of Carrey's best performances no doubt about it. If you are a fan of his work, you really need to check this film out.

7/10

The Iron Giant- a film that I have always wanted to watch when I was younger. The film is an animated film about a little boy who befriends An iron giant. The plot was pretty simple , and it really wasn't bad. Its been a long time since I have seen an animated film that was not 3-D, so it did feel good watching this film. Could have been better, but it was entertaining. If your in for a good family film, watch this film.

6/10
---
:mara

---
Last edited by RICH ROCKHEAD; 03-22-2008 at

09:24 PM

.
Re: Rate & Mini-Summarize the Last Movie You Saw
---
American Gangster
Not much to say about it except that it was a great movie. The acting was excellent, the plot was simple yet awesome, and the fact that it was based on a true story made it that much more enjoyable for me. It had drugs, killing, bitches (naked ones too) and a hell of a lot of cigarettes so if you haven't seen it make sure it's on your list of movies to watch. 9/10
---
Dagger without a cloak
Join Date: Sep 2006
Location: Bury me with my guns on so when I reach the other side I can show him what it feels like to die
Posts: 17,394
Points: 31,922
Re: Rate & Mini-Summarize the Last Movie You Saw
---
Hoodwinked

This is probably my all-time favorite cartoon movie not named The Lion King. It's a funny take on the Little Red Riding Hood story. It's just classic all the way around. I could watch this movie once a day.


9.5 out of 10
---
In the Heat of the Moment
Join Date: Apr 2005
Location: The Land of Rocks
Posts: 33,787
Points: 8,739
Re: Rate & Mini-Summarize the Last Movie You Saw
---
Armageddon- a film about the fate of the world being in danger, unless a team of unlikely men can stop the threat of humanity. Starring Bruce Willis (Die Hard), Billy Bob Thornton (Bad Santa), and Ben Affleck (Daredevil). The film delivers with its stunning effects and action. I really liked the musical score for this film, very touching. A great performance by Billy Bob Thornton and Bruce Willis. Sure, it may be flawed in many ways, but I really enjoyed this film. Disaster film lovers, this one is for you.

8/10
---
:mara

Posting Rules

You may not post new threads

You may not post replies

You may not post attachments

You may not edit your posts

---

HTML code is Off

---