Re: Rate & Mini-Summarize the Last Movie You Saw
---
Pineapple Express

Made me laugh a few times. 6/10

Tropic Thunder

Made me laugh a few times. 6/10
---
Gentlemen, if you lose today you will continue to be the best in the world but if you win today you will be eternal.
Re: Rate & Mini-Summarize the Last Movie You Saw
---
Superbad, it was ok 6/10.
Re: Rate & Mini-Summarize the Last Movie You Saw
---
Sleeping with the Enemy (1991)
Sleeping with the Enemy is a 1991 psychological thriller film based on a 1987 novel of the same name by Nancy Price, starring Julia Roberts, who escapes from her abusive, obsessive husband, played by Patrick Bergin. She captures the attention of a kindly gentleman, played by Kevin Anderson.

First time i've watched it for a while, quite old now but always a good watch. 7/10
In the Heat of the Moment
Join Date: Apr 2005
Location: The Land of Rocks
Posts: 33,787
Points: 8,739
Re: Rate & Mini-Summarize the Last Movie You Saw
---
Death Race- a film where convicts are forced to race to their death, in weapon filled cars for a chance at freedom. Starring Jason Statham (The Bank Job), Tyrese Gibson (Waist Deep), and Natalie Martinez. If your looking for amazing action, with cars and explosions, this one is right down your alley. I loved it! Things blow up, people get killed, and the new actress is amazingly hot. I recommend it to action and car movie fans.

8/10
---
Re: Rate & Mini-Summarize the Last Movie You Saw
---
Quote:
Risky Business- a film about a teenage boy who has the whole house to himself, and he gets into all sorts of trouble. Starring Tom Cruise (Mission Impossible III), Rebecca De Mornay (Raise Your Voice), and Joe Pantoliano (Larry The Cable Guy: Health Inspector). A very well done teenage film, that I can totally re-watch again. Its Tom Cruise as a young actor, and before he really rose to success. Good watch indeed.

7/10
My answer to "Which movie character would you like to be?" has and always will be Tom Cruise in "Ricky Business".
He's rich, looks like Tom Cruise, gets to run a brothel, drive a Porsche and have sex with Rebecca De Mornay...'nough said?
------------------------------
Hancock
"Hancock" is not a bad movie. In fact, Hancock is a good movie. Problem is, it doesn't really know what kind of movie it is.
The way Hancock was thrown around in the trailers, you'd be forgiven for thinking this would be a blast to watch. A drunken superhero, running around L.A., destroying public property and causing millions of taxpayer money in damages while catching a couple of shoplifters seems like tons of fun, especially when said superhero is Mike Lowrey and the Fresh Prince.
However, this is not the case. The way the movie was marketed was a staple of Hollywood Summer Blockbuster Target Audience publicity. When "Fight Club" came out, the geniuses at the distribution company marketed Fight Club as a summer blockbuster action thriller, targeting the teen and early 20s demo. Said teens went, saw, didn't like (understand?) told their mates and boom, Fight Club sunk at the box office.
Here though, the fault can't be placed on the marketing folk alone. The movie itself is torn in half.
It starts out in full comedy mode, with Smith being a downright asshole (just don't call him that to his face…) to everyone and everything, but still saving the day in the process. It then follows into a somewhat rushed plot development involving a publicist trying to get him to fix himself, but starts showing some pretty bleak undertones.
By the time the first reel is over, the whole thing becomes just another superhero existential angst movie with a pretty decent twist coming in at some point – you can see
a
twist coming from miles but not quite what it is.
The being said, they actually pull it off!
Smith once again after "I Am Legend" shows some acting chops in the more dramatic bits, the rest of the cast follows well enough (Charlize Theron looking absolutely fantastic as always) and the story does have a fair bit of bite into it to keep you hooked long enough.
What's really annoying is that this seems like such a wasted opportunity.
"Empire" magazine reports some much more comedy-oriented early drafts and the whole "drunken misanthrope stuck in a people-filled environment/job" scenario is ripe with tons of quality comedy.
The comedy bits are ok as they are and the drama bits are fine, but they just don't stick together well enough.
Give me Willie from "Bad Santa" with superpowers, a sleazbag fast-talking publicist a-la Colin Farrell's Stu from "Phonebooth" and I'll bet you you could get at least an hour's worth of great comedy plus a good serious ending.
Worth A Look
Not bad by any stretch, but it's just such a missed opportunity for a great comedy role for Smith. Instead it'll just lose itself in the superhero shuffle.
----------------------------------------------
Ratings:
Avoid
like the plague. Thou shalt always make fun of and berate this flick with all thy heart.
Not Worth It
"It" being a cinema ticket. If it's a dvd a friend brought over for a night with mates, might as well.
Worth A Look
Nothing special, but a decent night out at the movies.
Recommended
A good movie.
Highly Recommended
A really good movie.
MUST SEE~!
If this was a wrestling match, it'd be ***** of Greatness.
Re: Rate & Mini-Summarize the Last Movie You Saw
---
I figure it's been a while since I've seen any bad movies (watching Ed Norton movies will do that), so I decided to watch some bad movies just to satsify the law of averages. Here are my reviews of "Employee Of The Month" and "Superhero Movie"

1. Employee Of The Month

Plot Summary: After finding out some bangin' chick sleeps with the employee of the month (according to her file...no idea why she'd mention that in the job interview), a lazy, filthy slacker with a disgusting five o clock shadow, actually finds motivation to work at his Walmart rip-off job, just so he can get a piece of the pie.

Reaction: Garbage has a new name. Yes, not just the self-titled band that produces music that is incredibly painful and boring to play on Rock Band, but now, garbage has turned into a movie starring (no surprise here), the king of garbage, Dane Cook. This movie was absolutetely terrible. Personally, I think in order to have a sucessful movie, there must be a rather decent plot, with a compelling actor who can make it work. This movie offers none of that sadly.

The best way to describe it is your typical Adam Sandler movie, only much worse. Dane Cook does something, he finds a girl he wants to get with, he starts to get her to like him, he does something or she finds out he's a dick, he becomes unselfish and wins her back. I have no problem giving away this movie, because it's absolute trash, with a trash lead actor. In ten years, no one will know who Dane Cook is. That's not an opinion, it's a fact.

Rating 0/10 Don't watch this movie unless you need to placate to the law of averages.


2.Superhero Movie

Plot Summary: A spoof of the orginial Spiderman with 2 minutes of Batman Begins and 5 minutes of X-Men thrown in for good measure.

Reaction: Yes, the curiousity got to me. I really wanted to see the part when Donald Trump says "Spidey, ya fired." But I guess that's in disaster movie, oh well. Umm...it was better than Epic Movie, as if that's saying much. The only reason this movie was watchable for me was because I kinda liked Spiderman, so I didn't mind the overall story of this one since it stuck pretty close for the most part. But that still doesn't do it justice. The jokes were bad. They were really bad. It seems like Craig (the writer) tried to add some black humor into the movie (killing animals, fucking corpses) but it was a very pathetic attempt on his part. Anyone with half a brain knows that one cannot combine elements of black humor and retard humor in the same movie and get away with it. Besides, anyone who laughs at a cat being shoved inside a turkey, or the dog going into the woodchipper is probably the lamest person on the earth. Sure, I did chuckle a couple of times, but I'm just trying to be kinda nice. It seems like every joke was taken way too far. The movie was an hour and ten minutes long, you could probably get a good half hour of the jokes that just went back and forth between actors and last far too long. The movie would've been way better without this dragging down, and the jokes might have actually worked. Sorry guy, you're just not that good of a parody writer. With that being said, Drake Bell did a fairly decent job in his role, so props for not sucking like Tom Ryan and Charlie Sheen did.

Rating: 1/10 - I liked Dragonfly's costume, I thought it was really cool.
Re: Rate & Mini-Summarize the Last Movie You Saw
---
Mirrors: 7/10- Pretty Scary Film
---
Rep me and I'll rep you back!
WWE: Unforgiven
Review my show and I'll rep you.
No Mercy 2004
World Heavyweight Championship
Triple H vs. Randy Orton (c)

Intercontinental Championship
Christian (c) vs. Batista vs. Chris Benoit
WWE Championship; Steel Cage Match
JBL (c) vs. The Undertaker
Interpromotional Match
John Cena vs. ???
Grudge Match
Shawn Michaels vs. Ric Flair
Re: Rate & Mini-Summarize the Last Movie You Saw
---
The Strangers (2008)

Based on true events. This film follows a couple who are staying at an isolated vacation home when 3 strangers terrorize them throughout the night.
Enjoyed this movie a lot. You don't see too many American made original horrors these days so this one was a nice surprise. The atmosphere really works and you feel the desperation of the 2 main characters. Some really good scares and an overall creepy mood is set throughout the whole movie. Acting wise it's alright but Liv Tyler annoys me with her whispering voice... Lots of similarities to Vacancy and another movie I saw not too long ago called Funny Games but this one is executed much better. Really dug the villains and how we know nothing about them or why they're doing it. Not the greatest Horror movie ever but a good watch nonetheless.
7.5/10
---
Moron
Join Date: Apr 2008
Location: Melbourne
Posts: 5,634
Points: 0
Re: Rate & Mini-Summarize the Last Movie You Saw
---
Vacancy
9/10
Disturbia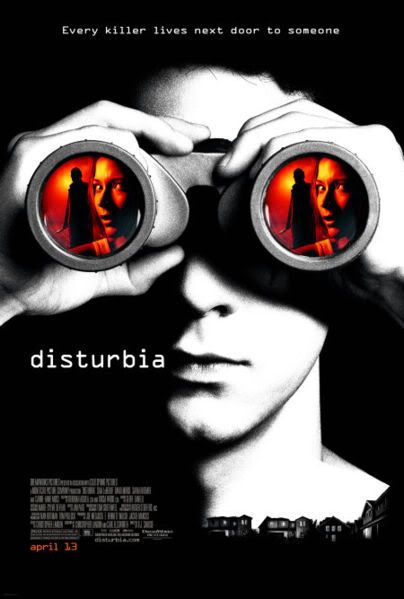 9.5/10
Heel Turn on James Ellsworth
Join Date: Jun 2006
Location: Somewhere in the Jersey wasteland
Posts: 2,132
Points: 0
Re: Rate & Mini-Summarize the Last Movie You Saw
---
Definitely, Maybe - Finally got to see this one and I really liked it. It's very different from the plethora of by the numbers romance films that pop up so often now and I really like that for the most part we see this film through Abigail Breslin's character as she hears the story we're watching.

The three lead female characters were good in the film especially Isla Fisher, I think Ryan Reynolds is a very underrated actor, and Abigail Breslin is a very talented young actress it's always a surprise to see young actresses with that much talent. Overall I'd give the film B -, it's not fantastic but it's worth a watch.
Posting Rules

You may not post new threads

You may not post replies

You may not post attachments

You may not edit your posts

---

HTML code is Off

---