Marvel removes Inhumans movie from upcoming slate
---
http://www.ew.com/article/2016/04/22...elease-delayed
Quote:
It's official: Marvel's Inhumans pulled from release schedule

Marvel Studios' Inhumans has been officially delayed, Disney announced Friday night.

Marvel Studios president Kevin Feige said last week he expected that the film, based on a royal family of superheroes, would not hold its July 12, 2019 release date.

"Since we made our initial phase three announcement, we added Spider-Man, which was a big joyous coup for us. We added Ant-Man and the Wasp, which was a big fun continuation of that story for us. Walt Disney Company has announced an Indiana Jones film for right around that same time. So I think it will shuffle off the current date that it's on right now," Feige told Collider last week. "How far down it shuffles, I'm not sure yet."

The Inhumans announcement was made back in October 2014. Fans shouldn't worry about the movie's future. Feige insisted to Collider that Inhumans is a matter of when, not if.

The next installment of the Marvel Cinematic Universe — Captain America: Civil War — arrives May 6.
http://collider.com/the-inhumans-mov...t-cole-script/
Quote:
Guardians of the Galaxy was Marvel's big gamble on whether or not they could sell a group of unknown characters in a unique world based on the studio's brand alone. They won that bet, and now it's given Marvel the confidence to move forward on another team of mostly unknown, strange characters: The Inhumans. As we reported back in March 2011, the studio was considering adapting the comic into a movie. In July 2012, Marvel Studios President Kevin Feige told Entertainment Weekly that if either Guardians or The Inhumans became a movie, audiences could expect an "X-Men-style ensemble, a la The Avengers." In a broad sense, that's true: A team of misfits and outsiders comes together to battle a larger foe; beyond that, I doubt many would compare Guardians to X-Men or The Avengers. But for over two years, there was no word on The Inhumans.

The other day, Vin Diesel dropped a hint about being part of The Inhumans, and it turns out he wasn't just blowing smoke. The studio is happy with the existing script by Joe Robert Cole, and now the next logical step is to take it out to filmmakers.

According to our sources, Marvel plans to handle The Inhumans in the same way they handled Guardians of the Galaxy. For those who don't know, the original draft of Guardians was written by Nicole Perlman, who was part of Marvel's writing program. That draft then went out to filmmakers. When James Gunn came on board, he added his flavor and details to the story, but the characters, story structure, and beats from Perlman's draft remained in place. As Adam explained in his recent editorial, directors are brought on board to execute a specific vision.

Cole also came out of Marvel's writing program, and the studio is pleased with his script, so now they're presumably ready to take it out to filmmakers. We can also assume that since Guardians was a success, the studio is willing to bring on a director with a unique voice like Gunn. He didn't upend the Marvel formula, but his personality flows through the picture. He was in tune with a group of oddball outsiders, and that made him the best man for the job.

So who's the best choice for The Inhumans? Briefly, the Inhumans were created by alien experiments on primitive homo-sapiens. The alien race behind the experiments, the Kree, abandoned their work and the Inhumans went on to form a society of their own, which is led by the king Black Bolt and his family Medusa, Karnak, Gorgon, Triton, Crystal, Maximus the Mad, and the canine Lockjaw. For more on The Inhumans, read Marvel's wiki page.

Our sources tell us that this movie is part of Marvel not only expanding its list of properties, but actively building a multiple-film cosmic universe.

To be clear, we don't know the details about this script, and we don't know the directors the studio has on its wish list. What we know is that Marvel is ready to move forward on The Inhumans, and we're hearing it will take one of the dates on their current schedule.
Marvel has balls. They could coast on well known characters, but no. They're pulling out lesser known cosmic characters because of how much they believe in their product. I only wish with them adding cosmic characters to the MCU that they had the rights to Silver Surfer and Galactus.
Also, Vin Diesel had posted this to his twitter. Black Bolt maybe?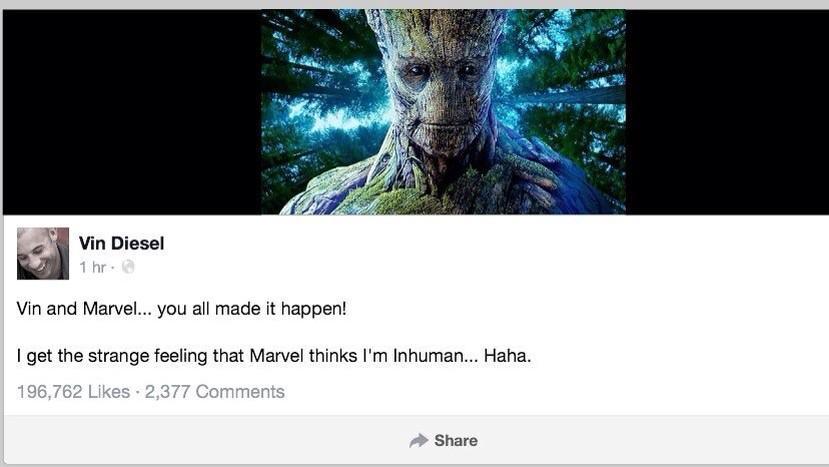 ---
See? That was nothing. But that's how it always begins. Very small.
---
Last edited by Clique; 04-25-2016 at

09:22 PM

.
The air filled with sadness and grief when sorrow sang softly and sweet.
Join Date: Nov 2004
Location: Nos Astra, Illium
Favourite(s): Dr. Fate, Darkseid, Batman, Scarecrow, Harley
Posts: 82,944
Points: 24,230
Re: Marvel gearing up for Inhumans movie
---
I have no idea who these people are, but I trust Marvel Studios.
God, it just kills the DC fan in me to say that.
---
"Young wrestlers, those of you hoping to make a career of this and get into this business somehow, I cannot stress this enough, be as tall as you can" - Vinny V on Baron Corbin
Re: Marvel gearing up for Inhumans movie
---
Marvel know what they are doing at the moment!

DC are playing catch up
Re: Marvel gearing up for Inhumans movie
---
One step closer to a Pet Avengers movie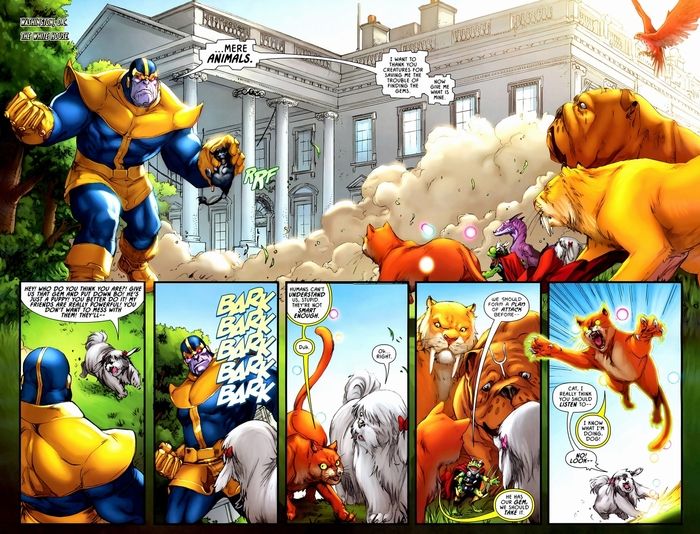 ---
As long as there's a Triforce, there will be a Zelda;
as long as there's a prosperous kingdom, there will be an evil bent on destroying it;
and as long as there's an oppressive force threatening Hyrule, there will be a boy...
in a green tunic, silver shield, and magic blade to stand against it.
---
Last edited by Sephiroth; 08-12-2014 at

05:24 PM

.
Re: Marvel gearing up for Inhumans movie
---
They're like Guardians Of The Galaxy, but boring.

- Vic
---


5/21/2017
Shoot for the stars and you'll land on the moon.


Follow me if you'd like:

Twitter: Maniac2008
Instagram: wwehistorian
Hunter of Invisible Game
Join Date: Jul 2006
Location: highway jammed with broken heroes on a last chance power drive
Posts: 37,904
Points: 15,751
Re: Marvel gearing up for Inhumans movie
---
I'm not so sure this would work as well. I have no problem with them getting added on somehow but a movie about them.... Feels like Marvel is reaching with this one. Feel that way about Ant-Man too but thats supposed to be a comedy and that might work.
---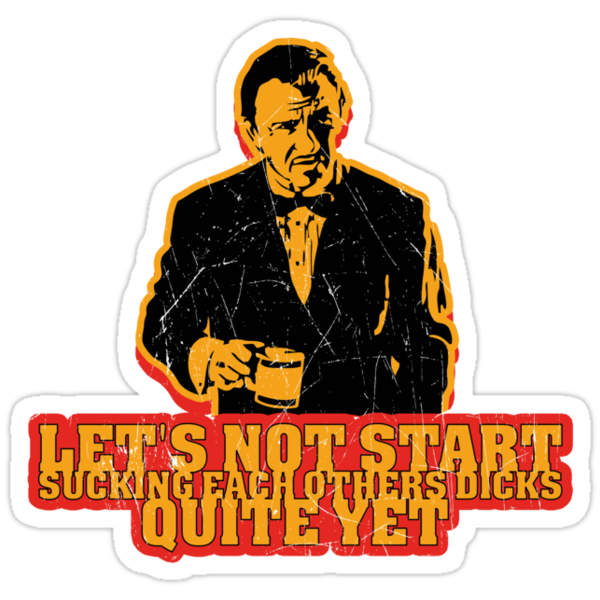 Re: Marvel gearing up for Inhumans movie
---
Motherfucking Black Bolt
Curious on how they would make him work, having a main character who really can't talk would be something new.
---

Undead Legion 4 Life
Sig by @CJ
What we've got here is failure to communicate
Join Date: Jan 2012
Location: Aiea, Hawai'i
Posts: 5,778
Points: 3,535
Re: Marvel gearing up for Inhumans movie
---
No idea who they are, but if it's in the MCU, sign me up.
---
Re: Marvel gearing up for Inhumans movie
---
BLACK BOLT!!! ~~~~
Respect My Pimphand..
Join Date: Jun 2006
Location: Toronto, Ontario, Canada
Posts: 14,678
Points: 17,843
Re: Marvel gearing up for Inhumans movie
---
I was just about to make a thread for this, but since you beat me to it
Let the marking begin!!
Quote:
Originally Posted by
Tyrion Lannister
View Post
I have no idea who these people are, but I trust Marvel Studios.
God, it just kills the DC fan in me to say that.
Dude you're going to LOVE the Inhumans. Think of them as a mix of Game of Thrones, Cosmic awareness, and the X-men. It's going to be awesome to see how Marvel handles themes of Royalty and heirarchy, betrayal, and family bonds, with a major serious backbone and plenty of substance.
There's also the fact that we're one step closer to seeing this
Spoiler for Blackbolt vs Thanos:
---
Thanos is only beaten because he allows himself to be, and he only allows himself to be beaten because, in spite of his ambition to attain ultimate power, he sub-consciously knows that he's not worthy of it.
~ Adam Warlock
---
Last edited by THANOS; 08-12-2014 at

06:35 PM

.
Posting Rules

You may not post new threads

You may not post replies

You may not post attachments

You may not edit your posts

---

HTML code is Off

---