Asking JAMES ELLSWORTH for Wrestling Advice
Join Date: Jul 2012
Location: St Louis
Posts: 464
Points: 0
End of an Era: StLSaint_75 reviews WCW Nitro 2001
---
I just actually was able to get my hands on every episode of Nitro ever, and am really excited to watch them, and want to take all of you along for the journey of 2001 (which is where I am starting). I am not some wrestling genius or anything like that, but I will just give the run down of what happens and how I feel each segment went towards building the feuds that were going on around this time. I will be reviewing them as I have free time, which hopefully means I can do one or two a week.

I hope others are interested in this, because I am actually marking out watching random episodes throughout the set. I am dead set on watching every episode from "The End", which if I recall correctly was when things were actually looking much better, and I figure why not review them, and see if it can spark some WCW fans and create some discussion.

First episode to come shortly!

cheers,
Steve

(Note: I may be missing some episodes, and I will be trying to find them as I go along. I know there are some sites I can read reviews and locations and whatnot of each Nitro, so if I dont have/can't find one I'll just post results or something. I have close to all, but some dates seem wrong so I'll be on the lookout as this goes along.)
---
WOULD YOU PLEASE. SHUT. THE HELL. UP?
WCW 1998: be the booker
http://www.wrestlingforum.com/booker...l#post12458661
Tag Teaming With James Ellsworth
Join Date: Aug 2008
Posts: 1,776
Points: 127
Re: End of an Era: StLSaint_75 reviews WCW Nitro 2001
---
WCW from NOvember 2000 -the end was actually a pretty good product. Russo's crappy booking was gone but the focus was still on new guys. Lots of positives...
Learning to break kayfabe
Join Date: Jan 2013
Posts: 76
Points: 0
Re: End of an Era: StLSaint_75 reviews WCW Nitro 2001
---
how did you acquire all of these episodes? Are they in a DVD or did you download them? Do you also have the Thunder's and PPV's?
Asking JAMES ELLSWORTH for Wrestling Advice
Join Date: Jul 2012
Location: St Louis
Posts: 464
Points: 0
Re: End of an Era: StLSaint_75 reviews WCW Nitro 2001
---
Quote:
how did you acquire all of these episodes? Are they in a DVD or did you download them? Do you also have the Thunder's and PPV's?
It was a file exchange with a buddy of mine. I had a shot to get thunder and the PPV's but I didn't really want that much stuff on my hard drive. I do know there are places to download all of them, but I really have no desire, as most of the PPV's still sucked anyway.
---
WOULD YOU PLEASE. SHUT. THE HELL. UP?
WCW 1998: be the booker
http://www.wrestlingforum.com/booker...l#post12458661
Asking JAMES ELLSWORTH for Wrestling Advice
Join Date: Jul 2012
Location: St Louis
Posts: 464
Points: 0
Re: End of an Era: StLSaint_75 reviews WCW Nitro 2001
---
Quote:
WCW from NOvember 2000 -the end was actually a pretty good product. Russo's crappy booking was gone but the focus was still on new guys. Lots of positives...
I would half agree. It was good, in terms they were pushing new guys and the storylines were much more straight forward, but, as you will see in the first Nitro, they have done 0 build to that point because they had 2 weeks off due to the holidays, so this whole Nitro is
-match set up for Sin.
-further previous storyline
-match
-match set up for Sin
-match set up for Sin
it's like 4 weeks rolled into one because Thunder was a garbage show, where nothing important outside of the TV title happened.
---
WOULD YOU PLEASE. SHUT. THE HELL. UP?
WCW 1998: be the booker
http://www.wrestlingforum.com/booker...l#post12458661
Asking JAMES ELLSWORTH for Wrestling Advice
Join Date: Jul 2012
Location: St Louis
Posts: 464
Points: 0
Re: End of an Era: StLSaint_75 reviews WCW Nitro 2001
---
WCW Monday Nitro
1/8/01
We open with the normal Nitro pyro. Tony Schiavone is with Scott Hudson and Disco Inferno. Schiavone is yelling, for some reason, and it is obnoxious. He does a little run down of the first PPV of 2001, "Sin" and announces that they are in Minnesota, "Jesse Ventura Country" whooptydoo.
Ric Flair makes his entrance, as the president of WCW, and is accompanied by a bunch of security guys. Disco makes the assumption that Flair is about to make an announcement that will tick of A LOT of guys backstage. Disco makes a semi-smart comment, and Schiavone basically tells him Ric Flair is a man, and doesn't need this many guys, he's only doing it because he can. Schiavone then says that Scott Steiner, Jeff Jarrett and several others are all mad at Flair for one thing or another.
"Woooooooo" Flair makes a crowd popping comment that the Vikings will beat the Giants… yikes… Flair then gets down to talking about how great WCW is. Wooo…Wooo…Woooo. Flair calls "Sin" the biggest PPV of the year (oddly he might be right as they only ran 3). Flair talks about Commissioner Mike Sanders and having defend his commissioner position against "The Cat". Flair then turns his attention to Jeff Jarrett and Scott Steiner. Jeff Jarrett and Sid Vicious had a match on Thunder to determine who would face Steiner for the WCW title at Sin, and Steiner attacked Sid.
Jeff Jarrett comes out and says that since he didn't lose, he is still in the match at Sin. Flair tells Jarrett that there is still the "Mystery Partner" in the 3 way dance (I forgot about this insanity) Flair then tries to drive a stake into the friendship of Steiner and Jarrett, asking Jarrett if Steiner retains, Jarrett is going to be shaking his hand? Flair then decides that it wont be a three way dance.
This brings out Scott Steiner, who says that Flair booked a 3 way dance, and Steiner is going to wrestle in a 3 way dance. Steiner says the he likes his, and Jarrett's odds. Flair says that its now a 4 way match, and Sid gets a shot too. Steiner still likes the odds. Flair plays some footage of Jarrett hitting Steiner with a guitar, which apparently Steiner must have forgot about because he starts to menace Jarrett. Jarrett weasels his way out of it, turning the attention back to Flair. Flair then makes a match for the "#1 wrestling show in the world"(?) Steiner says he wants to wrestle Flair, but Flair says that he will fire Steiner if he comes anywhere near him.
Quick Reax: Wow. That was 10 minutes long but felt like 25. Flair rambled forever. This didn't really do anything for me, and just really seemed like a way to get Flair out into the arena, and have a mini-confrontation with Steiner and Jarrett.
Goldberg and Sarge arrive at the arena. No wonder everything went to shit, these guys don't even have to show up until 8:10, when the show starts at 8? Maybe that's why the opening segments always seemed to drag on. Goldberg is pissed. Tosses a table, and threatens one of the desk people for WCW. He wants to know where Kronik are. He quickly tells them. This is how faces act backstage?
Mike Sanders is in his office, looking particularly bloated. He's upset about having to defend his commissionership. He books Ron Harris against The Cat tonight.
Flair is walking with his massive security entourage, when he is stopped by Shane Douglas. Douglas calls Flair "Commissioner" and then demands to have Sid's spot at Sin. Ric tells him to put his money where his mouth is and beat Sid tonight. Douglas calls him "Commissioner" again. Douglas promises to be both the WCW United States Champion and WCW Champion at Sin, and claims it never has happened before (Goldberg?) . Flair says if Douglas beats Sid, he'll consider putting Douglas in the match at Sin, if he wins.
Non-Title Cruiserweight match: Shannon Moore w/ Shane Helms vs Chavo Guerrero ©
Guerrero cuts a terrible promo, bashing Helms, and then says he doesn't like non title matches. Chavo makes the match with Moore a title match, and says if Chavo loses, he will get his re-match at Sin, and Helms gets left in the dust. So…
Cruiserweight Title Match: Shannon Moore vs Chavo Guerrero ©
Shane Helms is on commentary and says "Jamie Ka-Noble", which might be the highlight of his mic work to date. Moore attacks Chavo pretty intensely. Moore goes some fast paced wrestling, but Chavo gets a 2 count off a back breaker and takes control from here. Chavo taunts "Suga" Shane, while using various submissions. Shannon with a surprise roll up, but Chavo kicks out. Rinse, repeat. But Shannon can't get anything sustained. Disco claims to be a former Cruiserweight Champion, which Tony denies. Shannon gets a few more 2 counts, but never does anything more than a few punches, a spinning heel kick and a Hurricanrana. A nice reversal from a suplex into a headlock, but Chavo drills him into a corner. Chavo hits a brainbuster for the win.
Winner, and still WCW Cruiserweight Champion: Chavo Guerrero
After the match, Chavo goes for a second brainbuster, but Helms chases him out of the ring. Guerrero circles the ring, and tries to attack once Helms is tending to Moore, but Helms heads him off, and gives him a back body drop to the floor.
Mike Sanders attacks Kwee-Wee, but is ran off by Big Vito. Vito tells Kwee Wee he need karate lessons or something.
Flair is seen talking to Buff Bagwell and Lex Luger. I hate how this is totally unexplained forshadowing. The announce crew act like it is completely normal for a face and two heels to be conversing in the back... right...
Ernest "The Cat" Miller vs one of the Harris Brothers
Schiavone calls Cat's victory over Reno "one of the biggest of all time" …ya… ok… Big "WWF Sucks" sign. "Somebody better call my momma" sign, held by Brodus Clay, for sure. Cat says the "deez people won see The Cat as commissioner" and asks if the Harris's are twins, because they look alike. The Harris Boys beat down Cat. One of them drops to the floor and the match starts. Cat's tights say "The Greatest". Miss Jones accidentally distracts the referee, and the Harris's double team Cat, and then the wrong brother makes the pin.
Winner: The Wrong Harris Brother
After a commercial, Cat is enraged as he talks to Mean Gene. His reaction to Gene's question? Epileptic dancing.
Sid is shown talking to Hugh Morris. Someone can be heard counting in the background. Sid is wearing the most ridiculously sized hat for his head, and his ramen noodle hair is in top form. Morris asks Sid to save just a little piece of Douglas, for him. Sid's reaction is fantastic. He just says "a little? Ya. You got it. Ya…" and then smirks at the camera. (something that hasn't been mentioned all episode... Morris is the US champion, and will face Douglas at Sin)
Jarrett is talking to Steiner, Steiner promises to talk to Flair and get rid of their match tonight. Jarrett sounds like a whiny 15 year old. "Don't get yourself fired, Scott. Oh man"
Gene is now interviewing Mike Sanders, with the Natural Born Thrillers in toe. Sanders books a "Minnesota Massacre" match, with Kwee-wee and Vito teaming up to take on randomly selected opponents. Anyone who interferes will be subjected fined, penalties, and Sanders runs out of steam… NBT's have the worst tag line ever. "Hey Gene, one more thing,…. Don't worry about It"
Luger and Bagwell tell Kronik that they have booked a match between Kronik and Goldberg and Sarge. They tell Kronik if they win, in anyway, Goldberg gets fired. Kronik want some money to do this, but Luger tells them "it's a WCW thing"… I, uh, don't understand.
LANCE STORM T-SHIRT FOR $20 + S+H! "Don't Blame Canada, Blame Yourself"
Lance Storm comes out to the ring, with Team Canada. He wants to be serious, for a minute. Storm is in a bad mood, because the Filthy Animals spray painted Team Canada's bus. At Sin, Team Canada vs The Filthy Animals in a penalty box match. If anyone breaks the rules, they gotta sit in the box. The Canadian National anthem plays, and then is interrupted by the Animals theme.
Billy Kidman w/ The Filthy Animals vs Lance Storm w/ Team Canada
This is a pretty good, back and forth, match. Storm dominates big parts, Kidman gets a few good moves for 2 counts. Storm hits a nasty superkick for a 2 count. Apparently, this is a no-DQ match, because Storm sets up a chair in the corner, and Awesome pulls Kidman out during a pin attempt and clotheslines him. Storm attempts a springboard, but gets a dropkick to the stomach. The outside of the ring is full of Animals and Canadians and an all out brawl starts. Kidman is able to hit the Kid Krusher for the win.
Winner: Kidman
"The Franchise" Shane Douglas vs Sid Vicious.
Shane looks like he found the Ultimate Warrior's ring attire. Douglas says he is going to "franchise Sid" to get into the four way match at Sin. This match is about 3 minutes, and Sid wrestles in jeans. Surprisingly quick at the start, and Sid tosses Douglas to the outside. Schiavone keeps calling Sid "The Original Mad Man". Disco calls the floor around the ring "harder than Chinese arithmetic" Douglas takes over, and gets 2 count. Douglas pulls a chain out of his pants and tries to clobber Sid, but Sid gives him a big boot and some clotheslines. Sid then gives a scoop slam and a leg drop. Sid wants a Chokeslam, but Shane pokes the eye. Douglas tries a franchiser, but Sid is able to block it. Sid hits a Chokeslam and then a powerbomb for the victory.
Winner: Sid Vicious in about 3 minutes.
(gotta have quick matches to get in these 45 backstage segments a night, huh?)
Sid is walking to the back, and he gets attacked by Steiner and Jarrett. Guess these two lovebirds have resolved their issues.
Mean Gene is interviewing Flair. Flair looks young as hell, but maybe that's because he looks like a basset hound now. Apparently all hell has broken loose. Flair does a "Mean woooooooo Gene" and is upset at Sanders, and Jarrett and Steiner. Threatens to strip Steiner again. Flair then comments on the Penalty box match, he names Hacksaw Jim Duggan the special guest referee for the match. Duggan says nothing of importance, but calls Storm the "greatest technical wrestler alive". Yikes.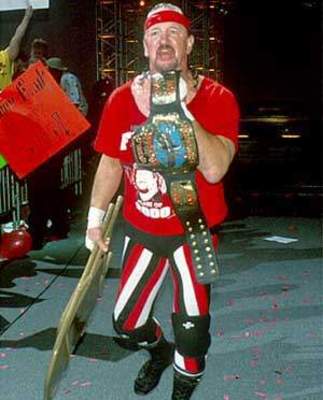 Terry Funk comes to the ring, WCW Hardcore Championship in his hand. He calls everyone he faces a nobody. He challenges Goldberg to a match. He's drunk as hell, and can't remember Meng's name. Crowbar and Daffney come out. Daffney is on shrooms. Great. Crowbar forgets his line, and says "wait" and circles while he thinks. Theres nothing being said, because one guy is drunk, the girl is high as a kite, and the other guy is repeating himself because he can't remember his lines. Awesome. :
Crowbar ends on a high note, saying he is the "Leader of a new Hardcore Revolution" Crowbar rushes the ring, and Funk evades him, but gets a chair shot from Meng, who came down the ramp. Meng locks on a Tongan Death Grip to Funk. Daffney tries to hit Meng with a chair, but gets a side kick to the face. Crowbar brings out a chair, but Meng punches through it and locks a Tongan Death Grip to him. Meng knocks both out, and takes the Hardcore title with him. "you… and you… if you want this. Come and take it from me"
We see the WCW commissioner's office, and Sander's jacket is tampered with, and an envelope is changed out with an identical envelope. Uh, what? why not just skip this part, as the envelope is an unknown at this point
Kronik vs. Goldberg and Duane "Sarge" Lee
Kronik make their way to the ring, please god, don't let them talk. If Kronik wins, Goldberg is fired. Sarge gets his own entrance. His arm was broken last week, by Kronik. Goldberg is met by Bryan Adams on the entryway. Kronik double team Goldberg outside, after taking care of Sarge easily. Back in the ring, Kronik soften up Sarge, keeping him away from Goldberg. Sarge hits the ugliest ddt I've ever seen, and makes the tag to Goldberg, but there is just too much Kronik for the Beast. Kronik attempt a High Times, but its blocked. Sidekick to Clarke, spear to Adams, and is attacked from behind again. Totally buff attack Sarge, but Goldberg wins the match with a spear and Jackhammer to Adams. Goldberg comes to help Sarge, but Totally buff use chairs to take him out. Totally buff then attack Kronik, but I can't confirm this because it's never shown on camera.
winner: Goldberg and Sarge
Minnesota Massacre Match:
Mike Sanders makes his way to the ring, with the Envelope from earlier. (The Hardcore Title match is changed to a three way, with Funk taking on Meng and Crowbar.) Sander's calls them "Randomly Selected Participants" for the 50th time tonight. Penzer is told to read off the participants. The first participant is Mike Sanders. The second, representing the Natural Born Thrillers, "The Event" Chuck Palumbo. The Third Particiapnt, representing the Natural Born Thrillers, Shawn OHaire. The Fourth Participant, representing the "Insiders" Diamond Dallas Page! Finally representing the Insiders, Big Sexy Kevin Nash! The Tag Team Champions snuck one over on the Commissioner! This is a last man standing match. NBT beat down on the Insiders, and you can hear one of the NBT calling Nash a "little bitch" J DDP starts to hammer Palumbo, but the numbers game is too much. Sanders is somehow left as the only one standing, but Page gives him a nut shot. Everyone gets up at a 5 count. The rest of the Thrillers come to ringside, but are met by Kwee-Wee and Vito. Page hits a Diamond Cutter, and Nash it's a Powerbomb. About 2 seconds later, BOTH are somehow named winners, of a last MAN standing match. Wait… What? There was no 10 count, and there are two winners? :
Winner: DDP and Nash
Up next: Scott Steiner vs Jeff Jarrett.
Steiner comes to the ring, with Midajah. Jarrett is backstage, looking scared and says "this ain't happening"
"The Ch-Ch-Chosen One" hits, and Jarrett comes out, for some reason looking confident. Jarrett takes a mic and calls Flair a "jurrassic slapass" haha. Jarrett says this match is NOT happening until Sunday. "Mr. CEO, SlapNuts, Choke on that" Jarrett kills me
I never realized how much I really loved to hate him. Flair says this match will happen, or Steiner loses the title, and Jarrett loses the spot at Sin. This match is now for the title.
WCW World Heavyweight Title Match: Jeff Jarrett vs Scott Steiner ©
Jarrett shoves Midajah, and prepares to smack Steiner with the guitar. Steiner attacks Jarrett from behind. Steiner takes control and does some pushups after beating down Jarrett. Jarrett hits a nice dropkick and heads up top for a cross body, for a 2 count. Steiner hits a tilt-a-whirl side slam, and them hangs Jarrett upside down in the corner and stretches him. Steiner slaps the camera. Jarrett uses the distraction to take over, but Steiner reverses a whip, and tosses Jarrett into the guardrail several times, and then slams Jarrett on the announcer's desk. Steiner tells a fan to suck his dick, and Jarrett again takes advantage. Steiner rolls into the ring, and is able to hit a belly-to-belly for a 2 count. Sid Vicious runs in, and starts taking out both Steiner and Jarrett. The Mystery opponent runs in and prevents Jarrett from stopping Sid's beatdown of Steiner. For some reason, the bell doesn't ring until the Mystery Man hits Jarrett. Nitro ends with Mystery man backing Jarrett into a corner with slap-like punches.
Overall, wow. I don't know what made less sense, the last man standing match, or the fact that we had about 20 minutes of bell-to-bell wrestling. I like that all the angles are actually an attempt at continuity, but Schiavone needed to be canned by this. He is phoning it in, and the only time I believed in him was when he was yelling at the intro.
The Good: Kidman-Storm was solid, as was Moore Guerrero, but neither was longer than 4 minutes. Sid/Douglas was surprisingly good, and I thought made both look good.
The Bad: Goldberg and Sarge vs Kronik, woof. There was way too much going on, and no one in this match could wrestle a lick, especially in a 4 minute match. The last MAN standing match was dumb. Why did the Insiders want to help Vito and Kwee-Wee? I hope this makes sense in the near future.
It wasn't as bad as some would think, and if the wrestling had been a little bit more, I would have really been able to dig the show. Flair was Flair, Jarrett was awesome, Steiner was Steiner and that was exactly what it needed to be.
---
WOULD YOU PLEASE. SHUT. THE HELL. UP?
WCW 1998: be the booker
http://www.wrestlingforum.com/booker...l#post12458661
Winning World titles, Custom Made Clothes
Join Date: Jun 2011
Location: Belleville, Indiana
Posts: 19,274
Points: 13,214
Re: End of an Era: StLSaint_75 reviews WCW Nitro 2001
---
Quote:
(something that hasn't been mentioned all episode... Morris is the US champion, and will face Douglas at Sin)
Oh my god. That whole post had me laughing so hard. I absolutely lost it reading the part I quoted. Great job man, and please, keep them coming.
---
Posting Rules

You may not post new threads

You may not post replies

You may not post attachments

You may not edit your posts

---

HTML code is Off

---