Re: American Hardcore Theater: ECW's Real History
---
Extreme Championship Wrestling
Hardcore TV(Episode #131)
October 24th, 1995
Alright, so we take our first look at the show that won Best Weekly Show of the year for the Wrestling Observer Newsletter for 1994, 95, and 96. Lets jump right in to see if it really was better than what was going on over on Nitro and Raw during this time in 1995.
ECW World Tag Team Championship Three Way Dance: The Gangstas vs Public Enemy vs Raven & Stevie Richards
This is a clip of the match from the South Philly Jam on October 7th where Public Enemy wins the titles back. We are immediately thrust into a shot of the ECW Arena with all of the fans waving their arms from side to side along to the Public Enemy's music. PE comes out, and the crowd loves them. They dance around for a bit before The Gangstas attack them from behind. The Gangstas beat on Public Enemy in and out of the ring.
Interesting thing is that this match has been clipped up, so this is really just kind of a highlight reel of the match. This was something that was done quite frequently on Hardcore TV.
Mustapha brawls with Rocco Rock up to the Eagles Nest balcony. New Jack lands a beautiful flying headbutt on Johnny Grunge in the ring, very nicely executed. New Jack always had a nice flying headbutt. Mustapha sets up two tables on top of each other under the balcony. Rocco Rock is body slammed off of the balcony through one of the tables(one doesn't break). Really painful, dangerous looking spot. Raven and Richards are nowhere to be found in the match yet. New Jack mocks the Public Enemy's dancing in the ring as be beats on Johnny Grunge.
Raven and Stevie Richards come out finally. Richards fucking daisy dukes are so short and tight it is fucking hilarious. They are literally wedged up his ass. Raven and New Jack square off face to face in a pretty cool little stand off. Raven sits down in the corner as Richards and The Gangstas beat on Public Enemy. Johnny Grunge is busted open bleeding. Whats new? Raven sits and watches as The Gangstas and Stevie continue to beat the shit out of PE.
Rocco Rock catches New Jack in a surprise rollup for the 1, 2, 3. The Gangstas have been eliminated.
The match skips ahead to Public Enemy in the ring with Stevie Richards on top of two tables stacked on top of each other. One table is on top of the ropes in the corner with a chair on top of it. This is just fucking crazy. Johnny Grunge lights the bottom table on fire, Rocco Rock does a moonsault off of the chair that is on the table in the corner on the top rope. Rocco Rock's knees crash down onto Stevie really hard, putting him through both of the tables.
Holy shit.
That was a pretty crazy fucking spot. If I was a pro wrestler, and somebody asked me to be a part of a spot like this, I'd tell them to kiss my fucking ass. This was just wild, and dangerous.
I kind of liked it though. Not something you see in your everyday wrestling match. A level of violence that just wasn't being done anywhere at this time except for Japan's FMW.
Johnny Grunge pulls Stevie out of the smoking table wreckage for the 1, 2, 3, and the tag team titles.
Crowd goes ape shit. Arms waving side to side all through the arena. As much as I sing the praises of all the technical wrestling, and advanced storylines/characters that were in ECW, there is no denying that this stuff was what put asses in the seats of the ECW Arena. The ECW Arena really was the house that Public Enemy built. This crowd loved the shit out of them. Just about all the fans pile into the ring with Public Enemy, and start chanting E! C! DUB!. Pretty cool little sight. Just looks like a good time. Everybody's happy and having fun. Party on.
6.9/10
Keep in mind that this was not the complete match. They probably cut a lot of shit out. With that in mind, this wasn't a bad little segment. It was violent in a pretty fun way. The double flaming table moonsault was a pretty sick spot. It was just a stunt, but hey, stunts are entertaining sometimes. Stunts are cool in the movies, and sometimes they can be cool in wrestling, take the Foley HIAC bumps for instance. This stunt in this match was pretty cool I guess. Nothing spectacular, just one of those "Holy Shit" moments.
Intro
After the match we get the awesome intro highlight set to the tune of White Zombie's "Thunderkiss 65". Awesome.
Back before Rob Zombie made mediocre movies, and even more mediocre music as a solo act, White Zombie was a pretty awesome little band. Everything about White Zombie just screams 90's.
Jason/Stevie Richards Interview/Commercials
We cut from the intro to an interview with Joey Styles and Stevie Richards. They cut the interview in front of some ECW flags, and they claim to be at the ECW Arena, but these segments were all filmed at Ron Buffone's parent's house. Ron Buffone and Charlie Bruzesse were the unsung heroes of ECW. These two guys were the ones that would put this TV show together, and make it look as edgy and up to date as it did. They would put together some really, really awesome, way ahead of their time highlight music videos(like the Intro), and put the show together on some small, cheap computers in Ron Buffone's parent's basement. These flags behind Joey Styles and Stevie Richards in this segment are covering up the Buffone's washer and dryer. Ron Buffone's parents were probably in the middle of doing laundry as they cut this segment, much like the scene in the film "Beyond The Mat".
So they would take one of those 3 hour long shows like the ones I have reviewed here up to this point, and they would cut them up for 2-3 weeks of Hardcore TV episodes like this one. All of the music videos and promos would be filmed later and edited in at Ron's parent's basement at a later date.
Stevie talks about how Public Enemy lit a fire under his ass at the last show. Stevie challenges Rocco Rock to a "Ragedy Ass Ho" match, where the loser has to wear a dress. The segment cuts over to Johnny Grunge saying he was going to treat Stevie like the guy he shared a cell with in prison. They cut back to Stevie and Joey, and they are joined by Jason. Joey Styles acting like he's allergic to Jason(euro trash gimmick) is almost funny. Almost. Jason asks Stevie if he can wear the dress if he loses the "Ragedy Ass Ho" match.
Commercial time.
Yeah, pretty much, these Hardcore TV shows were just a big one hour long ECW infomercial. They would use a lot of the TV time to plug upcoming shows, advertise T-shirts, and home videos. The first commercial block kicks off with Lance Wright in a segment he apparently called "Hype Central", ok. He plugs the upcoming live shows. Lance Wright wound up getting a job in the WWF somehow as an interviewer by late 96/early 97, but he was never even a speck on the ass of the great Todd Pettingail or Sean Mooney. Seriously I don't know how he got the WWF gig, the guy was terrible. Vince probably hired him because he was juiced in with Heyman. Maybe the guy was dating his sister or something, who knows.
A pretty cool song plays that I can't recognize as the card for the October 28th ECW Arena show flashes by the screen match by match. Sandman vs Mikey Whipreck's ladder match is advertised. Terry Funk is advertised to be in the corner of Tommy Dreamer in a match against Cactus Jack.
Gangstas Paradise home video commercial set to the actual Gangstas Paradise song.
Fucking awesome highlight video of that show. Makes me want to watch it again. I loved these old commercials for the old tapes.
ECW 1-900 Hotline Commercial
Back to Lance Wright, who plugs the Original Three Way Dance April 8th show available on Home Video. Merchandise hotline plug.
Back to Joey Styles and Stevie Richards. Jason brings a dress into the scene, and asks if Johnny Grunge would be able to fit in it. Stevie makes fun of Grunge's weight. Corny.
Joey goes off into a video chronicling 2 Cold Scorpio's feud with Public Enemy. They show the awesome triple table spot from the Gangstas Paradise steel cage match. They show highlights of a six man tag match at a house show in Chicago where Public Enemy put Scorpio through a flaming table. Scorpio is show confronting Public Enemy backstage, telling them that they are clowns who can't fly like him. Scorpio's upcoming match against Rocco Rock is plugged, and advertised to be for the Tag Team titles. I never liked it when anyone put the tag team titles on the line in a singles match. Stevie comes back into the scene, and talks about his upcoming "Ragedy Ass Ho" match against Johnny Grunge. Jason comes walking into the scene with another dress, asking Stevie's opinion of the color & texture of it. These are probably Ron Buffone's Mom's dresses
:.
Really corny stuff. I'd be embarrassed to watch that last segment with anybody.
Back to Lance Wright in an "EC F'N W" t-shirt commercial. Wright makes a sarcastic joke:
Quote:
As you can tell by the very nature of our program, ECW is governed by a very conservative, right wing, politically correct establishment.
:rofl:
Pretty cool shirt for only $20(postage paid).
Another ECW Hardcore Phone line commercial.
ECW Title Match: Mikey Whipwreck vs. Sandman
Ah, finally another match. We cut back to The Sandman and Woman about halfway through their long ass entrance already. They would usually take up the entire "Enter Sandman" song during the Sandman's entrances. Woman holds and flaunts the belt around. Sandman has a cigarette in his mouth, cane in his right hand, and a beer in his left hand.
:
This is the match from The South Philly Jam on October 7th, which was Steve Austin's second ECW Appearance.
There is a stack of tables folded up near the ring, maybe about 5 or 6 of them. Mikey Whipreck comes out to Beck's "Loser"
Perfect.
The ring announer goes through the motions introducing Whipreck and Sandman, and then all of a sudden Steve Austin comes out with his flowing golden locks of hair, and his EC F'N W t-shirt. Austin romps his way to the ring looking like Stone Cold.
Austin violently grabs the microphone from the ring announcer, and shoves Mikey Whipreck's face backwards with his hand.
: Hilarious. He is just really intense.
Quote:
Now listen here you son of a bitch, last time I was out here, I came out here to say good luck to the both of you bastards.

It pisses me off to see a piece of crap like you, defending a damn world heavyweight belt. The doctor tells me that in six weeks son, I'll be ready to walk all over your ass, because your name ain't Hulk Hogan.

But naw, oh, we ain't got to wait six weeks, we ain't got to wait six weeks. You can throw his ass out of the ring, and you and me can get it on RIGHT NOW!
Austin violently shoves Sandman, and turns his back on him to taunt the crowd. Sandman canes the dogshit out of Austin in the back of the head. Sandman gets a microphone.
Quote:
YO!

Yo STEVE AUSTIN!

YO!

This ain't Atlanta. THIS AIN'T THE WCW!

This is Philadelphia, and I am the extreme HEAVYWEIGHT CHAMPION!

YOU!

*Canes him in the head as he tries to get up, knocking him back down*

YOU, are just another jabroni!

*Canes him again*

YOU, are just another HULK HOGAN WANNA BE!
:rofl:
This is just hilarious going from one of the all time best on the microphone to one of the all time worst all in one segment. Austin loses it on Sandman after being called a Hulk Hogan wanna be. Austin bum rushes Sandman, and tackles him to the ground. Austin beats on Sandman with punches until all of the other wrestlers come out to separate them.
Konnan tries to keep The Sandman back as the other wrestlers keep Austin back. Konnan and Sandman begin staring each other down for no apparent reason.
Random chest smacking contest. OH MY FUCKING GOD I LOVE IT. :rofl:
Sandman and Konnan just start tearing into each other's chests with chops out of nowhere as a haggleload of wrestlers hold Steve Austin back. Konnan drops Sandman, and the wrestlers separate them. Austin rushes the Sandman again. All of the wrestlers separate them. Austin rips Sandman's shirt off. Order is eventually restored, and the match begins. Whipreck hits Sandman with a hurricanrana and a leg drop for a 2 count.
We cut away to more commercials.
Advertisement for the October 27th New York show set to Mad Season's "I Don't Know Anything"
Cactus vs Konnan, Sandman & Scorpio vs Public Enemy, and Dreamer vs Raven falls count anywhere are advertised for the event. More plugs for the October 28th event.
Back to the match, and they are fighting in the crowd. Mikey whips Sandman into the steel gaurd rail. Mikey hits Sandman with a somersault plancha out of the ring down to the floor. Mikey hits Sandman with 3 hard, unprotected chair shots to the head. Sandman drops Mikey ribs first across the guard rail, and follows up with a leg drop across the back of his head from the apron. Sandman attacks Mikey with the steel gaurdrailing.
These guys are being really fucking stiff with each other.
Sandman hits Mikey in the head with the railing multiple times. Mikey sends Sandman into the railing with sickening force. Sandman separates one of the pieces of railing, and suplexes it down onto Mikey. Mikey's shirt is torn up, and he looks like he's been in a damn dogfight. Sandman hits his top rope legdrop, rises back up to his feet, and fires up a mid-match smoke.
:
Steve Austin comes back out with a ladder. Austin hits Sandman in the gut with the ladder. Austin throws the ladder into the ring before making his exit again. Sandman back body drops Whipreck out of the ring, and follows him down with a leg drop. They throw each other into the ladder multiple times. Whipreck teeter-totter's the ladder into Sandman's face. I've seen people try this spot a lot, and this was the best I've ever seen it done. They made it look good here.
Sandman drops a legdrop onto Mikey from the top rope for the 3 count after 15 minutes of brutal brawling.
Sandman brutally attacks the referee with the ladder before storming off with Woman and his belt. The crowd chants "MIKEY! MIKEY! MIKEY!".
9/10
Austin bumps this up alot. He gave everybody a preview of Stone Cold here with his attitude and demeanor. Loved everything about all of the pre-match drama, the random chest smacking contest that broke out with Sandman and Konnan had me rolling on the floor. Just the way they started looking at each other out of nowhere before blasting each other's chest was hilarious. The actual match was surprisingly good too. Really physical and stiff. Not that that is a good thing, but you can't deny that this was an intense war. Sandman was really rough with Mikey. These two would go on to have a pretty brutal series of matches that get overlooked quite a bit. I really enjoyed this segment, and would advise everyone to track it down. Awesome stuff.
Another ECW Hardcore Hotline commercial.
Gangstas Paradise home video ad again, still fucking awesome. Really nice little highlight video set to some old school jams.
More plugs for the October 28th show. Lance Wright's "Hype Central" running down the card.
We cut to a Sandman promo. Sandman says he's the king of extreme, and that he hasn't been extreme yet with him. Sandman says he will be so extreme with Whipreck that not even Johnny Cochran will be able to get him out of trouble. :rofl:
Woman takes the center stage of the promo, and damn. This woman, Nancy Benoit, had a lot of talent in front of the camera from what I've seen of her in ECW so far in 1995. She talks about how much she lives for the title as she holds it across her shoulder. She says that she breathes for the belt, she owns the belt, and that her and The Sandman will own Mikey on Oct. 28th. I love it. I touched on this earlier in this thread, but there was a lot of depth and substance to this Woman character. She was a strong, intelligent, powerful woman, and she was the real ECW World Champion during this reign of the Sandman's during 1995. Anyone that thinks ECW was just always about degrading and beating women, I present exhibit A.
Commercial for the "Enter Sandman" show on ECW Home Video set to the tune of the Metallica song. Another really nice little highlight of the event with the double suplex on the two jobbers by Taz. I love these short little jamming highlight videos that they would air to sell the tapes.
Another ECW Hardcore Hotline commercial. Like no other hotline in professional wrestling. I could only imagine.
Styles plugs the next ECW show when all of a sudden JT Smith walks into the scene. Smith is in the "Knocked himself Stupid" gimmick here, and thinks he's Italian(he's black). He's actually pretty funny the way he's acting. He keeps calling himself the big don, and doing stereotypical Italian hand gestures and whatnot. He says that this saturday night he is not going to mess up in his match as he begins shadow boxing around Joey Styles. Smith accidentally knocks Styles in the face with a punch, knocking him backwards out of the scene.
:
Pulp Fiction Promos
I liked the Pulp Fiction promos. They would just roll through a series of promos set to the tune of "Miserlou", from Pulp Fiction.
The song would play on in the background as one by one characters would cut promos from various locations. I thought this was a cool way to give the characters a bit of depth, and flesh out the storylines. Pulp Fiction promos were an ECW tradition.
This one on this episode is just all over the place. It goes back and forth from the Dudley family(now with Buh Buh Ray), JT Smith heckling Joey Styles, The Eliminators(Perry Saturn and John Kronus) taunting the Pit Bulls, Tommy Dreamer talking about how he's going to bring Terry Funk back to ECW, and Cactus Jack cutting some excellent promos like this one:
Quote:
I guess it's true isn't it Tommy?

I guess it's all true.

I tried to believe in my heart that it wasn't, but I guess down in my heart I knew it was true.

Your really going to bring him here.

The one man that you know, that can step in the way of my path to righteousness in my final resting place.

You threw a big obstacle at me Tommy, and I'm going to have to hope that I have enough love for the both of us, because apparently you've got no love or respect for yourself.

Because the fact is that Terry Funk makes me do things, that I don't want to do. He makes me the kind of man.....THAT I DON'T WANT TO BE ANYMORE!
Tommy reveals Terry during the promos. Terry sends a message saying "I'M BACK CACTUS!"
Steve Austin is shown in the promo saying that ECW is about to find out what Steve Austin can do. You got that shit right.
Woman is shown caressing the ECW World championship saying that it means more to her than anything or anyone as she looks directly at the Sandman.
Tommy Dreamer is shown screaming at the camera that he was going to drag the hardcore back out of Cactus.
Beulah Mcgillicutty is shown on the beach in a bikini.

: The perfect woman.
Terry Funk is shown blowing the flames out on his branding iron from an older ECW event.
Cactus is shown again saying this:
Quote:
Dory Funk Sr.....I spit on your memory!

*Spits*

I spit on your family!

And when you bring that pathetic son of yours, that gutless coward, I guarantee to you I'll spit on him in the face. Because Terry Funk, you can't stop me on the road to my kingdom.

You can't stop the wheels that have already been set in motion.

The only thing that you're going to do, is guarantee that your protege Tommy Dreamer, suffers a horrible fate.

Forget about the WCW Tommy!

Because you've gone too far!

and now YOU'VE GOT TO PAY!

*starts crying*

God dammit Terry Funk.

*Raven walks into scene*

We were on the verge of something very important.

Cactus breaks down in tears when Raven gets the microphone and says:
Quote:
Look at his pain. Look at his torment. Tommy why must you do this?

After what you put me through years ago, I finally find, someone that would stand beside me.

*Cactus clings to Raven's waist crying*

And look at the anguish, you've caused him. This man will not desert me like you. Why do you do this to me Tommy Dreamer?

Why can't you just let it alone?

Then maybe Raven has found a little solace.

And Terry Funk, you're a decrepid old fossil. However, your legendary status is also meaningless, because I am Raven, and I'll put you through a table, and bash your brains in.

But it really doesn't matter. Cactus Jack does not need my help. Cactus Jack will annihilate you Tommy Dreamer.

He will annihilate you.

HE WILL ANNIHILATE YOU!

And all of the pain I've suffered all these years, when you left me, when you should have stood beside me, will be vindicated. Cactus Jack, you will do for me, what I should have done a long time ago. Vanquish Tommy Dreamer.

Quothe the Raven, Nevermore.
Raven poses as Cactus Jack hugs his waist laughing and crying at the same time.
Dreamer says that he will sacrifice Raven at the alter to bring an end to the show.
Overall Show Rating: 9/10
Well shit, that was awesome. The Raven/Cactus vs Dreamer feud is really fucking awesome. I never realized how awesome this storyline was. The Raven character was playing mind games with Cactus, and turned him against Dreamer to do his dirty work for him. That was the root of this heel turn from Cactus Jack. Raven's mind games. Beautiful. People who claim that ECW lacked substance, and was just all about shock television, I present to you exhibit B.
Also take into consideration what was going on over in Raw and Nitro during this time in 1995. I mean, damn. This was just so far ahead of it's time it was scary. Stone Cold being Stone Cold. A brutal match between The Sandman and Mikey Whipreck, some outstanding promos, and some awesome 90's music. The show was just chocked full of awesome jams. Every commercial, every segment, everything had an awesome song playing through in the background. There were multiple classic 90's grunge tunes that I recognized during various moment of this show, but I couldn't think of the names of them.
The show did have some shit on it. Lance Wright is a tool that just did not fit in ECW. This show had about 90% too much Lance Wright on my television, and nowhere near enough Beulah Mcgillicutty. The segments with Public Enemy/Stevie Richards/Jason, and Joey Styles were really corny too. Some of the stuff on this tape hasn't aged well, but for the most part there was a lot of really interesting stuff in this one single hour long show. I enjoyed it a lot. Check it out.
Re: American Hardcore Theater: ECW's Real History
---
Why is this exact same topic floating aorund several different websites?
Re: American Hardcore Theater: ECW's Real History
---
Spreading the cool aide around my friend. Also, just in case one of them were to crash, all of my hard work would be just fine. Is it illegal to post my project on multiple forums?
Re: American Hardcore Theater: ECW's Real History
---
Great Read so far keep it up!!
Re: American Hardcore Theater: ECW's Real History
---
Quote:
Great Read so far keep it up!!
Thanks man.
Extreme Championship Wrestling
Hardcore TV(Episode #132)
October 31st, 1995
Alright, so we're rolling on towards possibly the best ECW show of all time, November To Remember 95, and we have 3 more episodes of Hardcore TV to get through before we cover it. Some pretty deep storylines going on at this point with Raven playing mind games on Cactus Jack to convince him to denounce hardcore wrestling, and eliminate Tommy Dreamer. Dreamer brought Terry Funk back to ECW to help him with Cactus.
Just a couple of days prior to this airing, Dreamer faced Cactus with Raven and Terry Funk both watching. Terry Funk and Cactus Jack began fighting with a burning chair during the match as Raven and Dreamer fought up to the Eagles Nest balcony. A piece of flaming debri from the chair flew into the crowd, and burned one of the fans. The Arena was engulfed in smoke when the lights went out for an angle with Raven and Dreamer. The plan was for the lights to come back on with Tommy Dreamer strung up in the crucified position with ropes on the Eagles Nest balcony. When the lights went out a near riot broke out in the ECW Arena. The fans panicked, and all hell broke loose.
Terry Funk went on a violent tirade backstage, and severely scolded Mic Foley along with a few others after the show. Paul Heyman would start making moves to make things up to the fans for the incident immediately after the show.
Intro
We start the show with Steve Austin's infamous "Monday Nyquil" promo where he's dressed up like Eric Bischoff, and takes shots at him for firing him over the phone(while injured). Austin takes jabs at WCW and Eric Bischoff in a pretty funny little promo where he pokes fun at Eric's commentary, and the quality of the matches on Nitro. My favorite part is where he starts talking about how the main event is going to be a Bottle of Geritol on a Pole match.
: Cracks me up everytime.
This promo is very similar to some of the Public Enemy WCW parody promo's from earlier on in 95. ECW had positioned themselves as an enemy of WCW throughout 1995. Eric Bischoff was the top heel in the ECW Arena even though he never even stepped foot in the place. ECW was the perfect place for Austin to go after the way he was treated by the company. He fit right in.
We get the awesome intro highlight video set to White Zombie's Thunderkiss '65. Love it. How can you not love this video? It's fucking awesome. I would post a video of it, but I can't find any with the actual music still intact. Shame.
Joey Styles runs down the matches for tonight's show, goes over the rules for World Title Ladder Match, which will be decided by pinfall, not by grabbing a suspended belt. Styles plugs November To Remember, and the upcoming house show.
Guns N' Roses' "November Rain" plays in the background during the plug. The song plays on as the schedule for upcoming shows flashes across the screen.
Gangstas Paradise video tape commercial. Still fucking awesome. I'm telling you, these little highlight videos were the best thing ECW did. I wish more of them were on Youtube. Just short little 15 second highlight's of the event set to some awesome music. This one makes me want to go back and edit in a higher score for this event.
:
Hardcore Hotline commercial.
Lance Wright EC F'N W T-shirt commercial. A cool little song playing in the background. I remember hearing this song a lot when I was younger, but for the life of me I can't remember the name of it. Some obscure 90's grunge tune.
We cut from commercials back to Austin still dressed up as Bischoff. The camera man wakes him up from a nap on his table. Austin makes fun of WCW for being the place "Where The Big Boys Play With Each Other" before falling back to sleep on his desk.
:
The Pitbulls vs Don E. Allen & The Broadstreet Bully
Alright, so somewhere we missed Francine becoming the manager for the Pitbulls. She comes out with the Pitbulls in her tight leather outfit looking sexy as sexy can be. I know that her little "Fan" angle with Stevie Richards and Beulah blew off in a bra and panties match sometime prior to this(the match appears on the Extreme Warfare compilation home video), but this is the first time I've seen her with the Pitbulls at this point in the project.
Man, this is a pretty brutal fucking squash. They waste zero time. Stiff as hell with these guys. Pit Bull 2 lands a nasty Guerrilla Press Slam. Pit Bull 1 lands his little arm twist kick that he would do, then it's Super Bomb for the 1, 2, 3.
Probably about a 15 second match.
Joey Styles jokes about how Don E. Allen was #499 on the PWI 500 that year.
:
Jason comes out. Not Jason Voorhees, the Jason that manages The Impact Players(Justin Credible and Lance Storm) with Dawn Marie later on in ECW.
Franny is pretty hot here in leathers, but she's got nothing on Beulah.
Jason offers up his managerial services to the Pit Bulls, and says he regrets selling their contracts to Stevie Richards. Jason says he can get their tag titles back if they ditch Franny. The Pit Bulls hold Francine back from kicking his ass.
Jason hits Francine with a superkick. The Pitbulls go after him. The Eliminators come out and attack the Pitbulls.
Total Elimination on Pitbull 2.
They set Pitbull 1 up for Total Elimination, but Taz & Ric Stiener come out. Steinerline's everywhere. Taz and Stiener kick ass, and the crowd all barks like dogs as we cut away to commercials.
Lance Wright again with the T-shirt.
Hardcore Phone line ad.
Back from commercials, and the Eliminators come back to the ring....Where did they go?
The Eliminators attack Ric Stiener and Taz. The Pitbulls come back out....
What the fuck. I just don't get it. These guys all left, and then came back? Some goofy booking going on with this segment.
We get a pretty sloppy brawl with Taz, Ric Stiener, and The Pitbulls helping each other fight off The Eliminators. Perry Saturn is really young looking here. I don't think I've ever seen him with long hair like he has here.
6.8/10
Pretty good squash match, but there was some screwy booking in this segment with the guys getting run off from the ring, then just hitting the reset button like nothing happened and coming back out to the ring again. The Pitbulls looked good, and I really like The Eliminators even though they were really, really, really green looking in this segment. They botched several spots, and just looked really uncoordinated together. They would improve a lot over the next year though. Should be fun to watch.
Commercials/Interviews
We cut away to Lance Wright again. I guess I should post a picture of this dude. Ah, fuck it, he doesn't deserve it. He "hype's" November to Remember. A pretty cool little song by a 90's band called "Live" plays on as more shows are advertised across the screen in text. Can't think of the name of this song, but it is pretty cool. I'm digging the music in these old episodes.
*Turns TV up*
The show cuts to a little segment they were running throughout 1995 on Hardcore TV called "Extreme Encyclopedia". Some classy music would play as graphics would flash onto the screen showing certain characters with encyclopedia/dictionary type descriptions of them. The first one shows The Sandman as "A cigarette smoking, cane swinging, beer drinking world champion with a propensity for violence; a fighter who has climbed the ladder to the top." They show Sandman's manager Woman, with text that says "An abberation of the classic American male fantasy of beauty and servitute; a seductive henchwench with an appetite for money.", Mikey Whipreck's says "a 19 year old messenger of improbable upsets, the former ECW TV & Tag Team Champion with Cactus, tries to use his 188 clean living, non smoking, drug & disease free pounds to beat the nicotine addicted Sandman."
Hmm, what have we here? Whipreck was strait edge? Nice.
More awesome music plays that I can't remember the name to as upcoming shows are plugged with text across the screeen.
Nirvana's "Smells Like Teen Spirit" comes on as the plugging continues.
Jammin.:rocking:
We cut to the Dudley family cutting a promo together. A graphic flashes across the screen saying "Dudley: It's not just a name, it's a way of life".
:
Something else we also missed, the Dudley clan now includes a robust, young, stuttering Buh Buh Ray Dudley. D-Von is yet to be seen, but Buh Buh is here all decked out in tie dye along with Dudley Dudley, Dances With Dudley, Sign Guy Dudley, and Big Dick Dudley. Pretty funny little promo where they introduce Buh Buh as the special guest ring announcer for the opening ceremonies of the upcoming November to Remember.
The show cuts to a segment where Public Enemy train Mikey Whipreck for his upcoming ladder match against The Sandman. They are outdoors somewhere in the middle of the night. Pretty goofy little segment where PE send Mikey up and down a ladder to fetch beers for them to drink, saying that if you want to beat The Sandman, you have to think like The Sandman. Not a good segment. Just looks like a couple of dudes fucking around with a camera somewhere out in the woods.
Enter Sandman video tape commercial....Hold on a damn minute! They showed a clip of Eddie Guerrero wrestling Marty Jannetty in this highlight. The tape of that event that I reviewed was this same tape they were selling here in this ad, and that match is not of that fucking tape. Shady.
More ads for upcoming shows set to the tune of Mad Season's "I Don't Know Anything". Awesome song. Watching these tapes influenced me to go out and pick up the Mad Season "Above" CD recently, which is just phenomenal. Mad Season was a side project of Lane Staley(Alice In Chains), and one of the guys from Pearl Jam. They only released one album, and it is really good. Highly recommended.
ECW World Championship Ladder Match: The Sandman(C) vs Mikey Whipreck
We get an abridged version of The Sandman & Woman's entrance. The rules for this ladder match is that the only way to win is by pinfall or submission. The belt was not suspended from the ceiling. Not sure how I feel about that. I kind of like the psychology involved with the traditional "suspended belt" ladder matches.
Sandman and Woman were doing this weird thing at this time where they would just stand and stare into each other's eyes for a long time as "Enter Sandman" played on. Whipreck coming out to Beck's "Loser" is just too awesome. It's just the perfect song for him.
The Sandman sits on top of the ladder smoking a cigarette and drinking a cold beer.
"The Extreme Superstar" Steve Austin interrupts the introductions. The crowd gives him a pretty good applause.
Quote:
Now stop it.
A couple of people got smart with me on the way to the building today, and said I was a Hulk Hogan wanna be.
One of 'em said I looked like Hulk Hogan.
I been crapped on for 4 years, I believe I deserve a break.
*Climbs Ladder*
I didn't get to climb the ladder to the top in the WCW like this.
I'm up here all the way at the top, and I look down, and I see two jabroni's....
And from the places I've been about a $5 piece of ass.
Whipreck you amaze me son, because you're a go getter. You ain't go no quit in you, you don't know what the word quit means.
I respect you for that.
But you're still just a loser in my book son.
This is Steve Austin talking to you, and if I'm calling you a loser, you can damn well bet it's the truth.
*Looks at Sandman*
Keep drinking a few more beers, smoke a couple more cigarettes because yeah, you're sure really, really cool.
Brother I'm gonna get your ass in the ring, and I'm gonna run circles around you.
And when your tongue's hanging out of there by your feet, and I'm walking off with the damn belt in my hands, you're going to wonder.. what the hell was I thinking? That's Steve Austin.
This is not Mikey Whipreck. This is not one of the misfits back there in that god forsaken dressing room man...(
This is Steve Austin.
*Looks at Woman*
Don't get me wrong, hey, if I could rustle up $5 and a clothespin to put on my nose I'd give you a try.
And don't even think about looking at me pissed off lady, because it's you that married a midget, not me.
I wish both of you guys best wishes. I hope one of you kills the other because who ever comes out on top, god dam, you're looking at the next champ, right here.
Solid gold. I love this promo. Stone Cold has arrived on the wrestling scene ladies and gentleman. This man was a game changer. The Midget Austin is referring to is Kevin Sullivan, who was booking WCW at this time, and was married to Nancy "Woman" Benoit in real life.
Austin walks off, and gets attacked by Woman. He scoops her up on his shoulder, and carries her off to the back. Several of the fans reach out and smack her on the ass as she's carried out on Austin's shoulder.
:That shit is just not right. It's funny as fuck, but it's not right. :rofl:
Sandman attacks Whipreck with a beer from behind. Whipreck hits Sandman in the face with the ladder several times. They take it to the outside. Whipreck dominates Sandman, and takes him back in the ring. Sandman lifts Mikey up, and slams him down into the ladder.
Jeez.:stalker:
Sick bump. Sandman goes for a Somersault Splash onto a ladder on top of Whipreck, he slips at first, then lands the move. Whipreck rolls to the outside. Sandman throws the ladder down across his back from in the ring. Shit. Sandman props the ladder up, and drapes Whipreck's body on it for a legdrop from the apron. Whipreck blasts Sandman with like 4 chair shots to the head. Sandman backdrops Mikey into the first row of the crowd. Sandman beats the shit out of Mikey in the crowd, and props the ladder over the guardrail for the teeter-totter spot. The fans break out in E! C! DUB! chants.
Sandman pulls Whipreck back over the rail, and rolls him into the ring. Whipreck rolls out from under another slingshot move, and just plain beats the shit out of Sandman with the ladder for reals. Good god almighty. Really stiff.
Mikey puts the ladder over The Sandman's body, and hits him with a splash off of the top rope. Whipreck gets the pinfall for the huge upset title victory. Cactus comes out congratulating Mikey Whipreck. All of the face wrestlers come out, and celebrate with Mikey on their shoulders as the crowd chants "MIKEY! MIKEY! MIKEY!".
The Sandman stumbles off defeated and bloodied.
A graphic comes on the screen showing the dates of The Sandman's title reign as sad music plays. April 15th, 1995-October 28th, 1995. Highlights of the Sandman's reign play on with the sad music. I enjoyed this title reign, mostly because of the Woman character. She was the brains of the operation, and the Sandman would have never won the title without her. Turns out that he couldn't defend the title without her in this match. Austin carried her off, and Mikey stole the gold. Woman was the real champion if you think about it, so I kind of hate to see her lose the strap. Maybe it's this sad ass fucking music. This is what plays as highlights of The Sandman's world title reign play on:
And that ends the show. Pretty cool little tribute video to Sandman & Woman's 6 month title reign.
9.5/10
This is a grade for this entire segment really. As for the match by itself, it was pretty damn brutal. One of the best brawls I've seen so far, and Whipreck winning the title was a pretty cool moment. Stone Cold Steve Austin's promo is a major reason for such a high score. One of his best promos ever, including his work in the WWF. The little highlight package they put together commemorating Sandman & Woman's title reign was pretty cool too.
Overall Show Rating: 9.3/10
A big part of this high score for me is the music. The tunes made this a lot of fun to watch. Without the music, you really take a lot of the enjoyment out of ECW for me. Hardcore TV was just a hip, jamming wrestling show in 1995. Light years ahead of what the WWF and WCW were doing in that regard. Another big part of this ridiculously high score is Steve Austin. This was his show. Possibly his best ECW show. Classic Steve Austin here in this one little hour wrestling show. Add a brutal Sandman vs Whipreck title match, and some cool music on top of that and you have an ECW show that is well worth tracking down. The only thing that keeps it from getting a higher score was a sloppy, poorly booked segment with The Eliminators, Pitbulls, and Taz/Ric Stiener.
Re: American Hardcore Theater: ECW's Real History
---
Awesome stuff. Keep up the good work
Re: American Hardcore Theater: ECW's Real History
---
Extreme Championship Wrestling
Hardcore TV(Episode #133)
November 7th, 1995
Stranglerlewis that's a pretty big compliment. I appreciate it man, and I thank you for reading this. The further I've gotten into this project the more I've enjoyed it. ECW really did just continue to grow and improve from the first 1992 show that I looked at up to where we are now in late 1995.
Do you remember where you were in November 1995?
This is getting pretty close to WWF Survivor Series(Diesel vs Bret in the MOTY), and WCW World War 3. Mikey Whipreck ended the Sandman's six month title reign at the last show with a little bit of help from Steve Austin(Carried Woman out of the Arena on his shoulders). We're getting real close to ECW November To Remember 95, which very well may be the best ECW show of all time, and one of the best wrestling shows of 1995 period. Lets turn the TV up real loud, and check this bad boy out.
We start off with a "Last week on ECW" segment showing highlights of Mikey winning the strap.

White Zombie intro video.:rocking:
El Puerto Ricano vs. JT Smith
JT Smith comes out to the theme song from Rocky. I love it. Styles says that this is Ricano's second ECW match. Ricano is a jobber, and he was a pretty good one too. He always did his job, and made the main guys look really good.
JT Smith tries to catapult himself into the ring, but he stumbles and falls face first into the canvas.
:
Ricano hits a really good looking springboard moonsault off of the top rope. Smith stumbles out of the ring, and Ricano springs himself up to the top rope. Ricano leaps off with a nice suicide splash.
So far so good.
JT Smith with the low blow. Body Slam. JT tries to go up top for a moonsault, but he slips and falls.
:
He makes it look good. That was actually pretty funny.
Ricano tries a Thesz press, but Smith catches him in mid air. Smith tosses him over his head with a nice belly to belly. Smith lifts Ricano up into a powerbomb, bounces his body down off of the top rope, and then slams him down into the mat. Pretty cool version of the powerbomb, but that has to be VERY dangerous.
1, 2, 3 for JT Smith.
Out comes The Sandman. Sandman beats the shit out of everyone with the cane, pissed about losing his belt.
7/10
It was short, and it was a squash, but it was a different squash, and it was a fun little match. JT's slapstick antics were actually quite funny here. He made the slip ups look good. I laughed. Ricano looked pretty decent early on too. Not a bad match at all, but as short as it was this is about as high of a score as I can give it. Random Sandman cane down doesn't hurt it either.
Here we go with the commercial for the Enter Sandman vhs tape. Pretty cool little highlight that shows the double overhead belly to belly on the two jobbers from Taz, and clips of the Guerrero vs Jannetty match that wasn't even included on the tape.
Hardcore Hotline commercial. Like no other hotline in professional wrestling.
Lance Wright EC F'N W T-shirt commercial.
Dances with Dudley vs. Hack Meyers
Here we go with Dances with Dudley. He comes out to AC/DC's Highway to Hell. This is the Indian Dudley, who speaks fluent Spanish. The Storyline was that daddy Dudley was a traveling wrestler that got around. He supposedly made a stop at an Indian reservation, and begat Dances with Dudley.
Hack Myers is billed from the Last House on the Left.
It doesn't take long, and we have the classic "SHAH!" vs "SHIT!" exchanges. The crowd screams "SHAH!" along with every offensive maneuver from Myers, and "SHIT!" for every offensive move that Dudley does. Pretty funny stuff. Myers weathers a brief storm of punches and chops, and dominates Dudley for the clean win after about 3 minutes.
The Sandman comes out, and canes both men down with two canes in his hand. The Sandman asks the crowd if they want to see extreme. Sandman then screams out "SHAH!" into the microphone just before nailing Myers in the back with the canes. Sandman screams "SHIT!" into the microphone before cracking Dudley with the canes. He goes back and forth with this several times.
:
Sandman throws the canes down in anger, and turns around looking at the fans with that classic look on his face. The fans start chanting E! C! DUB!.
4/10
The match was really short with nothing going for it other than the crowd's antics. Sandman saved the day, and kept the score from dropping any lower for this segment. He's on a rampage after losing his belt. Woman is nowhere to be found yet in this episode.
Gangstas Paradise VHS commercial. I wish this was on youtube so I could show you guys how awesome this video is. The clip of 911 finally chokeslamming Bill Alphonso is just an epic moment. I should have rated that segment higher than what I did.
ECW Hardcore Hotline spot again.
The show cuts away to a clip of November to Remember 1994 to get us ready for the upcoming show. This is just too awesome to put into words. They show a clip of the opening ceremonies where a guitar player is opening the show with the National Anthem. The guy keeps messing the song up, and the crowd lets him have it. 911 comes out with Paul Heyman. 911 takes the dude's guitar, and gives it to Heyman, who jumps around acting stupid with it while 911 chokeslams the dude down into the floor.:rofl: I love it.
Guns N Roses November Rain starts to play on as highlights play of the 1994 November to Remember. The Pitbulls beating Bad Breed, 2 Cold Scorpio defeating Mr. Hughes with a 450, Shane Douglas getting beat down by Ron Simmons, Dean Malenko going at it with the Tasmaniac(Awesome!), and Chris Benoit dropping Sabu on his head, breaking his neck.
911 chokeslams Chris Benoit. Nice.
The clip shows Public Enemy winning the Tag Straps from Mikey and Cactus, and Sandman in his blind angle where he canes the fuck out of Dreamer in the back of the head.
Lance Wright hyping up November to Remember. This guy is just fucking terrible, and was not a good fit in ECW at all. He looks like Richie Rich all grown up.
Guns N Roses plays on as Public Enemy cut a promo about an upcoming house show match. The Ultimate Jeopardy 95 show on Thanksgiving night, which I think was cancelled.
Graphics flash across the screen with the card for November to Remember, Raven & Cactus Jack against Tommy Dreamer & Terry Funk is advertised as the main event. They also plug Steve Austin's return to the ring from his injuries that ultimately led to him being fired by WCW. They replay Austin's excellent promo from atop the ladder at the last show.
They continue to plug and advertise November to Remember as Guns N Roses "November Rain" plays on through it's entirety. They advertise special guest ring announcer Buh Buh Ray Dudley.
: It's crazy how far Bully Ray has come. This was really his start.
Beulah's box commercial. Some kind of deal where you wrote letters to Beulah. Ok.
Hardcore Hotline spot again. Jesus.
Joey Styles goes over the stipulations for the next match as this song plays on in the background:
:rofl:I love it. It doesn't get anymore 1995 than that my friends.
Ok, so the tag titles, and the TV title is all on the line in this match. It takes Joey Styles about 2 minutes to explain that somehow.
Alright, so "This is how we do it" is apparently Public Enemy's new entrance music. Grunge comes out waving his hands back and forth to the tune. Sandman comes to the ring. Johnny Grunge brawls with the Sandman to the back. Scorpio comes out with the TV belt around his waist. The TV belt was really the premier belt in ECW if you really think about it. Guys like Scorpio, Malenko, Guerrero, Jericho, and RVD dominated the TV title scene, where as guys like The Sandman and Raven were usually holding the World Title. Not sure if that's a good thing or a bad thing really.
Flyboy Rocco Rock vs. 2 Cold Scorpio
Rocco Rock shines early on with a series of Swinging arm drags that send Scorpio to the outside. Scorpio misses a dive over the top. Rocco Rock with the frying pan. They take into the crowd hitting each other with drinks. They make their way to the Eagles Nest soundstage balcony.
Scorpio moonsaults Rocco Rock through two tables stacked on top of each other.
Yeah, this match is clipped all to hell.
They cut to the ring where Scorpio lands a belly to back suplex off the top. Scorpio with the Tombstone.
Scorpio lands a backflip legdrop, and gives up the pin after 1. Scorpio tries a Superplex, but Rocco pushes him off. Rocco lands a Shoulder Block off of the top for 2.
They clip away to later in the match. Rocco Rock Superplexes Scorpio off of the top down onto a table in the ring. The table doesn't break all the way through, and holy shit that looked like it really hurt bad. :stalker:
Scorpio kicks out at 2.
The match cuts away again to later on in the match. Now we have a flaming table in the ring. Rocco does his "Drive By" Somersault Senton, but Scorpio moves out of the way. Rocco goes through the flaming table.
Scorpio helps put a fire out on Rocco Rock's back. They stop the match. Scorpio hands Rocco Rock his tag strap, and raises his hand like they are done, then all of a sudden Scorpio nails Rocco with a Lariat. Scorpio pins Rocco Rock to win the tag team titles.
Scorpio stands in the ring with The Sandman and Woman. Scorpio is holding three belts. The TV belt, and both tag belts. Scorpio gives Sandman the other tag team belt, and changes his name to 2 Gold Scorpio.
5.7/10
I kind of don't like this. Sandman and Scorpio are a pretty random pairing, not to mention Sandman was just given the belt without doing anything to earn it. Stuff like this is why I'm not a real big fan of tag titles changing hands in singles matches. On top of that the actual finish to this match was just a bit screwy to say the least. As for the match itself, it's hard to tell due to it being highly edited. They cut out a lot of this match I'm sure. What little bit there was(about 7 minutes), wasn't anything impressive at all.
Enter Sandman vhs commercial again. This show wasn't all that great, I wonder why they keep plugging it. Haven't seen any ads for Hostile City Showdown yet, which has been the best show I've reviewed so far. The Taz double belly to belly spot never does get old though.
Lance Wright EC F'N W shirt ad again. This fucking guy.:knock:
Metallica's "Sad But True" blasts through my TV as the graphics flash across the screen plugging November to Remember and various other November shows.
Joey Styles plugs away for November to Remember. Public Enemy will get shot at tag titles against Scorpio and Sandman. The man that scores the pinfall in the match gets to go on to face Mikey Whipreck for the ECW World strap in the main event. Styles plugs Whiprecks title match against Rey Mysterio at the show on the day before November To Remember. This is a match that they would air on Hardcore TV after November to Remember, and it's a pretty damn good match.
They re-play the Austin "Monday Nyquil" promo.
They show a clip of Beulah interviewing ECW Commissioner Todd Gordon. Gordon challenges Bill Alphonso to a fight at November to Remember. Alphonso nails Gordon from behind with a chair. Beulah scolds Fonzie for interrupting her segment. Fonzie's reaction to her is abso-fucking-lutely roll on the floor hilarious.:rofl:
Fonzie says "A SEGMENT!?!" "You're a woman, you're lucky to even be in Bill Alphonso's ring!". He's just the perfect sleaze bag heel. He's hilarious to me for some reason. They show more clips of Gordon being pulled apart from Beulah and Todd Gordon in a scuffle in the ring. They show Fonzie cutting a pretty hilarious promo about his upcoming fight with Gordon at November to Remember.
The thing with Fonzie's angle here is that it was pretty much dead. He didn't get nearly as much heat in the footage they showed. His Pennsylvania State Athletic Commissioner angle was on fire earlier on in 95. It lost a bit of steam when Shane Douglas left for the WWF, and then it pretty much died out when 911 chokeslammed Fonzie into oblivion at Gangstas Paradise. Early on in this angle it seemed like this crowd actually believed this guy was from the Penn State Athletic Commission, sent there to tame the wild ECW shows down. The heat was tremendous. The match at November to Remember would be the official end of the angle, but Fonzie would be reborn into a new role. That's for another show though.
Pulp Fiction Promos
Just like I described in my last review, these "Pulp Fiction Promos" were a series of promos by various ECW wrestlers cut in various locations all edited together into one steady highlight reel that plays along to the tune of Dick Dale's "Miserlou", which was the song used in Pulp Fiction.
First they show Public Enemy outdoors somewhere in a public park or something. They go over the complicated stipulations for their upcoming tag match against Sandman and 2 Cold Scorpio. The thing with Public Enemy here is that they were in their final days in ECW. They were being heavily recruited by WWF and WCW at this time. They would end up wrestling in a series of matches in WWF in late 95, including a dark match against the Smoking Gunns at Survivor Series, which was a couple of weeks after this show. PE would end up surprising a lot of people by accepting an offer from WCW in early 1996.
Buh Buh Ray Dudley is shown having a hard time saying his name.
Steve Austin shown sleeping at his desk dressed as Eric Bischoff from the "Monday Nyquill" promo.
Public Enemy walking through the streets of Philly going over the stipulations for their upcoming match. These promos haven't aged well.
Buh Buh Ray stuttering his name again.
:
Cactus Jack is shown holding a pill bottle, and he says the following:
Quote:
You know I think back to my high school years, when my friends were the biggest druggies in school. Even though I had a lot of peer pressure, never once did I ever...

*Simulates smoking a joint*

Smoke one joint....

I think back to college, when my roommate was the biggest coke head on campus, and never once did I...

*Closes one nostril with hand, and simulates snorting*

Snort one line....

After a 10 year career that was filled with pain, I look at these pain killers, and it says take one by mouth, every four hours as needed for pain. I look at the date, and it says 1993, and I want you to realize THAT I DON'T NEED YOUR DRUGS!

I DON'T NEED YOUR DRUGS.

Cause I'm a junkie all the same. And my arms are free of needles, but my body shows the track marks of 10 years of falling on concrete floors. 10 years of abusing my body.

Herniated disks.

Broken bones.

Missing body parts, and I'm here to tell you that I can't help myself.

But I tried didn't I Tommy?

I made a real effort to clean up my act.

To say...BANG! BANG!

To all the little Cacti out there.

And I was this close.

But you know what I didn't count on?

1,500 fans that every time I entered the ECW Arena were saying GO AHEAD CACTUS! KILL YOURSELF FOR US!

Do bad things to your body so that you won't live, but we can say.....He's hardcore.....

He's hardcore....

Are they right?

I AM HARDCORE!

HARDCORE TO THE BONE, AND HATING EVERY SECOND OF IT!

Hating you for forcing me into this position.

Hating Terry Funk for putting up so many damn road blocks.....On my road to righteousness.

And I have every one of those blood thirsty, blood sucking asswhole freaks at the Arena with their mass murderer t-shirts saying "We're hardcore!".

YOU DON'T KNOW THE MEANING!
Man, that was such a great promo. Cactus' heel turn here in late 95 had a lot of substance to it. It went pretty deep, and his promos are hailed by many to be some of the best promos in wrestling history. I'd be hard pressed to argue. Foley is without a doubt one of the finest actors in pro wrestling history in my opinion. This is the extremes he had to take the Cactus Jack character in order to draw heat from the Philly fans, who adored him. It was a bold, risky move to do such a "shooty" heel turn with such a beloved face, but Foley's mic skills really put it over. I think these promos may have been the catalyst to Foley being signed by the WWF in early 96(and cast as Mankind).
The promos carry along to Terry Funk and Tommy Dreamer. Funk says wrestling is a sport, and it will always be a sport. Funk says the sport is his life, and it's Tommy Dreamer's life.
Cactus says it will come down to Raven and him beating Dreamer down as Funk lays down helpless because now he's a washed up old man. Cactus says that they pushed him and pushed him, and now's he's over the edge, BANG! BANG!
Public Enemy goofy antics somewhere out in the streets. Corny.
Buh Buh closes the show bumling around like one of the loony tunes.
Overall Show Rating: 6.8/10
This was obviously a big filler show, and it just felt like a big infomercial for November to Remember. A bunch of commercials. The Cactus promos were absolute gold, but the matches here were not too good. This show just didn't have much going for it at all other than getting me hyped up to review November To Remember. The JT Smith squash match was ok. The Sandman stuff was kind of funny at times, even though I have my complaints about the way he was given one half of the tag team titles, and thrown into a tag team with Scorpio. Other than the Cactus promo, the rest of this is nothing to get excited about.
Re: American Hardcore Theater: ECW's Real History
---
Extreme Championship Wrestling
Hardcore TV(Episode #134)
November 14th, 1995
Alright, so this is the final episode of Hardcore TV we will take a look at before November To Remember, which took place about 4 days after this was originally aired. This is all taking place just days away from WWF Survivor Series 95, and just a couple weeks away from WCW World War 3. The last episode was pretty much just a big infomercial for November to Remember. Let's see if this one is any different.
Oh yeah, this is good.
We start this week's episode off with Cactus Jack talking to the fans in the ECW Arena as he stands in the ring. This is what he says:
Quote:
...And I may have had my differences with this organization, but I've never been prouder in my life than when Mikey won that championship tonight.

But you people took what should have been a very special deed for me.... AND YOU RUINED IT!

So WHY DON'T YOU ALL JUST GO TO HELL! Strait to hell!

You people make me SICK!

I don't even feel like being here. If it was up to me......

I would have that TV tuned to TBS......Watching movies for guys who love movies.

....But I've got a higher purpose.

And you see Tommy Dreamer, my instinct is to come in here, and slap the shit out of you.

But that would give all of you too much enjoyment.

So you all sit down. Get a bag of popcorn, and get ready for the most boring match you've ever dreamed of.

And I know that they said that Raven would be in my corner, and you see, Raven is my spiritual guide, and the best friend I've ever had, and looking at you, he may be the only friend I've ever had.

But I don't need anybody in my corner to teach Tommy Dreamer a lesson. You see Tommy, you might need some has been hardcore hero, but Cactus Jack is his own man. He stands on his own two feet. And I'll take care of business all by myself.

BANG! BANG!
:
For those that either never had American cable, or were too young, TBS was the network that aired WCW Saturday Night, and their slogan during this time was "TBS: Movies for guys who love movies". Cactus' heel run right here is complex. Foley is pulling off this character brilliantly, and really giving Cactus a lot of depth right here. Raven in there playing games with Cactus in order to turn him against Dreamer, plus all of the shooty anti-hardcore stuff he's saying in all of his promos where he blames the fans for the premature retirement of several wrestlers(punshing them for it by not giving them their moneys worth), and then on top of that he's a WCW fan now, Eric Bischoff is his uncle, and he wants to go back. The looks on his face during this promo are fucking fantastic. I laugh hard every time for the "Movies for guys who love movies" line. I love the way he keeps referring to his "Path to Righteousness".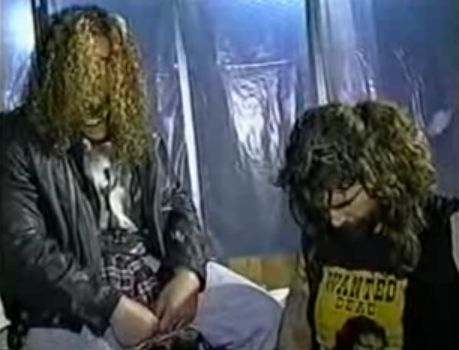 I'm also just now realizing that pretty much all of the footage we've been taking a look at on these past 3 episodes of Hardcore TV has all been from the October 28th ECW Arena show, which was the same show were the fire incident occurred. No wonder why it was never released on home video.
The show cuts away from Cactus in the ring to Tommy Dreamer up close with the camera somewhere in a pre-recorded promo. Dreamer says that Cactus is in for a fight any time he steps in the ring with him.
Cactus Jack vs Tommy Dreamer
Tommy Dreamer comes out with Terry Funk as Alice In Chains "Man In The Box".
Dreamer's pre recorded promo cuts in and out during this match. Cactus and Dreamer get it started with a tie up. Cactus pushes Tommy into the ropes in the clinch, and gives us a clean break when the referee steps in.
Dreamer taunts Cactus to punch him, but Cactus puts him in a.........Side headlock.
:
Cactus puts Dreamer on the mat with three successive Side Headlock takedowns. Bringing the pace of the match to a gruesome slow pace. Dreamer pretty much tells the story of the match in his pre recorded promo that cuts in and out during the match. They show it going to the outside where Cactus has a chance to use a chair on Tommy. Instead, Cactus opts for a....................
Side Headlock Takeover.:rofl:
I love this.
Dreamer gets a low blow on Cactus, and takes him over the top rope to the outside. Dreamer busts Cactus in the face with a chair. Dreamer tries to give Cactus the chair to use, but Cactus refuses. Dreamer bashes him over his back.
Raven nails Dreamer from behind. Terry Funk comes over and chases Raven away. Cactus gets up on the apron as if he were about to do his trademark elbow drop, but instead he uses his arms in YMCA gestures to spell out WCW for the crowd.
: The crowd starts chanting ECW.
Cactus refuses to drop the elbow.
We cut ahead, and Cactus just throws all of that psychology out the window, and turns this into a typical brawl. Closed fist punches. Headbutts. Raven and Funk look on from the outside. Cactus grinds on Tommy with punches and kicks for several minutes.
Cactus acts like he hurt his hand. He gets a microphone, and says that he told everyone that he would never put his body on the line for the sorry motherfuckers(censored) in the ECW Arena again. He says that since he is clearly injured this match is a........NO CONTEST!
:
The way he says it is hilarious. He points his finger up in the air, and he has that serious look on his face.
Cactus thanks the fans for coming, tells them to drive home safe, and says "Lets support the Turner Family Tomorrow night". :laughy:
The referee tells Cactus that this is ECW, and there are no "No Contests" in ECW. The ref orders Cactus to get back into the ring. Cactus tells the ref that if he can't have a No Contest, than he wants him to do his job, and "Count....Me.....Out!"
Cactus walks away. Terry Funk gets a microphone, and taunts Cactus by saying that his mother is a whore. His old lady is a whore. His girlfriend is a whore. "All you got is a bunch of whores hanging around". Dewey is a whore.
:
He keeps throwing jabs at Cactus until he comes back out. Dreamer and Cactus slug it out in the ring. Dreamer piledrives Cactus. Dreamer goes to DDT Cactus on a chair, but Cactus backdrops him. Dreamer hits Cactus with an Enziguiri, but he does it with the chair stuck around his leg. That was really cool.
Raven pulls Dreamer out, and DDT's him. Terry Funk drops Raven, and brawls with Cactus. Stevie comes out and fights with Funk. Cactus hits Funk with a crutch from the fans, and finally drops Funk. Raven fights Dreamer in the ring. Beulah hands Raven a set of Brass Knuckles. Raven busts Dreamer wide open with blood everywhere. Cactus kicks Funk in the groin with a loaded boot.
Cactus gets the double arm DDT, Dreamer kicks out. Raven gets a microphone, and orders Cactus to finish Dreamer off once and for all. Raven keeps angrily ordering Cactus to finish Dreamer off. Raven talks on the microphone in a soft voice, telling Cactus that he's there for him. Raven coaches Cactus to use the chair, but Dreamer beats him to it. Dreamer DDT's Cactus on the steel chair.
Dreamer pins Cactus for the win.
Raven drops Dreamer with a DDT. Blood all over the place.
This Tommy Dreamer promo they keep cutting into this match is god awful. Almost hard to watch after seeing so much Cactus and Austin in ECW recently.
That's where they end this segment, but what they didn't show was Terry Funk coming back out with a flaming branding iron. Funk attacked Raven and Cactus with the flaming branding iron until Cactus brought out a chair wrapped in a burning towel. The towel came unraveled from the chair, and badly burned Terry Funk's arm. Funk instinctively flung the burning towel out into the crowd, burning a couple of the fans. Just as the towel flew into the crowd, the lights went out in the Arena as part of the angle with Dreamer and Raven. As the lights were out, the Arena filled with smoke. The fans panicked, and a near riot broke out. The lights came back on with Dreamer crucified with ropes up near the balcony of the ECW Arena.
I wonder if the footage to all of this exists? They didn't show any of it here.
10/10
Love everything about this. Number one, Foley's incredible promo with the always hilarious "Movies for Guys Who Love Movies" line. Number two, Foley trying not to give the fans their moneys worth during the actual match was pretty damn hilarious. He was just always rubbing WCW in the fans faces, and it worked to draw him a bit of heat. This was just months after WCW raided ECW for their best workers, so there was quite a bit of substance to this storyline. Then there was Raven playing the mind games with Cactus during the end of the match. Really, really, really like the way they are using Raven here as this manipulative psychological zen master. Raven coaching Cactus to use the chair on Tommy was just really awesome. Anybody that is a big fan of the Raven character, or anyone that has salivated at the thought of a storyline with Foley and Raven working together needs to track this segment down. It's everything you thought it could be. Raven's feud with Dreamer really hit the next level after "The Chair Shot Heard Round The World". What a great feud. Absolutely one of the best ever.
We just now get the White Zombie intro highlight video. Pretty late into the show to be giving us this, but it's still fucking awesome. Love the song.
Joey Styles says we are just days away from November to Remember. He says that the show will be a sell out. Styles goes over the card with the Funk/Dreamer vs Raven/Cactus dream match. Sandman & Scorpio vs Public Enemy for the Tag & TV belts, with the man that gets the pin getting a shot at Mikey Whipreck's ECW World title that same night.
Enter Sandman vhs commercial.
Hardcore Hotline commercial. They don't give any details about what they talk about, just the same old "1.99 a minute, must be 18" spiel.
Lance Wright EC F'N W t-shirt commercial.
We cut to the Dudley Clan outside somewhere. Dances With Dudley teaches Buh Buh how do juggle. Buh Buh can't say his name because of his speech impediment. They are going for comedy here, but it's just not funny. Just corny.
Pulp Fiction Promos
Konnan and Rey Mysterio kick it off. Konnan talks about how much of a draw he is in Mexico. Konnan says he's just asking for once chance to be a part of team extreme.
Cactus talks about how he broke Tommy's nose in their match, just the same way Vader did to him in WCW. Cactus says that all of the things he has went through will be the same things that will happen to Tommy.
Bill Alphonso says he's going to beat the crap out of Todd Gordon.
More Dudley goofiness. Big Dick hits Buh Buh in the back, and all of a sudden he can speak just fine.
The Eliminators aren't scared of the Pit Bulls. Ok.
These promos just show one character after another. Bill Alphonso says ECW hates him, and he hates ECW. They show Dreamer in the locker room all bloody with The Pit Bulls and Taz in a "break the fourth wall" type of scene where they run the camera man off asking for privacy.
They show Francine and Beulah, and a brief clip of Austin's "Monday Nyquill" promo brings it all to an end.
Gangstas Paradise vhs commercial. What more can I say about this that I haven't said in the 1,000 times that it's been played in these past 4 reviews?
Hardcore Hotline commercial again.
Oh god, here we go with Lance Wright's "Hype Central" segment. He talks about the upcoming Todd Gordon vs Bill Alphonso match, saying that Beulah will be the special guest referee, and that he is hyped up about it.
Old school 1995 computer graphics flash across the screen showing upcoming dates as Mad Season's "I Don't Know Anything" plays on in the background.
La Parka & Psicosis vs. Rey Mysterio Jr & Konnan
I honestly did not know that La Parka wrestled in ECW prior to getting my hands on this video a few months back. This is just one of those matches that you just never heard about in ECW.
Mysterio and Psicosis start it off. Really fast chain sequence with Rey moving at the speed of light here. Rey hits Psicosis with a drop toe hold that sends him to the floor on the outside. Rey leaps off of the top rope down onto Psicosis with a hurricanrana.
Aw shit, this match is clipped. That sucks. I wanted to see the whole thing.
They show La Parka working Rey over until Konnan comes in. Konnan comes in, and looks better than I think I've ever seen the dude wrestle. He gets both Psicosis and La Parka with a simultaneous maneuver that I can't quite explain. Konnan gets Psicosis with a Crucifix Sit out Powerbomb, and throws La Parka around like a ragdoll with a series of German Suplexes.
Konnan lifts Psicosis up on his shoulders. Rey leaps off of the top rope, and pulls Psicosis down to the mats with a Hurricanrana. Nice spot. Mysterio hits La Parka with a nice Somersault Suicida. Psicosis and La Parka attempt a double Tope, but Konnan and Rey hit them with chairs on their way out. Konnan and Rey hit Psicosis and La Parka with Tope's of thier own.
Whoa....
Psicosis and La Parka are counted out!?!?!?
WFT!?!:
:
I thought this was ECW?(*Randy Marsh voice*)
7/10
Well, that was fucking stupid. Some of the fans in the crowd chant bullshit. This match is hard to grade because it wasn't shown in it's entirety, but what they did show was pretty damn good. Konnan even looked good if you can believe that shit. He landed some nice moves. There was just a lot of action in the match, and action is good. I liked what I saw. Too bad they didn't show the entire match.
We cut back to the graphics flasing upcoming show dates on the screen as Mad Season's "I Don't Know Anything" plays on in the background. They advertise a show for Thanksgiving night called Ultimate Jeopardy, but that show was cancelled. I don't know why, but I do know the show was cancelled.
Gangstas Paradise vhs commercial. Man they need to throw some different ones in there every once and a while just to keep it fresh.
Joey Styles gives one final plug for November to Remember and we get a full Guns N Roses "November Rain" video.
My words can not describe how awesome this video is. Luckily, I was able to find this on Youtube. I'll say this right now, these videos were the best things ECW did. They made a lot of them through their existance, and they were my personal favorite thing to ever come out of the company.
Keep in mind this is November 1995, just a couple of weeks after WCW did a dungeon of doom monster truck and mummy freak show Halloween Havoc, and WWF was still doing trash men, clowns, race car drivers, and yes, even evil school teachers. ECW was ahead of it's time in 1995 in my opinion.
Overall Show Rating: 9.5/10
Mick Foley was absolutely brilliant in this show. Loved everything about his character at this time in ECW. I got some really good laughs out of him in this show. The Raven interaction with him was really interesting as well. The Lucha match was clipped all to hell, but it was fun while it lasted. This was just a really good show. The music video at the end recapping all of the storylines that have been developing throughout the last year leading up to the big show was very nice. I loved it. This was a great ECW show.
Re: American Hardcore Theater: ECW's Real History
---
Extreme Championship Wrestling
November To Remember III
November, 18th 1995
ECW Arena
Philadelphia, PA
Well, here we are. The legendary November To Remember 95 ECW supercard. I've seen a match or two from this show, and I've read over the results before, but it's never really clicked just how much of a landmark show this is, not only for ECW, but for professional wrestling altogether.
It's been a real pleasure to watch through these ECW 1995 tapes. The promotion gradually evolved through the year into a damn beast, and every show, every storyline, every character all built up to this one show. The four episodes of Hardcore TV that proceeded this show have me pretty hyped to finally sit down and watch through the whole thing. The November Rain video at the end of the last show was just a spectacular piece that highlighted pretty much the entire year of 1995 for ECW. Before we dig in to this 4 hour wrestling mega-slam of a show, lets briefly go over the storylines that led up to this pivotal event.
First and foremost the main storyline running into this show started when Shane Douglas was screwed out of the ECW World title by Woman and The Sandman in the spring. Douglas brought in Pennsylvania State Athletic Commission referee Bill Alphonso. Alphonso tried to take the hardcore out of ECW, and he got under the skin of the fans by helping a few of the heels along the way. Shane Douglas was "Fired" by Todd Gordon, but Alphonso informed him that he was not an ECW employee, and wouldn't be going anywhere. Bill Alphonso drew tremendous heat from the ECW fans by wreaking havoc on the promotion throughout the year, making life a living hell for ECW commissioner Todd Gordon. Gordon and Alphonso would slug it out in a highly anticipated match(7 months in the making) with Beulah as special guest referee. Why? Because she's smoking hot. That's why.
Taz was repackaged from "The Tasmaniac" into a sawed off "Third Stiener Brother" type of shoot wrestler in the spring of 95. Just weeks after his repackaging, Taz suffered a legitimate neck injury during a tag match. Taz would make various non wrestling appearances throughout the rest of the year, and was given the role of special guest referee for a match on tonight's show.
Tommy Dreamer's feud with Stevie Richards from late 94 boiled over into 1995, and took an interesting twist in January when Stevie brought in Raven. Raven was a kid who was friends with Tommy Dreamer in summer camp when they were kids. Dreamer dropped Raven like a bad habbit to be closer to the "Cool Kids", essentially turning his back on Raven, who was an ugly snot nosed nerd. Throughout the year Raven has put together various factions of underlings to throw at Dreamer. First it was jobbers Tony Stetson and Johnny Hotbody, who Dreamer destroyed in a "Generation X Gauntlet Match" in March. Later it was the Pit Bulls for a brief period, then it was the fumbling Dudley family. After the Gen X Guantlet match, Raven handcuffed Dreamer to the ropes, and busted him open like a stuck pig. Raven brought in another character from their past later on in the year. Beulah Mcgillicutty was a girl that Dreamer abandoned in Summer camp in order to hang with the cooler clique. Beulah was a fat zit faced slob in Summer camp who grew up to be a penthouse playmate, and had been brought to ECW by Raven to get revenge on Dreamer. Beulah cost Dreamer a match against Raven, and was given a receipt on the very next ECW show when Dreamer gave her the infamous pantyshot piledriver. The Raven character was built up as a ruthless, vicious heel that always managed to get the upper hand on Dreamer with cowardly tactics, not because he was scared, but because he was smart enough to get others to do his work for him via "Mind Games". Raven turned the "Chicken Shit Heel" psychology upside down in ECW in 1995. Dreamer got some help during the Summer from Luna Vachon. Luna helped Dreamer finally get his hands on Dreamer at the Heatwave 95 show when Tommy cornered Raven in a steel cage and delivered "The Chair Shot Heard 'Round The World". Raven got back at Dreamer at the next show by getting inside the head of Dreamer's good friend, ECW fan favorite, and highly gullible, mentally unstable Cactus Jack.
Cactus Jack turned on Dreamer in a six man tag match to side with Raven. Raven had convinced Cactus to denounce all Hardcore Wrestling, and this turned into a storyline all in itself. Cactus blamed the fans for ending Ray Stephens and Dynamite Kid's careers early with their blood thirst. He vowed to punish them by not giving them their moneys worth in his performances. Cactus took it even further by turning into a WCW mark, just months after WCW had "raided" ECW of their finest wrestlers. Tommy Dreamer brought in Terry Funk to help drag the hardcore back out of Cactus, and an all star tag team main event was set up for this show between Tommy & Funk vs Raven & Cactus. Just stop and think about that for a second. Tommy Dreamer and Terry Funk against Raven and Cactus Jack. What a fucking dream match. Jesus.
And then there was Mikey Whipreck. ECW did nothing with Whipreck until the fall when he was suddenly thrust into a feud with Heavyweight Champ The Sandman(with Woman). Whipreck won a battle royal to earn a shot at the belt. Whipreck had a brutal series of matches against The Sandman. Whipreck got closer and closer to beating the Sandman, but lost the first couple of matches. Whipreck finally got a pin over The Sandman in the "Gangstas Paradise" six man steel cage match. Whipreck finally won the strap with a little help from Steve Austin. Austin suffered a few injuries while in WCW in early 1995. While out, Austin was fired over the phone. Steve Austin was brought to ECW, and immediately thrust into the World Title picture. Austin would come out multiple times insulting both Whipreck and Sandman before their matches. Austin carried Woman out of the Arena on his shoulder prior to the Sandman's ladder match agianst Mikey. Without Woman in the Arena, Whipreck was finally able to upset The Sandman and win the strap. Sandman went on a rampage after losing his belt, interfering in matches caning everyone down. Sandman helped 2 Cold Scorpio win a match against Rocco Rock of Public Enemy where both the TV and Tag titles were on the line during his drunken, frustrated rampage. Scorpio offered one of the belts to Sandman, and he accepted. Sandman and Scorpio are set to face Public Enemy tonight with all titles on the line, and the man that gets the pinfall earns a shot at Mikey later on in the evening.
Last but not least was the feud going on between Rey Mysterio and Psycosis. The two men had two matches with each other in ECW up to this point, with their 2/3 falls match being the better of the two(the match that appears in the extras of "The Rise and Fall of ECW"). The two young luchadores were set to complete the trilogy tonight when they face off in a Mexican Death match on this show.
You got all that?
Good.
Now lets get on with the show.
Don E. Allen vs The Broad Street Bully
Don E. and the Bully circle each other as the crowd gives them both shit. Two small jobber guys. Buh Buh Ray Dudley is brought out to do the opening ceremonies. Buh Buh comes out with his Dudley brothers, dressed in a white tux.
The crowd is giving Buh Buh quite a bit of love. He talks just fine for a minute telling everybody that he's no longer a stuttering baffoon. He talks just fine up until the "Lets Get Ready To Rumble" line, then he starts stuttering "RU-RU-RU-RU".
He can't say Rumble. He says fuck it, and starts beating the shit out of Don E. and The Bully.
Buh Buh Bombs on both jobbers. Buh Buh pins The Bully. Sure, why the hell not?
The crowd starts chanting "WHATS! YOUR! NAME!".
Buh Buh is over now.
5.8/10
Pretty cool introduction segment. Nothing special, but nothing terrible here either. It's pretty cool to see Buh Buh here just beginning to get over with the fans considering how the rest of his career would play out. Looking at him here it's hard to believe he would go on to become the top heel in ECW, a big part of the epic TLC series of tag team matches in the WWF, including the epic on perhaps the greatest Wrestlemania of all time(X-7), not to mention his entertaining "Bully Ray" run in TNA right now. This was where he started. The humble beginnings of Bully Ray. Who'da thunk it?
After the match Paul Heyman is shown in the ring asking for the lights to be dimmed. The lights go out, and when they come back on Sabu is standing in the ring. The fans go crazy. Heyman extends his hand towards Sabu for a handshake, and Sabu hesitates for a brief moment. They shake hands and the crowd gets louder.
This is Sabu's return to ECW after his falling out with Heyman over the Three Way Dance show that took place earlier in 1995. Sabu had already made commitments to Japan, and was unable to make the Three Way Dance show, which was heavily promoted by ECW as one of their biggest shows up to that point. Heyman turned the fans against Sabu in a vehement tirade prior to the Three Way Dance show before firing him. Sabu would wrestle in WCW for a short period of time before making his way back to ECW here. So this is a pretty big deal at the time. ECW had been losing a lot of guys to WCW and WWF, and for Sabu to come back was pretty huge for ECW fans at this time. Seeing the looks on the faces of the fans when they turn the lights back on is excellent. Pretty awesome little emotional ECW moment when Sabu and Heyman shake hands.
Konnan vs Jason Knight(With Special Guest Referee Taz)
Konnan comes out with some really goofy looking gear and a strange looking mask on.
Taz makes his way to the ring wearing referee pinstripes. Taz says that he was not given clearance by ECW to wrestle because he was an insurance risk. Jason interrupts Taz, and tells him he's tired of listening to Taz's mouth. Jason taunts Taz, slapping him on his shoulder. Taz tells him to get his fucking hands off of him. Jason continues taunting Taz.
Taz asks both of the competitors if they are ready to go before busting Jason over the head with a punch. Taz orders for the bell, and Konnan drops Jason on his head with a nasty looking Crucifix Powerbomb. Konnan pins Jason after about 10 seconds.
3/10
There is just nothing here worthy of a high rating. This was pretty much just Taz blowing off his little feud with Jason without actually wrestling. Taz was feuding with Jason during most of his time out of the ring due to his neck injury. Overall I just think the show could have done without this segment. Nobody cared about Jason, and by the end of this show nobody even remembered that Taz had a feud with the guy.
Stevie Richards vs El Puerto Ricano
Stevie Richards comes out, and fucks around with the fans on the front row. He walks up to a fat guy with blue hair and black makeup around his eyes. The Blue Meanie makes his ECW debut by giving Stevie a present.
Stevie opens up the present, and it's a......Flock of Seagulls t-shirt.:rofl:
Stevie loves it. He tells the Meanie to jump over the railing. Stevie gives the Meanie a big hug. Joey says "Get the Flock out of here will ya'".
:
Ricano hits Stevie with a surprise suicide plancha. Ricano lands a really nice springboard moonsault off of the top rope. He lands a missile dropkick on Stevie, and then hits the Meanie with a really good looking plancha through the ropes. Ricano goes up top to hit Stevie again, but Stevie hits him on the way down with his kick.
Richards gets a powerbomb before dropping him across the ropes with a vertical suplex. Another powerbomb. The Blue Meanie comes in. Meanie does a moonsault off of the top, but Ricano moves out of the way. Stevie gets mad, and rolls Meanie out of the ring. Ricano with a rollup for 2. Stevie ko's Ricano with a Superkick for the 1, 2, 3 after about 8 minutes.
Stevie drags the Meanie to the back by the hair.
6.6/10
This was close to being good. Ricano looks a lot better than any jobber has any right to be. He did some pretty good looking moves in this match, and kept the pace moving quickly. Some weird stuff with the Meanie, but I liked what it did for Richards character. He was just a goofball lackey, who now apparently has a lackey of his own. A lackey with a lackey. Make sense? Didn't think so.
The Pitbulls vs The Eliminators
The Eliminators, who are my #2 all time favorite tag team, are just in a really weird phase here. They are very young and green. Saturn has long hair. Kronus is rather chunky. They are wearing these weird looking LOD knock-off shoulder pads. They haven't appeared in ECW much at all up to this point. They were tossed around by the Stieners, and traded jabs with the Pit Bulls in promos on Hardcore TV up to this show. Not much has been invested in this feud. Jason was the Pit Bulls manager earlier in the year, but he sold their contracts to Raven. Jason tried to get the Pit Bulls to take him back, but they turned him down in favor of their "Beast Master" Francine. Jason hit Francine with a kick, but before the Pit Bulls could destory him, they were attacked by Jason's newest clients, The Eliminators.
Something interesting about the Pitbulls that was going on at this time was a serious investigation by DEA over them selling steroids and marijuana. They were busted by an undercover officer, and were awaiting the case to be brought up to trial for most of the time they were in ECW. By the time the case finally made it to court, where they were convicted, Heyman pretty much stopped using them outside of a few appearances here and there.
Francine in this leather outfit is just such a beautiful sight. Good god almighty.
Pretty awesome staredown. These are four pretty tough dudes in the ring right here. This ought to be good.
Pitbull 1 and Saturn start it off. Saturn slams and punches on Pitbull 1 for a while. Pitbull 1 no sells Saturn's offense, and takes the momentum of the match. Pitbull 1 does his martial arts kick, and tags out to Pitbull 2. The Pitbulls execute a swell looking tandem maneuver where Pitbull 1 hits a drop toe hold, and Pitbull 2 flies off with an elbow drop across Saturn's back.
Saturn tags out to Kronus. Kronus and Pitbull 2 fight it out for a bit. Kronus tags Saturn back in. Saturn kicks Pitbull 2 out of the ring to the apron, and does one of those Chris Jericho springboard moves out of the ring to the apron. Pitbull 2 is knocked off the apron. Saturn gets back into the ring, and springboards off of Kronus' hands for a moonsault over the top rope down onto Pitbull 2. Pretty awesome looking move.
The Eliminators work together to beat on Pitbull 2 in the ring. Kronus lands a somersault legdrop onto Pitbull 2. Kronus with a nice belly to back suplex. Kronus opts to keep beating on Pitbull 2 rather than go for the pinfall. Jason takes a cheap shot at Pitbull 2. Pitbull 2 misses a splash, and goes over to the outside. Pitbull 2 has a pretty nasty cut on his elbow from the fall.
Saturn with his elbow drop, one of the best in the game. Joey Styles gives us an "OOOHHH YEAH!". Nice.
:
The Eliminators isolate Pitbull 2 to control the momentum of the match. Saturn sets Pitbull 2 on the top rope, and goes for a move, but gets Superbombed off the top. Kronus distracts the ref, and Jason comes in for a legdrop on Pitbull 2.
Pitbull 2 gets the hot tag to Pitbull 1, and he cleans house.
All four men enter the ring and all hell breaks loose. Saturn gets a nice Tiger Bomb on Pitbull 2, but Pitbull 1 breaks up the pinfall. Pitbull 2 lifts Kronus up onto his shoulders, and Pitbull 1 does a flying clothesline to take him over the top rope. Pitbull 1 gets a guillatine on Kronus for the sure pin, but Jason sticks his nose in the match again.
Pitbulls drop Jason with a slam. The Eliminators blindside the Pitbulls. Pitbulls overwhelm them, and Superbomb Kronus for the win.
11:10 is the official time. Jason tackles Francine, and forces himself onto her. The Pitbulls get their hands on Jason, and nail him in the face with a chair.
The Eliminators attack the Pit Bulls with chairs.
Total Elimination on both Pit Bulls before the Eliminators make their exit.
Oh man, Francine's ass in this outfit HAS TO BE SEEN!
8/10
That was a fun tag team match. Hard to really find anything wrong with it. It was a much better match than I had anticipated to be honest. I wasn't expecting much. Both teams worked together really well, and it was solidly booked. The Pitbulls remained strong looking, but the Eliminators showcased some good looking moves, and made a splash with the attack at the end. The Total Elimination move is just about as devastating of a tag team move there is. I love it. This was a solid tag team match, and Francine really makes this worth tracking down to see it at least once in your lifetime. You can thank me later.
Mexican Death Match: Rey Misterio Jr. vs Psycosis
Mexican Death Match rules are basically a 10 count that the wrestler has to beat after each pinfall or submission.
Psicosis comes out first, and the crowd gives him a nice "RUDO! RUDO!" chant. Rudo is the spanish term for heel(Technicos are the faces).
Rey Mysterio comes out next to Metallica's "Sad But True".
What a great entrance tune for him. Much better than the "Booyaka" or whatever it is that he comes out to these days.
Sign Guy holds up a sign on the front row that says "TBS: The Cartoon Network"
:
Joel Gertner does Spanish introductions. Gertner is fluent in Spanish, and rolls his R's nicely here.
The crowd is hyped up for this match. They have an "E! C! DUB!" chant going before the bell even rings. The bell rings, and they go at each other with sick speed. Unbelievable little exchange here where they move so fast it's almost hard for your eyes to follow. Rey leaps off of the top rope with a front flip into a hurricanrana for the first pinfall like 20 seconds into the match.
Psicosis is up at 5. Mysterio hurricanranas Psicosis out of the ring, and rearranges the guardrail. Psicosis whips Mysterio into the railing. Mysterio tries to spring off of the rail, but he slips and falls down. Psicosis with a chair shot, and back into the ring they go. Psicosis with a missile dropkick and a moonsault for a pinfall.
Mysterio favors his leg, and struggles to get up. Mysterio barely gets up at 9. Psicosis begins working Rey over with various slams. Psicosis just slams the shit out of Rey with modified powerbombs for another pinfall. Rey struggles up to his knees at 9. Psicosis continues to beat the shit out of Rey. Psicosis slams Rey into the turnbuckles with an inverted powerslam before going outside for a chair. Psicosis throws the chair down without using it, and slams Rey into the corner with the same move. Psicosis does a nice "Tumbleweed" Inverted Somesault twisting legdrop for another pinfall. Mysterio barely beats the 10 count again. Psicosis with a dropkick to the chest. Psicosis continues to grind on Rey at a slow pace. Psicosis goes to the outside to get the chair. Psicosis with a DDT on the chair. Psicosis sets the chair on Rey's back, and hits him with a moonsault for another 3 count.
Rey clutches his back, and struggles to get up again. Rey just barely manages to beat the count again, getting up at 9. Psicosis hits Rey with a dropkick to the knee before tossing the chair into his mid section. Psicosis goes up top for another moonsault, but Rey props the chair up on his knees. Psicosis hits the chair. Rey gets up and hits Psicosis with the chair. Pretty good psychology here with Rey playing possum and milking the 10 counts, letting Psicosis wear himself out. Now Rey has his way with Psicosis, knocking him out of the ring. Rey knocks Psicosis out into the crowd with a crossbody press. Rey goes back up to the apron, and does a fucking bad ass moonsault plancha off the top into the crowd.
Rey hits Psicosis across the back with a chair. Psicosis retreats through the crowd as Rey follows him. They head towards the front door and back to the ringside area. Rey hits him with a chair shot to the face before knocking him back over the railing towards the ring. Rey hits Psicosis with the chair again before knocking him back over the rail into the crowd. Rey beats Psicosis around the bleechers up to the soundstage/Eagles Nest balcony area. Rey hits Psicosis in the face with the chair again. Rey climbs up the balcony, and leaps off onto Psicosis with a hurricanrana for a 3 count.
Rey goes back to the ring. Psicosis almost gets up at 5, but he stumbles back down to the floor. Rey wins a fan-fucking-tastic match.
Jason comes out. Jason tells Rey about how Konnan attacked him earlier in the evening. Jason compliments Rey's match. Jason asks to be Rey's manager. Rey turns Jason down. Jason calls Rey a little bitch, and asks what his problem is. Rey drops Jason. Out come the Eliminators.
Eliminators beat the shit out of Rey Mysterio until all of a sudden.......
911!
The Eliminators attack 911. Rey flies halfway across the ring to the top of Kronus' shoulders for a Hurricanrana. 911 gives the Eliminators a nasty double chokeslam. Rey jumps up on top of 911's shoulders and the crowd goes crazy.
9.6/10
First of all what a great match. Rey and Psicosis put on a classic. It wasn't perfect, and I don't think it was as good as thier 2/3 Falls Match that took place in October of 95, but it was a damn fine match. Arguably one of the best in ECW history. The segment at the end bumped it up a bit. 911 is just awesome, and I really like him teaming up with Rey. They made a great pair for some reason. Really everything was here for this match. The action, the selling, the psychology all top notch. Just a couple of awkward moments in the match that keep it from getting a 10.
ECW Tag/TV Championship Match: Sandman and 2 Cold Scorpio (ch) vs The Public Enemy
We get a big long drawn out entrance from Sandman, Scorpio and Woman. No Metallica this time, Scorpio's "Whoop There It Is" music plays on for what seems like an eternity.
PE comes out, and all of the arms in the Arena start waiving back and forth. We are going through the introductions for all of the wrestlers, and I'm just now realizing that the usual ECW ring announcer, the one that has been doing it since the first shows I reviewed from 1992, Bob Artese, is nowhere to be found for the first time. Joel Gertner is doing all of the ring announcing for some reason. Hmm. Interesting.
Something I've realized about 2 Cold Scorpio during the introductions that I kind of like. Scorpio is just always cracking smiles like he's just having a hard time keeping from busting out laughing. He just usually always has this look on his face like he's just overwhelmed by the goofiness of what is going on around him, and he's fighting off laughter. I don't know if that makes any sense, probably not.
:
The match gets started, and the crowd starts a "PLEASE DON'T GO!" chant. By this time it was obvious to everyone that Public Enemy were in their final days in ECW. They would go on to wrestle a dark match at Survivor Series against the Smoking Gunns just a few days after this event. Eventually they would sign with WCW in early 96.
2 Cold Scorpio challenges Rocco Rock to a dance off. Oh my.
Scorpio and Rocco Rock have a dance off. They dance to this song:
This is actually kind of funny. The Sandman starts dancing, and the Arena goes crazy. Pretty funny stuff. The crowd starts chanting for Woman to dance, and she does a little jiggle. Totally out of character for her, but ah why not? Cute little moment where everyone just kind of broke character a little bit to have some fun with the crowd and each other. A bit on the corny side, but yeah.
PE double team the Sandman and Scorpio, running them out of the ring. They signal to the soundman to hit their music again, and start dancing and celebrating with the crowd as they all wave their hands back and forth to the music.
Quote:
Now somehow I just can't imagine the Public Enemy wrestling anywhere else but here in ECW.

-Joey Styles
Rock and Grunge continue to celebrate along with the crowd as if this were their last show. Sandman and Rocco Rock finally get this thing started after all of the malarkey. Johnny Grunge hiptosses Sandman over the top to the outside. All hell breaks loose. All four men grab steel chairs, and go after each other in the ring. Quite a chaotic little moment there. Scorpio and Johnny Grunge brawl up towards the entrance area and back down to the ring. Rocco Rock hits The Sandman with a frying pan on the outside of the ring. Rocco Rock hits The Sandman with a pumpkin pie. :
:
Just a wild brawl here with Johnny Grunge a bloody mess. Woman helps The Sandman recover, and pushes him back into the ring. They gradually go back into their positions to make this a traditional tag match. Rocco Rock hits Sandman with a flying headscissors and a tilt a whirl snap mare. Johnny Grunge is bleeding very badly.
Scorpio gets tagged in. Scorpio works Rocco Rock over in the ring until he misses a standing dropkick. Rock and Scorpio go through a pretty good little sequence where Rock hits a springboard moonsault off of the second ropes to land on his feet. Scorpio lands a Thrust Kick and a Double Underhook Powerbomb. Grunge breaks up the pinfall multiple times. Scorpio tries a backflip splash, but Rocco Rock gets the knees up. Scorpio prevents Rocco from tagging out, and gets a tag to Sandman. Sandman comes in and beats on Rocco Rock until Johnny Grunge runs in. Woman hits Rocco Rock with the Cane.
Sandman and Johnny Grunge fight to the outside. Woman hits Rocko again. Grunge sets up a table on the outside. Grunge backdrops Sandman onto the table, but it doesn't break. Sandman reverses a suplex to put Grunge through the table face first. Rocco Rock does a slingshot somersault plancha over the top onto the Sandman. Rocco Rock leaps up onto Sandmans shoulders in the ring, and lands a pretty damn good looking hurricanrana. Scorpio lands his moonsault off the top rope and a spinning heel kick. Grunge holds Scorpio up for Rocko to hit his Drive By somersault senton, but Scorpio moves out of the way. Rocko hits Grunge, and the Sandman falls on top of him for the pinfall.
Sandman and Scorpio retain the tag titles, and the Sandman earns a shot at Whipreck's world strap later on in the evening. The Sandman lays down and out on the canvas until Scorpio revives him by pouring beer into his mouth. The Sandman gets up dancing like the corpse in Weekend at Bernies.:rofl: Scorpio and Sandman hug it out, and make their exit.
6.4/10
Man this thing is just sloppy as hell. No getting around that. It had some goofy moments altogether, and it had some cool moments too. Public Enemy used a lot of moves here in these ECW '95 shows that I didn't really know they could do. There just wasn't really any feeling to this match. Scorpio phoned it in, and the Sandman was...well, The Sandman. With that said it wasn't like this was just a terrible, unwatchable segment. Just didn't have enough going for it to get any higher of a rating.
Bill Alphonso vs Todd Gordon(With special guest referee Beulah Mcgillicutty)
Prior to the match we get a pretty nice recap video of this entire storyline. Pretty much everything that I wrote about in the intro shown in video form.
Beulah comes out looking smoking hot as usual. This woman is a 10/10. One of the hottest women in wrestling history.
Todd Gordon comes out with taped fists. Gordon high fives the fans in the front row when all of a sudden Bill Alphonso hits him from behind. Alphonso beats the shit out of Todd Gordon in the front row. Beulah screams at Fonzie to bring it to the ring, and Fonzie gets up in her face. Bill Alphonso is really on fire here with this performance. The way he was hitting Todd Gordon and the way he was just acting is both hilarious and awesome.
Oh lord, Fonzie floors Beulah with a clothesline.
: It's not funny, but damn. This dude is just such a fucking sleezeball it is hilarious to me. Fonzie is perfect in this role.
Todd Gordon starts fighting with Alphonso. They trade punches for a while. Gordon drops Alphonso with punches. Fonzie gets back up and the fight is on.
This is fucking awesome.:laughy:
Todd blasts Fonzie with punches and a clothesline. Fonzie with a low blow. Fonzie starts beating the shit out of Gordon, and the fans throw trash into the ring. Gordon hits Fonzie with a cookie sheet and slams his head into a chair. Alphonso is bleeding. Gordon beats a bloodied Fonzie around the ring. Gordon busts Fonzie with a frying pan. Gordon goes for the pin, but nobody is there to count.
Taz comes out in his ref outfit. Gordon hooks the leg, and Taz counts to two. Taz pulls Todd Gordon up to his feet, and busts him in the face with a punch. Taz pulls Fonzie's body over Todd Gordon, and counts the three count for the pinfall.
Taz has turned heel. The fans are shocked.
Immediately the fans all start chanting "SABU! SABU! SABU!"
This is what Taz says:
Quote:
You can chant his fucking name all night, he ain't coming.

Not one card.

Not one letter.

Not one phone call.

Tommy Dreamer nearly gets his fingers busted off of his hand, and everybody's crying the blues over Tommy Dreamer.

Terry Funk (Censored) right here in this building, and everybody's crying the blues over the legend Terry Funk.

...And then, the almighty, your god, the king himself, Sabu, nearly gets his neck snapped in half by Chris Benoit, and everybody's PISSING AND FUCKING MOANING ABOUT FUCKING SABU!
The fans all start chanting "SABU! SABU! SABU!". Taz asks them:
Quote:
What about ME!?

WHAT ABOUT TAZ?!

Yeah, fuck Taz right? No, FUCK YOU!

Ok?

...And then my buddy Paul Heyman. My buddy Paul Heyman.

"Hey Taz, take your time brother. Don't worry, you'll get back in the ring real soon. You'll get back to work real soon."

Yeah, you see Paul E. The problem right here, my father ain't no fat fucking jew lawyer that paid my way through life!

I got to pay my fucking bills.

Who cares about my family?

Who cares about my house?

Who cares about my daughter?

I'll tell you who cares about me, and that's Bill Alphonso.

Bill Alphonso wants to put food on my table.

Bill Alphonso wants to put money in my pocket.
The fans start chanting "SUCK! HIS! DICK!"
Quote:
The way I see it, you people don't care about me. You don't care about Bill Alphonso. Well we don't give a flying fuck about you!
That my friends is a heel turn. Pretty deep shit.
Taz threatens the fans in the front row as they taunt him. Taz challenges the fans to come into the ring. Taz lays down on his back, and calls out the fans. Pretty good heat.
10/10
The way the storyline got to this point just made this the perfect segment. Loved Taz's promo. One of the most underrated guys on the microphone of all time in my humble opinion. The match with Alphonso and Gordon was fantastic. A lot of fun. Watching this segment on it's own just wouldn't do it one ounce of justice. You really have to understand this storyline to really get why I'm giving this a 10. Turning Taz heel to partner with Bill Alphonso was just brilliant. Taz is about to go through a fucking tear through the ECW over the next year and a half. This moment right here was the beginning of perhaps my favorite pro wrestling character of all time. I'm really going to enjoy reviewing these next couple of shows just to take a closer look at his rise.
ECW World Championship: Mikey Whipwreck(C) vs Steve Austin
Alright so The Sandman earned the right to this shot earlier in the evening. Sandman poses in the entrance isle with Woman when all of a sudden Steve Austin bum rushes him from behind. Austin takes Sandman out in the isle, takes a swig of his beer, and makes his way to the ring ready for action. Austin's entrance music here is just so weird.
Sandman is taken away by medics. Austin calls out Whipreck. Mikey is in over his head. His "Loser" entrance music hits the speakers, and the champ comes out to the ring. '
Mikey's character is just a 19 year old babyface strait edge kid who is the perennial underdog. Austin tells Whipreck that he doesn't belong in the same ring or in the same building. Austin tells Whipreck that tonight for a short while, he is Eric Bischoff.
:
Austin attacks Whipreck before the introductions. Austin drops Mikey with his trademark punches and stomps.
Sign Guy in the front row holds up a sign that says:
Quote:
Austin: The Future Has Arrived
How prophetic.
Austin kicks Mikey's ass to the outside of the ring where he whips him into the steel several times before taking it back into the ring. Austin gives Whipreck a big boot and a leg drop. Mikey kicks out. The crowd goes crazy.
Austin tosses Mikey back outside, and takes off his shirt. Austin drops Mikey across the steel on the outside. Mikey gets a reversal, and whips Austin into the steel. Mikey takes to Austin with punches, dropping him to the concrete. Mikey takes Austin back into the ring. Austin lands his "Stun Gun", which was his finisher at the time, which was basically dropping the guy's neck across the ropes.
Mikey kicks out. Austin is frustrated. Mikey catches Austin with a rollup, and nearly rips the tights off of his ass in order to get the winning pinfall. Mikey gets the upset victory with a handful of tights.
Austin beats the shit out of Mikey after the match before storming off in a fit of rage.
7/10
First and foremost there was just nothing special at all about the actual match. With hindsight 20/20 this definitely seems like a big "What the FUCK!?" booking call, but at the time it kind of made sense. It was obvious that Austin was out of ECW's league, and on his way up to bigger and better things. Putting the title on him wouldn't have been a good call because he would have had to drop the belt pretty soon after this show. Behind the scenes Heyman actually did want to put the belt on him, but it was Austin's request to lose the match. Austin felt like it would have added an interesting element to this bitter character that he had become. Austin turned this loss into a reason to turn his character into a much more serious, psychotic persona. As if losing to Whipreck pushed him over the edge. Austin came back from this loss with a shaved head, and an edgier attitude. If you really think about it the booking does make sense because Austin had been out of action up to this point for 4 months with his torn tricep injury, so he lost this match due to being a bit rusty. This is just a significant match that adds to the overall greatness of this show. On it's own it was nothing special, but really this was the beginning of Austin's rise. He had finally made his return to the ring after being fired by WCW, and he was on to something with his character that would push the entire pro wrestling industry into the mainstream. The fact that all of that really kind of started here in this grungy little ole bingo hall just amuses me to no end.
Sabu vs Hack Meyers
Alright so this is Sabu's return match. Paul Heyman comes out, and brings Sabu out with an emphatic introduction. Sabu dominates Myers early on with some tame mat based moves. Myers catches Sabu with punches and gets the "SHAH!"'s going. Myers lands his finisher on Sabu, but Heyman gets his foot up on the ropes to break the pinfall. Pretty good little booking there, making Myers look as if he could have actually beat Sabu here.
Sabu lands a legdrop. Myers recovers and lands his "SHAH" punches before getting caught with a DDT from Sabu. They slow this thing down a bunch, and move along at a crawling pace. Sabu lands a dive to the outside, and whips Myers into the steel. Sabu sets up a chair, and lands his "Air Sabu". The crowd is kind of dead at this point. Sabu leaps off the top with a hurricanrana attempt, but Myers slams him with a powerbomb. Myers with a vertical suplex. Myers goes up top, but Sabu follows him up with a victory roll off the top for 2. Myers brings in a chair, and hits Sabu while he's on the top rope. Myers pulls Sabu up top, but Sabu pushes him off down onto the chair. Sabu pulls Hack to the outside with a hurricanrana.
Sabu sets him up on a table, and sets up a chair in the ring. Sabu springs off of the chair with a awesome looking somersault over the top onto Hack to put him through the table. Really good looking table spot. Sabu pushes Hack into the ring for a pinfall, but Hack kicks out. Sabu hits Hack with his Atomic Arabian Facebuster with a chair to finally put Hack away with a pinfall.
Paul Heyman helps Hack Myers get up to his feet. Sabu shakes his hand.
6.9/10
Man this wasn't really a bad match at all. Myers was undoubtedly one of the most popular guys in ECW at this time for some ungodly reason, and this is easily his absolute best match that I've seen up to this point. The table spot was fucking awesome. The match did seem to drag on at times with a real slow pace, but overall nothing really bad. Sabu did look pretty good, and they kept Myers popularity intact, possibly even elevating it a bit with the way he lost. Overall this match wasn't real bad, but it lacked any real intensity or passion from the performers. Both guys did manage to look pretty good though.
Tommy Dreamer & Terry Funk vs Raven & Cactus Jack
Dreamer and Funk coming out together here is an awesome sight. Two hardcore legends for sure. Cactus Jack comes out wearing an air brushed Dungeoun of Doom t-shirt.
::rofl::laughy: If you've been paying attention to this storyline this is just fucking brilliant. Hilarious looking shirt with Kamala, The Shark, and The Zodiac drawn on it, and the words Dungeon of Doom in a heart on the back.
Cactus taunts Terry, and wants him to come to the outside of the ring to get it started off. Raven and Cactus take the ring, and keep Dreamer and Funk out of it with kicks and punches. Funk and Dreamer retreat to the isle to discuss their strategy. Dreamer and Funk storm the ring and the fight is on. Funk vs Cactus and Dreamer vs Raven.
Wild sloppy brawl in and out of the ring. Funk hits Cactus with a chair, and throws it into the ring hitting Raven in the back of the head. Shit.
Stevie Richards comes out pushing a shopping cart with a trash can in it. Funk empties the garbage can on Raven in the ring, and beats on him with the objects that fall out of it. Street signs etc. Dreamer takes Stevie for a ride in the cart.
Dreamer gets a VCR from a ringside fan and busts Raven over the head with it. All 4 men brawl in the ring with the weapons sprawled out everywhere. Dreamer beats the shit out of Raven with various weapons. Terry Funk drops the referee for no reason.
:
Funk takes a golf club to Raven's groin. Raven is busted open bleeding. Cactus brings a chair into the ring, and beats on Dreamer with it. The men continue to brawl in the ring. The fans start chanting "E! C! FUCKING! DUB!". Nice.
They take the fight to the outside where the pace slows down tremendously. Raven is bleeding like a stuck pig. Cactus cuts Terry's arm open with a sharp object. Jeez. Cactus and Raven control the momentum of the match. Raven gives Cactus instructions. Dreamer drops Raven with a DDT, Cactus busts him with a street sign.
Cactus pulls off his Dungeon of Doom shirt to reveal another air brushed t-shirt underneath it.
OH MY GOD!
This shirt says "Forgive me Uncle Eric" on the back of it, and shows a fucking roll on the floor hilarious hand drawn picture of Bischoff's face on the front of it.:rofl:
Cactus does his WCW YMCA dance, but Dreamer hits him from behind. Dreamer beats the shit out of Cactus in the ring. Cactus and Raven regain the upper hand and go for a pinfall, but the ref is still down. Trash and weapons are scattered all over the ring. Tommy Dreamer is bleeding profusely now.
Bill Alphonso and Taz come out.
Cactus pins Funk with Alphonso doing the count. Funk kicks out at 2. Taz attempts to pin Funk, but Dreamer stops him. Taz and Dreamer stand face to face for a brief moment before Raven drops Dreamer. Taz and Fonzie leave. Dreamer drops Raven with 2 DDT's, a pildedriver on a chair. Dreamer keeps Cactus from entering the ring, and Funk pins Raven for the win.
Dreamer and Funk win after 14:36. Richards comes in and takes a stomach high superkick from Dreamer. Cactus chokes Terry Funk with a wire on the outside. Raven floors Dreamer, and drops a knee into his groin. Cactus continues to beat on Funk in the isle as Raven poses in the ring.
8/10
Pretty anticlimactic ending, and some sloppy booking going on with the Taz/Fonzie run in. Would have been better if Taz and Fonzie cost Dreamer and Funk the match, but they just came out and then left without really impacting the match at all. A lot of sloppy brawling, but it was a good sloppy brawl mainly because of the story behind it. I absolutely loved the shirts that Cactus was wearing, so that bumps the overall score of the segment up a bit for me. Not a real bad match, actually one of the better brawls I've seen so far up to this point. Four hardcore legends in a dream match that was pretty much all that one could really expect out of a match like this. It wasn't an epic or anything, but it was a fun given the background leading up to it. On it's own it probably doesn't hold up well. Especially if hardcore brawling is just not your thing.
Overall: 10/10
Man, that was one long motherfucking show. 2 discs. There is just so much that happened I don't know where to start. First of all just the all star who's who of superstars on this show. Austin, Foley, Saturn, Bully Ray, Terry Funk, Rey Mysterio, Stevie Richards, Sabu, I mean this show pretty much had it all for an ECW show. It wasn't the perfect show by any means, but this is pretty close to as good as it is going to get for ECW. It was the pinnacle of a really special time in ECW history. A time that has pretty much been forgotten about. The little window during the fall of 1995 was a really interesting period for ECW. They had some future blockbuster superstars on their roster, and they were starting to look like one of the big boys. The quality matches were there. The promos were some of the best of all time, the characters were revolutionary and way ahead of their time. I think it's safe to say that ECW was the best wrestling promotion in North America in 1995, and that this show is perhaps the best overall wrestling show of 1995. Not only did we have Austin's historic return to the ring after his 4 month layoff due to the torn bicep that got him fired from WCW, but we got a really amazing heel turn from Taz. The beginning of a long running feud with Sabu, who had finally returned after an almost year long hiatus from ECW. Such a pivotal show for ECW, and such a pivotal show for pro wrestling in general at this time. This show was a glimpse into where Pro Wrestling was headed. A glimpse into the future of sports entertainment. The way the storylines all lead up to this show really made it great to me. I would't say this was a better show than Hostile City Showdown 95, but it's definitely up there.
Re: American Hardcore Theater: ECW's Real History
---
Extreme Championship Wrestling
Hardcore TV(Episode #138)
December 12th, 1995
Alright so we're skipping through the first three episodes after November to Remember 95 because for the most part they consist of pretty much just the matches from November to Remember 95 along with a bunch of promos for their house shows at the time(including the cancelled Thanksgiving day show). There was a lot that happened at November to Remember 95. We had Austin return to the ring for the first time since being fired from WCW in a title match against ECW Champ Mikey Whipreck(I don't think I emphasized how hilarious it was the way Mikey almost pulled Austin's trunks all the way off of his ass in order to pin him, Austin's shocked reaction to the pinfall is absolutely classic). Taz turned heel by siding with the evil Bill Alphonso, Sabu returned from his nearly year long hiatus, and Dreamer & Funk defeated Raven & Cactus. Funk would "retire" on one of the episodes of Hardcore TV that followed November to Remember, so we wouldn't see him again in ECW for another year.
We didn't miss much on those three episodes of Hardcore TV. They did show a clipped fan cam match between ECW Champ Mikey Whipreck and Rey Mysterio from a house show in Jim Thorpe Pennsylvania that was very solid. The music video they put together for Terry Funk's ECW career set to "Desperado" by The Eagles was rather touching as well. Otherwise, they didn't show much of anything that we didn't already cover in the November to Remember show.
So on this episode we get Steve Austin's second(and final) ECW match as he tries to get his hands on the gold again in a three way dance with Mikey(C) and The Sandman. Other than that I'm not totally sure what to expect on this show, it's been a while since I've seen it. Lets dig in shall we?
The show opens up with Beulah saying that we will not believe what her box has in store for us tonight. Man, is she a sight for sore eyes or what?
We get the always awesome White Zombie intro. If you don't like heavy metal music or White Zombie you probably won't like this intro as much as I do, especially if you don't particularly care for ECW either. You will probably hate it in fact. I just happen to love White Zombie and ECW so this is the bee's knees to me. Sometimes it felt like maybe whoever was running ECW knew me personally somehow, because they were always playing my favorite music. That was a major part of my diehard enthusiasm for ECW through the years. The music.
Joey Styles greets us after the intro video telling us that the Heavenly Bodies will be interviewed by Beulah tonight in her "Beulah's Box" interview. The Heavenly Bodies were always pumped up by a lot of people back in the day(including the WWE) as if they were to be taken seriously, but for the life of me I could never figure out why. The Heavenly Bodies were "Jiggalo" Jimmy Del Ray and Tom Pritchard. The team was a regular act in Smoky Mountain, and had been working in USWA prior to coming to ECW here. They did have a brief run in the WWE in 1993. It is important to note that Jim Cornette's Smoky Mountain Wrestling promotion folded in November of 1995 around the time of the ECW November To Remember 95 show.
On one of the previous episodes of Hardcore TV showed fan cam footage from the Jim Thorpe show where the Heavenly Bodies helped Raven and Stevie Richards fight with Public Enemy. Public Enemy broke Stevie's arm and were attacked by The Heavenly Bodies.
Ok, we cut away to Lance Wright's "Hype Central". This was a little segment where Lance would promote the upcoming ECW live shows, giving info on the cards and scheduled appearances. Lance Wright just comes off as a total clown in these segments. They cut away to the 1995 computer graphics screens displaying info on upcoming shows as this song plays along in the background:
Pretty sweet song.
A screen pops up advertising the January 5th, 1996 House Party show. The screen says that it will be the final ECW appearance of Public Enemy as sad trumpet music plays on. :verysad:
More advertisements for the upcoming "Holiday Hell Tour". They promote a show for the Briarcliffe Athletic Assoc. Building in Glenolden, Pa. on December 28th 1995. Scheduled for the card........Steve Austin vs Hack Myers.:stalker:
Alice In Chains "Grind" plays as they run down the card with these stunning Windows 95 computer graphic screens that look like a powerpoint presentation I put together in the 8th grade.
:
Lovely music so far. I'm digging it.
The song plays on as they show an ad for "Club ECW" where you could buy tickets to the next 4 ECW Arena shows in advance.
November To Remember 95 home video commercial set to Guns N Roses "November Rain", epic fucking ECW show. Great little highlight makes me want to watch it again. What a great song.
Buh Buh Ray & DW Dudley vs. Bad Crew
Now we have a wrestling match. Alright.
These Hardcore TV shows just had a weird structure to them. It worked in these early episodes because you just didn't know what you were going to get from week to week, but they tried to carry this format over into the TNN years and it just failed.
Bad Crew and Damien Fucking Cane. This is a dude you will hear me bitch about in quite a few of these upcoming reviews. Damien Cane is a guy that I have no clue where he came from. Heyman brought the dude in with a weird looking valet, and a tag team(Bad Crew) that looks strait out of 1989. The whole getup wreaks of Road Warriors/Mad Maxx/Beyond Thunderdome type shit to me for some odd reason. The guy isn't all that bad on the microphone, but he just doesn't really fit in ECW. The whole act just comes off as very dated compared to what else is going on at the moment in ECW. Overall the whole Damien Cane ordeal in ECW was just bad wrestlecrap that has aged terribly today. No way around it.
The Dudleyz come out acting like total clowns as their AC/DC "Highway To Hell" music plays on. They are actually kind of funny here. Almost. Still no D-Von, just a bunch of no namers. The crowd starts chanting "WHATS YOUR NAME!?" when Buh Buh gets the microphone.
Buh Buh stutters his name, and Damien makes fun of him. Damien calls Buh Buh a retard before asking him if there was anything else he can do other than stutter like an idiot. The Dudley's start kicking ass!
Dudleyz beat the shit out of Bad Crew as the crowd stutters Buh Buh's name out loud in unison.
:
DW(Dances With) Dudley is perhaps the most comical of the group in this stage. He's playing an Indian Dudley that speaks fluent Spanish. DW loses the momentum of the match, getting hit with Bad Crew's tandem moves. Buh Buh comes in cleaning house, landing dropkicks, and just generally kicking ass like a badass. DW regains the momentum of the match. Bad Crew keeps DW isolated to regain control.
Double clothesline on DW.
Bad Crew kind of looks like maybe Heyman's idea for a replacement for Public Enemy. Just a shot in the dark there.
The match goes to the outside and Buh Buh kicks ass with a chair. Buh Buh puts one of the Bad Crew guys into position for a powerbomb, but he struggles to lift him up until DW slaps him on the back. Buh Buh pins the Bad Crew dude after his "Buh Buh Bomb" after about 10 minutes.
4/10
This was something that could have been watched on 2X speed and you wouldn't have missed anything. Not much to write about at all except for the fact that the ECW fans had really accepted Buh Buh Ray Dudley as one of their guys at this point. You could tell they cared about him in this match. The rest of the guys they could care less about. This wasn't really a terrible match per se, hell it almost got a little bit fun, but overall there was just nothing going on here. Move along folks.
Lance Wright EC F'N W t-shirt ad. God I can't wait to see Taz dump this dude on his head in some of those later shows.
Some obscure 90's grunge song(Awesome!) plays on in the background as an advertisement comes on the screen for "Hardcore Action On The Internet" at gstand.com/ECW.
They show a brief clip of the "Beulah's Box" interview with Stevie Richards and The Heavenly Bodies. Stevie acts like a goofball.
ECW World Title Match: Sandman vs. Steve Austin vs. Mikey Whipwreck
Austin debuts with his shaved head. It's not down to the skin yet, but he's cut his golden blonde locks.
Austin and Mikey start it off just the two of them. Austin has his way with Mikey in the ring with superior technical skill and strength. Austin backs Mikey back into the corner and smacks him in the face. Mikey surprises Austin by smacking him back, and pushing him out of the corner. Austin extends his hand out of for a handshake and apologizes. Mikey shakes Austin's hand. Nice.
Mikey and Austin surprise me here with this next sequence. Pretty smooth chain wrestling sequence with some clean grappling. Mikey manages to get Austin backed into the corner. The referee calls for a break and Mikey breaks clean. Austin nods his head at Mikey. Very nice.
They tie back up with standing switch reversals, and drop toe hold counters to take it to the ground. Austin moves around pretty well on the ground like a real wrestler. Austin locks Mikey into a front facelock on the ground. Mikey gets his foot on the ropes. Austin breaks the hold and shakes Mikeys hand with a smile. I like this match a lot so far.
Austin is in fantastic shape here. You could tell he was getting ready to make another serious run.
They tie up again and Mikey locks Austin in a side headlock. Mikey hiptosses Austin to the ground in the headlock multiple times. Mikey keeps Austin grounded in the headlock. Austin rolls Mikey back to surprise him with a pinfall, but he only gets 1. Mikey tries to keep Austin on the ground in the headlock, but Austin brings it up to the feet. Austin pushes Mikey into the corner. Mikey slowly breaks the hold. Austin kind of pauses for a second.......and proceeds to beat the living hell out of Mikey in the corner.
Hard punches and kicks. He pulls him up and gives him some chops. Austin starts playing a heel role, choking Mikey on the ropes. Austin sends Mikey into the ropes. Mikey sunset flips over Austin, and tries to pull his tights for a pinfall. Austin spins out of it and starts beating the shit out of Mikey in a fit of rage.
Austin slams Mikey's head into the mat when all of a sudden.......
Enter Sandman kicks onto the sound system of the Arena. The crowd goes crazy. Sandman and Woman step out together. Sandman is wearing the tag team title and carrying a beer bottle. Woman holds the Singapore Cane.
Ah, I see that this is the show where this photo was taken:
Austin is distracted with The Sandman and Woman's entrance when Mikey blindsides him. Mikey knocks Austin out of the ring. Austin pulls Mikey out and whips him into the steel. Austin gives Mikey a piledriver on the concrete to get a great "OH MY GAWD!" out of Joey Styles. Sandman and Woman look on as Austin beats the crap out of Mikey. Austin gets in the ring waiting for The Sandman to finish his beer. Sandman just stands on the outside drinking his beer, smoking his cigarette staring up at Austin in the ring.
Oh man, Sandman gets in the ring and trades punches with Austin and it just looks fucking awesome! Sandman throws the first punch and Austin sells the hell out of it. Austin responds with one of his trademark classic haymakers, and Sandman does a likewise hell of a job of selling it. They both sell the punches beautifully before simultaneously nailing each other with punches at the same time. They both go down at the same time as Mikey climbs up onto the top rope in the ring.
The Sandman beats Austin to his feet and Mikey hits him with a Hurricanrana off of the top rope. Sandman rolls out of the ring. Mikey goes up top to do the same move on Austin, but Austin slams him down into the canvas with a sick powerbomb. Mikey kicks out of a pinfall attempt at 2 1/2. Sandman climbs back up on the apron and pulls the rope down when Mikey whips Austin into the ropes, sending him out of the ring. Sandman picks up his beer bottle and takes a drink as Austin recovers. Sandman and Austin trade chest chops when Mikey hits them with a Slingshot Somersault dive over the top rope to the outside. All 3 men get in the ring and Mikey works both Austin and Sandman over with punches. Sandman and Austin stumble around out on their feet. Mikey hits them both with a low blow, and tries a springboard cross body press on both of them. Both Austin and Sandman duck underneath. Mikey crashes into the mat. Sandman crawls out of the ring to recuperate as Austin begins working Mikey over with his "5 Moves Of Doom".
Austin drops Mikey across the ropes with his "Stun Gun" finisher that he was using at the time, and pins him. Mikey's title reign has been brought to an end. Austin gets the pinfall.
It's down to Austin and Sandman. This is a fucking great match so far.
Austin fights with Sandman on the outside, whipping him into the steel railing. Sandman clotheslines him over the rail into the crowd. Sandman and Austin fight in the crowd a bit before Sandman pulls a table into the crowd, and drops it over Austin's body as he lays on the concrete floor. Sandman tries to suplex the table down onto Austin again, but Austin hits him from behind, knocking both Sandman and the table back over the railing. Austin drops Sandman over the railing with his "Stun Gun".
Sandman recovers and hits Austin in the stomach with a chair. Both men stumble around the ringside area in pain. Sandman bodyslams Austin down onto the concrete floor. Austin pushes Sandman through the table that is propped up against the railing. Sandman crashes through the table. Austin chokes Sandman with the trim piece of the table, and whips him into the steel around the ring. Austin rolls Sandman back into the ring and continues to dominate him, dropping him with an inverted Vertical Suplex and a knee drop to the throat.
Austin gets out of the ring and grabs Sandman's beer from Woman. Sandman takes a swig of Sandman's beer and spits it in his face. Austin walks around the Sandman stomping down on him as he drinks his beer. Austin gets up in the corner of the ring just like classic WWF Stone Cold with Sandman's beer, turning the bottle upside down to empty it down his throat. Meanwhile Woman pours another beer down Sandman's throat as he lays flat on his back.
Sandman jumps up revived all of a sudden. :rofl:
The crowd goes wild.
Sandman hits Austin from behind. Sandman goes to suplex Austin, but Austin lifts Sandman up for a body slam. The referee gets bumped into and goes down. Austin pulls a set of brass knuckles out of his trunks.
Austin drops Sandman with the brass knuckles. Austin goes for the pinfall for the belt, but Sandman gets his leg up on the ropes. Austin loses it on the referee. Sandman picks up the brass knuckles and hits Austin in the back of the head. Austin goes down and Sandman pins him.
Austin gets his foot up on the ropes, but the referee doesn't see it.
:
Sandman is the new champion.
Austin loses his fucking mind on the referees on the outside of the ring as Sandman fires up a smoke and holds his belt up. Woman pours beer down Sandman's throat in celebration.
10/10
Damn.
I know I've been handing out a lot of 10/10's here lately, but I'm kind of going by different criteria than your standard wrestling review.
This very well may be the perfect ECW match.
I don't know why this doesn't top any of the lists or ever gets brought up in the discussion of great ECW matches, hell, why isn't this on any of the WWE DVD's?!
It was definitely up there as one of the best. Austin and Whipreck going 1 on 1 at the beginning was fantastic. Sandman came in and the match only got better. We got to see Stone Cold Steve Austin in this segment more so than any of his ECW appearances before this. His attitude. The way he was swigging Sandman's beer in the corner up on the ropes. Also, his wrestling style. Austin was a technical wrestler in WCW. He came to ECW and kind of incorporated that ECW brawling style into his style. The style that the Stone Cold character became known for in his epic matches with Bret Hart, Undertaker, and Dude Love. The style that played a big part in WWE overtaking WCW in the Monday Night Wars. The WWE adapted the rules to cater to that style. Suddenly we were seeing title matches where there were all of a sudden no rules(Summerslam 98), brawls all over the Arena(Over The Edge 98), and we got a really good little preview of that stuff in this match. This is easily one of the best Three way matches I've ever seen. The Psychology was there, and the performances were golden. Excellent ECW match. Actually one of the better matches in pro wrestling in 1995 really.
We cut away to the commercial for the Enter Sandman home video. That was one of the better shows for ECW in 1995, but it was nowhere near as good as Hostile City Showdown or November To Remember, two of the best wrestling shows of 1995 in my opinion.
More obscured 90's grunge that I can't even begin to think of the name of. Pretty cool music though. More ad's for upcoming shows.
Just to note that there were more commercials that were cut out of these tapes that I'm reviewing. They would have local commercials for Philly jewelry stores stuff like that. Luckily all that stuff was edited out of these tapes.
Pulp Fiction Promos
Here we go with the Pulp Fiction promos. We get an old clip of the Sandman saying "Politically Incorrect.....And damn proud of it!"
Dudley goofiness.
Beulah talks to the Heavenly Bodies. They say they met Raven at a show down in Florida and all he would talk about was "Beulah's Box". Meh.
Taz and Fonzie cut a promo. Fonzie does all the talking saying that they will bring the Hell to Holiday Hell.
More Dudley goofiness. DW sings "I Want To Wish You A Merry Christmas".
More Bill Alphonso threats with Taz standing behind him. Fonzie says he will make Todd Gordon put a rug over his bald head, and he will make Beulah wear a rag over that ugly face. :rofl: That
was
hilarious.
They show one of the Heavenly Bodies talking side by side with Beulah and I didn't even pay attention to what he was talking about. Beulah + Red Dress = Hotness!:love:
The Pitbulls cut a promo with Francine threatening The Eliminators. Francine is really young and
really
hot here.
Joey Styles ends the show plugging the upcoming Holiday Hell 95 show. Joey says that The Sandman suffered a fractured hand in his title victory, but he has already agreed to defend his belt twice at Holiday Hell, against both Cactus Jack and Steve Austin.
Overall Show Rating: 8.8/10
The centerpiece of this tape is without a doubt the incredible, highly underrated three way dance for the belt with Austin, Mikey, and Sandman putting on one of the best matches in ECW history. The match just played out beautifully. It was Stone Cold Steve Austin's final ECW show, but it was definitely the first show for Stone Cold Steve Austin. Austin would cut a promo on the next episode of Hardcore TV talking about how close he was to winning the belt, but that would be it. He wouldn't appear in any of his other scheduled matches that were continuously advertised throughout this show. He would move up to the WWE a few weeks after this match to become "The Ringmaster", with Ted Dibiase as his manager.
As for the rest of the show the music was jamming, but there wasn't much going outside of the title match. Had we gotten some worthwhile promos or another solid match the score would have been higher, but there just wasn't anything there. Overall this was a fun show to watch. A fantastic, underrated match, and just a jamming good time.
The next show we will take a look at will be the final review for 1995, Holiday Hell. I'll post a Final Thoughts on ECW 1995 along with my MVP's, and Matches of the year lists before we move on to 1996. This will be the last episode of Hardcore TV we look at for quite a while because all of my 1996 shows are the actual events that were sold on home video.
Posting Rules

You may not post new threads

You may not post replies

You may not post attachments

You may not edit your posts

---

HTML code is Off

---