Re: American Hardcore Theater: ECW's Real History
---
Extreme Championship Wrestling
Hardcore Heaven
July, 1st 1995
ECW Arena
Philadelphia, PA
So, here we are just a few weeks after the infamous E! C! DUB! chants at the 95 WWF King of the Ring. You know Heyman had the big head after that. Raven and Stevie Richards won the tag team titles from Public Enemy just a day or two prior to this show at a house show in Jim Thorpe Pennsylvania. Eddie Guerrero and Dean Malenko have been having a series of matches during this summer that have been generating a shitload of buzz among the smarkies(ended up winning fued of the year from WON for 95). At this point Guerrero and Malenko had swapped the ECW TV title around a few times, and had just finished a best of 3 falls series of matches that took place in 3 different cities over 2 days. The hottest angle's going into this show are the Shane Douglas/Bill Alphonso anti-hardcore angle, Raven's ongoing feud with Tommy Dreamer, and the East Coast vs West Coast urban feud between Public Enemy and The Gangstas.
Shane Douglas threw the NWA belt down around a year earlier proclaiming that the ECW was going to put the sport back into professional wrestling. A year later and Douglas is fed up with the hardcore trash violence that the Extreme in ECW went on to define. Douglas' frustration boiled over when he was scammed out of the ECW World Title by Woman and The Sandman. Douglas stormed out of the front door of the ECW Arena wearing a WWF Raw shirt after the loss, and the next week he brought an official from the Pennsylvania State Athletic Commission to clean up the ECW, Mr. Bill Alphonso, the man that calls it right down the middle daddy.
Alphonso was brilliant in this role. He threatened to shut ECW down, he DQ'd Dreamer for using open fists on Raven in a match, and he reversed a decision that would have awarded fan favorite Cactus Jack the ECW World Title at the last show. This angle was kind of brilliant really. Alphonso gave the heels the heat they needed to keep the heel/face psychology in place in their feuds. Raven and The Sandman were the top heels in ECW, but were cheered more than they were boo'd up until they were helped out by Alphonso at the last show. This angle really had the ECW fans stirred up, but in a way that turned traditional pro wrestling ideology on it's ear. The ECW fans were booing someone for enforcing the rules, and the heroes were the ones that broke them.
Raven and Dreamer's feud has picked up quite a bit from January of 95. Raven has crucified Dreamer and busted him open in one of the bloodiest scenes in pro wrestling history. Raven also "Broke" Tommy's fingers one by one at the last show. Dreamer has spiked Raven's girl Beulah with piledrivers at the past few shows. Luna Vachon came in to help Dreamer a few shows back, but she was viciously beaten by Raven at the last show(along with Dreamer).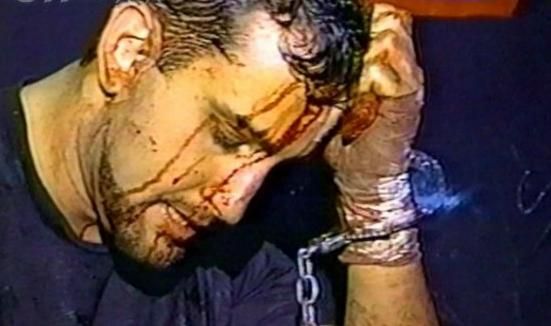 The Public Enemy vs Gangstas feud is one that perhaps hasn't aged too well. The Gangstas made their debut in ECW at the last show as two invading thugs who weren't even employed by ECW(ring any bells?). The Public Enemy were the most over act in ECW at this time believe it or not. The reason was their personality really clicked with the Philly fans. They were fun, and really violent. They won the fans over with their campy promos where they would often parody WCW. Their matches were incredibly violent, usually with multiple tables broken. This was a time when Sabu was gone as well, so they were perhaps the most hardcore act in the promotion. PE's feud with The Gangstas is one that never really produced any good or great matches, but the feud itself is wildly interesting to me. They really captured that East Coast vs West Coast hip hop rivalry that was center stage in the US at the time. It was an angle that was really well done for it's time, and light years ahead of what WCW and WWF were doing with their storylines.
The Dudley Brothers(Little Snot & Dudley Dudley) vs The Pit Bulls
This is the debut of the Dudley family in ECW. There isn't any storyline or anything, they are just brought in as a tag team of jobbers. It's not D-Von and Buh Buh Ray, it's Little Snot and Dudley Dudley. Two nobodies. Raven, Stevie Richards, Beulah and The Pit Bulls are already in the ring. The Dudley brothers are accompanied by Big Dick Dudley, who would go on to be one of the main characters in the family for years to come.
Vintage Stevie Richards here as he works the crowd while the lackluster match is going on. Some of the fans hold up a series of signs that reads "The Dancin' Stevie Fan Club".
:
Raven, Beulah and Stevie lurk the outside working the crowd until all of a sudden Stevie Richards approaches his "Fan" in the crowd. A hot young planted female by the name of Francine, who made her debut at the last show, nearly getting into a fight with Beulah. Francine was actually a trained wrestler who would go on to be perhaps the definitive valet in ECW history, even earning the nickname "The Queen of Extreme" in the later years.
The Dudley bros and The Pit Bulls carry on with their mediocre match as Richards flirted with Francine on the outside. Beulah approaches Francine as if she were jealous. Beulah and Francine grab each other's hair, and start a little catfight. The crowd loves it. Raven breaks it up, and drags both Stevie and Beulah to the back by their hair. The Pit Bulls look around wondering where Raven left off to. Pitbull #2 is hit from behind by one of the Dudley's as Pitbull #1 is distracted looking for Raven. Snot pulls Dudley's body over Pitbull #2, and the Dudley brothers get the win. The Dudleys escape with their lives.
Joey Styles does an interview with The Pitbulls after the match. They cut a horrible promo where you can barely make out what they are saying. They pretty much say that they are tired of Richards and Raven not watching their backs. They say that things are changing before storming off.
4/10
Not a good match at all. Nothing special about the overall segment either really. This was the beginning of the a face turn for the Pitbulls, who were quite over due to their muscled up appearance, and intense attitudes. The obvious question pops up from this booking though, did the Pitbulls really need Raven and Richards to beat these two clowns?
Chad Austin & The Broadstreet Bully vs Don E. Allen & Dino Sendoff
This is nothing but jobbers here. I would have to say that Don E. Allen was the definitive jobber in ECW history. I recently discovered that Don E. actually still wrestles in the Pennsylvania/Tri States independent scene.
This is real sloppy stuff here. The crowd boo's the shit out of them. Austin takes a backbody drop, and nearly botches the fall to put himself in a wheelchair. I don't know if they are trying to make it look sloppy on purpose or what, I think so. Joey Styles takes a shot at WCW.
Out comes 911.
:
Chokeslams for everybody. 911 had a good chokeslam. He was stiff as hell. The crowd loves him. Heyman comes out and the crowd starts chanting his name. Heyman holds up his fingers asking how many more chokeslams they want to see. The crowd holds up both hands, and starts chanting "WE WANT 10!".:rofl:
911 grabs Don E and Chad Austin at the same time with both hands. Heyman gets a mic and tells both men "Welcome to EC Fucking W!" before they are chokeslammed into oblivion.
7/10
Pretty funny little segment. 911 was pretty fucking awesome.
Hack Myers vs Big Val Puccio
Big Val is a massive fat guy. The crowd knows he's worthless, and they let him know about it early on. Val works the crowd for several minutes, and it's kind of funny really. He's so fat.
Val gets some punches in first, and the crowd chants "SHIT!" very loudly with each strike landed. This is hilarious.
Myers lands a few punches and the crows screams "SHAH!" with each strike. Myers grounds Val with punches and kicks as the crowd chants along. Myers gets reversed into the corner, and squashed by this huge man.
Here we go with the "YOU FAT FUCK" chants.
This crowd is all over this guy. Val works the crowd while barely doing anything to Hack Myers for several minutes. Val tries to drop an elbow on Hack, but Hack moves out of the way. Val crashes into the mat, and Hack covers him for the pin.
Val drops a few splashes on Hack before leaving.
3/10
The crowd was funny early on, but this was about 8 minutes of my life that I want back.
2 Cold Scorpio vs Taz
This is one of Taz's first matches as a repackaged shoot wrestler. He is accompanied by Heyman.
Scorpio avoids a Taz-Plex early on by countering it with a nice armdrag. Taz gets a lariat sending Scorpio to the outside. Scorpio comes back in and we have ourselves a nice clean little match here. They go back and forth locking each other in holds, and reversals. One thing that sticks out early on is how freakishly athletic 2 Cold Scorpio was. He jumps strait up at one point, and reaches some incredible height.
Taz lands a beautiful belly to belly overhead suplex. They go back and forth in a test of strengh. Scorpio with a monkey flip, and a thrust kick to the chin, followed by a powerbomb.
Scorpio is playing the heel here keeping the pace slow, working Taz over while fucking with the crowd. Scorpio lands a nice standing backflip splash onto Taz. Scorpio goes up top for a splash, but Taz gets the knees up. Heyman gets a Taz chant going on the outside as he works his way back into the match. Scorpio squashes his comeback with a thumb to the eye.
Taz blocks a Rock Bottom with three elbows to the head, followed by his T-Bone Taz-Plex. Scorpio counters a move from Taz, and gets him with the Tombstone. Scorpio lands a fucking amazing Tumbleweed corkscrew moonsault legdrop. Crowd gives him a nice standing ovation, beautiful move.
Taz no sells it.
Taz hops up, and drops Scorpio. Taz pins Scorpio for 3, but Scorpio's leg was on the ropes. Taz ges the win.
Bill Alphonso comes out. Fonzie says the match is not over, and must restart. Taz gets up in his face. Fonzie tells Taz and Heyman that if any wrestler touches him he will shut ECW down.
Heyman tells Fonzie that he's not a wrestler, and that he is going to kick his ass. Scorpio comes in with a steel chair, and hits Taz in the back. Heyman turns around, and Fonzie hits him from behind. Scorpio covers Taz, and Fonzie counts the 3. Crowd boo's the roof off.
8.2/10
Pretty good match. Scorpio was amazing. Nice heel turn with him too because he had nothing going on. The Fonzie vs ECW storyline progresses nicely here. I like it.
Shane Douglas comes out next with an interview with Joey Styles. Douglas announces that he's signed a contract with the WWF.
The crowd starts chanting "NA~NA~NA~NA, NA~NA~NA~NA~, HEY~HEY, GOOD~BYE!"
The crowd drowns Shane out with chants of "SHANE! IS! DEAD!".
The crowd won't give Douglas a chance to finish his promo, they start chanting "WE! WANT! FLAIR!" just to get under his skin. That's pretty deep. Shane snaps on the crowd with an amazing promo, saying "I WANTED THAT PIECE OF SHIT FOR 2 YEARS, SO SHUT UP!".
Everybody in the ECW Arena is screaming "WHOOO!" at the top of their lungs. This is an amazing segment. Douglas orders the camera man the pan around the crowd to look at all the losers in the crowd, and finds a planted sign saying "Forever the Franchise, Forever the ECW Champ".
This crowd is fucking killing Douglas here with the Flair chants, and "Whoo's". He can't even finish his promo. This is some great heat here.
Douglas calls Heyman a piece of shit. Says that he and Cactus are best friends, and have been for 12 years since they trained together at Domenic Denucci's school. The crowd cuts him off with a "SHUT THE FUCK UP" chant. Douglas says that's the reason he's leaving. The crowd cheers.
Shane says he talked about his WWF negotiations with Cactus Jack, and that they remain best friends. Douglas says he's sick of sweating in a building with no air conditioning(while dripping sweat
, and that he's sick of carrying the entire ECW roster on his back each and every night.
Shane Douglas officially announces he's gone to WWF after tonight. The crowd starts singing "NA~NA~NA~NA, NA~NA~NA~NA~, HEY~HEY, GOOD~BYE!". Joey joins in with them when Douglas' back is turned on him.
Suddenly Woman comes out. Woman says Douglas is perhaps the smartest man in ECW. Shane says that Woman is the most gorgeous, beautiful woman he's ever seen, but that she is also the biggest slutbag he's ever seen in his entire life. Woman smacks him in the face.
Douglas asks for another. Nancy takes a swing, but Douglas catches her hand. Douglas acts like he's about to hit her, but Sandman comes out. Sandman clears Douglas out of the ring. Cactus comes out to clear Sandman out of the ring. Douglas tells Joey Styles that he's going to teach Sandman the lesson of his life tonight before he leaves to the WWF.
Raven & Stevie Richards vs Tommy Dreamer & Luna Vachon
Man, I'm watching this on a European DVD release, and the music is edited out.:thumbsdown: Take the music out of these old ECW tapes, and you really take a lot of the charm out of them for me.
Dreamer comes out with his hand/fingers taped up. Raven and Dreamer fight on the outside early on with a DDT on Raven to the concrete. Stevie Richards fights Luna in the ring.
Luna grabs a handful of Richards' cock n' balls.:stalker:
OUCH!
Luna violently slams Stevie around the ring by his balls. Luna gets two nice swinging neck breakers on Stevie. Dreamer takes a bloodied Raven to the back where they brawl with a metal TV antennae near the entrance. Dreamer brings out a Newspaper vending machine, and flings Raven into it. Luna continues to work Richards over in the ring. Dreamer drops the vending machine across Raven's back.
Dreamer brings a metal ironing board to the ringside area where he and Luna smash it over Richards' head. Raven returns to the ringside area, and blindsides Dreamer. Richards cracks Luna in the back with a stiff as hell chair shot. Damn. Raven targets Dreamer's taped up hand.
Raven drops Dreamer on the concrete on the outside with a DDT. Raven head back to the ring with Luna/Richards. Raven and Richards are just really stiff in the way they attack Luna. They do a double suplex, and a double DDT on her. Dreamer comes back o the ringside area, and drops Raven off the apron. Luna goes up top and drops Richards with a super plex.
Luna goes for a pinfall, but Beulah comes into the ring. Beulah throws powder in Luna's eyes. Stevie rolls Luna up for the pinfall. Stevie and Raven retain.
This DVD cuts immediately away to a clip of Luna and Dreamer brawling in the ring with Raven and Richards, I'm guessing this was from later on in the evening because Dreamer is wearing different clothes.
Raven and Richards take out Dreamer and Luna. The Pitbulls come out. Richards orders The Pitbulls to Superbomb Luna. Raven stomps on Dreamer's broken fingers. Luna lays motionless on the mats. The Pitbulls look down on her, and refuse to Superbomb her. Richards gets up in Pitbull #1s face. Richards pushes Pitbull #1's face back, and it's on. The Pitbulls turn face, and fight with Raven and Richards. The Pitbulls set up to Superbomb Richards after Raven flee's the scene.
Suddenly Raven comes back out with the Dudley brothers. The Dudleyz attack The Pitbulls. Dreamer starts fighting with Raven again as Luna and The Pitbulls fight with Stevie and The Dudleyz. The Pitbulls throw the Dudleyz through the sheetrock wall in the ECW Arena. Huge mess. Raven and Dreamer brawl their way up to the soundstage under the Eagles nest. Richards, Luna, and The Pitbulls make their way up to the stage. Raven and Richards escape. Raven orders The Dudleyz to attack Dreamer, Luna, and The Pitbulls on the soundstage. The Pitbulls run The Dudleyz out of town.
Luna, Tommy Dreamer, and The Pitbulls stand victorious on the soundstage. The Pitbulls pick Luna up on their shoulders for a pretty cool little scene. She was a nice fit in ECW.
5.7/10
Man, this was a big sloppy mess to be honest. Raven lost the Pitbulls, and replaced them in his flock with the bumbling idiot Dudleyz. The storyline would develop a little more depth on the following episodes of Hardcore TV where the Dudleyz background would be revealed. The wrestling wasn't very good at all. The storyline progression was interesting, and the whole match/segment had some cool moments, but overall the action was very sloppy here.
Taipei Death Match: Axl Rotten vs Ian Rotten
ECW "Commissioner" Todd Gordon comes out before the match, and calls out Bill Alphonso with a special surprise for him. Gordon says that Fonzie will referee the Taipei Death Match.
The Rottens come out with their hands taped, and dipped in broken beer bottle glass. They walk around the ring letting the fans in the crowd touch the glass to prove it's real. Joey says he doesn't expect to see many drop toe holds or flying head scissors in this match.
:
Joey Styles commentary in this show, and the last couple of shows has been excellent. He calls the holds, and he is constantly making little inside jokes about pro wrestling. He really improved a lot since his earlier ECW days, which were nearly unbearable with his high pitched voice. I'd say that Styles commentary in the shows I've seen from ECW up to this point in 95 is among the best of all time. He was really good.
Axl and Ian circle each other in boxing stances, throwing jabs out at each other from far out. Axl lands a surprisingly good looking jab to Ian's face. Ian has already bladded himself apparently. Ian begins trickling a very small amount of blood from his eyebrow.
Bill Alphonso stops the match, too much blood.:rofl:
Alphonso tells the crowd that they should be glad that he's here.
:
:
:
:
:
Oh my god that was hilarious the way he said it. The crowd hates his fucking guts is what makes it so funny.
Out of nowhere, the Gangstas and Public Enemy come brawling out of the back. The police come in and separate them. New Jack is brutally arrested with the cop being way too rough on him. The Gangstas are ejected from the building in forceful fashion. They made that look good with the way security and police were manhandling them. Alphonso follows the ruckus out of the building, Gordon restarts the death match with no referee.
2 minutes into the match, and we have a bloody fucking mess. Blood all over their arms, foreheads, everywhere. They pick the glass loose from their hands, and gouge each other in the forehead.
I think it's safe to say that this is the bloodiest match in ECW history.
These two guys aren't wrestling, they are mutilating each other. Not a real big fan of this type of pro wrestling. Stuff like this isn't really why I love ECW.
The blood gradually just gets worse and worse as the match goes on. They don't do anything other than just punch and grind on each other with the glass. Ian drops Axl with a DDT. Ian gets out of the ring, and gets a bag of thumbtacks. Ian pours the thumbtacks allover the ring. Ian attempts a piledriver on Axl into the tacks, but Axl backdrops him down into the tacks.
Axl covers Ian for the win.
4.8/10
I've heard this match mentioned quite a bit around the web as one of those ECW matches that you just have to see, but I don't really see why. It's just a lot of blood. It would have been better if they had actually used some sort of psychology to tell some type of a story or something with it, but they just brawled around a bit before bringing in the tacks. Not real big on this match. I think their match at Hostile City Showdown 95 was better than this.
ECW World Championship: The Sandman(C) vs Cactus Jack
The Sandman and Woman come out first. No Enter Sandman on this DVD really neuters the entrance.
This is a long running feud that goes back to late 1994, and has been running strong throughout 1995. I'd say that this feud is quite underrated really. They had several brutal matches including the Texas Death Match, and the Barbed Wire match that I reviewed from the last show. Cactus nearly wins the ECW world title a few times. The Sandman even brought in Terry Funk for a nice little heel run where he burned Cactus a few times with his classic flaming branding iron.
Cactus Jack comes out with his hand wrapped in barbed wire. Sandman has two canes in his hands. The crowd really loves Cactus Jack here.
Sandman exits the ring as soon as the bell rings, and taunts Cactus from the outside with his cane. Woman lures Cactus to lean out of the ring where she cracks him very hard in the head with a glass beer bottle. Cactus turns around, and is immediately cracked in the face with Sandman's cane. Sandman throws Cactus to the outside.
HOLY SHIT:stalker:. Sandman hurdles over the top rope down onto Cactus on the outside. I've never seen him do anything like that.
Cactus and Sandman fight back to the ring where Cactus lands a DDT. Cactus gets the cane, and cracks Sandman in the skull with it three times before he finally falls down. Cactus takes Sandman to the outside with more cane shots, and a steel chair to the face. They go back to the ring where Cactus starts to take a punch with his barbed wire wrapped fist. Sandman picks up a chair, and blocks the punch with it. Sandman takes the cane to Cactus as he remains down on the canvas.
More cane shots to the head from Sandman. Sandman lands a slingshot legdrop from the apron for a 2 count. Sandman body slams Cactus down onto a chair. Woman goes to the back, and brings out a long strand of barbed wire. Sandman drops Cactus with a piledriver on the chair. Sandman brings in the barbed wire, and wraps it around his body.
Sandman hits Cactus with a splash with the wire wrapped around him. Sandman lands another splash in the corner, and another one to Cactus while he's down. Cactus pulls a rope down sending Sandman to the outside. Cactus drops an elbow off of the apron with a steel chair. Cactus beats Sandman around the ring, and back to the inside where he pulls the barbed wire up onto The Sandman's head with his shirt. Sandman's stomach is cut open in several spots from the wire.
Sandman is a bloody mess with barbed wire tangled up in his shirt over his head. The crowd cheers thinking Cactus is about to become world champion, but Sandman kicks of a cover. Cactus lands three punches with his barbed wire wrapped fist. Sandman kicks out of another cover. Cactus chokes Sandman with the wire until Woman comes into the ring. Woman lands a cane shot to the back of Cactus' head. Cactus shoves Woman to the ground.
Sandman and Cactus collide with the referee. The ref goes down. Shane Douglas comes into the ring, and drops an elbow on the ref. Douglas spikes Sandman with a piledriver. Douglas gets a microphone to say that his lesson is that you should keep your friends close, and your enemies right by your side. Shane hits Cactus with the cane.
Douglas pulls Sandman over Cactus for the 1-2-3, and tells ECW to kiss his ass goodbye.
Todd Gordon comes out. Douglas gets in his face, and says that he'll stay in ECW if Gordon gets down on his knees and asks him to stay. Gordon goes down to one knee, and says.
Quote:
On behalf of all the fans in the ECW Arena, on behalf of all the wrestlers in the back, on behalf of myself, I'd like to tell you......

YOU ARE FUCKING FIRED!

Don't let the door hit you in the ass on the way out.
Shane Douglas attacks Todd Gordon, and rips his suit off of him. A ref comes out, and Shane hits him. The jobbers come out, and Shane clears them out of the ring. Shane continues to bully Todd Gordon.
Out comes 911.
911 almost chokeslams Douglas through the fucking ring. Crowd goes insane.
8/10
I liked the segment after the match with Shane Douglas' exit from ECW. The match itself was pretty good too. Just another really brutal brawl with not much wrestling involved. People like to hate on matches like these for not having psychology or telling stories, but the match did tell a story. The story of the match was that the two men were trying to find out who was tougher. Which one of them could take the most punishment. It was pretty much what the entire feud revolved around. I'd say they had better matches previously, but this one was still pretty good.
Public Enemy vs The Gangstas
This is just a damn brawl. They take it all over the ECW Arena. Mustapha takes Rocco Rock up to the sound stage. Rocco Rock leaps off of the 10 foot tall eagles nest balcony to put Mustapha through a table with a somersault. They brawl their way back up to the balcony where Mustapha suplexes Rocco Rock through a table. New Jack has Johnny Grunge bloodied in the ring, attacking him with a nightstick. Johnny Grunge takes a mailbox to New Jack, dropping him in the corner.
Mustapha and Rocco Rock continue to brawl on the balcony, destroying everything. Johnny Grunge puts New Jack through a table in the ring with a scissor kick off the top rope. New Jack is bleeding profusely from the forehead. The four men beat the shit out of each other with various weapons for several minutes. They manage to make it look like a heated street fight, which was what it was billed as. ECW never pushed stuff like this as Wrestling. Rocco Rock moonsaults New Jack through a table at one point in the match.
They have several moments where they kind of stand around wondering what to do next, but overall this wasn't a bad little brawl at all. Rocco Rock hits Mustapha with a croquet stick from the top rope, and gets the pinfall. PE wins.
PE brawls with The Gangsta for a while longer. The Gangstas retreat. PE celebrates in the ring with the fans. The crowd gets into the ring. Everybody is having a good time, dancing around with PE. The ring packs up full of people. The fans lift PE up on their shoulders and start chanting ECW. Awesome scene.
6.9/10
Really sloppy at times, but this was a pretty good little hardcore tag match with some emotion in all of the brawling. The end scene is pretty awesome considering neither Flyboy or Grunge are alive anymore. People easily forget, but PE deserve respect for what they did for ECW in the early days.
Overall: 7.7/10
This show had a lot of crap, but I really liked it. It had a lot of great stuff, and some surprisingly good matches. Watching it by itself, this probably wouldn't be a good show to watch, but watching the shows in order to see how the storylines were moving along at this time, this was a fun show. ECW was just crazy. You never knew what the fuck was going to happen next.
Re: American Hardcore Theater: ECW's Real History
---
Extreme Championship Wrestling
Heatwave
July, 15th 1995
ECW Arena
Philadelphia, PA
Alright man, I'm running out of cute ways to open these things up, so lets just dive right into an update on what the fuck was going on in ECW around the time of this show.
Shane Douglas was gone to the WWF. Apparently they seen something in him worth going after even though people around the internet would have you believe he had zero talent whatsoever. I think he was better on the microphone than about 95% of the WWF roster in 1995, but that's my opinion. I haven't been tainted by the last 10-11 years of his career, so I still kind of think highly of Shane Douglas. He was never the greatest, but he was never anywhere as bad as some of the message board history revisionists make his career out to be.
The way Heyman wrote him out of the ECW was just brilliant. First he lost his title to the Sandman(with the help of his manager Woman). He put on a WWF shirt, and stormed out of the front door of the ECW Arena pissed off about being cheated out of his belt. The next show he brings in a referee from the Pennsylvania State Athletic Commission to clean up the ECW. The referee was Bill Alphonso, and he would wreak absolute havoc in ECW over the next couple of shows. Alphonso and Douglas got some of the hottest heat in ECW history during this angle.
The Raven vs Dreamer storyline had really picked up by this point. It started out with Stevie Richards bringing in Raven in January of 1995. Raven was supposedly a kid that Tommy Dreamer knew in Summer camp when they were youths. Dreamer was the popular kid, Raven was the poor nerd that was looked down upon by Dreamer. Dreamer defeated Stevie, and fought Raven off at the Return of the Funker show in February. The feud got serious in March when Dreamer faced Raven's flock(which consisted of a bunch of jobbers at this point) in a gauntlet match. Dreamer defeated all of Raven's lackeys, but when it came time for him to finally get his hands on Raven he was handcuffed in the crucifix position on the ropes, and beaten to a bloody pulp. Raven brought in his girlfriend Beulah in April. Beulah was a fat, zit faced slob that Dreamer rejected in Summer camp, but now she had grown up to be the uber grunge slut Penthouse centerfold hot mama. Beulah cost Dreamer in his first one on one match against Raven with the ole' hairspray in the eyes trick. Dreamer got his revenge at the next show when he spiked Beulah with a piledriver. Dreamer would get a bit of help when Luna Vachon came into the ECW at the very next show. Dreamer and Luna were savagely attacked by Raven at the "Barbed Wire, Hoodies, and Chokeslams" show in June. Raven "broke" Dreamer's fingers one by one, and viciously attacked Luna.
Raven just keeps throwing lackeys at Dreamer. First he had a group of jobbers(Tony Stetson & Johnny Hotbody), then he fired them, and replaced them with The Pitbulls. The Pitbulls grew frustrated with Raven, and left his "Flock" at the last show when they refused to Superbomb an already badly beaten Luna Vachon(thus, turning them face). Raven replaced the Pitbulls in his "Flock" with the Dudley brothers. The Dudley Brothers were a couple of jobbers(Snot Dudley & Dudley Dudley). The Dudleys were an idea cooked up by Raven backstage inspired by the goofball family in the Paul Newman film "Slapshot". The idea was that Raven would keep his chickenshit heel heat by constantly avoiding Dreamer by throwing lackeys in front of him. Whenever Dreamer would get through the lackeys, Raven would always find a way to get the upper hand on him. No matter what Dreamer did, he was always getting one upped by Raven. Dreamer getting his hands on Raven was something rare, but when it happened it was something special because of the way the rivalry was booked. Paul Heyman gets all of the credit for this feud, but the truth is that a lot of it was designed by Raven himself.
The other main feud of this time in ECW was the east coast vs west coast storyline between Public Enemy and The Gangstas. Public Enemy are the most over act in the ECW at this time. These fans loved the shit out of them. It was just one of those deals like 80's hair rock, you just had to be there in Philly in 1995 to really get why exactly Public Enemy were so loved by the ECW fans. The Gangstas were invaders from south central Los Angeles. Real thugs. The two teams have been trading jabs at each other in some nice promos on Hardcore TV. Public Enemy defeated The Gangstas in their first match at the last show I reviewed, which was two weeks prior to this show. Tonight the feud goes to the next level when they meet in a Steel Cage match.
Opening Segment
Oh man, we start it off with ring announcer Bob Artese throwing out free ECW merchandise to the crowd. Bill Alphonso comes out, and puts a stop to it. This crowd fucking lynches him. They are on him so hard you can barely make out what he's saying. This fucking crowd is
FIRED UP!
Trash flies into the ring at Bill Alphonso as he tells the fans that there will not be any wrestling tonight. ECW "Commissioner" Todd Gordon comes out. Gordon says that he's had enough of Fonzie. Gordon talks about how he fired Shane Douglas. Fonzie tells him that he can't fire him because he doesn't work for ECW, he works for the Penn State Athletic Commission. Gordon tells Fonzie that he wants to kick his ass. Bill Alphonso is fucking gold in this role. He makes you want to reach through the screen and ring his fucking neck. He's nailed this role. The crowd is more fired up than any of the previous ECW shows I've reviewed up to this point.
The crowd is so loud I can barely hear what the two men are saying. Fonzie tells Gordon that he's going to give him a 10 count to get out of the ring, and that if he doesn't leave the ring he will have his wrestling promotion shut down. Fonzie starts to count, and the crowd starts a 911 chant. Gordon floors Fonzie at 7. Gordon hits Fonzie with punches until a couple of jobbers come out to pull him off. Bill Alphonso tells Gordon that he just made the biggest mistake of his life. Fonzie ejects Alphonso from the building, and takes over the show.
This is just an awesome storyline that I have really fallen in love with since taking a look at these shows in chronological order. Alphonso nailed his role, and was perfect in this performance. He was drawing heat for enforcing rules, something that people used to cheer guys for. Things were changing, and ECW was ahead of the curve with this storyline. The fucking crowd wanted to kill Alphonso here in this segment.
Mikey Whipwreck vs Mike Norman
Mikey Whipreck has just had nothing going on up to this point in 1995. His gimmick was that he was just a crash test dummy with absolutely zero offensive moves to his name. He partnered up with Cactus Jack to win the tag team belts from a heel Public Enemy team in late 94, and the Philly fans fell in love with him. Mikey would win matches on accident, without landing a single offensive maneuver. So far in 95 he's just been there. He has a few moves now, but no storylines. Go figure.
Mike Norman is a jobber, and he hits Mikey while he has his guard down to start the match. Norman chops on Mikey until Mikey reverses a whip into the corner. Whipreck hits Norman with a few arm drag takedowns, and a bodyslam sending him to the outside to recover. Whipreck does a corkscrew somersault senton splash to the outside. Norman regains the momentum of the match.
Norman lands a few moves including a double axe handle off of the second rope. The crowd starts chanting "You Still Suck!(DICK!)"
This crowd is just killing this poor guy.
One of my favorite parts of ECW was the fans. The guys in the front row were the same couple of guys that would show up at every single show. You had John "Straw Hat Guy" Bailey, who would wear a straw hat all the time. His brother "Sunglasses Guy", who was an old grey haired dude that would wear sunglasses all the time, even though the ECW Arena was already dark enough. There was also "Otto Rocket Guy", who would often appear shirtless, and overly animated during the matches as if he were on PCP or something. His hair apparently resembles someone named Otto Rocket, whom I have never heard of until I found this guy's nickname. There was also "Goatee guy", and "Donovan". These two guys could be seen in just about any WWF pay per view from 1991 to ECW One Night Stand 2005. I've spotted these two guys in WCW and WWF pay per views going all the way back to Summerslam 91, and WCW Superbrawl V. Last but not least there was "Sign Guy". A fat guy that would show up at just about every ECW show from 1993 up to about 96(that I'm 100% sure of at the moment, I know he kind of disappeared later on) with a multitude of quirky cardboard signs. The sign he's holding during this Mikey Whipreck match says "WCW: Trash at the Beach"
:.
I get a kick out of the reactions of these guys during the ECW shows. The crowd is a huge part of what makes these ECW shows so enjoyable to me. They create an awesome atmosphere for wrestling. Even when a match sucks the crowd still makes it kind of funny because they were fucking relentless.
Back to our match, and Norman takes off to the back like he's done for the evening. Whipreck chases him down, and hits him with punches in the isle.
Norman beats on Mikey back to the ringside area, and does a suicide plancha through the ropes. Whipreck reverses a whip into the corner, and hits Norman with a Hurricanrana off the top rope for the pinfall after 6:48.
2.8/10
Real shitty match right here. Mikey did some decent selling, and the crowd tearing into Norman kept it from being a zero. Whipreck won it with a Hurricanrana, and that was it. Just doesn't make sense. Norman was terrible too.
Tony Stetson & Don E. Allen def. Raven & Stevie Richards
Raven and Richards come out with the tag team belts first. Beulah Mcgillicutty is a fucking work of art. Perfection. She's so hot here in this little red dress it is ridiculous.
The camera shows Stevie Richards' obsessed "fan" in the front row. This is Francine planted in the crowd.
Don E. and Stetson work Stevie Richards over for a while. Stevie gets the upper hand in the match, and tags out to Raven. Raven beats up on poor little Don E. Allen for a while as Stevie goes over to Francine. Stevie and Francine begin french kissing. Raven drops both Don E. and Stetson with DDT's, and notices Stevie and Francine kissing in the front row. Raven goes over to them, and snatches a handful of Stevie's hair. Raven drags Stevie off to the back.
OH MY GOD....
Beulah and Francine start fighting in the crowd, and HOLY SHIT. Ass everywhere. Pretty good looking cat fight going on.
Huge smile on the security guard's face as he separates the two women. :rofl:
The referee counts Raven and Stevie out. Stetson and Don E. win by count out.
Raven and Richards go back into the ring to beat up on Don E and Stetson until the Pitbulls come running out. The Pitbulls fight with Raven and Richards until the Dudley brothers come running out. Raven, Richards, and the Dudleys(Snot and Dudley Dudley, not Buh Buh & D-Von yet) beat on The Pitbulls until Tommy Dreamer comes out. Dreamer goes right after Raven.
Huge brawl all over the ECW arena with Raven, Richards, and The Dudleys vs Tommy and the Pitbulls.
Tony Stetson gets a microphone, and says that he wants a rematch. Raven comes running up on him, and floors him from behind. Raven takes Tony Stetson into the ring, and beats him down. The Pitbulls come running back out. The Dudleys come running back out. Dreamer comes back out. Where did all these guys go? Weird.
Dreamer drops Raven with a DDT. Francine comes into the ring, and jumps on the back of one of the Pitbulls. Beulah comes in the ring, and JEEZUS. Another cat fight, this time it's a real good one. One of the sexiest things I've ever seen in my entire life.
Huge E! C! DUB! chant ends the segment as the brawl separates.
7/10
Big mess here. The cat fights between Beulah and Francine were epic, and added about 3 points to the overall score I gave this thing. I would be lying to you if I said I didn't want to watch that again. Sexy, Sexy.
As for the segment without the catfights, pretty sloppy mess. Nothing special about any of the brawling. Just a way of reminding the audience of who's on who's side in this ongoing Dreamer vs Raven saga I guess. It was weird how they all brawled and disappeared, and then one by one came back out like they just reset everything.
Hack Myers vs Big Val Puccio
Man, Big Val is about as worthless as it gets. Huge morbidly obese fella that can't really do anything in the ring due to his physical state. Hack Myers is almost as worthless, but he's at least over with the crowd for some ungodly reason. Big Val gets heat from the crowd for the wrong reasons.
Immediately with the "YOU! FAT! FUCK!" chants.
:
Hack Myers comes out to the original version of "Am I Evil", which is pretty awesome.
Big Val is billed at 538 pounds. He has a really weird ponytail haircut where all of his head is shaven except for this long ponytail in the back. The two men stare each other down. Val challenges Hack to bodyslam him.
Val backs Myers into the ropes with punches, and the crowd screams "Shit!" with every one of them. Myers fires back and the crowd screams "Shah!" with each of his punches.
Val crushes Myers in the corner with a couple of splashes, and nails him with a pretty brutal powerslam. Val attempts a splash, but Hack Myers moves out of the way. Myers rolls Big Val up for the pinfall.
Val hits Myers with a few splashes before leaving.....
Wait a damn minute. I just got a serious fucking case of deja vu. Either this was the exact same match that these two guys had at the last show, or they just redid it all again to make it look like it. My mind is blown.
1/10
Yeah this was terrible. Pretty sure this is the same match that was on the last tape, and I wonder why.
The Pitbulls & Tommy Dreamer vs Raven & The Dudleys
Raven and Richards come out withe Dudleys in tow like this is a totally new show. I touched on this in my previous post in response to StranglerLewis question. These shows would be cut up for about 2-3 weeks worth of ECW's hour long weekly "Hardcore TV" syndicated tv show. They tried to make it look like these guys are coming out for the first time tonight.
Raven storms the isle to get it started in the isle. The Pitbulls beat the shit out of the Dudleys around the ring as Tommy gets a bit of help with Raven from Luna Vachon in the ring. Dreamer works Raven over with a Snap Suplex and an elbow drop as Luna goes after Stevie Richards. Stevie runs from Luna. Pitbull 2 does a pretty nice double axe handle off of the top rope to the outside. He's a pretty big dude to go for something like that.
Bill Alphonso comes out trying to stop the match.
:
The brawl continues as Bill Alphonso tries to shut the match down. Alphonso disappears. The Pitbulls work Stevie and The Dudleys over. The Pitbulls get Stevie with a Super Bomb. Francine comes into the ring, and gives Stevie mouth to mouth. Beulah comes in, and here we go again with another beautiful catfight. I love it. I could watch these all day. Good god almighty the ass on Beulah Mcgillicutty. Damn.
The Pitbulls drop one of the Dudleys with a Super Bomb, and get the win with a pinfall.
5.6/10
Nothing special here, and nothing to really write about other than the Beulah and Francine stealing the show. Raven and Dreamer just disappeared in the later parts of the match. More weird booking here. The crowd did love the Pitbulls though, and this match/segment made them look pretty good.
Dean Malenko & Too Cold Scorpio vs The Tazmaniac & Eddie Guerrero
Alright, so Dean Malenko and Eddie Guerrero had been burning it up all summer in ECW at this point. Taz had been repackaged as a no-selling shoot wrestling monster. More of a third Steiner brother than the MMA type of character he would evolve into the next year. His repackaging and push would hit a roadblock shortly after this match, but we'll get to that later. 2 Cold Scorpio did a little heel turn at the last show in a match against Taz. Scorpio sided with referee Bill Alphonso in an attack on Taz after their match.
Taz and Scorpio start it off here. Taz nails Scorpio with a stiff as hell forearm to the face coming off of the ropes. Oh yeah, that was a botch. Taz got Scorpio for real. Scorpio rolls out of the ring with a busted nose. Not good.
Dean Malenko and Eddie Guerrero come into the match. Oh man, these guys show'em how it's done. They go through a very nice chain wrestling sequence where they do one of those staredowns at the end of it. Guerrero just looks really sharp. He's so young looking with his mustache.
Guerrero hits his classic slingshot senton before tagging out to Taz. Malenko works Taz's leg before tagging out to Scorpio. Scorpio lands a stiff as hell lariat that may have been a bit of payback for earlier on in the match. Scorpio and Taz go through a chain wrestling sequence of their own that doesn't look bad at all. Joey Styles points out a similar position they were in to the Ken Shamrock vs Dan Severn match that took place around this time at UFC VI.
Scorpio gets Taz with a powerbomb, and tags back out to Malenko. Malenko continues to work Taz's leg over. Taz manages to get a tag to Eddie. Every time Eddie and Dean tie up in this match is fucking solid gold. They have such great chemistry here in this match. Eddie gets Dean with the Frogsplash for a 2 count. Dean manages to tag out to Scorpio, who comes in to work Eddie over pretty good. Eddie goes for a powerbomb, but Scorpio flips out to his feet. Scorpio hits Eddie with a vicious powerbomb.
The two teams exchange a series of double team moves until all hell breaks loose. Taz gets knocked to the outside. Scorpio does a splash to the outside that hits Paul Heyman. Malenko goes to the outside, and gets hit with a splash off the top rope by Eddie. Scorpio goes back into the ring to go up for a splash, but Heyman hits him with his huge brick cell phone.
Bill Alphonso comes out, and says that the match must restart because of Heyman's interference. Heyman gets up in Fonzie's face. Dean Malenko and Scorpio attack Taz and Eddie from behind as they look at Fonzie and Heyman arguing. Scorpio and Malenko roll Taz and Eddie up for the pin, and Fonzie gives the fast count. Fonzie declares Scorpio and Malenko the winners.
What happens next is really weird. Alphonso tells Heyman that he has his own videographer to document ECW for his records. Fonzie brings out Rob Fienstien. Fienstien was the actual videographer for ECW, and was responsible for taping the shows. Fienstien is a small young looking dude here. Fienstien says something towards Paul Heyman about Sabu and the NWA. Heyman gets up in the guy's face telling him not to tell him shit about anything. Alphonso and Fienstien jump on Heyman, and knock him to the ground.
911's music hits the speakers.
Oh my god.:stalker:
Most brutal chokeslam I have ever seen.
7.5/10
Some stiff stuff between Scorpio and Taz here. Guerrero and Malenko were fantastic together in this match. Overall though, there was nothing spectacular about this match. Easily the best match of the tape so far, but nothing great. The end segment was rather odd. Fienstien was a nobody, so I didn't really see the need to bring him in. I guess they just needed someone to take a chokeslam.
Taz's repackaging/push would grind to a screeching halt when these two teams had a rematch shortly after this event. Taz took an assisted piledriver that broke his neck, and would put him out of action for 5 months. Heyman paid Taz throughout the 5 month period, and would bring him back in November with a new attitude.
ECW Championship: Sandman (ch) vs Axl Rotten
Sandman and Woman come out. Woman proudly holds the ECW World Championship as the Sandman drinks and smokes his way to the ring with Enter Sandman playing along. They take up the full song before they enter the ring. Axl comes out second for some stupid reason.
The people in the crowd look fucking hot. No AC, this is July. Bunch of guys have their shirts off. Everybody is sweating. So far I've only seen one ceiling fan in the ceiling shots.
Sandman immediately jumps on Axl with punches and kicks. Sandman canes Rotten down with the cane. Sandman hits Axl with several brutal cane shots across his chest as he lays flat on the canvas. Axl retreats to the back. He comes back out with his barbed wire baseball bat. Sandman runs from him to the outside. Sandman discusses strategy with Woman briefly before re-entering the ring. They brawl with their weapons. Axl beats on the Sandman with the bat.
Axl attempts to unravel the wire from the bat, but the Sandman clocks him. The Sandman gets the bat. The Sandman successfully unravels the wire from the bat. Axl knocks him to the ground, and rolls to the outside with the wire tangled up in his shirt. Sandman goes outside, and throws Axl over the railing into the front row. They brawl in and around the ring beating each other with the wire for several minutes.
Axl wraps Sandman up in the wire while he stands in the corner. Axl slaps Sandman in the face until Woman canes him in the back of the head. Axl gets the cane from Woman, and chooses not to hit her with it. Axl busts The Sandman in the head with the cane while his midsection is still wrapped in the wire. Sandman unwraps himself from the wire. The Sandman drops a legdrop across the back of Axl's head from the top rope for the pinfall after 12 minutes.
3.8/10
Man, this match had nothing going for it at all. Lame all around. I'm noticing that it's fucking hot as hell in the Arena. Everyone looks miserable in the crowd fanning themselves. I don't know if that was a factor or not, but so far this show is just not jiving with me. Some terrible matches with some bad booking going on.
Steel Cage Match: Luna Vachon vs Stevie Richards
I'm pretty sure this was Luna's last ECW appearance. Too bad. I think she was a great fit, and had a lot of potential in ECW, especially when her main squeeze Bam Bam Bigelow came over a few years later. Luna comes out looking pretty good. She immediately begins to work Richards around the cage beating his ass. Richards just keeps getting driven into the cyclone fence cage. The crowd starts chanting "Kick his ass Luna, Kick his ass!(Clap-Clap)".
Stevie is busted wide open, bleeding everywhere. Luna hits him with a swinging neckbreaker. Luna lands a nice little Vader style splash. Stevie surprises her with a stiff as fuck inverted Atomic Drop. Luna recovers, and throws Stevie around by his hair with snap mare takedowns. Luna has Richards' blood all over her. Stevie gives Luna a stiff as hell powerbomb. Damn. Stevie is not pulling back on Luna at all. Luna is in excellent shape here though. She had a pretty good looking body here, still quite feminine as opposed to the overly muscular Chyna/Nicole Bass types. She was just really fit and trim here.
Stevie locks Luna in a nice leglock submission. Luna starts landing some low blows, and a DDT for a 2 count.
This match is not bad.
Stevie gets Luna with another really hard powerbomb.
Luna has been busted open on the forehead. She's bleeding pretty good along with Richards who just has a strait up crimson mask here. Richards starts to really grind down on Luna with hard punches and kicks. Richards goes up top to the very top of the cage. Richards jumps down, but Luna gets the boot up to get him in the face. Luna lands a swinging neckbreaker. Luna goes up to the top of the cage. Luna lands a nice splash off the top of the cage for a 2 count.
Luna grabs a handful of cock n' balls.
Stevie screams out in pain, and submits.
Luna wins by submission with the Testicular Claw.
The crowd starts a chant of "SHE'S! HARDCORE!". Nice. I like it.
Luna continues beating on Stevie until the Dudleys come out. The Pitbulls follow them, and we have another big brawl. Raven comes into the cage. Raven slams the door shut with only him, Stevie, and Luna inside. Stevie gets Luna with a low blow. Raven DDT's her into the canvas. Pitbull 2 rips the cage door open.
Dreamer and the Pitbulls storm the cage with nowhere for Raven to run to.
Dreamer takes Stevie out with a chair, and DDT's Raven. Everybody leaves the cage leaving just Raven and Dreamer. Dreamer slams Raven's hand in the door of the cage, and then hits it with a chair. Dreamer drops Raven with another DDT on a chair. Dreamer pulls out a pair of handcuffs from his boot. Dreamer whips Raven into the cage a few times before locking him up on the fence in a crucified position. Dreamer hits Raven in the groin with a piece of steel, and then gets a chair.
Dreamer emotionally screams ECW before smashing Raven in the head with the chair.
Dreamer poses for the crowd, and a massive E! C! DUB! chant breaks out. The crowd goes wild.
8.6/10
Luna vs Stevie Richards was actually a pretty damn good mixed gender match. Luna was tough as nails, and in great shape here. Seeing her beat Stevie's ass all over the ring was kind of fun. She took some hard bumps, and looked really good here. Probably the best I've ever seen her perform. The aftermath with the Raven and Dreamer fight was eventually nicknamed "The Chairshot Heard Round The World" for some reason. I think maybe that came from the magazines back in the day, but I'm not sure. It was an unprotected headshot with a chair, and those are really bad, but damn it if this wasn't fucking awesome. There was just a lot of emotion to it. Dreamer had been through so much by this point, and it just felt good to see him get a bit of revenge here. It was an awesome moment when Dreamer finally got Raven cornered in the cage. The build up to this moment made it really cool to see. The Raven vs Dreamer rivalry just got serious.
Steel Cage Match: The Gangstas vs Public Enemy
Right from the start there are already weapons set up in the cage ala Beyond Thunderdome.
PE's music hits, and from the reaction you get the sense almost that these people have been sitting in this hot ass Arena, sitting through some god awful wrestling matches, just waiting to see Public Enemy. Everybody is all of a sudden really lively, waving their hands around along with Johnny Grunge and Rocco Rock. Big smiles on everybody's faces, everybody is having a good time. They were ECW's main attraction at this time for sure. They were being recruited by WCW and WWF at this time as well.
Both teams just go back and forth beating the shit out of each other with the various weapons in the ring. Mostly frying pans.
This goes on for several minutes, nothing pretty here at all.
The Gangstas take control of the match after about 10 minutes, and just beat the shit out of Public Enemy. All four men are bleeding pretty badly. Public Enemy reclaim the momentum of the match, and bring a table in. Make that two tables.
Stacked on top of each other.
PE put New Jack on top of the two tables. Rocco Rock moonsaults off of the top of the cage to put New Jack through both tables. Nice spot.
Mustapha pulls out some sort of spraycan. Mustapha sprays Johnny Grunge in the eyes with his spraycan, and rolls him up for the pin. The Gangstas get the win in the second match in this feud to tie it up at 1-1.
5/10
The moonsault spot saved this one from getting a really low score. It had some good moments starting out. It just degenerated into a really sloppy, unorganized mess. Just a bunch of senseless weapon brawling with no real psychology or emotion or anything to it. As I've mentioned before, the storyline itself was much better than the actual matches in this Public Enemy vs Gangstas feud. This match was borderline terrible without the nice double table spot at the end.
Overall: 6/10
Man, there is just no way around it, this show pretty much sucked. It had a few great moments. The catfights were amazing. Raven and Dreamer was excellent. The Scorpio/Malenko vs Taz/Eddie match was pretty good, Luna vs Stevie was awesome, and Bill Alphonso was brilliant in the opening, but other than that this show gets no love from me at all. Some of the booking was pretty bad here too. Overall I feel like the show did have enough high points to merit an above average score. It was a fun little show to watch. While it doesn't stand up well to some of the previous shows I've reviewed, it did have some pretty awesome moments, and was an enjoyable viewing considering I've been watching through these in chronological order. I would not recommend this show on its own at all though.
Re: American Hardcore Theater: ECW's Real History
---
Very good read
---
Quote:
You're fucken damn right, you've rustled my jimmies & I assume everyone else's!!! I tell you what, I'll pay your airfare over to Melbourne, it will only be a one way ticket though, because I will KILL you, you child molesting fuckwit!!!
Re: American Hardcore Theater: ECW's Real History
---
This is great! Especially since its really hard to find any ECW shows before 96.
Heel Turn on James Ellsworth
Join Date: Jan 2012
Location: EVERY EVENING, I HAVE A BY MYSELF MEETING
Posts: 2,754
Points: 459
Re: American Hardcore Theater: ECW's Real History
---
All I can say is

E C FUCKING W

Keep up the good work, this is amazing!
Re: American Hardcore Theater: ECW's Real History
---
Thanks a bunch for giving this a chance and reading it guys. I really appreciate the compliments.
The Beginning of a War
So, we have reached the end of the Summer of 1995 for the ECW, and at the end of August both Eddie Guerrero and Dean Malenko would be called up to WCW. The two men wrestled their final match in the ECW Arena on August 25th. The match ended in a double pinfall in a German Suplex, and an emotional "PLEASE! DON'T! GO!" chant from the fans as a group of face wrestlers made their way out of the back to tote both of them around the ring on their shoulders. Eddie and Dean both emotionally thanked the fans. Malenko told them he would always love them, and would always be an ECW fan himself before the two men made their exit together.
In total Guerrero and Malenko wrestled 12 total matches against each other. Nine of those matches were singles matches. Guerrero won 3, Malenko won 2, and they wrestled each other to 4 draws(3 of them going the full 30 minutes). For my money the best in the series was the match from Hostile City Showdown. The 2/3 falls match from the August 25th episode was great if only for the intense emotion in it both from the fans and the wrestlers. ECW dedicated an entire episode of Hardcore TV to Eddie and Dean's final farewell match in early September. Some say that the series is a bit overrated, and that may be true for many of their matches, but they did have some of their all time bests in ECW. The match from Hostile City Showdown was the best match in North America in 1995 in my humble opinion.
ECW did put on a supercard in August titled Wrestlepalooza, but I don't think it was ever released commercially on DVD or VHS. Cactus Jack partnered up with Tommy Dreamer and the Pitbulls to face Raven, Stevie, and the Dudleys. Cactus would turn heel in the match, and double cross Tommy Dreamer. There was also a fantastic six man tag match later on that evening between Cactus Jack, Dean Malenko, and 2 Cold Scorpio against Eddie Guerrero and The Stiener Brothers that is among the best matches in ECW history.
Cactus Jack's heel turn was pretty damn awesome. He turned heel to side with Bill Alphonso. This was where the classic anti-hardcore promos came from that are hailed by many to be the best promos in wrestling history.
Cactus eventually ended up siding with Raven against Tommy Dreamer, and he had an angle where he would beg for "Uncle" Eric Bischoff to bring him back to WCW. He would eventually draw heat by doing everything within his power to NOT give the fans their moneys worth. Pretty deep little storyline.
Also at Wrestlepalooza '95 the Gangstas went up on Public Enemy 2-1 in their ongoing blood feud by defeating them in a stretcher match. The feud would continue through the year with both teams beating the shit out of each other in a series of stiff weapons brawls that didn't resemble anything close to wrestling.
One of the biggest game changing events that happened around this time was the launch of WCW's new weekly wrestling show Monday Nitro. Nitro was launched on September 4th 1995, and would go on to take on WWF Raw head on. The Monday Night Wars had just begun. Guerrero and Malenko would appear on Nitro for the first time in a match on the October 2nd episode, but former ECW big timer Sabu would be frequently featured during the fall of 95 on Nitro. Sabu would have a cup of coffee in WCW, eventually facing MR. JL(Jerry Lynn) in a match at Halloween Havoc in October.
Even though WCW's Roster was offering much more down to earth athleticism centered wrestling compared to the WWF at the time, they were still stuck in the past with the storylines. The Dungeon of Doom storyline was picking up at the launch of Nitro, with Lex Luger deflecting over from WWF(without notice) on the second episode joining the Dungeon to feud with Hogan and Savage.
Over in the WWF the Camp Cornette faction with Owen Hart, British Bulldog, and Yokozuna were picking up steam in a feud against Deisel, Shawn Michaels, and The Undertaker. The Million Dollar Corporation was being phased out somewhat, and the top dogs were still Diesel(10 months into his title reign), HBK, and Undertaker, and Bret(who was busy feuding with Dentists and Pirates). Later on in September Shane Douglas would make his return to the WWF as the Dean character. A school teacher gimmick that would use a paddle he called "The Board of Education" to win matches.
WWF held their Summerslam 95 pay per view on August 27th 1995 with one of my all time favorite matches in HBK and Razor Ramon's second ladder match for the Intercontinental Championship. Diesel would go on to defeat Mabel to retain the WWF Championship in the main event in a really shitty match.
Dean Douglas would make his return to WWF pay per view at the next show, In Your House 3, where he would wrestle Razor Ramon to a pretty good little match, probably the best of the show. Douglas was great on the microphone in his early days, and I would say he was even better than HBK and Diesel at this time, but the subject material that he was stuck with by WWF creative was downright atrocious. The Dean character ended up being a total disaster. One story told by Shane Douglas about his early days playing the character was one about when he was first filming his debut promos. Vince was on hand for the tapings. Shane was displeased with the way they were pushing the character on him. They wanted him to be really stoic and emotionless with a monotone voice. Douglas convinced the team of writers watching to let him cut a promo with his own "Franchise" style that he used in ECW. Vince reportedly got a phone call halfway during his take on the character. The writers told Shane that they loved it, and that it was much better, but when Vince returned from his phone call he said that his way was better. Vince asked the writers what they thought of Shane's version of the character, and they immediately did a 180 on him, and agreed with Vince's opinion.
During this time the Clique was apparently running things in the WWF. Shawn Michaels, Razor Ramon, Diesel, the 1-2-3 Kid, and Triple H were a tight knit group of friends that would watch each other's backs, and do the best they could to ensure each other would remain at the top of the company. They would supposedly play a lot of school girl games, and were rumored to have burried talent such as Bam Bam Bigelow, Chris Candido, Adam Bomb, Jean Pierre Lafitte, and eventually Shane Douglas among others.
Meanwhile over in WCW they were making their way towards their September 17th Fall Brawl pay per view, with the big War Games showdown between Hogan, Savage, Sting, and Luger against the Dungeon of Doom.
The next ECW show we will be taking a look at is Gangstas Paradise from September 16th 1995. Just one day prior to WCW Fall Brawl, and 1 week prior to WWF In Your House 3.
Re: American Hardcore Theater: ECW's Real History
---
I've been meaning to ask where you found these shows at? Did you just have an old collection or via piracy?
Moron
Join Date: Jan 2013
Posts: 64
Points: 0
Re: American Hardcore Theater: ECW's Real History
---
Please continue doing this. Amazing read and great history lesson for those that never got the chance to watch any old ECW.
Re: American Hardcore Theater: ECW's Real History
---
Quote:
I've been meaning to ask where you found these shows at? Did you just have an old collection or via piracy?
Some of the tapes are the original white box tapes that were originally sold through the ECW catalog. A majority of my collection is on DVD from RF Video.com. They also sell region 0 DVD's on Amazon/Ebay(Made by Delta, I have a couple of them). They are surprisingly high quality as far as the footage, but the original music was taken out.
Extreme Championship Wrestling
Gangstas Paradise
September, 16th 1995
ECW Arena
Philadelphia, PA
Ok, so we have already missed a show. Wrestlepalooza 95 was never released commercially by ECW, but it took place in early August. Cactus Jack broke the hearts of the ECW fans when he turned on Tommy Dreamer in a six man tag team match to align himself with the diabolical referee Bill Alphonso. Eddie Guerrero and Dean Malenko had been called up to WCW by the end of August, and they kind of worked that into this Cactus Jack heel turn. Cactus was obsessed with going back to "Uncle" Eric Bischoff's WCW, and he wanted to take Tommy Dreamer with him. Cactus starts wearing t-shirts with Eric's face on them. He denounces all hardcore wrestling, and goes on this trip where he tries to do everything within his power to
not
give the fans their moneys worth. So long before Eric Bischoff was this reviled character in WCW he was the most hated heel in the ECW Arena.
Also in August, Taz broke his neck in a tag match with Eddie Guerrero against Dean Malenko and 2 Cold Scorpio. He's out of the ring until December, but he would make non-wrestling appearances. So already up to this point in 1995 the ECW had already lost Sabu, Shane Douglas, Terry Funk, Eddie Guerrero, and Dean Malenko. The Public Enemy were being recruited by both WCW and WWF, and would be gone in a few months. The two main feuds were still going strong at this point. Raven vs Dreamer had grown into a storyline that branched off with different feuds going on. Raven's flock now includes Stevie Richards, Beulah, and The Dudley Family. The Dudleys weren't quite the Dudleys that everybody knows and love. Buh Buh Ray and D-Von weren't in the scene just yet. They were just a slapstick comedy act, and consisted of Dudley Dudley, Dances With Dudley(the Indian who speaks fluent spanish), Sign Guy Dudley(not to be confused with the front row ringside regular fan Sign Guy), and Big Dick Dudley. Raven's flock were feuding with Tommy Dreamer and the Pit Bulls(who had recently split away from the Flock(the group wasn't actually called this in ECW, but that's what I like to refer to them as). The Public Enemy vs Gangstas feud was also still running at this time. The Gangstas defeated Public Enemy in a Stretcher Match at Wrestlepalooza 95.
For all you youngsters out there, back around this time in 1995 there was a wildly popular movie called "Dangerous Minds". A song off of that film's soundtrack called "Gangsta's Paradise" had blown up on the radio, and was everywhere.
I have seen this show before, and it is one of the better ECW shows out there, but lets pull out our micro-analytic magnifying glass to see how it stacks up to what we have reviewed so far. Can it stand up to Hostile City Showdown? A show that I feel represents everything that ECW was all about? Lets dig in and find out.
Bull Pain vs Tony Stetson.
Here we go with the jobber vs jobber match. Stetson is decked out in his "Broadstreet Bully" Philadelphia Flyers gear. Bull Pain is just a nobody. Stetson was a regular that I'm assuming lived pretty close to the ECW Arena, and would work for peanuts. Bull Pain is one of these guys like Big Val Puccio that Heyman was bringing in just to fill the card up as cheap as he could. I mean, he only had so much payout to work with for each show. A 1,200 seat bingo hall only has so much money coming in, and a lot of that went out to some of the acts later on in the card I'm sure.
Or maybe they were just smoking all the cash up in crack, who knows. All I know is that Bull Pain just looks like the type of dude that only belongs in a wrestling ring if he's laying flat on his back looking up at the lights. No way this dude made more than maybe 50$. If that.
Oh lord, I was hoping this would be another one of those 911 chokeslam festivals, but no, they were serious about this match. :
:
These guys are getting some time. Bull Pain works Stetson over for a bit. Stetson drops the gloves, and goes to work on Pain. They go to the outside where Stetson uses a hockey stick. Bull nails Stetson in the head with a steel chair. For $50?! Fuck that shit.
Bull ddt's Stetson down onto a table that is leaned up. Joey Styles gives us a pretty funny math equation. "The number of broken tables in an ECW show usually equals the number of screwball finishes in a WCW show".
: So true. I've been watching a bunch of old stuff and it's absolutely mind blowing how many bullshit finishes there were. Not only in WCW, but also the WWF. There was almost never a clear cut winner and loser in pro wrestling from 1995 to 1997. People criticize ECW's run in heavy, twelve step finish booking style, but I'll take that shit any day of the week over nothing but schmozz finishes week in and week out. There was usually always a clear cut winner and loser in ECW, and that was one of my favorite things about ECW.
Oh lord, these two guys are still going at it. They go back to the outside and fight each other with a chair. Yawn.
The selling in this match is horrendous. I'm so tempted to hit the fast forward button.
Sign Guy at ringside is holding a sign that says "WCW War Games: No Violence, No Talent"
: I think this was 1 day before WCW War Games 95.
Pain finally ends it with a fairly devastating looking move. It was kind of like a DDT, but Stetson's legs were propped up on the ropes...Oh fuck, does it really fucking matter? This match sucked.
1/10
I honestly don't know why I'm not giving this thing a 0. I guess I'm feeling generous tonight. This was horrible, and received way too much time. Bull Pain did a nice superplex, and his finisher was nice, but everything else sucked bad.
Dudley Dudley & Dances With Dudley vs Chad Austin & Don E. Allen
Alright, this aught to be good. The comedy act against the definitive jobbers in ECW history.
Sign Guy in the crowd holds up a sign that says "Condoms Prevent Dudleys".
:
"Devious" Don E. Allen still wrestles on the northeast indy scene believe it or not.
Austin runs from DW Dudley at the start of the match. Dudley hits him with a lariat, Austin sells it well. The only thing funny about this match is the commentary from Joey Styles. He constantly makes little jokes about how these guys are inbred, and how easy it is to call one of their matches. Joey takes a shot at the WCW commentary team, saying they would still have a hard time calling one of their matches.
:
What starts out as a traditional tag match breaks down into chaos. Dudley Dudley beats Austin around the ring on the outside as DW beats on Don E. in the ring. Dudley Dudley puts Austin through a table with a vertical suplex. Dudley Dudley hits a sloppy ass splash on Don E. for the 1, 2, 3.
1/10
Ewww. Yeah, this wasn't good. The comedy guys didn't do a good job at being funny, and the jobbers failed at making their opponents look good. This was just a senseless wreck. Could have been better if it were just a strait up squash, but it wasn't. It's like they had no real plan at all for this match, and just went out and improvised everything. That just wasn't a good idea here. Bad match.
Hack Myers vs JT Smith
Alright, so around the time of this show was the birth of the Full Blooded Italians gimmick. JT Smith was a Philly regular who had wrestled quite a bit for the TSWA(ECW's predecessor). He had a run with ECW in 93-94, but just kind of fell of the map. The story goes that Smith took a nasty concrete bump where he legitimately suffered a concussion. He came back, and the storyline was that he knocked himself goofy, and actually thought he was a natural born Italian(he was black).
He tells the crowd right off the bat that he doesn't want to hear them scream "SHIT!" for all his moves like they usually do for all of the rest of Hack Myers opponents.
These guys tie up at the beginning, and actually surprise the shit out of me with some really good wrestling exchanges. JT lands some punches and kicks, and the crowd screams "SHIT!" with each strike. Myers goes to the outside where JT Smith misses a suicide plancha. They brawl through the crowd up to the stands, and back to the ring.
Smith goes up top, and slips on his way up. Smith falls off of the top rope through the timekeeper's table ringside. JT Smith is counted out.
6/10
Quite the goofy finish, but damn it to hell if this wasn't a fairly decent match. They worked together rather nicely early on with some clean looking wrestling. The brawling looked pretty good too. I was shocked that this match wasn't total shit.
Jason & The Eliminators vs Taz, Rick & Scott Steiner
So Jason(Justin Credible's manager in the later years) brought in Perry Saturn and John Kronus in August as the Eliminators, one of my all time favorite tag teams. This tape cuts to Taz confronting Jason, 2 Cold Scorpio, and The Eliminators by himself for some unexplained reason. All of a sudden he's backed up by The Stiener Brothers.
Taz had been repackaged into a shoot wrestler just a couple of shows prior to this one, but he wasn't quite the MMA style shoot wrestler that he became just yet. He was more of a Stiener type of shoot wrestler, almost a third Stiener Brother if you will.
Scorpio cheap shots Taz. Jason targets Taz's neck, and takes him out of the picture. All hell breaks loose with a huge brawl. The Steiners clear the ring, and hit the Eliminators with some nasty stiff lariats. Scot Stiener is pretty big here. Scot puts Jason into the position for a suplex, and pulls his tights up into his ass with a hardcore wedgie before violently folding him up with a suplex. :rofl:
Steiner bros are just stiff as hell here. Nasty Belly to Belly suplexes on Saturn by both Scot and Rick. Jason comes into the ring, and Taz comes in to take him out with punches. The ref tries to pull Taz off, but he thows him into the corner. Scorpio kicks Taz in the back of the neck, and pulls Jason over his body as The Stieners and Eliminators battle on the outside.
Jason pins Taz. The Eliminators carry Jason to the back bloodied from Taz's punches.
6.7/10
Not bad, but nothing special. Its cool seeing the Stieners and Eliminators working together, but they didn't really do anything great. The Stieners dominated and looked great.
ECW Tag Team Championship, Three Falls Double Dog Collar Match: The Pitbulls vs Raven & Stevie Richards (ch)
Raven comes out with Beulah. Beulah gets the microphone, and says that Stevie wont be wrestling. She asks for a 2/3 falls match due to the 2 on 1 advantage. Pitbull 2 goes right after Raven as Pitbull 1 goes to the back to get Stevie. Pitbull 2 hangs Raven over the ropes by the chain.
Pitbull 1 drags Stevie Richards out of the back. Stevie's already got a crimson mask going. Pitbull 2 sets up a table. Raven attacks Pitbull 2, and piledrives him through the table in the ring. Pretty awesome table spot. Just the way it breaks looks pretty cool. Raven pins Pitbull 2 for the first fall.
All four men get into the ring for a 2 on 2 brawl. Raven and Richards get double DDT's followed by the Superkick by Stevie on Pitbull 1. Pitbull 2 rolls out of the ring, and pushes another table into the ring. The Pitbulls take the momentum by using the chains.
Stevie is Superbombed through the table by the Pitbulls. Pitbull 2 pins Stevie for the 2nd fall, evening it up 1-1.
Pitbull 1 and Stevie go to the outside for a little frying pan action. Pitbull 1 beats the shit out of Stevie around the ring, and he's bleeding profusely from his forehead. They take it into the crowd where Richards gets Pitbull 1 with a chair. Pitbull 2 and Raven fight out in the entrance isle, then back into the ring. Pitbull 2 goes to the outside, and gets a guy from the ringcrew to help him pull out a third table. The fans in the front row pat the guy on the back for helping pull the table out. Pitbull 2 sets the table up in the ring. Raven pulls him into the ref, knocking him out.
The Dudleys come out. Crowd boo's loudly.
Raven, Richards, and the Dudleys beat on the Pitbulls. Richards and Raven simultaneously Superbomb both Pitbulls. The Pitbulls no sell the Superbombs. Double DDTs on Raven, Richards and the Dudleys.
Superbomb on Dudley Dudley.
Superbomb on Dances With Dudley.
Raven and Richards are a bloody, beaten mess. Pitbull 2 arranges the table, and....
OH FUCK!
:stalker:
The Pitbulls attempt to Superbomb Raven through the table, but he lands on it awkwardly. The back of his head/neck crash into the edge of the table on his way down, and it doesn't break. The table just falls over, Raven kicks out at 2. Very painful, dangerous looking spot right there.
Pitbull 2 pushes another table into the ring. Raven pulls out a chloroform rag. Raven smothers Pitbull 2 with the ether rag until he falls out unconscious on top of a double stack of tables. Raven goes up to the top rope, and drops a leg down across Pitbull 2, putting him through the first table. The second table doesn't break. Raven goes back up to the apron, and just jumps on top of Pitbull 2 to put him through the second table. Pitbull 1 continues to beat the shit out of Stevie Richards in the ring. Pitbull 1 suplexes Stevie through the table in the ring, and gets a 2 count.
Beulah comes into the ring looking sexy as all get out.
Stevie Richards super fan(Francine) comes into the ring, and attacks Beulah. Catfight. Raven pulls Francine up, and DDT's her. Out comes Tommy Dreamer. Tommy unhooks the dog collar from Pitbull 2. Dreamer hooks the collar up to his neck, and proceeds to beat the shit out of Raven. Dreamer drops Raven with a DDT, and pins him.
Tommy Dreamer and Pitbull 1 are the new tag team champions, but wait a minute......
Out comes Bill Alphonso. Fonzie gets up in Dreamers face, and reverses the decision. Fonzie says that the pinfall will not go down in the record books, he never pinned Raven. Out comes ECW Commissioner Todd Gordon. Gordon gets up in Fonzie's face, and tells him that the match is not over. Alphonso drops Gordon with a punch, and keeps rubbing it in that Dreamers never pinned Raven.
Out comes 911!
:
Crowd goes absolute ape shit. Biggest pop of the show so far.
911 gets his hand around Fonzie's throat, and the crowd goes even crazier. 911 pushes Fonzie around the ring by the throat as all the fans stand up with their hands up in the air with huge smiles on their faces. 911 chokeslams Fonzie down into the canvas. Crowd eats it up. Massive "E! C! DUB!" chant.
The Pitbulls recover, and pull Raven and Stevie up to thier feet by the chains. Tommy Dreamer and 911 help get both Raven and Stevie up on Pitbull 2's shoulders. Pitbull 2 drops both Raven and Stevie at the same time with a double Superbomb. The Pitbulls get the pinfall, and win the tag team titles. Awesome emotional moment here with the new tag champs celebrating with Dreamer and 911.
9/10
This my friends is a classic 12 step ECW finish. Not to be confused with the clusterfucked run in festivals that Vince Russo killed WCW with. Russo tried to emulate this type of booking, but he just didn't really get it. Heyman did it with style. It created such a chaotic, unpredictable, wild, rollercoaster ride of a match, and this was a prime example of it right here in this one. Every run in served a purpose, and did something to further develop the storylines.
As for the match, this is one is held in high regards among ECW fans today. I think it may be a bit overrated. Its very sloppy at times. Lots of tables. A frying pan, lots of run ins. But to me all that stuff made this just a fun match to watch. I'd be lying through my teeth if I was to say I wasn't thoroughly entertained by this match even though nothing about it resembled anything close to a "Wrestling" match. Dreamer hooking up the dog collar to fight with Raven, and 911 finally getting his hands on Bill Alphonso also really made this an awesome segment/match. The crowd reaction to Fonzie getting his comeuppance was priceless.
Rey Misterio Jr. vs Psicosis
So, WCW takes your stud wrestlers. What do you do?
Lucha Libre.
Heyman booked these guys on suggestion from Konnan, and they really ended up stealing this show with this match. Its a common misconception that Heyman brought these guys to America for the first time, but that is not true. Both Mysterio and Psicosis wrestled on the AAA When Worlds Collide pay per view in LA in 1994(in the Six Man Tag Match).
Rey Mysterio is only 20 years old here, and lets get one thing strait. The Rey Mysterio from ECW and WCW was nothing at all like the Rey Mysterio the youngsters are used to seeing on WWE these days. Trust me kiddo's, it's like night and day. Rey was amazing in his younger days. Look it up.
Both men begin circling each other very quickly in the ring. They tie up, and Rey whips Psicosis out of the ring with an arm drag. Psicosis gets back into the ring. Psicosis quickly twists Rey's arm up into a hammerlock. Psicosis takes Rey down with the hammerlock. He pulls him back up to their feet......
Damn.
They go through a nice little chain sequence that moved way to fast for me to follow. Just incredible speed that these guys are moving around at. Psicosis gets a powerbomb. Psicosis whips Rey into the ropes, and does back body drop of sorts that sends Rey about 15 feet up into the air before crashing down into the canvas face first. Psicosis slows the pace down, and methodically works Rey over with several power moves.
Psicosis lights Rey up with brutal chest chops in the corner. Psicosis hits Rey with a nice "Air Sabu" type splash in the corner. He goes for it again, but Rey moves. Rey gets a springboard hurricanrana with a pinfall at the end. Psicosis barely kicks out. Rey gets a nice tilt a whirl headscissor takedown. Rey charges Psicosis with incredible speed, and gets backbody dropped over the ropes onto the apron. Psicosis turns around, and blasts Rey in the chest.
Psicosis gets out of the ring to the apron, and Rey gets him with a chest chop of his own. They exchange chops on the apron until Psicosis knocks Rey down. Psicosis catapults Psicosis into the ringpost with his legs, and works the crowd as they go crazy for the fast paced action in the match. Psicosis comes back into the ring. Rey misses a splash in the corner. Psicosis slams Rey, and goes for his trademark legdrop off the top rope. Rey kicks out. Another powerbomb by Psicosis for another 2 count. Psicosis floors Rey with a Spinning Heel kick. Rey goes to the outside.
Psicosis goes for a Suicide Plancha, but Rey gets him with a chair. Joey screams "DIOS MIO"(Oh My God in Spanish).
:
Psicosis takes the momentum by targeting Rey's legs, trying to keep him grounded. Psicosis goes up to the top rope for nice corkscrew somersault senton splash.
Psicosis pulls Rey up, and whips him into the corner. Psicosis goes for a flying knee, but misses, and flies over the top rope to the outside. Rey attempts his 619(Tiger Feint Kick), and no, he did not call it the 619 back then. Psicosis evades the kick by leaping over the guardrail into the crowd. Rey springs himself up to the top rope, and leaps out into the crowd with a splash on Psicosis. Awesome. The crowd screams "OH!" very loudly. Everyone is going crazy as these two youngsters steal the show.
Awesome shot of both men sprawled out in a pile of chairs as the crowd cheers around them.
They take it back to the ring. Psicosis goes up to the top rope. Rey springs up to bring him down with a hurricanrana off the top for the pinfall.
8.8/10
At almost 11 minutes, this was just too short for me to give any higher of a score. There was a lot of action in this match, and action is what I like. It didn't tell any stories, and the selling wasn't that great, but it was just an awesome visual seeing these two guys go after each other with the speed and aerial attacks that they did. I can't remember if this match was better than their Mexican Death Match(with takes place about 2 months after this show) or not. We'll have to wait and see when we review that show.
The story goes that Heyman loved what he seen in this match, and he made plans to bring them back at future shows, along with several other Luchadores that would end up on WCW Nitro shortly after. Guys like La Parka, Konnan, and Juventud Guerrero would come to ECW shortly after this match.
Gangstas Paradise Steel Cage Match: Mikey Whipwreck & Public Enemy vs Sandman, Too Cold Scorpio & New Jack
Alright, so I'm just now realizing that this is ECW's knock towards WCW's War Games match which took place the very next day on pay per view. It was like a "We can do it better" type of match I guess. Let's see if they did.
PE & Mikey come out first. Mikey is dressed up just like PE. Mikey gives the ring announcer a hug, then turns around and gives his pick-pocketed wallet over to PE.
Sandman and Woman come out next. Crowd loves Sandman. They are going crazy for him here. Joey announces that New Jack's partner Mustapha was arrested last night, so Scorpio replaced him at the last minute. Sandman stands atop the cage cracking beers open.
I count three beers he downs while the introductions are announced. He's visibly drunk.
The match starts with all 6 men just brawling, throwing each other into the fence. Scorpio powerslams Whipreck. Sandman is smoking.
Rocco Rock sends him face first into the cage, yet he manages to keep his cigarette in his mouth.
OH SHIT! Rocco Rock does a fucking nice springboard moonsault into a Russian Legsweep on the Sandman. That was nice. Johnny Grunge is already bleeding. The thing about this match so far is that there is no real meaning or emotion in all of this brawling. Its just sloppy and unorganized as if they were all just improvising everything. Grunge and New Jack take the fight outside the cage. Sandman and Mikey fight atop the cage. New Jack and Johnny Grunge take it into the crowd. Mikey has the Sandman hanging upside down from the fence.
Grunge and New Jack make their way over to the soundstage under the balcony. Grunge climbs up to the balcony. Grunge gives New Jack a flying elbow off of the balcony. New Jack is bleeding all over the place. Mikey and Rocco Rock beat up Scorpio and The Sandman in the cage.
Pretty much everyone in the match is bleeding now. This thing has degenerated into a really sloppy mess.
Johnny Grunge strangles New Jack with a phone cord. Somebody pulls a table into the cage. Sandman drops it across Mikey's body. 2 Cold Scorpio pulls another table into the cage. Sandman takes turns dropping tables down across Rocco Rock and Whipreck. New Jack makes his way back into the cage. Johnny Grunge pushes a third table into the ring. Somebody brings a frying pan into the match. Sandman and New Jack get knocked out of the cage. PE stack all 3 tables on top of each other. Scorpio and Rocco Rock fight there way up to the top rope, and then up to the top of the cage.
Quote:
OH MY GOD!!!

-Joey Styles
Both men fall off the top of the cage through all three tables. Sandman brings another table into the cage. Rocco Rock dropkicks The Sandman from behind, sending him falling forward through the table he holds in his hands. PE gets The Sandman with a double suplex. Whipreck gives the Sandman a Super Rana. PE brawl with New Jack and Scorpio around the cage and in the crowd.
Whipreck lands a Jimmy Snuka splash off of the top of the cage to pin the ECW World Champion Sandman.
The Sandman recovers as Mikey Whipreck celebrates. The cage door is locked. Woman gets the cane to The Sandman, and he proceeds to beat Mikey down like a dog. Sandman fires up another smoke before PE enter the cage and chase him away. Woman drags a beaten and bloodied Sandman to the back as PE and Whipreck celebrate in the cage.
Sandman, New Jack, and Scorpio come back out, and crash the celebration. Huge brawl ends the show.
5.9/10
This was not good. The triple table spot was awesome, but nothing else sticks out here. It was just too sloppy. No psychology or emotion to it, just mindless brawling with blood and weapons. I can say that this was better than the War Games match that WCW put together the next night at Fall Brawl 95.
Overall: 8/10
Man, this is a tough show to grade. A lot of shit. The undercard was downright terrible. Rey vs Psicosis was awesome. The double dog collar match was awesome. The main event was ok. The Stieners/Eliminators segment was cool, but man, the rest of this was just worthless. I'm going ahead with a pretty good score because I feel like the good outweighs the bad with this show. The show did have a cool overall feel to it. There were like 11 total tables used, which is some kind of a record at this point in wrestling history when nobody else was using tables. Table usage is stupid as far as psychology goes in wrestling matches, but there's just something about a good table spot that I love. Some good ones in this show. This is just a tough show to grade really. I want to give it a really high score for a few of the matches alone, but the terrible undercard really drags this show down. Overall though I'd say this is one of the better shows I've reviewed so far.
Re: American Hardcore Theater: ECW's Real History
---
Pro Wrestling In The Fall of 1995
So we are getting closer and closer to the end of 1995, and I wanted to take a closer look at what else was going on in pro wrestling during this period of time. 1995 was a really bad year for the WWF, but by the fall things started to get a little better. Due to the competition from WCW's Nitro, Raw at least started to see some decent matchups every week. Jim Cornette's "Camp Cornette" heel faction was ruling the roost with Owen Hart, British Bulldog, and Yokozuna feuding with the top faces in Diesel, HBK, and the Undertaker. The six men squared off in a six man tag on the October 9th episode of Monday Night Raw. Still, the characters were beyond cartoonish, and the booking was atrocious. Nearly every match ended in some kind of DQ, count out, or schmozz. Each show was still riddled with wrestlers with terrible gimmicks such as hog farmers, trash men, and race car drivers. Chris Candido was brought in from Smoky Mountain Wrestling, and given a personal trainer/fitness guru gimmick. Bret Hart was still busy feuding with dentists and pirates. The Hitman blew his freakshow feuds off when he defeated Jean Pierre Laffitte(The Pirate) by submission on October 2nd episode of Raw, and he took out Isaac Yankem(Glen "Kane" Jacobs as a Dentist) in a steel cage match on the October 16th episode of Raw.
One of these cartoon gimmicks that was prominently featured on WWF Raw during the fall of 95 was "Dean" Douglas. Former ECW World Champion Shane Douglas was getting a pretty good little push with plenty of TV time as the evil school teacher with the "Board of Education" wooden paddle he would use in matches.
Douglas would go on to capture the WWF Intercontinental Championship at the In Your House 4: The Great White North pay per view. Shawn Michaels was attacked by a group of Marines prior to the pay per view, and could not compete in a scheduled match against Douglas. Douglas won the title by forfeit, and turned around and lost it a few minutes later in a match against Razor Ramon. Also at the October 22nd Great White North pay per view, Diesel defended the WWF championship against the British Bulldog(DQ).
Meanwhile, over in WCW, they were really putting up a nice competition for the WWF right from the start with the first 8 episodes of Monday Nitro. WWF Raw was full of squash matches and DQ finishes while Nitro was putting on matches like Ric Flair vs Brian Pillman on September 8th, Eddie Guerrero vs Dean Malenko on October 2nd, Arn Anderson vs Ric Flair steel cage match on October 9th, Eddie Guerrero vs Chris Benoit on October 16th, and Eddie Guerrero & Jerry Lynn(Mr. JL) vs Benoit & Malenko on October 23rd. Also prominently featured in WCW during this time was ECW's most loved figure at the time, Sabu. Sabu had a series of matches in WCW against a masked Jerry Lynn leading up to the October 29th Halloween Havoc pay per view where they wrestled each other for 5 minutes. The launch of Nitro was like the beginning of a new era for WCW. It's interesting to note that what was the end of an era for ECW was the beginning of one for WCW, with numerous wrestlers from ECW filling out the undercard of Nitro(Sabu, Dean Malenko, Eddie Guerrero, Chris Benoit, and soon, Public Enemy).
While the undercards of Nitro were where the action was, the main even scene was still cluttered with the terrible Dungeon of Doom storyline. The Dungeon of Doom was a strait up blast from the past, and chocked full of the older WWF transplanted superstars. The Dungeon of Doom feuded with Hogan and Savage, with Lex Luger pulling a double cross to join the Dungeon. The Dungeon of Doom storyline rolled on as WCW made their way to the October 29th Halloween Havoc pay per view. Hogan headlined the show by facing off with The Giant. Hogan's match against the Giant at Halloween Havoc was an eventful contest to say the least.
Not only did Hogan and The Gaint hook up in the ring at Halloween Havoc, they hooked it up Monster Truck style!
In traditional WCW tomfoolery, Halloween Havoc 95 took the wrestlecrap to a new level with an epic sumo style battle between two monster trucks that represented Hogan and The Giant. Not all of Halloween Havoc was bad though. The Four Horseman were reborn when Ric Flair turned on Sting in a tag match against Arn Anderson and Brian Pillman. Flair, Anderson, Pillman, and later Chris Benoit brought the legendary heel stable back to life to show the Dungeon how it was done.
While all of this malarkey was going down in the WWF and WCW Rey Mysterio and Psicosis were tearing it up in ECW. The two men made their ECW debut's at Gangsta's Paradise, and would go on to wrestle one of the match of the year candidates on the October 7th "South Philly Jam" show in a 2 out of 3 Falls Match. The 2 out of 3 falls match is one of the best matches in ECW history, and is included in the bonus features of the Rise and Fall of ECW DVD. Also going on in ECW was the ongoing blood feud between Tommy Dreamer and Raven. The feud had exploded by now to include multiple different storylines going at once. The primary storyline involved was the Pennsylvania State Athletic Commissioner Bill Alphonso's attempt to take the extreme out of ECW. Alphonso sided with Raven in an attempt to eliminate the ECW fans favorite wrestler Tommy Dreamer. Cactus Jack turned on Dreamer to align himself with Alphonso during the Summer. Cactus sided with Raven, and would cut some of the best promos in wrestling history in a pretty deep little storyline where he blames the fans for pushing wrestlers like
Ray Stevens
and
Dynamite Kid
too far. Cactus told the fans that he was through with the hardcore wrestling, and that he was going to punish them by not giving them their money's worth. Not only that, but Cactus was trying to convince Tommy Dreamer to do the same, and to go to WCW with him.
Also sided with Raven, Stevie Richards, and Beulah Mcgillicutty was the goofball slap stick lackey family, the Dudley Brothers. Buh Buh Ray and D-Von weren't the Dudley's just yet, rather a hodge podge motley crew of guys named Dudley Dudley, Dances with Dudley, Big Dick Dudley, and Sign Guy Dudley. Raven and his "Flock" would make life miserable for Tommy Dreamer and The Pit Bulls. Raven and Richards would win the ECW Tag Team titles back from The Pit Bulls on the October 7th show, only to turn around and lose them that same evening to Public Enemy in a three way dance that also included The Gangstas. Tommy Dreamer would end up bringing Terry Funk back to ECW to help him fight Cactus and Raven during the month of October in ECW.
Also going on in ECW during this time Taz was still nursing a neck injury. Taz was still working, but it was an angle with non-wrestler Jason, who brought in the Eliminators(Perry Saturn and John Kronus) at Gangstas Paradise. Mikey Whipreck became the number one contender to The Sandman(and Woman)'s ECW World Championship when he won a battle royal in September. Mikey got a pinfall over The Sandman at Gangstas Paradise during the tag team cage match. Mikey and Sandman's feud over the ECW World Championship would become interesting when WCW fired "Stunning" Steve Austin.
Steve Austin made his ECW debut with his classic Hulk Hogan parody at Gangstas Paradise. The skit did not make the home video of Gangstas Paradise, but it did air on Hardcore TV during the fall. During the skit, Austin talked about how he never got the chance to rise above mid-card status in the WCW.
Austin made his first in ring appearance in ECW on September 28th in Middleton, NY. Austin came out before a match between Sandman and Mikey Whipreck, and cut a foul mouthed promo talking about how much of a shithole ECW was, and bad mouthing the Sandman for being a fat, out of shape, beer drinking champion. Austin called Mikey a sorry piece of shit that didn't deserve to be in the ring. Right from his very first night in ECW, Austin was "Stone Cold". His promos in ECW resembled nothing at all the "Ringmaster" or "Stunning Steve" stuff. Heyman gave Austin the freedom to go out there, and develop this character, and a legend was born. Austin would cut another promo on Hardcore TV going into details about how he was mishandled in WCW, even talking about ideas he had mentioned to Eric Bischoff & Dusty Rhodes that were shot down. Austin talked about how much of a shithole ECW was, and how it was "Just a bunch of Violent CRAP!" in the promo. The "Just a bunch of violent crap" promo reminds me a lot of the Shane Douglas "Evolution of a Franchise" promo that I took a look at earlier in this project where Shane pretty much just did a shoot on his beef with Ric Flair. So much of what I've looked at from ECW in 1995 has been very "Shooty". From Terry Funk and Cactus Jack's "Charlatan" feud earlier in the year, to Shane's shooting on Flair, to Cactus' heel turn and the "Cane Dewey" promos, to this Steve Austin stuff. It was all shooty, but it had a distinct style to it that was different from(and much better than) the Vince Russo WCW train wreck shit.
The next four shows I will be taking a look at are the Oct. 24th, Oct. 31st, Nov. 7th, and Nov. 14th episodes of Hardcore TV from 1995. It's the build up to the November To Remember show, which is probably one of the best ECW shows of all time. Lets take a look at ECW's weekly show, and see how it compares to Nitro and Raw from this time.
Posting Rules

You may not post new threads

You may not post replies

You may not post attachments

You may not edit your posts

---

HTML code is Off

---