Re: Classic Wrestling General Discussion: Review & Recommend Wrestlers/Matches/Shows
---
BruiserKC
, I watched every minute of those clips. I enjoyed watching it very much. The match shouldn't have been a scientific affair as it was a personal issue that had to be FOUGHT inside the hellacious steel cage. I want to see brawling and goodness knows Lawler can throw some of the best punches in wrestling. Idol did give him some stiff shots himself, though. I agree with you on the Memphis crowd being roped in by this battle and by the end it did look like they were going to attack Idol, Rich, and Dangerously!
Quote:
Clique I really like your reviews
if you have the time could you please do one on the 2/3 falls match between Eddie Guerrero and Dean Malenko from ECW? I read about it in Eddie's book before he passed away and he wrote that it was his favorite match of all time, and that it was so special atmosphere wise because the hostile ECW crowd was known to give the wrestlers heat and throw things at them if they knew a wrestler was leaving the cult/company and word got out that both of them were leaving for WCW. Besides the fact of them leaving, they got a standing ovation. Was it really "that good". If you're busy I totally understand but yeah, would love your thoughts on that match, hopefully without telling me the result cause i plan on seeing it for the first time.
Thank you. I do plan on reviewing that match in the future and I recommend all of their matches in ECW and WCW to be viewed at least once.
Quote:
ALL HAIL LAWLER AND FUNK. God, I so wish Lawler had spent some time with Crockett/WCW. Could have done so much more. Amazing to think how incredible his career is without really leaving Memphis until he joined WWF.
Oh, can you imagine the alliances he would form with Dusty, Magnum, and the Rock n' Roll Express to oppose the Horsemen? The tag team battles would create so much heat they'd set the entire territory on fire! Flair vs. Lawler in a more extensive program, on a bigger stage, feuding for the NWA World's Heavyweight Championship will forever be a dream. Thinking about heel Lawler vs. Steamboat just kills me. Lawler in JCP/WCW indeed would have been amazing.
EDIT - speaking of
Lawler and the Horsemen:
Here's another great match from two of the best to ever step foot on a wrestling canvas and create art:
Ric Flair vs. Ricky Steamboat for the Vacant WCW World Heavyweight Championship - WCW Saturday Night 05/14/1994

Everything about this wrestling match is awesome as you would expect from these two greats. The chain and counter-wrestling on the mat is so smooth and the transitions are seemingly effortless.

I love how they have a series of slaps to the face because it came off from Flair's perspective "Would you just quit already! I'M THE MAN!" From Steamboat's perspective it is "I won't be intimidated, I'm coming at you none-stop full speed!" That's really the core of Flair vs. Steamboat in all those years and spectacular minutes inside the ring.

The match is close to 40 minutes long (there are commercial breaks of course), the pace is never slow. Every sequence and hold had meaning towards the ultra-simplistic finish. What is so brilliant about this simple finish is while it may seem 'out of nowhere' on first watch, it really ties the entire story of this match together and that is whichever man caught the right move at the right time would win the match.

It doesn't matter if Flair's a conniving heel and Steamboat's a face, by the end of the match both men remain equals no matter the winner. And you knew the next time they faced each other you still wouldn't know which way the tide would turn on the Flair/Steamboat ride. Flair/Steamboat wrestling chemistry is incomparable. If you love their 1989 trilogy then you must see this match.



---
---
Last edited by Clique; 11-03-2012 at

12:40 PM

. Reason: fixed video
Making James Ellsworth GET MY BAGS
Join Date: Jun 2006
Location: Melbourne, Australia
Posts: 4,185
Points: 243
Re: Classic Wrestling General Discussion: Review & Recommend Wrestlers/Matches/Shows
---
Just started the first disc of Goodhelmets ECW Compilation...

Eddy Guerrero vs. Dean Malenko (4/15/95) - ****
Terry Funk vs. Eddie Gilbert (Chain Match) (6/19/93) - ***3/4
Eddy Guerrero vs. Too Cold Scorpio (4/8/95) - ***3/4
Shane Douglas vs. Marty Jannetty (2/25/95) - ***3/4

Really enjoyed it so far. Looking forward to watching heaps more.
Regularly Beating Up James Ellsworth
Join Date: Mar 2010
Location: Des Moines, Iowa
Posts: 3,870
Points: 6,619
Re: Classic Wrestling General Discussion: Review & Recommend Wrestlers/Matches/Shows
---
Clique...I fucking love this section. It gives me a chance to go back in time and view what the product was once like. I don't compare what we see now to what we saw back then, it's two entirely separate deals.

K1ng of K1ngs...love seeing those matches on Youtube. Personally, I'd say the 2nd match which took place at the Clash of Champions was the best, although they will never admit that in Vince's organization as it happened on the same day as Wrestlemania V.
---
The original heel commentators
Moron
Join Date: Dec 2011
Location: "We are each our own devil, and we make this world our hell."
Posts: 5,125
Points: 0
Re: Classic Wrestling General Discussion: Review & Recommend Wrestlers/Matches/Shows
---
Quote:
Clique...I fucking love this section. It gives me a chance to go back in time and view what the product was once like. I don't compare what we see now to what we saw back then, it's two entirely separate deals.
I love the internet. Being able to go back and re-assess wrestlers with a different perspective is a great thing. I tell you what, I've really learned to appreciate guys like King Kong Bundy, who I slept on completely when I was a lot younger. Nick Bockwinkel is a big one too. I just completely slept on those guys.
But more than that, guys that I know are great, I can see a bigger selection of their work. Jumbo, Destroyer, Backlund, Terry Funk, etc.
Some guys are still pretty rough for me to find though. Rikidozan, Lou Thesz, Buddy Rogers, Strangler...
And it's always fun to watch guys back in their prime, like Lawler or André.
It's just not the same when I see all of that and watch all of that then turn on TV to hear Michael Cole announcing John Cena.
Re: Classic Wrestling General Discussion: Review & Recommend Wrestlers/Matches/Shows
---
Degeneration-X
DVD Review
The best description for one of the most popular factions in wrestling history is not said any better than on the back cover of this special DVD. It reads: "Crotch-chopping, brash, obnoxious, naked, rule-breaking, icon, showstopper, muscular, beautiful, blood-covered, pyro blasts, main events, obscenity-laced, declaring war, pissing everyone off, DX-rated home movies, legend killers, sweet chin music."
That is what DX was all about in a nutshell of adjectives. In this one-disc DVD we get a raw look at this crazy group of guys and girl as they left a memorable mark to say the least on the business. WWE says the film is unrated and uncensored which probably was in 1998 when it was originally released on VHS but my copy is the 2006 re-mastered version and is obviously edited. Still we get the message – X-Pac & Road Dogg likes to get high and the gestures and innuendos from the group are still clear.
CHAPTERS
OBTAINING MICHAEL COLE'S SERVICES
Poor Michael Cole, he was one of the first victims of the DX hazing back in 1997. Triple H even bullies Cole into telling the history of the group throughout the program. Cole also mentions he isn't the only commentator to get the DX treatment. DX was all about spitting in the face of authority or anyone really whether is was the WWF Commissioner Slaughter or Jim Ross.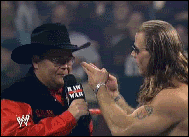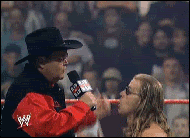 THE BEGINNING OF DX
Shawn Michaels, Triple H, Chyna and Rick Rude were the founding members of the original DX and they pushed the envelope like no other during the Attitude Era. Steve Austin was the hottest thing going during the time but you can bet DX were the second hottest thing and that is a very impressive position to be in.
With DX, RAW had more of a party like atmosphere where a wrestling fan could express their selves fully because the members of DX surely did. DX said a lot of controversial things in their promos and often broke kayfabe disrespecting the old tradition in the business. But that's what the time called for – to be rebellious and the group worked very successfully during the shift in power between WWE and WCW.
The next two chapters covered are
TRIPLE H
and
CHYNA
Triple H was a part of the clique and always wanted to work with Shawn Michaels so the opportunity was available when their feuds intertwined with one another for them to make it happen. Chyna the bodyguard of Triple H had that intimidating presence and no non-sense persona that complimented HHH and Shawn's craziness. Rude served the same purpose as well. I have to give Triple H credit, he took the ball and ran with a new DX when Shawn got injured and the great gained even more popularity in 1998.
DX UNCENSORED
Spoiler for Warning D-X rated:
What DX said and did in their segments was so racy and they're lucky they didn't get thrown off the air. The show was more adult oriented and I guess with the ratings they were getting there wasn't any problem. The girls in the audience that would flash for DX also added to that freedom of expression I talked about earlier and anything goes when the Degenerates enter the building.
DX MAKE SOME NOISE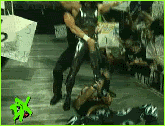 These guys were like freakin rock stars and the DX Band would come out on occasion to sing them to the ring. We get a lot of footage backed by rock music of DX telling everyone to "Suck It!" Very cool video montage of DX just raising hell!
SHAWN MICHAELS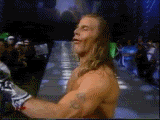 Shawn would come to the ring in *stuffed* skin-tight biker shorts and give some of the most wild, profanity laced rants on the wrestlers and the crowd that you'd ever want to here. Then sometimes HBK had no problems showing his ass off to world-wide television. The Heart Break Kid would hump a floor or two in his day also. But Shawn was the epitome of Attitude onscreen and in real life.
DX & TYSON
So much press came from Tyson's association with DX and their feud with Steve Austin on the Road to WrestleMania 14. Much like Shawn Michaels, Mike Tyson is a degenerate himself and it was cool seeing such a big celebrity and sports figure take part in wrestling. I know WCW did something similar with Dennis Rodman but the tension between Tyson and Austin was bigger than anyone could have imagine.
NEW AGE OUTLAWS
In their primes they were arguably one of the greatest tag teams of all time. They had been disrespecting wrestlers and crotch-chopping before they even got with the group. Their attitudes just made for the perfect fit. I will never forget the night they put Cactus Jack and Chainsaw Charlie in a dumpster and threw them off the stage! "Oh you didn't know?"
DX INVADES WCW
I would say this is a significant moment in RAW history and could have been for WCW Nitro as well if Bischoff would have let them into the building. Could you imagine if DX would have appeared on Nitro what that would have done for their show? The ratings might have taken another shift back to WCW if it would have happened. But instead Bischoff locked the doors and the hilarious segment only played on WWE television where the highest ratings would stay until the end of the Monday Night Wars. DX took the fight to WCW and they backed down plain and simple.
EXTRAS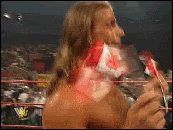 Shawn Michaels vs. Mankind
RAW 8/11/97
This match is important because it is the birth of D-X. At the beginning of RAW, Michaels left everyone speculating on who would be his "Insurance Policy."
The chemistry between The Heart Break Kid and Mankind is just impeccable. The fact they are able to cut a non-stop, aggressive pace with a lot of stiff bumps is incredible. This match is just a taste of what we got in their classic at Mind Games a year earlier which still means this is awesome to watch.
Some of the best bumps are Mankind taking a backdrop onto announce table followed Shawn delivering an elbow drop off the ring apron! When Mankind got the upper hand on HBK, Triple H and Chyna who had been feuding with Mankind/Cactus Jack/Dude Love for months came to ringside.
Once Mankind applied the Mandible Claw on Shawn, RICK RUDE made his way down the ramp! The ravishing one is the "Insurance Policy!" Mankind gets his head bashed in by Rude with a steel chair and Shawn gives him Sweet Chin Music for the victory.
A new era is born. Shawn Michaels and Triple H would officially call themselves Degeneration-X a week later.
Shawn Michaels and Triple H vs. Mankind and The Undertaker
RAW 8/18/97
Shawn is so funny with his gyrating dances to the ring! But when Undertaker entered the building, all the dancing stopped. Jim Ross emphatically stated two times that "Undertaker is STILL THE MAN." And I'm not going to argue with good old JR.
A lot of heat between these four men as Shawn cost Taker the title at SummerSlam and the extensive history between Helmsley and Mankind still has bad blood.
This is a hot tag team match that I wished lasted longer because the double team heel work from Shawn and Hunter is spot on. They give Mankind an excellent high-low clothesline/knee clip and hold him on their side of the ring for most of the match.
Once Taker finally gets tag in asses start getting kicked left, right, up and out of the ring! Rude makes another appearance which causes a distraction for Mankind and Taker. Shawn just says to hell with the match and dents a chair over Taker's head which busts him wide open!
Taker being the monster that he is just sits up. Shawn decides to give him another shot to the head and Taker sits up again! D-X gets the fuck out of there after that. As I said, the match is very good but would like to have been longer best the action is top-notch as would be expected with these four superstars.
Triple H vs. Bret "Hitman" Hart
RAW 10/6/97
This feud between D-X and Hart Foundation was so intense and you could tell the personal animosity each group had for the other which was all real. It was also awesome that both factions were heels, except for The Harts in Canada.
Triple H got some very good offense on the WWE Champion. Hunter actually matched very well the Hitman. Hart being the ring general that he is steered this ship for most of the contest working over Hunter's leg with intentions to set him up for the Sharpshooter.
Shawn Michaels came to the ring telling everyone to 'Suck It' and then he disrespectfully proceeded to stick the Canadian flag up his nose and hang himself from it. I bet millions in Canada wanted to hang HBK in their own special way after seeing this.
Bret eventually has the match won with Sharpshooter but a brawl between Owen, Jim and Rude breaks out. Bret gets punched by Chyna and then Sweet Chin Music by Shawn on the outside. Hart is counted out and HHH has defeated the WWF Champion!
"This is what I think of Bret and his fans."
Shawn Michaels vs. Triple H
European Championship Match
RAW 12/22/97
Michaels and HHH may have never owned any harder than in this EPIC match for the European gold. People actually thought a championship could come in between these two buddies, hah!
The epicness of this contest can only be reviewed play-by-play style (sorry to those who don't like play-by-play reviews).
Michaels starts off stretching on the ring ropes to get warmed up. Not to be one-upped, Helmsley follows with a stretch on the ropes himself. What psychology shown in the first few moments in this main event.
Jim Cornette notes that he thinks HHH will win because Chyna is closer to him. But Chyna shows no bias or B.S. as she gives advice to both HBK and HHH.
Then they LOCK UP and Michaels immediately GOES DOWN! Triple H runs across the ring, bouncing off the ropes several times over Shawn's prone body.
The finish sees Triple H give Shawn an ULTIMATE SPLASH for the 1 … 2 … 3! We have a NEW European Champion!!! What a match.
Both men are spent and very emotional. LOL at Cornette saying, "Shawn sure knows how to cry on cue. He cries every time he comes to this city." And JR saying, "He's lost his smile again!"
Commissioner Slaughter comes to the stage and gets some crotch chop taunts. D-X gets the best of the established authority yet again!
Shawn Michaels vs. Owen Hart
WWE Championship Match
RAW 12/29/97
This is only the second one-on-one match these two had in 1997. The first happened in late October on Raw for the Intercontinental and European Championships. Now the WWE Championship is on the line and it is more personal considering what happened with Bret at Survivor Series.
I like the start of the match with Owen jumping on Shawn before the bell even rings. Shawn then must suffer from a hard suplex on the steel ramp.
Owen and Shawn also have great chemistry together and you can bet their matches aren't going to be slow anytime. It's just non-stop action and Shawn tries to put Owen away with a Piledriver and then a DDT.
Owen looked to have the match won with a Sharpshooter but an injured Triple H at ringside hit him with a crutch for the disqualification. Michaels was such an ultimate heel at this time and this was just another level of heat gained by one of the best ever. This match closes out a legendary 1997.
Shawn Michaels vs. The Undertaker
Casket Match for the WWE Championship
Royal Rumble 1/18/98
The Heartbreak Kid and The Phenom are my two very favorite wrestlers of all time and it seems every time they have faced on PPV the match has been a memorable occasion and this encounter is no different.
This is certainly the greatest Casket Match of all time with HBK and Taker actually making this fight to put the other man's body in a box. The best spot is the jumping Tombstone from the ring apron into the casket!
The New Age Outlaws and Savio Vega and his crew jumped Taker similar to what happened to the Deadman in his Casket Match with Yokozuna years earlier. But Kane came out and cleaned house.
The program stops there and we don't get to see the part where Kane swerves us and puts Taker in the casket and sets it on fire.
Triple H, The New Age Outlaws and Savio Vega vs.
Steve Austin, Owen Hart, Cactus Jack and Chainsaw Charlie
Anything Goes 8-Man Tag Team Match
No Way Out 2/15/98
Weapons and brawling make this unsanctioned match one hell of a fight from the get go. The crowd literally erupted when Austin entered the building. Cactus gets wrapped in barbed wire, multiple chair shots to the head are taken and Chainsaw Charlie is one crazy motherfunker!
After about 10 minutes of brawling they decide to have a tag team match and that's when Charlie is isolated and beaten badly. The Outlaws Powerbomb him through two chairs which Charlie sells like he fell off a building.
He then gets dropped on his head from the ring apron straight to the floor with no protect whatsoever. After all the hardcore brutality is place on the hardcore tag team, they finally make somewhat of a comeback. Just enough to get the hot and I do mean hot tag to Austin.
Stone Cold whips everybody's ass and finishes the match with a Stunner in quick, lethal fashion like a Rattlesnake. After the match Chyna taunts Austin until he Stunners her ass too!
Triple H vs. Owen Hart
European Championship Match
RAW 3/17/98
Match isn't long or really a full match at all since Owen had an ankle injury. Triple H bullied "The King of Harts" into this impromptu championship match two weeks before their scheduled match at WrestleMania 14.
Owen pummels Triple H outside of the ring until the ref gets distracted and Chyna hits Owen's injured ankle with a baseball bat. Triple H takes advantage with a version of an ankle lock and the ref stops the match. Triple H wins the title and more heat for DX!
So that's the DVD. It is outrageous and contains loads of fun. If you want to get a good laugh and cool look at DX check it out.
TWO WORDS - SUCK IT!




Or maybe it's

BUY IT! (You know, the DVD)
---
---
Last edited by Clique; 08-19-2012 at

01:33 AM

.
Regularly Beating Up James Ellsworth
Join Date: Mar 2010
Location: Des Moines, Iowa
Posts: 3,870
Points: 6,619
Re: Classic Wrestling General Discussion: Review & Recommend Wrestlers/Matches/Shows
---
"NATURE BOY" RIC FLAIR VS. "THE ENFORCER" ARN ANDERSON
SEPTEMBER 17, 1995...ASHEVILLE CIVIC CENTER...ASHEVILLE, NORTH CAROLINA



What took place at WCW's annual Fall Brawl was an event the wrestling world thought would never happen. For the better part of 10 years, Double A and the Nature Boy were as close as brothers, part of the most vicious gang in wrestling history and they had conquered the world together. Now, they would face each other in the ring. We talk about the matches we'd never thought we'd see (Rock vs. Hogan, Lesnar vs. Goldberg, etc). In 1995, Ric Flair vs. Arn Anderson was one that no one would have ever predicted would take place.

Flair and Anderson had tried to help Vader beat Hulk Hogan to regain the WCW World title. Eventually, it led to Vader turning on Arn and Ric and becoming face. On August 6, 1995, Vader defeated Anderson and Flair in a handicap match at Clash of the Champions from Daytona Beach, Florida. After the match, Flair blamed Double A for the loss and the two men started squabbling. Over the course of the next few weeks, Arn talked about how Flair's obsession with destroying Hogan had made him lose focus. Meanwhile, Flair said he'd be able to teach Arn a wrestling lesson.

Soon, the match would be set for Fall Brawl on September 17, 1995 in Asheville, North Carolina. However, shortly before the event, Double A was set to face Hacksaw Jim Duggan on WCW Pro in a taped fist match. In typical Horsemen fashion, Flair jumped Arn before the match, which never happened as the two men brawled all the way to the back.

Double A's promo right before the match shows why he is one of the most underrated on the mic, as well as one of the most underrated wrestlers of all-time.


This match has everything...ring psychology, drama, tension, just everything that makes a great match. You see it on the face of the combatants, as they have that feeling in the pit of their stomach that they don't want to face their best friend but think they have no choice. I thought what was a nice touch was showing some of the wrestlers at the time, like Eddie Guerrero, Alex Wright, and Brian Pillman (Flyin' Brian had something to say about the match as the night goes on) sitting at ringside watching. The fans also were fully invested in this battle, since both wrestlers got mixed reactions as you could tell the audience truly didn't know who to fully get behind. Overall, I give the match 5 out of 5 stars.

I won't give away the ending, I'll let whoever wants to watch see for themselves why it was a solid encounter.


---
The original heel commentators
Re: Classic Wrestling General Discussion: Review & Recommend Wrestlers/Matches/Shows
---
Great write-up BruiserKC! I enjoyed watching that feud transpired and how it eventually led to them eventually getting back together and forming a brand new Four Horsemen.

Here's MORE Flair!







"Nature Boy" Ric Flair vs. Barry Windham
NWA World Heavyweight Championship Match
Battle of the Belts II (February 14, 1986)

The match-up between Ric Flair and Barry Windham is a perfect example of a classic showdown between an 80's style heel and baby-face. It's a natural story of flamboyance and arrogance along with high success facing the humility and fight of a real "good guy." Windham is white meat baby face yet he still has that slight edge about him that makes him cool. It's probably due to his Texas/cowboy roots but this man has a presence about him that indirectly or not makes you want to cheer for him.

He has great chemistry, timing and poise that connect to the audience so well. Like that fighting stance he does while challenging Flair to come fight him. Windham doesn't need to pose to the crowd because he already has them going with his big punches to the head of Flair in unison with their cheers. It feels like the crowd is vicariously fighting Flair through Windham and this young challenger is fully focused on winning the gold.

Flair will use every trick in the book to retain his gold. Flair probably does respect his opponents which is why he shook Windham's hand at the start of the match, which also shows the pride of competing in a NWA World Title Match. However, Flair will still cheat and play dirty any opportunity he can get because he loves being champion more. This is a brilliant way of showing the various motivations his character possesses.

The ropes were Flair's best friend the entire match it seemed all the way up to the finish. Flair is the master at holding the ropes to gain leverage over an opponent be it in pinning combinations or in submission holds. It's a play I've never seen fail for him that draws tons of heat. After a great catch-as-catch can, chain style start both men took it to the mat where we see Flair channel his amateur skills and wrestle Windham on the mat. Flair is simply a brilliant wrestler on the mat no question about it. I love how he turns pure wrestling yet again into something dirty by grabbing the ropes in an attempt to pin the challenger.

One of my favorite moments is when Flair turned a botch into yet another intricate part of the clash in personality and his willingness to do anything to win. So Flair gets his head and neck caught in the ropes and he sells it right at that moment yelling in agony and holding his neck as he lies in the corner. We then see Windham in an act of being a fair competitor allow Flair to get up but Flair deceives him and takes him down instead!

This in turn leads to Flair dominating and busting Windham open building the heat of the match as Barry looks like a warrior in peril fighting to make his strong comeback. Also, great job on Gordon Solie's part in describing the potentially lethal effects a move as simple as the sleeper hold could have. Mike Graham is not so bad himself on commentary either putting both men over as true athletes of the sport of professional wrestling.

Windham eventually made his comeback busting Flair opening too and then it's back and forth to the end from there. The finish is excellent and maybe the best way to end the broad way of the evening.

I probably hold this match and their match in January 1987 on the same mantle. Windham is one of the best opponents Flair has ever had. The chemistry Flair has with him is almost as good as with Steamboat and that says a lot about the super talented Barry Windham.
---
Making James Ellsworth GET MY BAGS
Join Date: Jun 2006
Location: Melbourne, Australia
Posts: 4,185
Points: 243
Re: Classic Wrestling General Discussion: Review & Recommend Wrestlers/Matches/Shows
---
Eddy Guerrero vs. Dean Malenko (2/3 Falls) (8/26/95) - ****1/4
Rey Misterio Jr. vs. Psicosis (Mexican Death Match) (11/18/95) - ****
Tommy Dreamer & Terry Funk vs. Cactus Jack & Raven (11/18/95) - ***3/4
Rey Misterio Jr. vs. Psicosis (9/16/95) - ***1/2
Rey Misterio Jr. vs. Juventud Guerrera (2/3/96) - ***1/2

Just finished Disc 2 from the ECW set... Some really fun stuff and surprising me as to how much ECW I'd already seen.
Re: Classic Wrestling General Discussion: Review & Recommend Wrestlers/Matches/Shows
---


"The Shooter" Dean Malenko vs. Eddie Guerrero
2 out of 3 Falls Match
ECW 08/26/1995


Dean Malenko and Eddie Guerrero earned notoriety in the United States as singles performers their series of matches together that absolutely tore the house down at the ECW Arena for about half a year. As a result, WCW acquired their talents.

It was the norm when a talent would receive a contract with one of the big companies the fans would angrily shout at the talent, "You sold out!" However, Malenko and Guerrero received a reaction that was more like a love fest as oppose to contempt at their departure because the ECW appreciated this special breed of talent. Showered with "Please don't go" chants from the ECW faithful Dean Malenko and Eddie Guerrero (visibility consumed with emotion) entered the ECW Arena for the final time to perform.

During this period in mainstream wrestling, these two exceptionally talented wrestlers presented wrestling styles not popular in the States. Malenko and Guerrero presented professional wrestling to this audience the way they mastered it in Japan and Mexico. A style of wrestling that featured fast paced, mat based submission wrestling mixed with hard-hitting, high flying moves applied with precise execution that built the intensity of the performance and the excitement of the audience minute by minute. The intensity of the emotion in that room was just incredible.

RESPECT - HONOR - ADMIRATION: Three elements this unforgettable farewell match entails. Malenko and Guerrero earned the respect of the ECW fans based on their ability to take wrestling to the extreme without picking up a weapon or shedding a drop of blood. These two 2nd generation wrestlers battled for months over the ECW World Television Championship and raised their level of competitiveness with each encounter. Both men badly want to defeat the other and hate has nothing to do with this extended rivalry. This is not a grudge match but a match about PRIDE and bringing the focus back to wrestling.

So many great wrestlers got their 1st opportunities to shine on American television in ECW, wrestlers that initially may not have had that same opportunity anywhere else. Paul Heyman afforded guys like Eddie Guerrero, Dean Malenko, Chris Benoit, Rey Mysterio, Chris Jericho, Taz, and others the time to showcase their talents and attention to gain that notoriety to open the door for bigger opportunities.

Dean is one of the best technical wrestlers ever and here he executes every hold with first-rate precision. Eddie is a natural in that ring with his smooth pacing of transitions and delivery of beautifully swift moves such as a springboard arm drag or an impaling tornado DDT; immaculate delivery here from both competitors. Eddie and Dean have unadulterated chemistry with each other. Eddie has said in his autobiography, "Once you know that you've got the wrestling chemistry down, you can add to it, intensify it with more drama, more emotion." I also love how their contrast in characters compliments so well together. Malenko is so technically sound and is this cold as ice grappler – "The Shooter." Eddie is full of fire and he displays that with the energy he brings to the match and in the fluidity of his explosive holds.

Eddie believed if the chemistry was right, two wrestlers can go out and tear the house down. When you have performers this good and know each other as well as Eddie and Dean did, they can work a frenetic, breakneck pace and know which direction they want to take the match almost instinctively. That is the kind of chemistry both men have said to have had with each other.

They did an impressive job with the structure of the match and the falls I thought. I enjoyed watching the counter wrestling holds and the submission transitions performed on the mat. The implementations of payback spots embellished the story of their competitive rivalry. If Guerrero hit Malenko with a Brainbuster, Malenko would hit him with one once he got the advantage back. If Malenko stomped on Guerrero's face then Guerrero would answer with twisting the sole of his boot in the face of Malenko. Both men looked like formidable in the entire contest and with each fall. I liked how Eddie gained his fall through craftiness and Dean gained his on becoming more assertive when he saw that he was in risk of losing.

Finishing stretch is exactly what you would expect from these two featuring various pin attempts at an extremely high rate. The segment is very common (and a bit clichéd) in wrestling today, especially in the independent wrestling scene, but here it is fresh and the performers built towards it so well so that the finale could reach its climatic potential. They wrestled for over 20 minutes but it never felt that long. I actually would have like to have seen them go longer but I must say it is a great feeling to be amazed by a performance and left lingering for more …




Eddie and Dean wanted to leave a lasting memory for the ECW faithful and they certainly accomplished that with this superb wrestling showdown – a "Malenko/Guerrero classic." The adulation from the fans, the ECW locker room, and Paul Heyman is a respectable moment in wrestling that is simply unforgettable. What a moment seeing Dean Malenko speak for the first time and share words with Eddie in this expressive farewell.

---
---
Last edited by Clique; 09-17-2012 at

11:59 AM

. Reason: Removed dead video
Re: Classic Wrestling General Discussion & Review Thread
---
This next one holds a special place in my heart as my favorite match of all-time. I was about 16 years old at the time and it was when I really started to analyze the details of what makes a great match.



Shawn Michaels vs Razor Ramon - Wrestlemania X - Ladder Match for the IC Title



I had seen ladder matches prior to this contest, having grown up watching Stampede Wrestling, but nothing I had ever seen in the world of professional wrestling could have prepared me for this. These two took a mediocre gimmick match and turned it into a combination ballet/spectacle/bar brawl.

The build and character work leading up to the match was new and innovative as 'the Bad Guy' had become a full-fledged babyface based solely off of Hall's incredible charisma. Since he first kicked Jannetty through the Barbershop window I had (and continue to) hated the prissy, preening prima donna in HBK, that said, there's not much I enjoy more than watching him get the living tar kicked out of him. I was stoked for this match and 'my guy' was the hero for once.

Holy shit. Before there was ever a 'holy shit' chant.





It changed everything. Spot after spot without giving up an inch in storytelling, matches would never be the same again, this was the new gold standard. I hate when interviews make like Scott didn't play his part ("HBK and a ladder") because despite being limited in-ring, Hall was a great hand who understood the cardinal rule that 'it's not what you do, but when/how/why you do it'. Michaels fans can always look back at this one as his break-out work. Both men deserve a tonne of credit for making history.

I've heard sentiment that the match doesn't hold up, but it's still my favorite and I watch it every couple years. While other ladder matches have come along and expanded on the work created that day, there will always be a 'first' and a wonderful sense of nostalgia that accompanies it.
---
I love professional-wrestling.
Posting Rules

You may not post new threads

You may not post replies

You may not post attachments

You may not edit your posts

---

HTML code is Off

---