Re: The Era of Darkness
---
I've been waiting for this for so long, just praying you would bring this back. So glad that you finally have, so hopefully this doesn't disappoint. On a little side not to, I was too lazy to read back on some of your old shows, so If I'm a little off on certain things... too bad. Opening video reminded me you have Edge/Taker and Orton/Jericho being cooked up as your two main feuds. That's definitely enough to keep me interested.

Hate to sort of harp on a negative, but I must agree with Wolfy regarding the cancellation of the cage match. Makes no sense whatsoever, it's just a weak excuse to back track. Not only that, but I wasn't sure I even liked the Triple H incident being mentioned at all on Smackdown. I understand that it's a big deal, but Raw and Smackdown are two separate entities. I would have preferred if Orton's attack on Jericho dominated the start of the show talk, and Trips being run down could have maybe been mentioned later. I get why you did it this way, and it does make ends meet, but I don't necessarily like it all that much.

Actually opening the show with Edge, why not? I thought you captured Edge's whiny personality pretty well, with him wanting the gold and what not. He actually makes a few good points as well, due to the fact that him being stripped of the title in the first place was odd. I actually wonder if that was done purposely suss to lead to something down the track. Taker appearing and the brawl getting started was a brilliant way to start the show. I know long winded promos are effective, and seem to be the norm around here, but sometimes an explosive start can be WAY more effective. Good job here, and HOLY SHIT at the Tombstone to Lita. Not too sure Lita would have the guts to jump on Taker's back in the first place, but I'll overlook that and say this was just a brilliant, out there start to the show that has me looking forward to reading on.

I get Linda McMahon has a lot on her plate at the moment, but surely she'd offer some sort of response. She is the head of the brand, she's a McMahon, you'd think she would at least say something to try and calm the ship... I guess it does leave us wondering what she'll say later on though.

A nice opening contest between Bourne and Chavo. The match went pretty well, but there was one thing that stuck out to me that I disliked. After Guerrero missed the Frog Splash, Bourne didn't even touch Chavo, instead he just went straight to the top rope to attempt his high risk move. I find this to be extremely dumb when done in real life, and again here. Besides that, the cheap finish for Chavo to get the win sets up some sort of feud here. The Chavo not respecting Bourne for the way he won the title route is fine, but we need more than just Cole saying this. Hopefully next week we can get some mic time for Chavo so this can develop further. It has all the promise to be a fun first title defence for Bourne though.

'The Legend Killer' is an awesome moniker for Orton, but I feel like after the 'Age of Orton' title run he really outgrew that moniker. He doesn't need to rely on that nickname for heat or anything anymore, because he's just developed into a sadistic bastard himself. Orton's interview here was spot on. Loved everything he mentioned about Jericho, and the little open ended threat to Linda suited him perfectly. Great writing here... and it builds the intrigue even more for Linda's speech later.

A nice win for Harry Smith over Santino to keep him looking strong. The pushing of young/different talent is always a good thing in my book.

Ugh, women's stuff. Natalya is awesome though, and I love the idea of her as an arrogant heel. Nothing wrong with this segment really, although McCool looking to find Natalya just to offer a hand shake could come off as a little cheesy. These two in a rematch sounds okay... Although, much like Wolfy mentioned, with Bourne/Guerrero potentially being built on a lack of respect, you don't want to go the same way with this one.

Two squash matches in a row is never good, man. Unless there is some very interesting segment in between, which in this case there wasn't. Katie Lea's speech afterward was decent enough, putting over Burchill nicely, and I think the scene is set perfectly for his next challenger to step forward.

Jericho interview was okay, although I did have a few issues with it. One, I feel like Dykstra is on his way up, however after Jericho basically mentions him as a joke here, if Dykstra were to lose to Y2J it could do him a bit of harm. Not too sure I like Jericho mentioning beating The Rock and Austin in the same night in this interview either. He seemed rather sombre, just don't think the mood fit for him to almost brag, even if it was in an indirect way. Also thought he could have focused on Orton a little more, considering what happened last week. Still a solid enough interview though.

Rey Rey will do nothing but add some more talent to the upper mid card. Awesome!

I've quite enjoyed Miz and Morrison's interactions with Linda McMahon, and that continued here. Miz trying to suck up her ass is a typical heel thing to do. Morrison offering his services was fucking hilarious as well. Good stuff.

Not much to say about the Jericho/Dykstra match, except that it surely would have been a great tv match. Whilst I guess Jericho really had to win here, I'm glad Dykstra at least put up a good fight. I know this is just the beginning of a Dykstra push, but if he keeps jobbing to main eventers, he will lose steam real fast. Again, the champion did have to look strong here though, so it's probably smart booking. Dykstra not shaking Jericho's hand was a nice touch as well. Not sure I completely agree with Jericho going for his cocky 'foot on the chest' pin, yet then trying to shake Dykstra's hand after the contest. One action shows respect, one shows a complete lack of respect. Make up your mind.

It was good to see Edge retaliate in some way against Taker here. After what took place earlier, if he didn't, he would have looked like quite the bitch. I thought it would have been nice to see Edge do a little more damage due to what happened earlier in the night...

Oh damn. The Hardyz reuniting was definitely a shock. The match itself was a pretty awesome main event. The Miz and Morrison looked okay throughout, getting a fair bit of offense in. And you smartly played on Matt's injuries thanks to Burchill as well. The first Swanton Bomb was a nice false finish. The ending with The Hardyz picking up the win was an epic, nostalgic moment, and gives a nice boost to your tag division. Not only that, but now Morrison and Miz will join the list of stars gunning for Linda McMahon. You must be setting up Linda for a fall...

Not sure I really like the idea of the new tag champions barely speaking about the tag division, and instead diverting their attention straight to Burchill. I felt like it besmirched the tag titles a little bit. And on a side note, Jeff almost just claiming he's going to be support to his brother in the feud came across as a little cheesy.

Linda McMahon was pretty bland in the beginning. Not that this necessarily is a bad thing, she just basically said everything that was expected. I did like how Lita's neck problems were mentioned though, it just makes the situation seem even more serious. What I didn't expect though, was for Edge to interrupt. He has come across as mentally unstable all because of the World title. Taker and Edge brawling again was just epic too. These two have really made this episode of Smackdown feel unpredictable and edgy, been great to read. I disliked Edge running away again though. With Lita being out of commission, Edge should be looking to DESTROY Taker, not get a few cheap shots then run off. I also thought maybe Linda could have actually started speaking again before Orton made his presence felt, but that's being picky. The situation escalated rather quickly from here, but I expected Orton to be impatient. The back and forth between Linda and Orton was nice, and BOOM RKO. What an awesome moment... And what a terrific way to end the show. I've got no idea what's going to happen from here. Again, there is the issue of two women being attacked in the one night, but I am over looking that to say that this was just an awesome segment to finish the show.

Honestly, I was extremely picky, and some of what I said was probably just opinion based. But I did that, because I know you'd appreciate it. Obviously there's still some work to do with the mid card, but you've got the tag scene hopefully on the up, and a decent cruiserweight feud. Again, still work to do, but Edge/Taker really just made this an awesome show, as did the closing segment. A great way to return the Era of Darkness, and I can't wait until you get back so you can post more shows. A great start, mate.
---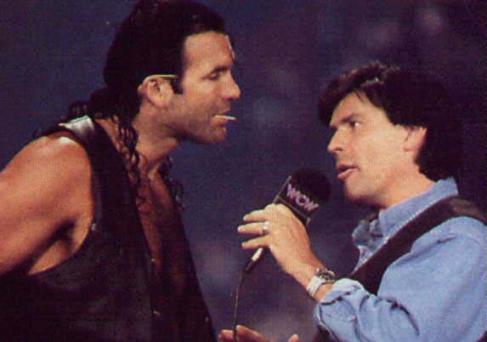 Re: The Era of Darkness
---
Thanks to the usual suspects for the feedback. Now that I'm back from my holidays, I'll just address a couple of things mentioned and then move on to some news and notes. I'll post the preview for the next show, RAW, in a couple of days, and then post the show itself on the weekend perhaps, when I get the time to sit down and format the bugger.
_____________________________________________________________________________________________

WWE.com – July 26th, 2008
Message from the Office of the Chairman of the WWE Board of Directors Vincent K. McMahon

Last night's episode of Friday Night SmackDown! was full of chaos and shrouded in controversy. Perhaps the most shocking moment of the night came at the end of the show where SmackDown! superstar Randy Orton delivered his finishing manoeuvre, the RKO, to SmackDown!'s acting authority figure, WWE Chief Operating Executive and acting SmackDown! General Manager, Linda McMahon. As a result of Mr. Orton's unprofessional conduct, Mrs. McMahon has been sidelined from her day-to-day duties within World Wrestling Entertainment.

This act of violence by Randy Orton has caused shockwaves within the company, and until Mrs. McMahon is able to resume her duties the Chairman of the Board of WWE, Vince McMahon, will assume Mrs. McMahon's position as CEO. Aside from this, after an impromptu meeting between the WWE Board of Directors earlier today, the Board have passed down an order for Randy Orton to appear on this coming Monday's episode of Monday Night RAW.

***


PWInsider.com – July 26th, 2008
WWE News & Notes

~ Randy Orton's RKO to Linda McMahon was done to write Linda off of WWE programming indefinitely. Linda was only meant to serve as a temporary authority figure for storyline purposes, and will now resume her real-life duties as CEO. A new, permanent SmackDown! General Manager is expected to be named as early as this week's SmackDown!, but if not then, then definitely on the following week's episode.

~ Smackdown's opening segment was also written to write off a character from television, that being Lita at the hands of The Undertaker. Lita returned to WWE a few months ago but her deal with the company was always a short-term one and it is likely her segment on SmackDown! will be the last we see of Lita in WWE .

~ As WWE gave the match away last night on SmackDown!, it is now highly unlikely that we will see Kenny Dykstra vs. Chris Jericho for the world title anytime soon, and most definitely not at SummerSlam. Whilst officials are still high on Dykstra, they feel that his push needs to be reined in a little and don't feel he is ready just yet to be competing for the world championship, especially at a pay-per-view as important as SummerSlam. Original plans actually called for The Undertaker to 'injure' Dykstra in their scheduled steel cage match and write Dykstra off for a short period, but plans were then changed to better fit with the Triple H 'attacker' angle on RAW.

~ A number of FCW wrestlers are set to make their WWE debuts just after SummerSlam. Some of those who will be soon called up to the main roster include TJ Wilson, Vladimir Kozlov, Rycklon Stephens, Drew McIntyre, and possibly Nick Nemeth. It is unknown yet as to which brand these rookies would be assigned to, but with DH Smith and Natalya now both on SmackDown!, rumours are rife of Wilson being called up to the blue brand for a Hart family reunion.

~ The Hardys are expected to have a short run with the WWE Tag Team Championship. Considering Matt Hardy mentioned Paul Burchill immediately after his title victory with his brother Jeff, it is possible that the duo may even drop the titles back to The Miz & John Morrison before SummerSlam due to interference from Paul Burchill, setting up a Hardy/Burchill rematch for the summer pay-per-view.
Re: The Era of Darkness
---
A bit later than planned, oh well. I'll post the show tomorrow evening sometime.
____________________________________________________________________________________________

WWE RAW – July 28th, 2008
The Sprint Center - Kansas City, Missouri (Preview)

This week's edition of Monday Night RAW will emanate from the Sprint Center in Kansas City, Missouri, just one week removed from of one of the most shocking broadcasts in WWE history.

After a quick match which saw current WWE Champion, 'The Animal' Batista dominate his competition, the Mohegan Sun Arena in Connecticut exploded at the arrival of former champion, 'The Game' Triple H. Storming to the ring, The Game briefly brawled with Batista before setting his sights on the WWE Chairman Mr. McMahon, the man who had just one night prior stripped The Game of the WWE Championship title "for his own safety". This led to McMahon escaping to the parking lot, with his former son-in-law quickly in tow. After McMahon disappeared into the night, a car suddenly pulled out and ran straight into Triple H, knocking the former champion unconscious and leaving him fighting for his very life. There hasn't been a huge update on Triple H's condition since last week, but we will surely find out much more on RAW. How will the Chairman respond to this horrific attack, and will we ever see Triple H on RAW again?

Triple H wasn't the only member of the WWE roster to suffer an attack last week. Over on SmackDown!, both Edge's long-time girlfriend, Lita, and WWE CEO, Linda McMahon, were the victims of assaults by WWE superstars. Whilst Lita suffered a Tombstone Piledriver at the hands of The Undertaker, Linda McMahon was physically assaulted by one Randy Orton, who was moments prior to the attack denied an opportunity at the World Heavyweight Championship. As a result of his actions the man who has been labelled 'The Viper' has been summoned to Monday Night RAW to suffer the consequences. What will the repercussions be for The Viper's venomous attack?

With Triple H now out of the WWE for the foreseeable future, a new number one contender to the WWE Championship is likely to emerge as we head into August, the month that hosts one of the biggest WWE pay-per-views of the year, SummerSlam. Right now the WWE Champion Batista is at the top of his game, but several names could step up and stake their claim to the championship. Will we see a number contender crowned on this week's broadcast?

Speaking of championships; this week's broadcast will see former Intercontinental champion Carlito take on Mr. Kennedy, with the winner being named the number one contender to the prestigious WWE Intercontinental Championship. With both men having history with Cody Rhodes after the Triple Threat match at The Great American Bash, the current Intercontinental Champion will not exactly be pleased to see either man given the right to challenge him for his title in the future. Also on tonight's show; World Tag Team Champions Elijah Burke & Shelton Benjamin, who refer to themselves as 'Black Gold', will defend their titles against the newest tag team on the block, the recently returned D'Lo Brown & Ron Killings. After all the bad luck they seem to be suffering from lately, will the champions be able to turn the corner and hold on to their titles, or will D'Lo & Ron Killings capture gold just several weeks into their WWE comeback?

All this and much more on Monday Night Raw.


Confirmed for 7/28/08 edition of Monday Night Raw:

Intercontinental Championship Number One Contendership
Carlito vs. Mr. Kennedy

World Tag Team Championship
D'Lo Brown & Ron Killings vs. World Tag Team Champions Black Gold (Elijah Burke and Shelton Benjamin) ©

---
Last edited by TKOW; 02-01-2014 at

05:05 PM

.
Re: The Era of Darkness
---
A slight delay in posting this next show, apologies. A second full show from me - who'd have thought it? Anyway, I hope this show is as enjoyable a read as it was for me to write. There are some big segments here that I know are going to get a mixed reaction, but before you judge, please know that I don't just write things on a whim. I'm not really an on-the-fly booker: everything I write has a long-term purpose, even simple things like squash matches.
Enough rambling, on with the show!
________________________________________________________________________________________________



Quote:

WWE.com - July 28th, 2008
Raw Exclusive: Intercontinental Challengers Speak Out

Earlier today, WWE.com caught up with the two men set to face off on RAW in the Intercontinental Championship number one contender's match, former champion Carlito, and Ken Kennedy, to get their thoughts prior to tonight's broadcast.

WWE.com: Tonight, you get the chance to become number one contender to the Intercontinental Championship. What is your strategy for this match?

Carlito: Carlito doesn't need strategy. Mister Kennedy can talk all the trash he wants, Carlito's a two-time, soon to be, three-time Intercontinental Champion.

Mr. Kennedy: My strategy will be one that's real easy ta understand, plain and simple, I'm gonna kick Carlito's ass.

WWE.com: Moving on: How will tonight's match be any different from your title match at The Great American Bash where Cody Rhodes won the Intercontinental Championship?

Mr. Kennedy: Tonight's a completely different animal. At the Bash it was a triple threat, tonight it's one on one, me against Carlito. That means there's no third guy ta sneak in from behind and steal the win, whoever wins tonight is gonna win because they've aactually earned it.

Carlito: Carlito was outnumbered at The Great American Bash, plain and simple. Tonight, Kennedy's got to put his money where his mouth is without the help of a second man to do his dirty work.

WWE.com: What would it mean to you to be competing for the Intercontinental Title at SummerSlam, considering the history of the championship at that event?

Carlito: The only thing better than Carlito beating Mister Kennedy tonight and then beating Cody Rhodes to win the Intercontinental Title, would be Carlito beating Kennedy tonight and then Cody Rhodes to win the Intercontinental Title at SummerSlam. There's been a lot of legendary superstars to compete for the Intercontinental Championship at SummerSlam and when Carlito wins back the title, you're gonna see that he's better than all of 'em. Das cool.

Mr. Kennedy: Honestly, it'd be an honor. We all know the history of SummerSlam, guys like Bret Hart, Shawn Michaels, Razor Ramon, The Rock, they all competed for the Intercontinental Championship at that event, y'know, and so for me to be competing for the belt at that particular pay-per-view would genuinely be an honor.

WWE.com: Finally, how would you be different as Intercontinental Champion from the current champ, Cody Rhodes?

Mr. Kennedy: Well I'd have a personality for one. Besides that, I think I'd pay more respect to the title I'm holding. You know the Intercontinental Champion at one time was pretty much on par with the WWE Champion, so if I were to win the Intercontinental Championship I'd do whatever I could to get that title back to that level.

Carlito: Honestly, das a question you wanna ask Carlito? Look at Carlito, and then look at Cody Rhodes. Carlito, charismatic, Cody Rhodes, flat. Carlito, good-looking, Cody Rhodes, gross. Carlito, two-time Intercontinental Champion, United States Champion, Tag Team Champion, Cody Rhodes - a one-hit wonder.

________________________________________________________________________________________________




WWE RAW – July 28th, 2008
The Sprint Center - Kansas City, Missouri




Quote:

Raw July 21st Recap Video Package

***GAME***

THE MOHEGAN SUN ARENA GOES INSANE AS THE CAMERA SPINS ROUND TO THE ENTRANCE STAGE TO REVEAL TRIPLE H...WITH A SLEDGEHAMMER IN HAND!!!

Jim Ross: IT'S TRIPLE H!!! ... AND HE'S STARIN' A HOLE RIGHT THROUGH THE DUBYA DUBYA 'E CHAMPION BATISTA!!!

Batista dares his rival to enter the ring, holding on to the steel chair, but instead, The Game slowly walks around the ring...heading for Mr. McMahon instead. Batista swings the chair, but The Game dodges the bullet, then POUNDS The Animal's abdomen with the sledgehammer! The crowd roar as Batista drops the chair and The Game delivers another blow, this time damn near shattering the SKULL of The Animal! ...The Game turns his attention back to the Chairman, who has quietly made a beeline up the ramp...but The Game sees him...the chase is on!!

...We hear the boss yell, "Start the engine, dammit!!" as he approaches his limousine and stumbles to open the door. As McMahon literally THROWS himself into the vehicle...Triple H rushes forward and smashes the window of the door McMahon just closed! Suddenly, the vehicle pulls away before The Game can do any more damage!

Triple H is livid, he is FUMING; and in his rage The Cerebral Assassin approaches the nearest car and unleashes all hell on the vehicle, smashing the windows, attacking the bonnet, doing as much as he can with the dreaded sledgehammer! Having beaten the car to a broken mess, The Game throws the sledgehammer away and begins to walk around in circles, trying to contain his anger.

...............

..........

.....

...

SUDDENLY A CAR SPEEDS OUT...

...HEADS STRAIGHT FOR TRIPLE H...

AND RUNS HIM OVER!!!

The car speeds out of the arena, disappearing from view. As The Game's broken body lies unconscious on the cold, concrete floor of the Mohegan Sun Arena parking lot, Monday Night RAW draws to one of its most shocking, chilling and unexpected closes in history.

As soon as the video ends, the camera cuts to the office of the WWE Chairman himself, MR. MCMAHON. The boss is stood at the centre of the room, facing the camera, with a grave expression on his face as the boos of the audience can be heard in the background.

Mr. McMahon: Good evening. As we just saw, last week's edition of Monday Night RAW ended in a very shocking and disturbing manner. On behalf of the entire WWE, I'd like to apologise to all of our viewers, as well as our staff members, for this situation. I am obliged to tell you that Triple H is in a hospital, back in his home state of Connecticut. And it is with great regret that I...that I must inform you that (Pause) I must inform you that his condition is critical, and as a result, it is impossible to say when - or indeed if - Triple H will be able to return to the WWE as an active competitor.

The Chairman pauses for a moment, taking a deep breath, whilst the heat emanating from the crowd is heard loud and clear from the arena.

Mr. McMahon: This is without a doubt the single most devastating incident we here at WWE have ever been forced to witness. As Chairman of the Board, I am making an official guarantee as of this moment that the perpetrator of this heinous attack will be found and face the full brunt of my authority. On a personal level, I believe that if the attacker had any guts, they would step forward and reveal themselves, rather than hide like a coward. In addition to this attack, last week's edition of Friday Night SmackDown! ended with WWE superstar Randy Orton...(Struggles) Randy Orton putting his hands on the CEO of World Wrestling Entertainment...my wife, Linda McMahon.

McMahon pauses again, now sneering into the camera. After a moment or two, the boss composes himself and returns to his professional stance.

Mr. McMahon: I will not stand for this barbaric behaviour, nor will I allow this show to further descend into chaos and disorder. Therefore, even though I will continue to serve as an active authority figure on this brand, I have named Shane McMahon the new General Manager of Monday Night RAW to further ensure the security and stability of this brand. Besides that, the WWE Board of Directors and I have demanded that Randy Orton show up here tonight so that his fate can be decided.

A loud mixed reaction is heard in the background, but the boss is not deterred from his speech.

Mr. McMahon: Together, Shane and I will not rest until the safety and well being of each and every RAW superstar is guaranteed. You have our word.

Fade to black.

~RAW Opening Video~

We then cut into the arena for the usual pyrotechnics.

Jim Ross: As the WWE reels from the shock of last week's rundown, we welcome you to Monday Night RAW. I'm Jim Ross here with Jerry "The King" Lawler, and King, for the first time in a long time, I'm not quite sure how to open this show after what we saw last week.

Jerry Lawler: I know what you mean, JR. This is just...awkward. I mean after seeing what happened to Triple H last week...I guess...the show must go on. But first of all I think we need to wish Triple H a healthy and speedy recovery.

Jim Ross: And ladies and gentlemen if we hear anything regarding the condition of Triple H, we will let you know as soon as it becomes available. And, as inappropriate as it may seem, we must now turn our attention to tonight's broadcast.

Jerry Lawler: Well JR, we've got quite a show taking shape here tonight. We've got Carlito taking on Mr. Kennedy to determine the next challenger to Cody Rhodes' Intercontinental Championship, and as well as that, we've got the rookie team of D'Lo Brown & Ron Killings taking on Black Gold for the World Tag Team Championship.

Jim Ross: In addition to that action; tonight, after his despicable actions on last week's Friday Night Smackdown, former WWE champion Randy Orton will be here tonight to hear his fate after an impromptu meeting of the WWE Board took place over the weekend.

Jerry Lawler: I wonder how Mr. McMahon and Shane are going to react after Linda got taken out by Randy last week with that brutal RKO.

Jim Ross: And finally, the Women's Championship will be decided as 'The Glamazon' Beth Phoenix challenges Mickie James for her title.

Jerry Lawler: And after Beth cost Victoria the chance to become the Women's Champion a few weeks ago, you know Victoria's going to be watching that one, JR!


***LONGHORN***

The crowd let out a collective groan as the entrance theme of the former WWE champion JOHN BRADSHAW LAYFIELD plays in the arena. Instead of his usual entrance, JBL enters the arena from the entrance stage, on his own two feet. Dressed in a grey pinstripe suit, white shirt and pink tie, of course with a cowboy hat to boot, the former champion heads to the ring rather quickly, not paying much attention to the crowd that have come to despise him OH so dearly.

Jim Ross: Well quite frankly I didn't expect this King. Here's a former WWE champion, JBL.

Jerry Lawler: And as far as we know JBL isn't scheduled to be out here, JR. What's he up to?

JBL enters the ring with a microphone in hand and doesn't waste any time waiting for the crowd to quieten, instead choosing to begin to talk over them.

John Bradshaw Layfield: First and foremost, allow me to be the first other than our Chairman Mr. McMahon to wish our former WWE champion Triple H a healthy recovery.

The crowd boo the statement instantly, not wanting to believe JBL, but The Wrestling God looks out seriously at them and shows no sign of sarcasm.

John Bradshaw Layfield: Despite any personal differences between Triple H and myself, even I am shocked by the extent to which this mystery attacker has gone to in order to threaten Triple H's very livelihood. (Pause) However, even Triple H himself knows that the show must go on.

More heat from the Kansas City crowd.

John Bradshaw Layfield: And the fact of the matter is RAW is now in dire jeopardy. With both Triple H and The Big Show now out of action indefinitely, as well as other top RAW names being AWOL, this show is in desperate need of star power. Now is the time for somebody to step up and save this show. So with that said, I am officially stating my claim as the number one contender for the Dubya Dubya 'E Championship.

HUGE heat echoes around the arena, the audience obviously not exactly on the same wavelength as JBL.

John Bradshaw Layfield: Some years ago this company was in jeopardy, and it was I who stepped up and became the longest reigning Dubya Dubya 'E Champion in Smackdown history. Now, the time has come again for me to step forward and take the reins of this brand. Mr. McMahon, there is no doubt that in these times of darkness, I am the one star you need to treasure and utilise to my full capacity in order to sustain Monday Night RAW as a profitable brand.

The camera cuts to a fan who boos JBL with two thumbs down, echoing the sentiments of everybody in the arena.

John Bradshaw Layfield: I am ready to put my issues with CM Punk to one side in order to help RAW surv-

The Wrestling God is cut off by loud and sudden "CM Punk, CM Punk!" chants from the crowd. He looks none too pleased, but doesn't let the delay him for too long.

John Bradshaw Layfield: I am willing to put my issues with CM Punk aside in order to help RAW survive its current state. Vince McMahon is a wise businessman, and he knows this is the only way to help this brand-


***MY TIME IS NOW***

The crowd ERUPT at the familiar entrance theme as another former WWE champion, JOHN CENA, enters the arena. Dressed in his typical wrestling gear and latest merchandise t-shirt, Cena makes a beeline for the ring.

Jim Ross: Well thank God for John Cena. I don't know how much more of that I could take, King.

Jerry Lawler: This is going to be very interesting, JR!

Jim Ross: Indeed it will, and I'm sure the "Wrestling God" will not be too happy at this rather "abrupt" interruption.

Cena steps into the ring and looks right into the eyes of JBL. Unlike his usual happy go lucky self, Cena stares at JBL with intensity, who in turn sneers back at his arch rival.

John Cena: Are you serious? I mean, really? Kansas City, y'all think he's serious?

The Sprint Center fills with boos instantly. Cena shakes his head at them in agreement, then turns back to JBL.

John Cena: Here we are, just a week after one of the most...shocking, sickening things that's ever happened in the history of this company, the entire locker room, these people, everybody's still tryin' to get their heads round what happened, and most importantly; a man's layin' in a hospital bed right now, stuck in a damn coma, and you, you're out here...tryin' to take advantage of the situation? I know that me and you; we've always hated each other. We've always jumped at the chance t' beat the HELL outta each other. But despite everything you've said and done, I always thought you had some level of decency. Now, you're stood out here, tryin' to get yourself a WWE Championship match 'coz somebody else got taken out. You're a sick son of a bitch, you know that?

John Bradshaw Layfield: You listen t' me, Cena. You can come out here with your puppy dog eyes, your sentimental nature, and you, and all of these people, can drown in your collective sorrow, but the fact is I – am – a businessman. I do not have time to "grieve" or allow myself to get caught up in emotion like you do. I see the bigger picture here and I am doing what is right for this brand. You need people like me to step forward, in times of desperation, and ensure that this show goes on, or-

John Cena: Listen to yourself, man! Can you honestly believe what's comin' out your mouth right now? Let me tell you something JBL; you've got to go look yourself in a mirror and see if you can actually admit to everythin' you're saying right now. 'Coz to me, it sounds like you're friggin' delusional.

The audience cheer Cena as he shakes his head at JBL.

John Cena: And if you're really going to be as inconsiderate as to come out here and talk about the number one contender's spot, then alright. Let's talk about the spot. You damn sure don't deserve a WWE Championship match! You ain't won a match on RAW since, I dunno, it's been so long I can't even-

John Bradshaw Layfield: SHUT YOUR DAMN MOUTH!

THUNDEROUS boos and jeers rain down on the ring at the arrogance of JBL. Cena looks irate, but says and does nothing as JBL continues.

John Bradshaw Layfield: If responsibility was left in your hands, Cena, this show would cease to exist! It is people like me, people like ME, who you need in order to keep this company standing. It's times like this where you separate the boys from the men!

A loud "Oooh!" echoes around the arena, but again, Cena doesn't budge.

John Bradshaw Layfield: And if you're out here to put in your claim for the number one contender's spot, you can forget it, Cena! I am a Wrestling GOD! I am a LEADER! I-


***THIS FIRE BURNS***

JBL is cut off as his most recent rival, CM PUNK, enters the fray. The crowd welcome the 2008 Mr. Money in the Bank with a loud pop, and The Straight Edge Superstar heads to the ring, briefcase in his possession.

Jim Ross: Well if this wasn't interesting enough, here comes the man who JBL has had a major issue with as of late, CM Punk.

Jerry Lawler: JBL is still angry after what happened at The Great American Bash and I'm sure he hasn't forgotten about it even if he is dealing with John Cena right now.

Punk enters the ring, not spending too much time playing to the crowd, and his music cuts out earlier than usual.

CM Punk: You are a Wrestling God! You are a leader! You - are full of it!

The crowd cheer, and even John Cena manages a smirk, at last, at Punk's comment.

CM Punk: First of all Kansas, I apologise for not coming out here and interrupting this debacle earlier than expected. See I only got to the arena about five minutes ago, but I rushed to the ring as quick as I could when I was told that JBL had possession of a microphone.

A few laughs are heard but JBL does not look happy.

CM Punk: You know JBL, if there's one thing you said that actually has some substance, it's that RAW is in need of a new top star. But I think – and I'm sure these people will agree with me – that going back in time, especially to a time when you were a world champion, would be the final nail in the coffin for this show.

Another solid pop for Punk. Having made his jokes, Punk looks dead into JBL's eyes.

CM Punk: What this show needs is somebody new, somebody fresh to step up. It needs somebody who can represent the WWE audience as their WWE Champion with dignity and credibility. Somebody who has earned a title match by going through hell, say, in a ladder match?

Punk smirks at Layfield as he taps his fingers against his briefcase. JBL's gaze too focuses on the case. The two men then look back at each other whilst Cena looks curiously at Punk.

CM Punk: Maybe, maybe what this show needs is a boost of adrenaline, a shot right to the heart .I dunno, something like...the cashing in of a briefcase?

The crowd ROAR at the prospect of Punk cashing in, and with that comment, JBL points his finger at Punk, knowing he could be in trouble if that were to happen.

CM Punk: Maybe. I don't know. That's not a decision I'm going to make lightly, but let's just say it's on my mind, and if the opportunity presents itself...who knows.

John Bradshaw Layfield: You listen to me, Punk. You wanna come out here and try and stir up trouble with me? Unlike you, and unlike him (Points at Cena), I'm not thinking about myself. I'm thinking about the welfare of this brand, and the security of-


***HERE COMES THE MONEY***

A mixed reaction is heard as for the first time in nearly a year, the music of one SHANE MCMAHON hits the PA system! Dressed in the best suit money can buy, Shane O'Mac walks out, not dances out, onto the entrance stage.

Jim Ross: My god King, it's Shane McMahon, who is apparently our new General Manager!

Jerry Lawler: Well we heard Mr. McMahon mention it in his statement at the start of the show JR, but I didn't quite register it until now!

Jim Ross: We haven't seen Shane in a long time, but he's back, and back in a big way!

As Shane tries to speak, the crowd continue to respond with mixed reactions. Most are cheering the arrival of Shane, but some choose to boo due to his association with the Chairman under fire, Mr. McMahon. Shane, much like the three men before him, looks quite serious due to the incidents of the previous week.

Shane McMahon: Enough is enough gentlemen. You see this? This is exactly the reason why my father asked me to take the position of RAW General Manager. You see whilst he's trying to deal with some of the bigger issues on RAW, like just who is behind this whole situation surrounding Triple H, and what to do with Randy Orton, you all decide to come out and bicker like children about a number one contender's spot, when you all know it's not even your issue to deal with. Now since my father and I are busy tonight with the investigation into the rundown from last week, I'm not going to rush into naming a new number one contender tonight.

A few minor boos are heard, but Shane doesn't acknowledge them.

Shane McMahon: But since there are some lingering issues here, I'll make us a main event that I can promise will go far in determining the next number one contender. Tonight, it's going to be CM Punk, teaming up with John Cena...

A loud pop.

Shane McMahon: ...to take on their opponents, John Bradshaw Layfield...and the WWE Champion, Batista.

Boos fill the arena once again at the mention of the WWE Champion, but they are quickly drowned out as "Here Comes The Money" plays again and the new RAW GM quickly exits the entrance area, having cleared up the situation rather quickly.

Jim Ross: And what a main event. Mr. Money in the Bank CM Punk teaming with John Cena against JBL and the WWE Champion Batista!

Jerry Lawler: And whoever wins that match could be the next number one contender for the WWE Championship, JR.

Jim Ross: A big match with big implications, and it's going to happen, tonight!

The camera now cuts to the ring, where Punk, Cena and JBL are glance at each other, talking trash, ahead of their newly booked main event.



~COMMERCIAL BREAK~


***AIN'T NO STOPPIN' ME NOW***

Boos pour out as the reigning World Tag Team Champions, ELIJAH BURKE and SHELTON BENJAMIN, collectively known as 'BLACK GOLD', enter the arena.

Jim Ross: And what a way to kick off the in-ring proceedings of Monday Night Raw with a match for the World Tag Team titles!

Jerry Lawler: Well 'Black Gold' have been on somewhat of a downward spiral as of late, so we could very well see new tag team champs right here JR. last week the challengers actually pinned the champions in a non-title match to earn their title shot here tonight, so this match may only be a formality as far as they're concerned.

Jim Ross: That may be true but let's not sell the champions short, King. (Booker's note:#IRONY)

"YOU LOOKIN' AT THE REAL DEAL NOW!"

***DANGER AT THE DOOR***

A small pop occurs as the challengers, the newest team on the block, D'LO BROWN and RON KILLINGS, come through the curtain, looking fired up for their match.

Jim Ross: It was only last week that Ron Killings made his return to WWE after seven years, but what a huge comeback it'd be for Killings and D'Lo Brown to pick up the tag team titles here tonight!


Opening Match – Tag Team Match
World Tag Team Championship
D'Lo Brown & Ron Killings vs. Black Gold (Burke & Benjamin) ©

Match Summary:
The match starts off with an eager Killings and the athletic Shelton Benjamin squaring off. Killings fires at Shelton with some stiff rights at first, letting his emotion boil over in the early going, before cooling things down with a headlock. Soon, a missed move in the corner by Killings allows Benjamin to recover and turn the momentum of the match in his favour. Killings fights back and gets a tag to D'Lo Brown and Shelton tags in Elijah Burke. Much like with Killings and Benjamin, Brown gets the initial upper hand, but Burke soon takes control. From then on he and Benjamin isolate Brown in the ring, stopping him from a getting a tag to Ron Killings.

As the match draws on, after being tagged in, Burke chooses to stay in the ring with Brown, rather than keeping both himself and his partner fresh. Benjamin often asks for the tag, but Burke waves his co-champion off, and insists that he can handle the situation. Some bickering between Burke and Benji allows Brown to fight back against Burke, and eventually, Brown makes the hot tag to Killings as Burke finally tags in Benjamin.

In the closing minutes the action is fast-paced as Killings bounces into the ring and begins teeing off on Benjamin. Killings wows the crowd with a flying corkscrew forearm to Benji and goes for the pin, but only manages to get a two. That not keeping Benjamin down, Killings lifts his opponent up, kicks him in the gut, lifts him in the air then falls to the mat and plants him with a sitout inverted suplex slam! The move is sure to win Killings and D'Lo the tag titles as Killings goes for the cover: one – two – Elijah Burke dives into the ring and breaks up the count! Burke's interference immediately brings D'Lo Brown back into the ring, and the former Eurocontinental Champion goes to town on Burke with some stiff right hands. With Burke reeling, D'Lo grabs Burke by the head, leads him to the ropes and tosses him out of the ring.

Brown follows Burke to the outside whilst in the ring, Killings stalks Benjamin, who struggles to get to his feet. As Benjamin gets to a vertical base Killings kicks him in the gut, runs to the ropes, goes for the corkscrew scissors kick – no – Benjamin ducks it, Killings spins round, and Benjamin goes for Paydirt, Killings pushes him away! Benjamin tries to get up, Killings dashes to the ropes, bounces back, and hits the scissors kick, as on the outside Burke tosses D'Lo Brown into the steel steps! Killings falls to the mat and hooks Benjamin's leg, elated, but now Elijah Burke jumps up onto the apron to argue with the referee! Heat fills the arena as the official argues with Burke, whilst Ron Killings continues to pin Benjamin. After a moment Killings notices what is going on, gets to his feet, runs to the ropes and knocks Burke to the floor! The crowd cheer for that as Killings addresses the referee to turn his attention back to the ring, Killings turns round, BENJAMIN LEAPS UP WITH THE PAYDIRT!! Benjamin, out of nowhere, recovers and hits his Paydirt finisher! Boos echo around the arena as Benjamin hooks both legs: one – two – three! Black Gold are still the tag team champions!

Winners via pinfall and STILL World Tag Team Champions: Black Gold.

Burke and Benjamin break the streak and retain their titles! The crowd boo as the victorious champions roll out of the ring and hug in celebration, elated at the fact that there recent losing streak has come to an end.

Jim Ross: And through the skin of their teeth, Burke and Benjamin retain the World Tag Team Championships!

Jerry Lawler: They've had their problems as of late JR, but they pulled through tonight, and that's the mark of true champions.

Jim Ross: It's hard to disagree there, King, though that was a great effort from D'Lo Brown and Ron Killings. Could these two find themselves in contention for another title match in the near future?

Cut backstage, and it is apparently time for the first interview of the evening, as TODD GRISHAM stands by at the Raw interview set.

Todd Grisham: Ladies and gentlemen my guest at this time, the Intercontinental Champion, Cody Rhodes.

Boos are heard from the live crowd in the arena as one smug CODY RHODES steps into view, the Intercontinental Championship belt draped over his shoulder.

Todd Grisham: Cody, a little later on Mr. Kennedy and Carlito will compete to determine who will next challenge you for the Intercontinental Championship at SummerSlam on August Twenty Fourth. Do you have a preference for who you'd like to win this match?

Cody Rhodes: (Looks surprised) Preference? Why would I have a preference? Todd, I beat both Carlito and Mr. Kennedy just over two weeks ago at The Great American Bash to win this (Gestures down to his title belt) Intercontinental Championship belt. They're both loud-mouth, overrated, obnoxious jerks that put way too much hype into their own stock. So it doesn't make any kind of difference as to who wins. Come SummerSlam, I'll still be the Intercontinental Champion. Now if you excuse me.

Rhodes goes to walk off as Grisham speaks up.

Todd Grisham: Cody, just one more question. What is your response to the article on WWE.com, with contributions from both of your potential title challengers, that you are quote, 'flat', and have 'no personality'?

Rhodes glares at Grisham, saying nothing, and the interviewer sheepishly looks away, although still holding up the microphone for his guest to speak. Evidently seething, Rhodes is still for a moment - AND THEN SUDDENLY SLAPS GRISHAM IN THE FACE! A loud "Oooh!" is heard as Rhodes promptly walks out of the shot, leaving Grisham to hold his cheek in pain and readjust his spectacles (in the background, Jim Ross says "Oh come on!").


Cut to an obscure part of the arena, where the shot reveals MR. MCMAHON and new GM SHANE MCMAHON talking with a couple of men dressed in uniforms, obviously looking into the "Who ran over Triple H?" investigation. What is being said is not heard as the officers nod to McMahon and walk off. Father and son watch as the officers walk away.

Jim Ross: The investigation rolls on as Monday Night Raw continues...



~COMMERCIAL BREAK~


We cut to the locker room, where GREGORY HELMS sits. Helms, who made his first appearance to RAW last week after being drafted to the brand back in June, tapes his wrists in preparation for a match. After a few moments Helms looks down and notices two feet appear beside him. Helms smirks as he looks at the feet; then stands up and comes face-to-face with one Montel Vontavious Porter, a.k.a. MVP. Helms smiles at MVP, but Porter doesn't return the feeling.

Gregory Helms: 'Sup Montel?

MVP: (Hostile) What's this match you've got us in tonight?

Gregory Helms: You mean the tag team match? Well Montel, since I haven't heard from you, I took that as you being undecided about my little offer for us to form a tag team. So, I took the liberty of getting us a tag team match together tonight so you can see for yourself that it's a good idea.

MVP: (Sighs) Look, I ain't got nothin' against you, but you need to understand somethin'. I'm half-man, half-amazin', and I earned that rep on my own. I haven't been in a tag team before, and I don't need to start now.

Gregory Helms: You sure about that? I mean your singles win/loss record doesn't exactly say much right now.

This comment causes Porter to take a step forward, putting him and Helms face-to-face, but despite the action, Helms remains confident.

Gregory Helms: Look I'm not tryin' to piss you off, alright? It's like I said last week. You, the longest reignin' United States Champ on Smackdown!, and me, the longest reignin' Cruiserweight Champ. Together, Montel? There's no doubt we'll be the longest reigning tag teams champs of all time! Not t' mention, the tag team championships are only the start baby, soon enough, we'll being wearin' all the gold on RAW.

At first, MVP looks extremely sceptical, but then takes a moment to rub his chin.

MVP: Alright. I'll tell you what. We'll go out there and have this little match of yours tonight. But I'll tell you this right now Helms...you drop the ball? I'mma drop you. Got it?

Porter sneers at Helms and then walks out of the shot. The camera turns to Gregory Helms, who again, despite MVP's threats, smiles at the reaction.

Cut to JR and King at ringside, who both seem baffled by what they have just seen.

Jim Ross: Well uh, some interesting developments there between Gregory Helms and MVP.

Jerry Lawler: I think confusing is a better way to put it, JR. I mean, Gregory Helms obviously wants MVP as his tag team partner, but MVP really doesn't seem that keen on the idea!

Jim Ross: Well a lot will be told from their first tag team efforts later tonight, will Helms manage to get MVP on his side, or will MVP as he so nicely put it, "drop" Gregory Helms?

We now see a split screen, with each screen showing two separate hallways in the arena. On the left screen we see MR. KENNEDY, dressed to compete, making his way toward the ring with a big smirk on his face, whilst on the other screen former IC champ CARLITO walks, and talks with his brother, PRIMO, beside him.

Jim Ross: Coming up next, Ken Kennedy and Carlito Colon battle it out for a chance at the prestigious Intercontinental Championship! Who will come out on top? That's coming up – next!



~COMMERCIAL BREAK~


"KEN – NAH – DAY!!!"

***TURN UP THE TROUBLE***

We return from the break and along with this entrance theme hear a nice pop from the crowd as the ever popular "brash but talented" MR. KENNEDY enters the arena, set for singles action. As ever Kennedy approaches the ring with a smirk, looking quite confident for this upcoming match.

Jim Ross: Well up next is a number one contender's match for the Intercontinental Championship, but what a cheap move by Cody Rhodes in that interview with Todd Grisham! He clearly couldn't think of a good enough comeback so he resorts to physical abuse! Nonetheless, whoever wins here will receive their championship match against Cody Rhodes the next time we're on pay-per-view, that being on August 24th for one of our biggest pay-per-views of the year, "The Hottest Party of the Summer", SummerSlam! And who could forget the classic Intercontinental Championship bouts that SummerSlam has held over the years.

Jerry Lawler: And that's what makes this number one contender's match even more important, JR. Not only does the winner get a shot at the Intercontinental Title, but they do at SummerSlam, an event that's practically synonymous with that title.

In the ring, an old school mic has descended from the ceiling to cheers from the crowd...

Mr. Kennedy: Weighing in tonight at a fantastic two hundred and forty three pounds...from Green Bay, Wisconsin...the NEXT Intercontinental Champion-AHH – MISTERRRRR – KEN – NAH – DAYYYYY!!!

...

KEN – NAH – DAYYYYY!!!!!


***COOL***

The Sprint Center reply with a mixed reaction as the former Intercontinental champ CARLITO, accompanied by his brother PRIMO, enter the arena. The Colon brothers are in discussion as they head to the ring, obviously thinking of a game plan for this match.

Jim Ross: I hope that the appearance of Carlito's brother Primo Colon does not spell a handicap situation here, King.

Jerry Lawler: Let's hope it doesn't JR, but with Primo at ringside, you know there's a good chance it's going to happen.


Match 2 – Singles Match
Intercontinental Championship #1 Contender's Match
Mr. Kennedy vs. Carlito w/Primo Colon

Kennedy, with his more aggressive approach, takes the lead at the start of the match against 'The Bad Apple.' After the initial lock up, Kennedy knocks Carlito down several times with some stiff fists, then works on his Puerto Rican opponent with a headlock. The surprisingly one-sided match looks to end extremely early as Kennedy slams Carlito with a rolling fireman's carry slam, then looks to wrap things up with a Mic Check. However, a distraction from Primo Colon allows Carlito to recover with a neckbreaker from behind to Kennedy.

From this point and through a commercial break, Carlito takes control of the match, and nearing the end of the bout he has Kennedy down on the mat. Carlito stomps at Kennedy and then exits through the ropes and onto the apron. As Kennedy is down on the mat, Carlito springboards over the top rope for an elbow to Ken's chest, but eats mat as Kennedy rolls out of the way! Both men are quick to their feet; and now the pace quickens as Carlito charges at Kennedy, only for Kennedy to reverse with a flapjack. Kennedy turns over the flopped Carlito and goes for a cover, but only manages a two-count.

Kennedy helps a groggy Carlito to his feet and brings him over to the corner. Ken then hoists Carlito up to the top turnbuckle, probably setting him up for the Green Bay Plunge, but Carlito fires back with a few punches and sends the ascending Kennedy back down to the mat. After Kennedy staggers around in a 360-degree spin Carlito jumps off the top rope with a spinning corkscrew elbow directly to Kennedy's jaw! The former IC Champion quickly makes the cover, but this time it's Kennedy who kicks out after two.

As Kennedy tries to pull himself up, his opponent stalks him, the Backstabber in his sights. Kennedy gets to his feet, Carlito attempts the finisher, but Kennedy holds on the ropes, sending Carlito back-first onto the mat. Carlito gets up, and Kennedy fires forward with a clothesline. The crowd start to get behind Kennedy as he wastes no time, picks Carlito up and again delivers his rolling fireman's carry. Again Primo immediately jumps up onto the apron, but this time Kennedy is ready, and on spotting Primo he lunges at the younger Colon and sends him flying through the air and to the barricade wall! As Kennedy observes his handy work Carlito rolls him up from behind, one, two, KENNEDY KICKS OUT! The two men get back up, Carlito throws his arm for a clothesline, BAD MOVE – Kennedy catches him, and HITS the Mic Check!! The audience go wild as Kennedy turns the flattened Carlito over and hooks both legs – one, two, three! Kennedy is number one contender!

Winner via pinfall: Mr. Kennedy.

"Turn Up The Trouble" hits and the crowd are delighted as Kennedy reaches his feet and the referee raises his arm in victory.

Jim Ross: So there you have it ladies and gentlemen, it's academic. Mr. Kennedy has got himself a date with Cody Rhodes at SummerSlam and the Intercontinental Championship will be on the line!

Jerry Lawler: And if Mr. Kennedy can pull off at SummerSlam what he did just there, we're going to have a new Intercontinental Champion!

As (out of shot) Carlito rolls out of the ring, Kennedy continues to celebrate his win. Kennedy is so jubilant, it seems, that he is oblivious to the crowd's sudden switch from cheers to boos and shrieks of warning – as CODY RHODES slides in the ring and stalks Kennedy from behind with the IC title belt! Kennedy turns around, Rhodes swings with the belt, but Kennedy ducks! Kennedy then kicks Rhodes in the gut and looks for the Mic Check, but Rhodes elbows Kennedy in the head and exits the ring under the bottom rope quick as a cat.

Carlito, who has been watching the mayhem from the ramp, questions Rhodes as he quickly retreats. Carlito asks Rhodes, "Aren't you gonna fight him?", to which an irritated Rhodes pie faces Carlito away! Rhodes goes to leave, but Carlito suddenly grabs the champ from behind, turns him around and leads him back and into the ring! Rhodes staggers up, looking furiously at Carlito, turns around, Kennedy kicks Rhodes in the gut and PLANTS him with the Mic Check!! Rhodes gets what's coming to him as Kennedy now stands up and looks confusedly at Carlito, who simply smirks back at Kennedy and mouths, "Das cool!" Carlito then leaves ringside as Kennedy smirks at The Apple Spitter's actions, then picks up the Intercontinental Championship belt and holds it up high to the delight of the crowd!

Jim Ross: Could this be a sign of things to come on August 24th? Cody Rhodes, down and out on the mat, as Mr. Kennedy is crowned the new Intercontinental Champion??

Jerry Lawler: What a sight that was, JR! Kennedy getting one over Cody Rhodes with help from, of all people, the man he just beat, Carlito!

Jim Ross: Cody Rhodes did himself no favours in trying to push Carlito away, and he damn sure ended up paying for it!


We now cut backstage to the locker room, where FINLAY is sat, lacing up his boots. A knock is heard at the door of the room, to which Finlay replies by telling whoever it is to enter. The Irishman immediately grabs the shillelagh beside him and gets to his feet at the sight of the arrival, looking none too happy. The camera turns slightly to reveal WILLIAM REGAL, who the live crowd boo immediately upon seeing. Regal, dressed as smartly as ever, smirks at the angry Finlay.

Finlay: I ought to bash your brains in right now, Regal.

William Regal: If you think that will help you win a match for the first time in ages, then go ahead. Do your worst, sunshine.

Finlay still looks angry with Regal, but the last comment seems to throw him and Regal knows it.

William Regal: Come along David, let's not play games here. I know that you're upset about what I did to you after our match last week, but you have to understand; what I did was done with the best of intentions. You're supposed to be the "Fighting Irishman", one of the toughest wrestlers I've ever faced in a ring, but since you've come to this show you've done absolutely nothing.

Finlay: (Takes a step forward) You better get to your point quicker Regal, before I take those brass knucks of yours and stick 'em where the sun don't shine.

Regal smirks.

William Regal: Now now, David, there's no need to be vulgar. You see, I've been informed that you've got a rematch with that young Ted DiBiase tonight, so if you want to prove me wrong, you'll have to do it against him. Now, out of the little respect I have left for you, I won't interfere in that match because I want to see if you can get a win yourself. But if you lose again...then perhaps you'll come to your senses and see my point of view.

Regal then turns on his heels and leaves the room, leaving Finlay to ponder his future.


We then cut elsewhere backstage, where the crowd boo at the sight of SmackDown! superstar RANDY ORTON, walking down a hallway, presumably headed to the ringside area.

Jim Ross: The vile and deadly Randy Orton is here! What will The Viper's fate be?



~COMMERCIAL BREAK~


***NO CHANCE IN HELL***

It is another mixed response within the arena as the Chairman of the Board, and now acting CEO, MR. MCMAHON, walks through the curtain. Abandoning his signature, caricature and pompous entrance, the Chairman walks down to the ring with no antics whatsoever.

Jim Ross: And with a scowl on his face and a by God purpose in his walk, Mr. McMahon is coming to the ring to confront the man who RKO'ed his own wife last week, Randy Orton.

Jerry Lawler: I don't think I've ever seen Mr. McMahon more serious than he is right now, JR!

Now in the ring, McMahon quickly gets a microphone from a stagehand and wastes no time in addressing the crowd in Kansas City.

Mr. McMahon: For those of you who did not see last week's Friday Night SmackDown!, I would just like a moment of your time to show some video footage of what happened at the end of that broadcast. Roll the footage, please.



Quote:

SmackDown! Recap Video Package

Orton clicks his neck and gets right in Linda's face.

Randy Orton: Who the hell are you to tell me I don't deserve a championship match, huh? You listen to me; I don't care whose wife you are, you will give me my opportunity! And as for not deserving it? I beat Chris Jericho two weeks ago on Smackdown; like it or not, I beat him! Not to mention I am the biggest superstar on this brand; you keep me away from the world title, and this show will sink, this show will plummet! You give me my match!

Suddenly Orton looks down, seemingly trying to calm himself down. After a moment's relief he looks back up at Linda and speaks softly, and with a smirk.

Randy Orton: You give me my match...or else.

The audience boo the living HELL out of Orton as his eyes bulge out of their sockets at Linda, whose fear is now much more evident. However, there is some courage left in the CEO, and she does not back away from the snake-like Orton.

Linda McMahon: ...No.

Another pop from the crowd for Linda's refusal to give Orton what he wants. Orton looks away from Linda, seething, then turns back to her.

Randy Orton: ...So be it.

SUDDENLY ORTON LEAPS, GRABS LINDA AROUND THE HEAD, AND DROPS HER WITH THE RKO!!!

The crowd ERUPT as Orton reaches his feet and stands over Linda. The Legend Killer has no expression. He does not move. Cold. Unforgiving. Orton stares down at his victim, not moving an inch, as the audience look at the former champion in shock. Suddenly, and very conveniently, a bunch of officials and paramedics dash down to the ring and swamp Linda McMahon. A number of road agents push Orton into a corner and The Legend Killer doesn't react...until...a sick, EVIL smirk stretches across his face.


The video ends, and we cut back to a close-up of Vince, looking up at the Titantron, with anger.

Mr. McMahon: I order Randy Orton to come to this ring, immediately.


***VOICES***

Usually greeted with loud heat, it is a mixed reception – this being his home state – as RANDY ORTON enters the arena. With that ever-lasting look of repulsion on his face, Orton slowly approaches the ring, his eyes fixed on the Chairman of the Board, who in return glares back as 'The Viper' approaches the ring.

Jim Ross: And there he is, the man who viciously assaulted the CEO of this company, Mr. McMahon's wife Linda on SmackDown! this past Friday night, Randy Orton.

Jerry Lawler: I couldn't believe my eyes when I saw that happen, JR! You can only wonder what sort of punishment Mr. McMahon has got in store for Orton here tonight.

Jim Ross: Well if we know anything about Vince McMahon it's that in all likelihood Orton's life is guaranteed to turn into a living hell!

Orton approaches the ring via the steel steps, but takes a moment before he enters the ring and exchanges a fiery look with Mr. McMahon. After a moments' wait, Orton does enter the ring, and says nothing as he awaits McMahon's response.

Mr. McMahon: Earlier today, I called an extraordinary meeting of the WWE Board of Directors to discuss what happened last week on SmackDown! and to come to a decision on how to make you pay for what you did.

McMahon's index finger points at Orton, who shows no sign of remorse at his reprimanding.

Mr. McMahon: And in that meeting, Randy...it was suggested that per my zero-tolerance policy that is in effect here on RAW, along with the severity of this unprofessional conduct, that you should be terminated from the WWE with immediate effect.

There is a HUGE mixed response amongst the audience as Orton's skin begins to boil.

Mr. McMahon: But you see Randy, as much as it pains me to say it, with Triple H now taken out of action indefinitely and no evidence to suggest that whoever attacked him has a greater agenda in mind...I informed that the Board at that meeting that as of this very moment – I am LIFTING my zero-tolerance policy!

The audience respond with a big pop, but Randy Orton looks anything but pleased with the decision.

Mr. McMahon: Now, that doesn't mean I'm going to let the chaos around here continue, but I'm also not going to allow a simply ruling stop you from being hurt, just like you hurt my wife.

Vince's index finger now points at Orton, who doesn't seem to appreciate the boss' gesture in his face.

Mr. McMahon: You see Randy, as a result of your actions, Randy, the Board has had no other alternative but to pass over the powers of the CEO...to me.

A mixed response as Vince cocks his head and begins to pace a little, some confidence both in his voice and his stride.

Mr. McMahon: So what means for you, Randy Orton, is that your fate is now completely and utterly in MY hands! And whilst at first I opted to go with the Board's suggestion to terminate you on the spot, I've decided that firing you Randy...it's just not good enough. After what you did to my wife...I'm going to make you miserable every day you walk into my building, Randy. I'm not just going to fire you and let you walk away, no, I'm going to enjoy every second of watching your slow, painful, demise.

Vince and Orton sneer at each other, neither man backing down from the other.

Mr. McMahon: So I'll tell you what I'm gonna do, Randy. You know that uh, that World championship over on Smackdown that you've been wanting a match for recently?

Orton takes a step closer to McMahon - but the Chairman DOESN'T back down.

Mr. McMahon: Well you can say goodbye to that, because of this very moment, you're officially back on the RAW roster! And what that means Randy, is that as long as I'm breathing, you'll NEVER be the World Heavyweight Champion!!

The Chairman gets a pop from the crowd whilst Orton now seethes and pushes his forehead toward McMahon, as if ready to strike at any moment.

Mr. McMahon: And so-


BOOM!!!

***SLOW CHEMICAL***

The crowd go crazy as 'The Big Red Monster' KANE storms into the arena!!

Jim Ross: BAH GAWD IT'S KANE! KANE IS BACK!!!

Jerry Lawler: AAAH!

Jim Ross: We haven't seen Kane since Vengeance, but Kane is back and he's comin' for Orton right now!!!

A quick shot of the ring shows Orton suddenly panicked before we turn back to seeing the monster storming down to the ring! Mr. McMahon backs into a corner as Kane slides into the ring, Orton attacks, AND THE TWO MEN BEGIN TO EXCHANGE BLOWS! Kane being the aggressor, and the bigger man, quickly gains the advantage, and after a few right hands knocks Orton to the mat with a STIFF as hell uppercut! Orton quickly bounces back up and tries to retreat into the corner but the monster stalks him, and strikes at The Viper in the corner! Orton, dazzled, staggers forward, and Kane blasts The Viper with a big boot!

The monster now raises his arm in the air and flexes his fingers, signalling for a Chokeslam! Orton gets up, Kane goozles The Viper, but Orton rakes the eyes of the monster and hightails it out of the ring! Boos begin to fill the arena as Orton scrambles up the ramp, holding his jaw in pain, slithering away like only he can.

Mr. McMahon, having watched all this unfold, looks furiously at Orton, but keeps a cautious eye on Kane. With Orton gone, the monster, caught in a flurry of emotion, paces, then fixes his eyes on McMahon. McMahon and Kane stare at each other for a moment, but then, McMahon breaks the tension with an evil smirk, and looks up at Orton at the entrance ramp.

Mr. McMahon: Hey Orton! I'll tell you what. Not only are you now back on RAW, but at SummerSlam, on August Twenty Fourth, you're gonna fight this MONSTER, this freak of nature, KAAANE!!!

The crowd go wild as Kane dons an evil smirk, raises his arms in the air, and then FURIOUSLY brings them back down again to set off his pyro! "Slow Chemical" plays again as the monster now turns his attention back to Orton and glares with nothing but pure, malicious intent.

Jim Ross: Bah Gawd Kane is back on RAW, and there's going to be hell t' pay at SummerSlam for Randy Orton, when he takes on The Big Red Machine!

Jerry Lawler: I don't think Kane is going to stop until he hurts Randy Orton permanently, JR! What's gonna happen at SummerSlam!?

Jim Ross: Randy Orton, welcome back t' RAW, you got yourself a HELLUVAfight comin' on August Twenty Fourth!!


We then cut backstage, where JOHN BRADSHAW LAYFIELD walks down a hallway, now dressed in his wrestling gear and trademark jacket. The Wrestling God looks nervous as he approaches a door, and the source of his angst becomes clear as the door has a sheet attached to it which reads the name 'Batista.' Layfield stares at the sign for a moment, takes a gulp, and then knocks on the door. After a few seconds the door opens, and Layfield takes the initiative to walk in. Before we can see anything else, Layfield shuts the door behind himself.

Jerry Lawler: What do you think Bradshaw has planned, JR?

Jim Ross: One half of our tag team main event tonight, JBL and Batista, are seemingly making plans for the match, as they prepare to take on CM Punk and John Cena, you can't miss it!



~COMMERCIAL BREAK~


Back from the commercial break, BETH PHOENIX is already in the ring as Lilian Garcia announces that the upcoming match will be for the Women's Championship.

Jim Ross: Welcome back to RAW folks, where our attention now turns to the Women's Championship; Mickie James set to defend her title here and now against that voluptuous lady, Beth Phoenix.

Jerry Lawler: And speaking of voluptuous JR, I hear Victoria is not too happy this match is happening, I think she wants Mickie James all to herself!

***OBSESSION***

The crowd cheer as reigning Women's Champion MICKIE JAMES makes her way to the ring. Unlike her usual cheerful self, Mickie is slower in her approach to the ring tonight, suggesting a tone of seriousness to the whole situation.


Match 3 – Singles Match
Women's Championship
Beth Phoenix vs. Mickie James ©

This Women's bout is quite competitive, as Beth's greater strength and Mickie's speed and technique counter each other to create a decent affair. At one point Mickie has control and positions Beth on the top rope. She then looks to pull off the move of her former idol Trish Stratus, the Hurricanrana, but Beth pushes her away, causing Mickie to belly-flop to the mat. From this mistake Beth capitalises and applies an abdominal stretch to Mickie, seemingly moving closer to picking up the Women's championship.

Mickie manages to pull herself closer to the ropes and barely touches them with her fingertips, which causes the referee to demand Beth break the hold. Instead, Beth tries to pull Mickie back to the centre of the ring, but in her struggle Mickie begins to fight back. With her right arm loose, Mickie uses her elbow to bash Beth's face, and finally makes Beth break the stretch altogether. After Beth steps away for a moment, she turns back around and Mickie leaps forward with a double axe handle. Mickie takes a moment to sell the effect of the abdominal stretch, but then fires again as Beth gets back to her feet. Beth gets up again, and this time Mickie hits a dropkick. Still Beth won't stay down, but before she can get back up, Mickie grabs her head and plants The Glamazon with a DDT. Mickie turns Beth over for a cover, one, two, but Beth kicks out before three.

With her challenger now reeling, Mickie sees her chance to retain her title and sets up for the Mick Kick. Beth slowly gets to her feet, turns round, Mickie goes for the Mick Kick, Beth ducks it, kicks Mickie in the gut, throws the arm over, Fisherman's Suplex! Beth plants Mickie with the Fisherman's Suplex and goes for the cover: one – two – Mickie kicks out just before three!

With the match suddenly back in her favour, Beth stalks Mickie, wanting to wrap things up with the Glam Slam. But as Mickie gets to her feet and Beth sets her up from behind, her attention suddenly turns to the entrance ramp as VICTORIA makes her presence known! As 'The Vicious Vixen' approaches the ring Phoenix drops Mickie and walks to the ropes. Beth looks confused and then irritated at Victoria's appearance, but The Vixen says nothing. After talking some trash ,Beth turns back to Mickie, who is now back up, Mickie swings with the Mick Kick, Beth ducks it, grabs the champion from behind, hoists her up for the Glam Slam, but Mickie rolls down and flips Beth over for a sunset flip pin! One – two – three! Mickie surprises Phoenix and retains the championship!

Winner via pinfall and STILL the Women's Champion: Mickie James.

Mickie retains her championship! The crowd are delighted as Mickie takes her title belt from the referee and holds it up high for all to see.

Jim Ross: Mickie James retains the Women's Title, but I'm not so sure that's the story here.

Jerry Lawler: They say turnabout is fair play JR! And after Beth Phoenix cost Victoria the Women's Championship several weeks ago, I can't say I'm hugely shocked at Victoria returning the favour.

As Mickie celebrates her victory on a turnbuckle, Phoenix is quick to get to her feet, but instead of targeting Mickie, her eyes stay fixed on Victoria. As Mickie continues to hoist her title high, Victoria slides into the ring. The Vixen targets the champion, and surprisingly, Beth Phoenix doesn't say a word. The fans try to warn Mickie, but its' to no avail, as she descends from the corner – and Victoria kicks her in the gut, then follows up with a VILE Widows' Peak! Heat fills the Sprint Center as Victoria, with her eyes back on The Glamazon, slowly walks back to the ropes and makes her exit.


We then cut backstage to the interview set, this time with MARIA standing by.

Maria: Please welcome my guest at this time, John Cena!

Cheers are heard in the background as JOHN CENA walks into the shot. Cena smiles at Maria, and in response she giggles at him.

Maria: John, tonight you team up with CM Punk to face JBL and WWE Champion, Batista. What are your thoughts heading into the match, knowing that a win could put you in line for a future WWE Championship match?

John Cena: Maria, last week a man, a top WWE superstar was ran over in a parking lot. His career, hell his life, are in critical condition. Then earlier tonight, another man went out there and had the nerve to use that to his advantage and try and get himself the number one contender's spot. Quite frankly that makes me feel sick and embarrassed to have to be working with somebody like that. But if there's one, one little consolation Maria, it's that later t'night, I get t' go out there AN' WHIP THAT GUY'S ASS!!

A mixed reaction is heard as Cena switches gear.

John Cena: For nearly four years now I've had t' listen to JBL's whinin', his bitchin', 'bout how he's a 'God', 'bout how he seems t' always deserve a title match without even earnin' it, whereas somebody like Triple H – a guy who has more PASSION and GUTS than anybody else in this place, a guy who I respect the HELL out of because EVERY single time he goes down t' somethin' like this, he GETS – BACK - UP and gets himself back here because this is what he LOVES – a guy like that doesn't whine or complain 'bout how he "deserves" a title match...he just goes out there and kicks ASS and EARNS a title match!! I am so sick and tired or hearing JBL's voice, and t'night, I'm gonna shut his mouth once and for all.

Maria looks a little taken back by Cena's outburst, but says nothing as Cena continues to rant.

John Cena: An' as for the WWE Championship, Maria; Dave Batista walks around this joint like he owns the place, jus' 'coz Vince McMahon gave him the title? Maria, a month ago when Triple H taken out, the night he was supposed t' face me, McMahon wanted me to be the champion, and I turned it down because as a man, I couldn't accept just being handed that championship. I have too much respect for the WWE Title to just see it change hands because of some attack. So case an' point, when it comes t' Dave Batista, I will get the job done tonight and I will bring back respect t' the WWE Championship by puttin' 'The Animal' in his place. And-

Cena's attention suddenly turns away from Maria, and he smiles as the camera turns to reveal CM PUNK walking toward him! Punk, already dressed in his wrestling gear, nods as he approaches his partner. As Cena keeps focus on Punk, The Straight Edge Superstar turns his attention to Maria.

CM Punk: Maria, if you could excuse us.

Without a word, Maria glances at both men and then walks away. Now it is Punk who looks at Cena whilst Cena watches Maria leave.

CM Punk: Easy, John. I'm not here to argue with you, as a matter of fact, I'm here to agree with you. JBL's mouth needs to be shut, and what you said about Triple H, Batista and the WWE Championship, it's true; the title does need to be treated with more respect. An' listen, you could be the next WWE Champ, and we are partners t'night, but I just need you t' know before we go out there that you're not the only one who wants to honour the legacy of that championship. It's like I said earlier John, if the opportunity presents itself t' cash this in...

Punk holds up his Money in the Bank briefcase, looks at it, then turns back to Cena.

CM Punk: ...well...that's all that needs to be said really, isn't it? See you out there - partner.

Punk walks out of the shot to a mixed reaction, his attitude perhaps coming off as somewhat heelish to the Cena marks. Meanwhile Cena just watches as Punk walks past him and looks a little unnerved as we fade to an ad break.



~COMMERCIAL BREAK~


***I COME FROM MONEY***

After the first few weeks of using his father's entrance music, TED DIBIASE JNR. finally enters the arena with a theme of his own. Accompanied by his father 'THE MILLION DOLLAR MAN' TED DIBIASE, the young man christened 'The Million Dollar Prodigy' looks focused as his father gives him advice in their walk to the ring.

Jim Ross: This young Ted DiBiase, son of The Million Dollar Man, is making quite the name for himself here on Monday Night RAW. He debuted a few weeks ago with a win over his opponent tonight, Finlay, and got his second win last week against Hardcore Holly.

Jerry Lawler: Two tough, smash-mouth veterans that are no pushovers, JR, and Ted DiBiase beat them both!

Jim Ross: His methods may be questionable, but nonetheless, I'll admit this kid has a helluva lot of potential.

***LAMBEG***

The arrival of 'The Fighting Irishman' FINLAY draws a small pop from the crowd, probably due to the Irishman's recent bad string of results. Cut to the back, where we see William Regal set to watch the match from a television screen backstage.

Jim Ross: Last week, William Regal returned to RAW and defeated Finlay in singles competition, then bloodied the Irishman after the match, and according to Regal, it was for Finlay's benefit!

Jerry Lawler: William Regal wants Finlay to get his passion back, JR, and he's trying to do his best to beat some sense into him so that it'll happen!


Match 4 – Singles Match
Ted DiBiase Jnr. w/The Million Dollar Man vs. Finlay

The match kicks off with a traditional lock up, and being the more experienced competitor, Finlay quickly takes control and outmanoeuvres the young DiBiase. Finlay is quite stiff with his grappling as he first grinds at DiBiase with a headlock, and then knocks him down with several short clotheslines after DiBiase breaks free. DiBiase gets schooled as the Irishman picks him up and tosses him through the ropes and then follows him out. Finlay looks intensely at The Million Dollar Man, his look keeping the father at bay, as Finlay then grabs DiBiase's and bashes his head against the ring apron. Finlay looks particularly aggressive in this match as he then takes the opportunity to knee the young man in the gut, then tosses him back into the ring.

As the match progresses Finlay continues to stomp and chop at DiBiase, opting for more of a smash-mouth attack than technical wrestling in this match, but soon DiBiase finds an opening as Finlay misfires into the corner and runs shoulder-first into the turnbuckle. After this miscalculation, The Million Dollar Man yells from the outside at his son to capitalise and work on Finlay's now injured left arm. The young DiBiase locks Finlay's arm with an arm wrench, applying so much pressure that the Irishman is forced down to one knee. When Finlay refuses to submit, DiBiase then punches at the injured arm, tosses his opponent to the mat and stomps at it.

DiBiase then delivers several moves to continue his work on the arm, at one point DiBiase places Finlay's upper torso between the top and middle rope, exits the ring and then tugs down on the arm, causing the Irish grappler to flip back onto the ring mat in agonising pain. Being in firm control, DiBiase decides to return Finlay's earlier favour and pulls him out of the ring.

Upon his son exiting the ring with Finlay, The Million Dollar Man draws the attention of the referee, keeping him distracted from DiBiase slamming Finlay's arm against the ringpost. DiBiase, a little cocky, wastes time before attempting the attack again, and as a result Finlay finally begins to fight back, using his good right hand to pummel DiBiase with several fists, and then slams The Prodigy's head down on the steel steps! Finlay, with a renewed fire, grabs the rookie's head and slams it down again, a third time, four times against the steel! Suddenly Finlay is back in it as he rolls DiBiase back into the ring and The Million Dollar Man now looks worried.

As Finlay walks around the ring, he bends down to look for something under the apron...and pulls out the shillelagh! The crowd cheer as Finlay slides back into the ring with the weapon in hand. The Million Dollar Man is now going crazy on the apron, screaming at the referee to turn around, but the official is simply worried with getting DiBiase Snr. away from the ring. As the ref and DiBiase argue, Finlay looks at the shillelagh, then at his opponent. The crowd yell at Finlay to use the weapon, but after a moment, as DiBiase gets up - he tosses it aside. Finlay goes for his finisher, the Celtic Cross, and hoists DiBiase Jnr. into position, but as he does so the rookie tugs at his left arm, forcing Finlay to drop him down. Finlay holds his arm in pain, and it's all for naught as DiBiase sees his opening, grabs the Irishman from behind and puts him on DREAM STREET!! The Million Dollar Man conveniently gets down from the apron, allowing the ref to see DiBiase Jnr. go for the cover: one – two – three.

Winner via pinfall: Ted DiBiase Jnr.

Finlay doesn't take the shortcut, and he pays the price for it. Ted DiBiase yells out and raises his arms in victory as The Million Dollar Man enters the ring to congratulate his son on yet another victory.

Jim Ross: Another win for the young Ted DiBiase, but much more of a fight from Finlay this week.

Jerry Lawler: Yeah but that still wasn't enough, was it JR? Finlay had a chance to guarantee a victory with that shillelagh but he didn't take it.

Jim Ross: Finlay didn't want to take the cheap way out King, and you can't knock 'im for that. He's still The Fighting Irishman, and I hope he doesn't get brainwashed by William Regal's propaganda after this defeat.

Right on cue, we cut backstage once more to see William Regal watching Finlay's loss on a monitor. Regal doesn't react well to the loss, and walks off with a scowl on his face as back in the arena, Finlay lies on the mat and the referee attends to his injured arm.


We now cut elsewhere backstage, to VINCE and SHANE MCMAHON, who are sat together in what can be assumed to be the Chairman's office. As the camera joins the scene, Vince has a raised eyebrow, looking sceptical about something, whilst Shane's expression suggests he is pleading for something.

Mr. McMahon: I'm not sure about this.

Shane McMahon: Look I know we have a...past, but I really think we should just lift the suspension. With Hunter out of commission we need someone like Show on the program.

Mr. McMahon: Shane, I made you GM to bring back order to this brand, 'kay? If I reinstate The Big Show, it'll send out the completely wrong message to the locker room, and I am not going to allow any more superstars believe that they are above my law around here.

Shane McMahon: (Nods, raises hands) I get it, okay, I get that. But trust me. Just let me talk to Show, see if I can strike a deal with him, I promise if you just let me reason with him, I can make sure he'll never act in the way he did again.

Vince rolls his eyes, and takes a deep breath. He then points at his son.

Mr. McMahon: This is on your head.

Shane smirks, and then pats his father on the shoulder.

Shane McMahon: Just trust me.

A knock is heard at their door, and both men stand up as the WWE CHAMPION BATISTA walks into the room. HUGE heat is heard in the arena as the champion makes his first appearance of the night. Both McMahons stare wide-eyed at The Animal, who simply grimaces back at them. Batista first glances at Shane, then at Vince.

Batista: We need to talk. Now.

Unfortunately, that is all the audience are privileged to see as the camera cuts back to JR and The King.


Jim Ross: What the hell was that all about?

Jerry Lawler: I guess we'll never know, JR.

Jim Ross: Let me tell ya King, there's dirty work afoot here tonight, I can assure you that. Nonetheless ladies and gentlemen, still to come here tonight, it's CM Punk and John Cena teaming up against Bradshaw and Batista, who will come out on top? We'll find out...tonight.



~COMMERCIAL BREAK~


We return from the ads to find CURT HAWKINS & ZACK RYDER already in the ring, dressed for action.


***I'M COMIN'***

The Sprint Center responds with heat as one MVP walks through the curtain. The former United States and WWE Tag Team champion Porter looks over his shoulder, then rolls his eyes as he heads to the ring.

Porter's source of negativity becomes apparent as GREGORY HELMS soon follows behind Porter, applauding his new 'partner's' entrance.

Jim Ross: King it seems Gregory Helms is a little more enthused about coming out here for this match with MVP than MVP is with Helms.

Jerry Lawler: Well you heard it yourself JR, Helms thinks these two can become a great tag team and champions here on RAW, but I think MVP seems to think he can get things done alone.

Jim Ross: It'll certainly be interesting to see how, and even if, these two function as a collective unit in this match.


Match 5 – Tag Team Match
Gregory Helms & MVP vs. Curt Hawkins & Zack Ryder

This technically being a heel vs. heel tag match, it doesn't last very long. MVP starts things off with Hawkins, and because of his initial reluctance to tag in Gregory Helms, Porter is quickly double-teamed by multiple tags between Hawkins and Ryder. Ryder gets a little overzealous and tries for a Zack Attack (overdrive) too early, which MVP spins out of. Montel then follows up with a kick to the gut and plants Ryder with his old finisher, the Playmaker.

With the impact being close to his corner, MVP staggers backward, allowing Helms to tag himself into the match. Porter looks stunned as Helms rushes in and goes for the cover for himself, but Hawkins comes in and breaks up the count. Porter quickly gets up and tosses Hawkins out, as Helms stops Ryder from getting up by delivering the Shining Wizard Kick! Helms covers Ryder, and within minutes this one is over. (Yeah I really couldn't be bothered to write something too long for this)

Winners via pinfall: Gregory Helms & MVP.

"I'm Comin'" plays again as Helms reaches his feet and raises his arms in victory. Porter stares at Helms in astonishment, mouthing, "Are you serious?", to which Helms gives Porter two thumbs up and points at the pair of them, suggesting they've worked well together as a team.

Jim Ross: Can you believe the audacity of Gregory Helms? MVP could've gotten the pinfall himself, but Helms took it upon himself to get in there and steal the spotlight!

Jerry Lawler: You could see it like that, or you could see it as these two sharing the spotlight, JR! Besides, should MVP even care that much? They just picked up a win together.

Jim Ross: I'm not so sure MVP sees it your way, King. I'll go out on a limb and say Gregory Helms has got some explaining to do. But moving on ladies and gentlemen, we are just minutes away from our main event of the evening, it's huge tag team action, NEXT!



~COMMERCIAL BREAK~


***THIS FIRE BURNS***

It's a solid pop that emanates around the Sprint Center as for the second time tonight, CM PUNK makes his entrance. Holding the MITB briefcase in his hands as ever, Punk makes his way to the ring with focus.

Jim Ross: This young man CM Punk went through hell at WrestleMania to become Mister Money in the Bank, and with all the controversy surrounding the WWE Championship, we can only speculate if Punk's wait to cash in that opportunity is coming to an end.

***MY TIME IS NOW***

It's a THUNDEROUS reaction from the Kansas City crowd for one JOHN CENA, who like Punk, makes a beeline for the ring.

Jim Ross: John Cena knows this match will determine whether or not he is next in line for a match for the WWE Title, but whether Cena will be able to co-exist with a man who could potentially cash in on him if he were to win the championship?

Jerry Lawler: There's a lot of tension going into this match JR, but if either John Cena or CM Punk wants a match for the WWE Championship, cooler heads will have to prevail here.

***LONGHORN***

Heat resonates around the building as a white-stretch limousine pulls into the arena by the entrance stage, signalling the arrival of JOHN BRADSHAW LAYFIELD. Layfield looks with disgust at the crowd, then slowly makes his way to the ring, perhaps somewhat reluctant to enter it without his partner yet there to have his back.

Jerry Lawler: You know JR, we've talked about John Cena and CM Punk potentially getting a future title match if they win here tonight, but what about JBL? I mean, if he picks up the win, doesn't that mean he'll be in line for a shot at the title?

Jim Ross: That could very well be the case King, but personally I'd like to see JBL as far away from the spotlight as possible.

***I WALK ALONE***

The boos are DEAFENING inside the Sprint Center as for the first time this evening, The Animal, the WWE Champion, BATISTA, walks into the arena. With the WWE Championship firmly wrapped around his waist, a spotlight follows the champion as he slowly, almost methodically makes his way to the ring.

Jim Ross: He is demonic, has no conscience, he has no remorse, and he's the WWE Champion. Even if a number one contender became apparent after this match, can anyone stop The Animal that is Batista?

Jerry Lawler: I don't know if anyone can, JR. Batista has torn through the roster in a very short space of time, and not just anybody JR, former champions like Shawn Michaels, like Rob Van Dam. Whoever becomes number one contender has got a mountain to climb to get to the WWE Championship, JR.

Jim Ross: No doubt about that, King.

As the heels enter the ring – JBL has been waiting for Batista – they stand opposite Cena and Punk, and it seems we are ready to get this match underway. But before the bell is rung, attention turns to the entrance stage, where MR. MCMAHON and new GM SHANE MCMAHON emerge. There is a mixed reaction as the McMahon men make their way to the ring, walk past the squared circle and pull out a couple of chairs in front of the entrance table.

Jim Ross: What the hell is this all about? What have the McMahons got to do with this match, King?

Jerry Lawler: Well obviously they've got a lot invested here, JR, maybe they're out here to make sure things don't get out of hand?

Jim Ross: It's never as simple as that when a McMahon is involved, King.


Main Event – Tag Team Match
CM Punk & John Cena vs. John Bradshaw Layfield & WWE Champion Batista

To start the match, JBL squares off against CM Punk. Layfield doesn't look too happy to be starting things off, but after a glance at Batista, doesn't seem to have a choice. The match kicks off with JBL and Punk locking up, with Layfield quickly forcing Punk into a corner. The referee yells at Layfield to get out of the corner as Layfield pummels at Punk, his hatred for The Straight Edge Superstar felt with each harsh clobber. Layfield pulls Punk out of the corner and levels him with a stiff clothesline, then takes a moment to bark and taunt at John Cena. Cena sneers at Layfield, who then drops with an elbow down into Punk's chest. Layfield gets up, and again lands a heavy elbow. This time Layfield holds his weight over Punk for a cover: one, two, Punk kicks out.

With a scowl, Bradshaw pulls Punk up by his scraggy hair, leads him to his corner, slams his head against the turnbuckle, and tags in his partner, WWE Champion Batista. Boos echo around the arena as The Animal steps through the ropes, and like a dog let off his leash; The Animal pummels at Punk's abdomen in the corner with shoulder block after shoulder block. Damage to the abs done, The Animal then tears at Punk's face, ignoring the official's pleas to get out of the corner. As the referee counts the WWE Champion waits until four, then backs away and gets right in the referee's face. As The Animal walks into the official JBL takes the opportunity to elbow Punk at the side of the head.

Chants of "Let's Go Punk" begin to break out as Batista turns his attention back to the fans' choice and brings him out of the corner. The Animal hoists Punk up onto his shoulders for a power move, but Punk wriggles out of it, fires a few shots at Batista, who turns around and BLASTS Punk with a clothesline!! Punk is turned INSIDE OUT from the power of the clothesline, and as he lies on the mat in pain, Batista stands motionless, gazing menacingly at John Cena. After a moment The Animal drops to the mat and hooks Punk's leg, one – two – Punk just gets a shoulder up before three.

Punk has been absolutely manhandled already, and it looks to continue as Batista brings Punk to his feet, hits him with a headbutt, and then drags Punk's weakened carcass back to his corner to tag Bradshaw back in. With a teeth-bearing grin Layfield re-enters the ring and takes Punk off of Batista, the team like vultures sharing leftovers. With Punk in his control, Layfield wraps his big arms around Punk's head. He squeezes Mr. Money in the Bank's skull, but after a moment of selling, Punk manages to push Layfield to the ropes, and then catches him a forearm on the rebound! Cheers finally break out as Layfield gets back up, grapples with Punk, Layfield again takes the lead, but again Punk pushes Layfield away, drops to the mat, Layfield runs over Punk, bounces on the ropes, and Punk fires back with a dropkick! Suddenly there is life in Punk, and as Layfield pulls himself back up, Punk fires a spinning kick to Layfield's torso, and then follows up with a knee to his chest, knocking Layfield right out of the ring! Layfield quickly gets to his knees on the outside and holds his chest, looking surprised by Punk's comeback, as JR and King lead us to the final commercial break of the evening.



~COMMERCIAL BREAK~


Back off the commercial break, Layfield has made a comeback, and as he keeps a seated Punk locked in a chinlock, we see that during the commercial break, Punk got out of the ring to get Layfield, but instead got his head slammed on the apron. This allowed JBL to get to where he is now, with Punk seated and JBL's knee driven into Punk's back and his arms tightly locked around Punk's chin. Cena slams his hand down on the corner, urging Punk to somehow fight back, whilst Batista simply looks on. "CM Punk, CM Punk" and "Cena, Cena" (from the kiddies) chants are louder than ever and they seem to stir Punk, as he begins to fight back against Bradshaw. Layfield begins to panic, trying to keep hold of his opponent, but Punk manages to get to his feet, turns enough to target Layfield's body, and throws his elbow into Layfield's gut. Bradshaw is forced to break the hold as Punk dashes to the ropes, bounces back, goes for a crossbody – but Layfield catches him, in mid-air, and delivers the Last Call fallaway slam! Punk writhes in pain as Layfield quickly walks over and falls down to the mat, hooks the leg, one, two, but Punk AGAIN kicks out before three!

Furious at yet another kickout, Layfield grabs Punk's head and howls in Punk's face, "WHAT I HAVE GOT T' DO T' YOU, KID?", before slamming Punk's head back down to the mat. Layfield walks over to his corner in a strop and slaps Batista on the chest, then exits to the apron. The Animal glares at Layfield for touching him, but Bradshaw is fed up, and yells at Batista, "EAT 'IM!" The WWE Champion re-enters the ring to boos once again, picks Punk up, and throws him effortlessly into a corner. The Animal throws a shot, two shots, a third shot to Punk, then backs out of the corner. With a roar he charges at Punk, but the young man lifts his feet up, catching The Animal in the face! As Batista staggers back Punk quickly jumps up to the apron, Batista turns around, and Punk fires through the air to hit Big Dave with a flying forearm! The fans cheer wildly as Punk shakes his head, trying to find himself, Batista gets back up, and Punk launches an all-out offensive, a kick, another kick, a forearm, a spinning kick, a knee to the gut, the champion is reeling, Punk backs Batista into the corner, runs forward with a jumping knee to the jaw! Punk grabs The Animal by the head, goes for the bulldog, but Batista pushes him away, Punk turns around, and Batista LUNGES at Punk, taking down his opponent with a tackle, then rips and claws at his face! The official orders The Animal to get off the man, but it's no use, The Animal has SNAPPED, he gets to his feet and stomps the ever-living HELL out of Punk!

The WWE Champion, enraged (or perhaps even embarrassed) by his opponents' sudden comeback, grabs Punk by his hair, pulls him to his feet, throws him over his shoulders, and SLAMS him to the mat with a British Bulldog-style Oklahoma Slam. But he doesn't go for the cover, no; The Animal again glares at John Cena, who has yet to enter this match. From his corner JBL yells at Batista to tag him back in, wanting to pick up the scraps left from The Animal's assault on Punk. Big Dave sneers at Layfield, wanting to finish off his prey himself, to which Layfield yells, "HEY, I SAID TAG ME YA BIG FREAK!" Layfield immediately regrets his choice of words, shakes his head, puts his hands up, pleading his innocence, but aggravated by the comment, the WWE Champion walks over, GRABS Layfield by the throat, and tosses him over the top rope and into the ring!! John Cena, the McMahons, even the referee look shocked as The Animal exits the ring, drops down from the apron, and begins to walk away from ringside!! Layfield has been left all alone as the WWE Champion, without a word, storms up the entrance ramp! Stunned by what has just happened, Layfield looks almost tearful as he watches the WWE Champion walk up the entrance ramp. Inside the ring, a recovered CM Punk smirks, John Cena smirks, their luck changing for the better.

Suddenly, a race is on as both Punk and Layfield reach their feet. Layfield clumsily goes for a clothesline to Punk, Punk ducks it, Layfield turns around, and Punk meets him with a flurry of kicks and fists. Punk tosses Layfield to the corner, follows up with a knee to the chest and jaw, and tops it all off with a bulldog. Punk gets up, with rediscovered fire, and suggests that it is "Nap time", but now it is John Cena who yells at Punk, wanting into the match. Punk looks at Cena, then nods, and finally, John Cena enters the ring!

The women and children present go crazy as Cena darts through the ropes, Layfield gets back up, and Cena powers through Layfield with big right hands! Cena goes to throw Layfield to the ropes, Layfield reverses, Cena bounces off the ropes, and hits Layfield with a flying shoulder block! The audience are suddenly split with cheers and boos as the "Moves of Doom" sequence unfolds, Cena, with another flying forearm, a spin-out suplex, then sets up Bradshaw for the Five Knuckle Shuffle. Cena poses for his fans, runs to the ropes, then fires back with the fist drop. Cena raises his arms high, calling for the F-U, but as Cena stands by the ropes, Punk slaps Cena's back, getting himself back into the match! Cena looks flabbergasted at Punk's trickery, and argues with the official as he is ordered to exit the ring! Punk shrugs his shoulders as Cena finally exits to the apron, mouthing trash talk to Punk, who makes sure he is stood away from the ropes.

Punk stalks Layfield, who is in no major hurry to get back up, as Cena's face looks bright-red. Suddenly, as Punk hoists Layfield up on his shoulders, Cena gets pulled off the apron and PUMMELLED into the steel steps – BY BATISTA!!! The WWE Champion has returned from out of NOWHERE to ambush John Cena from behind and damn-near break his back with a powerful throw into the steel! The referee is obviously distracted and yells at Batista, and he's not the only one distracted, as in the commotion Punk has had to drop Layfield. Punk screams at the official, even tugs at his t-shirt, to turn his attention back to the in-ring action, but the WWE Champion is the focus of the official's attention as he now stands over Cena and STEPS on Cena's head!! The Animal's disgusting assault continues, the referee is distracted, allowing JBL to LOW BLOW CM Punk from behind! The heat inside the Sprint Center is THUNDEROUS as Punk bends over in pain, Layfield seizes the moment, runs to the ropes, and comes back with a DEVASTATING CLOTHESLINE FROM HELL TO PUNK!!! And CONVENIENTLY, The Animal takes a very casual step away from Cena as Layfield covers Punk for the one – and the two – AND THE THREE – JBL AND BATISTA STEAL IT!!!

Winners via pinfall: JBL & WWE Champion Batista.

"Longhorn" plays as JBL gets to his feet and yells out, "YES!", whilst on the outside The Animal stands over a helpless John Cena.

Jim Ross: THIS WAS A DAMN SET-UP!!! There was never any friction between Batista and JBL, those two had this set up along!! This is DESPICABLE!!

Jerry Lawler: This is bad news for Punk and Cena, JR! They came into this match hoping to get a win and move closer to one of them being named number one contender, but after that, I'm not sure who could possibly challenge Batista for the WWE Championship!

Jim Ross: What a deplorable plan put into motion by JBL and the man we call our WWE Champion!

With Cena down and out on the outside, the WWE Champion now slides into the ring and orders the referee to bring him his WWE Championship belt. Bradshaw looks down at Punk with the biggest, ugliest smirk he could possibly pull, and as the referee hands Batista his WWE Championship, The Animal holds his title aloft for all to see. However, the celebration doesn't last too long - as Layfield and Batista take it upon themselves to stomp the living HELL out of CM Punk!

Jim Ross: And now JBL and Batista, like a couple of wild dogs, are pickin' and tearin' at CM Punk! This is a damn MUGGING!!

The attack continues as John Cena, still dazed from being thrown into the steel steps, finds enough strength to roll back in the ring and jump on JBL from behind. The fans start to come alive for Cena as he pulls JBL away and levels him with a right hand, but a big shot from behind by The Animal quickly sends Cena back down to the mat. The aggressors then decide to switch targets; and JBL traps Punk in one corner, STEPPING on Punk's throat, squeezing the air out of his Straight Edge foe, as Batista works on Cena in the opposite corner. "You suck, you SUCK!" chants begin to echo within the Sprint Center as the two heels dominate their face counterparts. The ringbell is rung to signify the end of the match, but with no effect whatsoever. At ringside, Mr. McMahon and Shane yell for the attack to end, but it is to no avail.

Jim Ross: Come on, that's enough, something's got to be done about this!

Ask and you shall receive.

...............

............

.........

......

...

..




***ONE OF A KIND***

THE CROWD COME UNGLUED AS THROUGH THE CURTAIN WALKS ROB – VAN – DAM – WITH A STEEL CHAIR IN HAND!!!

Jim Ross: WHAT THE HELL!?!? IT'S ROB VAN DAM!!! ROB VAN DAM HAS RETURNED!!! AND HE'S NOT COMIN' EMPTY HANDED!!!

Jerry Lawler: I can't believe it, JR!!

Jim Ross: ROB VAN DAM WAS TAKEN OUT BY BATISTA MONTHS AGO, BUT VAN DAM IS HERE, AND HE'S WALKIN' TO THE RING WITH A BAH GOD PURPOSE AND A STEEL CHAIR IN HAND!!!

Indeed, Van Dam is not the smiley, "dude" Van Dam but one that looks ready to do some serious damage on the man who put him on the injury shelf. Batista picks up his championship belt as a counter to Van Dam's chair as Mr. Monday Night slides into the ring!

JBL cowardly scarpers to the outside, Batista lunges at Van Dam with the gold, Van Dam ducks, THEN SMACKS THE ANIMAL WITH THE STEEL CHAIR!!! The fans go WILD as the impact of the shot knocks The Animal through the ropes and out of the ring!! With Van Dam's guard down JBL suddenly finds courage and slides back into the ring, looking to take down RVD from behind, only to be tackled by John Cena!! The audience are going CRAZY as Cena foils JBL's plan and now RVD realises what JBL tried to do. Mr. McMahon and Shane are SCREAMING for the chaos to end, but everyone involved in the pandemonium seem to have forgotten their presence!

Meanwhile JBL pushes Cena off of him, looks to bail from the ring, BUT CM PUNK IS UP, JBL RUNS INTO HIM, AND PUNK HITS JBL WITH THE GTS!! JBL is dazed, stumbles around, RIGHT INTO AN F-U FROM JOHN CENA!! And JUST to top things off, Van Dam leaps to the top rope, marks his spot – AND LEAPS ONTO JBL WITH A FIVE-STAR FROG SPLASH!!! JBL eats THREE finishers as Van Dam gets to his feet in a shot, and turns STRAIGHT back to Batista on the outside!

Jim Ross: JBL JUST GOT HIS ASS HANDED TO 'IM BY ALL THREE MEN, CENA, PUNK, RVD!!!

The Animal's recovery is freakishly quick, and knowing he can't get back in the ring whilst his foe is armed and CM Punk and Cena are conscious, the WWE Champion backs away from the ring. A cameraman close to The Animal tries to get a close up of The Animal...but suddenly the camera tumbles as The Animal forcefully grabs the cameraman – AND THROWS HIM INTO THE BARRICADE! The WWE Champion is DETERMINED to get the final word, even as he backs away from the ring.

Jim Ross: What a cheap shot!! And that's our champion!

Cena and Punk take a back seat as Van Dam seethes at The Animal walking away, and knowing Batista is out of range, looks at the downed JBL once more. Van Dam drags JBL's already broken carcass into the corner, and now, even Cena and Punk show some form of remorse as they try to convince RVD that enough is enough. Van Dam simply glares at them, still with the steel chair in hand, and makes his way to the opposing corner.

Jerry Lawler: Oh no JR, you know what he's got planned here!!

Jim Ross: Aww no, come on, Rob, even for Bradshaw that's enough!

By the announcers' table Mr. McMahon yells, "DON'T YOU DO IT, DAMMIT!", but Van Dam isn't having any of it. The audience are ECSTATIC as Van Dam ascends the turnbuckle one more time, across the ring from Bradshaw, targets the man - AND FIRES ACROSS THE RING – VAN TERMINATOR TO THE FACE OF JBL!!!

Jim Ross: BAH GAWD, BAH GAWD, VAN DAM MAY JUST HAVE FRACTURED EVERY BONE IN JBL'S SKULL!!!

FINALLY, and MERCIFULLY, Van Dam chucks the chair aside in anger, his eyes once again focused on Batista on the ramp, who shows no sign of fear, remorse or anxiety for JBL's fate. The Animal simply sneers back at Van Dam in the ring. Van Dam, now noticing something on the mat, picks it up. Batista, having not shown any sign of emotion up until this point, starts to twitch at the sight of Van Dam gazing down...at the WWE Championship belt. Van Dam then looks back at Batista, climbs the turnbuckle, and hoists the title up high, the camera fixed on Van Dam and keeping Punk and Cena out of the picture for now.

Jim Ross: THE ANIMAL'S CHAMPIONSHIP REIGN MAY ALREADY BE IN JEOPARDY!! ROB VAN DAM IS BACK, HE'S BACK FOR BATISTA, HE'S BACK FOR REVENGE, HE'S BACK FOR BLOOD, AND BAH GOD, HE'S BACK FOR THE DUBYA DUBYA 'EE CHAMPIONSHIP!!! GOOD GOD AL-MIGHTY!!!

The camera switches between shots of the expressions of Van Dam, determined, focused, with the WWE Championship belt in his grasp, and The Animal...seething.

END SHOW.

***


Spoiler for Confirmed SummerSlam Matches:
---
Last edited by TKOW; 02-01-2014 at

05:05 PM

.
Re: The Era of Darkness
---
This should put you back on the front page, if only for a little while. I had some thoughts scribbled down in mid-week, then managed to forget until now to finish them, so my apologies, and thanks for your feedback btw. As the original jobber said above, though for a different reason, I'm a little rusty on your storylines if only because I dipped in and out of the old thread so randomly over the past year that it'll take me a few shows to get back to where you actually are, if that makes any sense. Anyway, onward.
Raw Feedback/Thoughts
When I go chronologically, I end up with a gigantic rambling sprawl of block text, so I'm going to try and curtail this a little. I'll start with what surprised me the most about the show, and that's your booking of Randy Orton. I was pretty much certain that Orton was going to gun straight for Jericho, and that would be your World Title match come Summerslam. I thought you would have Orton go face-to-face with McMahon either here or on SmackDown, and he'd goad VKM into giving him the World Title match somehow, maybe with a stipulation attached or something. I figured it would be another layer to the nefarious Orton who'd RKO a defenceless woman, in that he could work his way inside McMahon's mind - so it's for that reason that I was a little taken aback that Orton didn't say anything to Vince here. It seemed to me like McMahon sort of had the upper hand on Orton from the beginning, and considering Orton hit new levels of super-villain with his RKO on Linda, I was expecting some dark promo material. And similarly, while the Kane decision makes sense (despite his jobberness) with this being his return after losing to Orton at Vengeance, I can't help but feel it slows Orton's momentum a little. That said, these two guys are the two most sadistic fuckers in play in the thread, bar maybe Dave 'claws-at-RVD's-wound' Batista, so I have full faith you'll make a lively feud out of this one. Obviously I didn't comment on SmackDown, but a thought I was going to put forward for it was how similar I thought Orton and Edge came across on that show - both a little bit touched in the head, willing to do anything for the big one - so in the grand scheme of things, Orton on Raw may let Edge do his thing a little more. The one thing I remain confused about is: who's facing Jericho? I was under the impression you were going to bring Dykstra away from the main event scene and give him a slower burn, so all I can see is either Edge killing Taker before SS and getting a one-on-one with Jericho, or a Triple Threat with the Deadman. I'm pretty sure I'm missing something, I'll wait for SmackDown before I judge you. Too much.
JBL's promo was perfect for the scumbag he'd become so perfectly by mid-2008; he always had an agenda of some kind, and here, with him trying to take advantage of what happened to HHH, sets that character dead in stone. The reason I mention this is because the promo in general was very strong character-wise, with Punk, Cena and JBL all being written to a tee, but it felt a little brief, and seeing as you have these three guys down, I'd maybe have liked to hear a little more from them. My thinking was Cena's stuff could have been said here, rather than later, but what's said is said I suppose. Regardless, it set up well for the main event, and needless to say you've reminded us how capable a writer you are with how well you captured everyone involved with the opening segment, and in Cena and Punk's interaction later. The main event itself had some good action, though the talking point would be JBL and Batista's ploy - I like that, it shows that JBL isn't really his own man and will happily take the underhanded way out as long as he wins. RVD's return also spices things up even more, knowing that his history with Batista would make for a pretty heated WWE Title feud. Like with the World Title situation, I'm not sure if we'll see Punk/JBL while Cena tags on to a Triple Threat situation or what's going to happen, but again it's one I'll wait to see how it unfolds. Normally you'd say that RVD hitting the Van Terminator was overkill, but of course, that's exactly what you were going for - what Batista did to him took him out of 'chilled out dude' mode for good. I especially like the mention of Cena and Punk trying to calm him down to no avail; it really sets Van Dam on his own level and highlights the seriousness of the issue between him and Batista. JBL also came out of it looking fine too, seeing as he was outnumbered and he got the pin in the match anyway. All in all, a very promising conclusion to the show that bodes well for the main event scene heading towards Summerslam. Good stuff.
Elsewhere, things are starting to shape for Summerslam pretty well. You've set up the Intercontinental Title feud well by having Rhodes be an absolute douchebag; in 2008 he wasn't quite as 'ready' to be champion and there's an almost immature edge to him by having him resort to violence against Grisham. Given that at this point in time he
was
still a little bit green, putting him up against Kennedy is a great way to maybe mould him into more of a character, against a guy who is quite literally
all character
. Carlito showing no respect to Rhodes because of his cowardice is a nice touch too, playing on the idea that Rhodes still has a lot to prove as champion, and there's your task. If I remember correctly, a while back you mentioned that you had some doubts about giving Rhodes the strap - provided I'm not making things up, you could easily use this as an opportunity to develop Rhodes into an entertaining character as champion.
Likewise, I think Black Gold (while those two were great singles talents in 2008 without really being rewarded for it) are treading water a little here, so it remains to be seen if they'll be the end result for your odd couple team of MVP and Helms, or if that comes after Summerslam. Certainly the tag division has some life in it, just not yet as lively as the Hardys situation on SmackDown. The Women's Title scene seems to be leading to a Triple Threat, though if that's the case I'm glad you've distinguished between Victoria and Phoenix rather than have all heels be best buds. Again, I feel this is all setting up for bigger things down the road, so the IC, Women's and Tag Title situations need a little time to burst to life. Next week's show will probably be crucial.
Overall, things look promising. In the grand scheme of things you're shaping up for Summerslam, so I don't really want to cast judgement before the angles develop ahead of the PPV. For instance, though the Orton-Kane decision surprised me, it'll probably be something where down the line I'll say it's come into its own. I eagerly await the next couple of shows, and not only because it means I can actually criticise you on decent grounds (
) but because actually this all looks bloody well good. Keep going old man, we're reading
Re: The Era of Darkness
---

WWE Friday Night Smackdown – August 1st, 2008
The Time Warner Cable Arena in Charlotte, North Carolina (Preview)

As we enter the month of August on the Gregorian calendar, the same month which plays host to The Hottest Party of The Summer, Friday Night Smackdown has never been in more disarray.

It was just one week ago where Smackdown-turned-Raw superstar Randy Orton attacked acting Smackdown General Manager and WWE CEO Linda McMahon with a vicious RKO. Having been refused a match for the World Heavyweight Championship, The Viper struck once more, leaving the McMahon matriarch to be attended to by a dozen concerned WWE paramedics. Orton has now been traded back to the Raw brand as punishment by Chairman Vince McMahon, but where does this leave the CEO? Does Smackdown now have no leading authority figure?

A lack of a figurehead on the blue brand would not bode well for anyone as bitter rivals Edge and The Undertaker continue to wage war on one another on each episode. Last week, the rivalry between these two reached a new peak when The Phenom laid his hands on Lita – Edge's long-time girlfriend – and sent her straight to the depths of Hell with a vicious Tombstone Piledriver. The condition of Lita is currently being described as 'fatal', which is an appropriate word for the potential consequences of this feud should it be allowed to continue. How will Edge seek revenge on The Deadman this week? Could The Rated-R Superstar possibly find a way to cause pain to The Undertaker's black heart equal to that of which he has been suffering?

On a 'lighter' note, last week's Smackdown saw the crowning of new WWE Tag Team Champions in the form of one of WWE's most iconic tag teams of all time, The Hardys! Now-FORMER champions The Miz & John Morrison had continually disrespected Linda McMahon week after week, and after surviving several surprise tag team challengers, the A-List Duo finally succumbed to the high-flying abilities of Team Extreme. Following their victory however; Matt Hardy reaffirmed his status as #1 contender to the United States Championship and subsequently as Paul Burchill's enemy. Will we see a response from the United States Champion this week? And will Miz and Morrison have anything to say regarding a rematch for the WWE Tag Team Championships?

Don't miss another exciting edition of Friday Night Smackdown this week on The CW Network.


Show will be posted in a few days.
---
Last edited by TKOW; 02-01-2014 at

05:01 PM

.
Re: The Era of Darkness
---

WWE Friday Night Smackdown – August 1st, 2008
The Time Warner Cable Arena in Charlotte, North Carolina

The show opens with a video package which recaps the events that unfolded the previous week on Smackdown. It shows how the show began in a chaotic way with The Undertaker executing a Tombstone Piledriver on Lita. It then shows Lita being taken out of the arena in an ambulance, accompanied by her boyfriend Edge, with acting Smackdown GM Linda McMahon looking on. We then see how the match between Edge and Taker never officially got underway as the two brawled throughout the arena. We then move on to the final segment of the night, Linda McMahon's "State of Smackdown Address", which was first interrupted by Edge and Taker, and then by Randy Orton. We see Linda refusing to name Orton number one contender, and Orton hitting Linda with the RKO as a result. The video closes with a close up of the sinister and deadly Randy Orton.



Quote:

Smackdown July 25th Recap Video Package

Edge: How is it fair when people like The Undertaker can cause chaos on this show, interfere in world championship matches, just like he did this past Sunday, and get away unpunished? How is that fair? How is that establishing order? It's a damn load of CRAP is what it is! And if Linda McMahon doesn't revoke her decision, and give me my rightful championship match TONIGHT, I'll show Linda what's FAIR!!


GONG~!!

[...]The lights turn back on...AND THE UNDERTAKER IS IN THE RING BEHIND EDGE!

"OH MY!!"

Sensing what is going on, Edge closes his eyes, snarls, open his eyes, spins around, and begins to trade blows with The Phenom!

"Edge and The Undertaker are going at it!"

Lita flees into the corner as her boyfriend continues to battle The Undertaker, who quickly gains the upper hand! The crowd cheer and whistle loudly as The Phenom backs Edge into the corner and begins to unload lefts, rights, whatever he damn well feels like!! With Edge reeling, Taker lifts his adversary onto his shoulders and bounces his face onto the turnbuckle- Snake Eyes! Edge clutches his face in agony as Taker runs to the ropes, and then comes back and fires at Edge with a Big Boot! Edge is down as The Phenom raises his arm in the air, signalling for the Chokeslam...but LITA, from behind, jumps up onto Taker's back and wraps her arms around his neck, trying to choke The Phenom out!

"That jezebel is saving her damn boyfriend again! And now Edge is slithering away!"

The camera quickly cuts back to the ring as The Phenom summons the strength to grab Lita's head by either side! The crowd cheer immediately as Lita shakes her head, pleading with The Phenom, but it is not enough; and Taker shows great strength by pulling Lita over his shoulders and onto the mat before him! Lita lands on her feet, but The Phenom has her firmly in his grasp. As Lita pleads for mercy, the camera cuts to Edge at the top of the entrance ramp, who has stopped dead in his tracks at the sight of The Undertaker holding Lita by her hair. Taker slowly steps sideways, leading Lita with him, as his eyes gaze at Edge at the top of the ramp. Lita continues to plead with The Phenom, he stares at Edge, and...throws Lita out of the ring. Taker quickly follows and grabs her again, much to the delight of the crowd. Taker sneers up at Edge on the stage as he throws Lita up onto his shoulders...

...puts her in position...

...and DRIVES HER ONTO THE FLOOR WITH A TOMBSTONE PILEDRIVER!!!

Cut straight into the arena: no opening video. No pyro.

"YOU THINK YOU KNOW ME"

***METALINGUS***

Instantly the arena fills with boos as "The Rated-R Superstar" himself, EDGE, enters the arena. The former champion is dressed in jeans and a merchandise t-shirt, but his overgrown facial hair and the uncombed locks on his head make him appear scruffy and deprived of rest.

Michael Cole: Good evening and welcome to a chaotic and leaderless Smackdown, where things are kicking off in a huge way with 'The Rated-R Superstar' Edge! It was unknown as to whether Edge would actually show up here tonight, but after much speculation, Edge IS here tonight; and from the looks of it...Matt, Edge looks...distant. Edge looks like he's...some place else.

Matt Striker: Edge has a look that could kill right now and quite frankly I don't blame him. After what The Undertaker did to Lita on Smackdown last week, I'll be as bold to say even 'The Phenom' should be wary of The Rated-R Superstar's path.

Michael Cole: Well that's a rather bold statement but nonetheless, I agree; Edge is not in a stable mental state right now.

Racing past the ring, Edge heads for the ringside crew...and grabs a steel chair! As officials try unsuccessfully to calm The Rated-R Superstar down, he barks at ringside crew to hand him a microphone. Within seconds, Edge has a mic in his hands and slides into the ring as the crowd continue to boo feverishly at The Rated-R Superstar.

Edge: Undertaker...

The crowd cheer for the mention as Edge runs a hand through his manically, whilst using the other to keep a hold of that steel chair he grabbed from ringside.

Edge: Undertaker, over the last four or five months you and I have been at each other's throats. We've taken the World Heavyweight Championship from each other; we've made each other bleed. But nothing, NOTHING compares to what you did to my girlfriend, the love of my life, the most beautiful...precious...woman that walks the face of this earth, Lita.

Still shaking with rage and staring up at the entrance stage, Edge paces back and forth inside the ring amidst the crowd's continuous wave of boos and jeers.

Edge: I know you're here. I know you're here, 'Phenom'.

The crowd pop BIG TIME as Edge leans against the ropes, bright red with anger.

Edge: AND IF YOU'VE GOT ANY GUTS, YOU'LL COME OUT HERE AND FACE ME RIGHT NOW!!

Edge continues to pace back and forth, waiting for The Phenom to reply to his challenge, not wasting any time tonight.

...

He doesn't have to wait long.


GONG~!

After a few seconds the lights come back up - AND THE UNDERTAKER IS INSIDE THE RING! The crowd go CRAZY as Edge suddenly turns round, swinging the steel chair for Taker, BUT TAKER GRABS EDGE BY THE THROAT! The Phenom stares viciously into Edge's eyes and The Rated-R Superstar is forced to drop the chair to the mat! Before Taker can do anything, Edge begins to hammer The Phenom with right hands, eventually causing Taker to release his grasp of Edge's neck after a few blows. The Deadman strikes back with a blow of his own though, and suddenly, the two men are engaged in a fist fight!

The crowd love it, Michael Cole screams away on commentary, but suddenly a dozen officials run out from the back and create a human wall between the two rivals! Both men are pushed into opposing corners as they struggle to get back to ripping each other apart. As Edge struggles with the guys in front of him, Undertaker breaks through the officials and LEAPS at Edge in his corner!! Almost instantly Taker gets pushed back into the opposing corner, still wanting to tear The Ultimate Opportunist limb from limb!

...............

............

.........

......

...


***I'M BACK***

A loud mixed reaction echoes around the Time Warner Cable Arena as the one and only ERIC BISCHOFF walks out onto the Smackdown entrance stage!!

Michael Cole: WHAT ON EARTH!? ERIC BISCHOFF!!

Matt Striker: The Bisch is back, Michael! Eric Bischoff is here on Smackdown!

Michael Cole: 'THE HELL'S ERIC BISCHOFF DOING ON SMACKDOWN?! It couldn't be...it's not...

Dressed in a navy suit and white shirt, Bischoff looks rather annoyed as he stares down at the ring. Inside the ring, Edge and Taker continue to glance at each other, wanting to continue to fight, but also caught off guard by Bischoff's arrival.

Eric Bischoff: STOP IT, STOP IT RIGHT NOW! Edge, Undertaker, that's an order.

The camera cuts to Edge and Taker inside the ring, both still confused (and annoyed) at Bischoff's interruption. The camera then turns back to Bischoff, whose anger now subsides into a small grin.

Eric Bischoff: That's an order...per your NEW General Manager!

The crowd respond with a loud mixed reception, leaning toward boos. He hasn't been on TV in a while, but this Eric Bischoff. The smarks cheer for the man's greatness, whilst others remember his days as WCW president and RAW GM. Anyway...

Eric Bischoff: That's right, I am now the sole authority figure of this show and what I say, goes! Now with all due respect to Linda McMahon, I don't believe that things like a 'state of address' are going to bring an end to the chaos that has engulfed Smackdown over the past few weeks. So what I'm going to do, is what Linda McMahon should've done. I'm not going to keep you two apart. I'm going to let you two rip each OTHER apart! So my first act as General Manager of Smackdown is this: at SummerSlam...it's going to be Edge...

Loud heat cuts off the GM quickly, but he doesn't let that slow him down.

Eric Bischoff: ...VERSUS THE UNDERTAKER!

The crowd cheer yet again, excited at anything that is being said at the moment.

Eric Bischoff: And since you two want to beat each other, DESTROY one another, you can do it at SummerSlam, in a match that will guarantee the end of this blood feud. A match that may even end one of your careers...Edge, it'll be your first match of this kind, but it's a match The Undertaker knows all too well...

Edge shakes his head in shock, knowing what Bischoff is about to say.

Eric Bischoff: ...HELL...IN A CELL!!!

The arena goes BERSERK at the sound of Bischoff's announcement!!!

Michael Cole: OH MYYY! HELL IN A CELL!!!

Matt Striker: Eric Bischoff has been General Manager of Smackdown for five minutes and he's already booked two of his top superstars into the most demonic and brutal match in WWE history, the Hell in a Cell, at SummerSlam!

"I'm Back" hits again and the GM continues to grin sadistically, enjoying the impact he has just made in his debut. Inside the ring, Edge looks manic, wriggling desperately to try and escape the officials who have held him back. In the opposite corner of the ring, The Undertaker isn't so eager to escape. Having heard Bischoff's announcement, The Phenom simply stares directly into Edge's eyes...rolls his eyes back...and performs his cut throat gesture.

Michael Cole: Edge wanted The Undertaker, and now he's got him in a way he could have never imagined: inside Hell in a Cell!

Matt Striker: Hell in a Cell is perhaps the most destructive match we have ever seen in WWE, Michael; once inside its sinister structure what will Edge and The Undertaker do to each other?

Michael Cole: I could not have imagined an opening to the show like this! Eric Bischoff has shockingly returned as our new General Manager, and in his first act of power, he's ordered a Hell in the Cell match between Edge and The Undertaker at SummerSlam! How on EARTH is this night going to continue to unfold!?

The final image before the screen fades to black is a close-up of the look on Edge's face, which now, although only an expression, spells one word:

Fear.



~COMMERCIAL BREAK~


***RULE BRITANNIA (REMIX)***

The reception is lukewarm for one 'Canadian Bulldog' HARRY SMITH, who walks through the curtain with a smile and a wave of confidence.

Michael Cole: Welcome back to Smackdown, and if you're just joining us, get this: earlier tonight, Edge came out to the ring and called out The Undertaker. The Phenom accepted the challenge, only to be interrupted by our new General Manager, Eric Bischoff, who then announced a HELL IN A CELL match for SummerSlam!

Matt Striker: An unbelievable start to Smackdown Michael, one of the reasons why this is the show to watch every Friday night.

Michael Cole: Who knows what is still to come here tonight, but for now we look to kick things off with Harry Smith, a young man who has looked impressive in the past few weeks.

Matt Striker: Michael you know I'm a fan of facts and figures so let's look at the laundry list thus far: Shannon Moore, Super Crazy, and last week, former tag team and Intercontinental champion Santino Marella. All three superstars have fallen to Mr. Smith, whether it be via the Sharpshooter submission hold, or the move made famous by Smith's father the late British Bulldog, the Running Powerslam.

***YOU WILL REMEMBER ME***

The crowd are not enthused by the arrival of CHUCK PALUMBO, who walks into the ring with a scowl, not looking at all impressed by his opponent.

Opening Match – Singles Match
Harry Smith vs. Chuck Palumbo

Palumbo does the opposite of take it easy on the rookie Smith in the opening of this match, rather, he seems to deliver harder punches, stiffer kicks, to wear his opponent down. The match consists of Palumbo hitting Smith with a few standard moves from his repertoire, but not getting very far with them. Palumbo quickly grows frustrated, and as he attempts to charge at Smith in the corner, The Canadian Bulldog moves out of dodge and Palumbo eats turnbuckle.

Smith capitalises on the mistake and mounts a comeback, planting Palumbo with a big suplex and a big back body drop. Palumbo tries to knock Smith out with a punch, but Smith ducks it and hits a back suplex, this match perhaps only taking place to show off Smith's wrestling ability. Smith is strong enough to lift Palumbo onto his shoulders for the Running Powerslam, but Palumbo breaks free and plants Smith with a neckbreaker from behind. As Smith tries to get up, Palumbo then stalks him with a smirk. Smith gets up, Palumbo leaps forward for the Jungle (super)Kick, but Smith catches the foot, drops Palumbo to the mat, and locks in the Sharpshooter! Palumbo tries to fight it but within a minute submits to the finisher and this one is over.

Winner via submission: Harry Smith.

"Rule Britannia Remix" hits as the referee raises Smith's arm in victory. Cole and Striker congratulate Smith on yet another victory on Smackdown when suddenly SANTINO MARELLA walks down the ramp with a huge grimace. Marella talks trash to Smith from the ramp, upset regarding his loss to The Canadian Bulldog the previous week, and in response Smith leans on the middle rope and invites Santino into the ring. Santino suddenly smirks though, and points to behind Smith. Smith looks confused, turns around, AND PALUMBO LEVELS HIM WITH A JUNGLE KICK! Boos begin to fill the arena as Santino laughs from the outside, a small measure of revenge from his loss exacted on Smith.

Michael Cole: What a cheap shot! Harry Smith won this match fair and square, only to be blindsided by Chuck Palumbo, and it's all thanks to that sore loser Santino Marella!

Matt Striker: If there's one thing that Harry Smith is going to learn Michael, it's that you make enemies extremely quickly here in the WWE.

Smith lies curled up on the mat, holding his jaw in pain, as Palumbo exits the ring and walks up the ramp, followed by Santino. As Palumbo heads up the ramp and doesn't look back, Santino walks backwards, keeping his eyes on the ring, so that he can continue to laugh at the sight of Smith down and out.


The cameras then cut backstage to the office of the new GM ERIC BISCHOFF. Sat on a lavish sofa in a room decorated with a large portrait of himself hanging on the rear wall, Bischoff brushes his hand across the leather seat and smiles. Suddenly a knock is heard at the door to the room.

Eric Bischoff: (without looking up) Come in.

A pair of feet cut into the shot, and upon seeing this person, Bischoff looks up at them, takes a moment to stare, and then slowly pulls himself up.

Eric Bischoff: Well, well, well. I wondered how long it'd take for you to come and see me.

The cameraman finally shifts the lens right so that we can see that it is the reigning World Heavyweight Champion CHRIS JERICHO that has entered the room. A loud pop is heard from inside the arena as Jericho stares at Bischoff with the utmost contempt. Bischoff, on the contrary, smiles at Jericho.

Eric Bischoff: So...you didn't come here to wish me luck as your new boss, did you? (Jericho says nothing) I take it that's a no. Alright then Chris, what do you want?

Chris Jericho: Let's get one thing straight, Bischoff. Now that you're the GM here, it doesn't mean I'm going to allow you to hold a personal vendetta against me. If you even so much as think of trying to screw me out of my title, I won't just put you in the Walls, I'll make sure I keep it locked in tight enough to break your back. Are we clear?

Jericho's uncharacteristically threatening tone does little to faze 'The Bisch', who instead reacts with a chuckle.

Eric Bischoff: (holds up hands) Look, Chris, I'm not going to do anything to jeopardise your current success as the World Heavyweight Champion. Even though you did put your hands on me the last time we met at Raw's fifteen anniversary, I can understand what was going through your head. Besides that Chris, I've got a lot to deal with in this new position, what with all this chaos going on between Edge and The Undertaker, replacing Randy Orton after he's been traded over to RAW – the LAST thing I need is my world champion to be unhappy. So don't worry, Chris...we're good.

With those words Bischoff then takes the first step in the healing process – and offers Y2J a handshake! Bischoff's hand remains extended as Jericho glances down at it. After a moment, Jericho looks back up at Bischoff, and breathing heavily, takes a step closer to his boss, deliberately invading Bischoff's personal space.

Chris Jericho: You and I, Eric...will never...ever...be "good."

Having said his piece the World Champion turns away from Bischoff and goes to leave the room, but stops his dead in his tracks as THE MIZ & JOHN MORRISON walk into the room. The former tag team champions glare at the World Champion as they come face-to-face, and Jericho responds with a sneer of his own. Bischoff smirks at the tension between the three men and is perhaps more confident with their arrival.

Eric Bischoff: John Morrison, Miz. What can I do for you?

The Miz: (Whilst looking at Jericho) Well first of all, sir, we'd like to congratulate you on being named the new GM of Smackdown and wish you luck in your new role.

Eric Bischoff: Well thank you, Miz.

John Morrison: Yeah, I mean unlike some people (also stares at Jericho), we actually appreciate having somebody like you here because we know that you'll make the big decisions, but more importantly, you'll do what's right, and what's fair.

The Miz: And speaking of what's fair, Mister Bischoff, we don't think it's fair that we were forced to defend our WWE Tag Team Championships three weeks in a row. Linda McMahon held a personal vendetta against us and forced us into defending those titles, even when the tag teams challenging us didn't actually deserve it!

John Morrison: Miz is right, sir. Think about it – did the Hardys actually earn the right to challenge us for the tag team titles last week? No, they just walk in and take the championships from us just because Linda McMahon gave them a title match when we were at our most vulnerable state. Just like this guy here (points to Jericho) is only the World Champ because he won some Battle Royal after Linda McMahon took the title away from Edge and the Undertaker.

Jericho looks ready to explode, but Bischoff diffuses the situation by putting his hands in the air between Jericho and Miz and Morrison.

Eric Bischoff: Gentlemen, please. Let's all just settle down here. Now, guys, I don't take the tag team division lightly. That's why I can't just give away a title match here tonight without the proper build that it deserves. So next week, on Smackdown, will be when you two will get your contractual rematch for the WWE Tag Team Championships. But as for tonight...Morrison, rather than talk trash about your World Champion Chris Jericho, why don't you put your money where your mouth is...in the main event, against Y-2-J!

Morrison and Jericho glance at each other, but Bischoff isn't done.

Eric Bischoff: And as for you, Miz? You can do a little "scouting" for your team...in a match against one of your opponents for next week...Matt Hardy. Now gentlemen, all of you; I suggest you leave my office and go prepare for your respective bouts.

Miz and Morrison leave the room, but Bischoff speaks again before Jericho can escape.

Eric Bischoff: Oh, Chris, sorry, there is one thing I forgot to mention. I know that SummerSlam is getting ever closer and you still don't have a challenger...but don't worry. By the end of the night, you'll know who you'll be defending the world title against at that pay-per-view.

Jericho simply sneers at Bischoff as we cut to an ad break.



~COMMERCIAL BREAK~


We return from the break to find one CANDICE MICHELLE, former Women's champion (LOL), already making her way to the ring.

Michael Cole: Welcome back to Smackdown; if you're just joining us, our NEW General Manager Eric Bischoff booked two matches for this evening. It'll be The Miz versus Matt Hardy, and John Morrison versus World Heavyweight Champion Chris Jericho in a non-title match.

Matt Striker: That is the excitement and unpredictability that you can only find here on Smackdown Michael, especially with Eric Bischoff now at the helm!

Michael Cole: Well that's later on tonight, but for now, it's now time for a little Diva action!

***NOT ENOUGH FOR ME***

There are a few whistles and cheers as the elegant MICHELLE MCCOOL makes her entrance.

Michael Cole: Michelle McCool has her sights set on the Divas Championship, and a win in this match will certainly put her in contention for the title.

Matt Striker: Even if Michelle McCool were to win this match Michael, Natalya has already rejected her claim to the championship, so until Michelle is formally named the number one contender I don't think we'll be seeing a title match just yet.


Match 2 – Singles Match
Candice Michelle vs. Michelle McCool

In a very quick Divas' match, Michelle McCool gets to show off her better wrestling skill (and that's saying something) as opposed to Candice's. Candice tries to put up a fight against Michelle, pulling at her hair and such, but in the end, it's a very easy win for McCool, who after smashing Candice with a belly-to-belly suplex, wraps the match up with the Wings of Love finisher. Candice is flattened as Michelle picks up the easy win, 1, 2 and 3.

Winner via pinfall: Michelle McCool.

At the conclusion of the match "Not Enough for Me" hits again, but whilst McCool celebrates her win in the ring, Divas Champion NATALYA walks through the curtain. With the championship glistening on her shoulder Natalya applauds McCool's victory, albeit with some sarcasm in her approach.

Michael Cole: Natalya shouldn't take Michelle McCool lightly if she wants to hold on to her precious Divas Championship title belt.

Matt Striker: Please! Confidence is key when you're a champion Michael, and particularly with Natalya, whose heritage speaks for itself, I don't think she has any concern about having to step back in the ring with Michelle McCool.


The two Divas continue their stare-off between ring and entrance way before we cut again to the backstage area, this time to the interview set. For the first time this evening JOSH MATTHEWS stands by with a microphone in hand.

Josh Matthews: Ladies and gentlemen, please welcome my guests at this time, Katie Lea Burchill and the United States Champion, Paul Burchill.

There are HUGE boos on cue as the tandem of KATIE & PAUL BURCHILL enter the shot. The reigning United States Champion, with his title belt hanging confidently from around his waist, grimaces at Matthews, whilst Katie Lea's cold blue eyes glare at the interviewer.

Katie Lea: You would do well, Joshua, in future, to introduce my brother as the United States Champion, The Ripper, Paul Burchill.

Matthews gulps, and as Katie Lea nods at him, he nods back in acknowledgement of her advice.

Josh Matthews: Uh, well; Katie, Paul, what are your thoughts after your rival Matt Hardy and his brother Jeff won the WWE Tag Team Championship last w-

Katie Lea Burchill: My brother, The Ripper, will not answer any questions regarding The Hardy brothers, Joshua, so I suggest you find something else to ask your United States Champion. You may ask, for example (brushes her hand against Burchill's cheek), how it sounds to hear the screams of his opponents as he makes them submit to his will, or better yet, how it feels when my brother hears the crack of bone, his opponent's arm being broken. Do these things not fascinate you, Joshua? Do you not wonder how my brother, The Ripper, can be such a loving, warm brother, even though nothing pleases him as such as to watch his opponents pray for mercy, and be denied it?

Katie Lea has gone into a trance of sorts, her eyes fixated on her brother, who simply stares ahead. Matthews, kerfuffled by what he has just heard, thinks before he speaks.

Josh Matthews: (stutters) B-but...th- the point of the interview...was to ask you about The Har-

Paul Burchill suddenly LASHES out and goozles Matthews with his big right hand! With the interviewer in his grasp, Burchill pulls his arm back, dragging Matthews toward him. Matthews squirms in Burchill's grasp, but The Ripper says nothing, and after a moment, an evil smirk stretches across Katie Lea's face. Finally (and luckily for Matthews), the US Champion releases the interviewer and follows his sister as they walk away from the interview set. As the duo disappear out of shot Matthews breathes heavily, holding his throat in pain before the screen fades away to commercial.



~COMMERCIAL BREAK~


Back in the arena, it's apparently time for action as JAMIE NOBLE and CHAVO GUERRERO stand in the ring, having made their entrances during the break.

Michael Cole: Welcome back to Smackdown; still to come later tonight, Chris Jericho will be in action against John Morrison, but for now it's a tag team match, featuring the man who pinned the Cruiserweight Champion last week, Chavo Guerrero.

Matt Striker: Evan Bourne, our Cruiserweight Champion, is still a rookie here in the WWE Michael, and after his first taste of defeat last week one has to expect Bourne to come out here fighting tonight in this match.


"I AM SUPER...I AM CRAZY...I AM SUUUPER CRAZY!"

***MUY LOCO***

There's a small pop from the crowd as the ever 'crazy' SUPER CRAZY buzzes through the curtain. Crazy makes his way to the ring and slaps hands with some fans at ringside before entering the ring.


***AXEMAN***

A slightly louder pop is the result of EVAN BOURNE's arrival, the reigning Cruiserweight Champion. Looking more serious than usual, Bourne makes a beeline for the ring, eager to get his hands on the (likely) next contender to his championship.


Match 3 – Tag Team Match
Chavo Guerrero & Jamie Noble vs. Super Crazy & Cruiserweight Champion Evan Bourne

This is a quick, eventful match, led by Bourne and Crazy both wanting to make a statement; Bourne, for his loss to Chavo Guerrero the week prior, and Crazy for his submission tap out to Paul Burchill. Bourne kicks things off against Jamie Noble, firing away with kicks and dropkicks and all sorts of rope-based manoeuvres, with Noble feeling the effects of the assault very quickly. Bourne makes a tag to Crazy, allowing the Mexican high-flier to get in some of his offence, but a botch by Crazy allows Chavo to tag into the match, and 'Chavito' being the freshest man of the bunch; takes control over Crazy, slowing the pace down with a headlock takedown and even the Mexican surfboard.

For the next five minutes Noble and Chavo take turns in tagging in and wearing Crazy down, stopping him on two occasions from tagging in the eager Evan Bourne. When in the ring Chavo constantly taunts Bourne, telling him that 'this is what will happen' when they meet in the future. Wasting ever more time with too much confidence and trash talk, Chavo sets up Crazy for the Gory Bomb. Yet, as Chavo hoists Crazy up and over his shoulders, Crazy quickly flips down and reverses it into a sunset flip pin! Crazy gets two, Chavo manages to flip out of the predicament, but Crazy guesses it and front dropkicks Chavo square in the face! Crazy wastes no time and tags in Evan Bourne, who jumps over the top rope and into the ring!

Chavo quickly scrambles over and tags in Noble before he gets caught, but as Noble leaps into the ring, Bourne greets him with a dropkick! Noble gets up pretty quickly but Bourne hits another dropkick and down Noble goes once again. Bourne grabs Noble by the head, brings him up and tosses him to the corner. Bourne charges forward and leaps up, driving his knees into the chest of Noble. Noble staggers forward as Bourne takes a step back, and then LEVELS Noble with a step-up enziguiri! Bourne is ROLLING (copyright (c) Michael Cole) as he heads up to the top rope and prepares for the Shooting Star Press. Chavo senses the end is near and walks across the apron to try and push Bourne away but Super Crazy suddenly dashes across the ring and knocks Chavo to the floor! With no more distractions Bourne leaps through the air – with a shooting star press that Michael Cole dubs the BOURNE TO FLY – and pins Noble for the 1, 2, and the 3!

Winners via pinfall: Evan Bourne & Super Crazy.

It's a feel-good win in this tag match as the referee now raises both Bourne and Crazy's arms up high in victory. As the duo celebrate their win, Jamie Noble rolls out to Chavo Guerrero, seeking refuge from his tag team partner. Chavo at first helps Noble to his feet on the outside, but then once he sees Bourne is watching, SUDDENLY TOSSES JAMIE NOBLE INTO THE STEEL STEPS!! Boos pour in for Chavo as he sulkily walks away from the ring, trying to shrug off his loss in this match.

Matt Striker: (laughing) NEVER trust a Guerrero!

Michael Cole: Gimme a break!! How much of a sore loser is Chavo Guerrero?! He couldn't beat Super Crazy and Bourne so he tries to look like a tough guy by taking out his own tag team partner!

Matt Striker: You say that as if Chavo has some sort of allegiance to Jamie Noble, Michael; that couldn't be farther from the truth. Somehow, someway Chavo Guerrero wants to make a statement against Evan Bourne and he did just that right there.

We now cut backstage, as an odd camera-shot secretly looks through an empty space, past an open door of a locker room. We see EDGE, sitting on a chair, rocking back and forth on a chair, his teeth bite at his clenched right hand.

Edge: (mutters) Hell In A Cell...Hell In A Cell...I...I can't...WE...can't...

He suddenly snaps up to his feet and looks out, talking to someone behind the door that we cannot see.

Edge: Don't you understand!? I CAN'T walk into Hell In A Cell against The Undertaker! It's- it's just not possible! I don't deserve to step inside Hell In A Cell with that, that FREAK! He took out Lita, LITA, the love of my life, and now Eric Bischoff wants to lock me inside a giant CAGE with him!? So he can try and end my career, end my LIFE?! I want to get my hands on The Undertaker, but not like this...not like this. No. No, no, NO! (pulls his hair and shakes his head back and forth) NO! NO! I WON'T! I CAN'T, I-

Edge suddenly pauses, and places his hands on his head, as if having just had an instantaneous epiphany.

Edge: You. You. We have to give you up to The Undertaker. It's the only way. (pauses for reaction) Don't you understand, we have to do this! (pauses again) No, this IS the right time, this IS the right time! This is the PERFECT – TIME!! If you just unmasked yourself to The Undertaker, we, we could- what's wrong?

The masked man has undoubtedly noticed that he and Edge are being watched, for a noise and a sudden rush toward the door are heard and seen, and the door is slammed shut on this strange meeting.



~COMMERCIAL BREAK~


Back in the arena...

***REALITY CHECK***

There are some boos and jeers as former tag team champion THE MIZ enters the arena, dressed for competition.

Michael Cole: Miz set for one-on-one action here tonight against Matt Hardy; and you'll notice Miz is alone tonight, as his partner John Morrison will also be in action later on against World Heavyweight Champion Chris Jericho.

Matt Striker: Both men have a great opportunity tonight Michael to prove themselves individually, ahead of their attempt to regain the WWE Tag Team Championships in the near future.

***LOADED***

The crowd EXPLODE with a pop as THE HARDYS enter the arena, complete with their WWE Tag Team Championship belts! Matt and Jeff look as energetic as ever as they walk out onto the entrance stage. The brothers make their way to ringside, and Jeff stays on the outside as Matt steps into the ring and gets set for this match.


Match 4 – Singles Match
The Miz vs. Matt Hardy w/Jeff Hardy

This match kicks off with a traditional headlock tie-up, with Matt Hardy getting the early advantage. Matt outwrestles Miz in the early going, reversing several headlock takedown attempts into running shoulder blocks. After being knocked down several times by his opponent, Miz goes frustrated and exits to the outside. Matt quickly follows and slams Miz's ahead against the announcers' table, then slides Miz back into the ring. After Matt wears down Miz a suplex and a leg drop, Miz again rolls to the outside and Matt chases him. This pays off for Miz, for after he rolls back into the ring and Matt follows suit, Miz baseball-slides and kicks Hardy in the gut, sending him sliding out of the ring in pain! Matt soon recovers, but Miz takes the advantage, and stomps away at Matt.

Having turned the momentum in his favour, Miz takes control, wearing down the tag team champion Hardy with neckbreakers and standard chin/head lock manoeuvres. Soon, Miz tries to set up for his finisher, the running knee-lift neckbreaker, the Reality Check. Miz stalks Matt, runs off the ropes, hits the knee portion of the move, but in the turn for the neckbreaker Matt spins out of it, kicks Miz in the gut, and hits a desperation Twist of Fate! Matt crawls over for a cover, but boos suddenly break out in the Time Warner Arena as PAUL BURCHILL appears out of NOWHERE and blindsides Jeff Hardy on the outside with his United States Championship belt!! Burchill wastes no time and slides into the ring, and as Matt Hardy gets to his feet Burchill SMACKS his face off with the belt, and this match ends abruptly with a disqualification!

Winner via disqualification: Matt Hardy.

The match is over, but the attack is not, because although BOTH Hardys have been wiped out; The Ripper stomps away at Matt Hardy's carcass, his appetite for pain ceasing to end. At the entrance ramp KATIE LEA appears, observing her brother's actions with delight. The Ripper tops off his assault with a brutal CURB STOMP to Matt Hardy, as the bell sounds once more in a pointless effort to get Burchill to leave the ring. Finally – and of his OWN accord – Burchill leaves the ring to a resounding chorus of boos from the audience. Katie Lea follows her brother, and as he walks away without a look back, she turns to smirk at the crowd and draw their ire one more time.

Michael Cole: Yet another brutal, HEINOUS assault from Paul Burchill!!

Matt Striker: The Ripper, the United States Champion has made an emphatic statement once more Michael, is there anyone on Smackdown that can stop Paul Burchill?

Michael Cole: I don't know if there is Matt, but one thing's for sure; this feud between The Hardys and Paul Burchill is only going to get a lot worse from here on out.


Once again we are taken to the office of new GM ERIC BISCHOFF, who talks on his cell phone as the scene begins, watching what has just occurred on a television monitor.

Eric Bischoff: Of course I just saw it. (Pause) Yeah I know he seems like a loose cannon, but I'll keep him in check. Besides, I have an idea for-

Bischoff is cut off as KENNY DYKSTRA walks into the office, pouts his lips and makes a gesture to the GM, suggesting he should end the call. Bischoff raises an eyebrow to Dykstra, but then talks into the phone.

Eric Bischoff: Look, I'll call you back.

Bischoff hangs up the phone and stands up to shake Dykstra's hand.

Eric Bischoff: Kenny Dykstra, nice to see you my friend, and what can I do for you?

Kenny Dykstra: Obviously, first of all I have to say congratulations on your new position Mister Bischoff, you're most definitely an improvement on the last GM of this show.

Eric Bischoff: (smirks) Kenny, come on, let's not be nasty now, shall we. All personal history between the McMahons and I aside, it's never good to wish bad health upon anyone.

Kenny Dykstra: Of course not sir, but-

Eric Bischoff: (cuts off, rolls eyes) Anyway, Kenny, you didn't come in here and interrupt my phone call just to wish me luck and talk about Linda McMahon, what do you want?

Kenny Dykstra: (displeased) Well sir, I've come in here to discuss my future with this brand.

Eric Bischoff: (raises eyebrows) Excuse me?

Kenny Dykstra: Mister Bischoff, of course, I want to stay here on Smackdown and work for you. But with the way I've been mistreated by former management, I've got a sour taste in my mouth. I know you've got a roster of superstars who – sure, okay, some of them may be good – but they're all...how do I put this...supporting cast. Think about it this way: if Smackdown were a movie, I'm your leading man! Yet, your leading man has been cast recently as secondary talent. Take last week for example. I had a match with Chris Jericho, and yet, it's not for the World Heavyweight Championship. What kind of GM puts their top talent in the main event and doesn't have the world title on the line?

Eric Bischoff: Kenny...you lost last week.

Kenny Dykstra: That's only because the world championship wasn't up for grabs so I took it easy! Would you want to be in a main event match if you weren't getting anything out of it? No, you wouldn't. So, why don't you do yourself, this brand, and the world a favour, and put me in a match with Chris Jericho, tonight, this time for the World Heavyweight Championship? Then, I'll go to SummerSlam and defend the title against whoever is you've got lined up for the match.

Eric Bischoff: (Waves his hands) Alright, alright, I've heard enough. Kenny (smirks to himself) – "leading man" – you know that Chris Jericho is already in a match tonight. And, besides, even if he weren't, I still wouldn't book a title match for this evening. (Kenny goes to interrupt, Bischoff raises his hands up) Kenny, Kenny, I know that you're a great talent. But you have to understand, I'm here to run a brand, not to do anybody any favours. If you want a match for the world title, go out there and prove to me that you deserve it.

Upset with the lack of "respect" he has just received, Dykstra sneers at his new boss and walks out of the room without another word.



~COMMERCIAL BREAK~


When we return from the break, DYKSTRA is already in the ring, leant against the ropes, with the ultimate 'I can't be bothered' expression on his face.

***SOS***

The crowd respond with a good pop as KOFI KINGSTON bursts through the curtain, revealing himself as Kenny Dykstra's opponent. Kofi quickly makes his way to the ring to get this match underway.

Match 5 – Singles Match
Kenny Dykstra vs. Kofi Kingston

Dykstra seems anything but enthused about partaking in this match and so upon the bell being sounded, he uses the ropes to exit the ring. Despite both Kingston and the referee appealing for Dykstra to return to the ring, he doesn't seem as keen on the idea, and begins to walk around the ring. Kingston, however, is having none of it, and pursues Kenny to the outside. Kofi clobbers his opponent from behind and drags him back to the ring for this match to get underway.

For the next few minutes Kofi is in full control of the match, using his speed to quickly wear down Dykstra. Kofi bounces from one rope to another, as Michael Cole puts it, his 'controlled frenzy' takes over, and Kenny looks to be in danger of being embarrassed with a quick defeat. Luckily for Kenny though, whilst in the corner, he manages to dodge an attempted corner splash, and Kofi's head hits the top turnbuckle. Kofi staggers backward, and Dykstra quickly hits a neckbreaker to regain momentum of the match.

Dykstra pays attention to the head and neck from this point, even using the middle rope as leverage as he places Kofi's head on it then steps on the back of Kofi's neck, using up until the legal four-count to apply pressure. With Kofi in a sitting position, Dykstra then grabs Kofi's arms, stretching them from behind, and places his foot at the back of his opponent's neck. The crowd try to rally behind Kofi and the referee asks him if he wishes to submit, but the Jamaican high-flier refuses to give up. Clapping is heard as Kofi wriggles about on the mat and just about gets his toes to the bottom rope. The referee orders Dykstra to break the hold, but instead, Dykstra releases his foot and tries to bring Kofi back to the centre of the ring. As he does so, though, his grip weakens, and Kofi takes the opportunity to get to his feet. Dykstra tries to keep hold of Kofi's arms but Kingston turns his body, and now, face-to-face with Kenny, kicks him in the gut, and Kenny finally breaks the hold.

From here Kofi suddenly has a burst of life, and lets loose on Kenny with a flurry of dropkicks and chest chops, the crowd loving every minute of Kofi's high-offence style. Tossing Kenny into the corner once again, Kofi takes a page out of the Rob Van Dam book and throws Kenny through the air with a monkey flip. Kenny is down, and so Kofi follows up with his mat leg-drop signature move, what he calls the Boom Drop. Kofi goes for the pin, and gets one, and two, but Kenny kicks out before three. Kofi stalks Kenny to end things with the Trouble in Paradise, Kenny gets up, Kofi goes for it, Kenny ducks, grabs Kofi from behind, and delivers the Rolling Cutter! Out of nowhere, Dykstra saves the match for himself, and the impact to the already damaged neck of Kingston keeps him down long enough for Dykstra to get the 1, 2 and 3.

Winner via pinfall: Kenny Dykstra.

"Own World" hits again as Dykstra reaches his feet and raises his arms in the air, nodding, as if this win was coming to him.

Michael Cole: Well I hate to say it, but that was an impressive win for Kenny Dykstra.

Matt Striker: Kenny Dykstra has self-proclaimed himself 'The Leading Man', and he has certainly done his best to prove Eric Bischoff that he is worthy of that title, and in his mind the World Title here tonight.

Michael Cole: I'm not sure if Bischoff will so easily put him in a title match after this but it's a step in the right direction for Dykstra at least. Still to come here tonight ladies and gentlemen, our main event: Chris Jericho squaring off against John Morrison in what should be a very fast-paced match, you don't want to miss that one!



Quote:

Smackdown Promotional Video Package





~THE INCOMPRIBLE, HIGH-FLYING REY MYSTERIO~
RETURNS TO SMACKDOWN...SOON


~COMMERCIAL BREAK~
Down a backstage hallway, ERIC BISCHOFF (again, sorry
) walks confidently when from behind, a running KENNY DYKSTRA approaches the GM.

Kenny Dykstra: Mister Bischoff, wait!

Bischoff rolls his eyes as he comes to a halt and meets Dykstra for the second time this evening.

Kenny Dykstra: Did you see that?

Eric Bischoff: I did, I did. Well done Kenny, but if you excuse me, I'm about to-

Kenny Dykstra: (Cuts off) That, THAT is why I shouldn't be facing somebody like Kofi Kingston, I should be out there competing for the World Championship! So what do you say, don't you think it's time to put your leading man back into the role he belongs in?

Eric Bischoff: (rubs his chin) Well...alright Kenny.

Kenny Dykstra: YES!

Dykstra begins to celebrate as if he's won the lottery, but Bischoff talks over his excitement.

Eric Bischoff: You can be the leading man...in the main event, next week.

Kenny Dykstra: Absolutely!

Eric Bischoff: You, in the main event, live on Smackdown!

Kenny Dykstra: Thank you!

Eric Bischoff: Against – THE UNDERTAKER!

Dykstra freezes, his jaw drops, and Bischoff smiles at the reaction he has gotten. Dykstra goes to speak, but Bischoff puts his hands up.

Eric Bischoff: And that's it. Now, if you excuse me, it's nearly time for you, and everybody else, to see just who it is that's going to SummerSlam against Chris Jericho. Trust me...you don't want to miss this.

Bischoff grins and walks away a skip in his step as we cut back to the arena...


***AIN'T NO MAKE BELIEVE***

We return to Smackdown to see JOHN MORRISON strut through the curtain and out to the entrance stage, set for perhaps the biggest match of his career thus far. Taking some time to pose on the stage, Morrison then makes his way to the ring, accompanied by his partner THE MIZ.


5...

4...

3...

2...

1...

***BREAK THE WALLS DOWN***

The reaction inside the Time Warner Arena is ELECTRIC as for the first time this evening, reigning World Heavyweight Champion CHRIS JERICHO enters the building. Looking focused, Jericho makes his way to the squared circle, not forgetting of course to slap the hands of several adoring fans at ringside.

Michael Cole: Chris Jericho set for action against John Morrison; but Matt perhaps the bigger story here is that Eric Bischoff has promised to name Chris Jericho's number one contender for the world title at SummerSlam after this match. How will that affect Jericho's performance in this match?

Matt Striker: Well it could either drive Chris Jericho to end this match quickly and thus make a statement as the World Champion, or, it could distract him long enough for John Morrison to pick up the biggest win of his career.


Main Event – Singles Match (Non-Title)
World Heavyweight Champion Chris Jericho vs. John Morrison w/The Miz

Although Jericho is a born technician, when put up against Morrison, the two try to outdo each other in a battle of speed. After an initial lock-up won by Morrison, Jericho pushes Morrison to the ropes, only for The A-Lister to respond with a calf kick. From there Morrison jumps over Jericho on the mat and to the ropes, but this time, it's Jericho who counters with an arm drag. "BACK AND FORTH THEY GO" says Michael Cole as the two men continue to the start the match off in this fashion, until Jericho gets back to business. Having pranced around long enough the champion transitions from dropkicks and arm drags to suplexes and chinlocks. As Miz tries to motivate his partner at ringside, Y2J becomes somewhat cocky as he keeps control of Morrison. After Miz jumps on the apron, though, and distracts the champ long enough for Morrison to take a shot at him from behind, Morrison is able to turn the tide on his opponent.

The next few minutes consist of Morrison utilising his athletic ability to wear down Jericho. With the champion in a seated position, Morrison first kicks him in the back, then runs across the ropes and delivers another kick to the face! With Jericho down, Morrison then uses the ropes to deliver a slingshot elbow from the apron into the ring, and goes for a cover, but only gets a two-count. A little agitated, Morrison stomps several times at Jericho, and then positions himself behind the champion, pushes his knee into Jericho's back, and pulls the arms back in a submission hold designed to punish the back of Y2J. After Jericho barely gets the tip of his foot on the bottom rope, the referee orders Morrison to break the hold. When Morrison then argues with the official, Miz sees the opportunity to tug Jericho by his leg out of the ring, goes to slam his head onto the apron, but Jericho blocks it, grabs Miz's head, and returns the favour! Miz bounces to the floor, Jericho looks to slide back into the ring, only for Morrison to run across the ring and baseball slide into Jericho, sending him rocking down to the floor! It is at this point that we cut to the final commercial break of the evening.



~COMMERCIAL BREAK~

When we return from the break, Morrison now has Jericho back in the ring, on his stomach, whilst Morrison has a knee driven into the champion's back. Morrison has his hands wrapped around Jericho's forehead, applying immense pressure to the neck of Jericho. As Morrison keeps the hold locked in we see that during the commercial break, Morrison did even more damage by dropping the champ with a neckbreaker on the floor before tossing him back into the ring.

Back to the action, Jericho stretches his arms to try to reach the ropes, and when he almost gets there, Morrison suddenly breaks his hold, drags Jericho by his leg to the centre of the ring, but as he does Jericho twists his body and kicks Morrison away! Both Morrison and Jericho get back up rather quickly and Jericho strikes with a clothesline. Cheers begin to build as again the two men get up, and again Jericho delivers a clothesline. Jericho begins to build momentum after he backs Morrison into the ropes, tosses him across the ring, and then knocks his opponent down with a stiff elbow block. Jericho goes for a cover, but Morrison kicks out quickly at two.

Not wasting any time, Jericho grabs Morrison by the head, goes to throw him to the ropes, but Morrison counters. With the champ in the corner Morrison runs forward, but Jericho gets two feet up and kicks Morrison away. Jericho seats himself up onto the top turnbuckle, so when Morrison turns around, Jericho can leap off with a spinning elbow attack! The crowd cheer but again, after a cover, Jericho only manages to get a two-count, but perhaps it's all a trick, because before Morrison even kicks out, Jericho turns to the legs and TURNS MORRISON OVER, WALLS OF JERICHO APPLIED! Jericho pulls back hard as Morrison screams in pain, but Miz, sensing the end is near, jumps up onto the apron and yells at the official. Of course, the WWE referee is distracted, and so misses Morrison's hand tapping the mat. Jericho, furious, breaks the hold, runs between the ref and Miz and lunges, knocking Miz off the apron! Jericho gets a nice pop from handling Miz, but as the referee looks out at Miz, Morrison crawls behind Jericho, LOW BLOW DELIVERED! Jericho crumbles to the mat and Morrison goes for the pin, the referee turns around: one – "NOT THIS WAY" – two – JERICHO KICKS OUT!

The Time Warner Cable Arena breathes a collective sigh of relief as Morrison tugs at his hair, refusing to believe Jericho could kick out after the shot to the nether regions. Nonetheless, with the champion down, Morrison gets up, drags Jericho by his arm toward the corner, and ascends the turnbuckle. Morrison looks for his finisher, the split-legged moonsault, but Jericho rolls out of the way! Now it's Jericho who pulls Morrison into position, who then runs to the ropes, and delivers his own version of the moonsault, the LIONSAULT! Jericho goes for the pin with the match surely won – the fans count one, two, THREE, FOUR – BUT MIZ IS BACK UP, AND BACK ON THE APRON!

The referee yells at Miz to get away from the ring, but he does no such thing. Jericho, now seeing what's happened, gets up, but this time, rather than knocking Miz off the apron, grabs the loudmouth and throws him over the top rope into the ring! The crowd go wild as Jericho, with Miz down, ignores the referee, AND APPLIES THE WALLS OF JERICHO TO MIZ!! The referee can't disqualify Jericho, since Miz isn't in the match, but still screams in the champion's face to release the hold. Jericho does no such thing, but his moment doesn't last for long, as Morrison soon gets up and KICKS JERICHO IN THE BACK OF THE HEAD! Jericho's eyes glaze over, he drops to the mat as Morrison drags him away from the ropes and quickly goes for the pin, but the referee isn't looking, he's busy trying to roll Miz out of the ring! Morrison now goes to try and grab the referee, but also check on his tag team partner. As Morrison and the official check on Miz, who is acting like he's been through a car wreck, Jericho stirs. Finally, Miz is rolled out of the ring, the referee turns around, Morrison turns back to Jericho – BUT JERICHO LEAPS UP - BAM! - CODEBREAKER OUT OF NOWHERE!! The audience go nuts as Morrison drops to the mat, knocked out, whilst Jericho, after a moment to recover, hooks the legs: one – two – THREE! Jericho survives!

Winner via pinfall: Chris Jericho.

Jericho wins! The world champion stands up and is handed the 'Big Gold Belt' by the official. Jericho raises the title in the air, and even though he's exasperated, we can make out a very small smirk from the champion.

Michael Cole: What a solid performance from our World Heavyweight Champion! Despite this feeling like a Handicap match at times, Jericho has defied the odds!

Matt Striker: Chris Jericho is on top form as we draw ever closer to 'The Hottest Party of The Summer', SummerSlam, but Michael, we still don't know who the number one contender is!

???: Alright, alright, cut the music, cut the music!

We cut to the entrance stage where new GM ERIC BISCHOFF appears with a microphone. Jericho looks up at Bischoff with dismay, Bischoff looks down at Jericho with a smirk.

Eric Bischoff: Chris Jericho, I told you that you'd find out who your challenger at SummerSlam is going to be tonight, and I'm a man of my word. You see when I was given this job; the Board of Directors told me about what was going to happen to Randy Orton, and because of that, they said that I would have input as to who could replace him from RAW. Well I told them Chris, I told them that there was only ONE man I wanted. One man whose star power I needed on Smackdown to make the biggest – impact – possible! And there was one man, Chris, that I had to have on Smackdown, because I know for a FACT that he can beat you for the World Heavyweight Championship, and that's the kind of excitement I need heading into SummerSlam! So without further ado, allow me to introduce you, CHRIS, and everybody here in North Carolina, and around the world, to the newest acquisition to the Smackdown roster!

Bischoff stands to the side of the entrance and gestures to the curtain as Chris Jericho, having slung the World Heavyweight Championship over his shoulder, watches closely.

......................................................

....................................

..................

................

............

..........

......

...

***MY TIME IS NOW***

THE ARENA ERUPTS AT THE SIGHT OF SMACKDOWN'S NEWEST SUPERSTAR – JOHN CENA!!! Cena bursts through the curtain, full of energy, full of life, and raises his hands in the air to the delight of the crowd!

Michael Cole: OOOOOOOOOH MYYYYYYYY!!!

Matt Striker: The landscape of Friday Night Smackdown has been drastically changed!! John Cena is now officially a part of the blue brand!! Eric Bischoff sure knows how to create controversy, Michael!

Michael Cole: YOU GOTTA BE KIDDIN' ME!!! John Cena is back on Smackdown, and John Cena's going to challenge Chris Jericho for the World Heavyweight Championship at SummerSlam! And look at the expression on the face of the World Heavyweight Champion!

Indeed we cut to a shot of Jericho's expression, which displays neither excitement, nor disappointment, but more of a neutrality between both. Jericho is clearly not happy with one of his greatest foes coming over to Smackdown, but if he is unhappy, he does a good job of not showing it. Meanwhile, Bischoff quietly walks back through the curtain as Cena continues to play to the crowd from the entrance stage, then looks up at Jericho and playfully motions to his waist.

Matt Striker: Eric Bischoff is the straw that stirs the drink, Michael Cole. How will this monumental change affect our World Heavyweight Champion?

Michael Cole: Ladies and gentlemen, Friday Night Smackdown will never be the same! Randy Orton is gone, John Cena has arrived, and John Cena is going to SummerSlam to meet Chris Jericho for the World Heavyweight Title! Oh this is gonna be good! Goodnight everybody!

Cena shrugs his shoulders and smiles at Jericho, whilst from inside the ring, Y2J stares back at Cena, and slowly...slowly...manages a smirk at his SummerSlam challenger before we fade to black.

END SHOW.

***

Confirmed for Next Week:

Kenny Dykstra vs. The Undertaker

WWE Tag Team Championship
The Miz & John Morrison vs. The Hardys ©

***


Spoiler for Confirmed SummerSlam Matches:
---
Last edited by TKOW; 02-01-2014 at

05:02 PM

.
Chopped Liver
Join Date: Jan 2004
Location: Six inches from a computer screen
Posts: 5,433
Points: 321
Re: The Era of Darkness
---
Quick thoughts;
While I'm not thrilled to see Eric Bischoff back as a GM again in 2008, I cant deny the impact he had on this show. His portrayal was excellent too, throughout the show, and I was impressed that he hasn't immediately sided with heels (or faces) and is playing it 'straight' so to speak. I hope he continues in this vein if he is to be a long term GM. Seeing the same faces wheeled out for the same roles does get tiring to see in BTB (pot. kettle...) but Bischoff is solid to use, and if he is used in the same way for (at least) the forseeable future as a neutral figure - which I feel is neccessary, considering the way Raw is already being dominated by a heel figure as GM - I'll be content.
Edge vs Taker inside Hell in a Cell @ Summerslam 2008 ... feels like it's been done before
No, in fairness, any other kind of match to blow off this feud wouldn't have felt fitting, so going with HIAC - while not original - was sensible. The build toward it will be a lot different from real life too, with the match coming about in a different matter. This is an ultra hot blood feud, but I'm kinda hoping for the masked man to be 'taken out' in some form before Summerslam (preferably soon) and allow to just focus on Edge and Undertaker. I'm assuming the masked man is Christian at this point too, although I'm pretty sure I thought that previously anyway.
John Cena arriving on Smackdown with such an immediate impact - straight into the Summerslam main event - was a shocking ending, but was explained well, with Orton needing replaced after being swiped by Vince. While I'm not thrilled at two matches being signed for the PPV with no heat between the two guys initially (this match and Orton vs Kane - that one is all about Orton & Vince with Kane as a proxy. But that's not to say I'm begging for a Vince vs Orton match. Please, no.) when it was building - IMO anyway - toward a Jericho vs Orton showdown at Summerslam, Jericho vs Cena DOES have quite the back story that you can visit in the coming weeks. In fact, that's what intrigues me most, with Jericho having Cena thrown at him - a guy I cant recall him ever beating one on one; even in Cenas debut month in the WWE - the man that cost him his job in 2005.
Whether or not it leads to a Jericho heel turn in the long run is another thing, but for now, it is this potential feud that has me most excited in the coming weeks. There could even be a backlash on Cena arriving on Smackdown and getting a title shot right out of the gate ... perhaps from a guy like Dykstra??
Speaking of Dykstra, 'The Leading Man' is a helluva moniker IMO. He's been used rather well in this thread, and it seems like he'll continue to be a big presence as a cocky up and comer who thinks a lot more of himself than he probably should. The Mysterio video being placed directly between Kennys match and post-match promo with Bischoff has me wondering if it was neatly placed there on purpose, foreboding a future opponent for Kenny upon the return of Rey??
Morrison getting some big spotlight in a main event with Jericho was a nice development too. And, while he could do with a mouthpiece if you ever decide to split him from Miz, he is another potential break out star in the future.
I'm not quite feeling Burchill tbh at this point, but I'm not sure why. It feels that he is in a way, just ... there on the show, despite being the aggressive U.S Champ. His rivalry with Matt Hardy isn't getting me terribly excited, but right now the focus has mainly been on Edge, Taker, Bischoff, Jericho & Dykstra, so it's been difficult to position him in terms of importance in the last few weeks.
In all honesty, I've rather enjoyed Smackdown these past two weeks. While Raw is the more headline grabbing show, Smackdown just feels a lot more ... structured? (Not really the word I'm looking for, tbh. When (if?) it comes to me, I'll edit it in
Enjoyed it, as per usual
Re: The Era of Darkness
---
Just one more thing...
Quote:
SMACKDOWN; AUGUST 1ST, 2008 – POST-SHOW (WWE.COM EXCLUSIVE)

In what appears to be a boiler room, somewhere at the back of the Time Warner Cable Arena, the camera is positioned a distance away from a figure at the far end of the room. We can see from the long, blonde hair and choice of t-shirt that this figure is EDGE, and once again, The Rated-R Superstar appears to be talking to someone who remains off-screen.

Edge: What? What can I do!? We've been trying for MONTHS to stop The Undertaker but he just keeps – coming – back!! Everything, everything we've tried has failed, we've done NOTHING to stop him, and now, now I have to go inside Hell in a Cell with him!? I can't do it!!

Edge tugs at his locks and breathes heavily.

Edge: I can't go inside that Cell. (Grabs the unknown figure. Whispers) I can't.

Keeping hold of this person Edge suddenly freezes, his eyes wide open. He begins to shake his head, as if agreeing with a voice in his mind.

Edge: If I just...if I just handed you over to The Undertaker...then maybe this will all just...go away. (Pause) Shh, shh, just, just settle, settle down!

A struggle suddenly breaks out as Edge appears to shake and his grip weakens, BUT THE RATED-R SUPERSTAR PULLS BACK AND FIRES A RIGHT HAND! Edge lunges at the ground. Yelling, kicking, tugging are all heard.

Edge: (OUT OF SHOT) I HAVE TO DO THIS!! I DON'T HAVE A CHOICE!!

Edge suddenly springs back up into the shot, looks crazily from side to side, finds a conveniently placed chair, hoists it high into the air, THEN SLAMS IT BACK DOWN AT HIS VICTIM!! The masked man, now betrayed by Edge, remains grounded and out of the shot, as Edge then throws the chair aside and once again runs his hands through his hair. As this happens, the cameraman stumbles; and upon hearing a sound Edge looks directly at the camera. The camera being used to film this madness suddenly drops to the floor and the screen cuts to black.
Re: The Era of Darkness
---
A few news and notes before I post the next edition of Raw. This is a little later than I had hoped and planned, as September has been quite the busy month. October probably won't be that much better, but as I have a bit of time to post some stuff now, I'll try and post something at least once a week.
Raw will be posted either tonight or tomorrow.
PWInsider.com - WWE News, Notes & Tidbits
August 3rd, 2008
~ The WWE.com-exclusive of Edge attacking his masked man was originally set to close Friday night's episode of Smackdown. However, when the creative team were informed of John Cena's debut on the show, the decision was made to have the angle pushed back as a web-exclusive video, as to not take away anything from Cena's debut.

~ Eric Bischoff recently agreed to a new, one-year deal with WWE, which has resulted in him being positioned as the new Smackdown General Manager. Although Bischoff has previously expressed interest in other projects outside WWE, he is said to be happy to be back as an on-screen character as he is aware of future storylines and is keen to play a role within them.

~ Having received a lot of attention on Smackdown as of late, Kenny Dykstra's recent push is set to cool down over the next few weeks. With John Cena now in a world title program with Chris Jericho and the Edge/Undertaker feud blowing full-steam ahead into SummerSlam, Dykstra is likely to take a step back to the main eventers. Interestingly, Dykstra was originally meant to be "destroyed" and written off of Smackdown a couple of weeks ago in the steel cage match against Undertaker, but that was then nixed when creative decided to give Dykstra a little while longer to prove himself.

~ The past two opening segments to Smackdown – Undertaker tombstoning Lita and Eric Bischoff announcing the Hell In A Cell match for SummerSlam – have been described as "heavy" by some backstage. However, WWE officials are not at all fazed as they feel that in comparison to Raw, Smackdown has been less dramatic over the past few months and a change was needed to make the show "can't miss entertainment." That being said, expect things to be less "chaotic" once SummerSlam has passed. Another note to make here is that Smackdown will be moving to the myNetworkTV from October 3rd and so officials have been told to give the show as much momentum as possible heading into the network premiere.

~ Both Kane and Rob Van Dam made their returns to Raw this past week to begin respective programs for SummerSlam. Kane is already confirmed to face Randy Orton, whilst Rob Van Dam looks likely to face Batista for the WWE Championship, possibly with John Cena, JBL and even CM Punk also involved. It was also revealed in a backstage segment that Shane McMahon has lifted Big Show's "suspension", which suggests that Show will be back on Raw next week. On a general note for all three returns, it is being said that whilst Van Dam's was planned ever since Vengeance, where he was kayfabe "injured" by Batista, Big Show and Kane were brought back earlier than planned. The reason for this is said to be that the WWE creative team (aka me
) recognised just how much star power Raw has been lacking lately, and with Triple H written off of TV indefinitely; the call was made to utilise all available talent.
Posting Rules

You may not post new threads

You may not post replies

You may not post attachments

You may not edit your posts

---

HTML code is Off

---