WWE | Less Is More
---
Well, after two years, I have decided to give this BTB Business one more crack. I was going to say "last" crack, but I've learnt never to say never. I contemplated long and hard about bringing EPW back but I've decided to leave the dead, dead. WWE is a challenge to me, and those who know me know I've always wanted to do a Wrestlemania, so that's the initial goal. I will be starting after the 2010 Royal Rumble event. To be clear, I'm not going to be bound by realism in this so please don't expect otherwise. I'll be doing this my way. I don't watch the current product often so I have no idea what's doing there, so my apologies for any similarities. Majority of shows will be written in a recapped format, suits me coz I don't much care for writing promos.
I won't be posting a Roster until after the first Monday Night Raw and Friday Night SmackDown episodes are posted. To start with, some basic News & Notes before the Royal Rumble as well as some very brief Rumble results. The first Raw should be up in the next few days or so.
_____________________________________________________
WWE | Less Is More
Quote:
Originally Posted by PWInsider

Big Restructure
Dropping TV Ratings and Crowd Numbers has called for Vince McMahon to rethink his approach. 2009 was a disaster and it's believed that Vince wants to reshape things somewhat to ensure that the quality of his product improves significantly. We're hearing he wants to make Wrestlemania 26 a massive spectacle with as much star power on hand as possible.

SmackDown TV Contract Days Numbered
The SmackDown Television deal is set to run up at the end of January. At this stage, WWE have not been able to negotiate a new deal following a drop in ratings over the past year following a below-par 2009 for the brand.

End of ECW
Following the culmination of the ECW Brand at the end of 2009, the match that was supposed to take place between Christian and Ezekiel Jackson for the ECW Championship at the Royal Rumble will now become a Royal Rumble Qualifying match. The winner of the match will also get to decide which brand they join – Raw or SmackDown!

RVD Wife Recovery
Rob Van Dam's Wife has been given the all clear in her recovery from Cancer. RVD has since announced that his return to Pro-Wrestling is now imminent. It is believed that he has offers on the Table from World Wrestling Entertainment and Total Nonstop Action. It is believed that the lighter schedule of TNA is of some appeal to him.

Pay Per View Schedule
WWE have revised their Pay Per View schedule for 2010, the have cut some Pay Per Views from the schedule, leaving only 9 events scheduled for the rest of the year. They have also turned away from "themed" Pay Per Views such as TLC, Extreme Rules, Hell in a Cell and Breaking Point, instead returning to more traditional names such as Backlash, Vengeance and Armageddon. 2010 will apparently also mark the return of the King of the Ring Tournament, which will no doubt please fans.

Big Returns on the Cards
Following a large drop in numbers during 2009, Vince McMahon is keen to thrust some more star power back into WWE. Several names are being thrown around at the moment and with the Royal Rumble coming up, it's expected that 3-4 big names could make returns at the event. It's believed that Vince isn't concerned with having "too many" stars return during the event, he just wants them back on Television ASAP and he sees the Royal Rumble as the easy way to do it.

Names being courted are believed to be the likes of Jeff Hardy, Ken Kennedy – who has been wrestling the independent circuit recently as Ken Anderson, Goldberg, TNA's AJ Styles – who is letting his contact with the company run low at the moment and obviously Rob Van Dam.

What next for DX?
It's currently unknown how long Shawn Michaels and Triple H will remain the Tag Team Champions. At this stage it is believed they will continue to hold the belts purely due to the fact that Vince does not like any of the ideas currently tabled for them to drop the belts.

Undertaker's Future
The Undertaker's Wrestlemania Opponent is far from set in stone. Obviously the major issue to take into account is that he is currently the World Heavyweight Champion and the likelihood of him dropping the belt to Rey Mysterio at the Royal Rumble appears to be low. Several names are currently being thrown around, with the most likely appearing to be CM Punk following their feud last year. It's rumoured that Punk could cost Undertaker the title against Rey Mysterio at the Rumble, but that appears unlikely.

NEW Raw General Manager
It's apparent the Vince has had enough of the Guest Host storyline that's been used on Monday Night Raw, since the Bret Hart Storyline fizzed out following the January 4 episode of Raw, it's believed that Vince has no more interest in Guest Hosts now the Bret Hart has pulled out of his program with Vince for Wrestlemania. Vince is keen to appoint a permanent General Manager ASAP, at the moment though, Vince seems quite content to fill the role himself.

Punk & Gallows Association Short Lived
As was obvious on Raw, CM Punk has severed his relationship with Luke Gallows as quickly as it started. In consecutive weeks, Gallows cost Punk victories – once against, Kane and another against MVP. After the second loss, to MVP, Punk snapped at Gallows, punching him in the face before drilling him with the GTS. Later in the night, Punk said in an interview that he never wanted to see Luke Gallows again and that he was clearly better off without him.

In reality, Luke Gallows was fired from the company the next day for breaching the wellness policy and making a complete mockery of his "straight edge" character.

Mass Firings Imminent
Following the extinction of the ECW Brand, expect WWE to make a mass cull of talent following the Royal Rumble. Some Superstars have already seen their last action on WWE TV, we expect a formal announcement to be made by WWE in the next few weeks regarding exactly who no longer has a job.

Orton/Legacy Saga
Legacy's days as a trio seem over after Cody Rhodes & Ted DiBiase walked out on Randy Orton during a 6 man tag team match allowing Orton get pinned and then beaten down by Sheamus after the match.

Divas No More
The days of females as active competitors in WWE appear to be over for the moment. After an investigations into the ratings, it's obvious that there is a clear drop in viewers whenever the Divas matches are on and then very few of those viewers lost rarely return to that show, therefore the decision has been made to axe the Divas and put another male Superstars match in their place to try and keep viewers.

Superstars Cancelled This Week
For some reason the Superstars filming for this week will not happen, instead replaced with a No Way Out highlights package. The reason for this is unknown.

We will return tomorrow for a Royal Rumble break down.
Royal Rumble 2010 Results

United States Championship | The Miz © def. MVP @ 8:23
The Miz got the victory following the Skull Crushing Finale.

Royal Rumble Qualifier | Christian def. Ezekiel Jackson @ 9:59
Christian defeated Jackson clean as a whistle following the Unprettier.

WWE Championship | Sheamus © def. Randy Orton @ 14:34
Sheamus pinned Orton following a distraction made by Cody Rhodes & Ted DiBiase, allowing Sheamus to hit the Brogue Kick and end it.

World Heavyweight Championship | Undertaker © v Rey Mysterio – NO CONTEST @ 29:34
In what was a controversial ending, the World Heavyweight Championship match was declared a no contest by SmackDown General Manager, Teddy Long after the 3 Count was made and it was found that both Superstars had their shoulders grounded on the mat following an amazing piece of athleticism by Rey Mysterio to roll the Undertaker through. After much discussion and debate between Mysterio, Undertaker and the Referee, Teddy Long appeared and announced that he would be upholding the World Heavyweight Championship and that neither of them were Champion!

Over the course of the evening WWE teased a number of big arrivals by showing different types of cars pull in out the back, as well as footage of various people unable to be identified getting out of some cars.

Moments before the match starts, we catch a glimpse backstage of a change room with no name on it until an exhausted looking Undertaker, still in his ring gear, steps out the door – unusual for him in itself – as Taker steps out the door, he takes a quick glimpse of a piece of paper in his hand before continuing on his way. The camera then heads inside the room to find Dolph Ziggler sprawled out across the flood.

Royal Rumble Entrants
1. John Morrison
2. The Undertaker
3. The Miz
4. Chris Jericho
5. Kane
6. The Great Khali
7. Matt Hardy
8. JEFF HARDY (RETURNING)
9. Shelton Benjamin
10. Mark Henry
11. Christian
12. CM Punk
13. Mr KENNEDY (RETURNING)
14. John Cena
15. Ted DiBiase
16. Shawn Michaels
17. Jack Swagger
18. MVP
19. Cody Rhodes
20. Triple H
21. EDGE (RETURNING)
22. KURT ANGLE (RETURNING)
23. Drew McIntyre
24. Chris Masters
25. Batista
26. Kofi Kingston
27. Randy Orton
28. Big Show
29. Rey Mysterio
30. BROCK LESNAR (RETURNING)

Eliminations
1. The Miz by The Undertaker @ 5:30
2. John Morrison by Chris Jericho @ 7:22
3. Matt Hardy by The Undertaker @ 12:54
4. The Great Khali by The Undertaker @ 13:00
5. Kane by Christian @ 15:43
6. Mark Henry by Christian @ 19:33
7. Shelton Benjamin by Jeff Hardy @ 22:11
8. Ted DiBiase by Shawn Michaels @ 24:01
9. Jack Swagger by CM Punk @ 25:24
10. MVP by Christian @ 26:42
11. Cody Rhodes by Triple H @ 30:01
12. Jeff Hardy by CM Punk @ 32:43
13. Triple H by Ken Kennedy @ 35:01
14. Drew McIntyte by Chris Jericho @ 37:24
15. Kofi Kingston by Brock Lesnar @ 38:00
16. Chris Masters by Brock Lesnar @ 39:34
17. Big Show by Brock Lesnar @ 41:54
18. Mr Kennedy by Shawn Michaels @ 45:00
19. Rey Mysterio by CM Punk @ 47:01
20. Chris Jericho by Randy Orton @ 52:04
21. Shawn Michaels by Christian @ 55:53
22. Edge by Kurt Angle @ 57:35
23. John Cena by Brock Lesnar @ 60:01
24. Batista by Randy Orton @ 62:45
25. CM Punk by Kurt Angle @ 66:34
26. Randy Orton by Christian @ 69:53
27. Christian by Undertaker @ 75:01
28. Undertaker by Kurt Angle @ 79:54
29. Kurt Angle by Brock Lesnar @ 85:00
Brock Lesnar WINS THE 2010 ROYAL RUMBLE!


Title History

WWE Championship
Name| Sheamus
Reign| December 13, 2009 - Current
Event| TLC: Tables, Ladders & Chairs
Match Type| Tables Match
Other Competitor/s| John Cena ©

World Heavyweight Championship
VACANT

Intercontinental Championship
Name| Drew McIntyre
Reign| December 13, 2009 - Current
Event| TLC: Tables, Ladders & Chairs
Match Type| Singles Match
Other Competitor/s| John Morrison ©

United States Championship
Name; The Miz
Reign; October 5, 2009 – CURRENT
Event; Monday Night Raw
Match Type; Singles Match
Other Competitor/s; Kofi Kingston ©

WWE Tag Team Championships
Name| Shawn Michaels & Triple H
Reign| December 13, 2009 - Current
Event| TLC: Tables, Laders & Chairs
Match Type| Tag Team Match
Other Competitor/s| Chris Jericho & The Big Show ©

Pay Per View Dates

No Way Out | 28/2/2010
Wrestlemania 26 | 4/4/2010
Backlash | 9/5/2010
King of the Ring | 13/6/2010
Over The Limit | 18/7/2010
Summerslam | 22/8/2010
Vengeance | 26/9/2010
Survivor Series | 31/10/2010
Armageddon | 5/12/2010
---
Last edited by PARANoIR; 07-03-2013 at

12:21 AM

.
Moron
Join Date: Feb 2005
Location: New Jersey
Posts: 9,285
Points: 4,447
Re: WWE | Less Is More
---
Quite the stack of returns in that Royal Rumble. Interested to see where this goes with Lesnar coming back and winning right away. You weren't kidding when you said you weren't going to be strict on realism here.
Good luck, I remember you being a good writer. Looking forward to seeing the Road to Mania.
Re: WWE | Less Is More
---
I was kinda expecting something like this since you had been lurkinhg a fair bit later. All the changes look like they are for the good at this stage. and with all the big names you've got returning, I'm sure you'll make a huge bang in no time.

Good luck, poof.
---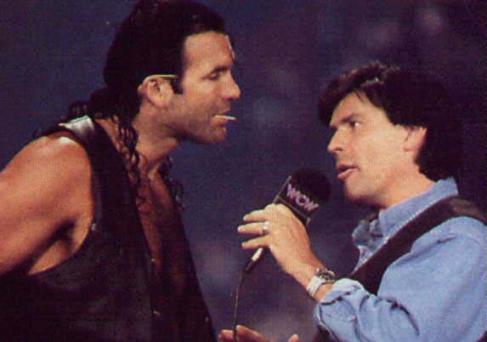 Wheelman for James Ellsworth
Join Date: Jul 2011
Posts: 727
Points: 1,359
Re: WWE | Less Is More
---
I read over your EPW work not too long ago so I'm glad that you're doing a thread that I can follow from the start. You're definitely making this your own right away after the RR results, but it does look intriguing. Will be reading for sure!
---
"Life doesn't give us purpose, we give life purpose."
Lakers - Yankees
I ACCEPTREP
JOIN WF's OFFICIAL E-FED - PREMIER WRESTLING CIRCUIT (PWC)
Finally Out of Cutey Sleep
Join Date: Jul 2006
Location: The Fountain of Dreams
Posts: 2,020
Points: 9
Re: WWE | Less Is More
---
Damn me for not being the first responder to this. Should probably wait for the official rosters and everything, but oh well. So stoked to see you back booking and hoping this, and you, stick around and get to that 'Mania you want so bad.
---
CUTENESS²
AOW: Art of War Wrestling - The Greatest Affair
It's Baaaaack...
.:Oblivion Edition 39/40 Recap NOW POSTED!!:.
Posting Rules

You may not post new threads

You may not post replies

You may not post attachments

You may not edit your posts

---

HTML code is Off

---