Re: World Russo Entertainment
---
Quote:
"Ladies and gentlemen, my name is VINCE. RUSSO. Some have called me the antichrist of professional wrestling, YEAH I SAID PROFESSIONAL WRESTLING
I lost it
Does anyone have a link to WWE: The Sitcom? Thanks
---
Re: World Russo Entertainment
---
Why isn't Cena on TNA yet?
Re: World Russo Entertainment
---
The mystery partner is going to be Disco Inferno
Re: World Russo Entertainment
---


MAY 19TH 2013, LIVE ON PAY PER VIEW

The opening hype video focuses on how CRAZY Monday Night Raw has became in the 2 weeks since Vince Russo became the new General Manager and Head Writer. 90% of the focus of the video is on the unpredictability of Vince Russo, with some hype for Cena vs Ryback and HHH vs Lesnar.


PYRO INTRO. This goes on for an exponential amount of time, with pyro shooting from the entranceway all the way down to the ring, then from all 4 ringposts. JBL and Michael Cole inform us that the BOSS, Vince Russo, has guaranteed a HUGE ANNOUNCEMENT later in the show! Let's get the show under way, with…




VINCE RUSSO making his way down to the ring! Say what you want, the man is gaining HUGE HEAT, BABY. "My name is VINCE. RUSSO. I am the ANTICHRIST of Professional Wrestling, and I am the man who is bringing all of you the best product in the history of our business. Tonight, the Main Event will be held under RUSSO. RULES. Now, everybody wants to know what exactly Russo Rules entails, and I will get to that. But first of all, I want to tell Josh Mathews that JOSH… you're a piece of SHIT, and your contract is now terminated! I've rehired Sean Mooney, so you can join that piece of trash Jim Cornette on the UNEMPLOYMENT LINE, because I have BLACKBALLED you from the entire industry, buddy! Now, you all wanna know what Russo Rules is? Russo Rules means tonight's Main Event will be No Holds Barred, Falls Count Anywhere, No Count Outs…IF YOUR NAME IS 'RYBACK'. Jawn Cena can lose his title by DQ, by Countout, by a Ten Count, because JAWN CENA is a SHIT STAIN ON THE UNDERPANTS OF THE WWE, and it is my mission to RID the WWE of Jawn Cena. And Jawn, when you lose that title, I've got Hogan's number, maybe you can give him a call and join 'em on the road!". Russo then throws down his mic and leaves the ring with a huge grin on his face.


We now head into the opening bout of the evening…

--THE KINGS OF WRESTLING vs THE PRIME TIME PLAYERS--
TAG TEAM CHAMPIONSHIP MATCH

We see footage of Kassius Ohno TURNING on Antonio Cesaro this past Monday on Raw just as they reunited and captured the Tag Team Titles, with Cole & JBL questioning how Ohno & Cesaro will possibly be able to work together after that. PTP make their entrance first, before the Champions make separate entrances. In the ring, Ohno and Cesaro begin to argue as the referee rings the bell to start the match. Ohno pushes Cesaro in the chest, and from behind BIG TITUS rolls Cesaro up, 1-2-3! NEW CHAMPIONS!!! Ohno bails out of the ring and up the aisle as Cesaro looks incredibly pissed off, still wearing his beret and aviator sunglasses. Cesaro slowly marches up the aisle, JBL & Cole predicting there will be HELL TO PAY tomorrow night on Raw! Big Titus grabs the mic after the match, and says FINALLY the Prime Time Players have become Tag Team Champions!! They receive the titles and look happy, but Darren Young has a frown on his face. He asks Big Titus if it feels like something is missing. Titus asks what it is, and Darren whispers something in his ear, bringing a big smile to the face of BIG TITUS. Titus says something IS missing, but tomorrow night on Raw, the final piece of the PRIME TIME PLAYERS PUZZLE will fall into place. MILLIONS OF DOLLARS DANCE.

WINNERS: Prime Time Players



--BRODUS CLAY vs LORD ALBERT TENSINGTON--
FAT BURNER ON A POLE MATCH




Brodus comes out to his usual entrance music, but looks more intense than usual. Lord Albert Tensington comes out to stereotypically snooty Englishman music, acting like Blueblood William Regal. The item on the pole is covered by a black towel, with a drumroll played before referee Chad Patton pulls it down to unveil…A TUB OF STACKER, WEIGHT-LOSS POWDER. Brodus looks pissed at this, Tensington simply turning his nose up at it. The match gets under way, and the 2 fat men bounce off each other after a charge. Tensington changed his style, utilising more mat-based skills, and curtseying to the referee, Brodus, and the crowd after sequences. After a CHOKEBOMB, Tensington climbs the turnbuckles, slowly and with regality, curtsying after each rung, which wastes too much time, and allows Big Brodus to pull the tope rope, CROTCHING Tensington, which results in highly comical facial expressions from the former Lord Tensai. Brodus then climbs the pole and obtains the FAT BURNER, winning the match. As his post-match celebration, Brodus smashes the Fat Burner over Tensington's head, before pouring the contents of the powder into Albert's mouth. This causes Tensington to foam at the mouth and suffer severe convulsions. Scary scenes. Scary, scary scenes.

WINNER: Brodus Clay


:ziggler3
We see Dolph Ziggler, Big E Langston and AJ Lee preparing for Dolph's upcoming World Heavyweight Championship match against Randy Orton. Ziggler gives AJ a passionate kiss, and says he dedicates his win tonight to her. Dolph then BERATES Big E, telling him that if he makes a mistake that costs him the title tonight, he'll be FIRED! Dolph and AJ walk off holding hands as Big E stares with an INTENSE look in his eyes.
:langston



--DOLPH ZIGGLER (with Big E Langston and AJ Lee) vs RANDY ORTON--
WORLD HEAVYWEIGHT CHAMPIONSHIP MATCH




Just as things are about to get under way, the BOSS appears on the titantron. Vinnie Ru says tonight is EXTREME RULES, so there's no way we're letting this match pass without a STIPULATION. This match is now made a THREE ON ONE HANDICAP MATCH FOR THE WORLD HEAVYWEIGHT CHAMPIONSHIP! If Orton can pin any of Dolph, Big E or AJ, he will win the title!

Dolph allows Big E to do most of the physical damage to Orton, as the POWERHOUSE plows through Orton over and over again, before beginning to stretch him out. This allows the over-confident Ziggler to get intimate with AJ, and they start making out in the corner of the ring. Big E, after thoroughly beating down Orton, lifts Randy up on his shoulders for the Big Finish…WHEN ORTON REVERSES AND HITS AN RKO OUTTA NOWHERE!! A panicked Ziggler sprints full speed at Orton, who uses Ziggler's momentum to throw him flying over the top rope, and Ziggler lands on his face just like Taka Michinoku at the 2000 Royal Rumble style! This leaves AJ alone in the ring with Orton! AJ refuses to back off, and SLAPS the Viper!! Orton responds…by planting a huge kiss on AJ, quickly followed up by an RKO!!! 1-2-3!! Randy Orton has pinned AJ Lee to become the new World Heavyweight Champion!!

WINNER: and new World Heavyweight Champion, Randy Orton!
rton

A devastated Dolph rolls back into the ring after the match to check on the injured AJ. Ziggler gets up in Big E's face, and tells him that this is all his fault. Dolph is about to tell Big E that he's FIRED…when Langston TAKES DOWN ZIGGLER!! Big E then hits the BIG FINISH ON ZIGGLER!! Langston grabs the mic and says, "You can't fire me…I QUIT". Big E then makes out with AJ (against her will) before walking up the aisle.





A MYSTERIOUS VIDEO PACKAGE plays hyping the impending arrival or MR 420!! Intercontinental Champion WADE BARRETT comes out to interrupt proceedings. Barrett says in jolly old England 4:20pm is not BLAZIN' TIME, it is time for a CUP OF TEA! Big heat. Barrett continues to ramble on about his love of "queer old England" (using queer in it's whimsical sense) when pyro BLASTS and we hear ONE OF A KIND!!! The crowd is electric, we see the 420 video package play on the titantron, and out comes…EVAN BOURNE!!! SWERVE!!! Bourne is wearing a 420-inspired singlet, and has his hair in a ponytail, altering his look for his GRAND RETURN here tonight!! The crowd is a mixture of angry and perplexed that Evan Bourne has turned out to be "Mr 420". Evan gets into the ring, grabs the mic, and says "you know what I think of drinking tea at 4:20? IT'S TOTALLY LAME, DUDE!", before ROUNDHOUSE KICKING BARRETT IN THE FACE!! The bell rings, and thus:

--WADE BARRETT vs EVAN BOURNE--
INTERCONTINENTAL CHAMPIONSHIP MATCH

Bourne hits ROLLING THUNDER onto Barrett, before heading to the top rope and hitting a FROGSPLASH, 1-2-3!! WE HAVE A NEW INTERCONTINENTAL CHAMPION!!! Bourne celebrates by holding the Intercontinental title in one hand, and a "BLAZE IT 420" sign he took from a particularly non-scrupulous fan in the other.

WINNER: Evan Bourne




Our cameras catch up with Kane and Daniel Bryan backstage in the lockeroom. Bryan is enthusiastic and yelling, as Kane sits hunched over, looking apprehensive. Bryan eventually realizes this and asks him what the HELL his problem is. Kane bursts out in anger, saying "DON'T YOU KNOW WHAT DAY IT IS?!", "May 19th…oh…May 19th". Kane says this is his CURSED DAY, and tonight we will all finally found out why. Bryan asks if we didn't already find out, before the cameras quickly cut back to ringside. JBL and Cole introduce us to the next match…



--CHRIS JERICHO vs FANDANGO--
BALLROOM BRAWL

:fandango

We head into the EXTRAVAGANT BALLROOM (empty). Chris Jericho makes his entrance first (complete with theme music), dancing in with his DWTS partner (whatever her name was), wearing a classy looking suit. FANDANGO then waltz' in with Summer Rae, wearing a glitter-covered suit. Referee Mike Chioda (who is dressed in 70s Disco Flares) signals for the match to begin by ringing a dinner bell. Jericho immediately sprints at Fandango, tackling him to the ground. This match is everything their Wrestlemania encounter wasn't: a fantastic encounter happening on the ballroom floor. JBL and Cole continually make lame "this ain't ballet…or is it?" and "it takes 2 to tango" gags. After a fantastic 20 minute back and forth match, Fandango calls to Summer Rae "PULL OUT!", at which point Summer Rae pulls a random lever on the wall. This causes the DISCO BALL from the ceiling to FALL DOWN ONTO JERICHO!! Fandango then covers what remains of Jericho (his body severely injured from the shards of disco ball glass), getting the WIN! Fandango celebrates by dancing with Summer Rae, and their dance moves spell out "FANDANGO" (through an on-screen graphic).

WINNER: Fandango



Back at ringside, JBL & Cole lead us into a VIDEO PACKAGE for the up-coming match…


--TRIPLE H VS BROCK LESNAR--
UFC RULES OCTAGON CAGE MATCH




The video package shows Brock F5'ing Stephanie (14 times), and shows an interview where HHH says that "UFC sucks balls" (15 times). BIG FIGHT ATMOSPHERE. Brock heads out with an entire entourage, and hugs Paul Heyman before entering the cage. HHH comes out with Stephanie (in a neck brace), the New Age Outlaws and Lemmy in his entourage. HHH hugs Lemmy before entering the cage. For the most part, this is an OLD SCHOOL RASSLIN, 80s NWA STEEL CAGE MATCH. Lesnar drags HHH's face along the steel, BUSTING HIM OPEN! HHH throws Brock into the cage wall three times in a row, BUSTING HIM OPEN! There's blood EVERYWHERE! These two HEAVYWEIGHTS get to the stage where they are both heavily gassed, when Brock gets a second wind OUTTA NOWHERE, and charges HHH into the cage! As both men fall to the ground, KIMURA LOCK!!! HHH agonises for minutes, before he manages to LIFT Brock off the floor, and throws his entire body into the cage! At this point, Paul Heyman reaches under the ring and finds HHH's trusty SLEDGEHAMMER. However, just as Heyman tries to slide it through the cage door to Brock, LEMMY charges at Heyman, taking him out! In the ring HHH lands a kick to the midsection, PEDIGREE!! 1-2…BROCK KICKS OUT AT 2!! The crowd is shocked, and chant "this is awesome!". After a long wait, both men eventually manage to stand up. HHH attempts to go for another Pedigree, when Brock locks in a SECOND KIMURA LOCK! Brock literally snaps HHH's arm, and the referee is forced to call for the bell! BROCK WINS! JBL and Cole question if there is any true winner in such a brutally violent match, but this is immediately followed by Justin Roberts loudly announcing Brock Lesnar as the winner. Heyman and Lesnar celebrate by taking a shovel from under the ring, as well as a bag of dirt. Lesnar puts the dirt onto the shovel, and then throws it onto HHH's body. On this historic night, the King of Burials…has been BURIED BY BROCK.


WINNER: Brock Lesnar (by stoppage)



At this point, Vince Russo seemingly decided it was time to lighten the mood, so we get a backstage Hornswoggle segment. Hornswoggle is running around aimlessly, when Mark Henry, out of nowhere, sprints and viciously spears Hornswoggle. Cole tells us "this was not part of the script".
3



Team Hell No head out to the ring, Bryan still looking enthusiastic as Kane looks apprehensive. When they reach the ring, Bryan grabs the mic. He says it is now time to REVEAL THEIR MYSTERY PARTNER FOR THIS UPCOMING INFERNO MATCH! Just as Bryan is about to announce the name, Kane grabs the mic. Kane says tonight is his LIVING HELL, and he is in no mood to compete. Kane walks off, leaving Daniel Bryan alone. A shocked, hurt and confused Daniel Bryan regains his composure as he finally gets round to naming his partner for what will now be a handicap match…SAMI ZAYN! The crowd goes mild as the enthusiastic Zayn heads out to join Daniel Bryan. Zayn grabs the mic and tells the crowd "IT IS GOOD TO BE HERE TONIGHT, BRING ON THE SHIELD YEEEEAAAHHH!!!". Even less reaction than his entrance. -SIERRA, HOTEL, INDIA, ECHO, LIMA, DELTA: SHIELD-

--DANIEL BRYAN & SAMI ZAYN VS THE SHIELD--
HANDICAP INFERNO MATCH

:reigns


5 men in one ring surrounded by flames is certainly a complicated event to choreograph. These four SUPERSTARS (and Sami Zayn) pull it off as well as possible, having a fine technical match all around the canvas, carefully managing to avoid the flames when their opponents try to eviscerate their carcasses. The numeral advantage for The Shield, however, eventually proves too much for their opponents, and they are able to wear down Bryan & Zayn. The Shield have their opponents on the ground unconscious, and are about to roll their bodies into the wall of flames…WHEN KANE COMES RUNNING OUT!! The BIG RED MONSTER sprints up the steel steps, and dives into the ring, impressively managing to avoid the flames. The Shield back up as this monster looks furious on his "Day of Living Hell"…WHEN KANE TURNS AROUND AND DELIVERS A DOUBLE CHOKESLAM TO BRYAN AND ZAYN!!! What just happened?! Kane then puts Sami Zayn FACE-FIRST into the flames!!! HIS FACE IS BURNT HORRENDOUSLY (although we clearly see that Zayn is actually dripping melted wax down his face to make it look like singed skin). Kane then CHOKESLAMS his partner Daniel Bryan, SHOCKINGLY turning on his partner of the last year, and on MAY 19TH!! The flames are put out as Kane walks to the back, THE SHIELD putting Daniel Bryan through the announce table to assert their dominance for good measure before exiting through the crowd. WHAT A SHOCKING TURN OF EVENTS HERE AT EXTREME RULES.

WINNERS: The Shield



Another package is delivered to WWE Diva's Champion Kaitlyn backstage. Why Kaitlyn roams around backstage despite never having a match remains unclear. Inside the package is a mere blank page. Kaitlyn looks at it inquisitively. She quips she won't get anywhere near as much use out of this as she has the dildo that was delivered to her last week on Raw. Who is delivering these bizarre packages? STAY TUNED!


:cody2
Before the Main Event, we take a look at the media reaction (entirely negative) surrounding Cody Rhodes coming out of the closet. In a backstage interview, Cody reacts to the general presumption that his Coming Out has been fake, a tasteless attempt at gaining ratings. The camera pans out to reveal JASON COLLINS standing beside Rhodes! Cody tells us he is about to prove how much of a REAL HO.MO.SEXUAL he really is- and plants a huge one on Jason Collins! Collins tells us "he's the real deal, honey". Cody looks visibly uncomfortable. Awkward, tasteless stuff. Speaking of which…


--MAIN EVENT--
--JOHN CENA vs RYBACK--
WWE CHAMPIONSHIP RUSSO RULES MATCH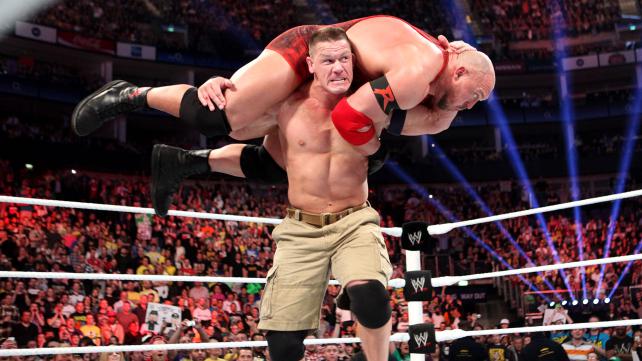 Another VIDEO PACKAGE before the match, looking at how John Cena visited the Make-a-Wish kids who Ryback attacked 2 weeks ago on Raw whilst they were in the hospital in full-body casts. The two HEAVYWEIGHTS then make their entrances, both receiving mixed reactions. -I AM IRONMAN!- then hits, and the BOSS stands atop the aisle!! Vince Russo says he wants a front row seat for the BURIAL of JAWN CENA!! The match begins, and Cena is on fire, but every time he gains momentum, Ryback cuts the CHAMP off by using a weapon!! Cena tries to use the weapon himself, but is forced to reconsider every time, as he can lose his title by being disqualified. These hesitations allow Ryback to regain control of the match every time. Eventually, somehow (who cares exactly how?) Cena and Ryback end up brawling all the way up the aisle, right in front of the BOSS Vince Russo! Ryback is dominating, and holds up Cena for Russo to SLAP IN THE FACE!! Ryback lifts Cena on his shoulders atop the entranceway, about to hit Shellshock, much to Vince Russo's delight. However, the MASKED MAN who handed Cena a tennis racket from the crowd 2 weeks ago on Raw runs through the crowd, onto the stage, and attacks Ryback with the tennis racket!!! Russo looks on in horror (for some reason not interfering). As it is the MASKED MAN using the tennis racket and not John Cena, this does not cause a disqualification! Cena regains 100% energy upon seeing this, and delivers an AA RIGHT ATOP THE STAGE, before covering Ryback to get the 1-2-3! STILL CHAMP!!! Cena hugs and high fives the masked man, before the man unmasks to reveal…JIM CORNETTE!!! VINCE RUSSO LOOKS LIKE HE HAS SEEN A GHOST!! The show goes off the air with Cena holding the title high, Cornette grinning like a maniac, and Vince Russo looking like he's just pissed his pants (which he literally has. METHOD ACTING, APPRECIATE IT!). What was Russo's BIG ANNOUNCEMENT?! All will be revealed on MONDAY NIGHT RAW!


---
Last edited by Murph; 05-14-2013 at

09:52 AM

.
Re: World Russo Entertainment
---
NEWS!!!
Quote:
Wrestling Observer

STORY OF THE YEAR- Rumours circulated on the morning of Extreme Rules that CM PUNK has handed in his notice to the company!! It is believed that Punk is disgusted with the decision to make Vince Russo the new Head Writer, and has quit the company with immediate effect. WWE management are in turmoil trying to amend the situation, but for now it looks like CM Punk is determined to leave the company.

Management were pleased with how Extreme Rules came off, and the live crowd reacted to most of the show. The next PPV is WWE Payback, and it is believed that the BIG ANNOUNCEMENT on Raw will be made in regards to this show.
Quote:
Extreme Rules Quick Results
1. Prime Time Players defeated Kings of Wrestling to become new WWE Tag Team Champions. (00:08)
2. Brodus Clay over Lord Albert Tensington in a Fat Burner on a Pole Match. (3:12)
3. Randy Orton pinned AJ Lee in a 3-on-1 Handicap Match also involving Dolph Ziggler and Big E Langston to become the new World Heavyweight Champion. (6:01)
4. The returning 'Mr 420' Evan Bourne defeated Wade Barrett to become new Intercontinental Champion. (00:18)
5. Fandango went over Chris Jericho in the Ballroom Brawl. (21:40)
6. Brock Lesnar beat Triple H by stoppage in the UFC Rules Octagon Cage Match. (24:51)
7. The Shield defeated Daniel Bryan & Sami Zayn in a 3-on-2 Handicap Inferno Match when Kane walked out on his team, only to return and set Zayn on fire. (8:32)
8. John Cena retained his WWE Championship against Ryback in the Russo Rules Match when Jim Cornette made a shocking return, attacking Ryback. (19:40)
To stay as up-to-date as possible, I'll be posting Raw next Monday (I'm a week ahead of real time atm). Hope you're all enjoying the STORYLINES
---
Last edited by Murph; 05-14-2013 at

03:00 PM

.
Re: World Russo Entertainment
---
Love it. The swerve with Evan Bourne coming out rather than RVD was gold
Re: World Russo Entertainment
---
Cena retains!!!! McMahon still being Vinnie Ru's filter to ensure greatness
Moron
Join Date: Jan 2012
Posts: 4,704
Points: 0
Re: World Russo Entertainment
---
A future Jim Cornette vs Vinnie Ru feud?
You just made WWE with one single post more exciting than the real WWE in the last months. Screw Monday Nights! I can't wait for your next show
Registered User
Join Date: Sep 2010
Location: Woodsboro High
Posts: 2,598
Points: 0
Re: World Russo Entertainment
---
Fat Burner on a pole
Re: World Russo Entertainment
---
Quote:
NEWS!!!
To stay as up-to-date as possible, I'll be posting Raw next Monday (I'm a week ahead of real time atm). Hope you're all enjoying the STORYLINES
You just nailed it, brotha. Shit on Monday Nights and Thursday Nights... I am your fan now, what a show!!! Looking forward to it brotha!
:
---
Quote:
"Evolution is the solution!" - The Vince Russo
Posting Rules

You may not post new threads

You may not post replies

You may not post attachments

You may not edit your posts

---

HTML code is Off

---