WWE: The Fallout of WrestleMania 28
---
The setting is 2012. The time is directly after WrestleMania. Just like Smackdown vs RAW I'm beginning right after WM to write episodes of RAW and Smackdown using rosters from back then. I know this is highly unoriginal but I promise you that the quality of the product will more than make up for the forum unoriginality. I might also combine some of the stuff today so I don't have to write a whole year's of material just to book it. For instance, The Shield, Paul Heyman's return, CM Punk's heel turn etc. Rosters will be as follows


Monday Night RAW Roster:
_________________________ ______

Alberto Del Rio
Alex Riley
Beth Phoenix
Brie Bella
Brock Lesnar
Brodus Clay
Chris Jericho
CM Punk
Curt Hawkins
David Otunga
Dolph Ziggler
Epico
Evan Bourne
Eve
Goldust
Jack Swagger
Jerry Lawler
John Cena
John Laurinitis
JTG
Justin Roberts
Kane
Kelly Kelly
Kharma
Kofi Kingston
Lord Tensai
Mason Ryan
Michael Cole
Mike McGillicutty
The Miz
Mr. McMahon
Nikki Bella
Primo
R-Truth
Rey Mysterio
Ricardo Rodriguez
Santino Marella
Scott Stanford
Triple H
Tyler Reks
Vickie Guerrero
Zack Ryder






Friday Night Smackdown Roster:
_____________________________________________________________

AJ Lee
Aksana
Alicia Fox
Big Show
Booker T
Camacho
Christian
Cody Rhodes
Damien Sandow
Daniel Bryan
Drew McIntyre
Ezekiel Jackson
The Great Khali
Heath Slater
Hornswoggle
Hunico
The Usos
Jinder Mahal
Johnny Curtis
Josh Mathews
Justin Gabriel
Kaitlyn
Layla
Lillian Garcia
Mark Henry
Matt Striker
Natalya
Randy Orton
Ranjin Singh
Rosa Mendes
Ryback
Sheamus
Sin Cara
Tamina Snuka
Ted DiBiase
Teddy Long
Tony Chimel
Trent Barretta
Tyson Kidd
Undertaker
Wade Barrett
William Regal
Yoshi Tatsu




The very first episode will be a Smackdown episode just to prove the innovation of this post. It'll be up in a few.
Re: WWE: The Fallout of WrestleMania 28
---
Another quick note before I put up Smackdown shortly, the format of this post thread will be all the episodes of Smackdown leading up to the next PPV. Followed by all the episodes of Raw leading up to the next ppv. Rather than Raw, SD, RAW, SD etc. If the format goes over well I'll continue with it but I think it's much easier on my head to put together one shows plans first then write the other. Also, the SuperShow gimmick has been dropped. Both rosters will be independent once again in a fight for ratings
Re: WWE: The Fallout of WrestleMania 28
---
- Sheamus comes out to a mixed reaction as some fans boo and chant NO NO NO throughout his promo. He talks about how Daniel Bryan's luck is nuttin compared to the luck of the Irish. And that was obvious as soon as the match started. Or finished. Eh, not much of a difference was it? He laughs but then is interrupted by Daniel Bryan who gets an enormous pop. Bryan says it WAS luck that made Sheamus win that easily at Mania. He has to pause a few times at the YES chants. He tells the fans to stop joining him because they never believed he would main event WrestleMania. He calls Sheamus a coward for brogue kicking him after he had JUST kissed his girlfriend. AJ is not with him for this segment. Daniel then pushes Sheamus lightly with one hand and challenges him to his rematch for the World Heavyweight Championship. Sheamus accepts saying he fears no man. He says why wait? Why not have the match tonight? The fans pop big for this but D Bry begins to smile nervously saying no no no no, you don't choose the venue. I choose and I'll let you know when i decide. After Sheamus smiles, he gives him a brogue kick and holds up the belt to a mixed reaction
- Backstage, AJ is talking to Kaitlyn. She tells her Daniel won't even speak to her ever since WrestleMania. She says she would do anything to keep Daniel. Kaitlyn says she doesn't understand what she sees in him because he treats her like dirt. AJ says Daniel is much more different behind the cameras. He's all man and so sweet. AJ tells Kaitlyn if she sees Daniel to tell him she's looking for him.
- Cole puts over Alberto Del Rio vs Sheamus tonight.
- FIRST MATCH: Cody Rhodes vs. The Great Khali
Cody wins a sleeper of a match. Khali is stiff as usual and Rhodes needs to hit 2 beautiful disasters in order to win.
After the match, Jinder Mahal comes out and cuts a promo in Hindi. He translates it after he's done. He says he saw Khali's mother outside an orange store in India. She asked HIM for money. Once Khali awakens, Mahal gets to the point. He says he knows he poor and weak Khali's family has become ever since he dumped his sister. Mahal says his charm and money can save his family from becoming homeless and the laughing stock of India. Khali just looks upset in the ring. Mahal says he'll take his sister back, if he joins him again. Mahal begins to walk down to the ring. He extends his hand to Khali. Mahal then begins speaking in Hindi again and Khali remorsefully shakes his hand
- Promo for John Laurinaitis Victory Speech tonight.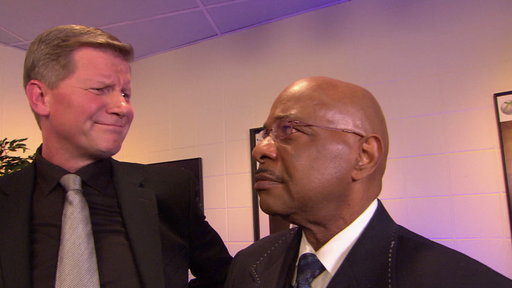 - SECOND MATCH: Drew McIntyre vs ??;
Drew gets his full entrance with his theme and entrance video. He gets decent heat. Before the match, Johnny Ace pops up on the titantron and says Teddy Long has something to say to Drew. Teddy is forced to read a card that says he apologizes to Drew for misusing him and treating him as badly as he did. He then reads the card stuttering saying as an apology, if Drew wins this next match, he'll get the big signing bonus he's been waiting for. Johnny Ace then asks Teddy nicely to get him a glass of water. Teddy hesitates and does so. Johnny then looks at the camera and says since Drew won at WrestleMania, he deserves a challenge tonight. And his job is to give the fans the most unpredictable show. So his opponent tonight will be... Hornswoggle's theme plays. Johnny says there shall be no interference and any violations will be met with severe punishment. Hornswoggle slowly walks to the ring. He looks quite fearful. Drew begins to crack up.
The match consists of Drew dominating Horny. He hits 3 Future Shock DDT's and easily pins Horny. Justin Gabriel comes out afterward and chases off Drew as Drew laughs
- Backstage, Hunico and Camacho are looking at a tour bus from their bike. They look very interested in it and check it out some more. They see the door is open and go inside to get a closer look. They find Randy Orton's wallet inside and see his wife sleeping in the room. Hunico says check it out ese. What'd make us more money than selling stuff from Randy Orton vato? Camacho begins to nod his head laughing. Hunico hot wires the bus and drives off from the arena.
- THIRD MATCH: AJ Lee and Kaitlyn vs The Bella Twins;
- Before the match, AJ looks sad and worried and constantly looks back at the tron. Kaitlyn constantly tries to get her focused on the match at hand. Kaitlyn is starting out the match and still looking and talking to AJ while the bell rings. She gets hit from behind as the match begins. AJ does not tag in the whole match and is staring off into the ground thinking. The Bellas pull twin magic and AJ sees but does not say anything. Brie Bella ends up getting the pin on Kaitlyn and when the bell rings, AJ slowly walks to the back sad and upset
Damien Sandow Promo as seen here. [http://www.youtube.com/watch?v=ykvjNSy_D7w]
- Undertaker comes out and talks about his match with Triple H. He says the streak will never die and salvation was what Triple H needed after all that. The end of the era has come and gone and so too has Triple H. He then says he's back to lay siege to his kingdom, by capturing the World Heavyweight Championship. The fans pop big for this. But then, the lights flicker and footage of Survivor Series 2010 passes where Wade Barrett and Kane buried him alive. The lights return to the purple dim Undertaker has and the deadman looks furious. He says whoever played that will REST IN PEACE. The lights go completely off and when they come back on, Undertaker is gone from the ring
- Ted DiBiase and Big Show are laughing it up backstage. Big Show asks Ted if he enjoyed when he gave Cody what's been coming to him ever since he bagged him. Ted laughs saying yeah that jerk got his and I'm glad you're the one who got him. Cody stands behind both of them and laughs along. Cody then turns serious suddenly like usual and tells Ted he has nothing to laugh about. He was Cody's worthless clueless sidekick feeding off him to keep his job. Now, he's kissing up to the fans to keep his job. He then begins to laugh at his own joke. Then he looks at Big Show. He tells Show to enjoy it now because at Extreme Rules, the bad streak continues. See, Show may not remember, but every miracle that happened when he won at Mania, he hasn't been able to win a one on one match on the next ppv. And that's just what's gonna happen at Extreme Rules. He then throws his water bottle at both of them and runs away. The segment ends with Big Show looking angry at a random corner where Cody ran to.
FOURTH MATCH: Ryback vs Local Competitor Jackson Andrews;
Ryback squashes this impressive looking local competitor. He's huge. Looks a lot like that guy who used to accompany Tyson Kidd around.
- Johnny Ace comes out after the match to great heat. He buries this match saying this isn't the competitiveness he wants on the Smackdown brand. He says Ryback is a lot more impressive than he thought. Therefore, next week, Ryback will go one on one with a surprise RAW superstar that he brought over. He says he has a huge announcement for next week as well. However he wants to get to the point here. He proudly states SmackDown has been a raving success since he's taken over. And it's only the first episode! Now, he doesn't wanna make this victory speech about him. He says he wants to make this about the State of Smackdown. He officially announces Big Show vs Cody Rhodes at Extreme Rules for the Intercontinental Championship, inside a steel cage! But that's not all, the only way to win this one, is by escaping the cage! However, being the innovator he is, there will be no door. He says this is the era of people power and Teddy Long now works for him. He says he knows how annoying Teddy got with his biased decisions but Teddy is still an honorable man and Johnny Ace was more than happy to help him get back on his own two feet after he lost his job. Of course, Teddy didn't have much of a choice since he's under contract with a no quit clause in it. Johnny then says he figured out why Aksana was with Teddy. She only wanted him for power and since John is such a good friend to Teddy, he had Aksana fired. John then states that Drew McIntyre has more than earned his bonus in a hard fought victory tonight. In that instant classic, Drew earned himself a possible World Heavyweight Championship match in the future. However, it is a possibility until Drew wins 5 matches in a row. Once he can get the 5th straight win, he'll earn a world title match. That brings him to the World Title scene on Smackdown. He says tonight Alberto Del Rio faces Sheamus and if Alberto wins, he is the new number one contender for the World Heavyweight Championship. However, since Alberto Del Rio is a member of the RAW roster, he must be bought out by SmackDown. He then goes on to Booker T. He congratulates him on his in ring return and says if only he had wrestled for Team Johnny, then he'd know what it's like to be a winner. Johnny then says he was so impressed at how good Booker did at WrestleMania, that he's pitched an idea to the WWE board of directors that they absolutely loved. Booker T returning to the ring. Booker doesn't look too happy about this but John continues. Your return to the ring all begins next week when you go one on one with the world's strongest man, Mark Henry! Booker says his patented WUT DA HAIL from the commentary table and looks angry. Johnny thanks everyone for their time and hopes they enjoy the rest of the show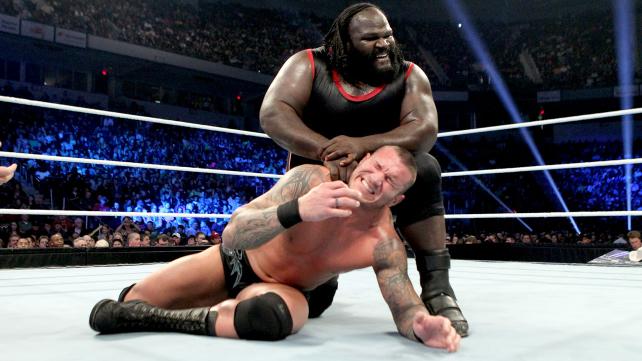 FIFTH MATCH: Randy Orton vs Mark Henry;
Mark Henry and Randy Orton have their typical slow match of Orton trying to get Henry off his feet. Once he does, he attempts his pump up moves (Clotheslines, Power Slam, leading to RKO). Orton can't seem to pick up Henry for the powerslam and injures himself doing so. Henry then begins to talk trash and does a splash from the ropes. Orton kicks out just before the three and Mark Henry begins to get impatient and goes for a World's Strongest Slam. Orton counters it by landing on his feet and hitting a quick RKO. He then waits for him to get back up. He begins punching the mat in his regular format. He then hits another RKO and gets the pin. He does his regular poses after he wins and then the titantron shows Hunico and Camacho auctioning off Randy's stuff. Orton begins running to the back.
- AJ is backstage still looking for Daniel Bryan. Trent Barretta walks up to her and said he just saw him over there by the boiler room. She walks over there and sees Daniel meditating. She walks up and asks Daniel if they can talk about it. Daniel calls AJ nothing more than a sheep just like all of them. He then tells her to go enjoy eating her precious meat. AJ begs him to re-consider and talk about this. D Bry then gets up and asks her why he should. Before she can answer, he says AJ Shut up. Daniel pulls up his rug and says if I don't eat animals, why would I talk to them sheep? He then says Baa to her and walks away. AJ looks upset.
MAIN EVENT: Alberto Del Rio vs Sheamus (Non-Title Match);
Del Rio and Sheamus have a good fast paced match. Del Rio spends the whole match working on Sheamus' shoulder to warm up for the Cross Armbreaker. Del Rio beats the crap our of Sheamus for the majority of the match until Sheamus finally finds the wear-with-all to hit a clothesline. They get up slowly. Sheamus uses the turnbuckle to get up. Del Rio sees it and attempts his signature enziguri, however Sheamus moves out of the way. When Del Rio turns back, Sheamus gives him White Noise. He then signals for the Brogue Kick. He beats his chest as half the fans chant brogue along. Del Rio gets up and manages to pull the ref in front of him before Sheamus can hit the Brogue Kick. Sheamus looks at the ref and turns into an enziguri from Del Rio. Del Rio then goes for the World Heavyweight Championship. However, another referee runs down to the ring and Del Rio is forced to put it back. Del Rio and Sheamus then trade blows with each other in the ring after Sheamus is picked up by Del Rio. They continually trade punches until the second official rings the bell for a double DQ. Del Rio ends up with the upper hand on the punches after Ricardo Rodriguez runs in and takes a cheap shot at Sheamus' back that had no effect. Del Rio then locks in the Cross Armbreaker for a good 2-3 minutes.Once he pulls off, we hear Daniel Bryan's theme. The fans go bezerk for D Bry and begin to chant yes. He runs down to the ring with a ref similar to how you would if you were cashing in mitb. He then tells the ref to ring the bell. Lillian announces Daniel is using his rematch clause. He then puts the LaBelle Lock on Sheamus and Sheamus taps out. We close the show with Daniel Bryan yelling yes with the fans while celebrating his world title victory.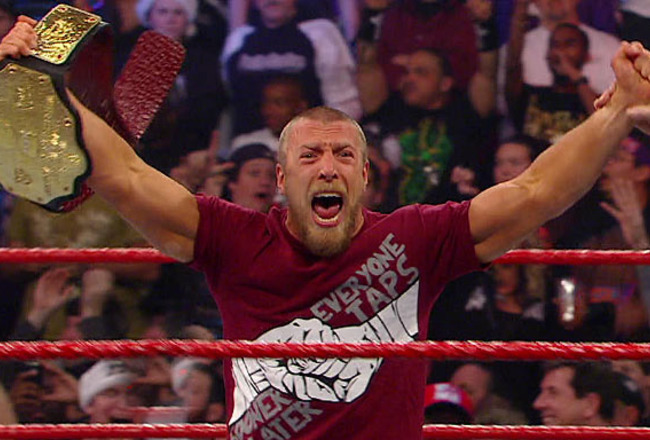 ---
Last edited by AJ Lee's Man; 03-30-2013 at

03:07 PM

.
Re: WWE: The Fallout of WrestleMania 28
---
The next episode of Smackdown will be up shortly.
---
Last edited by AJ Lee's Man; 03-31-2013 at

01:04 AM

.
Posting Rules

You may not post new threads

You may not post replies

You may not post attachments

You may not edit your posts

---

HTML code is Off

---