The WWE Thread/Diary/Thing
---
If you're thinking this is going to be the conventional BTB thread with full shows and PPVs as long as the collective works of Stephen King, don't.

I haven't planned this. It may not even make one show.

So you make ask, why am I posting it? Well, because I want to use this place for its original purpose - to enjoy myself. Quite simply, I feel like posting this, so I'm going to.


I may have been tempted by Stojy's insistence that he won't book 2004, and this may be a way of getting him to book again.

Hopefully not.


Moving on. This is not just a BTB off the top of my head, and I won't even make all the decisions that affect it. Oh yes, I am indeed using the infamous Extreme Warfare Revenge as my stimulus for this thread. Whatever has happened there, comes here. I'm basically just writing out whatever has happened in the game with a bit of extra detail.

As I've said, this is just for fun, and well, it could just be a tester thread before I bring back the other one that I've been banging on about for the past four years. Think DDMac's WrestleMania X8 thread (did that even make a show?) or Nige's WWE 2011 thread. Perhaps it'll blossom into something more meaningful. I don't know and I don't care. It's happening regardless.

This is a wrestling forum. I don't care about "rules" anymore, if I want to post a bloody thread, I will. Sure, when the real deal comes back, I'll be a bit more serious, but for now, I just want to see how this goes.

For the format, it's a PatMan-come-Szumi thread. PatMan, because this thread will most likely chronicle the entirety of 2004, and come WrestleMania 21, I may begin posting what could be considered "full" shows. Szumi, because if I feel like writing a particular promo from a particular show, I will. Otherwise, it'll be some sort of recapped, descriptive, something or another. You'll get the hang of it.


You may read this then not read again. You may not care, since this is essentially me using a diary to write a thread. I don't know. But hopefully "ya'll" can get some fun out of it too.


Anyway I guess I should post a roster. It'll change every month. If you have any whims or quips with the roster, it's EWR, not me. Just for fun, I'll put the SmackDown! portion first.

SMACKETHDOWNETH!

Akio
A-Train
Big Show
Bill DeMott
Billy Gunn
Billy Kidman
Bradshaw
Brock Lesnar
Charlie Haas
Chavo Guerrero
Chris Benoit
Chris Kanyon
Chuck Palumbo
Danny Basham
Dawn Marie
Doug Basham
Eddie Guerrero
Edge
Funaki
Hardcore Holly
Jamie Noble
John Cena
Johnny Stamboli
Kurt Angle
Matt Morgan
Nidia
Nunzio
Orlando Jordan
Paul Heyman
Paul London
Rey Mysterio
Rhyno
Rikishi
Ron Simmons
Sable
Sakoda
Scotty 2 Hotty
Sean O'Haire
Shaniqua
Shannon Moore
Shelton Benjamin
Stephanie McMahon
Tajiri
Tazz
Torrie Wilson
Ultimo Dragon
Undertaker
Zach Gowan


History of the WWE Championship

BROCK LESNAR (3)
September 18th, 2003 –

Brock Lesnar won his third WWE Championship on the September 18, 2003, edition of SmackDown! The victory came when he defeated longtime rival Kurt Angle in what many fans consider to be the best match in SmackDown! history — a 60-minute WWE Iron Man Match. Lesnar won the match, 5-4.


History of the United States Championship

BIG SHOW
October 19th, 2003 –

Eddie Guerrero defended the United States Championship at No Mercy against Big Show. Guerrero tried to use his quickness and intelligence to overcome the big man, but Big Show's size and strength was just too overpowering. Big Show was able to win the United States Championship after two Chokeslams.


History of the WWE Tag Team Championship

BASHAMS
October 23rd, 2003 –

Tensions had been rising within Los Guerreros and their tag team title defense against the Basham Brothers was no different. Everything was going smoothly at first for Los Guerreros, but the Bashams pulled a switcheroo and nailed Eddie with a foreign object. The Bashams picked up the win and their first WWE Tag Team Championship. Following the defeat, Chavo walked out on his Uncle Eddie.


History of the Cruiserweight Championship

TAJIRI (4)
September 25th, 2003 –

Rey Mysterio put his Cruiserweight Championship on the line against Tajiri on an edition of SmackDown! Mysterio was aware of Tajiri's devious ways and had blocked his green mist early in the match. Later on in the match, Tajiri unleashed his red mist and Mysterio couldn't get out of the way this time. Blinded by the mist, the pinfall for Tajiri was simply academic at that point. Tajiri picked up his fourth Cruiserweight Championship.





MONDAY NIGHT FUCKERYRAW

Al Snow
Batista
Booker T
Bubba Ray Dudley
Chris Jericho
Chris Nowinski
Christian
D-Von Dudley
Eric Bischoff
Gail Kim
Garrison Cade
Goldberg
Hurricane
Ivory
Jacqueline
Jazz
Kane
Lance Storm
Lita
Mark Henry
Mark Jindrak
Matt Hardy
Maven
Miss Jackie
Molly Holly
Randy Orton
Rene Dupree
Ric Flair
Rico
Rob Conway
Rob Van Dam
Rodney Mack
Rosey
Scott Steiner
Shane McMahon
Shawn Michaels
Spike Dudley
Stacy Keibler
Steve Austin
Stevie Richards
Sylvan Grenier
Test
The Rock
Theodore Long
Tommy Dreamer
Triple H
Trish Stratus
Val Venis
Victoria
Vince McMahon
William Regal


History of the World Heavyweight Championship

TRIPLE H (3)
December 14th, 2003 –

Goldberg had been mowing down the competition for more than two months, but he faced his biggest test at Armageddon in a Triple Threat match against Triple H and Kane. In the end, the numbers game was too much for Goldberg. Kane was able to hit the Chokeslam on the champ, but before he could go for the pin, Batista pulled him out of the ring. Triple H took advantage of the situation and made the cover for the win and his third World Heavyweight Championship.


History of the Intercontinental Championship

RANDY ORTON
December 14th, 2003 –

The 2003 Armageddon pay-per-view belonged to Evolution. Batista and Ric Flair won the World Tag Team titles, Triple H won the World Heavyweight Championship and Orton was able to defeat RVD for the Intercontinental Championship.


History of the World Tag Team Championship

RIC FLAIR & BATISTA
December 14th, 2003 –

The Dudleys put their World Tag Team Championship on the line at Armageddon in a Tag Team Turmoil match. In a Tag Team Turmoil match, two teams start off in the ring. Once one team is defeated another enters and so on, until there is only one team left standing. The teams challenging for the titles were La Resistance, Mark Jindrak & Garrison Cade, Val Venis & Lance Storm, The Hurricane & Rosey and Scott Steiner & Test. The Dudleys, who were the third team to compete, outlasted everyone. But after what they thought was a successful title defence, Eric Bischoff announced there was one more team. With that, Batista & Ric Flair made their way to the ring. Batista decimated The Dudleys as the Evolution members picked up the titles. Ric Flair, who was certainly no stranger to gold, won his first World Tag Team Championship. It was also Batista's first championship.


History of the Women's Championship

MOLLY HOLLY (2)
July 28th, 2003 –

Gail Kim had taken WWE by storm and won the Women's Championship in her very first match, a seven-Diva Battle Royal. But Molly Holly was able to catch her on an off night. Holly hadn't had a taste of the gold in over a year, but she changed all of that on en edition of RAW. She caught Kim with the Molly Go Round and pinned her for her second Women's Championship.


Let the bread, see the butter!
(UK peeps might get that)


Just to clarify, the thread/game/diary starts from January 2004. First month of news/notes/events/recaps/Triple H burials (there's a LOT of them) coming soon.
Chopped Liver
Join Date: Jan 2004
Location: Six inches from a computer screen
Posts: 5,433
Points: 321
Re: The WWE Thread/Diary/Thing
---
You killed the post I wanted to make about this not lasting 6 weeks
Eh, good luck with it. As long as you have some fun, that's all that counts. I've been looking forward to reading something of yours (anything) for such a long time that even this will do. For now.
Should be interesting to see what you do with TRTWM (hope you know what that means?)
Get posting TKOW. Yeah, TKOW.
Learning to break kayfabe
Join Date: Jan 2012
Posts: 48
Points: 0
Re: The WWE Thread/Diary/Thing
---
looking forward to this
Re: The WWE Thread/Diary/Thing
---
Wow, this most certainly will suck.
---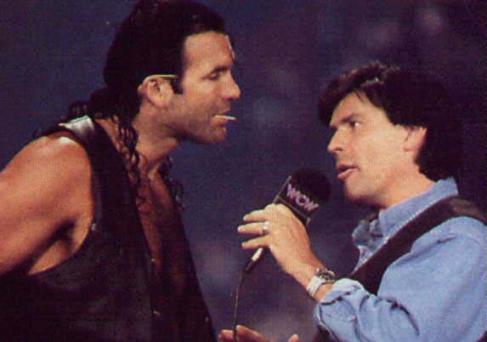 Learning to break kayfabe
Join Date: Jul 2011
Location: USA
Posts: 64
Points: 0
Re: The WWE Thread/Diary/Thing
---
Looking forward to this being terrible.
I love that sort of thing.
If smackdown doesn't become the #1 show I'll be upset.
Finally Out of Cutey Sleep
Join Date: Jul 2006
Location: The Fountain of Dreams
Posts: 2,020
Points: 9
Re: The WWE Thread/Diary/Thing
---
TKOW back to booking? Then I fully endorse this potential disaster.
No, seriously, that wasn't sarcasm. I'm actually looking forward to how random and fun this could be
---
CUTENESS²
AOW: Art of War Wrestling - The Greatest Affair
It's Baaaaack...
.:Oblivion Edition 39/40 Recap NOW POSTED!!:.
Posting Rules

You may not post new threads

You may not post replies

You may not post attachments

You may not edit your posts

---

HTML code is Off

---