Re: WWE 2013 - A New Path
---
Extreme Rules Predictions

1) Stretcher Match- Daniel Bryan vs Kane (Winner: Kane)

The final chapter in this rivalry between former tag-team partners and it all coming to a head in a Stretcher Match, why I chose Kane as the winner, I'll tell you why. Kane deserves to go over Daniel Bryan because personally Bryan has more going for him at the moment and Kane ever since he turned heel again he has become more or less like the Kane of old and he needs a big win to get him over as an evil, demonic monster and what better than by beating Bryan so badly and so decisively that Bryan has to be carted off in a stretcher and by putting Kane over it makes Kane more of a feared monster than ever before and hopefully a win in this match does exactly that because Kane needs another run at the top but Bryan his time will come just not now

2) Tables Match- Mark Henry vs Sheamus (Winner: Mark Henry)

Mark Henry if anything he has been on a tear ever since returning and he needs to stay on that pace because personally Sheamus if anything he doesn't need the win because he is already main-event calibre worthy anyway so a win for Sheamus doesn't necessarily do anything for him while with Henry on the other hand a win would do wonders for him in terms of getting back to where he needs to be in the main event

3) WWE Tag Team Championships Tornado Tag Team Match- Cryme Tyme (c) vs The Shield (Winners: New WWE Tag Team Champions The Shield)

The Shield if anything have been looking strong for a while now whereas Cryme Tyme they just won the WWE Tag Team Championships not even all that long ago, they won them back at WrestleMania 29 from the PTP, but The Shield have more going for them future-wise whereas Cryme Tyme do not, so that is why I see The Shield winning their first-ever titles in WWE by becoming the new WWE Tag Team Champions with justice finally prevailing with Cryme Tyme having a transitional reign as WWE Tag Team Champions

4) WWE Intercontinental Championship TLC Match- Wade Barrett (c) vs Chris Jericho (Winner: New WWE Intercontinental Champion Chris Jericho)

If anything I see Jericho winning TLC and why? Because Jericho he has experience in a Tables, Ladders and Chairs match, so he knows what it takes to win whereas Barrett is at a huge disadvantage not even ever been in a Tables, Ladders and Chairs match and honestly Barrett he went over at Mania beating Jericho, so Jericho just needs to go over in my opinion and why? In order to make history by becoming a 10-time WWE Intercontinental Champion furthermore etching himself in history as the greatest Intercontinental Champion ever

5) World Heavyweight Championship Steel Cage Match- Dolph Ziggler (c) vs Ryback (Winner: New World Heavyweight Champion Ryback)

If anything Ryback deserves this win and why? Because Ryback won the 2013 Royal Rumble Match here and at WrestleMania 29 in NY/NJ big miscarriage of justice he should've went over Ziggler at Mania since he was the Rumble winner and most Rumble winners go on to win the big one at Mania but yet Ryback didn't and that is why I feel he should win his first World Title because at Mania he was robbed and hopefully now he gets that chance at winning the title because personally Ryback would make a great World Heavyweight Champion whereas Ziggler a loss doesn't really hurt him whereas another loss for Ryback would definitely hurt him because it would kill his momentum

6) Money in the Bank Briefcase Street Fight- Randy Orton vs Ted DiBiase (Winner: Still Mr. Money in the Bank Ted DiBiase)

Ted DiBiase has been impressive ever since his return and ever since WrestleMania 29 where he won the Money in the Bank briefcase, he has been on a huge roll but then there's Randy Orton who is the hometown boy since Extreme Rules is in Orton's hometown and he came close to winning the briefcase only for DiBiase to steal it out right out from under him and DiBiase & Orton have a history which dates back all the way to when they were in Legacy together where Orton was the mentor and DiBiase was the protege and it all comes to a head in this match where it's become so personal especially with Orton attacking DiBiase's father The Million Dollar Man Ted DiBiase, Sr. and DiBiase upping the ante by doing whatever he can to get into Orton's head and there being a no-contact clause, these 2 are bound to tear each other apart and I can't wait to see the 2 of them just beat the holy hell out of one another and that is why I feel DiBiase should go over Orton because he needs a huge push and quite frankly DiBiase should already be main eventing anyway and with this briefcase he can do just that whereas a win for Orton doesn't really do anything

7) (Main Event) Twice in a Lifetime NO DQ WWE Championship- The Rock (c) vs John Cena (Winner: Still WWE Champion The Rock)

Why do I see The Rock retaining his WWE Championship? I will tell you why? Two words...Kurt Angle!!!!!!! Kurt Angle I see him getting involved in this match costing John Cena the WWE Championship and why? Because Angle was cheated out of a WWE Championship match since he beat John Cena at WrestleMania 29 but yet Cena gets a title shot, no I think not, I see Angle getting his revenge on Cena costing Cena the title with Rock retaining the WWE Championship setting up a Triple-Threat Match at the next pay per view WWE Payback, with it leading into The Rock vs. John Cena vs. Kurt Angle


1) I predicted the winners already, so that's done
2) The match order I already predicted too, especially by the way I numbered it
3) The longest match I predict will be Twice in a Lifetime, Rock vs Cena, as it being the main event that closes out the show
4) For surprise returns I am really hoping that there is at least one, perhaps a return from Captain Charisma Christian making his return finally
5) Yes I predict 3 title changes, that being the WWE Intercontinental Championship, the WWE Tag Team Championships and the World Heavyweight Championship
6) As for who Anonymous is, I really hope it is Kevin Thorn also known as Kevin Steen
Re: WWE 2013 - A New Path
---
WWE PRESENTS – EXTREME RULES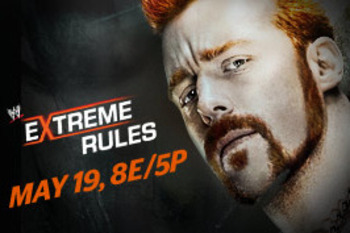 LIVE FROM ST LOUIS, MO

----------------------------------------------------------
EXTREME MEASURES
----------------------------------------------------------

A black and white video package kicks off Extreme Rules showing the many dangers these WWE Superstars and Divas go through. It shows multiple superstars being hit with steel chairs and being slammed through tables, a narrator coming over the video package and talking about how this is the one night these superstars take it to a new level. The one night where the rulebook is thrown out the window; It's the one night the WWE goes…Extreme! Pyrotechnics erupt all around the staging area to signal the start of the Extreme Rules pay per view. The St. Louis crowd explodes in cheers as the cameras pan all around the arena.

Michael Cole "Hello everyone and welcome to Extreme Rules! We are coming to you live from St. Louis, Missouri and alongside me, as always, my broadcast partner Jerry 'The King' Lawler and from Friday Night SmackDown, JBL, John Bradshaw Layfield. Guys, tonight, the WWE Superstars take things to extreme."

The camera feed cuts to the three man commentary team.

Jerry Lawler "That's right Michael we are in for one hellacious night."

John Bradshaw Layfield "I can tell you that I have been a part of some of the most grueling matches this company has to offer, I don't envy these guys one bit tonight. They are going to literally put their bodies and careers on the line more so tonight, than any other night."

Michael Cole "There isn't too much that can help these guys prepare for what's in store for tonight, but now we're going to kick off Extreme Rules right now, so let's head up to the ring and Lillian Garcia."

Lillian Garcia "Ladies and gentlemen the following contest is a Tables, Ladders and Chairs Match for the Intercontinental Championship!"

Before the entrances a quick shot was shown of the Intercontinental Title already being suspended high above the ring.



[BREAK THE WALLS DOWN]


The arena lights were shut off as the blinking light suit of Chris Jericho came on signaling that the challenger had arrived. Everyone inside the arena was on their feet cheering loudly as the lights came back on and Jericho spun around and acknowledged the cheers. Y2J slowly made his way down to the squared circle, entering through the ring ropes before having his theme music die down off the P.A System.


[JUST DON'T CARE ANYMORE]


Out came the Intercontinental Champion, Wade Barrett, with his heavy black coat slung over his shoulders. He quickly slung his jacket off and swung his fist forward before making his way down the aisle way toward the squared circle. Before entering the ring he took a moment to glance around at all the tables, ladders and chairs surrounding the ring, not being particularly thrilled with this situation. However, he entered the ring shortly thereafter, the music died off and the bell sounded to kick off Extreme Rules and this contest!

Opening Contest – Intercontinental Championship – TLC Match
Wade Barrett© vs. Chris Jericho
-For the second straight pay per view, these two men would kick off the show as Wade Barrett looked to defend his Intercontinental Championship. The two men locked up in the middle of the ring, Barrett pulling him into a quick side headlock before showing his strength by shoulder blocking Y2J to the canvas when he was pushed off the ring ropes. The Champion was then sent to the canvas after a dropkick by Jericho, before rolling to the outside to rethink his strategy. Once he returned to the ring he encountered more of the same from the challenger as Jericho nailed him with multiple right forearms before taking him down to the canvas and proceeded to work on Barrett's back. The crowd was fully behind the challenger, Jericho, as he continued to be one step ahead of Wade in the early going. Barrett managed to take control when Jericho went to the top rope only to see Wade move out of the way when he attempted a missile dropkick, plummeting into the mat. The champion took full advantage as he proceeded to assault his opponent, drilling him with several knees to the midsection, followed by multiple elbows, showing off for the crowd after each shot, to a massive amount of boo's. Jericho had no answer for Barrett as he continued to be beaten down, not being able to counter as anytime he did the champion was right there to immediately halt him in his tracks. Finally Barrett went to the outside to retrieve something, several minutes into the contest, as he grabbed a couple of steel chairs and tossed them inside the ring before going and doing the same thing with a table and a ladder. As he climbed back inside the ring Jericho was there and met him with several stiff kicks to his midsection before grabbing one of the chairs and slamming it hard across Barrett's spine, receiving a loud ovation of cheers. From there Jericho headed over and proceeded to set up a table angled in a corner before returning to Barrett and pulling him up. After several hard right hands he bounced off the ropes and delivered a one-handed bulldog to Barrett before placing a steel chair on his midsection. Y2J then leapt onto the middle rope and delivered the Lionsault-NO! Barrett managed to lift his knees up and put the steel chair there as well!-

-Both men were showing signs of pain from that failed Lionsault by Jericho as the challenger rolled around in agony, while Barrett clutched at his knees. The Intercontinental Champion pulled Jericho to his feet, landing a couple of hard right hands as he dragged him over to the set-up table, before immediately sending him over his head for a Belly to Belly Suplex through the table! Replays were shown on the TitanTron as the commentary team plugged how Mark Henry and Sheamus should take notes for their Tables Match later tonight. Wade then got to his feet and slowly positioned a ladder underneath the hanging Intercontinental Title and slowly began to make the climb. He got about two-thirds of the way up before Jericho halted him by dragging him down off the ladder and slamming Barrett head first into it, sending it toppling over. It seemed like Y2J was getting back on the offensive only to be kneed in the midsection and then tossed over the top rope when he pulled Barrett back up. The champion followed Jericho to the outside quickly pulling out a table and setting it up on the outside floor. Barrett dragged Jericho to his feet before slamming him face first off the table then rolling him back into the ring. Instead of following him in, Barrett climbed onto the apron and then slowly pulled Y2J to a vertical base, setting up for a suplex, which brought a huge amount of boos from the crowd. Wade lifted Jericho up, but saw him fight his way back down before countering with a suplex of his own, planting Barrett onto the ladder! As Wade rolled around clutching at his back, Jericho quickly got back to his feet and proceeded to sandwich the champion in between the ladder, before locking in the Walls of Jericho! The crowd cheered loudly as Barrett had nowhere to go, stuck in the ladder as he quickly began to tap out frantically, but it wasn't any use given the circumstances of the match. Y2J finally broke the hold and dumped Barrett and the ladder onto the outside in a heap before going and retrieving a second ladder and positioning it in the middle of the ring. The crowd was on its feet cheering loudly as it looked like there was going to be a new champion, only to have Barrett make his way back into the ring and pull Jericho down.

-After trading right hands Barrett got the upper hand and tugged his elbow pad down, before charging and missing his attempt at the Bullhammer, only to turn around straight into a Codebreaker by the challenger! They both laid on the canvas in exhaustion, Jericho finally climbing up to his feet and heading slowly up the ladder. As he got halfway up that's when Barrett began to stir and head up after him, Jericho reaching the top and trying to grab the Intercontinental Title, only to be nailed by Barrett as he makes it to the top. The two men began trading right hands, each one looking like it was going to knock the other one off the ladder and ultimately it was Y2J who was picked up by Barrett as both men went off the ladder, Wade managing to deliver a huge side slam to Jericho off the ladder! While both men laid on the canvas the crowd stood on their feet and cheered loudly, trying to urge Y2J onward. Both men slowly got back to their feet and began to trade right hands and just when it looked like Y2J was gaining the advantage Barrett halted him with a huge knee to the midsection. He then tossed the challenger over the top rope, Jericho quickly grabbing the top rope and holding on. Once he got back to his feet on the apron, Barrett charged forward and nailed him with the Bullhammer which sent him flying through the table that was set up earlier! Wade took a moment to see the damage he caused before slowly turning and beginning to head up the ladder. As he made it to the top Y2J was still lying in a heap of the broken table, still not moving, Barrett slowly reaching up and retrieving his Intercontinental Championship, the bell sounding!-
Winner & STILL Intercontinental Champion – Wade Barrett @ 15:05

'Just Don't Care Anymore' re-hit over the P.A System as Wade sat on the top rung of the ladder and raised his title high above his head in victory, the crowd showing their displeasure in the result of the contest. The officials attended to Jericho on the outside as different replays were shown of the highlights of the contest, the commentary team going over each replay as it happened. The camera then cut back showing Barrett now heading up the aisle way with a wide grin on his face as he slung his Championship onto his shoulder, getting another impressive victory.

Michael Cole "Quite an impressive win by Wade Barrett to retain his Intercontinental Championship, but ladies and gentlemen coming up next is, quite possibly, a match which pits the two most bitter of rivals against one another. Let's take you back and show you the path that Kane and Daniel Bryan followed to get to this point."


—Video Package Hyping the Kane & Daniel Bryan Feud—

Lillian Garcia "The following contest is set for one fall and is a Stretcher Match! A Superstar must push the stretcher which holds his opponent across the yellow line in order to be declared the winner."


[VEIL OF FIRE]


An eruption of fire came from the staging area as The Big Red Machine came walking out from behind the staging area. Instead of heading towards the squared circle, Kane headed over to the side of the staging area and stood there, waiting. His theme music died off the P.A System and the crowd began to yell and boo loudly, knowing that he was waiting to ambush Bryan.


[FLIGHT OF THE VALKYRIES]


As Kane waited Daniel Bryan came walking out from behind the curtains, an intense look on his face. The crowd tries to get his attention to tell him about Kane but he pays them no mind. His attention turns toward the squared circle where he notices Kane isn't and right as he turns around he is met by a huge Big Boot from the Big Red Machine! The bell quickly sounds to start the contest.

Match Two – Stretcher Match – Grudge Match
Daniel Bryan vs. Kane
-Kane lands repeated stomps to Bryan's fallen body before dragging him up and throwing straight into the Extreme Rules panel of the staging area! Bryan rolled around clutching at his back, as Kane continued to viciously assault his former tag team partner with hard, stiff punches and boots. Kane was in complete control and Bryan already looked out of it as Kane dragged him back down to ringside, along the way throwing him violently into the guardrails. Daniel was then loaded onto the stretcher and Kane slowly pushed him toward the yellow line. However, Bryan quickly rolled off, Kane shaking his head and laughing evilly before dragging Bryan back up to his feet only to have him begin to battle back with forearms and uppercuts. He pushed Kane backward before landing repeated kicks to his knees then to his chest when Kane fell down, forcing him back against the steel ring steps. Bryan then stumbled backward away from Kane and charged, landing a vicious running dropkick, sending Kane straight back into the ring steps! Now it was Daniel Bryan's turn to go on the offensive as he attacked Kane using anything and everything he could get his hands on. Everything from a steel chair, a kendo stick, cable chords, ring bell and the ring steps; all of them were used to bring bodily harm to Kane in some sort of fashion. Then it was Bryan's turn to slowly get Kane onto the stretcher, which proved to be more difficult than he had anticipated, before slowly pushing it toward the yellow line. Just like Bryan did, Kane managed to keep the match going as he planted his boots and arms onto the ground and halted the stretcher from going any further. As Bryan stepped forward he was drilled with a huge throat thrust, sending him backward. The Big Red Machine then climbed up to his feet and lifted the stretcher up vertically before slamming it straight into Daniel Bryan, sending him stumbling backward against the ring apron! More vicious mauling came from Kane as he sent Bryan stumbling and falling over all around the ring, before bringing him to rest at the Spanish announce table, slamming him face first into it.-

-Piece by piece the announce table is taken apart, Kane then dragging Daniel Bryan up to a vertical base and slapping his hand across his throat. From there the monster yanked Bryan high into the air before sending him crashing through the announce table with a vicious Chokeslam! The crowd boos heavily as Bryan lay on top of the broken announce table, Kane leaning against the ring apron, clearly winded and hurt from all that had transpired thus far. As he went to pull Bryan up, it was nothing but dead weight, so Kane slowly dragged him up and lifted him up onto his shoulder, going to carry him to the stretcher. Kane headed around the ring, Bryan still seemingly out of it as he laid on Kane's shoulder, the crowd trying to urge him back into the contest. Once he got back to the aisle way Kane didn't put Bryan on the stretcher, instead a sick grin spread across his face as he slowly slid Bryan down vertically, the crowd looking on in horror as Kane spiked Bryan's head off the flooring with a Tombstone Piledriver! Kane let out a sinister laugh, screaming and yelling into the face of Bryan, who looked unconscious before slowly lifting him up once more and placing him onto the stretcher. Even the crowd had given up hope as Kane began to push the stretcher forward, Bryan still not moving. As soon as the stretcher reached halfway, somehow, Daniel Bryan willed himself to roll off the stretcher, the sick smile fading from Kane and being replaced by a look of shock and frustration. Kane shook his head before walking over and grabbing a steel chair that Bryan had used on him earlier. Meanwhile, Bryan had slowly gotten on all fours and pushed the stretcher back toward the squared circle, getting it clear away from the yellow line only to be drilled in the back by the steel chair! Once again Kane lifted Bryan up onto his shoulder, only this time he slid down and tripped Kane to the ground, before synching in the No Lock! Kane squirmed as Bryan yanked on the hold, the crowd cheering loudly at the sight of Kane in his predicament. Several moments passed and soon the Big Red Monster was unresponsive, the commentary team making a note that he was passed out!-

-Now it was Bryan's turn to push and drag the dead weight of Kane toward the stretcher and, ultimately, he managed to accomplish this goal. Inch by inch, centimeter by centimeter Bryan began to push the stretcher toward his victory, Kane still out cold on the stretcher. But, just as the stretcher got to the line, it was Kane's turn to roll off of it, stopping the potential Daniel Bryan victory. As Kane began to stir and get back up to his feet, Bryan slowly grabbed the steel chair that was lying near him and got up to his feet. The crowd cheered loudly as Bryan stared down at the steel chair, before nodding his head and proceeding to smack it straight off the skull of the Big Red Machine! Kane plummeted onto the stretcher, Bryan then bashing the steel chair several more times onto his chest area, before making squatting down and making a final surge to push it over the yellow line to secure his hard-fought victory!-
Winner – Daniel Bryan @ 13:45

Bryan's theme music blared over the arena speakers, the crowd cheering loudly as Daniel stood there, still showing the clear signs of the grueling battle he was just involved in. He celebrated his victory by screaming out 'YES!' repeatedly to the sold out St. Louis crowd, who did the same back to him. The cameras slowly faded off of Bryan and went to the backstage area where Josh Matthews was standing by.

Josh Matthews "Ladies and gentlemen my guest at this time…Mister Money in the Bank, Ted DiBiase!"

The camera panned out to show Ted DiBiase standing to the side of Josh Matthews, a bright, arrogant smile spread over his face as he clutched the Money in the Bank briefcase in his grasps. He took a glance toward Matthews as he began with the interview, before returning his gaze off into the distance.

Josh Matthews "Ted, tonight you go one on one with The Viper, Randy Orton, in his hometown of St. Louis. With everything that has transpired in recent weeks, do you feel that, maybe, the deck has been stacked against you?"

Ted DiBiase "You know something Josh this may surprise you, but I'm actually glad that we are in St. Louis tonight. Randy gets to go out there and perform in front of all his family and friends, he gets to beat Ted DiBiase, his former teammate and become Mister Money in the Bank. Be on the fast track to recapturing the WWE or World Heavyweight Title. That's the story he wants to write, it's the story that all these people want to see him write, but you know what Josh? That's all it will ever be, is a story. I'm going to go out there tonight and beat him, straight up, in front of his wife, his mother, his father and all of his friends. The hometown hero that wasn't. Now that…that's a Million Dollar story, Josh."

DiBiase grins smugly toward Matthews as the cameras return back to the ringside area.

Lillian Garcia "The following contest is a No Disqualifications Tornado Tag Team Match…for the WWE Tag Team Championships!"


[SIERRA…HOTEL…INDIA…ECHO…LIMA…DELTA…SHIELD!]


All of the fans stood up on their feet, the section where The Shield normally make their entrance from turning around to see Dean Ambrose and Seth Rollins come from one side, Roman Reigns on the other. The three men headed down the staircase and jumped the barricade, before entering the squared circle as the commentary team discussed their huge impact on the WWE since their arrival. Once they all stood inside the ring, their theme music died off and they turned their attention toward the entrance way.


[BROOKLYN…BROOKYLN!]


The WWE Tag Team Champions came strutting out from the backstage area, flamboyantly dancing and showing off all of their accessories, including the Tag Team Titles. The St. Louis crowd was eating it up as they headed down the aisle way toward the squared circle. Both JTG and Shad danced around the ring before quickly climbing inside, the five men now staring at their respective counterparts. As they were about to get started the WWE Official started talking to The Shield informing them that only two superstars were allowed and that the third member would have to leave the ringside area. This decision clearly didn't sit well with the three superstars, but ultimately they settled on the team of Seth Rollins and Roman Reigns, Ambrose slowly making his way into the back.

Match Three – WWE Tag Team Championships – No Disqualifications – Tornado Tag
Cryme Tyme© vs. The Shield
-Shad and Roman Reigns paired off which left JTG and Seth Rollins as the four men went straight after one another, trading right and left hands. Shad got the best of Reigns, sending him back into one corner as Rollins did the same to JTG. Both men had the same idea as they irish whipped their opponent across the ring, JTG suddenly leaping up and landing a huge spinning forearm to Reigns! When Rollins came to the rescue he was met by a huge clothesline from Shad, which turned him inside out. As the action headed to the outside, that's where Roman Reigns took full control over JTG and began to attack him ferociously. Meanwhile on the inside of the ring Shad had lifted Rollins up off the canvas and irish whipped him to the far side, before charging and landing a huge splash on him in the corner. Rollins fell flat on the ground and Shad hopped onto the middle rope before delivering a quick elbow drop to the back of his head, rolling him over for the pin; One…Two…Kick Out! Shad continued to have the upper hand on Rollins inside the ring as the same couldn't be said for JTG, who fired back with right hands, sending Reigns stumbling back but was caught in midair when he leapt forward, Roman turning and smashing him spine first into the steel ring post, before delivering a powerslam! Reigns then got into the ring and nailed Shad from behind, the two members of The Shield now working as a team to take down Shad bit by bit. Anytime JTG tried to get back into the ring, either Rollins or Reigns would just simply knock him back down to the outside, or toss him over the top rope back to the floor. The numbers game allowed them to wear down the larger of the two Cryme Tyme members and gain a couple of near falls in the process, but eventually the tide was turned as JTG managed to low bridge Rollins to the outside, before dumping him over the guard rail and into the crowd! From there it was the Tag Champs turn to use the number game and it was at the expense of Roman Reigns.-

-They sent Reigns all around the squared circle like a pinball to the delight of the St. Louis crowd, before sending him to the canvas with a double bay body drop. Both Shad and JTG then yelled out to the crowd, getting them fired up before having JTG deliver a huge knee to Rollins as he tried to re-enter the ring, sending him right back to the outside. Cryme Tyme continued their double team of Roman Reigns, every so often having to dispatch of Seth Rollins before Shad lifted Reigns up for a Samoan Drop and JTG ran and leapt into the air, the duo connecting with the G-9! Shad quickly covered Reigns as JTG stood guard over the pin; One…Two…THRE-NO KICK OUT! Roman Reigns somehow managed to get his right shoulder up, JTG and Shad shocked that the match was continuing. As this happened, Rollins tripped JTG to the mat and dragged him out of the ring, the two men now battling on the outside. JTG ducked an attempted clothesline from Seth, who stopped himself from smacking into the ringpost, before turning and avoiding a diving JTG who went ribs first into the ringpost himself! Back inside the ring, Shad was stalking Reigns, but it was Seth Rollins who springboarded off the top rope landing a huge High Knee! This stunned Gaspard and he stumbled around the ring as Reigns got to his feet before charging and folding Gaspard in half with the Spear! Reigns quickly made the cover, hooking the leg, as Rollins guarded; One…Two…THREE! NEW CHAMPIONS!-
Winners & NEW WWE Tag Team Champions – The Shield @ 10:55

We have new Tag Team Champions! The bell sounded, signaling the end of the contest as Roman Reigns and Seth Rollins stood on their feet and embraced in a hug before being awarded their newly won Tag Titles. The two men were soon joined by fellow Shield member, Dean Ambrose, as the three men raise their arms high into the air, the Hounds of Justice claiming their first piece of Championship Gold here in the WWE!

A brief look into The Viper's journey from WrestleMania XXIX to his upcoming contest later tonight against Ted DiBiase, is spotlighted in a video package. It starts with a black and white look at the Money in the Bank match with Orton and Cesaro both looking their grip on the briefcase and having it fall right into the arms of the Fortunate Son, Ted DiBiase. From there, the video package highlights Randy Orton fighting and clawing his way to get what he feels is rightfully his, before having the video package come to an end showing Orton holding up the Money in the Bank briefcase. The cameras then switch over showing The Viper himself standing by with Matt Striker, Orton receiving a thunderous ovation from the hometown crowd.

Matt Striker "Ladies and gentlemen please welcome…St. Louis' own, Randy Orton! Now Randy, tonight you get, what some feel is, your much deserved shot at the Money in the Bank Briefcase and Ted DiBiase. How do you feel about that?"

Randy Orton "It's quite simple Matt, you see Ted DiBiase has had everything handed to him throughout his…fortunate life. At WrestleMania he was gifted that Money in the Bank briefcase when it just so happened to fall right to him, but tonight, it won't come that easy. Tonight he's going to have to step inside that ring, one on one with Randy Orton and I'll tell you something Josh, I have been counting the days until tonight. In front of my hometown of St. Louis, I will walk out of here Mister Money in the Bank!"

Orton gives a very menacing stare towards Striker as the cameras cut away.


—Video Package Highlighting Mark Henry & Sheamus—


[SOMEBODIES GONNA GET IT]


The next contest was about to get underway as the World's Strongest Man, Mark Henry, slowly makes his way out from behind the entrance curtain, receiving a loud negative reception. He glares sternly around at the sold out crowd as he continues to head down the aisle way, before walking up the steel steps and entering the ring. The crowd continued to boo him heavily, Mark Henry turning his attention toward the staging area, seemingly not going to waste any more time staring into the audience, or acknowledging their reception of him.


[WRITTEN IN MY FACE]


Now came the arrival of The Celtic Warrior who have more pep in his step when he came jogging out from the backstage area. He was welcomed with a warm applause, which he accepted, posing for the cheering crowd before turning his attention toward his opponent standing inside the ring. Sheamus smirked before pointing down toward Henry and looking back at the crowd, making a slight chuckle as he headed toward the squared circle. Once he arrived, Sheamus climbed onto the apron, pounded his chest ferociously and posed yet again to a loud ovation. He entered the ring and the Tables Match was about to be underway.

Match Four – Tables Match
Mark Henry vs. Sheamus
-The bell sounded and the two superstars slowly walked to the middle of the ring and stood toe to toe. Words were exchanged by both men as soon a battle of strength ensued, Sheamus bouncing off the ropes and coming back, shoulder blocking Mark Henry, to which neither man fell. This was repeated two more times with the same result, Sheamus then ushering Henry to do it, which he obliged, only to have Sheamus charge forward and clothesline the larger athlete over the top rope and down to the floor! Laughter and cheers came from the crowd as Henry stumbled up to his feet, throwing a rather large tantrum on the outside as Sheamus just chuckled and grinned. The contest then got down to serious matters as Mark took control with a boot to Sheamus' midsection before using his brute force and power to beat Sheamus down to the canvas. As the Celtic Warrior got back up, Henry was there to knock him right back down. Sheamus managed to eventually get back to his feet, drilling Mark with a couple of right hands, only to be tossed into the corner and violently kneed in his gut several times. To make matters worse, Henry retreated to the opposite side of the ring, got a full head of steam and proceeded to splash Sheamus in the corner, sending all of his weight crashing into Sheamus' body. He flopped onto the mat, Henry strolling around the ring yelling 'That's what I do!' out into the crowd before slowly climbing out of the ring and retrieving a table that was set up against the barricade. Mark lifted it up onto the ring apron, but did not notice that Sheamus was back up before being drilled as Sheamus delivered a baseball slide into the table, sending it straight into the World's Strongest Man! The Celtic Warrior grabbed the wooden table, positioned it bridging the barricade and ring apron and returned to lift Mark Henry up only to have him grab ahold of Sheamus and deliver a belly to belly suplex on the outside flooring!-

-Mark Henry once again regained control and the action moved back inside the ring where Henry set up another table. He stalked The Celtic Warrior and as he got to his feet Henry military-pressed him high into the air, Sheamus managing to fight out of it and nail several right hands to Henry, but Mark returned the favor with several of his own, backing Sheamus up against the table. Instead of trying to plant him through, Mark sent Sheamus flying high over the top rope, where the other table was positioned, Sheamus catching the top rope and holding on, stopping himself from flying through it. Mark nailed him with a couple of right hands which nearly sent Sheamus falling back, but he once again fought back and quickly hooked Mark by the head and attempted a suplex. The World's Strongest Man blocked it and went for one of his own, the two men traded countering suplexes, before attempting one of their own, Henry ultimately breaking free and running Sheamus straight into the ring post, sending him falling to the floor below! He got Sheamus back inside the ring and positioned the table at an angle perched in the corner, before laying Sheamus flat against it. To ensure that he didn't go anywhere he pelted him with a few clean right hands before once again backing up. Henry let out a primal yell before he charged forward and jumped, not very high mind you, straight through the table as Sheamus managed to move out of the way! A loud ovation of cheers came from the St. Louis crowd, Sheamus leaning against the ring ropes as Henry lay motionless amongst the debris of the broken table. Now it was Sheamus' turn to set up a table as he too retrieved one and positioned it so it sat in one of the turnbuckles before turning his attention back to the World's Strongest Man.-

-He propped Mark up in the opposite corner and dragged another table closer before lifting Henry up onto the top rope, his back facing the ring. Sheamus then stood there and stretched Henry's arm out, looking for his High Cross Powerbomb, but Mark managed to fight out of it and elbowed Sheamus off of him. He turned around and just as he climbed down Sheamus came forward and delivered The Brogue Kick! Mark fell back into the corner, his arms dangling on the ropes to keep him upright as Sheamus slowly dragged one of the tables to the other side of the ring, before looking at the one angled in the corner. His eyes kept darting from Henry to that table, the crowd climbing to its feet as they realized what was about to happen, Sheamus quickly heading over and grabbing Henry by the wrist. Sheamus irish whipped Mark Henry across, the World's Strongest Man managing to stop his moment just before hitting the table and quickly turning around to see Sheamus darting forward. Sheamus once again delivered the Brogue Kick-NO Henry Moves! Sheamus cracks the table with his boot, immediately hobbling as he turns right into the waiting arms of Mark Henry who lifts him up before turning towards the set up table and sends him crashing through it with a World's Strongest Slam Through The Table! Henry has done it!-
Winner – Mark Henry @ 13:52

Mark sits on his knees for a couple of moments before slowly getting up to a vertical base, the official raising his arm in victory. The sour, angry look on his face soon turns to an evil grin as he looks down at Sheamus' limp body lying in the pieces of the broken table, Henry once again yelling out 'That's What I Do'! The crowd is clearly not happy with the outcome, but Henry doesn't seem to care as he picks up a very impressive victory over The Celtic Warrior at Extreme Rules.

In the backstage area we see several security guards standing guard at the entrance of the parking lot to the arena. The camera pans over each one of them one by one before showing Vince McMahon walking up to one of them. He asks the officer if anyone had seen anything to which the officer responded no, Vince making it clear that he knows CM Punk is up to something and he will be damned if he's going to allow this pay per view to be ruined by him. The officer assures Vince that he won't be getting in this way, Vince nodding his head as he continued to look up and down the parking lot.

Michael Cole "Well as you can see Vince McMahon is…well, rather paranoid over this whole CM Punk ordeal. Either way, typically this is where we inform you of the next time the WWE will be on Pay Per View, but uh, well…"

John Bradshaw Layfield "Not even we know, Michael haha."

Michael Cole "That's absolutely right. But anyways, ladies and gentlemen, coming up next is the Street Fight for the Money in the Bank Briefcase. There's no denying that Randy Orton and Ted DiBiase have a history with one another, but let's take a look at how they got to this point tonight."


—Video Package Highlighting The Orton/DiBiase Feud—


[I COME FROM MONEY]


Out first was Mr. Money in the Bank himself as he arrogantly made his way across the staging area, showing off his briefcase to the booing audience. He mouthed several words to the crowd which weren't picked up by the camera, DiBiase continuing to grin before he made his way toward the squared circle. He perched himself on the top turnbuckle and lifted the briefcase high above his head, still keeping the smirk on his face before dropping down into the squared circle as his theme music faded.


[VOICES]


The biggest roar of the night came when the theme music for The Viper hit the P.A System. He slowly strolled out from the back, the hometown boy returning home to compete in front of his friends and family, Randy not being able to hold back a faint smirk as he looked around at the cheering St. Louis crowd. Orton returned his attention towards DiBiase inside the ring as he slowly slithered in under the bottom rope and headed to the far corner, ascending to the top and posing for yet another massive pop. He glanced down toward his family and friends who were seated in the front row as he climbed down; then turning his attention to his opponent for the evening as his theme music faded.

Match Five – Money In The Bank Briefcase – Street Fight
Ted DiBiase vs. Randy Orton
-Ding. Ding. Ding. As soon as the bell sounded the two former members of Legacy circled the ring, cagey in the early going of one another before ultimately locking up in the middle of the ring. It was Orton who gained the upper hand first, dragging DiBiase down to the canvas by his head before drilling him with several stiff right hands, forcing him to roll out of the ring. Ted clutched at his head before quickly rolling back into the ring only to be knocked right back out of it by a clothesline from The Viper, Ted pounding the apron and kicking the steel steps in frustration. Ted slowly easing his way back into the ring and when he does he manages to gain the upper hand in the contest and drilling Orton with his own stiff right hands. Randy had no answer for Ted for several minutes, DiBiase showing off an abundance of moves to keep The Viper at bay, each time he sent Orton to the canvas he would take a quick glance over towards Randy's friends and family, even giving a wink occasionally. The fight moved to the outside where DiBiase slammed Orton against the barricade and apron, before being countered and sent shoulder first into the steel ring steps! It was Orton who brought out the first weapon, as he took out a kendo stick and proceeded to smack it viciously across the back of DiBiase repeatedly to the delight of the crowd. Ted flailed around the outside of the ring trying to escape, Orton pumping up the crowd before swinging one last time and cracking the kendo stick in half across the head of the Fortunate Son!-

-Ted was lying motionless on outside floor mats as several replays were shown of the final kendo stick shot to his head, Orton now in full control as he took a part the steel steps and slid the lower half into the squared circle. Randy continued his vicious assault on DiBiase on the outside, the commentators noting that this was about more than just the briefcase; Orton was looking to hurt DiBiase. Before The Viper could get his opponent back inside the ring, however, Ted delivered a low blow, halting all of Orton's momentum in an instant. Randy slowly stumbled back up to his feet only to have DiBiase forcefully yank him back and slam him spine first into the barricade, now screaming at Orton's family and friends in the front row, before chuckling as he continued to assault and maul Randy right in front of them. The street fight was showing just how much these two men despised one another now and it was never more clear than when DiBiase took one of the commentary monitors and bashed it straight across the skull of Orton busting him open! More replays are shown of the vicious monitor shot, Ted slowly dragging Orton back up to his feet and rolling him back into the ring. He takes a moment to smack talk the family and friends once more, getting more heat from the St. Louis crowd before grabbing a steel chair and returning to the squared circle.-

-Both men now battled back and forth the crowd giving Orton that extra boost of energy as he fed off their cheers to get his second wind, blasting DiBiase with multiple clotheslines before finishing him off with his infamous powerslam. Orton then slowly stood back up to his feet and proceeded to fire up the crowd even more before dropping back down to the canvas, pounding it in anticipation for an RKO. Once Ted got up to his feet Orton struck, but Ted managed to counter him and throw him straight onto the bottom half of the steel steps that were brought in earlier! Randy arched his back in obvious pain, Ted immediately grabbing a steel chair and once Orton got to his feet….WHACK! Ted had smashed the steel chair across Orton's skull! He slowly covered The Viper, hooking the leg; One…Two…Thr-KICK OUT! DiBiase sat up and looked down with a shocked expression before shaking it off and pulling Randy back up to his feet. From there, Mr. Money in the Bank proceeded to lock in the Million Dollar Dream before making more comments towards Orton's family and yanking Randy high into the air to connect with Dream Street! A loud eruption of boos rang out from the sold out arena, DiBiase slowly going for the pin attempt; One…Two…THRE-AGAIN ORTON KICKS OUT! The second kick out caused Ted to roll into a seated position, cupping his head in his hands in utter shock, shaking his head in disbelief as the crowd exploded into cheers. Cameras caught Orton rolling over, his face covered in blood as he slowly began to crawl toward the ropes.-

-Again Ted got distracted by the people on the outside of the ring, yelling at them that he was going to finish Orton's career at this rate, before slowly returning to Orton and once again locking him into the Million Dollar Dream. This time when he went for Dream Street, Orton quickly countered for a quick-strike RKO! Both men now were lying motionless in the ring, The Viper the first one to start moving as he slowly rolled over and draped his arm across Ted's chest; ONE…TWO…THRE-KICK OUT! A loud groan came from the crowd as Orton came so close to gaining the victory, but Ted DiBiase just managed to get his shoulder up. Now it was Orton's turn with the steel chair as he picked it up, DiBiase sitting on his knees and beginning to beg Orton not to hit him, but Randy just flashed a sick grin before smacking DiBiase straight across the skull, which led to him also being busted open. Both men were now wearing the crimson masks, but Randy, instead of going for a pin attempt looked down at Ted and got a twisted idea. DiBiase was laying on modified all-fours, motionless, Orton looking around as the crowd slowly understood what The Viper was thinking. He retreated to the far corner, preparing for that vicious punt kick and as he charged he took an extra healthy swing Punt Kicking The Swinging Chair! DiBiase had come too and swung the chair straight into the oncoming boot of Orton, causing him to collapse onto his knees clutching at his leg. Ted stumbled up and quickly sent a vile, vicious and sickening chair shot straight into Orton's skull! The Viper remained on his knees, motionless, allowing Ted to rear back and deliver a second sickening chair shot which caused him to keel over. Ted then slowly dropped down to Orton before synching in the Million Dollar Dream, The Viper clearly unconscious from the chair shots. The official checked his status several times, before lifting his arm up ONCE…IT FELL. TWICE…IT FALLS AGAIN. THIRD AND FINAL TIME…IT FALLS!-
Winner & STILL Mr. Money In The Bank – Ted DiBiase @ 22:21

Ted DiBiase had beaten Randy Orton and as he released the hold he stumbled up to a vertical base, clearly woozy and shaken up from the brutal war he was just involved in. DiBiase grinned arrogantly and sadistically down towards the unconscious body of The Viper, his arm being raised and the Money in the Bank briefcase being delivered to him in the process. Several replays were shown of all the action before showing Orton's family and friends looking on in horror and sadness, not quite sure how to handle the situation. Ted makes it a priority to climb out of the ring and stroll past that section, taking a small glance towards them before chuckling and heading off towards the entrance way, the crowd booing heavily as medical personnel and officials check on Orton inside the ring.


WWE Draft Special


Two Weeks Away


A split screen shot of John Cena and The Rock are shown as both men continue to make preparations for their Main Event match for the WWE Championship later tonight. John Cena is shown getting his colorful armbands and putting them on while The Rock is bouncing back and forth, getting loose and stretched. From there, the camera heads back to the commentary table.

Michael Cole "Ladies and gentlemen I'm being told that we need to go to the backstage area, this is happening LIVE as I speak to you…"

A camera crew is quickly dispatched to the backstage area where Kofi Kingston is shown leaning against a production crate, wobbly and woozy as suddenly the figure of WWE Anonymous comes into the picture! The superstar proceeds to bash Kingston with right hands before grabbing him by his throat with both hands and yanking him into the air, before sending him crashing down on the other side of the production crates, for a two-handed chokeslam! The Anonymous Masked Man stands there, the camera pans back as he turns towards the camera and slowly reaches for his mask. The anticipation mounts as he slowly takes off the mask and pulls down the hoodie to reveal himself. It's none other than…Kassius Ohno! He quickly puts his hand in front of the camera forcing it to shut off, the crowd inside the arena stunned at just how easily he was able to man handle Kofi Kingston.

The lights inside the arena slowly dim down as the Steel Cage begins to descend from the rafters. A loud ovation of cheers comes from the crowd as they realize which match is coming up next, the cameras cutting to a video package to hype the upcoming World Heavyweight Title Match.


—Video Package Hyping The Steel Cage Match—


[FEED…ME…MORE]


The Number One Contender makes his way out onto the staging area, coming to a stop right in front of the aisle way. He does his usual routine to the beat of his theme music, quickly walking toward the ring. Once he reaches the protection mats Ryback turns and without any hesitation heads right up the steps and into the confines of the Steel Cage. It's at this moment he takes the time to look around, his theme music dying down.


[HERE TO SHOW THE WORLD]


Dolph Ziggler, with AJ Lee and Big E Langston alongside, makes his way out in front of the crowd. He shows off, imagine that, for the booing audience, spinning around and quickly halting his show boating as he comes face to face with the steel cage structure in front of him. The three of them head down the aisle way, Dolph continuing to gaze up at the large steel cage, hesitant to get inside, because he sees what is waiting for him. After several moments he finally hands over his World Title and climbs inside the cage, the official slamming the door shut and locking it as the bell sounds!

Match Six – World Heavyweight Championship – Steel Cage
Dolph Ziggler© vs. Ryback
-Dolph Ziggler quickly make a break for the door, the official opening it as Ryback bolted after him, stopping him just before he was able to get out the door. He was dragged back inside, Ryback quickly spinning him around and throwing him face first into the cage wall and doing so repeatedly. Ziggler seemed to be on Dream Street as he stumbled around, turning straight into a clothesline from the challenger, who was looking especially sharp and motivated this evening. He continued to take the fight straight to the World Champion, not allowing Ziggler much room to breathe let alone mount any sort of offense. Dolph delivered a couple of right hands and boots to Ryback's gut, only to be floored when he attempted anything afterwards. Each time the Champion was planted onto the canvas he would make a slow, feeble attempt to crawl toward the cage door, each instance bringing a smirk to Ryback's face before he would drag him away from the door and continue to attack. Finally Dolph got into the contest, avoiding a splash attempt from Ryback, seeing him slam into the turnbuckle before sending him violently into the cage wall! From there it was Ziggler's turn to beat down his opponent, stomping him feverously before going with a more technical approach of trying to ground, grind and wear down the larger Ryback. Once he felt that he had done enough damage, the World Champion slowly began to climb the cage, trying to make his escape. But, he was caught when he reached close to the top, Ryback taking him into his grasp and delivering a thunderous German Suplex, which sent Ziggler tumbling to the other side of the squared circle! The challenger slowly crawled over towards Dolph and made the cover, hooking the far leg; One…Two…Kick Out!-

-Ryback pulled Dolph up to a vertical base and when he lifted Ziggler up vertically for a suplex, saw the Champion manage to reverse it and land a huge dropkick, sending Ryback chest first into the turnbuckle padding! The monster fell to the canvas and Ziggler took the chance to press Ryback's flesh against the cage wall, raking his head against the steel which led to him beginning to bleed. The World Champion was pulling out all the stops to retain his Championship as he pressed on and kept focusing on the head and neck region of Ryback. A majority of the crowd began to stir, trying to get Ryback back into the contest, but anytime he looked like he was on the verge, the Champion would stop all of his momentum, whether with a simple clothesline or the more extravagant way, spiking his head off the canvas with a huge DDT. During this lengthy period of offense, Ziggler managed a couple of near falls, but his closest chance came when he delivered a Top Rope Fame Asser to the monster, quickly going for the cover; One…Two…Thre-Kick Out! Ziggler was growing frustrated and slowly scaled the top rope once more but when he leapt off this time he was caught in Ryback's arms! He was then slammed spine first into the cage wall before being nailed with a Fall Away Slam shortly thereafter! Both men were on their backs, breathing heavily, looking out of it but it was the challenger who now made his way, slowly, toward the door. The official opened it and just as Ryback was heading out of it, Big E Langston came rushing over and viciously smashed the door off Ryback's skull, slamming it shut!-

-After a few moments of both men lying on the canvas, it was the World Champion's turn to get up to his feet before turning to see Ryback stumbling up as well. Dolph quickly charged forward and leapt into the air…ZIG ZA-NO Ryback Blocked It! Ziggler hit the canvas, quickly scrambling up to his feet only to be turned inside out by a Meathook Clothesline! The challenger leans against the ring ropes before screaming out 'Finish It', to the delight of the St. Louis crowd. From there Ryback quickly pulled Dolph up into his arms and lifted him up onto his shoulders before connecting with the Shell Shocked! He rolled over and slowly covered the Champion, hooking the leg; ONE…TWO…THRE-NO DOLPH KICKS OUT! The crowd is absolutely stunned as the match continues on, Dolph somehow managing to kick out after being Shell Shocked! Ryback slowly got back to his feet and yanked Ziggler back up, setting up for another Shell Shocked only to have Dolph slide down his back and quickly climb the cage! The challenger gave chase, Dolph reaching the very top and getting over, only to have the monster grab him by his hair and slowly pull him back over. The two men traded punches while at the top before seeing Ziggler jump off behind Ryback, who was still on the wall of the cage and yank him back down to the canvas with a huge Zig Zag! What seemed like dozens of replays were shown, the momentum causing Ziggler to bounce near the cage door as they both were lying motionless on the canvas. Dolph slowly came to his senses and rolled over, the official opening up the cage door and with the help of Big E Langston, who pulled him out, Dolph Ziggler escaped the Steel Cage and the bell was sounded!-
Winner & STILL World Heavyweight Champion – Dolph Ziggler @ 19:11

Dolph couldn't even stand on his own two feet, Langston having to hold him upright as they celebrated, Ziggler being handed the World Heavyweight Title. Several replays were shown of all the action, the commentators plugging how Ryback had the contest won if Dolph didn't have Big E there to assist him. But, that was all a moot point now, as Ziggler retained his World Heavyweight Championship and the three of them slowly headed toward the backstage area.

Michael Cole "Well we just saw a hellacious Steel Cage Match for the World Heavyweight Championship but folks, for months WWE Anonymous was terrorizing this company before making his long awaited debut at WrestleMania where he…took out The Phenom, The Undertaker."

Jerry Lawler "That's right Michael and we wondered from that point on…just who was this Anonymous?"

Michael Cole "Let's take you back earlier tonight where we all got that answer."

A video feed is shown from earlier tonight at Extreme Rules where it showed WWE Anonymous assaulting Kofi Kingston in the backstage area. He drilled the young superstar with multiple punches before ultimately yanking him up with both hands by his throat and delivering a Two Handed Chokeslam over some production crates. Then it switches over showing WWE Anonymous revealing himself to be Kassius Ohno, the NXT Superstar before cutting off and the feed returning to the commentators table.

John Bradshaw Layfield "I don't condone what he did, but that was quite impressive from that superstar. He has hit the WWE and taken it by storm over these last couple of months."

Michael Cole "Be that as it may we can tell you that Kofi was taken to a nearby medical facility where he is being treated. We don't have anything further at this time, but hopefully he can make a full recovery very soon."

Jerry Lawler "Yeah and here's the thing…we've all seen Superstars come in and make a name for themselves and do this and that, but what this young man has done, first at WrestleMania to The Undertaker and tonight to Kofi Kingston, the WWE better be on alert. Because, quite frankly, I'm afraid this is going to continue until somebody puts their foot down and stops him."

Michael Cole "Well unfortunately, in that regard, we will just have to wait and see. However, coming up next is the match everyone has been waiting for. These two icons clashed at last year's WrestleMania and now they square off once again here tonight. Let's take a look at John Cena versus The Rock!"


—Video Package Hyping The WWE Championship Match—


The cameras return to a live panning shot of the arena.


[MY TIME IS NOW]


The challenger receives a rather loud and mixed signal, which consists of more booing than cheering. John Cena quickly makes his way from the backstage area, looking around at the sold out crowd before turning to look toward the camera and shrug his shoulders. He gives a quick salute before jogging down the aisle way and sliding into the squared circle underneath the bottom rope. Cena seems to be all business tonight, understanding that this is his shot to reclaim the WWE Championship after all the trials and tribulations he had gone through since the Royal Rumble.


[IF YA SMELL…WHAT THE ROCK…IS COOKIN']


Now the cheers came, the roof nearly being blown off from the thunderous ovation for the WWE Champion as he came storming through the curtains and into view. The WWE Championship was resting on one of his shoulders, The Rock bouncing from one boot to the other, getting himself ready before he headed down and climbed up onto the ring apron. From there the Champion scaled the top rope and raised the Championship high above his head, soaking in the warm reception he was receiving and finally climbing down and entering the ring to begin the contest.

Main Event – WWE Championship – No Disqualifications
The Rock© vs. John Cena
-A monumental moment as soon as the bell sounded, the entire world sitting with anticipation for the rematch between John Cena and The Rock. The two men stood in the middle of the ring and looked around at the crowd who were still on their feet cheering, before getting down to business and tying up in the middle of the ring. It was The Rock who gained the upper hand and pulled Cena into a headlock, being backed up and sent flying across the ring and as the two collided it was Cena who fell to the canvas. John quickly rolled up to a knee and stared at The Rock, a loud ovation of cheers coming from the crowd as Cena got back to his feet and locked up again. This time it was Cena's turn for the headlock and to be sent running to the ring ropes, but the end result was the same, The Rock shouldering Cena down to the canvas! Again Cena stands up but the frustration is clearly beginning to build and when the two men lock up for a third time there is no headlock, instead Cena twists the arm of Rock, before seeing him counter and land several arm drags, before finishing it off with a huge hip toss. This time John gets up to his feet and proceeds to shove The Rock, showing his frustration, only to be pushed back and thus starts the tradeoff of right hands between the two men. Just when it looked like The Rock was going to get the best of that battle as well, Cena quickly shoots forward with a knee to the midsection to take control of the contest. It's now the Champion who is feeling it from his opponent as Cena takes Rock to the ground and proceeds to work on his neck and back with different submission holds, even driving several harsh elbows into Rock's neck and back while locking in these holds.-

-The Brahma Bull wasn't going to lie down without a fight and soon The Rock was forcing his way back into the match, smacking Cena with his signature right hands, before blocking Cena's attempt and landing a quick Snap DDT! Now it was Rock's turn on offense as he too grounded his opponent, but also mixed in some impressive moves that Cena hadn't seen in their last encounter. The Rock managed to land a suplex, a swinging neck breaker and even spiked Cena with a piledriver, which got him a near fall. Not to be out done, Cena returned the favor with some new moves of his own, landing a German Suplex on Rock at one point and his old move the Prototype Powerbomb! Several near falls came out of these impressive moves, both men pulling out all the stops to walk out of Extreme Rules the WWE Champion. The Rock was on offense now and having landing a scoop slam on Cena he decided to climb to the top rope, only to have Cena get up and knock his feet off the top rope, leaving him hung up! John then slowly climbs the turnbuckle, standing in front of Rock before pulling off an unbelievable Frankensteiner! John quickly went for the pin attempt; One…Two…Thr-KICK OUT! The crowd couldn't help but give an ovation for that incredible move pulled off by Cena who didn't dwell on the near fall but instead went right back to work on Rock, slowing the pace down. Several minutes went by of the slow pace before it picked back up, Cena missing an attempted clothesline as The Rock hooked him up for the Rock Bott-No Cena Reverses! John elbows out of it before pulling Rock up into the Firemen's Carry and…Attitude Adj-No Rock Counters! It was Rock's turn to counter, sliding down behind Cena only to see John land a drop toe hold before locking in the STF!-

-It was applied right in the middle of the ring! The WWE Champion had nowhere to go, seemingly and after several moments of flailing around his pace began to slow. He was fading with each passing second Cena had the STF locked in and eventually The Rock fell limp, the WWE Official checking on him before Raising His Arm Up…It Falls; ONE! The referee lifts it up a second time…it falls limp again; TWO! He lifts it up a third and final time, Cena yanking back further on the hold….it fal-NO IT'S UP! The Rock keeps the match going and slow manages to dig across the canvas and grab the bottom rope, Cena breaking the hold! John Cena rolled off of The Rock and laid there for a few seconds, worn out and still not quite believing The Rock managed to get out of that. But, he treaded on and slowly picked The Rock up only to see him shoot forward and deliver a thunderous ROCK BOTTOM! The Champion's arm slowly draped across the Challenger's chest, the referee sliding down; ONE…TWO…THRE-CENA GETS THE SHOULDER UP! Everyone gasped and were stunned, none more so than the WWE Champion who looked around in shock as he rolled along the canvas. The physical toll that this match had on both men caused them both to be slow getting to their feet, doing so at the same time and beginning to once again trade right hands.-

-As the two men went back and forth with rights and lefts, suddenly a loud ovation came from the crowd as a group of men had jumped the barricade, getting past the security officials and had hit the ring! The Rock and John Cena quickly turning their attention away from one another to deal with…well, whoever these guys were. The group of men hit the ring and the numbers game ultimately became too much for Rock and Cena as they were beaten down to the canvas by the pack of men, the official having no choice but to call for the bell!-
No Contest – The Rock STILL WWE Champion @ 26:48

The commentary team were scrambling, screaming into their headsets to get security out here and demanding to know just who these people were. But that was soon revealed as one of them pulled his hoodie down, revealing himself to be CM Punk! The rest of the superstars did the same inside the ring, some familiar faces were shown as El Generico, Rhino, Shelton Benjamin, Nigel McGuinness plus others all stood inside the ring, each one of them brandishing an 'ROH' t-shirt! As the assault continued, Kevin Steen irish whipped John Cena into the corner before seeing Generico charge and deliver an Ole Kick! John Cena stumbled out of the corner straight into a GORE from Rhino! The Rock was next as Kevin Steen picked him up and showed off his strength by sandwiching him in his arms at spiking him off the canvas with a Package Piledriver! The ROH Superstars stood tall as CM Punk looked on, security not being able to do anything as they kept being assaulted anytime they tried to enter the ring. Finally CM Punk stepped forward and demanded The Rock be given to him and when he was, Punk lifted The WWE Champion up into the Firemen's Carry before nailing him with a vicious GTS! Both John Cena and The Rock were left lying out cold in the middle of the WWE ring as the ROH Superstars raised their arms in unison, the crowd inside the arena in a stunned silence as Extreme Rules faded off the air.

[yep, I am going for this. hopefully it comes out the way I intend it to and hopefully you all enjoy the ride]


---
NOTHING WAS THE SAME
Re: WWE 2013 - A New Path
---
Extreme Rules Review

Barrett retains his WWE Intercontinental Championship once again this time beating Chris Jericho again this time in a Tables, Ladders and Chairs match, if anything Barrett got lucky if you ask me, because he has never been in a Tables, Ladders and Chairs match, the man was totally out of his element and I actually thought that Jericho was going to pull off the victory seeing as how this match was clearly to Jericho's advantage with it being a TLC match and now all of a sudden Barrett pulls off the victory by some fluke, well nevertheless it was a great way to open up your PPV with the TLC match but Barrett if anything he has been WWE Intercontinental Champion long enough in my opinion, it is time to give someone else a chance with the belt, Barrett has been champion ever since December, a good 6 months as WWE Intercontinental Champion, about time he drops the belt and ends up moving up the card to be a main eventer since Barrett should already be main eventing anyways in my opinion but I wonder where this leaves Jericho now?

Daniel Bryan beating his former tag team partner Kane in a Stretcher Match, Bryan barely escaping here with this victory if you ask me because this match was Kane's for the taking, but somehow David beats Goliath but at the same time I can't see Kane just letting this victory of Bryan's go, I see Kane destroying Bryan since Bryan just embarrassed him in a Stretcher Match, if Kane ever gets his hands on Daniel Bryan again he might just destroy him once and for all but as for Bryan if it appears he is done with Kane after this, then I wonder if Bryan will end up getting a main event push once again becoming a main eventer once again because if that happens, then I could see Bryan becoming either World Heavyweight Champion for the 2nd time, or becoming a first-time WWE Champion whereas Kane, I wonder what is next for him?

Loved Orton's promo here, he definitely sounded confident if you ask me, and he could very well beat DiBiase in the Street Fight to become Mr. Money in the Bank right in front of his hometown fans

Mark Henry beating Sheamus in the Tables Match, I love it because Henry has been on a roll as of late but Sheamus is now heading down a downward spiral if you ask me, Sheamus is spiralling out of control, who knows maybe Sheamus will end up turning heel after this because if Sheamus does in fact turn heel then it is about time Sheamus turns heel back into the Sheamus of old, becoming the barbaric, vicious calculating Sheamus who beats up anyone at any time simply because he can and using lead pipes to just destroy people not caring one iota about the fans whereas Henry I hope he is headed towards another main event push because if he is, then hopefully Henry starts up The Hall of Pain once again putting superstars on the shelf

Vince is awfully worried about Punk and understandably so, but at the same time I wonder if Punk will somehow show up here at Extreme Rules because if he does, I wonder what Punk will do to make an impact

DiBiase beating Orton in the Street Fight, this match is probably the Match of the Night for me as far as I'm concerned, this match I can't even call it a match, this was a fight, this was a war between former Legacy teammates between former friends, between a former mentor and his former student these 2 destroyed one another probably as physical and brutal of a match that I've seen in recent memory, we finally get to see blood in a match, both of these men were busted wide open crimson masks, that is what the definition of extreme should be, chair shots and what not but at the end of the day DiBiase is still Mr. Money in the Bank still the owner of the briefcase retaining his briefcase, DiBiase is in no condition to cash in his briefcase tonight but I can definitely see him cashing in his briefcase on either RAW or Smackdown or even cashing in his briefcase at the Draft show

Kassius Ohno is WWE Anonymous, what a shocker, I definitely did not see that one coming that's for sure, Ohno is probably the last person who I expected to be WWE Anonymous but then again I can't say that I'm surprised because Ohno I always knew he would make an impact when he would make his main roster debut and he did by not only destroying The Undertaker back at WrestleMania 29 but also destroying Kofi Kingston, it makes me wonder just who Ohno will destroy next or who his next victim will be? I just hope you make Kassius Ohno's character a supernatural character much like The Undertaker keeping the supernatural gimmick for Kassius Ohno because it works for him, have the lights go out during his entrance and the eerie music playing in the background and have Ohno play mind games with the lights playing mind games with his opponents

Ziggler retaining his World Heavyweight Championship yet again beating Ryback inside the Steel Cage Match, Ryback is once again screwed out of the World Heavyweight Championship, if I didn't know any better I would say that you are purposely trying to kill Ryback's momentum de-pushing Ryback because that is like how many straight PPVs that Ryback has lost? Ryback wins the Rumble only to lose the World Heavyweight Championship opportunity at WrestleMania 29 and then to lose again at Extreme Rules to Ziggler again, that is why I am pissed off at this result for obvious reasons because I feel that Ryback is way past due he is overdue for a title reign whereas Ziggler it is about time he drops the title, he's been champion long enough if you ask me

And Rock retaining the WWE Championship all be it that it was a No Contest against Cena because of a pack of men attacking the both of them only for the pack of men to be revealed to be Punk, Steen, McGuiness, Rhyno, Benjamin, and El Generico laying out both men and revealing themselves to be an ROH stable, this is awesome, what a great way to end Extreme Rules

Great PPV even though there were results I didn't agree with
Re: WWE 2013 - A New Path
---
Extreme Rules News & Notes

-The storyline that the WWE had been keeping under wraps for awhile was finally revealed in the Main Event of Extreme Rules. According to multiple reports the WWE has quietly been signing up Indy Talent from ROH to go a head with this storyline. We're being told that while this is an ROH Invasion, it's not the same as the wCw/ECW one that happened several years back. Obviously because there is no doubt what the outcome would be if it was for 'Total Control'. We have gathered a list of superstars that were signed by WWE in the past few months and they are: Kevin Steen, El Generico, The American Wolves, Nigel McGuinness, Rhino & Charlie Haas. There could be more, as the WWE has been keen on trying to sign Mike Bennett, which would then, ultimately bring back Maria Kanellis.-

-With the ROH Invasion storyline, it's believed that the upcoming Pay Per View will be themed around ROH. Much like WWE did several years ago with 'ECW One Night Stand'. It will undoubtedly feature several ROH vs. WWE Matches, so look for an announcement involving the upcoming pay per view on Raw. The major storyline heading into that PPV appears to be Rock vs. Punk.-

-While Creative pitched around several ideas leading up to Extreme Rules, ultimately they decided to have Kassius Ohno be the man behind 'WWE Anonymous'. The WWE has been impressed with his work in NXT recently and are looking to throw him straight into some high priority feuds, just to see how he can hold his own. While he too is a former ROH Superstar, it appears he will have no involvement in this ROH Invasion. Bray Wyatt was the other possible choice, but WWE felt that his current gimmick was way too good to switch from, plus he's due for a call-up very soon, possibly before SummerSlam.-

-New Tag Champions were crowned as The Shield claimed its first piece of gold as a group. Creative is said to be VERY high on all three men, seeing each one of them as potential World Champions down the line. They've been in a number of top feuds against top talent and have yet to disappoint. It appears as though the WWE will be putting a strap on Ambrose very soon as well. Or, they've been floating around the idea of the 'Freebird Rule' and allow all three superstars to alternate as Tag Champions.-

-As seen during the Extreme Rules telecast, the WWE is having another Draft Special in two weeks time on Raw. This is a way to even out the rosters for both Raw and SmackDown, as SmackDown has become a larger roster than Raw, plus it has several more proven Stars. They are also talking of bringing back the Brand Split because of all the incoming talent and split up the Pay Per Views, as well. If it were to occur, it would begin, presumably after SummerSlam.-


---
NOTHING WAS THE SAME
Re: WWE 2013 - A New Path
---
For the Draft it is possible we could see The Shield be broken up as a team, because the Draft has been known to separate stable members and or tag team partners, so it is possible Ambrose could be drafted and be separated from Reigns and Rollins or it is possible Reigns could be drafted and separated from Ambrose and Rollins or it is even possible Rollins could be drafted and separated from Reigns and Ambrose

Or it is possible we could see Cena get drafted or even Sheamus or even Punk or even The Rock or even Ziggler, no one is exempt from this draft, no one

An ROH themed PPV in WWE, with WWE vs ROH, I actually kind of like that concept really

As for Kassius Ohno I really want him to keep this supernatural gimmick of his that he has going for him because it is working for him
Re: WWE 2013 - A New Path
---
Monday Night Raw Preview

-The fallout from Extreme Rules is sure to be action packed as CM Punk made his return to the WWE after several weeks of absence and he wasn't alone. His storied past with Vince McMahon added another chapter at the Pay Per View as CM Punk led a group of ROH Superstars into a WWE Arena and ultimately ruined the Main Event of Extreme Rules between The Rock and John Cena. With both CM Punk and Vince McMahon confirmed for this week's Monday Night Raw, there's no doubt that the WWE Universe will get all the answers they've been asking, as will Vince McMahon.-

-Randy Orton and Ted DiBiase went through an all-out war to vie for DiBiase's Money in the Bank briefcase. Both men battled back and forth, seemingly trying to end the other's career with how much hatred and distain they put into their attacks. In the end, however, it was the Fortunate Son who reigned supreme and he will be in attendance to discuss his victory over The Viper in Orton's hometown of St. Louis, Missouri. Will The Viper make an appearance?-

-All this PLUS the in-ring debut of Kassius Ohno, formerly WWE Anonymous, Xavier Woods defends his United States Championship AND members of the Ring of Honor stable compete LIVE on Monday Night Raw!-

Rumored Matches
Xavier Woods vs. The Miz
Kassius Ohno vs. Tensai
Rey Mysterio & Sin Cara vs. World's Greatest Tag Team

---
NOTHING WAS THE SAME
Re: WWE 2013 - A New Path
---
I just want to see DiBiase gloat but now that he has the briefcase he should put both champions on notice by telling them that he can cash it in on them anytime he wants so they better have eyes in the back of their heads because like that their title could be gone should he choose to cash this baby in

But as for Orton I wonder if he is done with DiBiase after this? Because if he is not, then I see them going at it again at Payback

Yes here is hoping Ohno keeps his supernatural gimmick in his very first match against Tensai and Xavier Woods facing The Miz, I can't wait

I wonder if Angle will make an appearance on RAW or if Lesnar will make an appearance
Re: WWE 2013 - A New Path
---
Well I can't wait until the Draft because I will start off by making my predictions right now as to who I see switching shows right now

From Smackdown to RAW

1) Ryback drafted from Smackdown to RAW
2) Randy Orton drafted from Smackdown to RAW
3) Alberto Del Rio drafted from Smackdown to RAW
4) Wade Barrett drafted from Smackdown to RAW
5) Chris Jericho drafted from Smackdown to RAW


From RAW to Smackdown

1) The Miz drafted from RAW to Smackdown
2) Kurt Angle drafted from RAW to Smackdown
3) Rey Mysterio drafted from RAW to Smackdown
4) Ted DiBiase drafted from RAW to Smackdown
5) John Cena drafted from RAW to Smackdown
Re: WWE 2013 - A New Path
---
May 20, 2013

LIVE From Little Rock, AR

------------------------------------------------------------
ALL ON THE LINE
------------------------------------------------------------

Monday Night Raw opened with a video package highlighting the Extreme Rules pay per view. Several still images are shown of all the action that took place just twenty four hours prior. The package focused on some of the marquee attractions from the evening, including the match involving Ted DiBiase and Randy Orton, the revealing of WWE Anonymous and the Steel Cage Match for the World Heavyweight Championship. Ultimately it arrived to the WWE Championship match, pitting two icons against one another in John Cena and The Rock. That's when the video package turned to black and white showing the arrival of a group of superstars brandishing 'ROH' shirts, led by CM Punk. The video package ended with the group of superstars standing tall over both John Cena and The Rock who were laid out. The Raw telecast went to a live feed as the Chairman of the Board, Vince McMahon, was standing inside the squared circle to kick off the show with a very angered look on his face.

Vince McMahon "As all of you just saw CM Punk and his merry little band of misfits decided to make an appearance last night at Extreme Rules and subsequently ruin MY main event. I'm not sure what CM Punk's intentions are, quite frankly I couldn't give a rat's ass, but at the same time I want answers god dammit!"


CULT OF PERSONALITY


The theme music for CM Punk erupted over the P.A System as he slowly made his way through the entrance curtains and out into view to a loud ovation of boo's. He glanced around at the sold out crowd before flashing an arrogant grin as he made his way down the aisle way and into the squared circle. As Punk climbed into the ring, the cameras captured Vince staring coldly at the Chicago native as he came to a stop right in front of him, the two of them staring at one another.

CM Punk "So you want answers? You want to know why I did what I did, why I brought these men…why I recruited these men to join me in invading Extreme Rules and putting our stamp on the Main Event?

Vince McMahon "Don't you patronize me you son of a bitch!"

CM Punk "Let me explain this to you, Vince. Let me explain why I did what I did to you and the entire WWE Universe. You see for years you've had this false sense of what true wrestling is. In your world, the bigger they are the better they must be. That's why some people got jobs here in this company while others, who could wrestle circles around them, were cast aside and looked past because they didn't 'fit the WWE mold'. Well when I finally got my moment here in this company I set out to break that mold and slowly but surely I have done that. I've shown everyone in this company that I am the Best in the World and then the flood gates opened."

Vince's sour and angered expression never left his face as CM Punk strolled back and forth talking.

CM Punk "You started to see the light, Vince. I thought you finally understood what professional wrestling was all about. But, it turns out even CM Punk can be fooled by Vince McMahon. Sure you signed up talent from all over the world but you repackaged them and made them your own. Then you set your sights on me. You just could not stand the fact that the greatest WWE Champion this company had ever seen was…an 'Indy Guy'. So you brought back The Rock to steal my WWE Championship, then you brought back Stone Cold to try and keep me in line on this show, but what you failed to understand is that I follow my own rules. That is why I recruited some of the best wrestlers to join me and last night we ended that abomination that was Rock versus Cena, because we are tired of being overlooked and screwed over by the WWE…"

Vince McMahon "So that's what this is about? You think that you and your buddies have been overlooked. Well, Punk, perhaps the reason your little friends have been overlooked is because…they aren't good enough. Did you ever think of that?"

Now it was Punk's turn to have a look of anger on his face. Both men continued to stare each other right in the eyes, the crowd letting out a loud 'Ohhh' after Vince's comment. Vince waited patiently for a response, Punk slowly pacing back and forth, taking a moment to look out into the crowd, before returning his attention to the Chairman.

CM Punk "That's really funny because they certainly seemed like they belonged last night when they were decimating the two biggest 'stars' this company has to offer. But, that's fine, I'll just simply put it this way…if you think they aren't good enough, than it should be no problem for your precious WWE Superstars to take them down. So how about we do things a little bit differently? As I recall your next pay per view is still undetermined and it is in my hometown of Chicago, how about you and your WWE ways take a step into our backyard? It shouldn't be too hard after all you allowed something similar to occur a few years back with ECW: One Night Stand. Trust me Vince these guys will have no problem proving themselves."

Vince McMahon "You want me to just let you call the shots? You really expect me to just let you come in here and get everything that you want?"

[i]Punk simply nods his head, Vince eyeing him curiously.

Vince McMahon "Tell you what I'm going to do, Punk. I'm actually going to give you what you want. In a few weeks' time the WWE will roll into Chicago, Illinois and we will do your little idea, but only on one condition. Tonight you'll be placed in a match and if you win…well then you got yourself a deal. But if you lose, then every single person who is a part of this little 'invasion' is FIRED!"

The crowd cheers loudly as Vince McMahon belts out the final word before making his way to the ring ropes to exit the squared circle. CM Punk stays behind staring at the Chairman who stops halfway through exiting the ring and turns back to look at CM Punk with a smug grin on his face.

Vince McMahon "Oh and by the way…your match later tonight will be a Gauntlet Match! You go through three WWE Superstars of my choosing then you have yourself a deal."

'No Chance' hit the P.A System as Vince quickly left the squared circle, leaving CM Punk to mull over what had just transpired. Vince took a final glance toward Punk once he reached the entrance way before quickly heading through the curtains and into the backstage area as Raw went to its first commercial break of the evening.


—Commercial Break—


Following the commercial break we see Vince McMahon walking down the hallway before being stopped by both Vickie Guerrero and Stone Cold Steve Austin. Vickie expresses her concerns with what just transpired, telling Vince that she doesn't think it's wise to even give CM Punk the chance to call the shots. Even Stone Cold happens to agree with her, acknowledging that CM Punk is a little weasel who is just looking for the right opportunity. However, Vince reassures both of them that he has the upmost faith in this company, which is why he is making both Vickie and Austin pick the three opponents that will face CM Punk later tonight. Vickie and Austin both could see the almost obsessed look in Vince's eyes, seeing that he will go to any extreme to get over on CM Punk. The Chairman walks away leaving Vickie and Stone Cold to look at one another, Vickie still a bit unsure about the whole idea.

The cameras switched over to a handheld camera as it showed Dean Ambrose, Seth Rollins and Roman Reigns. The three superstars who make up The Shield introduced themselves, Reigns and Rollins holding up their tag titles as Ambrose talked about how this was only the beginning. The three of them have been involved in some of the biggest matches so far in this calendar year and now that Seth and Roman have tag gold, it's only a matter of time before Ambrose claims his first piece of gold as well. The three men then told the entire WWE Universe to be on high alert, because the Hounds of Justice were still out looking for more and nobody was above Justice.

Stone Cold Steve Austin and Vickie Guerrero were hard at work coming up with the three gauntlet opponents for CM Punk, when Raw returned from the commercial break. Vickie was clearly showing the signs of being stressed out, but the two of them were soon interrupted by the WWE Champion, The Rock! The People's Champion looked at both of his General Manager's before telling them that he wasn't here to toss his name into the hat of potential gauntlet opponent's, he was simply here to relay a message to CM Punk, through the GM's. That being that whether or not this little revolution is a success, eventually The Rock will get his hands on Punk and when he does, he will whoop his candyass up and down every block, every street, every avenue of whatever city they so happen to be in. The Rock then tells Austin and Vickie that whether that be tonight or not, is completely up to them, but if they don't pick the right three men to take this guy down, then the entire WWE Universe is going to be put through something it can't even possibly imagine. Both Austin and Rock stare at one another, the Texas Rattlesnake slowly nodding his head, knowing full well the circumstances that came with this decision.

Opening Contest – Singles Match
Antonio Cesaro vs. Yoshi Tatsu
-As if the match result was ever in any doubt here. Yoshi put up a valiant effort but from the second the bell sounded it was all Antonio Cesaro. He showed off his wide variety of technical ability and brute power, tossing Yoshi around like a rag doll and then turning around and planting him onto the canvas and grounding him. During the contest the group of ROH Superstars made their way out from the back and stood there watching as Cesaro continued to dismantle Tatsu. Antonio noticed them and looked their way a couple of times before ultimately finishing Yoshi off with The Neutralizer, rolling him over and getting the three count after the pinfall attempt.-
Winner – Antonio Cesaro

Cesaro climbed up to his feet and celebrated before returning his attention to the ROH Superstars that stood near the entrance way as they slowly began to clap, giving him an ovation. Antonio simply nodded his head as they continue to clap, the commentators still at a loss for words over what was transpiring with this ROH Takeover.


—Commercial Break—


Following the commercial break we see the WWE Diva's Champion, Mickie James, standing there talking with a backstage crew worker before turning around when Kofi Kingston walks up. The two of them share a quick hello, Mickie asking how he's doing after that vicious assault from Kassius Ohno last night at Extreme Rules. Kingston admits that he's still feeling it a bit, but it's nothing he can't handle. Mickie shares her sympathies, telling Kofi that she still gets chills thinking about a few weeks ago when Anonymous 'showed up' after her match. Kingston assured her that nothing would happen to her, Mickie nodding her head and thanking Kingston before informing him that she had to go because her match was coming up, but she was really glad she had someone like Kofi to make sure nothing bad happened to her.

Daniel Bryan was shown next as he sat in his locker room staring at the floor. His eyes slowly shifted up as he followed that by standing to his feet as he stood right next to CM Punk. The crowd booed heavily as Punk crossed his arms, smirking arrogantly as both men stared one another in the eyes. Bryan asked what he wanted, Punk replying that Bryan knew full well why he was here. CM Punk then took a trip down memory lane, telling Bryan that ever since he came into the WWE, he had been looked at as a joke. A bland, boring nobody and even after he became the World Heavyweight Champion, things were still the same. Punk continued to try and recruit Bryan back to the ROH side, telling him that he deserved so much more than what he was given. That's when Daniel stopped him and informed Punk that he didn't want to be given anything, he was going to earn everything in this company…the right way. Punk's smirk faded as he just shook his head, telling Bryan that it was an unfortunate decision he had come to because he could've been great, now he'll just become another victim of the revolution.

Match Two – Nontitle Singles Match
Alicia Fox vs. Mickie James
-The diva's squared off in the middle of the ring, Alicia Fox taking the quick upper hand, as she looked to set her sights on a potential Diva's Championship match for the future with a victory. She used her rather unorthodox style to keep the Champion at bay with a serious of stiff kicks, before tugging at Mickie's hair to get some cheap boo's from the crowd. Mickie eventually managed to fight her way back into the contest and took the fight to her opponent. While the two of them fought back and forth, it was the Champion who came out victorious, spiking Alicia Fox off the canvas with a Tornado DDT before making the cover and getting the three!-
Winner – Mickie James

Almost as soon as the bell sounded the eerie theme 'Nightmare' hit the P.A System as Mickie James once again looked around in sheer horror. The theme music continued to play as Kofi Kingston quickly hit the ring, both he and Mickie looking around as Kingston protected her. They both turned to look toward the staging area as the TitanTron lit up, Kassius Ohno appearing fully decked out in the WWE Anonymous attire. He slowly took it off to reveal himself, before introducing himself to the WWE Universe and informed Kofi that he need not worry because he wasn't after poor little Mickie James. But, Kassius knew who was behind it and told both Kofi and Mickie that SHE had a message for the WWE Diva's Champion. The camera slowly panned out to reveal another person with the 'Anonymous' mask, but who clearly was more slender and smaller. Kofi and Mickie looked on in confusion as she took off the mask, revealing herself to be none other than…Paige! Both Kassius and Paige smirked, Paige telling Mickie that she better enjoy her final days as Champion, because it was only a matter of time before that title wasn't hers anymore. The TitanTron shut off, Kofi turning his attention towards Mickie to make sure she was alright as the cameras headed to commercial.


—Commercial Break—


Monday Night Raw returned from the commercial break and once again was showing the General Manager's office as Vickie and Stone Cold made their final preparations, or so it would seem. Just then, John Cena walked into view of the cameras and the GM's, staring coldly in their direction. Before either one of them could say anything, Cena cut them off telling them that last night CM Punk and his band of thugs stole Cena's opportunity to recapture the WWE Championship. John said that he didn't know who Austin or Vickie were thinking of for this Gauntlet Match, but if anyone deserved to be at the front of the line…it was John Cena. His dream of being one of the three men, however, was soon dashed as Stone Cold informed him that they had already made up their minds and while Cena did have a legitimate gripe and bone to pick with CM Punk, they both felt he could take out that anger and frustration on…others. When John asked what he meant, Vickie announced that they had decided to place John Cena in a tag team match against Kevin Steen and El Generico. When he asked who his partner was, Austin turned and simply said…Daniel Bryan. The crowd erupted at the announcement, Cena, while not being too thrilled with the whole idea, nodded his head and slowly exited the GM's office.

Match Three – Tag Team Match – Normal Tag
Rey Mysterio & Sin Cara vs. World's Greatest Tag Team
-The return of the World's Greatest Tag Team saw them go head to head with the high flying duo of Sin Cara and Rey Mysterio. The two masked superstars were the ones on the offensive at the start of the contest, sending both Haas and Benjamin to the outside on several different occasions to regroup. Shelton managed to gain the advantage for his team, grounding Sin Cara as the World's Greatest Tag Team swung the contest in their favor. The crowd rallied behind Cara as he was constantly beaten down by both Haas and Benjamin, who were kept tagging in and out to keep the fresher man in. Sin Cara finally managed to make the tag to his partner, Mysterio coming in and cleaning house of both men as he landed an assortment of high flying, acrobatic moves to amaze the sold out crowd. From there, neither team managed to sustain much of an attack for an extended period, each time giving up the advantage in some sort of fashion. The ending saw Mysterio land a huge springboard moonsault onto Haas on the outside, before seeing Shelton catch Sin Cara when he attempted a move and land the Exploder Suplex! Shelton quickly covered Cara and picked up the victory for his team.-
Winners – World's Greatest Tag Team

The commentary team took a quick look back at the beginning of the show, where an almost obsessed Vince McMahon gave into CM Punk's demands, to an extent. He put Punk in a 3 on 1 Gauntlet Match for control over the upcoming pay per view, the commentary team not liking the idea of CM Punk, potentially, having control.


—Extreme Rules Pay Per View Replay Video—


Match Four – Singles Match
Kassius Ohno vs. Tensai
-The debut of Kassius Ohno couldn't have gone any better as he got to show off some of his skillset for the sold out crowd and do so against a large challenger, which further emphasized his impressive strength and wrestling ability. He toyed with Tensai all throughout the contest, not allowing him any offense whatsoever and could've ended the match whenever he saw fit. He landed several impressive moves including a Bicycle Kick, Two Handed Chokeslam as well as an assortment of Spinning Forearms/Elbows. But ultimately he finished Tensai off with the Hero's Welcome and getting the three count.-
Winner – Kassius Ohno

Matt Striker stood backstage with CM Punk, El Generico, Kevin Steen, Rhino and others from the ROH Stable and asked what exactly they were trying to accomplish with this invasion. Punk said it was quite simple, because for too long guys like the ones in that room were overlooked by Vince McMahon and the WWE, so this was their way of showing that this is the true definition of professional wrestling. Striker turned his attention to Generico and Steen, asking them about their tag team match later tonight and Steen told Matt that last night at Extreme Rules they announced themselves to the world and tonight, after they beat John Cena and Daniel Bryan, everyone would understand that they belonged all along.


—Commercial Break—


In the backstage area, Mr. Money in the Bank, Ted DiBiase, is standing by with Josh Matthews. He was asked about his grueling contest with Randy Orton just twenty four hours ago, to which Ted DiBiase simply described as the moment. It was the moment where the entire WWE Universe took notice of just how good The Fortunate Son truly is. Not only did he beat Randy Orton, but he choked him out cold, made it to where he couldn't even walk out of his hometown on his own two feet. Matthews asked if DiBiase thought that this would be the last he saw of Orton, Ted stating that he was asking the wrong question. The better question was, does Randy Orton even want to come back after him? DiBiase certainly didn't think so and the interview ended with Ted flashing an arrogant smirk.

Match Four – United States Championship – Singles Match
Xavier Woods© vs. The Miz
-The two men locked up in the middle of the ring once the bell sounded, The Miz taking control as the chess match began between the two superstars. The Miz used his experience to ground the younger Woods, not allowing him any space to get into a rhythm in the early going. But everyone knew that would only last for so long as Xavier soon was the one on the offensive, showing off his aerial game as well as his technical side. The Miz didn't know what to think or do as Woods was running rampant around the squared circle, an endless motor. But, just when the match was beginning to pick up the pace a couple of ROH Superstars quickly hit the ring and proceeded to assault The Miz and Xavier Woods, causing the referee to call for the bell.-
No Contest

It was El Generico, Rhino and Kevin Steen who hit the squared circle and were beating down Woods and Miz. As the crowd showed their displeasure Kevin Steen quickly picked Miz up to his feet before setting him up and spiking him down with a Package Piledriver! The Miz was quickly dumped to the outside which left Xavier Woods all alone in the ring with these three men who were behaving like rabid dogs. The United States Champion was tossed into a corner before being nailed with the Ole Kick by Generico, before being finished off with a Gore from Rhino! The cameras showed off the damage that had been done by the three men, who stood tall in the middle of the ring as the cameras cut to the backstage area.

John Cena and Daniel Bryan were shown walking down the corridor talking to each other, their tag team contest against Kevin Steen and El Generico coming up after the commercial break.


—Commercial Break—


With Kevin Steen and El Generico already inside the squared circle, the commentary team took a few moments to discuss what all had transpired so far in the evening. They were still a bit shocked by everything that had happened, especially the announcement that CM Punk was fighting for control of the next pay per view, or the job security of every member of his ROH Stable.

Match Five – Tag Team Match – Normal Tag
El Generico & Kevin Steen vs. Daniel Bryan & John Cena
-John Cena came out with a point to prove as he backed Generico up into the corner to start the match and proceeded to blast him with multiple rights and lefts. It caused a quick tag to Steen but he suffered more of the same as Cena quickly cleaned house of both men, before firing up the sold out crowd who were on their feet cheering. Once back inside the ring, Kevin Steen couldn't seem to get away from Cena, who was showing a relentless aggression before tagging in Daniel Bryan who produced even more aggression, to the absolute delight of the crowd. Finally it was Generico who managed to get the upper hand for his team when he avoided a running dropkick from Bryan, before landing a huge kick to his temple! Cena looked on anxiously as the two ROH Stable members showed off their wrestling skills, being former tag partners as it were and tagged in and out as they beat down Daniel Bryan. The crowd cheered loudly trying to get Bryan back into the contest and after several failed attempts, he finally made the tag to Cena who bolted back into the squared circle and once more began to clean house. He delivered suplexes to both men, following that up with hip tosses before clotheslining Generico to the outside floor and returning his attention to Steen. When he missed an attempted clothesline, Cena nailed a spinning back suplex before capping it off with the Five Knuckle Shuffle! Bryan was reaching out for a tag, wanting back into the contest, but Cena shrugged him off, lifting Steen up for an Attitude Adjustment, but quickly dropping him and tossing Generico over the top rope when he entered the ring to break up the hold. Once Cena returned to Steen, he was met with a Superkick for his troubles! Near fall after near fall happened between both teams, Bryan growing increasingly frustrated over time when Cena refused to make the tag, having to force himself into the contest on different occasions. The team seemed to be dissolving before everyone's eyes, Bryan going on a tremendous roll which brought a loud pop from the crowd, only to have Cena tag himself back in to get his hands on the men who he feels cost him the WWE Title. Now Bryan and Cena were arguing amongst one another, the distraction allowing Steen to charge forward and pushed Cena straight into Bryan, knocking him to the outside and Steen rolling up Cena to get the three count and the upset victory!-
Winners – El Generico & Kevin Steen

John Cena rolled over in shock as the bell sounded, not believing that he was beaten. However, before he could do anything, he was quickly mobbed by both men who began to viciously assault him in the middle of the ring. The assault didn't last long as Daniel Bryan quickly entered the ring, steel chair in hand as he forced the two men to flee the squared circle. He was met with a loud ovation of cheers as he stared angrily in Steen and Generico's direction, but once John Cena made it up to his feet Bryan violently swung the chair around and cracked it off Cena's skull! The ovation turned sour and Daniel Bryan stared down at an unconscious John Cena as he was booed heavily for his actions. Nobody knew what to make of the scene, Bryan merely tossing the chair down to the canvas as Monday Night Raw went to a commercial break.


—Commercial Break—


Back from the commercial break and Josh Matthews gets a quick word with Vince McMahon regarding the upcoming Main Event. Vince tells Josh that while he has full confidence in Vickie and Steve to get the job done, if somehow CM Punk walks out of Monday Night Raw with control, then there is going to be hell to pay.

Main Event – Three Superstar Gauntlet – Singles Match
CM Punk vs. Three WWE Superstars
-The Straight Edge Superstar stood inside the squared circle, patiently waiting for his first challenger when Just Close Your Eyes hit the P.A System and out walked Christian. Once inside the ring the two men locked up and proceeded to transition one another from headlocks to arm locks and everything in between. Neither man could gain any momentum from the beginning, Christian making things extremely difficult on Punk. It was Punk who gained the upper hand, trying to end the contest quickly with several quick pinfalls that only resulted in quick two counts, Captain Charisma doing a very good job of dragging the contest along. Then it was Christian's turn on the attack, using the crowd's cheers as fuel to knock Punk down many different times, landing back body drops, dropkicks, swinging neckbreakers and other things. Even Christian managed to score a couple of close falls and soon he countered an attempted GTS by Punk and quickly hooked him for the Killswi-NO Punk Countered. Punk pushed Christian into the ropes before sending a kick straight into his temple and then lifting him into the Fireman's Carry and delivering the GTS! Punk quickly dropped down and locked in the Anaconda Vice and Christian was forced to submit a few moments later!-
Winner of Round One – CM Punk

-Christian was helped out of the ring by the official as Punk stumbled up to his feet and waited for his next challenger. He was already breathing heavily and grimacing, having been through quite a little battle with Captain Charisma. Break The Walls Down hit next, Punk shaking his head as Y2J came strolling out from the back. Jericho took a different approach once he arrived inside the ring as he quickly booted Punk in the midsection to go on the offensive. Y2J blasted Punk multiple kicks, right hands and violent chops before taking him down to the mat and wearing him down with multiple submission holds. The leader of the ROH Stable was on his heels, but capitalized on a mistake by Jericho and now it was his turn to show what he could do. He matched Y2J by blasting him with several kicks to his sternum and finished him off with one quick one to his temple. Punk made the quick cover, but only gained a near fall. The technical displays continued as CM Punk took his time in dissecting Chris Jericho, giving himself time to catch his breath in the process of synching in a wide assortment of submission holds. The two superstars managed to show off everything from a Body Scissors to a Surfboard Chinlock and at one point Punk even countered Jericho and quickly synched in the Walls of Jericho! Y2J scrambled across the mat and ultimately made it to the ropes to break the hold, before sliding off Punk's shoulders when he went for a GTS before landing a Codebreaker! Y2J slowly covered Punk; One…Two…Thre-NO Kick Out! The crowd groaned at the very close near fall, Jericho clutching at his head in frustration as he pulled Punk back to his feet. But almost in a flash CM Punk had lifted Jericho up and landed a sudden GTS seemingly out of nowhere! It was Punk who slowly crawled over to cover Y2J; One…Two…Thre-KICK OUT! Now it was Punk's turn to roll over in utter shock at Y2J kicking out. He sat on his knees staring angrily towards Jericho before slowly motioning to the crowd that he was going to put Jericho to sleep once again. Punk dragged him up to a vertical base and lifted him into the Fireman's Carry before shooting him off and delivering another GT-NO JERICHO BLOCKED IT! Y2J quickly tripped Punk down to the canvas, looking for the Walls of Jericho, but instead it was Punk who reached up and managed to flip Jericho over into a roll up, hooking a handful of tights; One…Two…Three!-
Winner of Round Two – CM Punk

-The crowd booed heavily as Jericho argued and pleaded his case with the WWE Official, but to no avail as CM Punk sat on his knees laughing. As he waited he showed clear signs of fatigue, wiping his mouth and forehead as he continued to laugh and grin at the job he had done thus far. But his grin quickly turned to horror as the third superstar revealed himself IF YA SMELL…WHAT THE ROCK…IS COOKIN! The roof nearly exploded off the building as the WWE Champion came sprinting out of the backstage area, making a beeline toward the squared circle. He slid into the ring underneath the bottom rope and Punk was there to meet him when he got up to his feet, but The Rock proceeded to blast Punk with multiple right hands, sending him stumbling backward. Rock stepped back; spit into his hand but when he came back forward Punk met him with a vicious kick straight into his temple! He made a quick pinfall attempt, but only gained a quick two count, Punk immediately rolling over and hooking Rock in a headlock with body scissors. The Champion wouldn't be kept down for long as he battled his way back and capped it off with a huge Samoan Drop onto Punk before getting his own somewhat lengthy spurt of offense in. While Punk had already been through two matches, he still put up a valiant effort, not backing down as The Rock continued to pelt him with his signature right hands before planting him on the canvas with some sort of move, whether it be a Spinebuster, Suplex, Samoan Drop, Flying Lariat, anything Rock could think of he delivered to Punk, who continued to frustrate the Champion by constantly getting a shoulder up when he went for the pin attempt. Both superstars took a lengthy breather when they both landed a double clothesline and as they stumbled up to their feet went through the trading right hands routine, before seeing Rock duck an attempted kick by Punk and plant him with a Spinebuster! A thunderous ovation came from the crowd as The Rock set up for and quickly delivered The People's Elbow! He rolled over and covered Punk; One…Two…Thre-KICK OUT! The Rock didn't take too much time sulking, he just simply got back up and positioned himself behind a struggling CM Punk, looking for the Rock Bottom. However, right before Punk got up to his feet The Rock's attention was swayed as Rhino hit the ringside area climbing up onto the ring apron. Both The Rock and the official turned their attention towards Rhino as Nigel McGuinness was shown on the other side sliding the WWE Championship into the ring, Punk grabbing onto it. The Rock turned his attention back towards Punk as the referee continued to deal with Rhino, Punk quickly swinging and smashing the WWE Title off the skull of The Brahma Bull! He dropped down and covered Rock, Rhino quickly dropping off the apron and the official turning back and dropping to make the count; One…Two…THREE!-
Winner of Round Three – CM Punk

'Cult of Personality' re-hit the P.A System as CM Punk sat on his knees once more, his arm raised in victory. The Straight Edge Superstar looked utterly exhausted but he was slowly helped to his feet by both McGuinness and Rhino, the commentators throwing a fit at CM Punk cheating to win two of the three Gauntlet Matches. The crowd was booing like crazy as CM Punk once again flashed an arrogant smirk, the commentators questioning what was going to happen now that CM Punk and his ROH Stable were in control as Monday Night Raw faded off the air.

I struggled writing this, just seemed so rusty for some odd reason. Either way, enjoy!

---
NOTHING WAS THE SAME
Re: WWE 2013 - A New Path
---
Monday Night Raw News & Notes

-With CM Punk's Gauntlet Match victory look for the upcoming WWE Pay Per View to brandish an ROH Name, or have an ROH feel to it. Much like ECW: One Night Stand, the WWE is looking to host this pay per view in a smaller venue with a rabid fan base. It will be interesting to see how things are portrayed that evening, considering the WWE Superstars will be playing the parts of the heels, much like they did on ONS. While it's still unknown what the full card will be, look for CM Punk vs. The Rock to headline the show. As for the other contests, the WWE is still trying to work out whether they want all ROH vs. WWE Matches, or perhaps just a couple of showcase matches.-

-Kassius Ohno's first WWE Feud looks like it's set to be with Kofi Kingston and the WWE feels like this is the right guy for the job, no pun intended. They feel Kofi is a credible enough challenger and will propel Ohno to an even bigger feud following their program.-

-Other the past couple of months the WWE has debuted and reintroduced a lot of superstars to the WWE Universe and that trend will continue all the way up until around SummerSlam. Everyone is eagerly anticipating the debut of Paige from NXT, who made her first appearance on television on Raw, announcing herself as the next challenger for the Diva's Title. Look for The Wyatt Family to start getting their own vignettes soon with a debut sometime around KOTR or SummerSlam.-

-The WWE was rocked by the sudden retirement from The Big Show, who felt it was time to hang up his boots and give his roster spot up to an up and coming talent. Also in the news, Kurt Angle has decided he no longer wants to be a full-time wrestler in the WWE. Although the company is saddened by the news, the two have discussed, and Angle has accepted, the idea of Kurt becoming a trainer in NXT. The WWE feels that he could work wonders in the developmental territory and Angle feels the same.-

-With the WWE Draft coming up in a week, the WWE has begun it's annual cleaning of the Rosters. While a few have been released, several superstars have been sent down to NXT. They include: [i]Brad Maddox, Derrick Bateman, Hunico & Jinder Mahal. WWE has come to terms with the release of Curt Hawkins.-


---
NOTHING WAS THE SAME
Posting Rules

You may not post new threads

You may not post replies

You may not post attachments

You may not edit your posts

---

HTML code is Off

---