The Wrestling Wars
---
January 1st, 2013

A camera is on, inside an old weatherboard house, where we see a sad looking, distraught man, in an all black suit that would have been in fashion ten years ago. The man has short grey hair, and his stubble is all over the place, looking almost as though heís given up on taking care of himself. In the background we can see some shelves filled with aging canned food. Upon a proper look around, it is noticeable that the man is actually sitting in a bomb shelter. The man gets up, and ducks out of screen shot for a second, presumably checking to see if the camera is actually switched on, before he sits back on his stiff stool.

???: 2012? The end of the world? Whether it was the Arabs, whether it was the Christians, whether it was global warming, the world was supposed to end. Has it actually ended? I couldnít tell you. My wife and kids all I thought I was nuts, but I decided to hide out in my bomb shelter just south of Carolina.

The fact that Iím still here makes me think the world hasnít ended, but Iím not going to pop my head out just in case. For all I know I could pop my head out and Satan himself could be standing around, waiting for me with his pitch fork, because god knows, Iíve committed a few sins throughout my time.

I donít want anybody, if anybody is actually out there, to get the wrong idea. Iím not afraid of anything, but before I deal with the demons outside, I need to deal with the demons that infiltrate my head every single day of my life.

Because you see, my world, my REAL world ended a long time ago. My world ended on the day that the REAL Satan, Vincent Kennedy McMahon purchased World Championship Wrestling.

For those of you who donít know, Vince McMahon is the owner of the World Wrestling Entertainment, formerly known as the World Wrestling Federation. And as far as heís concerned, he would love everybody to believe that the WWE has been the dominant force in all of sports entertainment for over fifty years... But do you know what that is? Itís BULLSHIT!

WCW was the premiere wrestling company for a long time, and I consider myself to be a huge part of that. For one reason or another, eventually WCW fell apart and lead to all of our programming being dropped from the AOL-Time Warner network. I tried and tried and TRIED to muster up the money to purchase WCW and keep it running myself, but it just didnít happen. Instead Vince McMahon purchased WCW, and within months he shitted all over the legacy that I helped build.

Hell, who cares about me? Vince McMahon shitted on every great wrestler who ever wrestled under the NWA/WCW banner...

And since then, whatís really happened? The WWE and Vince McMahon have gotten lazy, because they donít have any REAL competition. The wrestling talent put on the same old matches every week, the storylines are no longer enthralling and entertaining, the professional wrestling industry has become a joke, and it kills me inside that little bit more each day.

So I donít want to leave my little shelter here and see whatís happening in the real world. I want to stay in here and live inside my head, because thereís something I need to do, just to prove I could have done it. As of now, Iím going to give everybody a play by play of what would have happened had I been able to purchase WCW... Because WCW would have overcome the WWE once again.

Fuck the industry as it is today, fuck the WWE, fuck TNA, and fuck the Indies... Iím Eric Bischoff... and this is how things should have gone...

A damn near maniacal Eric Bischoff just stares into the camera for awhile, before he slowly, almost robotically, gets to his feet, and switches off the camera.
---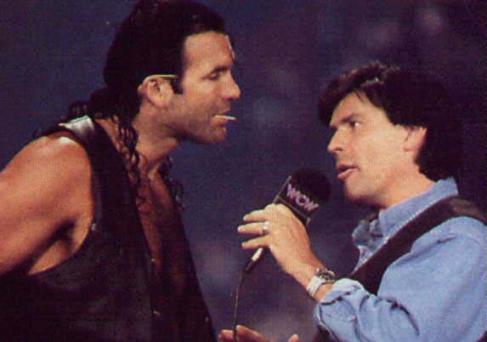 Re: The Wrestling Wars
---
Well this is rather unexpected.
Nice read and should certainly be interesting, stick with it.
Tag Teaming With James Ellsworth
Join Date: Oct 2007
Posts: 1,576
Points: 452
That's a pretty awesome intro
---
The IWC Folks
Be sure to check out -
TNA THE NEW AGE BTB
Asking JAMES ELLSWORTH for Wrestling Advice
Join Date: Apr 2011
Location: Glasgow, Scotland
Posts: 466
Points: 0
Re: The Wrestling Wars
---
Nice start, looking forward to seeing what happens next.
Re: The Wrestling Wars
---
WORLD CHAMPIONSHIP WRESTLING IN BUSINESS WITH FOX
After being booted from the Turner Networks, it really did seem like the world renowned World Championship Wrestling would finally die, however this is not the case. A man who has bled WCW through the entire Monday Night Wars is Eric Bischoff, and along with his financial backing from Fusient Media, he believed he could purchase the company. Unfortunately with no television deal, Fusient Media werenít as enthusiastic about putting millions of dollars on the line. Bischoff had contacted numerous networks and absolutely negotiated his ass off, and finally, Fox agreed to give Bischoff and WCW a two hour time slot on FX.
ERIC BISCHOFF PURCHASES WCW
With the news of a television deal being secured, Fusient Media were back on board. With Fusient Media back on board, the wrestling business changed forever, as Eric Bischoff was able to purchase World Championship Wrestling. Bischoff has promised to the world that he will slowly rebuild the wrestling company that he loves to a state that he can be proud of. The owner of WCWís elite competition, World Wrestling Federation Chairman Vince McMahon could not be reached for comment. A WWE Executive said that the WWF were disappointed they couldnít acquire WCW, however they were not worried by WCW trying to make a comeback. They feel their product heading towards WrestleMania X-Seven is better than anything anybody could put forward.
TURNER NETWORK DECIDES TO GIVE A PROPER FAREWELL
With Eric Bischoff now in full control of World Championship Wrestling, everybody was curious as to just when they would be kicked off the Turner Network. The Network basically kicked WCW off of television immediately; however they named a date for the farewell show. The date was March 26th, 2001. WCW began hyping the farewell show as a ďNight of ChampionsĒ, with all championships being on the line, hoping the company could impress fans with one last bang before they were off of television for awhile. Just when they would be back on television had yet to be determined, but Bischoff remained strong on his word that things would look up for WCW again.
---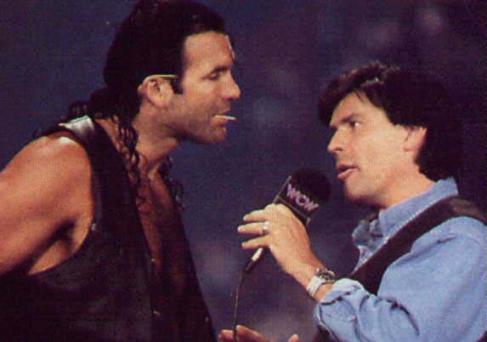 Re: The Wrestling Wars
---
You know I've always enjoyed you're work and was a huge fan of your other thread, but this one looks to be off to a great start.

Not much to discuss and comment on so far, but can't wait to see what sort of roster you'll pull out and if you grab some defunct a from wwe or tna as well.

Best of luck, I'll be keeping an eye on this one.
Re: The Wrestling Wars
---
Welp. Look who it is!
Off to a hot start I've got to say. Hopefully this is a good project for you.
Best of luck bro.
---
---
Last edited by JBLoser; 01-05-2013 at

04:45 AM

.
Re: The Wrestling Wars
---
Good first entry. Your writing is very underrated as well, going off your last thread, it's obvious you can keep a thread around. Hoping to see this blossom over the next few months and can see it quickly becoming my favourite in this section, since I am a sucker for the WCW stuff.
Re: The Wrestling Wars
---
WCW Monday Nitro
ĎNight Of Championsí
Panama City, Florida
March 26, 2001

In a title against title match, we saw the WCW World Champion Scott Steiner go up against the WCW US Champion Booker T. This rivalry had seemingly been all about the build of Booker T into a main eventer, and it continued here, as he landed The Bookend and got the three count, becoming both the WCW World and US Champion.

A lot of fans called this one match of the night, as three hungry teams battled it out for the right to be named number one contenders for the WCW Cruiserweight Tag Team Titles. All teams left everything in the ring, but thanks to Rey Mysterio Jr. taking care of Shannon Moore, The Filthy Animals defeated 3 Count and the Jung Dragons.

ĎSugarí Shane Helms defeated Chavo Guerrero for the WCW Cruiserweight Championship in what was another great match. As usual, the Cruiserweight matches continued to be a highlight of the show.

A division that genuinely seemed to be trying to push some youngsters towards the demise of WCW was the tag team division. That continued here, as the champions, Sean OíHaire and Chuck Palumbo retained their gold by defeating the much more experienced Team Canada, consisting of Lance Storm and Mike Awesome.

Terrible stipulation, terrible everything. In what was an embarrassing tattoo match, Shawn Stasiak was able to defeat Bam Bam Bigelow. This is a match everybody ever associated with WCW would want to forget.

The WCW Cruiserweight Tag Team Championships were then on the line, as the Filthy Animals, consisting of Mysterio and Billy Kidman did double duty. The two have to be the MVPís of the night, as not only did they put on another watchable match, but they defeated Elix Skipper and Kid Romeo to become the champions.

There was no better way to end an era in WCW then to see Ric Flair against Sting. These two guys have been WCW mainstays, and have never wavered for anything. Despite the hatred and competitive rivalry between the two, thereís also a respect there. Both men love the company they worked for and respect that about the other. The two put on a typical Flair/Sting match, and Sting is able to pick up the win. The final vision before WCW left the Turner Network forever was of Sting and Ric Flair, shaking hands, perhaps showing an end to their feud as well.


WCW TO SHUT DOWN
Eric Bischoff held a press conference immediately after the final episode of Nitro to announce that WCW would shut down for the next month. They had financial issues to work out, as well as staff and talent relations issues. It was announced that WCW would return on the FX Network on May 6, 2001, and until then, they would keep everybody updated with news on their website.
---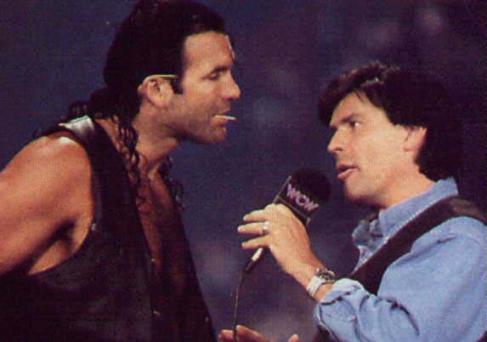 Posting Rules

You may not post new threads

You may not post replies

You may not post attachments

You may not edit your posts

---

HTML code is Off

---