Re: The Wrestling Wars
---
Meanwhile, on the World Wrestling Federation side of things, they had a tremendous build to the greatest WrestleMania of all time, WrestleMania X-Seven...

WWF Royal Rumble
New Orleans, Louisiana
January 21, 2001

The Dudley Boyz defeated Edge and Christian to win the WWF Tag Team Championships.

Chris Jericho defeated Chris Benoit in a ladder match to win the WWF Intercontinental Championship.

Ivory defeated Chyna to retain the WWF Women's Championship.

Kurt Angle defeated Triple H to retain the WWF Championship.

Stone Cold Steve Austin won the 30 man Royal Rumble.

WWF No Way Out
Las Vegas, Nevada
February 25, 2001

The Big Show defeated Raven to win the WWF Hardcore Championship.

Chris Jericho defeated Chris Benoit, Eddie Guerrero and X Pac to retain the WWF Intercontinental Championship.

Stephanie McMahon Helmsley defeated Trish Stratus.

Triple H defeated Stone Cold Steve Austin in a Three Stages of Hell match.

Steven Richards defeated Jerry Lawler.

The Dudley Boyz defeated Edge and Christian and The Brothers of Destruction in a tables match to retain the WWF Tag Team Championships.

The Rock defeated Kurt Angle to win the WWF Championship.

WWF WrestleMania X-Seven
Houston, Texas
April 1, 2001

Chris Jericho defeated William Regal to retain the WWF Intercontinental Championship.

Tazz and The APA defeated The Right to Censor.

Kane defeated Raven and The Big Show to win the WWF Hardcore Championship.

Eddie Guerrero defeated Test to win the WWF European Championship.

Kurt Angle defeated Chris Benoit.

Chyna defeated Ivory to win the WWF Women's Championship.

Shane McMahon defeated Vince McMahon in a Street Fight with Mick Foley as the referee.

Edge and Christian defeated The Dudley Boyz and The Hardy Boyz in a TLC match to win the WWF Tag Team Championships.

The Undertaker defeated Triple H.

Stone Cold Steve Austin defeated The Rock to win the WWF Championship.


WWF FUTURE PLANS RUINED
As great as the WWF's past three months have been, culminating in the extravaganza that was WrestleMania X-Seven, things are not as peaceful as they seem. The owner of the WWF, Vince McMahon had all his eggs in an Invasion storyline basket for the rest of the year, however with Eric Bischoff now purchasing World Championship Wrestling, McMahon's plans are scrapped. The WWF are now going to have to build some new plans to capitalise on their current momentum, and they must do it quickly.
THE ROCK GOING TO HOLLYWOOD
It is being reported that following his WWF Champion loss to Stone Cold at WrestleMania, The Rock will not be on WWF television for the foreseeable future. The Rock is looking to further branch out as an actor, and he's landed a starring role in The Scorpion King. Nobody is sure how long The Rock will be away from the WWF for, but he's definitely going to be somebody the WWF can't just replace.
---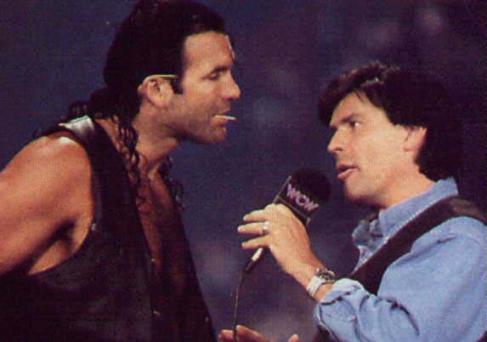 Re: The Wrestling Wars
---
not much to comment on with this post, pretty standard stuff but I could see you slowly taking superstars and signing them to your new WCW company. Guys like Guerrero or Benoit who not long after Wrestlemania left due to injury and other reasons and missed the whole Invasion can be signed.

Keep up the good work. I'll be reading.
Re: The Wrestling Wars
---
To avoid confusion, I should probably make it clear that I'll be booking both companies in this thread.


WWF Roster

Black = Face
Red = Heel

Roster!
Albert
Al Snow
Billy Gunn
Bradshaw
Bubba Ray Dudley
Bull Buchanan
Chris Benoit
Chris Jericho
Christian
Crash Holly
Dean Malenko
D'Lo Brown
D'Von Dudley
Eddie Guerrero
Edge
Faarooq
Funaki
Grandmaster Sexay
Hardcore Holly
Jeff Hardy
Jerry Lynn
Justin Credible
Kane
K'Kwik
Kurt Angle
Matt Hardy
Perry Saturn
Raven
Rikishi
Rhyno
Scotty 2 Hotty
Spike Dudley
Steve Blackman
Steven Richards
Stone Cold Steve Austin
Taka Michinoku
Tazz
Test
The Big Show
The Goodfather
The Rock
The Undertaker
Triple H
Val Venis
William Regal
X Pac

Chyna
Ivory
Jacqueline
Lita
Molly Holly
Terri
Trish Stratus

List Of Champions!
WWF Champion – Stone Cold Steve Austin
WWF Intercontinental Champion – Chris Jericho
WWF European Champion – Eddie Guerrero
WWF Tag Team Champions – Edge and Christian
WWF Hardcore Champion – Kane
WWF Women's Champion – Chyna

Other On Air Talent!
Jim Ross – Play by Play Commentator (RAW is WAR)
Paul Heyman – Colour Commentator (RAW is WAR)
Michael Cole – Play by Play Commentator (Smackdown)
Tazz – Colour Commentator (Smackdown)
Howard Finkel – Ring Announcer (Pay Per Views)
Lilian Garcia – Ring Announcer/Backstage Interviewer (RAW is WAR/Smackdown)
Tony Chimel – Ring Announcer (Smackdown)
William Regal – Commissioner
Jonathan Coachman – Backstage Interviewer
Kevin Kelly – Backstage Interviewer

Tag Teams And Stables!
Edge and Christian
Kaientai (Taka Michinoku and Funaki)
RECK (Edge, Christian, Kurt Angle and Rhyno)
Team Xtreme (Matt Hardy, Jeff Hardy and Lita)
The A.P.A. (Bradshaw and Faarooq)
The Brothers Of Destruction (The Undertaker and Kane)
The Dudley Boyz (Bubba Ray Dudley, D'Von Dudley and Spike Dudley)
The Hardy Boyz (Matt Hardy and Jeff Hardy)
The Holly's (Crash Holly, Hardcore Holly and Molly Holly)
The Radicalz (Eddie Guerrero, Perry Saturn and Dean Malenko)
The Right To Censor (Steven Richards, The Goodfather, Bull Buchanan, Val Venis and Ivory)
Too Cool (Grandmaster Sexay and Scotty 2 Hotty)
X Factor (X Pac, Justin Credible and Albert)

Pay Per View Schedule!
Backlash – April 29th, 2001 – Rosemont, Illinois – Allstate Arena
Judgment Day – May 20th, 2001 – Sacramento, California – ARCO Arena
King of the Ring – June 24th, 2001 – East Rutherford, New Jersey – Continental Airlines Arena
Fully Loaded – July 22nd, 2001 – Cleveland, Ohio – Gund Arena
Summerslam – August 19th, 2001 – San Jose, California – Compaq Center
Unforgiven – September 23rd, 2001 – Pittsburgh, Pennsylvania – Mellon Arena
No Mercy – October 21st, 2001 – St. Louis, Missouri – Savvis Center
Survivor Series – November 8th, 2001 – Greensboro, North Carolina – Greensboro Coliseum
Vengeance – December 9th, 2001 – San Diego, California – San Diego Sports Arena
---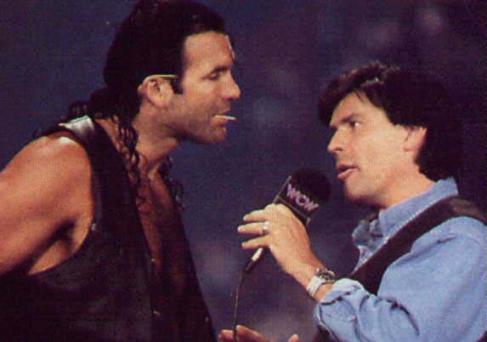 Finally Out of Cutey Sleep
Join Date: Jul 2006
Location: The Fountain of Dreams
Posts: 2,020
Points: 9
Re: The Wrestling Wars
---
I'm totally digging the double-headed booking of both companies. The potential in doing that seems off the charts.
Oh, and I miss your grumpy face. I would welcome you back and ask for you to please make this one stick, but that seems to be bad luck. So I hope you mess this up. Real bad
...but welcome back and make this one stick
---
CUTENESS˛
AOW: Art of War Wrestling - The Greatest Affair
It's Baaaaack...
.:Oblivion Edition 39/40 Recap NOW POSTED!!:.
Re: The Wrestling Wars
---
Well fuck me.
This is an interesting turn, considering you insisted a zillion times that you were going to stick to 2004 because it was "the one." I don't know whether or not you're doing this as a way of getting yourself back into the swing of things and then planning to jump back to that, but either way, I'm past the days of caring whether or not someone sticks to a thread (with the exception being Wolf Beast, obviously). As long as it's something I like, I'll read.
This looks like an interesting concept and I have every faith in that you'll make it work. Good luck.
Spoiler for open and see:
Re: The Wrestling Wars
---
WCW LOSES BIG STARS
Eric Bischoff recently held a meeting with the entire locker room of World Championship Wrestling talent. Bischoff confirmed that he had purchased the company, and that things in WCW were going to be different this time round. This time round was going to be all about building and making new young stars, with just enough help from the more established guys to keep things interesting. Everybody needed to trust Bischoff, although almost everybody would have to take a pay cut. The company could simply not afford to leak money this early on in their rebuilding stage. Several wrestlers were happy to stay on with WCW, whilst several decided to sit out their Turner-AOL contracts and get a huge payout. The three names that WCW is said to be most disappointed with not being able to retain, are surprisingly, three of Bischoff's close friends, Hulk Hogan, Kevin Nash and Scott Hall. Bischoff could not be reached for comment, but it's believed that he feels that despite their sometimes testing attitudes, that much star power is a formidable loss with WCW's future on the line. There is said to have been other roster changes however they will be made known at a later date.
WCW FINDS AN ARENA TO HOST SHOWS
Eric Bischoff has continued on his quest to find an establishment for World Championship Wrestling, and he needs to look no more. With the help of FOX, they've been able to organise to have their show emanate from Soundstage 21 in the Universal Studios Florida. A lot of people tend to believe this studio will not be idea for the rebuilding of WCW, but as far as the company is concerned, they need somewhere to at least start.
ERIC BISCHOFF FIRES WCW HEAD BOOKER
Towards the end of the Turner era of World Championship Wrestling, the booking seemed to simply go from bad to worse. Nobody really wanted to take blame for the downfall of WCW, and truthfully it was probably everybody's fault in part, but the new owner of WCW Eric Bischoff had other ideas. He held the disgraceful product that WCW had been putting on for the final months on one man and one man only, the head booker Vince Russo. Russo is known as being one of the minds that masterminded the rise of the World Wrestling Federation, however he was unable to recapture the magic with WCW. Bischoff also personally detests Russo which just made the decision that much sweeter. A representative of WCW has said that whilst Bischoff has done many amazing things throughout his time in WCW, he has said to be almost the most personally satisfied he's ever been after firing Vince Russo. And for those of you who care, this does seem to be a new Eric Bischoff and a new WCW, as he fired Russo to his face, not over the phone.
WCW DECIDES ON NEW HEAD BOOKER
There's a saying not just in the wrestling world, but in the real world as well. It is if you want something done right, do it yourself. That's exactly the motto that Eric Bischoff is living by at the moment, as in this point in time, Eric Bischoff has announced himself as the new head booker of WCW. He believes he has the knowledge and the defiance to slowly rebuild WCW, everything that is taking place is the vision of Bischoff, hence why naming himself head booker will be the logical choice.
---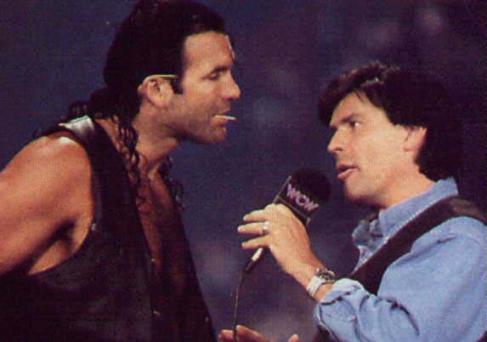 Re: The Wrestling Wars
---
Really enjoying this so far. Interesting that you're booking both the WWF & the WCW brands, will be interesting to see how you go about it. Not that surprised by Hogan, Nash & Hall deciding to sit out their current AOL-Time Warner contracts and rake in the $$$, a blow for WCW but they will survive, they never really needed Hogan or Hall towards the end anyway, Nash could also be argued that he wasn't needed either over the last two years in WCW.
Sensible to have WCW start off at Universal Studios, saves the company money which adds realism to this thread, wouldn't make that much sense if WCW were back in business and then just went to the Georgia Dome (Unless some billionaire bought them out, which didn't happen)
Surprised that Russo is gone Nope. Surprised that Bischoff is head booker? Slightly. It burnt him out once, it may happen again.
Loving this thread, hoping to see it progress loads over the coming weeks.
Re: The Wrestling Wars
---
WCW STAFF CLEANOUT
Eric Bischoff has wielded the proverbial axe during this shut down period of World Championship Wrestling so far. There have been wrestling talents that have been released, or that have left, which will become known at a later date, but the talent pool is not the only thing being given a shake up. Bischoff and a select few have been going through the rigorous process of interviewing every single staff member on the payroll, to decide who's worthy enough to continue on with the new WCW. Whilst some tough decisions have to be made, these sort of radical decisions are what needs to be made to turn WCW into a credible wrestling company again.

BISCHOFF ANNOUNCES PRESS CONFERENCE
Eric Bischoff released a short statement on the WCW website earlier today, confirming that he would hold a press conference on February 15. It is said that throughout this press conference a huge announcement will be revealed regarding the premiere of WCW on FX. Not only that, but Bischoff would like to enlighten the diehard WCW fans, and anybody else who may be interested, just how he's learned from his previous mistakes at the helm of the company. He's also promised that there will be a question period at the end of the press conference in which he'll address anybody's concerns.

If anybody has any questions in mind that they would like to be asked at the end of the press conference, just pm them to me. Thanks.
---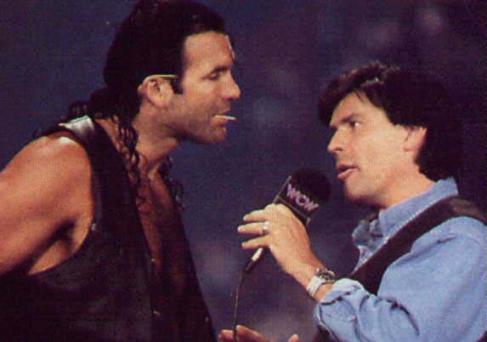 Re: The Wrestling Wars
---
This should be really good. I know how good of a writer you are. I really hope you can stick with this. I cant wait to see how you write both shows and how they compete with one another. This will make WWF really diff bc this is when all the WCW guys started coming in so i wonder what you do. Few things i hope is..

Austin Heel turn you can make better
WCW is in a bad spot, the first few shows shouldnt be too good if being realistic, although with bIschoff back and a new home for WCW things could b looking up. I hope slowly but surely you can recreate the monday night wars.
Maybe some swaps. WCW stealing talent from WWF is what started the war originally if someone like rock, hhh, taker or someone jumped that could spark the war.
Also looking forward to the press conference hope we learn some new things about the new WCW.

Good luck hope you can keep this thread alive and strong
Re: The Wrestling Wars
---
Press Conference
February 15, 2001

We are in a room full of reporters, all donned in their suits, trying to look as important as can be. The room is jam packed, and everybody in there either has a microphone or tape recorder in their hands. Right at the back of the room, a few lucky fans have managed to sneak in, all wearing their old school WCW t-shirts. There's a slight buzz reverberating throughout the room, however it picks up massively, and cameras start flashing, as the new owner of World Championship Wrestling Eric Bischoff steps onto centre stage. Bischoff is dressed in a flashy, business like, black suit, and flanked by two tough looking security guards. Bischoff walks behind the podium, adjusts the microphone to the correct position for his height, and then flashes a quick toothy grin.

Eric Bischoff: Firstly, I'd like to thank everybody for attending this press conference tonight... I know these things aren't exactly everybody's cup of tea, and I promise to not keep everybody here too long. But I'm pretty sure everybody in this room has one thing in common with myself, we all want World Championship Wrestling to succeed!

Bischoff pauses for a moment, as some excited whispering can be heard from many of the people in attendance.

Eric Bischoff: WCW isn't just WCW... WCW isn't just about me; WCW isn't just about the current wrestlers. WCW is about a legacy that is greater than any other wrestling company or association in the world. The WCW is about the National Wrestling Alliance, the NWA; WCW is about the legends of this business...

Easy E stops for a moment again, thinking before continuing.

Eric Bischoff: And I want to promise everybody that I didn't purchase WCW just because I want to own a wrestling company. I didn't buy WCW because I wanted to be in the spotlight again. I didn't buy WCW to dethrone the 'almighty' Vince McMahon... although I must admit that would, better yet that WILL be rather sweet.

Eric lets off a little smirk at this statement, whilst a few interested glances can be seen in the audience.

Eric Bischoff: But the real reason why I purchased WCW is because I love the wrestling business. I love EVERY little thing about the wrestling business, and I refuse to let those guys up in New York kill the business. I want to bring the art of wrestling and the art of in ring psychology back to this business. I want to turn this business back into what I fell in love with as a kid, and I plan to do it the RIGHT way.

A few more murmurs can be heard, as it seems as if Bischoff is about to get to the juicy stuff.

Eric Bischoff: Yeah, yeah, I'll be the first to admit, during my previous times at the helm of the company, I've made some errors. I constantly put my friends first, only ever cared about ratings, and I didn't exactly help the younger, unproven talent of the company to excel... But things will be different this time. As much as I love the Ric Flairs and Scott Steiners of WCW, and as much as they will continue to be valuable assets to the company, I want to make new stars. I want to make new stars that will revolutionise the business and take it to the next level from what it is today!

Bischoff pauses again, a certain gleam in his eye, proving to the reporters in attendance that he's not talking shit.

Eric Bischoff: That's why I'm using my position to make some huge changes to WCW immediately. I fired Vince Russo because he's washed up... I've got us a place to put on shows in Orlando, Florida, and I refuse to confuse personal issues with business issues. I refuse to pay all my friends and all the big names a whole bunch of money just for everybody to get lazy. As of last week, everybody associated with WCW is on a performance based contract. That means if you don't perform, you won't get that much money. It's a controversial decision and its causes guys like Hogan, Nash and Hall to walk out on the company... but that just proves they're not worth the new WCW's time!

The owner of WCW seems pretty fired up at this point, as everybody still listens intently.

Eric Bischoff: Anyway, I don't want to give too much away at this time, I just wanted to give everybody a little bit of an idea of what I'm going to try and do with the new WCW... And speaking of the new WCW, as everybody would know by now, it has been announced that we will be returning to television on FX on May 6, 2001... But what everybody doesn't know is that we're not just going to give you an episode of Nitro or Thunder, this is a new beginning, so we will be giving the WCW faithful a rebirth pay per view. It will be titled "The Big Bang", and it will emanate from Orlando, Florida!

There's a louder gossip throughout the room now, as Bischoff nods appreciatively. Everybody seems to be happy with his announcement, and he seems to be happy with the reception his announcement has received.

Eric Bischoff: The match card and everything that will take place at "The Big Bang" will be released at a later date, but I make a personal guarantee that this historical event cannot be missed! Now, as promised, I'll have some question time, if anybody has any questions they would like to ask?

Bischoff stands in front of all, a confident figure, waiting for some questions to come his way...

All of a sudden, this fat, slightly tanned mother fucker with a WWF t-shirt and a Kane mask on rushes the stage. He does the same motion that Kane does when he sets of his pyro, and then attempts to Chokeslam Bischoff, just being an absolute dick. Security grabs him, and Bischoff grabs the guy's wallet, and checks out his id.

The cunt can be seen yelling "KANE AND D'LO BROWN ARE BEST WRESTLERS EVAH"!!!

Eric Bischoff: You, my friend, are RETARDED!

The man then gets dragged off the stage, his shirt that's two sizes to small showing off his fat gut.

Eric Bischoff: Any other questions?

Nobody comes forward, and Bischoff smirks.

Eric Bischoff: Okay, thanks to everybody for coming along... and one last warning, get ready. Because Eric Bischoff's new and improved World Championship Wrestling is about to usher in the new era of professional wrestling!

Easy E then casually walks off the stage, leaving everybody buzzing...
---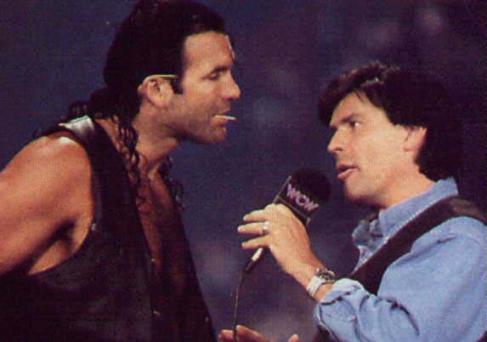 Posting Rules

You may not post new threads

You may not post replies

You may not post attachments

You may not edit your posts

---

HTML code is Off

---