The BTB Interview - November 2012
---
Okay, so I think we are long overdue one of these and yes, it is I, ThatWeirdGuy, taking over the role of your host for this afternoon/evening/night/whenever you read this. And well my guest for this Interview is indeed one of the true rising stars of our great BTB Section... It is one you've all been waiting for... it is the very man behind 'WWE 2005: Raising the Bar'...cp954!
ThatWeirdGuy:
Good afternoon Mr cp, and thank you very much for being willing to do this; it has been one in the making for a while if I am correct.
cp954:
Good afternoon Mr.Weird Guy, it is my pleasure to be here. Appreciate you doing this and you are indeed correct, it's been in the pipeline for a while but for one reason or another failed to happen. But alas, here we are, so let's do it!
ThatWeirdGuy:
Yeah, you just can't get the staff sometimes... but luckily here I am and ready to try my hand at interviewing; got a lot to live up to after iMac but I'll try my best! So first of all, how are you feeling on this fine November afternoon?
cp954:
November, doesn't the time fly? Dear me. I'm pretty good thanks, yourself?
ThatWeirdGuy:
I do not know where 2012 has gone! I'm all well thank you for asking. So would you mind telling us all a little bit about the man behind WWE 2005: Raising the Bar? About the real cp954?
cp954:
Of course. The real cp is a fairly normal guy, very much into my sports, particularly football, soccer for all you yanks
, other than that just enjoy chilling at home and with friends. Writing the thread certainly fits into that, find it quite relaxing in a weird kinda way.
ThatWeirdGuy:
Ah yes, good old football! You're a Gunner are you not? Very lucky the other night by the way. But I do understand what you mean about the relaxing side of BTB; a welcome break from reality at times haha.
cp954:
I am Gunner yes and lucky? Pffft. We meant to go 4-0 down just to make it a bit more exciting
Then the GOD Chamakh stole the show in extra time like he always does, right?
ThatWeirdGuy:
Let me know when he scores in the PL yeah? But anyway, we don't want to drive away all of our readers from across the pond and everywhere else, so I'll steer this thing a little closer towards BTB. What was it that got you interested into wrestling in the first place?
cp954:
Uhm, that's a good question and one I'd like to know the answer to as well actually. I honestly can't remember, I must've just been flicking through the TV channels and ended up stumbling on it and been hooked since then I guess. erm it must've been around 2000 I started watching, the earliest memory of a match I could give you would be triple h vs the rock in an ironman match, the one where the undertaker returns. I remember thinking who in the hell is this badass coming down and tearing the place up?
ThatWeirdGuy:
Ahh so similar to the time when I started to watch, interesting. So what made you want to transition from just a viewer to a booker?
cp954:
I always loved thinking I wanna see so and so versus so and so or oh I wish he'd feud with him and then I used to love the GM mode on Smackdown vs Raw games
as soon as I found the forum and saw it had a BTB section I was on it like a flash, something I always wanted to have a go at and I've enjoyed it very much thus far
ThatWeirdGuy:
Oh those were the days with those games; the Universe mode in WWE 12 just doesn't live up to the GM mode. I remember once doing this whole angle where like Shad became one of the top stars in WWE just because I was a massive Cryme Tyme fan.
cp954:
Haha that's what I mean, you could just push your favourites to the moon which i guess could be said for BTB, although with a liiiiittle more realism lol
ThatWeirdGuy:
Well I know Cryme Tyme are coming soon in your thread... you know what to do.
cp954:
chyeahhhhhhhh(my best JTG impression)
ThatWeirdGuy:
I fired JTG. But anyway, when you found the BTB section on WrestlingForum were there any threads that you saw as an inspiration before you started your own?
cp954:
Definitely, I think the obvious two are Wolfy and Legend's thread. Both awesome reads, however with the both of them gone there's a fair few that have really stepped up towards and up to their level
ThatWeirdGuy:
Yes definitely, I can agree with you on that one. When I first joined both were posting regularly so it is a bit of a shame that they aren't around anymore. So was Raising the Bar your first thread?
cp954:
It was indeed, started off horrendously to be fair. I rushed into it and didn't read enough of other people's work, the length, the way they format, promo skills etc but I think I've definitely grown with it and I'm pleased that people seem to enjoy the work I'm doing right now. Still a lot i can improve on though.
ThatWeirdGuy:
I would firmly put myself in the category of those enjoying your work, my good sir, and yes, that statement is true for all of us though. What was it about WWE 2005 post Wrestlemania 21 that struck out to you and made you decide to book that period?
cp954:
Why thank you weird one. It's probably the place where I really started to get to grips with the WWE. Before that I used to have like my favourites, hate the heels, cheer for the faces but around 05 I started to look at the bigger picture(Nexus reference, why not?) I started to appreciate the performers for what they were and I felt it was an exciting time with new guys being built in Cena and Batista while there were some other favourites of mine on the verge of getting there, Edge, Christian and I always loved the JBL character.
ThatWeirdGuy:
Yeah as a time period it is almost a clean slate if you will because you have the two new champions in Cena and Batista. In real life it was a turning point for the WWE as a whole into the new era. Did you feel any pressure in taking that time period on board knowing what an important period it was for the real WWE? Did you struggle to make it your own? (You have btw)
cp954:
A little bit but I think there was less pressure on me than there would've been for someone more experienced doing the same thread. I was new, first thread so nobody really would've cared if I'd failed anyway. as for struggling to make it my own. I think I did to begin with as you kind've have to pick up where Wrestlemania left off whereas I'd rather have put my own stamp on it from the get go, it's tough to do so. I think after a month or two thread time I managed to do it though and it's been even more enjoyable since.
ThatWeirdGuy:
Hey, we're a compassionate bunch most of the time
; we'd have cared!
cp954:
The BTB world can be cruel at times!
ThatWeirdGuy:
Especially for people like Jam. There it is everyone; the first JamJam joke!
cp954:
A Jam joke was imminent, it had to be done.
ThatWeirdGuy:
For those people that don't understand... JamJam22 is the new Stojy.
cp954:
I don't know Stojy well enough but surely he can't have been on the jobber level of Jam, surely?
ThatWeirdGuy:
I don't know him that well either but I'm just going from what I've heard. But yeah, I don't know the guy well enough to insult him so sorry Stoj. JamJam can be below you, though. But enough of that
I think it is safe to say that your thread is one of the most successful going at the moment in BTB, and I've said it before and I hope that others would agree with me in that Summerslam was a sort of 'Coming of Age' PPV for you; those who haven't read it I urge for you to do so after you've read this. But what would you say the biggest reason for your thread's success so far would be?
cp954:
Many thanks for the kind words and cheap plug
I would say that the reason it's become a bit more successful, I still wouldn't call it a massive success, is because of the help from guys in and around the section. Guys like iMac and 619 in particular have been around since near the start and helped me to improve no end with their criticism. Then there's guys like yourself who came into the thread a little later, Jam, Flux has chipped in, Calum. Even Melvis chipped in with some predictions for Summerslam with his thoughts which was great. All those different opinions really help you out
ThatWeirdGuy:
I remember the mark out when I got NOC predictions from Melvis... write a show by the way, King. Well you know that we're your bros
Thanks for that really good insight, by the way. What would you say has been the hardest part about writing your thread? The most difficult?
cp954:
Hardest part, hmmm. I'd say getting the characters and promos down. That was something I really struggled with to start, the characters, the length, everything but it's something I worked on and feel has improved a lot.
ThatWeirdGuy:
They have my friend
Right, just one more before we get to the fun part with the name associations. What can we all expect from Raising The Bar in the future?
cp954:
Well I don't wanna give too much away but...Survivor Series is one I'm looking to really make a big one. I've got Unforgiven and No Mercy coming up which of course i want to be good shows but they're more sort of building to SS. Other than that, I've got the majority of things all in my head right the way up to Mania and unless I have a massive change of heart, they'll remain the same with a fair few twists and turns in store for all my faithful readers.
ThatWeirdGuy:
I personally cannot wait for those shows mate, as long as I get some Bischoff I'm happy. Now time for the part that everyone has been looking forward to... DAT NAME ASSOCIATION~! We'll kick off with your inspirations. First up, Wolf Beast.
cp954:
You said it yourself, an inspiration. The guy is probably the best booker the section has seen, some of his stuff is just epic. His work with guys like Christian, Umaga, Kennedy, Edge, just brilliant and would love for him to come back soon. He's been going so long though it is understandable he disappears from time to time.
ThatWeirdGuy:
Yes a Wolf Beast return would not go a-miss. So the other gentlemen you listed as an inspiration, Legend.
cp954:
Well he lives up to his name, no doubt about it. Wolfy's probably the best booker I've seen but Legend is probably the best writer I've seen in the section. Some of his angles and his promos were unreal, the Big Show/Paul Bearer alliance was one of the most captivating things i've read on here and that's coming from someone who isn't a massive Show fan. Would love him to return and get Summerslam up
ThatWeirdGuy:
Agreed 100% with that. Okay, another one of the greats that made a small return a few months back with an ECW Thread, Szumi.
cp954:
I'll be honest and say that I didn't really get into his ECW thread as I wasn't all that familiar with that time period in that company but his WCW thread certainly lived up to the hype I'd heard about it. Some great stuff in there, no doubt.
ThatWeirdGuy:
Okay... 619IDH.
cp954:
Cool guy and one hell of a booker. He's probably the most imaginative booker I've seen around these parts. Some of the ideas he comes up with are just insane, always bringing something new to the table. His thread's on fire right now, long may it continue.
ThatWeirdGuy:
I'll agree. Even if it doesn't mean a lot coming from me, AOW is the best created fed I've ever read.
cp954:
Gotta agree with you there
ThatWeirdGuy:
iMac.
cp954:
iMac's another really nice guy and a very good booker. His Wrestlemania was brilliant and was a real defining moment in his thread. I had hoped he would've really kicked on after that but I know he's had other stuff on his plate which is more than understandable. Hopefully he gets back in the saddle soon enough, if you're reading... looking forward to Backlash!
ThatWeirdGuy:
Gonna be a helluva show once he gets to it. Next up, our King, and the man that will personally hand over his crown to me once this tournament is finished
Melvis.
cp954:
ooooh that is a bold statement
ThatWeirdGuy:
COME AT ME BROS (Another Jam reference
)
cp954:
But yeah, he's King for a reason, super talented guy and one I'd love to see churn some shows out more regularly. His thread is gold, the way he's developing the younger guys is exactly the thing the WWE themselves should've done but have failed to do. Loving where he's going and much like iMac, hope he returns soon
ThatWeirdGuy:
I'll agree. I bookmarked his Extreme Rules whilst I was writing Night of Champions; great inspiration. Nige.
cp954:
Massive achievement for his thread to have gone on for so long and from bits and bobs I've read, he does produce the goods a fair bit of the time. Often his shows will confuse me though with the layout, the whole recap from last week takes up half the page and I think the show's begun
. But yeah, credit to him and hope he gets his Rumble up soon.
ThatWeirdGuy:
Yeah, a real benchmarker for the section. Our Mod, Brye.
cp954:
Seems like a nice guy from the odd occasions I've spoke with him but to be honest I can't really comment on his booking skills. I've only ever seen his brief thread with Bad Guy and he only put a couple of shows up which were decent to be fair to him. But yeah, nice guy, booking unknown for me
ThatWeirdGuy:
Kintaro.
cp954:
Weird one for me. Seems very consistent and sticks with what works best for him so kudos for that but it's just not for me. I'm not a massive fan of constant recaps and the pictures in between aren't really my cup of tea but fair play to him for what he does.
ThatWeirdGuy:
His Rumble in his new thread was a good read, though I did find it a shame that his old one ended. Now you mentioned Bad Guy before, and that is what I shall call him as he is now only one 'Weird' away from a lawsuit, so The Bad Guy.
cp954:
Would love to see him stick with a thread and really give it ago. He seems a pretty good booker but just never seems to get past the first hurdle. Hopefully it comes for him one day.
ThatWeirdGuy:
FluxCapacitor.
cp954:
A man city fan, enough said.
ThatWeirdGuy:
cp954:
Na, Flux is a cool guy, he knows what he's talking about when it comes to this stuff and I really hope he makes his thread stick cos it has shitloads of potential. Always a good insight when talking to him about this stuff as he's been around a while and I think his time could be now.
ThatWeirdGuy:
He is indeed. We're looking forward to your Rumble, Fluxy. Now I like to call him clm, but everyone else knows him as Calum. So Calum.
cp954:
Another man city fan, what more needs to be said?
ThatWeirdGuy:
cp954:
Calum's another good guy and has certainly got an eye for booking. So glad he ended up doing his own thread rather than with his woeful partner. He's certainly making strides right now and if he continues to do so, continues to work on his promos and continues to insult Jam he'll make a big impact soon enough
ThatWeirdGuy:
You've just mentioned the next one. That's right, you won't be able to comment on what football team this guy supports because he doesn't know a thing about it. However if you ask him about making graphics, group chats, basketball or TNA he's your guy... JamJam22.
cp954:
Pure and simple, he's the whipping boy around here
ThatWeirdGuy:
The Zack Ryder of BTB
cp954:
Na he's a real nice guy and probably one of the most enthusiastic people I've ever come across lol. He loves doing this, reading other people's work and I'm hoping he sticks with a project. He worries about promos but the more he writes them and the longer he does this, the better they'll become, it's the route we've all taken. P.S- DUDES!!!
ThatWeirdGuy:
BROS ~! He is a truly top guy and a total legend for taking all the crap we give him <3 Right two more, first off.... ThatWeirdGuy. Be nice.
cp954:
Total prick. I kid, I kid. Na, he's a real cool guy and someone I can always bounce ideas off of, likewise he can me. Thread's improved tons since the first show and I'm sure it'll continue to do so, got a strong time period and a lot if interesting angles. Just gotta keep on improving and it's all there for you to take it and run with it my man.
ThatWeirdGuy:
Ah that's nice
And last but not least... the man himself... cp954.
cp954:
Well I shall leave that up to you and all the readers to decide, the proof is in the pudding with this interview. Hope all enjoyed and i look forward to hopefully keeping you entertained for a little while longer yet.
ThatWeirdGuy:
Well I know I've enjoyed it aha. Just one final parting question though, is there any advice you'd like to give to any up-and-coming bookers?
cp954:
Just don't rush into anything. Read the threads around here, learn from them, plan things for your thread and then go into it. Also, take on board any and all criticism, if it's constructive they're trying to help you out. I've had my fair share and I welcome it, helps you keep on improving.
ThatWeirdGuy:
Very sound advice there, my friend
Right, that's all we have time for today and a big thank you to everyone that reads this and an even bigger one to the CP man himself!
cp954:
The pleasure was all mine, thanks for having me
ThatWeirdGuy:
You were no trouble at all! This is me, ThatWeirdGuy, signing out and a hearty goodbye from cp954! And everyone go and make sure that you read Summerslam; it is a doozey. Hopefully see you again soon!
Another massive thanks to cp for agreeing to do this, Sorry if my interviewing skills aren't as up to scratch as iMac but I just wanted to do something for the section myself. I had a lot of fun doing this and I'd be more than welcome to do another if I'm wanted to. Thanks for reading everyone!
---
Last edited by ThatWeirdGuy; 11-05-2012 at

05:24 PM

.
Re: The BTB Interview - November 2012
---
2/10 Must try harder.
I joke. Was a fun read DUDES~! Well done TWG, good job. CP, any more slandering of the Premier League CHAMPIONS then I'll personally find you and punch you in your face. Okay? Understood? Capiche? But yeah, thanks for the kind words, CP. Means a lot.
Good job, guys
---
---
Last edited by Flux; 11-05-2012 at

05:45 PM

.
Re: The BTB Interview - November 2012
---
Nice read. Didn't know you were taking this over, though. For some reason, I had it in my head that someone else was prepping an interview fpr this month.
Learning to break kayfabe
Join Date: Jul 2012
Location: Liverpool, England
Posts: 111
Points: 0
Re: The BTB Interview - November 2012
---
Haha, class! Always good to see the JAM shouts in there, top blokes, great read!
Re: The BTB Interview - November 2012
---
BROS~!
Good job with this guys, really enjoyed it. Don't appreciate the disrespect of the champions, and like Flux - I'll have to find you and kick you in the face. But, despite this, I really enjoyed reading this, appreciate the kind words, CP, means a lot.
Nice work, DUDES~!
Wheelman for James Ellsworth
Join Date: Jul 2011
Posts: 727
Points: 1,359
Re: The BTB Interview - November 2012
---
Thought I'd be mentioned more in this interview. C'mon guys!
But anyway, did a good job here bros. Thanks for the kind words here, I think. That soccer....or wait, FOOTBALL line had me cracking up
---
"Life doesn't give us purpose, we give life purpose."
Lakers - Yankees
I ACCEPTREP
JOIN WF's OFFICIAL E-FED - PREMIER WRESTLING CIRCUIT (PWC)
Re: The BTB Interview - November 2012
---
Wait a minute... What Have got myself into!!!!
Re: The BTB Interview - November 2012
---
Interviewer and interviewee couldn't hold my jock. Shouldn't use stojy jokes, if stojy is better than both guys combined......

Nah, I'm kidding. But in all honesty, this interview doesn't have the same feel as the others.
---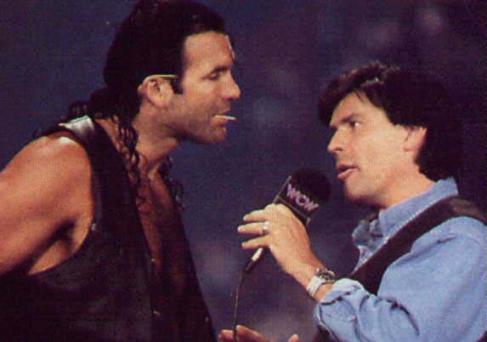 Re: The BTB Interview - November 2012
---
Pretty fun read, For what it's worth I thought you did well with the interview TWG.
---
Austin Angel in PWC, WF's OFFICIAL E-Fed! Join Today!
Dustin Dreamer and Alexa Hayes in PWA, WF's WWE Fantasy League Join Today!
7 time PWA World Champion (Current and Most Reigns In History)
4 time PWA Intercontinental Champion (Longest Reigning In History)
4 time PWA Hardcore Champion
1 time PWA United States Champion
4 time PWA Tag Team Champion (Current Champs)
5 time PWA Pure Champion
1 time PWA Money In The Bank Winner
1 time PWA Royal Rumble Winner
2 time PWA Women's Champion
1 time PWA Prestige Champion
First Ever PWA Women's Money In The Bank Winner
Current Reigning Queen of the Ring
Learning to break kayfabe
Join Date: Dec 2012
Posts: 1
Points: 0
Re: The BTB Interview - November 2012
---
wow!!!
cool and informative interview!!
i like it!!!!
Posting Rules

You may not post new threads

You may not post replies

You may not post attachments

You may not edit your posts

---

HTML code is Off

---