World Wrestling Federation ™ What the World is Watching
---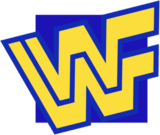 The World Wrestling Federation is about to embark on a new journey, something that no one thought would happen and that is to appear weekly, live, on national television. Last night, January 11th 1993, Monday Night Raw had its debut show on the USA network and received positive results. It was only a one hour show to get a feel of what national television is like and what sort of feedback they would get from it. After the WWF put their feet in the waters they want more and plan on continuing this weekly wrestling spectacular as we head ever closer into the Royal Rumble.

The first show featured Bobby Heenan trying to get into the arena to kick off the show; he was replaced as an announcer for the evening and tried throughout the night all he could to get into the building and who was he replaced by? None other than comedian Rob Bartlett. Nonetheless, the show got underway with the trio of Bartlett, Vince McMahon and the Macho Man Randy Savage welcoming us to the show.

The opening contest for the first ever Monday Night Raw saw Koko B. Ware face off with the ever so dominant Yokozuna who is on a roll as of late, unstoppable, a wrecking machine. Yokozuna was accompanied to the ring by his handler and mouth piece, Mr. Fuji who aided in his victory with heel like distractions and tactics. It should be noted that Yokozuna has yet to be knocked off of his feet, much less defeated in the WWF.

Soon later Hennan was seen again but this time cut a promo from the outside, directing his attention to Mr. Perfect and telling him that he has a mystery man for him, one that he calls the Narcissist. The identity wasn't revealed however the hype was there and it was clear that this individual was going to make an impact in the WWF upon his arrival that Hennan promised would be at the Royal Rumble.

From here the second match of the night took place as the Steiner Brothers, the heavy fan favorites locked horns with the Executioners. In what would be an exciting back and forth wrestling match, the Steiner Brothers came out victorious with their hands raised up high by the referee and they mouthed to the monitor that they are gunning for the champions. Also during the match Doink the Clown was seen pulling tricks and miming in the front row gaining the crowd's attention.

After the matchup came to a close we were once again sent back to the parking lot where Bobby Heenan once again tried to get his way into the arena, this time by dressing up as a large woman in drag. Hennan claimed to be the aunt of a wrestler and needed to get in there to see him right now but was stopped before he could enter the building.

On a more serious note, in the ring was waiting Razor Ramon as he was ready to cut a promo that was talked about and hyped the entire night. The cocky newcomer, Razor Ramon was interviewed by Vince McMahon in the center of the ring about his intentions to enter the Royal Rumble, face Bret Hart for the coveted WWF title and leave the same night with the belt. Razor Ramon ranted on about how it is his time to shine and how he is going to be the champion, Vince however steered the subject over to Owen Hart and asked Razor why he jumped him from behind on Saturday during an interview on WWF Mania. Razor simply answered that there is nothing anyone can do about it before leaving and throwing his toothpick at Vince McMahon.

For the first time ever the Intercontinental title was defended on Monday Night Raw with Max Moon facing off against Shawn Michaels, the champion. This match was excitement all over and was back and forth throughout until the final moments where Shawn got the upperhand and retained the title. Also during this bout', Doink the Clown made another appearance at ringside but did nothing of importance or cost anyone the victory.

In one more attempt to reach the arena before the night was over, Bobby Hennan once again came up to the building's entrance this time in a Rabbi suit but unfortunately for him his fake beard fell off of him while talking and his cover was blown before being escorted back away.

And to close off the show in the Main Event, the Undertaker fought Damien Demento and defeated him after a devastating Tombstone Pile Driver.


■ World Wrestling Federation Roster ■
Bam Bam Bigelow
Bob Backlund
Bret Hart
Brian Knobs
Crush
Damien Demento
Doink the Clown
Earthquake
"El Matador" Tito Santana
Fatu
Hulk Hogan
Irwin R. Schyster
Jerry Lawler
Jim Duggan
Jerry Sags
Marty Jannetty
Max Moon
Mr. Perfect
Papa Shango
Razor Ramon
Repo Man
Ric Flair
Ric Martel
Samu
Shawn Michaels
Skinner
Tatanka
Ted DiBiase
The Big Boss Man
The Undertaker
Typhoon
Virgil
Yokozuna

■ Hall of Champions ■
WWF Champion | Bret Hart | since, October 12th 1992
WWF Intercontinental Champion | Shawn Michaels | since, October 27th 1992
WWF Tag Team Champions | Money, Inc. | since, October 13th 1992


■ Upcoming Events ■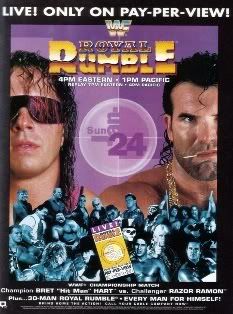 ---
I used to be jealous of Arron Afflalo
Join Date: Jan 2006
Location: Boston
Favourite(s): Summer Rae, Chris Hero, Stardust & Tyler Breeze
Posts: 23,786
Points: 1,166
Re: World Wrestling Federation ™ What the World is Watching
---
Can't wait to read. Roster has tons of potential and I'm expecting a Tatanka push.
Seriously though, you can actually shape Raw in any direction you please since you're starting from the very beginning of it. Best of luck.
---


Rusev | Sami Zayn | Dean Ambrose | Alberto Del Rio | Jack Swagger
Timothy Thatcher | Chris Hero | Scott Dawson | Dash Wilder | Roderick Strong
Summer Rae | Charlotte | Carmella | Becky Lynch | Paige

Panthers - Red Sox - Nuggets - Mets

Re: World Wrestling Federation ™ What the World is Watching
---
I myself hope for a Razor push
Will be reading, question though, had Diesel debuted yet or not?
Re: World Wrestling Federation ™ What the World is Watching
---
Quote:
I myself hope for a Razor push
Will be reading, question though, had Diesel debuted yet or not?
Nash hadn't made his debut yet, he only came into the company as Shawn's bodyguard around the Summer of 93'.
---
Re: World Wrestling Federation ™ What the World is Watching
---
Quote:
Nash hadn't made his debut yet, he only came into the company as Shawn's bodyguard around the Summer of 93'.
Ah I see. I also see you still have Flair, hopes he sticks around
Re: World Wrestling Federation ™ What the World is Watching
---
Vintage thread FTW! Great era to be writing and be interesting to see how you take it. Personally, I'm hoping for a Randy Savage return to the ring, I can dream, right?
Still, I'm hoping to see some of the guys who had the potential to reach the top back then used in that way, guys like Curt Hennig. Perfect for champ.
Interesting to see if you keep Flair around or if he will jump back over to the 'dark side'
Gutted you finished up with the other WWF thread you had going but I guess I can understand why, I've had more threads end than I can count. Best of luck with this, I'll be reading.
Re: World Wrestling Federation ™ What the World is Watching
---

January 18th, 1993, Straight from the Manhattan Center in New York

After a stunning debut episode for Monday Night Raw, Raw is back once again in the Manhattan Center for another week of brand spanking new action. This week we will see Razor Ramon step into the ring to go one on one against the man he jumped last Saturday and the brother of his opponent come the Royal Rumble, "the Rocket" Owen Hart. When these two young lions meet in the ring all hell is going to break loose.

In other action on Raw, former tag team partners and former best friends, Marty Jannetty and Intercontinental Champion, Shawn Michaels will go at it in the ring. Sparks will fly in this emotional, non-title encounter.

Bobby Heenan last week was replaced as ring announcer and left out of the arena, though in more important news, he gave Mr. Perfect some words to digest and that come the Royal Rumble he will reveal his "perfect" individual which will make Henning look like nothing, will we recieve anymore information regarding his identity on Raw?

Last week on Raw Yokozuna proved once again why he is the most dominant force in the WWF today, defeating Koko B. Ware with ease, the massive superstar has yet to be taken off of his feet let alone feel defeat here in the WWF. Mr. Fuji has said that this week Yokozuna will not be in action but instead will be getting ready for this Sunday's PPV, will anyone be able to take him over the top rope and to the outside in the Royal Rumble match?

All this and more, including appearances from the Undertaker, Doink the Clown and with the Royal Rumble only this Sunday, everyone is looking to get an upperhand and momentum heading into the event.
---
Re: World Wrestling Federation ™ What the World is Watching
---
Nice to see a thread like this, because there is all sorts of stuff you can do that will change the product drastically, and it would be cool to imagine what things would be like now based on how you book them here. I'll try my best to keep up with this considering I wasn't even born at this point in time
but good luck nonetheless mate.
Wheelman for James Ellsworth
Join Date: Jul 2011
Posts: 725
Points: 1,347
Re: World Wrestling Federation ™ What the World is Watching
---
Whoa, vintage thread is right, 1993? Wasn't even born yet! But anyway, the rosters are looking good. Even if I don't know some of them, I've got a good idea about the rest. You can definitely go a lot of ways here since it's basically the beginning which will be interesting to see. I'm a huge mark for Bret Hart so having him as your champion is a major plus for me. I'll try my best to continue feedbackin' for ya since this is all really new to me. Best of luck with this!
---
"Life doesn't give us purpose, we give life purpose."
Lakers - Yankees
I ACCEPTREP
JOIN WF's OFFICIAL E-FED - PREMIER WRESTLING CIRCUIT (PWC)
Re: World Wrestling Federation ™ What the World is Watching
---

Monday Night Raw | January 18th 1993 | Manhattan Center, New York


Monday Night Raw kicked off with a bird's eye view around the arena floor where thousands of fans were on their feet screaming and cheering for their favorite wrestler, excited to be here tonight as the video package introducing us to the show played and the trio of Bobby Heenan, Vince McMahon and Macho Man Randy Savage welcomed us to the show.
Vince McMahon:
Welcome everyone to Monday Night Raw!
~Crowd Pop
Vince McMahon:
We are live from the Manhattan Center in New York city, Vince McMahon here alongside Bobby Heenan and the Macho Man Randy Savage and what a night we have ahead of us.
Bobby Heenan:
How could you guys have held Raw last week without me on it?
Randy Savage:
They let him in the arena this week McMahon?
Bobby Heenan:
You guys are lucky they didn't shut down the shot half way through…
~ suddenly out of nowhere a loud yell was heard and the theme music of none other than Tatanka played throughout the arena floor. The fans gave him a positive reaction as he sprinted down the aisle and into the ring, sporting his usual attire of the feathered hat and axe.
Vince McMahon:
And here comes the Native American… Tatanka! And just look at everyone in the crowd chop away.
Randy Savage:
It's cool outside but it's hot in here … things are about to get heated up.
~At this point of time his opponent's theme music played as Damien Demento slowly made his way down the aisle and into the ring. Damien Demento was accompanied by deafening boos by the fans at ringside that don't seem to like him at all.
Vince McMahon:
It's clear who the fans want to win in this match.
Bobby Heenan:
Who cares what the fans think McMahon, they aren't the ones getting the job done in the ring.
Randy Savage:
And how many titles have you won Heenan with that mindset?
~ Opening Contest
Tatanka vs. Damien Demento
Tatanka and Damien Demento get ready to lock up as the match gets underway; Damien with the obvious size and strength advantage utilizes this to gain an early momentum as he head-buts Tatanka down to one knee. Tatanka is then sent flying at the ropes before rebounding back at Damien and ducking underneath a clothesline attempt. On the second rebound, Tatanka caught Damien Demento by surprise from behind as he came up with a hard double axe handle to the back, bringing his opponent down to his knees. From here Tatanka continued the onslaught and the offense, working away at Damien's back area while he was down, clubbing away at him, and trying his hardest to stop him from regaining a vertical base. Though, Tatanka's efforts became worthless as Damien proved to be too strong for him, overpowering him and pushing him away at the ropes, giving him some breathing room. Desperately on the rebound, Tatanka came right back at Demento and grabbed hold of his tights before rolling him up in a schoolboy like fashion trying to steal a victory and end things early, catching Demento off guard.
Things wouldn't go as planned when Demento would kick out almost instantly and from here both men reached their feet at the same time, Demento was the first to strike with a hard right arm shot and than a furry of several more, backing Tatanka into the corner up against the turnbuckles. Tatanka was willed on by the crowd and as he was thrown at the ropes ahead, he reversed it and threw Demento instead. On the rebound he caught Demento in mid motion and sent him crashing at burning to the canvas mat below with a hard back body drop. Tatanka paraded around the ring with his arm in the air signaling the end and that he wants to finish Damien off right here and now with his patented Chop to the forehead. The crowd cheered and loved what they were seeing.
Once Damien got up to his feet and turned around to see what was waiting for him, he grabbed Tatanka's arm just before he could strike him down and kneed him hard in the mid section. From here Demento gave Tatanka a hard European Uppercut before kicking and punching him some more, he then picked up his opponent and slammed him down to the ring emphatically with a scoop slam. Just as this match looked to be in the bags for Damien Demento and over, once again Doink the Clown, just like last week appeared at ringside this time making distractions and causing havoc on his way down. Demento was confused as was just about everyone else, but in the meantime Tatanka was given time to recuperate and regroup. Tatanka turned Demento around and smacked him in the head with his signature Chop! Knocking him out cold before pinning him for the victory.
Winner, Tatanka
~Tatanka celebrated with his win with the crowd as Doink the Clown left up the ramp and to the back before Damien Demento could realize what had just transpired. Damien eventually left himself during the short commercial break.
Vince McMahon:
What a matchup that was, Tatanka proved once again why he has one of the brightest futures here in the WWF. And still undefeated.
Bobby Heenan:
That damn clown is going to get what's coming to him one day. He should learn not to stick his red-nose in business that doesn't have anything to do with him.
Vince McMahon:
He's just having fun.
~From here a short commercial played hyping up the Royal Rumble this Sunday night.
Vince McMahon:
There you have it folks, the Royal Rumble! I can't wait to see who will take the 30 man Royal Rumble matchup.
Bobby Heenan:
It's going to be my man the Narcissist. No one else.
Vince McMahon:
I don't think your man or anyone for that matter can throw Yokozuna over the top rope and to the outside.
Randy Savage:
Heenan didn't you say your man will be facing Mr. Perfect at the Rumble?
Bobby Hennan:
My Narcissist is "Perfect" … he can beat Henning and go onto win the Royal Rumble in the same night.
~At this point of time both Marty Jannetty and Intercontinental Champion, Shawn Michaels were waiting in the ring for their matchup to get underway. Both men made their entrances during the commercial break moments ago and are ready to lock horns in this non-title matchup.
Vince McMahon:
Former tag team partners ready to go at it, these two know each other inside and out.
~Non-title Match
Intercontinental Champion Shawn Michaels vs. Marty Jannetty
This matchup kicked off with both men circling the ring trying to get behind one another, waiting for the other person to strike seeing as they knew each other so well and started off their careers tagging. Eventually they grew weary of the slow start and walked towards one another and exchange a few words before Shawn's ego got the better of him, Shawn's cockiness allowed him to push Marty Jannetty back which resulted in Marty retaliated with a shove of his own. It wouldn't be long before they went nose to nose, face to face and Shawn slapped Marty across the face, both combatants than locked up before Marty got the upper hand with a side head lock. Shawn would push Jannetty from behind at the ropes ahead before being shoulder blocked on the rebound, Jannetty than ran to the side as Shawn sprung up onto his feet and dropkicked him down before grabbing hold of Jannetty and placing him in a head lock.
Shawn held onto Jannetty tight and for a longer period of time than Jannetty had held onto Shawn for but it wouldn't be long before Marty would hug Shawn from behind once on his feet and drop Shawn onto the mat with a back suplex, lifting him up and plating him onto the mat below. Jannetty would go for the first pin fall in the evening, though he would only get a two count and the match continued. From here Jannetty ran at the ropes to the side and drove his feet into the ribs of Shawn Michaels, winding him with a hard baseball slide to the mid section. Jannetty would grab a handful of Shawn's hair and dominate the next few minutes of this matchup as he brought Shawn to his feet and delivered a hard scoop slam.
As Shawn would go to the outside of the ring to recuperate and catch his breath, Jannetty would roll out of the ring under the bottom rope and go out after him. Both men began brawling on the outside, trading lefts and rights back and forth for quite a while, ignoring the referee's ten count totally. Within a matter of seconds the bell would ring and the match would abruptly end via a double count out as these two didn't seem to care about the match at hand and had tremendous amounts of personal animosity with one another.
Result, Double Count Out
Even after the match came to a close the brawl between the two former best friends ensued, Shawn would even rake Jannetty in the eyes and bang his head on the steel barricade. These two didn't look like they were stopping in a hurry.
Vince McMahon:
Someone break this up.
Randy Savage:
Let them save something for the Royal Rumble McMahon.
Eventually referees and officials would come down to the ring and break it up, get them off of one another and escort both of them to the back separately. Shaw would tell the camera that he is the champion and Jannetty is nothing! Reminding everyone that he is the Heart Break Kid, Shawn Michaels. From here the broadcast went to another quick break.
Vince McMahon:
Welcome back ladies and gentleman to Monday Night Raw and if you just missed out, Shawn Michaels and Marty Jannetty fought to a double count out which resulted in a brawl all over the arena.
Randy Savage:
I can't wait till these two meet this Sunday at the Royal Rumble, and for the Intercontinental title.
Vince McMahon:
I've just been informed guys that their match at the Royal Rumble will be a Falls Count Anywhere matchup!
Bobby Heenan:
If you'll excuse me guys I have something more important to address.
~At this point of time Bobby Hennan leaves and enters the ring with the microphone.
Vince McMahon:
Where are you going?
Randy Savage:
He's probably upset that we weren't talking about him McMahon.
~Even though Heenan is drowned with loud heat from the crowd he begins to cut a promo and talk over them.
Bobby Heenan:
Henning…
~Pop for the mentioning of Mr. Perfect.
Bobby Heenan:
Henning… you are no longer "Perfect".
~Heat
Bobby Heenan:
In fact you are incomplete, you are nothing, you are just a common man.
~Stronger heat
Bobby Heenan:
Henning, at the Royal Rumble I will prove to not only you but to the world that my man… the Narcissist is absolutely "Perfect" and not only will he decimate and embarrass you at the Royal Rumble but he will than go onto win the Royal Rumble match and headline Wrestlemania!
~A few "Perfect" chants begin to build up throughout the crowd as they want to see Mr. Perfect make an appearance but to no avail.
Bobby Heenan:
And there is nothing you, or twenty nine other men can do about it.
~Bobby Heenan than leaves the ring and heads back over to the other announcers.
Vince McMahon:
So who is this mystery individual Heenan?
Bobby Heenan:
Ha-ha McMahon… you're going to have to wait patiently for Sunday just like everyone else.
~At this point of time the Raw Broadcast went to what would be another commercial break for the Royal Rumble, in the meantime Crush made his way down the aisle and into the ring waiting for in-ring competition. Crush got a pretty dull reaction.
~Soon out came the Deadman, the Undertaker. He was accompanied to the ring by Paul Bearer, who as usual carried the urn down to the ring with him, the soul of the Undertaker inside and controlling him.
Vince McMahon:
The Undertaker is one dominant, strange individual.
Randy Savage:
Bearer is even stranger is you ask me.
~Bearer steps into the ring and takes a look at Crush before turning his attention back to the Undertaker in the corner as he rips his tie and parts of his shirt off, the Undertaker does his usual pre-match ritual before stepping closer to Crush and beginning the bout'.
Vince McMahon:
Concerned look and rightfully so on the look of Crush.
Randy Savage:
He is standing toe to toe with the Grim Reaper himself McMahon.
Vince McMahon:
the Undertaker is one of the more agile big men to step into the ring.
Bobby Heenan:
Look at that goof Paul Bearer…
~Single's Contest
Crush vs. the Undertaker w/ Paul Bearer
The Undertaker turned his back on Crush and faced Bearer who lifted the Urn up to him to look at and gain energy from it, meanwhile, Crush would use heel like tactics and charge at the Undertaker and club him from behind before turning him around and pummeling him with several rights and lefts up against the ring ropes. Crush would than grab hold of the Undertaker's arm and throw him hard at the ropes ahead before leaning forward, however, the Undertaker would just grab hold of Crush's head on the rebound and bring him down to the canvas mat below with his patented swinging DDT. The Undertaker from here sat up as usual showing no effects what-so-ever, he then backed up against the ring ropes and came in for a hard drop onto his opponent but Crush moved out of the way. The Undertaker though would sit up instantly once again.
Crush and the Undertaker would reach their feet both at about the same time and begin trading shots in the center of the ring; Taker would retaliate with some uppercuts to the throat as usual before adjusting his glove. Crush would clothesline the Undertaker to the outside, only for Taker to land on his feet like a cat. Crush would attempt to go out after him but instead the Undertaker had other plans for him and grabbed hold of both of his feet and pulled him to the outside on his terms instead. Crush would hit a few side elbow shots at the Undertaker before driving him back first into the ring, he would than go after Paul Bearer who hit behind the Urn and held it up, calling for the Undertaker. A few moments later on Taker came up from behind Crush and turned him around, giving him a hard uppercut shot before rolling him into the ring.
The Undertaker would grab hold of Crush's arm on his way in and turn it around, twisting it while bringing Crush to the turnbuckles in the corner. The Undertaker took one glance at the Urn for reassurance before climbing up to the top rope and then jumped at Crush and took him down with a club to the shoulder. The Undertaker than waited patiently for Crush to gain a vertical base before he would charge at him with a flying Lariat but Crush would wisely get out of the way as the Undertaker landed on his knees and reached his feet again. Crush would kick the Undertaker in the sternum as he turned around and picked him up, he then sent him crashing to the mat with a hard Military Press Sam! The Undertaker though as usual was unfazed and unharmed, he sat up instantly.
The Undertaker caught Crush from behind by surprise and hit some hard lefts and rights on him before picking him up in return and driving him head first into the mat below with a devastating Tombstone Pile Driver. The match was soon over with a three count and the Undertaker's classic pose with the eyes rolled up in the back of the head.
Winner, the Undertaker
Vince McMahon:
How do you even hurt the Undertaker?
Randy Savage:
I don't know but he is definitely going to be a force to be reckoned with in the Royal Rumble.
Vince McMahon:
I have a feeling the Royal Rumble will be right down the Undertaker's alley way.
~As of right now Monday Night Raw went to what would be its final commercial break for this evening.
Vince McMahon:
Welcome back Ladies and Gentleman to Monday Night Raw…
Randy Savage:
What time is it McMahon?
Vince McMahon:
It's time for our Main Event for this evening.
~Razor Ramon appears before everyone as his theme music plays throughout the arena floor. Ramon is followed by defeaning heat as he seems to even enjoy it, he feeds off of it as he throws his toothpick at the nearby cameraman and steps into the ring doing his classic pose.
Vince McMahon:
This man could very well be the next WWF Champion.
Bobby Heenan:
Could be? He is going to hold that title next week on Raw I can see it now.
Vince McMahon:
He is nothing but a no good loud mouth disrespectful …
Bobby Heenan:
But he gets the job done doesn't he McMahon? There is no denying his results.
Vince McMahon:
Well earlier tonight we got the chance to speak to Razor Ramon before the match and here is what he had to say.
~~~~~
Razor Ramon:
…. Chico' … I've got gold around my fingers.
~Razor Ramon holds up his hands showing his jewelry and rings all over his hands and arms.
Razor Ramon:
I've got gold around my neck.
~Razor Ramon shows and holds up to the camera his chains and necklaces.
Razor Ramon:
And come the Royal Rumble Chico' … Ha-ha
~Razor Ramon signals the belt being around his waist.
Razor Ramon:
I'm going to have gold around my waist!
~~~~~
~And out came his opponent, the Rocket, Owen Hart. Owen made his way down to the ring playing to the crowd who welcomed him with a standing ovation.
Vince McMahon:
This is sure going to be a hell of a battle here tonight.
Bobby Heenan:
Bret Hart better be taking notes.
Vince McMahon:
I'm sure Bret is watching this match very carefully.
~Main Event
Razor Ramon vs. "the Rocket" Owen Hart
Razor Ramon apparently didn't leave his cockiness and arrogance at home when he came to the arena today, he wasted little time in getting in the head of the young Owen Hart by going up to his face and pushing him around, he bullied him totally, Ramon wanted to send Bret Hart a message through Owen Hart, he would beat him up in the early going of this matchup and call him Bret Hart, screaming at him and telling him that this is going to be Bret Hart at the Royal Rumble this Sunday. Owen though shouldn't be taken lightly and that is exactly what Razor was doing which proved to be a mistake on his behalf, within no-time, Owen would reverse a clothesline attempt by Razor and come up behind his opponent with an abdominal stretch, grabbing hold of Razor's arm and twisting him around bringing pressure to his rib area.
Razor though was much bigger and stronger than Owen Hart and sent him flying over his head with a hard arm drag. Owen would race to his feet as both men instantly locked up and eventually began grappling back and forth with some mat wrestling, Owen Hart's type of match, Owen would dominate with several submission holds including a chicken wing until Razor would huddle up into the ropes forcing Owen to back away and the referee to intervene. Razor knew he couldn't wrestle with Owen Hart and instead raked him in the eyes, temporarily blinding him, garnering some more heat before knocking Owen down and stomping away at him before posing and taunting over him.
Owen would try and catch Razor off guard and steal a victory by wrapping him up with a cradle pin out of nowhere while he was busy taunting the crowd. Razor though was able to kick out as both men reached a vertical base at the same time and locked up once again, Razor this time go the upper hand by overpowering him and taking him to the turnbuckles and shoulder blocking him several times. Razor would dominate the next few moments of this matchup before connecting with a powerslam and than grabbing both of Owen's legs and turning him around, locking him ultimately in with Bret's own finishing maneuver, the Sharp Shooter! Getting inside his head.
As much as Owen tried his best to hold on and reach the ropes, it became too much for him to handle and Razor Ramon eventually won the match as Owen was forced to tap out. The crowd didn't like this at all though there wasn't anything they could do about it.
Winner, via Submission, Razor Ramon.
~Razor Ramon celebrates and signals to the fans and to the camera that he is the champion as the show comes to a close.
Vince McMahon:
Well that's all the time we have for tonight folks, we'll see you at the Royal Rumble.
---------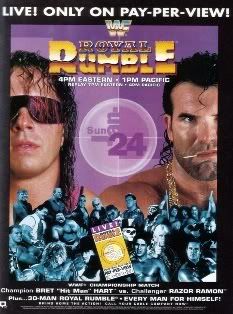 January 24th 1993, live, from the ARCO Arena, California.

30 Man Royal Rumble Match
Winner gets a title shot at Wrestlemania IX

WWF Championship
Bret Hart (c) vs. Razor Ramon

Intercontinental Championship
Falls Count Anywhere
Shawn Michaels (c) vs. Marty Jannetty

Grudge Match
Mr. Perfect vs. Bobby Heenan's Mystery Opponent
===================
Quote:
O' Hello
well, I know this show wasn't much and not up to standard, even for myself but please keep in mind that the first show for a thread is usually the hardest until you get into it and the WWF didn't exactly leave me in a good place with the PPV this Sunday and no time for hype. So I was left to rush and cram as much as I could into what still was meant to be an hour show.
Expect things to pick up though and get better.
Thanks for dropping by.
Cheers
---
Posting Rules

You may not post new threads

You may not post replies

You may not post attachments

You may not edit your posts

---

HTML code is Off

---