Re: World Wrestling Entertainment - New Blood. New Ventures.
---

Nassau Veterans Memorial Coliseum - February 4, 2011
Long Island, New York


DARK MATCH
Curt Hawkins vs. Chris Masters
The match never really got going all that much, it was more of a Masterlock challenge than anything else. It started with Curt Hawkins trying to out power "the Masterpiece" but it came back to bite him on the ass, Master's found a gap and went right for it, locking in the powerful Master Lock and forcing Curt Hawkins to pass out with the pressure.
WINNER:
Chris Masters (Via Submission)
POST-MATCH:
The referee tends to Curt Hawkins whilst Chris Masters poses for the fans and makes his exit, signing a few autographs at ringside before Smackdown is set to officially get underway.
- - - - - - - - - - - - - - - - - - - -
Friday Night Smackdown opens up with a brief look at what happened with their Superstar, Alberto Del Rio this past Monday night on Raw. Del Rio is seen teasing making a decision as to who he is going to face at WrestleMania but in the end not making the big reveal. Michael Cole's voice goes over the video and it echo's with "Will Alberto Del Rio make his decision this Friday night on Smackdown?" That brief highlight video ends and it fades into the Smackdown traditional opening with the video package and "Know Your Enemy" which is performed by the band Green Day. Smackdown's blue pyro display is set off and the camera pans the Nassau Coliseum where many of the WWE Universe are waving around their custom made signs and cheering loudly as Smackdown gets started.
The opening segment gets going with
"Releza"
playing on the PA System which brings out the Royal Rumble 2011 Winner, Alberto Del Rio in another convertible car. He steps out, wearing an open collared brown shirt with a charcoal jacket and black pants and makes his way towards the squared circle. Del Rio is introduced by his personal ring announcer, Ricardo Rodriguez and as he's making his way down to the ring, Michael Cole & Josh Matthews welcome us to Friday Night Smackdown. Del Rio gets in the ring and gets on the microphone quickly. He tells the WWE Universe that what he did on Monday night was only a preview of what is to come in the future of the WWE. Del Rio says that on Monday, he laid out both World Champions which signifies that he is destined for greatness. He then mentions that the Raw General Manager ordered him to make a decision by the end of tonight or he will proceed as if Del Rio is not challenging for Raw's WWE Championship - Del Rio says that he has come to a decision and is ready to tell the WWE Universe exactly what that decision is.
There is some rumblings amongst the fans as Del Rio smirks, waiting for a reaction but not really getting the one he wanted. Del Rio says that even though he doesn't particularly like The Miz or how he carries the WWE Championship, on quite a few instances, he see's eye to eye with him. Del Rio says that Miz, like him was cast to the side as a nobody by the fans and even by management when he first arrived in the WWE and much like Miz, he proved them all wrong when he won the Royal Rumble. Del Rio states that he will NOT be challenging The Miz for the WWE Championship at WrestleMania and will, instead be challenging for the World Heavyweight Championship. Del Rio says that he hopes it is Edge who walks out of the Elimination Chamber as World Heavyweight Champion because nothing would give him more pleasure than ending the career of the Rated R superstar, much like he has done to his best buddy, Christian.
The crowd respond negatively to Del Rio as he continues to brag about how he put Christian on the shelf, how he once put Rey Mysterio on the shelf, how with a click of a finger, he can put anyone out of this business, Del Rio continues until he is interrupted by
"Metalingus"
which brings out the World Heavyweight Champion! Edge walks out onto the stage but tonight, there's no pyrotechnics, Edge just walks down and gets into the ring and into Del Rio's grill. The two jawjack of the microphone for a moment until Edge lifts his microphone to his mouth. Edge asks Del Rio is he thinks he accomplished anything when he laid him out last Monday night. Edge asks if Del Rio thinks he has what it takes to actually win the World Heavyweight Championship from him. Del Rio responds by saying there is no doubt in his mind that he can take Edge out and take the World Heavyweight Championship. Edge promises Alberto Del Rio that he is going to retain the World Heavyweight Championship at Elimination Chamber and will walk into WrestleMania to teach Alberto Del Rio a lesson.
The two get into a stare down until we hear the lovely voice of our acting General Manager, Vickie Guerrero who walks out shouting
"EXCUSE ME!"
which gets her the biggest heat of the night so far. She repeats her line another two times until she feels she has everyone's attention. Vickie Guerrero congratulates Alberto Del Rio on his win and choosing to stick with the Smackdown brand and go to WrestleMania but, she then states that it wont be Edge he will be facing at WrestleMania, it will be her client, Dolph Ziggler. The fans boo which only gets them another vile "EXCUSE ME!" from Guerrero. Vickie says that even though there are supposed to be Elimination Chamber Qualifiers for all competitors in the Elimination Chamber at the Pay-Per-View, she has decided that after all his hard work and most importantly of all, being screwed over by Edge once again, that Dolph Ziggler will have a by into the Chamber match and will enter the match...
last.
Edge is also told that if he fails to win his match tonight, he will enter the match first and if that person defeats him, they will be entered into the Elimination Chamber match. Edge asks who his opponent is going to be and Vickie tells him and the fans that it will be the returning
CHRISTIAN!
The fans pop but Alberto Del Rio looks on in shock. Vickie tells Edge that he must wrestle Christian to a competitive match because if he doesn't, he will be stripped of the World Heavyweight Championship. She also tells Alberto Del Rio not to worry because Christian has been told that if he lays a hand on one of Smackdown's most valuable assets, he will be fined and suspended without pay for sixty days and thus miss WrestleMania. Edge & Del Rio stared each other down as Vickie Guerrero watched on from atop the stage as Smackdown went to it's first commercial break.
- - - - - - - - - - - - - - - - - - - -
We came back to Friday Night Smackdown with Edge being caught up by Todd Grisham, Grisham asked Edge what he thought about having to face his best friend in a match tonight that could give him a chance at the title that has alluded him his entire career. Edge responds saying he knows Christian never asked for this and he knows Vickie Guerrero is trying to play games with him but, if beating Christian tonight will ensure he doesn't have to enter the Elimination Chamber match first, he will do what he has to do. Todd asks if he thinks Christian really is 100%, Edge says when he last spoke to Christian, he was nearly there so he expects a full fresh Christian for tonight's match. Todd thanks Edge and he walks off out of sight.
- - - - - - - - - - - - - - - - - - - -
Cutting away to another area backstage, we see The Corre having a conversation with their leader, Wade Barrett. Barrett tells Ezekiel that he has to beat Kane in his Elimination chamber qualifier after he beats Kofi Kingston in his qualifier. He says that even though becoming WWE Champion when he was in charge of the Nexus didn't work out, the Corre is stronger and better than what the Nexus ever was and come Elimination Chamber, the Corre will have the World Heavyweight Championship. They all shout "YEAH!" in unison and head off to the ring because Wade Barrett's match is up next!
- - - - - - - - - - - - - - - - - - - -
We're inside the arena at the ring area now and
"S.O.S"
plays, getting a huge pop from the Long Island crowd. Kofi Kingston comes out with the Intercontinental Championship on his shoulder and bops around, setting off his green and yellow pyro and getting to the ring in quick fashion, the Intercontinental Champ poses on the turnbuckle and awaits his opponent, who comes out a few moments later when
"End of Days"
hits, bringing out Wade Barrett, Justin Gabriel & Heath Slater. Big Zeke remains backstage, probably getting ready for his match later on tonight. Barrett gets to the ring and the other Corre members separate on the outside, prompting Kofi Kingston to keep a watchful eye on them.
ELIMINATION CHAMBER QUALIFYING MATCH
Kofi Kingston vs. Wade Barrett (w/Heath Slater & Justin Gabriel)
A great competitive match to kick off Smackdown. After a couple of minutes, Kofi Kingston started to get in control, using his quickness to outsmart and outmove Wade Barrett. The real turning point came when Barrett attempted a back body drop, only for Kingston to land on his feet and run the ropes, springboarding backwards and nailing the Corre leader with a cross-body! Kingston would continue to utilize his quick fire moves on Barrett, ranging from quick arm drags and a very quick on the eye hurricanrana. Barrett was in trouble and it was becoming evident to the members of the Corre who decided to get themselves involved. Heath Slater hopped up onto the apron, distracting the referee from what was going on in the ring, this allowed Justin Gabriel to quickly inject himself in the match and pull Kingston's hair, forcing him down onto the canvas head first!
The referee turned to see Wade Barrett now setting up a beatdown on the Intercontinental Champion. Barrett began to unleash some of the brute force that the men of England seem to be famous for, pounding his forearm over the chest of Kingston over and over again. Barrett would continue to dominate Kingston and eventually put Kingston upside down in the tree-o-woe position. Barrett tried to pull off a running dropkick to Kingston's face but, the athletic ability of Kingston was able to avoid it, pulling himself up with his body strength, forcing Barrett to slide into the ring post, groin first. The fans were getting on their feet, cheering Kingston on as he untangled himself from the ropes, he stood up on top of the turnbuckle as Barrett lay beneath him, clutching at his crown jewels. The fans erupted as Kingston did a modified BOOM DROP from the top rope ontot he back of Wade Barrett's head! The Intercontinental Champion dragged Barrett out of the corner and made the cover, sealing his place inside the Elimination Chamber. Wait, no he didn't! Heath Slater pulled the referee out of the ring to stop the count!
Charles Robinson was on the outside and argued with Heath Slater until he eventually ordered Heath Slater leave! SLATER HAD BEEN EJECTED! Gabriel came over and tried to protest on Slater's behalf but, he too got ejected out of the arena! The Corre members couldn't believe it but it only gave Kingston a boost in confidence, not having to worry about any kind of interference anymore. Kingston started to slap his hands together, signalling for the Trouble In Paradise and as Barrett made it back to a vertical base, Kingston went for it with brute force! Barrett ducked under it, though! Kingston was then clubbed over the back of the head with a vicious forearm smash!
Barrett was back in control but was favouring his neck heavily, for the next several minutes. Barrett worked on Kingston's back, pulling off some amateur gutwrench suplexes and then set up for Wasteland. As he had Kingston up on his shoulders, Kingston slipped off, pulling Barrett around - TROUBLE IN PARADISE - MISSED! BARRETT CAUGHT KINGSTON IN MID AIR! WASTELAND CONNECTED! Barrett fell on top of Kingston and got the three count!
WINNER: Wade Barrett (Via Pin Fall)
POST-MATCH:
Wade Barrett has his arm raised in victory but he shoves the referee away and raises his own arm. Barrett is now the third Smackdown Superstar inside the Elimination Chamber as he joins World Champion, Edge & already automatic qualifier, Dolph Ziggler. Barrett exits the ring and heads tot he back, favouring his neck and Smackdown fades into a break.
- - - - - - - - - - - - - - - - - - - -


"The Misterious Warrior" Sin Cara
COMING SOON

- - - - - - - - - - - - - - - - - - - -
Coming out of the same Sin Cara hype video we seen on Raw, Smackdown is presently backstage where Dolph Ziggler & Vickie Guerrero are sitting in her office. They are in the middle of discussing something when a very perplexed looking member of staff enters the room. Both Ziggler & Vickie get up and ask what he thinks he's doing but the member of staff quickly hands over a note to Vickie Guerrero and just leaves. The cameras stay on Guerrero as she & Dolph open the note and their faces turn to shock. We don't find out what is going on and fade elsewhere backstage.
- - - - - - - - - - - - - - - - - - - -
Now, we see Kofi Kingston walking backstage, nursing his back from his match with Wade Barrett. He walks straight into the path of Drew McIntyre who stands opposite him, a meanacing look draped over his face. There is a brief stare down between the two individuals until McIntyre finally speaks. McIntyre asks Kingston if he's feeling alright, if holding the Intercontinental Championship feels good. Kingston doesn't respond but McIntyre keeps on talking. McIntyre informs Kingston that at Elimination Chamber, he's in line for a title shot. Kingston remains unresponsive, the Scotsman however continues to brag and he claims that soon, Kofi Kingston will be nothing but a distant memory. The encounter ends when McIntyre walks off, leaving Kingston standing alone, watching his future opponent walking out of sight.
- - - - - - - - - - - - - - - - - - - -
Now, back in the ring area,
"Crank It Up"
blasts out of the PA System followed by an explosive piece of pyrotechnics and brings out the Big Show to a sizeable pop. Show walks to the ring, fists in the air, playing the lovable face he's so very good at playing. Big Show gets to the ring and then
"OOOOOOOH - CHAVO"
plays, piercing the ears of the fans. Chavo Guerrero waltzes out onto the stage with a surprising look of confidence on his face. Guerrero gets to the ring and enters it, again with a great deal of confidence and the match is about ready to get going.
ELIMINATION CHAMBER QUALIFYING MATCH
The Big Show vs. Chavo Guerrero
As to be expected, Chavo Guerrero doesn't get off to a flying start, in fact, he doesn't really get off to much in the opening minute, he tried to dodge a Big Show right hand but only ended up feeling a harsh knee to his sternum, turning his intestines inside out. Guerrero then suffered the devastating open handed chop as Big Show placed him into position in the corner. The former WWE Champion continued to batter Chavo Guerrero's chest, slapping him a further three times until referee Jack Doane stepped in and this allowed Guerrero to escape to the outside to recover.
Guerrero's recovery didn't seem like it was going to last long, though - Big Show had stepped over the ropes and exited the ring and was in pursuit of the member of the legendary Guerrero Family. However, as Big Show approached Guerrero, he was met with a finger to the eye which would temporarily disable even the most powerful of men and this allowed Guerrero to pull off a sluggish yet effective drop toe hold, forcing Big Show to smash the steel steps face first.
Chavo realizes that the referee is at a five count and quickly scrambles to get into the ring, in hope that he can secure a count out victory. He gets to seven and Big Show begins to get back up, he's on all fours as the count gets to eight, he gets to one knee as it gets to nine and... he gets counted out! Chavo Guerrero has advanced to the Elimination Chamber & Big Show is left high and dry.
WINNER:
Chavo Guerrero (Via Count Out)
POST-MATCH:
Following the match result, Chavo Guerrero celebrates his victory as if he's just won the World Series, he celebrates a bit too much as he soon falls victim to an angry giant as Big Show has got himself back in the ring and grabbed a hold of Guerrero in the now rarely used Cobra Clutch! He lifts Guerrero up and forces him down across his knee with brute force and swings Guerrero like he's a rag doll! Big Show's music hits as Chavo is left in the ring out cold. Smackdown goes to another break
- - - - - - - - - - - - - - - - - - - -
We return to the parking lot where a white vehicle has just pulled up, the camera rushes round to see who it is and the door opens to reveal that it is none other than CHRISTIAN! Christian steps out of his vehicle with a smirk on his face as Josh Matthews hurries to get a word. Matthews welcomes Christian and quickly asks him on how he is feeling after recovering from a serious injury caused by Alberto Del Rio and how he feels about potentially getting a shot at the World Heavyweight Championship if he can beat the champion tonight and progress onto Elimination Chamber. Captain Charisma responds by informing us that Alberto Del Rio tore a severe arm muscle and it forced him out of competition for months, whilst Christian has been sat at home recovering, Del Rio has been here ticking people off and somehow winning the Royal Rumble. Christian says that when the time is right, he's going to get revenge on Alberto for costing him a few months of his career and costing him a chance to compete in the Royal Rumble to headline WrestleMania. Christian then focuses his attention on what lies ahead for later on tonight, his match with his best friend, Edge. Christian says that Edge was the only person who called him daily to ask how the recovery was going and that he wouldn't trade his friendship with him for anything however, tonight they are going to dance in the ring just like they did when they were kids and if he wins, the title that has eluded him his entire career could potentially be his. Whilst friendship to him means everything, he feels that in order to prove he has 'made it' in the WWE, he has to win the World Championship and if that means he has to take it from his best friend, then so be it. Captain Charisma walks off into the arena and we go backstage to another area.
- - - - - - - - - - - - - - - - - - - -
We're now with Vickie Guerrero & Dolph Ziggler. Guerrero wants to know how it is possible that this could happen to which Ziggler responds with a simple "I don't know" Vickie says she needs to get into contact with someone to prevent this from going public and must do it fast. Guerrero tells Ziggler that they need to leave the building now. Ziggler says they have to stay and run the show but Vickie says that for the rest of the night, the inmates are running the asylum! Ziggler doesn't look too pleased with this decision but the pairing pick up their bags and leave, heading out of the arena and presumably, out of New York. We on the other hand, are left wondering what the problem is.
- - - - - - - - - - - - - - - - - - - -
The Smackdown broadcast fades into the
RAW REBOUND
which highlights the events which transpired this past Monday Night, the main focus is on the shock that
the WWE Champion,The Miz defeated the World Heavyweight Champion, Edge. The Raw Rebound closes and we're back in the arena where
"End of Days"
plays for the second time this evening, bringing out the competitor for the match, Ezekiel Jackson who is, of course accompanied by Heath Slater & Justin Gabriel. Big Zeke looks menacing as he and the two other members of The Corre walk to the ring. We see Wade Barrett on the tron watching from backstage. The trio get themselves to the ring and then
"Man on Fire"
hits, with a thunderous fire pyrotechnic which turns the arena a crimson red, bringing out "The Big Red Machine" Kane, who looks set on competing in another Elimination Chamber match. Kane powers down to the ring but, as he climbs up the apron, all three members of The Corre ambush him!
ELIMINATION CHAMBER QUALIFYING MATCH
Ezekiel Jackson (w/Heath Slater & Justin Gabriel) vs. Kane
And so, Kane finds himself on the receiving end of a three on one encounter. The Big Red Monster found himself falling backwards onto the padded flooring as the three members of The Corre charged him. It was Slater & Gabriel who went to do the dirty work on Kane whilst the referee tried desperately to get some sort of order in the match, it never worked because for the next forty seconds, Kane was being pummelled on the outside by Slater & Gabriel until finally WWE Officials rushed out from the back to try and get Slater & Gabriel off Kane. Eventually, they backed off but refused to leave the ringside area, threatening the officials if they even tried to force them.
Kane was now at the mercy of Big Zeke, he got himself into the ring, favouring his leg and the bell sounded, officially starting the match. Zeke quickly went to work on Kane, aiming directly for the now apparent injured left leg. For the remainder of the match, it was Big Zeke in control, taking the fight to the usually dominant monster however, Zeke ended up screwing up big time. Rather than put the former WWE Champion to bed, he decided to try and mess about with him. As Kane got back to his feet, Zeke decided to grab a hold of Kane's injured leg and hold it in front him, only to fall victim to Kane's under appreciated athletic ability when the Big Red Machine surprised The Corre member with a stiff enziguri! Big Zeke, dazed but not off his feet hit the ropes, rebounding into a stiff uppercut from Kane!
Kane continued to get himself back in the match, unloading on Big Zeke with stiff uppercuts until the big man is worn down enough for Kane to change the pace. Kane heads out onto the apron and ascends the turnbuckle, getting to the top and diving off with a clothesline! Zeke still failed to fall to the ground however Kane kept at it, hitting Zeke off the ropes and squashing his face with a big boot! Zeke STILL didn't fall to the ground. The Corre on the outside were getting impatient and tried to get involved, Slater hopped up onto the turnbuckle to distract the referee, for the second time of the night Slater gets himself involved, Gabriel slides into the ring on the other side with a steel chair in hand! As Kane is making his way over to Slater, Gabriel swings the chair as hard as he can towards Kane's back... BUT IT DOES NOTHING TO THE BIG RED MACHINE! Kane just turns, looking at Gabriel like he's his next meal. Gabriel swings the chair for Kane's skull but Kane blocks the attempt and punches the chair out of Gabriel's hands. Kane grabs Gabriel by the throat and drills him with a massive one handed Chokeslam!
Ezekiel now has the chair in his hand and is sizing Kane up as he turns, he swings but Kane dodges the chair shot and Zeke hits it off the ropes, forcing the chair to rebound back into his face! Zeke is once again severely dazed and drops the chair, turning into the clutches of Kane's right hand and being lifted up in the air and dropped with a Chokeslam! Kane makes the cover and with the referee's attention now back on the match, The Big Red Machine advances to Elimination Chamber and Wade Barrett's hopes of another Corre member in the chamber to help him win the World Championship are smashed.
WINNER: Kane (Via Pin Fall)
POST-MATCH:
Following Big Zeke's elimination, Heath Slater is shown on the outside looking pissed, he stares at the two fallen Corre members as Kane signals off his winning pyrotechnic display and walks off, leaving them to recover on their own. Smackdown fades to a break.
- - - - - - - - - - - - - - - - - - - -


WrestleMania XXVII
58 Days Away

- - - - - - - - - - - - - - - - - - - -
It's back to the backstage area where we see Alberto Del Rio for the second time tonight. Alberto Del Rio is talking with his personal ring announcer, Ricardo Rodriguez. Del Rio says that since there is no General Manager for the rest of the night and that he is the most valuable asset to Smackdown right now, he is taking it upon himself to run the rest of the show. Del Rio informs the camera that tonight's main event will no longer be Edge going up against Christian in a normal match, Alberto says that instead it will be a No Disqualification match! The segment ends with Del Rio wishing both men luck and smirking as it fades out.
- - - - - - - - - - - - - - - - - - - -
Somewhere else backstage, we see all members of The Corre with Wade Barrett, Barrett looks at Ezekiel with disgust, Gabriel keeps his head lowered but, Heath Slater comes off with "Hey, Wade - I tried to help, I set up the parameters for Zeke to take advantage and win but, the fool screwed it up, none of this is my fault, it's Justin & Ezekiel's!" Gabriel & Zeke don't take kindly to this accusation and both look ready to pounce but, Barrett holds up his hand, telling them to back off. Barrett says that Heath has a point, he did try to help much like he helped in his match and if anyone is to blame it's Ezekiel & Justin. Barrett says that now, he has to fend for himself in the most dangerous match in WWE history and no bad deed will go unpunished. Wade tells Ezekiel & Gabriel they are on probation and if they continue to fail the group, they will be kicked to the curb and replacements will be found. Barrett walks off, leaving Slater with the two shamed members before Slater thinks he's best buddies with Wade and shouts "Wade, wait up!" and he too walks out of sight. The segment comes to it's end.
- - - - - - - - - - - - - - - - - - - -
Back to the ring area and it is now time for the main event. The crowd are sitting in anticipation inside the silent filled arena until we hear
"Just Close Your Eyes"
by Story of the Year hit the PA System and coming out to a very welcoming pop is the returning Christian! Christian comes out looking better than ever and he walks down the ring slapping the hands of several fans as he does so. Christian gets inside the squared circle and awaits his opponent. Soon enough
"Metalingus"
hits and the crowd explode as Christian's best friend & the World Heavyweight Champion, Edge walks out onto the stage, World Championship around his waist. Edge thunders down to the ring, heading to face the man he knows better than anyone. Both men are in the ring and ready to go.... but before the bell rings we hear the voice of Alberto Del Rio as he walks out onto the stage. Del Rio says that since he is in charge for the remainder of the night, not only will his No Disqualification match ruling stand but, there will also be a special guest enforcer... him! The crowd unload with heat but Alberto Del Rio continues to walk down to the ring, he says that should anyone lay a hand on him he will see fit that the WWE Board of Directors get involved and issue severe punishments to the individual or individuals who do. Del Rio stands outside the ring with Edge & Christian glaring at him. The crowd aren't happy but the match has to get started, referee Charles Robinson makes it happen by signalling for the bell to sound.
ELIMINATION CHAMBER QUALIFIER (CHRISTIAN ONLY) | IF EDGE LOSES HE ENTERS THE ELIMINATION CHAMBER FIRST | NO DISQUALIFICATION MATCH | NON-TITLE
Christian vs. Edge (c)
Alberto Del Rio as Special Guest Enforcer
The World Champion & Captain Charisma seem to be in no rush to get things off as they continue to glance at their adversary. Alberto just stands and smirks, looking into the ring as both Edge & Christian finally decide it's safe enough to go at it. The two go straight into a tie up and it's an even playing field for the opening minutes as both men show that they know each other all too well by dodging and countering one another's moves. It becomes clear that rather than a series of chain wrestling, one of the two are going to have to do something else to change the pace and take the momentum in their favour, it happens to be Christian who does so, opting to send a right hand Edge's way just before another tie up ensued. The unexpected fist to the face sent the Rated R Superstar a few steps back, allowing Christian to follow up with another right hand and again, he continued until he had Edge against the ropes and proceeded to push him off them. The rebounding Edge found himself running straight into the hard bicep of Christian as he was floored with a clothesline.
Christian looks to score a quick victory by quickly getting on top of the World Heavyweight Champion but, it's obvious things aren't ending this quickly and with that simple of a move, it's barely even a two count. Christian however, keeps the fight on Edge, not letting up at all as he gets his best friend in a chin lock (Randy Orton style) Christian slightly twists Edge's head and applies pressure to the known surgically repaired neck of the World Champion. Alberto watches on from the outside as Edge shows signs of unbearable neck pain, his teeth clinched and eyes tightly shut but, he battles as hard as he can, fighting up to one knee and turning to release some of the pressure, Edge can't quite get to his feet, though so opts to pull off a rather simple roll over into a pin attempt! It was close but Christian was able to get out of it before he was put to bed!
Both men are back to their feet, Edge somewhat favouring his neck but he blocks Christian's attempted kick to the midsection and forces the leg down, responding with a boot to the gut of his own! Edge goes into the drivers seat for the next couple of minutes, using simple yet effective moves like scoop slams and back suplexes. Edge decides to go dangerous, and go high risk and ascend the turnbuckle, he waits for Captain Charisma to turn to meet his fate and dives off... AND MISSES WHAT LOOKED LIKE A MISSILE DROPKICK! Christian went to seal the victory by turning the World Champion over and hooking both legs! ONE! TWO! HE ONLY GOT TWO! Christian remained dominant for the next bit, managing to hit his patented reverse DDT and pull off a high flying move in the headbutt. Edge is down and almost out and Christian is setting up for the finish. He slaps his hands together and the crowd slap along, signalling that the Killswitch is coming. Edge s up and is about to fall victim to it as Christian grabs him and twists, Christian is ready to drop Edge on his face and win the match but, Alberto Del Rio is on the apron with a steel chair in his hand, he stands and just smirks at Christian, prompting Captain Charisma to leave Edge be and go towards Del Rio. Alberto reminds Christian that he cannot lay a hand on him which stops Christian unloading with rage at the Royal Rumble winner, Christian gives Del Rio a cold stare before he turns. SPEAR! SPEAR! SPEAR! - CHRISTIAN MOVED AND EDGE HIT DEL RIO WHO FELL OFF THE APRON!
The crowd pop loudly and both Edge & Christian smirk at what Edge just did to Alberto Del Rio. The duo turn their attention back to each other and get back to action. It's back to stalemate as both men are equally in control and it takes another few minutes until a definitive edge is found, that being with Edge. Edge takes control of the match now and over the course of several minutes, Edge is able to use several signature moves, the Edgecution & the Edgecator, the latter almost forcing Christian to submit however, he was able to claw towards the bottom rope and get a firm grip on it.
Edge set up for the finish, aiming for the spear once again however, as he charged towards Christian, Del Rio entered the ring and smashed Edge's skull with the World Heavyweight Championship! Revenge for what he did several minutes ago, Christian turns and rather than being met with what was sure to be Edge's last move against him, he is met with gold to the skull, he too suffers from Alberto Del Rio's rage. The Royal Rumble 2011 winner now looks to both men and makes a decision, he grabs Christian and drapes his arm over the Rated R Superstar's and the referee is forced to make the count and the result was Christian defeating the World Heavyweight Champion with some unwanted assistance from Alberto Del Rio.
WINNER: Christian (Via Pin Fall)
POST-MATCH:
Alberto Del Rio surveys what he just did to Edge & Christian before taking the World Heavyweight Championship and lifting it simply above his head but, remaining looking down on the fallen best friends. Smackdown fades out to it's end with Michael Cole cheering Alberto Del Rio on.
END SHOW
QUICK RESULTS
ELIMINATION CHAMBER QUALIFIER:
Wade Barrett def. Kofi Kingston
ELIMINATION CHAMBER QUALIFIER:
Chavo Guerrero def. The Big Show
ELIMINATION CHAMBER QUALIFIER:
Kane def. Ezekiel Jackson
ELIMINATION CHAMBER QUALIFIER:
Christian def. Edge
=============================================================================
ELIMINATION CHAMBER | 27 FEBRUARY, 2011 | ORACLE ARENA | OAKLAND, CALIFORNIA
Elimination Chamber - WWE Championship:
The Miz (c) vs. CM Punk vs. William Regal vs. ??? vs. ??? vs. ???
Elimination Chamber - World Heavyweight Championship:
Edge (c) vs. Wade Barrett vs. Chavo Guerrero vs. Kane vs. Christian vs. Dolph Ziggler
Intercontinental Championship:
Kofi Kingston (c) vs. Drew McIntyre
---
Last edited by Baldwin.; 11-16-2012 at

07:26 AM

.
Learning to break kayfabe
Join Date: Nov 2012
Location: New York
Posts: 112
Points: 0
Re: World Wrestling Entertainment - New Blood. New Ventures.
---
So far I am loving the way this is done, I love the form of the show. It looks really clean and professional, it is easy to read. The quick results and PPV match-card at the bottom is really cool, helps me make sure I didn't miss anything! The videos in the middle of the script are kind of distracting to me, but I understand the concept and I think the immersion that people look for will be better with them.

I'm confused as to why Edge vs. Christian was an Elimination Chamber qualifying match, unless I missed something. The winner should be qualified into the EC, but Edge being the champion was already guaranteed. I loved the match, it was beautifully done, just confused on this one aspect of it. The major problem was that Christian had to win or else you would still be one short for the EC which isn't how the build up was, learning all the contestants in one night.

You are building up the mid-card a lot better than WWE has done recently. The Intercontinental Championship match actually has some good story to it, I loved reading the promo with Kofi and Drew. It is better than today's mid-card where it is shocking to hear that there is a match at the next PPV.

It will be interesting to see where you take The Corre, Wade Barrett as a stable leader was one of my favorite things to watch and I was disappointed in the writers for how it executed.

The differences between how the writers took the programming and how you do it is always one of the biggest things for these when they start in the past. One of the things I think is killing the show is the fact that they are pretty much unifying the show, which I think is killing the mid-card, so your take on how talent is handled during this time will be really fun to read. 2011 had a lot of potential, but things didn't always go the best. Good luck to you, have great success in writing this, can't wait for more!
Re: World Wrestling Entertainment - New Blood. New Ventures.
---
Bringing You The News From Raw, Smackdown & Everything In-Between
Gail Kim Out Of Action
It's no secret that what occurred on Raw was a legitimate turn of events as Gail Kim landed awkwardly on her elbow during a match with Nikki Bella. It has been confirmed by WWE.com that Gail Kim did indeed suffer a radial head fracture which is said to take up to 8 weeks to heal. No one ever wants to see a WWE Superstar become injured and we wish Gail Kim the best in her recovery time.
Raw Elimination Chamber Proceedings
The WWE Championship Elimination Chamber is now half decided. The Miz, who is the reigning champion was automatically entered since he is champion and joining him is
'The Straight Edge Superstar'
& leader of the Nexus, CM Punk. Punk defeated Zack Ryder in his match on Raw to become eligible for the match but, his focus was perhaps taken away from a potential WWE Championship win as Randy Orton had come to vent his anger at Punk & the Nexus for costing him the WWE Championship at Royal Rumble. Also joining the mix was the Blackpool Brawler, William Regal as he defeated Santino Marella. Regal has been eluded his entire career of the World Championship so come Elimination Chamber, expect a tough as nails fight from him.
Falling In Numbers
As just mentioned, the feud between CM Punk & Randy Orton has only just begun. CM Punk cost Randy Orton the WWE Championship by interfering in his match against The Miz and knocking him out with the Go To Sleep. This past Monday on Raw, Orton let CM Punk know that he is going to do whatever it takes to get his hands on the Nexus leader and to prove exactly what he is capable of, Randy Orton took out two members of the Nexus using his deadly punt that has put many a WWE Superstar out of action. Nexus have lost both Mason Ryan & Michael McGillicutty as a result of Orton's punt.
United States Champions Days Numbered?
In addition to the already concerning issue of his girlfriend, Gail Kim suffering a serious injury the United States Champion, Daniel Bryan encountered a problem which could mean he no longer holds the historic championship. It was Tyson Kidd and his returning protection, Jackson Andrews who took out Bryan as he was heading off to the ambulance with Gail Kim. Kidd said no words, just picked up the United States Championship and made his intentions clear, he wants the gold.
What's Wrong With Santino?
Following a crushing loss to William Regal for a place inside the Elimination Chamber, Santino Marella showed a side to him we have never really seen. Santino was took out with Regal's Power The Punch and it all happened because Santino's tag team partner was up on the apron 'distracting' the referee. Santino blames Kozlov for costing him the match and in the events that followed, Santino walked out on his partner.
Christian Returns To Action!
This past week on Smackdown, a superstar returned who we hadn't seen in quite some time due to an injury which was inflicted by fellow WWE Superstar, Alberto Del Rio. Smackdown General Manager announced that the best friend of the World Heavyweight Champion was returning and would be facing Edge in a match during the broadcast. The deal was, Christian needed to beat Edge to get inside the Elimination Chamber match and Edge needed to beat Christian to ensure he never entered the Chamber match first. It was Alberto Del Rio who was the deciding factor, with him entering as the 'Special Enforcer' when Vickie Guerrero had left the building and also injecting himself in the match, cracking the World Championship over both men's heads and dragging the motionless Christian over Edge.
Smackdown Elimination Chamber Complete
The participants for the Smackdown Elimination Chamber have strangely all been decided in the space of one show. Edge was given the automatic entry since he is the Champion but, in what is a bit of controversy, Dolph Ziggler was given automatic entry by Vickie Guerrero. Also joining the duo are as mentioned before, Christian along with Wade Barrett,
'The Big Red Machine'
Kane & Chavo Guerrero.
Is There A Problem?
Also on Smackdown, we seen the acting General Manager, Vickie Guerrero handed a piece of paper which turned out to have some sort of concerning writing on it. Guerrero and her client, Dolph Ziggler never revealed what the note said but, they gave off the impression that it was something that needed to be dealt with in a quick and timely manner. Both left Long Island, New York to find a solution to their problem.
Barrett Makes His Mark
Wade Barrett was successful in defeating Kofi Kingston on Smackdown but, one Corre member was not. Ezekiel Jackson was told that he needed to defeat Kane in order to ensure Barrett's future was World Champion however, things never went according to plan and after a failed referee distraction, Kane defeated Big Zeke. Barrett vented his frustration with Ezekiel & Justin Gabriel by putting both members on probation for failing The Corre.
McIntyre Makes His Prescience Known
It was on this weeks WWE Superstars where Scotland native, Drew McIntyre made it known that he is not going to mess around anymore. McIntyre has been out of the spotlight for quite some time so this match was sure to help him get back there and it sure did that. McIntyre was facing the Intercontinental Champion, Kofi Kingston in a non-title encounter and ended up not only dominating the match, but winning it too. McIntyre then announced on Smackdown that he was in line for a shot at Kingston's gold as a result of his victory.
WWE Releases A Superstar
WWE has come to terms with the release of Eli Cottonwood as of today, February 5, 2011. WWE wishes Eli Cottonwood the best in all his future endeavors.
Re: World Wrestling Entertainment - New Blood. New Ventures.
---
Bradley Center | February 7, 2011
Milwaukee, Wisconsin
Last Monday Night on the WWE's flagship program, Monday Night Raw, the WWE Champion, The Miz was successful in taking brand supremacy against Smackdown's World Heavyweight Champion, Edge but that wasn't all, the Awesome One also found out that at Elimination Chamber he would be defending the WWE Championship against five of the very best Superstars that Monday Night Raw has to offer. WWE.com has been informed that in addition to the remainder of the qualifying matches taking place on tonight's Raw there will also be an announcement at the top of the show by the Anonymous Raw General Manager regarding the WWE Championship situation for WrestleMania XXVII. What does the General Manager have to announce? Tune in tonight to find out!
Also to look out for on Raw, CM Punk & the Nexus will be on hand to give reasoning for their attack on Randy Orton nine days ago at Royal Rumble, Tyson Kid will speak about last weeks assault on Daniel Bryan, though the United States Champion will not be in attendance this week as he is at home with Gail Kim following her injury plus much more on WWE Monday Night Raw!
CONFIRMED FOR RAW
ELIMINATION CHAMBER QUALIFIERS
Re: World Wrestling Entertainment - New Blood. New Ventures.
---

Bradley Center | February 7, 2011
Milwaukee, Wisconsin
No dark match this week, Monday Night Raw opens up with the signature and is followed though with the opening credits. The camera swoops inside the Bradley Center where the WWE Universe are going crazy. The red themed pyrotechnics explode on the stage and we are welcomed to Monday Night Raw by Jerry "The King" Lawler. Lawler leads us straight into the ring where the Anonymous Raw General Manager's laptop and podium are set up and one Michael Cole stands as the Raw theme song cuts, the crowd still going crazy with excitement until they hear "Can I have everybody's attention please?" The excitement turns fully into heat for the mouthpiece of the Raw General Manager, he then continues with "I have received an e-mail from the Anonymous Raw General Manager" The heat pours out once more, Cole has an ejected look on his face and once again shouts "CAN I HAVE EVERYBODY'S ATTENTION PLEASE?" It doesn't work and Michael Cole realizes this, he gives up trying to win the crowd over and just get's to it. "And I quote -
"I have a major announcement with regards to the WWE Championship Match at Elimination Chamber... It was officially announced on Friday Night Smackdown that Alberto Del Rio will be staying with the Smackdown brand to challenge Edge for the World Heavyweight Championship, I wish Mr. Del Rio all the best in his pursuit of that Championship."
" Cole is cut off, the crowd unglue with more heat directed at him, he speaks louder to try and speak over them
""And because of Mr. Del Rio's decision, Monday Night Raw has been left without a number one contender for the WWE Championship come WrestleMania. To ensure that a guaranteed challenger has been made I have made the decision that the Elimination Chamber match will no longer be contested for the WWE Championship and that.... (Cole suddenly has a huge grin on his face) that the Champion, The Miz will hereby be removed from the match""
The crowd boo loudly, certainly very unhappy with this ruling.
""Tonight, there will now be another four Elimination Chamber Qualifying matches and once all the competitors have been found, the Raw Elimination Chamber match will be to determine which Raw Superstar will challenge the WWE Champion at WrestleMania Twenty-Seven!"
" A very mixed response now from the crowd. Michael Cole looks to fold up the laptop but before he can do so we hear
"AWWEEESSSSOMMMMEEE" - "I CAME TO PLAY"
which brings out the WWE Champion, The Miz and his accomplice, Alex Riley. The duo have a smug look on their face as they come out into full view, the crowd once more boo the living hell out of Miz & Riley. They get down to the ring, both shaking Michael Cole's hand before they get a microphone given to them.
The Miz is in the ring, smirking with the crowd booing him again. Michael Cole leaves the ring and looks to resume his position on commentary. The Miz now speaks to the masses. He says that the General Manager made the right call, there was no way Miz should have been wrestling at Elimination Chamber when the biggest show in history is right around the corner. Miz said that he now has nearly two months to prepare for the greatest WrestleMania in WWE history. Miz says he doesn't care which WWE Superstar wins the Chamber because he personally guarantees that from this moment, he's going to win at WrestleMania. The crowd, again, give off heat to Miz but, before the WWE Champion can continue the
GM Alert
is heard. The Miz turns to look at the laptop behind him, Michael Cole now leaves commentary again and gets a microphone, saying he has received another e-mail from the GM. Cole enters the ring and lifts the laptop top upwards and reads the e-mail out loud.
"Miz, whilst I did remove you from the match at the upcoming Pay-Per-View, not once did I say that you wouldn't be competing with the WWE Championship on the line. In addition to removing you from the WWE Championship Elimination Chamber and making it a #1 contenders match, I have also made a singles match for the WWE Championship. the individual you will be facing will be the winner of an over the top rope battle royal which will take place later on tonight."
Naturally, this displeases The Miz and he protests, shouting at the laptop but before he can get any further into his rant we hear
"My Time Is Now"
explode out of the PA System and out comes JOHN CENA to a thunderous pop! Cena runs down to the ring & Miz legs it out of the ring, avoiding any contact with Cena. The WWE Champion retreats up the ramp and we go to a commercial break as Jerry Lawler informs us that John Cena will be in an Elimination Chamber Qualifier next!
- - - - - - - - - - - - - - - - - - - -
Back from the break and the ring has been cleared of the General Manager's laptop set and John Cena is ready to get going as
"Dynasty"
hits bringing out David Hart Smith to a very small reaction. The son of the British Bulldog has the chance of a lifetime but, it's almost obvious who is going to walk away the winner of this match.
ELIMINATION CHAMBER QUALIFYING MATCH
John Cena vs. David Hart Smith
As expected, as soon as the bell rings, John Cena is all over Smith, taking him down instantly with a northern lights suplex and then following up with his twisting powerbomb move, setting up for the Five Knuckle Shuffle which he is successful in executing and he finishes Smith off with the Attitude Adjustment and STF combo, defeating Smith in under sixty seconds.
WINNER: John Cena (Via Pin Fall)
POST-MATCH:
Not a lot to add to this opening squash. Cena wins and points up to the WrestleMania banner and we go backstage where we see Tyson Kidd with but without his protector, Jackson Andrews
- - - - - - - - - - - - - - - - - - - -
The segment opens with Kidd mocking how David Hart Smith has failed in life ever since Kidd decided to walk away from the failure that he always knew he was. Kidd then proclaims himself to be the last graduate of the Hart Dungeon and the finest graduate of the Hart Dungeon. Kidd states that until recently, he was thought of as no more than a Superstars kind of guy, someone who would wrestle and put on the great matches that everyone talks about but he never gets anywhere because of constantly being held back or overshadowed. Kidd says that no more is he going to be treated like that and no longer will he be a stepping stone for superstars he made look great in the ring. Kidd says that he knows Daniel Bryan isn't here tonight because he's at home with his poor girlfriend, Gail Kim however, he lets Bryan know that the United States Championship is most certainly going to come where it belongs in due time and if Bryan wants a dosage of proof as to how serious he is right now, he better pay attention. The camera zooms out and we see Jackson Andrews holding what looks to be a severely beat up Zack Ryder. Kidd says that Zack Ryder is nothing to the WWE and he's going to put the Long Island Iced Z out of everyone's memory. Andrews has Ryder held up on his knees and Kidd plants a stiff boot to Ryder's jaw, knocking him over to the floor. Kidd then locks Ryder inside the Sharpshooter and stares into the camera with an intent look, his teeth gritted and as the segment fades out, WWE Security & Personnel are heard and briefly seen rushing into break up what was going on. Commercial time.
- - - - - - - - - - - - - - - - - - - -
Back from the break and
"This Fire Burns"
hits the PA System bringing out the leader of the Nexus, CM Punk to much heel heat. The Straight Edge Saviour is followed out by David Otunga & Husky Harris, both to each side of Punk for what is sure to be protection from any blind attack from Randy Orton. The Nexus get down into the ring and a microphone is handed over to Punk.
Punk gets on the microphone and says he's heard nothing but people complaining about what he did to Randy Orton at Royal Rumble. Before Punk gets to the nitty gritty with Orton though, he goes off on a bit of a rant about his time in the WWE over the last six years. Punk says that Vince McMahon and upper management never gave him what he was told he would get upon coming to the WWE. He goes on to say that the reason he targeted Randy Orton eight days ago at Royal Rumble, he says that it's simple, he and the rest of the Nexus had grown sick and tired of so called Superstars like Randy Orton getting shot after shot after shot and repeatedly shoved down the throats of all those who have scratched and clawed their way to try and even get on WWE TV. Punk says that Orton may take it as a singling out type of gig but, it wasn't anything of the sort, Orton just happened to be the top of the list of Nexus' hit list. The Nexus leader continues by saying that new wrestlers trying out don't even get a chance because guys like Randy Orton are there to repeatedly knock them back down the ladder. The whole reason Punk decided to take over Nexus was because he agreed with Wade Barrett but Barrett never understood what the bigger picture really was. Punk says that the bigger picture is to give the guys who deserve it, that chance and the only way to do such a thing is by slowly dismantling the Randy Orton's of the WWE. Punk says that he's aware that Randy Orton has an Elimination Chamber Qualifying match later on tonight and tells him that if he does infact qualify, Punk will have no problem breaking his nose and knocking his lights out with the Go To Sleep but, Punk also says he has big doubts that Randy Orton is even going to make it to Elimination Chamber. Punk drops his microphone and his music plays once more, signalling his exit from the ring.
- - - - - - - - - - - - - - - - - - - -


'The Misterious Warrior' Sin Cara
SOON

- - - - - - - - - - - - - - - - - - - -
Back from the hype video, Monday Night Raw is proceeding with another Qualifying match as
"Written In My Face"
plays to a chorus of boos. The Irishman known as Sheamus walks out onto the stage, roaring and ready to go. The former WWE Champion is in the ring in quick fashion and waiting for his opponent.
"Somebody Gonna Get It"
proceeds to follow Sheamus' theme and out comes the
World's Strongest Man
Mark Henry to a decent enough pop. Henry gets to the ring and it's a stand-off between the two big superstars.
ELIMINATION CHAMBER QUALIFIER

Sheamus vs. Mark Henry
The two begin proceedings with Sheamus shoving Henry, trying to somewhat bring out his anger, this move perhaps wasn't Sheamus' greatest idea as he ended up being floored by Henry with a stiff clothesline. Henry would take early advantage over Sheamus, using mainly strike moves to Sheamus' back in an effort to wear him down. Henry would eventually manage to trap Sheamus in the harsh bear hug. Henry squeezed, trying to put Sheamus to bed but the Irishman had other plans, using his forearm to break free but, it wasn't working, Henry just shook them off and kept the bear hug on so Sheamus went a step further and headbutted Henry's face extremely hard, Henry was forced to let go.
This allowed Sheamus to take over the drivers seat, he almost took Henry's head clean off with a double axe handle, severely dazing the World's Strongest Man. Sheamus attempted to clothesline the big man down but it wasn't happening however, Henry remained in a dazed fashion and it just permitted Sheamus to keep attacking Henry with sheer force. Sheamus would go to take the match home by managing to pull of an irish whip, sending Henry into the turnbuckle, the force making Henry stumble out. BROGUE KICK BY SHEAMUS - MISSES! Henry sidestepped it! Sheamus turns and is FORCED DOWN WITH A HUGE SPEAR! Henry just destroyed Sheamus with the spear! The World's Strongest Man covers his opponent. ONE! TWO! THREE! NO! Sheamus kicked out much to the dismay of the fans and to the shock of Mark Henry!
Henry set up for what was sure to be the finish. An evidently hurt Sheamus staggered to his feet, clutching his sternum and he walked intot he path of Mark Henry, being lifted up for a World's Strongest Slam! SHEAMUS FIGHTS IT OFF, KICKING HIS LEGS AND IT FORCES HENRY TO FALL BACKWARDS OFF BALANCE! Henry is down but is quickly getting back to his feet, he turns to go back to Sheamus when - BROGUE KICK HITS! HENRY ISN'T DOWN! Henry is still on his feet and Sheamus can't believe it, he looks at Henry in pure shock before deciding to hit the ropes and SMACK HENRY IN THE FACE WITH ANOTHER BROGUE KICK! The force was enough to put even the BFG down! Sheamus now hooks the leg and gets what is now a certain win.
WINNER: Sheamus (Via Pin Fall)
POST-MATCH:
Sheamus looks down at his fallen opponent and raises his arm before stretching both of them out and roaring at the top of his lungs whilst the fans pile on the heat for the Celtic Warrior and Raw heads into a commercial break.
- - - - - - - - - - - - - - - - - - - -
Back from the break, it's back to the backstage area where Randy Orton is standing, dressed to compete. Standing beside the Viper is Josh Matthews who is armed and ready to conduct an interview. Matthews asks Orton what his thoughts are on what CM Punk just said in regards to his reasonings behind his attack which cost him the WWE Championship at Royal Rumble. Orton says that what Punk says isn't reasoning, it's a pathetic excuse and nothing more. Orton then claims that Punk is jealous of every single superstar who has achieved more than he can ever dream of. Orton continues by saying that CM Punk's WWE career has been nothing but a monumental failure and the only reason he has befriended the Nexus is to try to protect himself from any vicious attacks. He doesn't care if Punk thinks that Orton is just one of his many upcoming so called victims, the reality is that Punk cost him the WWE Championship and soon enough, Punk as well as every single member of the Nexus will get their comeuppance. Orton says that at least Wade Barrett had some guts when he was the leader of the Nexus and never tried to claim to be something he wasn't. Orton says that if he comes across Punk or Nexus tonight or if he qualifies for the Elimination Chamber and comes into contact with CM Punk, he will not hesitate to take Punk's head off his shoulders. Orton walks off leaving Matthews standing like a chump.
- - - - - - - - - - - - - - - - - - - -



Credit to Starbuck
55 Days Away

- - - - - - - - - - - - - - - - - - - -
It's back to the ring area where
"Aint No Make Believe"
hits out of the PA System and it brings out fan favourite John Morrison to a pretty neat reaction from the Milwaukee crowd. Morrison's entrance as always goes into slow motion before the long haired rock star ventures on down to the ring. Out next as
One, Two, Three
plays, is former Nexus member, Darren Young. Young gets a very small amount of heat from the crowd but most give him nothing. He gets to the ring and the next match is ready to get going.
ELIMINATION CHAMBER QUALIFYING MATCH
John Morrison vs. Darren Young
A pretty good match from both men here actually is given. Young doesn't go down without a fight with this one. The opening minutes had Young preventing Morrison from pulling off any high flying, out of nowhere type moves as the Slammy Award winner kept Morrison grounded with technical moves, almost trying to chain wrestle the Rock Star. Young changed the pace when he felt he had Morrison controlled and pulled the long haired warrior to his feet, forcing him into the corner and winding him with a hard knee to the sternum. Young pulled Morrison out and used his free arm to almost take Morrison's head off with a stiff clothesline!
Young's surprising domination continued, he dropped a few elbows to Morrison's chest and then ended the attack with a nicely pulled off leg drop. Young went for the win but it wasn't enough to put the former Intercontinental Champion away, not yet. Young began to scout Morrison, waiting for him to rise to his feet and once he did, Young hit the ropes and charged towards Morrison, Morrison swung his arm for a clothesline to stop Young but was unsuccessful as Young ducked under and pulled Morrison down with a neckbreaker! Young again went for the win but Morrison showed us why he's held many championships in the WWE and kicked out again. The former member of the Nexus wasn't letting up, though. Darren Young yanked Morrison to his feet and hit him off the ropes, Young leapfrogged Morrison and lowered his head, Morrison seen an opportunity and flipped over a bent over Darren Young and as Young spun around to face Morrison he was met with a lovely Flying Chuck! Young's lights suddenly went out momentarily!
Morrison had the crowd firmly behind him, he had control of the match for the next few minutes, pulling the dubbed Black Cena to his feet and unloading with several trademark moves, including a Russian Legsweep which was followed by a 180į Leg Drop! Young wasn't going down without a fight and kicked out at two following Morrison's pin attempt. Morrison set up for the end of the encounter, perfectly executing the Moonlight Drive before dragging Darren Young over to the corner. Morrison made sure he knew his parameters before using the ropes to pull himself up and split leg onto the top turnbuckle! STARSHIP PAIN....FAILED! YOUNG GOT HIS KNEES UP!
Morrison's back is arched as he is in incredible pain now, Darren Young crawls over to the now apparently injured John Morrison and forces him down for a cover but Morrison kicks out again. Darren Young lifts Morrison up and pulls him into a torture rack! Morrison is yelling out in pain as Young applies more pressure, Young then tells Morrison it's show time and pulls off a modified Gut Check! Rather than Morrison's gut falling down onto Young's knees, it was Morrison's back! The Guru of Greatness rolls over constantly, feeling his back and Darren Young wastes no time in going for the finish. One! Two! Three!
NO! Morrison somehow kicked out! Darren Young is in disbelief and argues with the official, he wastes too much time and Morrison is pulling himself back to his feet. Young realizes he can do it again and pulls Morrison up into the same torture rack position - MORRISON COUNTERS INTO A BEAUTIFUL DDT! Darren Young rolls over into a seated position and an adrenaline filled JoMo is back to his feet quickly and hits a running knee to Young's face! The adrenaline wears off and now both men are down, Morrison unable to make a quick cover.
The referee began to count both men out but, Morrison was able to get back to his feet, Morrison is still heavily selling is back injury and it allows Young to also get back to his feet, Young is the one to make the first move, lunging for Morrison with a right hand however, Morrison responds with one of his own! Young continues to try and fight it out with Morrison and it starts to work, he gets Morrison near the corner and then lunges one last time but, Morrison ducks under and smashes Young in the face with the Pele! Young crumbles down in front of the corner and Morrison gets up, holding his back as the pain gets quite bad. Morrison goes for the Starship Pain again! HE CONNECTS! Darren Young is down for the count. One! Two! Three! MORRISON WINS AND ADVANCES TO THE ELIMINATION CHAMBER!
WINNER: John Morrison (Via Pin Fall)
POST-MATCH:
What a thrilling match and a much deserved victory for John Morrison says Jerry Lawler as Darren Young is left laying crushed, not advancing any further. Morrison poses on the turnbuckles and takes it all in, pointing to his waist and signalling that he is the one going to go to WrestleMania and win the WWE Championship from The Miz.
- - - - - - - - - - - - - - - - - - - -
Backstage, we see The Miz standing with Alex Riley. The pair aren't happy, more so with Miz as he protests about the decision the General Manager made. Miz says that this isn't acceptable and if he wanted to, he'd be straight off to Stamford to the WWE Headquarters to complain tot he Board of Directors. Alex Riley tells Miz to calm down, things aren't as bad as he is thinking. Miz tells A-Ry to watch his mouth but A-Ry is persistent and tells Miz he has an idea.... Unfortunately, the segment ends there as A-Ry takes Miz into Miz's dressing room and closes the door. Commercial time!
- - - - - - - - - - - - - - - - - - - -
Back from the ad break and it's once again to the ring area where we hear the loud
"Voices"
by Rev Theory blast out of the PA System, sending the fans crazy as former WWE Champion, Randy Orton comes out, lights flashing behind him. Orton is out to become the last to qualify for the Chamber match but he could be prevented from doing so by his opponent who comes out accompanied by
"Land of Five Rivers"
- that's right, the lack of depth in the roster means that The Great Khali is also a potential contender for the Elimination Chamber match. Khali gets a decent response from the crowd but, it's nothing compared to Orton's who is the obvious favourite to qualify here.
ELIMINATION CHAMBER QUALIFYING MATCH
Randy Orton vs. The Great Khali
It seems like Orton wasn't expecting someone like Khali to be his opponent. The Viper scouts the mammoth that is Khali, looking for an opportunity to lash out at the former World Heavyweight Champion. Khali however has other ideas, he see's Orton is looking to target his legs and keeps moving, preventing it from happening. Orton eventually just goes for it, taking his chances and it works, for all of three seconds as Khali uses his big forearm to club the former Legend Killer over the back of the head. Orton is sent stumbling over to the corner with Khali in hot pursuit. Khali's vast variety of skills allows him to pull off a closed fist to Orton's temple. Khali continues to work on Orton by whipping him into the opposite corner, the force made Orton hit the turnbuckle pads and stumble out, once again being struck with Khali's thick forearm, this time with a clothesline.
Khali now has Orton down on the ground and begins to continue laying into the Viper. Khali lets out a few hard kicks to Orton's shoulder area before he feels Orton is worn down enough for Khali to pull off a big impact move.... Khali slowly hits the ropes and walks towards the grounded Orton, lifting his elbow up in the air and dropping it.... HE MISSED. Orton rolled to safety and Khali ate nothing but the canvas. Orton now had an opportunity, Khali was down but was already getting back up, Khali turned onto all fours and from out of nowhere, Orton sprung to his feet and charged towards Khali.... PUNT CONNECTS! ORTON HAS IT! Orton hooks the leg and pulls back.... THE REFEREE IS DISTRACTED BY HUSKY HARRIS! The crowd's noise level goes from cheering to heat in seconds. Orton looks round to see the son of I.R.S standing on the apron with Chad Patton distracted and gets up but, before Orton can even get anywhere near Harris, from behind he is smashed across the back with a Singapore Cane by David Otunga! More heat from the crowd, Orton isn't down yet, though, he just has a pretty sore back and turns to face Otunga... AND IS SMASHED OVER THE HEAD WITH THE CANE!
NO! Orton blocked it! Orton snatched the Cane out of Otunga's hand and swung for him! Otunga dodges out of harms way and retreats out of the ring quickly! Harris is next to be facing the wrath of Orton but he drops down off the apron, the referee turns to see Orton holding the Singapore Cane and then looks over at Khali who is still fallen from the deadly Punt. Referee Chad Patton looks at Orton as if he hit Khali with the Cane! HE CALLS FOR THE BELL! KHALI WINS!
WINNER: The Great Khali (Via Disqualification)
POST-MATCH:
It's controversy at it's finest! The camera focuses on a distraught looking Randy Orton and then the camera changes to the top of the stage where we see CM Punk walking out to join Otunga & Harris. All three members of the Nexus smirk as Orton looks up at the group. Orton then makes the decision to exit the ring and go in hot pursuit of Nexus! All three members hightail it out of sight! Orton is going after them for costing him a shot at getting to WrestleMania!
The camera goes backstage where we see Nexus continuing to try to get out of sight and it seems as if we're heading to the parking lot! Orton is a couple of feet behind the three members he has yet to manage to get his hands on. We're now taken right into the parking lot and Punk hops into the trailer of one of the cars whilst Harris & Otunga hop inside and quickly start the engine. Orton approaches and the car.... STARTS! Nexus make a high speed getaway out of Milwaukee with Punk sitting in the trailer, waving at Orton as they leave! The Viper vents his frustration by pounding against one of the parked cars, setting off it's alarm. Before we are taken through to the next break, Michael Cole tells us to hurry back because the Raw General Manager has just text him some important news in regards to the Battle Royal Main Event.
- - - - - - - - - - - - - - - - - - - -
Back from the break and Michael Cole is over to get himself a microphone, he tells the fans that he received a text from the Raw General Manager just before the ad break. Cole reads out the text "Michael, I forgot to mention earlier in my e-mail to you that the number one contenders battle royal will be contested with superstars of the Monday Night Raw brand who have never been WWE Champion" Cole continues "I have selected ten Raw Superstars at random to participate in this match and the winner will get the opportunity of a lifetime to go to Elimination Chamber and face The Miz for the WWE Championship and if successful in defeating the WWE Champion, not only will this lucky superstar win the WWE Championship but they will also be heading into one of the main event matches of WrestleMania Twenty-Seven!"
The fans give off a quite surprising reaction to this ruling, Cole gives the microphone back to Justin Roberts and resumes his position in his chair. Justin Roberts then announces that it is no time for the Number One Contenders Battle Royal. The rules are explained to be over the top rope and the winner gets a WWE Championship match at Elimination Chamber. The microphone is lowered and entrants begin to come out. Out first with
"Born To Win"
is Evan Bourne to a decent response. Following Bourne with
"Gold-lust"
is everybody's favourite weirdo, Goldust to a loud pop. Next with
"What's Up?"
is the rapping R-Truth! Next it's
"La Vittoria Ť Mia (Victory Is Mine)"
bringing out Santino Marella! Santino is accompanied by Vladimir Kozlov. The next six superstars out are; Ted DiBiase, Yoshi Tatsu, already competed tonight, DH Smith, Darren Young and then, surprisingly Jerry Lawler's music hits and he steps up from the announce desk to a huge response however, Michael Cole feels a bit different to the fans. Lawler gets to the ring and then the last individual.... ALEX RILEY! A-Ry walks out in a Miz-esque like jacket and storms down to the ring with the WWE Champion by his side.
NUMBER ONE CONTENDERS MATCH | WINNER FACES THE MIZ FOR THE WWE CHAMPIONSHIP AT ELIMINATION CHAMBER
Evan Bourne vs. Goldust vs. R-Truth vs. Santino Marella (w/Vladimir Kozlov) vs. Ted DiBiase vs. Yoshi Tatsu vs. DH Smith vs. Darren Young vs. Jerry Lawler vs. Alex Riley (w/The Miz)
It's show time for these ten superstars and as soon as the bell rings, Alex Riley jumps through the middle rope and exits the ring. This doesn't set well with Jerry Lawler, though - The King walks over to the side Riley exited and tells him to get his rear end back inside the ring. As Lawler is busy trying to get Riley back into the mix, he is attacked from behind by Darren Young and now the match gets going with the action. Young keeps on top of Lawler whilst Goldust and Ted DiBiase are going at it. The other superstars mix in with each other. Over the course of the next few minutes, there are several eliminations that occur. R-Truth is first out as DH Smith sends him overboard however within seconds, Evan Bourne dropkicks DH Smith and it forces the son of Davey Boy Smith over the top. It soon comes down to the final six as out next is Goldust, eliminated by Darren Young and Ted DiBiase who was eliminated by Jerry Lawler.
The final six is soon took down to the final four as Lawler continues a strong showing when he throws Yoshi Tatsu over the top rope and then Santino Marella counters an attempted elimination from Darren Young into one of his own, eliminating the former member of the Nexus. It is now down to Jerry Lawler, Evan Bourne, Santino Marella & the yet to even touch anybody, Alex Riley. The three in the ring seem to actually forget about Riley as they each go to work on each other. Santino Marella is sent down with a big DDT from Lawler and then Lawler and Bourne slug it out. For the next few minutes, it's just Bourne and Lawler who both trade turns in trying to eliminate each other however, as Lawler has Bourne reeling over the top holding on as much as he can depend on..... ALEX RILEY ENTERS THE MATCH AND SENDS OTH LAWLER AND BOURNE CRASHING OUT OF THE MATCH!
Riley thinks he's done it and Miz has a plain sailing at the Elimination Chamber PPV however, Riley soon notices that Santino Marella is still in the mix, pulling himself up by the ropes. Riley lifts the still strangely groggy Santino upright and places him against the ropes, Riley takes a wee step back and then swings his arm for Santino's neck.... SANTINO DUCKS UNDER! COBRA CONNECTS TO ALEX RILEY..... AND ELIMINATES HIM! SANTINO MARELLA! SANTINO MARELLA IS GOING TO ELIMINATION CHAMBER TO FACE THE MIZ FOR THE WWE CHAMPIONSHIP!
WINNER: Santino Marella (Via Elimination)
POST-MATCH:
Alex Riley is outside on his knees in disbelief! Santino Marella is inside the ring, like Riley on his knees in disbelief! Miz is over at Riley demanding answers, clearly not happy that he has to face Marella at Elimination Chamber. Santino celebrates over in the corner with Vladimir Kozlov and whilst celebrating, Kozlov is struck over the back of the head with The Miz's WWE Championship belt! Santino is then took off his feet and Miz unloads on the new number one contender! Massive cheering quickly ensues as JOHN CENA runs out from the back! Cena hits the ring and pulls Miz off of Santino and quickly sets him up for the Attitude Adjustment! MIZ SCURRIES OFF! Miz makes the quickest exit he's ever made from the ring and regroups with A-Ry. Cena helps the fallen Santino Marella back to his feet and tells him he did a good job. The pair help Vladimir up and celebrate as Raw goes off the air.
- - - - - - - - - - - - - - - - - - - -
QUICK RESULTS
ELIMINATION CHAMBER QUALIFIER:
John Cena def. David Hart Smith
ELIMINATION CHAMBER QUALIFIER:
Sheamus def. Mark Henry
ELIMINATION CHAMBER QUALIFIER:
John Morrison def. Darren Young
ELIMINATION CHAMBER QUALIFIER:
The Great Khali def. Randy Orton
10 MAN OVER THE TOP ROPE BATTLE ROYAL:
Santino Marella def. 9 Other Superstars
=============================================================================
ELIMINATION CHAMBER | 27 FEBRUARY, 2011 | ORACLE ARENA | OAKLAND, CALIFORNIA
Elimination Chamber - Winner Goes To WrestleMania XXVII:
CM Punk vs. William Regal vs. John Cena vs. Sheamus vs. John Morrison vs. The Great Khali
Elimination Chamber - World Heavyweight Championship:
Edge (c) vs. Wade Barrett vs. Chavo Guerrero vs. Kane vs. Christian vs. Dolph Ziggler
WWE Championship:
The Miz (c) vs. Santino Marella
Intercontinental Championship:
Kofi Kingston (c) vs. Drew McIntyre
Re: World Wrestling Entertainment - New Blood. New Ventures.
---
Resch Center - February 11, 2011
Green Bay, Wisconsin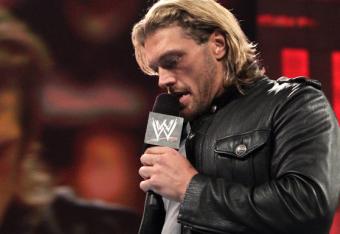 "Destiny...."
What's wrong with Edge? The burning question cannot be answered by the staff here at WWE.com, it cannot be answered by the WWE Universe the only person who can answer that question is the Rated R Superstar himself. Edge, since his victory at Royal Rumble hasn't been able to really get a sense of momentum going for him. A loss to The Miz on Raw followed by being laid out by potential WresleMania opponent, Alberto Del Rio and then on Smackdown last week, Edge failed to defeat his best friend, Christian and following that match, he once again was laid out by the 2011 Royal Rumble winner. One would imagine that Edge would be turning up the volume since he has to defend the World Heavyweight Championship against five hungry Smackdown Superstars but, for now it seems like the Ultimate Opportunist has lost said moniker and now that lays in the possession of Alberto Del Rio. Can Edge overcome the seemingly unovercomable odds and shift some momentum in his favour? Find out on Smackdown!
Also scheduled for tonight, the two members of the Corre, Justin Gabriel & Ezekiel Jackson look to impress their leader, Wade Barrett after being placed on probation. The Corre will be in tag team action against a new team which consists of Curt Hawkins & Tyler Reks.
Also scheduled for Smackdown, the saga concerning Vickie Guerrero, Dolph Ziggler and a sheet of paper continues to unfold plus the Smackdown Elimination Chamber scene continues with some of the qualified superstars in action tonight plus, Eve defends the WWE Divas Championship against Natalya as the Canadian Diva cashes in her rematch clause.
CONFIRMED FOR SMACKDOWN
WORLD HEAVYWEIGHT CHAMPION IN ACTION
THE CORRE VS. CURT HAWKINS & TYLER REKS

Posting Rules

You may not post new threads

You may not post replies

You may not post attachments

You may not edit your posts

---

HTML code is Off

---