HND: Heroes Never Die
---



'Once in a Lifetime'
The Rock defeated John Cena

WWE Championship
CM Punk retains against Chris Jericho

'End of an Era'/Hell in a Cell
Special Guest Referee: Shawn Michaels
The Undertaker defeated Triple H

World Heavyweight Championship
Sheamus becomes the new champion after a 18-second win over Daniel Bryan

Kane defeated Randy Orton

Intercontinental Championship
Big Show beat Cody Rhodes to become the new champion

Maria Menounos and Kelly Kelly defeated Beth Phoenix and Eve

Winner Controls RAW and Smackdown/ Team Johnny versus Team Teddy
The Miz, Otunga, Ziggler, Swagger, McIntyre, and Henry
defeated Ryder, Kingston, Truth, Santino, Khali, and Booker T

Preshow: WWE Tag Team Championships
The Colons retains against both Kidd/Gabriel and The Usos
--------
RAW Preview

With Wrestlemania just 24 hours away, the new General Manager of both RAW and Smackdown John Laurenitis has arranged a huge 8-Man Tag Team Main Event: Champions versus Contenders! WWE Champion CM Punk, World Heavyweight Champion Sheamus, United States Champion Santino Marella, and Intercontinental Champion Big Show will face off against Chris Jericho, The Miz, Daniel Bryan, and Cody Rhodes.

With Beth Phoenix taking the pin from Maria Menounos, 'The Glamazon' will be her title on the line on RAW against Menouons partner from last night: Kelly Kelly. Will Phoenix retain her Divas Title or will Kelly walk out champion?

Also, The Rock and John Cena to speak about their epic match last night!

Announced Matches/Segments
The Rock and John Cena speak
---
CM Punk, Sheamus, Big Show, and Santino Marella
vs. Chris Jericho, Daniel Bryan, Cody Rhodes, and The Miz

Divas Championship
Beth Phoenix defends against Kelly Kelly

Re: HND: Heroes Never Die
---
---------------------------------------------------
RAW April 2, 2012 Results
---------------------------------------------------
WWE Champion CM Punk comes out and welcomes the audience to Monday Night RAW. Punk goes over his recent victories since his title reign started, finishing with his victory over Chris Jericho last night. Pointing out that he wasn't the only winning champion last night, Punk introduces us to the new World Heavyweight Champion Sheamus. Sheamus comes in smiling but that doesn't stop every from booing and chanting "Yes, Yes, Yes!" Next Big Show is brought out holding up his new Intercontinental Title. Why is Santino Marella coming out? The US Champion didn't win last night. The four of them hold their titles up and here comes the new RAW and Smackdown General Manager John Laurinaitis.
John Laurinaitis announces that with his tram's win last night he will bring about "People Power." Laurinaitis recalls tonight's 8-Man Tag Team Main Event. Next Laurinaitis announces that Extreme Rules will be a RAW exclusive pay-per-view and Over the Limit will be a Smackdown exclusive pay-per-view, but both World Title will be defended on both shows. First off Daniel Bryan will get his rematch against Sheamus at Extreme Rules and CM Punk's opponent at Extreme Rules will be announced later tonight. Until then, Laurentis demands everyone get out of the ring for People Power.
We will hear from The Rock and John Cena later.
Match One:
Brodus Clay squashes Jack Swagger with a Body Splash. Vickie Guerrero was screaming at ringside.
The Rock comes out next and addresses and crowd. The Rock addresses that he loves the WWE, respects Cena, and has one dream left…to become WWE Champion again. That's right The Rock is not done with the WWE quite yet and apparently will get a WWE Title Match somewhere down the line.
The US Champion Santino Marella walks into Big Johnny's office and finds David Otunga standing there. Santino asks where Laurinaitis is since the GM called the champion here. Otunga tells Santino he is now Mr. Laurinaitis' legal assistant and called Santino here. At Extreme Rules Santino Marella will defend his United States Championship in a Four-Way Elimination Match which includes David Otunga so far, while the other two spots will be earned. Santino asks why Otunga didn't have to earn a spot. Since Otunga was Team Johnny's leader, that means he earned his spot. Santino then pretends to bite Otunga with his snake sock hand...funny?
Backstage Primo and Epico, The Colons, are complaining with Rosa Mendes about being left off of the main card last night. AW walks in and offers his services, but The Colons refuse. AW doesn't seem to mind and tells the tag champions that he talked to Laurinaitis and booked a match for them tonight against a mystery team already. Primo holds Epico from knocking AW's block off, but AW defends himself saying that, "if the tag champs want respect, they have to earn it and this is how you earn it."
Match Two:
Tag Champions The Colons faced Booker T and Goldust in a non-title match. Though surprised at first, the Colons managed to rally together to pull off an impressive win.
Chris Jericho finds John Laurinaitis backstage and asks for a rematch at Extreme Rules against Punk for the title. Laurinaitis asks Jericho to leave because he is about to go into an important business meeting. When Jericho continues to plead his case, Laurinaitis simply leaves Jericho behind and goes into his meeting.
Eve comes out to a chant of "Hoski." Eve explains her actions against Ryder last night that Ryder was never her friend and all she wants was success. Laurinaitis offered her success and she accepted, because now Eve is now the Personal Assistant for both RAW and Smackdown. Zack Ryder comes out and demands an apology. Eve responds saying she will not apology but announces a match for right now between two men that helped lead t victory for Team Johnny last night…Dolph Ziggler and the man who lost, Zack Ryder. The winner joins the United States Match at Extreme Rules
Match Three:
Dolph Ziggler defeats Zack Ryder after interference from Eve to advance to the United States Four-Way Elimination Match at Extreme Rules.
The Miz is waiting outside the meeting room Big Johnny went in earlier after talking to Jericho. John Laurinaitis comes on his cell phone sounding like he's trying to get approval for something. The Miz demands that since he got the pinfall for Big Johnny last night that he should be given the WWE Title match at Extreme Rules. Laurinaitis pushes Miz to the side and continues talking on the phone.
AW catches up with the Colons. The Colons seem happy with the win and consider hiring AW…for now.
Backstage Kofi Kingston and R-Truth are talking about how unhappy they are right with Laurinaitis leading both shows. David Otunga pops in and schedules them in a match next week for their attitude.
Match Four:
Divas Championship
Beth Phoenix defeated Kelly Kelly with a Glam Slam after a longer than usual Divas Match
After the match Beth Phoenix shows her anger over losing last night to a celebrity and vows to defend her title on both RAW and Smackdown every night until she has earned it back.
CM Punk is interviewed backstage by Josh Matthews. Punk is not happy about the Rock demanding a shot at the WWE Title when he is about to leave the WWE again to film another movie, but if Dwayne comes back Punk promises to take him out.
Match Five/Main Event
WWE Champ CM Punk, World Champ Sheamus, US Champ Santino Marella, and IC Champ Big Show
versus Chris Jericho, Daniel Bryan, The Miz, and Cody Rhodes

After a hidden tag from CM Punk to Sheamus, Sheamus was able to catch Rhodes off guard with a Brough Kick from nowhere for the win.


John Cena comes out and wishes to be a good sport and shake The Rock's hand for the match last night. After all the words and attacks, Rock came out on top and Cena accepts it. The Rock still doesn't come out and Cena again asks for Rock to come out. Holy!
It's Brock Lesnar!
Here comes the pain. Brock Lesnar enters the ring and offers to shake Cena's hand…
F5!
Brock Lesnar stands tall over John Cena. Next John Laurinaitis comes out. Big Johnny has made it official
at Extreme Rules it will be Brock Lesnar facing CM Punk for the WWE Title!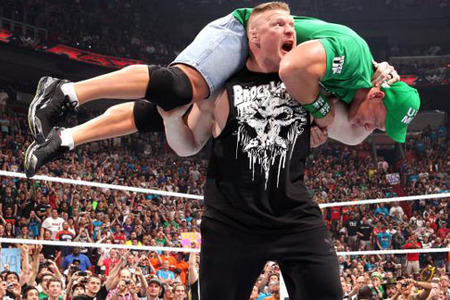 Matches Announced So Far:

WWE Championship
'Voice of the Voiceless' CM Punk(c) versus 'The Legitimate' Brock Lesnar

World Heavyweight Championship
Sheamus(c) vs. Daniel Bryan

United States Championship/4-Way Elimination Match
Santino Marella(c) vs. David Otunga vs. Dolph Ziggler vs. TBA
---
Last edited by Heroes; 09-14-2012 at

02:02 AM

.
Posting Rules

You may not post new threads

You may not post replies

You may not post attachments

You may not edit your posts

---

HTML code is Off

---